Vegan shoes have come a long way in the last decade, thanks to innovative vegan shoe brands and advances in eco-friendly vegan leather.
Gone are the days when I first went vegan in 2008 poring over labels, asking questions from confused shop assistants and going home empty-handed. It's easy to buy vegan shoes online these days.
Special deals:
Some of the vegan shoe brands I'll be reviewing are:
More vegan shoe brands:
Vegan options (in a brand that's not 100% vegan):
Today you can find vegan shoes that are fashion-forward and eco-friendly, in a huge range of styles and for all budgets!
Further guides for vegan shoes
The top vegan shoes in many categories…
The best vegan shoe brands

Based in Australia, ships worldwide
Features: 100% vegan company, sustainable
Etiko makes ethical vegan trainers. The name 'Etiko' is derived from the Greek word for ethical. If you're looking for classic vegan white sneakers that are also eco-friendly and people-friendly, most of their products are fair trade and they pay a living wage.
They also use organic cotton and natural rubber for their comfortable vegan shoes.
Etiko uses FSC certified recycled cardboard and paper packaging for their ethical vegan shoes and aim to avoid plastic as much as possible (and use biodegradable and compostable plastic when they have to use it).
Their organic vegan shoes come as Converse style high- and low-top sneakers or vegan slip on shoes in classic colors like black, white, blue and red.

Based in France
Features: 100% vegan, uses sustainable materials
The first 100% vegan shoe company in France, Good Guys Don't Wear Leather aims to use as sustainable as possible of materials in their eco vegan shoes, including apple leather (created using waste from the food industry), canvas, rubber and a material made of vegetable seeds and cereals.
They make a wide range of cruelty free shoes, from apple leather sandals, plus trainers, the best vegan clogs and boots.

Based in Canada
Features: 100% vegan
Free shipping over $200 in United States
Matt & Nat has a huge range of leather free shoes to suit all tastes, from sneakers to slip-ons, sandals, flats, boots, heels and more.
One issue to be aware of is several sources point out they still use PVC, which is an environmentally-unfriendly leather alternative.
Since there are so many alternatives available today, many companies have switched to more eco-friendly alternatives, but Matt & Nat has not, so shop carefully and avoid the PVC.

Based in Portugal
Features: 100% vegan, eco friendly
Nae shoes are beautifully designed, PETA certified vegan and sustainable.
They use eco-friendly materials such as cork, recycled plastic bottles, organic cotton, airbags and pineapple leather.
They've got a wide range of shoe styles, from vegan combat boots and sneakers to pumps, boots and sandals.

Based in the US
Features: 100% vegan
Best non leather shoes for comfort
Bhava is a vegan shoe company with one of the most unique ideas for boots I've come across – they sell boot 'uppers' that attach via straps onto short boots, transforming them into knee-high or over-the-knee boots.
Now that's one way to be eco-friendly and save space!
As well as boots, Bhava also sell vegan sandals and wedges.
One great thing about their shoes is lots of customers state they're the most comfortable vegan shoes, so if you're looking for vegan comfort shoes you might love these. Many models also come with removable insoles.

Based in the US
Features: 100% vegan
Sometimes when you can't find non leather shoe brands, you have to start your own… Cult of Coquette was born when founder Bebe Roxana couldn't find a vegan version of the Louboutins she had wanted for years and decided to create her own.
If you're looking for a killer pair of vegan heels, Cult of Coquette has you covered. As well as heels, they have flats, bridal shoes and vegan slippers.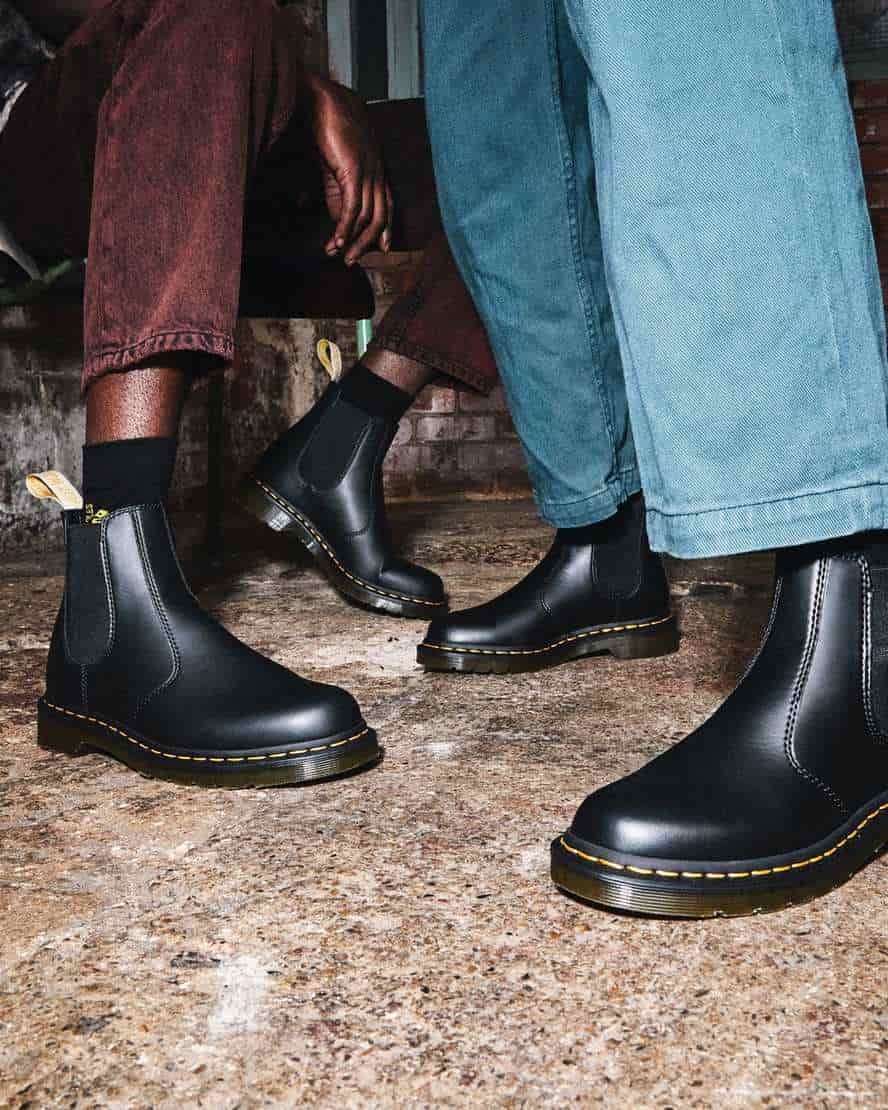 Yes, Dr. Martens have vegan shoes in their range!
If you're looking for classic boots from a well-known brand, made vegan, Doc Martens have vegan friendly boots in the range (for a long time, too — I remember hearing about vegan Doc Martens from when I first went vegan in 2008).
Choose from their range of shoes for vegans which includes classic Chelsea boots, lace up black vegan boots and more. You can also choose from different colours of their cool vegan shoes such as black, white and cherry red.
You can find my guide to all vegan Doc Martens here, vegan Doc Marten boots here, and vegan Dr Martens sandals here.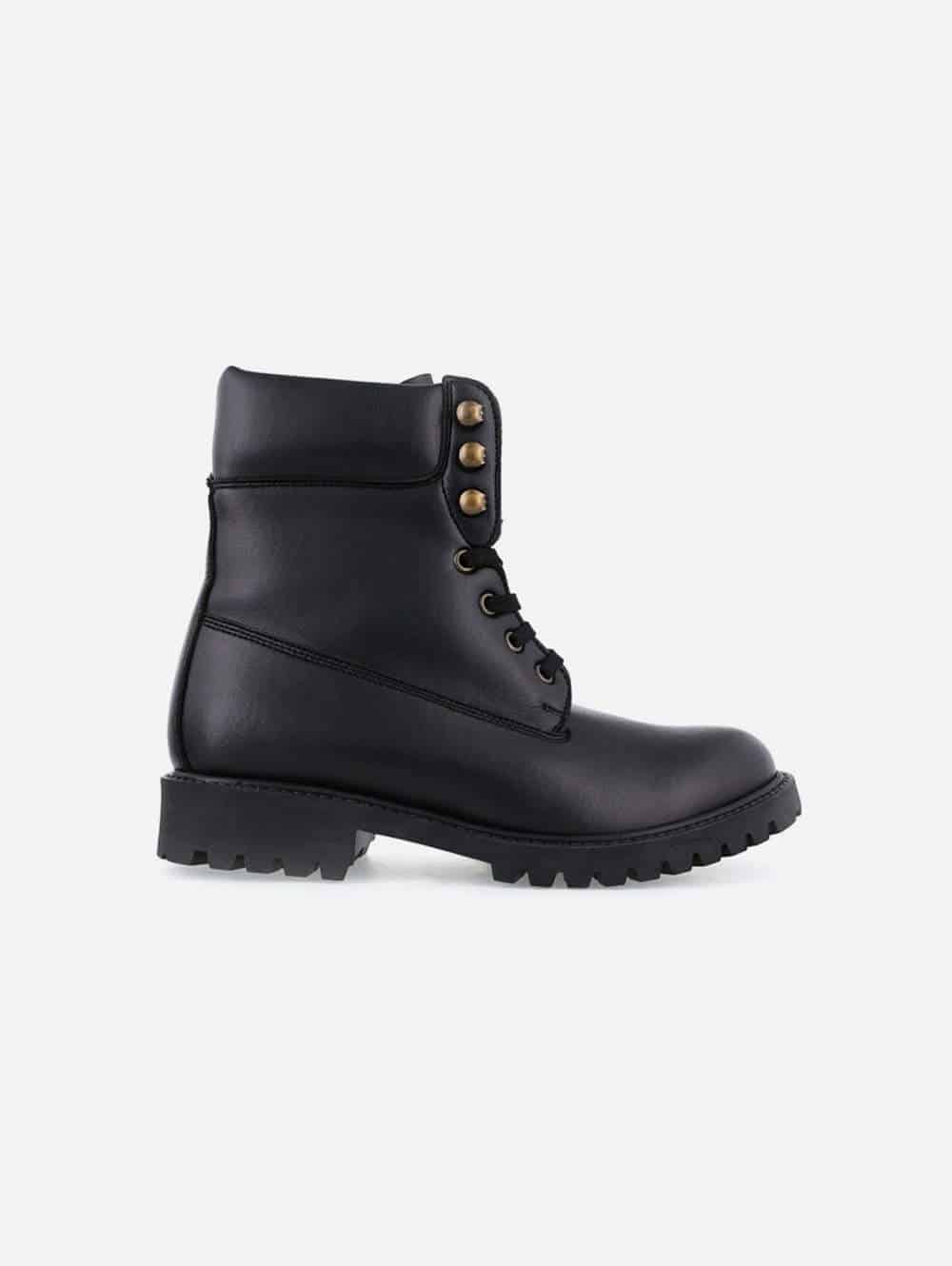 One of the vegan footwear brands with a wide range, NOAH has flats, winter boots, sandals and even vegan leather sneakers made from grape leather (a vegan alternative made from grapeskins left over from the wine industry, which would otherwise have gone to waste!).
The style of these vegan brand shoes tends towards classic, and they use high-quality materials.
The brand is also PETA approved vegan.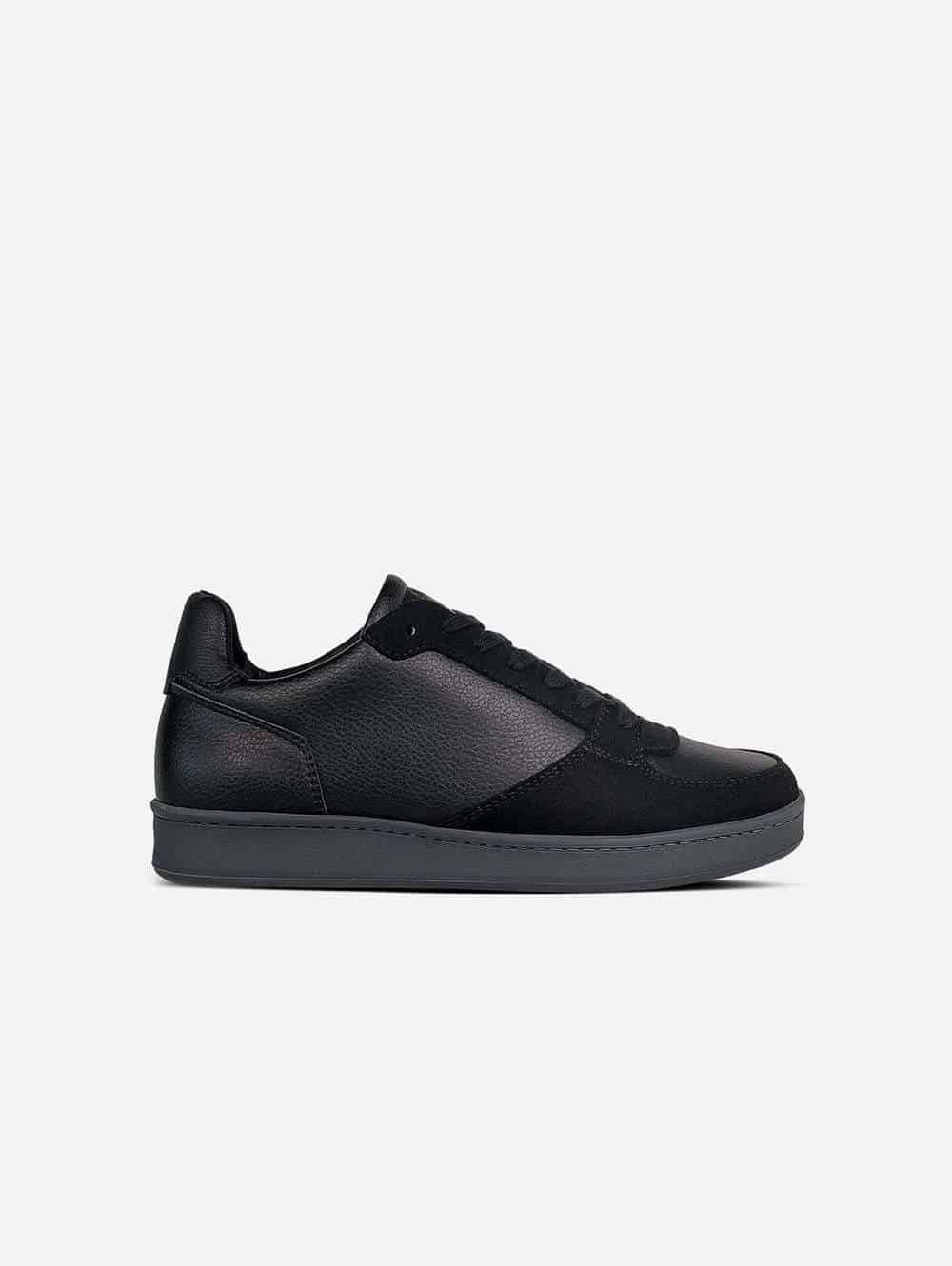 Humans are Vain is a vegan, sustainable and cruelty free footwear brand from Sweden. Their modern take uses materials like polyester made from up-cycled ocean waste, vegan apple leather, recycled cotton and recycled rubber.
Their aim is to operate within a circular model, and they ship using recycled packaging.
Their stylish vegan shoes are ethically made by artisans in Portugal.

Based in France
Features: 100% vegan, uses some sustainable & recycled materials
I love the look of Minuit sur Terre's designs (and just bought my first gorgeous pair of sandals from them), especially their boots and sandals.
They also make vegan sneakers out of eco-friendly apple leather!
They also use Oeko-Tex certified recycled materials in some of their vegan leather shoes.

Based in Canada
Features: 100% vegan
Noize is a Canadian company that specializes in vegan outwear, especially ultra-warm coats (they are based in Canada, after all!), but now they make shoes, too.
Looking for the best vegan slippers? They make slippers and boots that are perfect for winter weather (most are water resistant). Be sure to check out my vegan slippers guide.

Best for: vegan shoes UK
Based in the UK
Features: 100% vegan (PETA certified)
When it comes to cruelty free shoe brands, Will's was one of the first to specialise in men's shoes. Will's started life as a men's vegan shoe company at a time when there weren't many options in terms of vegan shoes for men. Now, they make both mens and womens vegan shoes.
They make mainly vegan versions of timeless designs in classic colors like black and brown, vegan dress shoes for men and vegan hiking shoes.
They even have waterproof vegan snow boots. You can see their vegan shoes for women here and their mens vegan shoes list here.
Will's has online stores for the US, UK, Germany and rest of EU – just change your country/currency in the upper lefthand corner.
They offer free carbon neutral shipping to the US, £3 carbon neutral shipping to the UK (no minimum), and 5 EUR carbon neutral shipping to Germany.

Based in the US
Features: 100% vegan
One of the original brands for luxury vegan shoes, Mink was founded in 2000 by Rebecca Mink. (Though not the oldest vegan shoe brand — that is, as far as I know, Vegetarian Shoes, founded in 1990).
They're known for their heels, especially their glittery ones, and their vegan womens shoes are a favorite of celebrities like Pamela Anderson and Alicia Silverstone.

Based in the US
Features: 100% vegan
These vegan luxury shoes are designed by Alfredo Piferi, former head of design at Jimmy Choo.
If you're looking for the best vegan leather shoes from a designer brand, Piferi or Stella McCartney is your best choice as at present, most of the big/most famous designers don't have an extensive range of vegan shoes.
Piferi launched his line of vegan luxury shoes at Milan Fashion Week in 2020, making them one of the latest up-and-coming vegan luxury brands.

Based in the US
Features: 100% vegan
Aera makes mens and womens luxury vegan shoes. Their aim is to create eco friendly vegan shoes with great designs, all made in Italy.

Based in the US
Features: 100% vegan
Use code "VEERAHXTHEVEGANWORD" for 10% off!
Veerah is a luxury vegan shoe brand that has one of the most unique offerings I've come across – they sell shoes and detachable accessories like tassels and clip-on brooches, so you can change up your look without extra shoes!
If you need vegan work shoes that do double or triple duty, these are perfect. Founder Stacey Change noticed on work trips she had to pack lots of pairs of shoes for different events, and realised if there were a way to change up one pair of shoes they could work in different settings. Thus, Veerah was born!

More vegan shoes brands to check out:
Call it Spring affordable vegan shoes
Vegan friendly footwear/brands with vegan options:

FAQ on vegan shoes
What are vegan shoes?
Simply put, vegan shoes are shoes completely devoid of animal products. That includes the obvious like leather, but also less obvious components such as animal-based glues (yes, they still exist!).
Where to buy vegan shoes? What shoe brands are vegan?
If you're really lucky, the city you live in might have a vegan shoe store, but it's not all that common and unfortunately due to to the Covid-19 pandemic many small businesses have closed.
Prior to Covid, I knew of at least four vegan shoe shops here in Barcelona, and now as far as I know only one remains open.
Thus, it's much easier to shop online – hence this list of vegan shoe brands!
You can also sometimes find vegan friendly shoes in department stores but since animal glues don't have to be labelled it can be hard to tell unless you get in touch with the brand. I usually buy from vegan shoe companies online.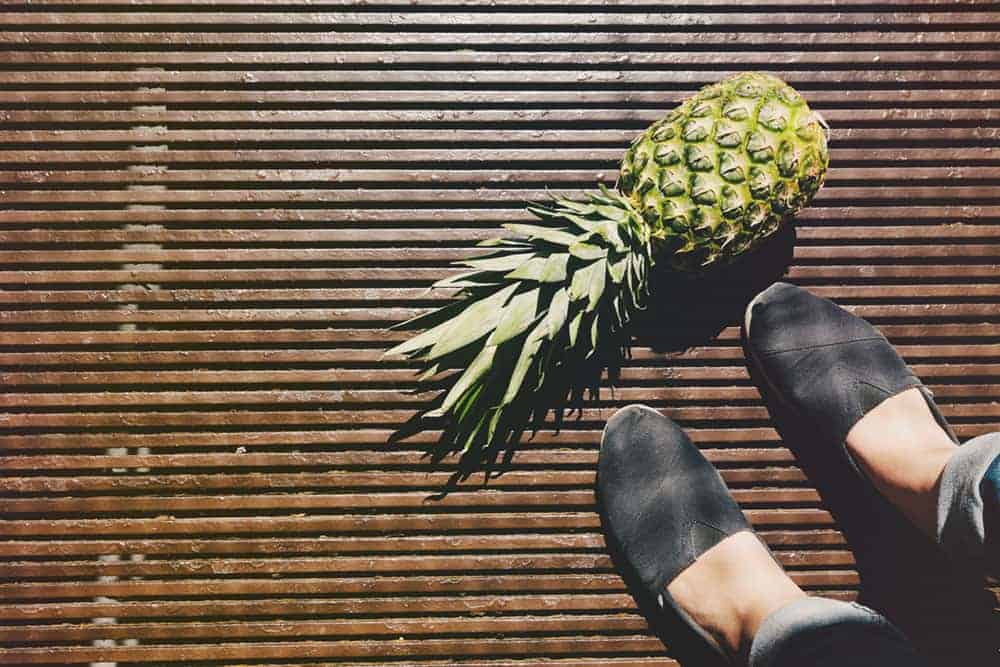 Are vegan shoes bad for the environment? Or are vegan shoes sustainable?
One very common misconception is that leather is an eco-friendly material. Many people think it's biodegradable, but depending on how it's tanned, it often isn't.
The tanning process used for 90% of leather today uses chromium, according to Common Objective, which has severe effects on workers, some as young as 10 in some countries. This range from irritation to the airways to increased cancer risk.
Because leather is a byproduct of the meat industry, it has the same detrimental effects on the environment, including releasing greenhouse gases and contributing to the deforestation of the Amazon.
The Higgs index, created by the Sustainable Apparel Coalition, measures the impacts of materials on the environment and rates leather as the second worst after alpaca wool.
So does this mean vegan shoes are the better choice? Yes, but their environmental impact depends on what they're made from. Avoid PVC (the most environmentally damaging plastic, according to Greenpeace).
While PU (polyurethane) is rated better on the Higgs index than leather, it is still a plastic and there are better options out there.
For sustainable living in style, the most sustainable vegan shoes on the market today are made of new vegan leather materials made of waste byproducts from the food industry, such as Piñatex (pineapple leather) and apple leather. Some brands on this list also incorporate recycled materials into their shoes.
Are vegan shoes durable?
Like any shoe, this depends largely on the manufacturer, how the shoes are made, etc. I've had vegan shoes that lasted me 10 years, and some that wore out after a year.
Are vegan shoes good quality?
Again, it depends largely on the brand. You can find non leather shoes (though the glue may not be vegan – see above) at discount shoe stores, but they might not last you very long.
On the other hand, you can buy hand-crafted artisan vegan shoes. It depends on your budget and what you're looking for, but you can certainly find high quality vegan shoes.
Are vegan shoes waterproof?
That depends on the material they're made from, but there are vegan waterproof shoes out there, for example Wills waterproof vegan hiking boots or Native Shoes waterproof vegan winter boots.
Are vegan shoes breathable?
There's an unfortunate misconception that vegan shoes aren't breathable and they make your feet smell! This may have been the case a few decades ago when many non leather shoes were made out of PVC plastic, but vegan leather materials have come a long way since then (and do avoid PVC – see why above).
This footwear site actually states synthetic materials are lighter weight and more breathable.
Experts recommend you rotate your shoes and don't wear the same pair every day. So if you're worried about smelly shoes, be sure to rotate shoes!
Is there such a thing as designer vegan shoes?
Yes! If you're looking for luxury, I have a guide to designer vegan shoes, which you can find here.
Although few mainstream high end designers have yet to adopt vegan shoes, Balenciaga has a vegan sneaker, and former Jimmy Choo designer Alfredo Piferi created his own vegan brand recently.
Plus, there are all-vegan designers out there like Aera New York, Cult of Coquette and Mink Shoes. Perhaps they aren't as famous as Jimmy Choo or Louboutin, but they make luxury vegan footwear that celebrities love and which will make your outfit.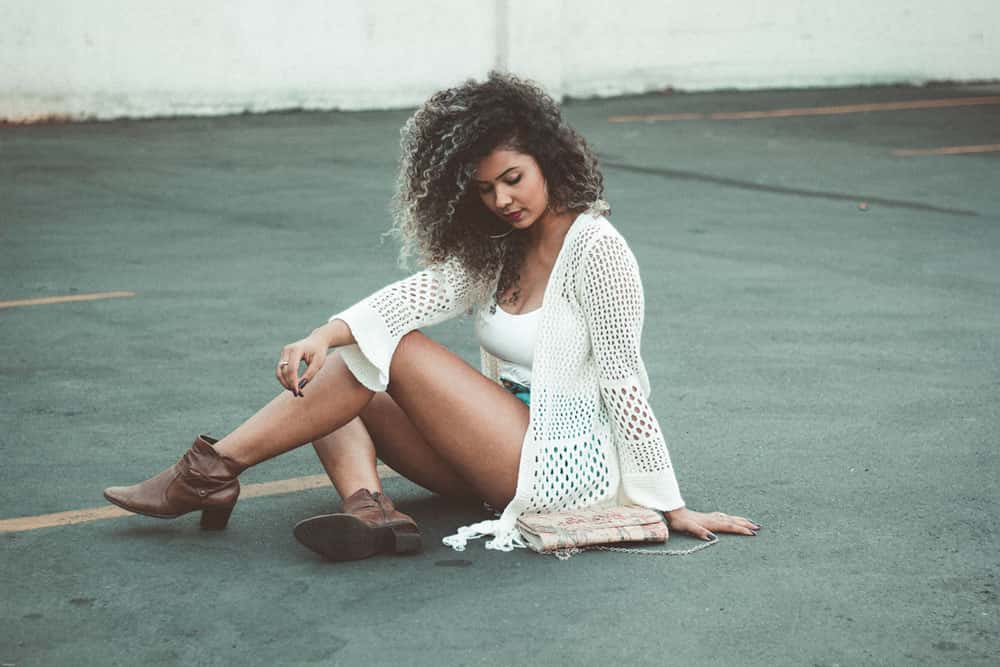 What are vegan shoes made of?
There are a wide range of materials used in vegan shoes these days. While PVC used to be common, it's the most environmentally damaging plastic and therefore I recommend avoiding it (see more information above).
Polyurethane (PU) is a commonly used vegan leather alternative. It's more eco-friendly than leather, according to the Higgs index, but it is still plastic so you may want to look at other materials.
Other commonly used materials are cork (which is very eco friendly!), canvas and organic cotton, rubber, wood and new vegan leathers such as pineapple leather, apple leather and even mushroom leather.
Why buy vegan shoes?
For the animals – leather is a by-product of the meat industry and all the cruelty therein (see more information on why go vegan from The Vegan Society).
For the planet – leather was rated as the second worst material for the environment, after alpaca wool (also not vegan!) by the Higgs Index.
For people – the tanning method used on 90% of leather on the market uses toxic chemicals that can seriously endanger the health of workers in the tanning industry, including children as young as 10 years old, causing damage to the airways and even increasing risk of cancer.
Pin this for later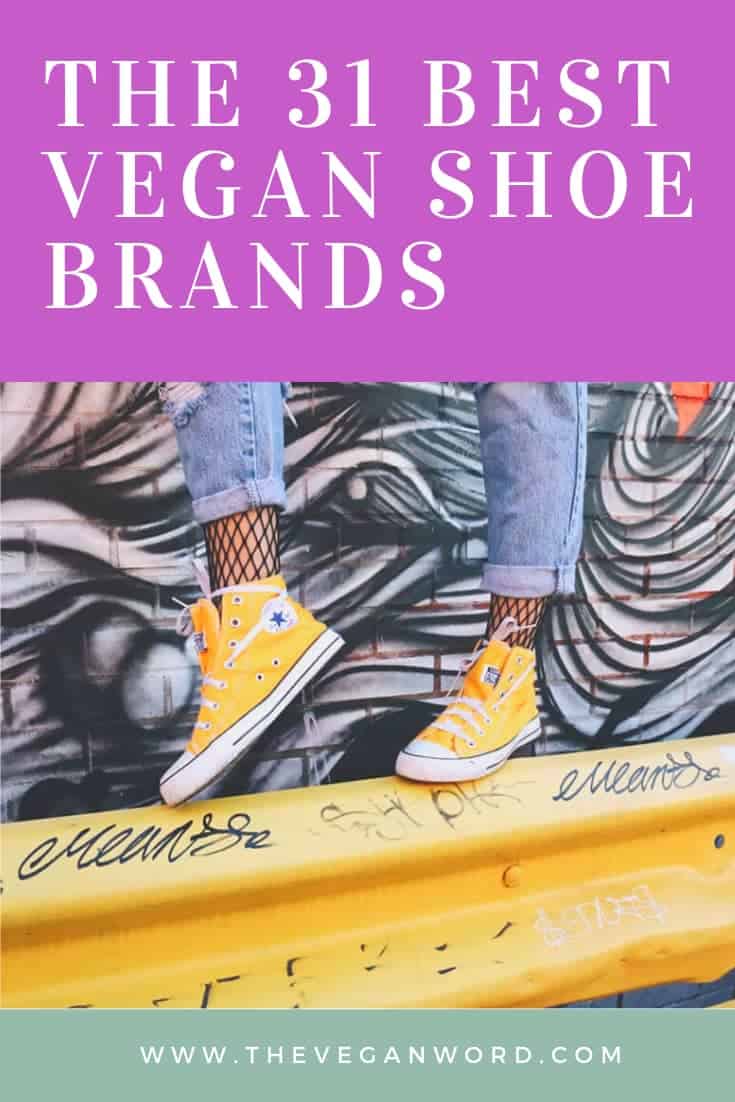 Looking for more vegan shoe guides?
See my guides specifically for vegan women's shoes and vegan men's shoes.
Check out my guides to vegan leather boots (including vegan cowboy boots and vegan work boots), Doc Marten vegan Chelsea boots, vegan walking boots, vegan sandals and the best vegan sneakers.
I also have further guides to vegan Birkenstocks, vegan Skechers, vegan Uggs, vegan Timberlands, vegan Converse. vegan loafers, vegan flats and Reebok vegan trainers.
Trying to find vegan bags? See my vegan handbag guide and my guide to vegan crossbody bags.
See all my vegan fashion & beauty guides.
Did I miss any? Let me know if there's another vegan shoe brand that should be on this list! Also, if you've come across wide vegan shoes please drop me a line – I know a few people looking for vegan wide shoes who can't seem to find them anywhere!