Finding a vegan hotel used to be a tricky task, but these days more and more vegan hotels are opening up around the world.
The best vegan hotels in the world I'll be reviewing include:
*VF = vegan friendly
*V = 100% Vegan
Whether you're looking for a vegan retreat to unwind with yoga on your next trip, or you're planning vegan holidays and want to stay in a vegan or vegetarian hotel, I've compiled a list of the best vegan hotels to be found worldwide.
I think it's a growing area and expect to see more and more vegan hotels opening over time! If you run a vegan hotel, please get in touch.
Have you been wondering 'where can I find vegetarian hotels near me or a vegan hotel near me'?
Staying at hotels with vegan food can make your next city break less stressful (who wants to forage for vegan breakfast first thing in the morning), while vegan resorts offer a relaxing experience if you want to make the most of your time off being completely taken care of.
A vegan B&B, on the other hand, will allow you a more intimate place to stay where you can also get to know your hosts. Hotels with vegan breakfast allow you to sleep in without worrying about finding food first thing. Plus since your hosts are likely vegan themselves, they will be able to advise you of the best vegan food in the area.
Looking for luxury? See my guide to the best vegan all inclusive resorts here.
Not only does staying in vegan B&Bs or hotels make eating easier, but everything else too like hotel amenities. Vegan accommodation means everything is vegan. So, vegan hotel toiletries are cruelty-free and you won't have to worry about bringing your own if you stay at a fully vegan hotel.
Looking for vegan hotels? See the menu below to choose by area/city.
n america
Best Vegan Hotels in North America
Looking for vegan hotels in California? Or are you after a wellness hotel, vegan style?
Whether you're just hoping for a vegan hotel breakfast or you're lusting after a stay in one of the vegan friendly hotels that features talented vegan chefs and cruelty-free spa services, here are some of the best vegan hotels in North America. Go ahead and plan your next weekend away!
LA

The Bel Air Treehouse is the only vegan hotel in LA. This 3.5 star European-style B&B features guest rooms decorated with objects from the owners' travels. Each has its own bathroom and shower with filtered water, with Epsom salts and vegan, sustainable toiletries. Sheets are 700 count Egyptian cotton.
The roof of the Bel Air Treehouse B&B is a skylight, letting in the natural light, and they aim to make the B&B zero waste. The room rates include a biodynamic continental breakfast, including homemade nut milk.
Massages also available.
Click here to check the latest prices and availability.
mendocino

Perhaps the best vegan hotel in California, Stanford Inn by the Sea calls itself an eco resort. Set on a hillside, this 4 star Mendocino vegan hotel is pure vegan luxury. Nestled in a meadow overlooking Mendocino bay, you couldn't ask for more natural beauty.
All rooms at Stanford Inn by the Sea have pine and redwood panels and there are multiple fireplaces on the property for maximum cosiness in the winter. The inn also has an indoor pool. Nearby, you can canoe or kayak on the Big River.
Room rates include vegan breakfast, and you can even bring your dog or other companion animal along. (If your dog is vegan, be sure to bring vegan dog food with you! Click here to see my vegan dog food buying guide)
Massages and private yoga available. The on-site restaurant, Ravens, serves organic farm-to-table plant-based food.
Click here for the latest prices and availability.
san francisco

The 3 star Courtyard by Marriott near San Francisco's Union Square is so well-located you'll be able to easily get to many of San Fran's veggie and vegan eateries, including Golden Era (0.5 miles), an all-vegan Asian fusion restaurant. San Franciso doesn't have any all-vegetarian or vegan hotels, but at least here, you'll be close to vegan restaurants.
Plus, Interstate, which manages Marriott hotels, announced they are rolling out plant-based options in an increasing number of hotels, so vegan menu options may be coming to the Courtyard soon.
Click here to see the latest prices and availability.
Portland

The Nines is a vegan-friendly 5-star luxury hotel with a fantastic vegan-friendly restaurant on the top floor, Departure. Portland may not have any all-vegan hotels, but The Nines makes up for it.
Located next to Portland's Pioneer Square, the hotel's central location makes it easy to explore Portland's many vegan-friendly restaurants.
In fact, one of those vegan-friendly restaurants is on-site! Departure is a vegan-friendly restaurant on the top floor of The Nines with fantastic views over the entire city. Its modern Asian menu features vegan choices plus a cocktail menu. What's not to love about a hotel with this restaurant on-site?
Click here for the latest prices and availability.
new york

If you're looking for a completely different accommodation experience, Farm Sanctuary offers places to stay. This well-known animal sanctuary in upstate New York has a number of cabins and tiny houses available.
Farm Sanctuary presents the accommodation as a way for members to learn more about the sanctuary and get closer to the rescued animals there.
new york city

The Archer Hotel is a modern 4-star boutique hotel in Manhattan. Looking for a vegan bed and breakfast? New York isn't home to any 100% vegan hotels (yet!), the Archer Hotel is vegan-friendly.
Guests who've contacted the hotel in advance to let them know vegans are coming have noted the hotel provided vegan treats at turn-down service and soy milk in the mini fridge.
Less than a mile away from Times Square, the Archer Hotel's central location means it's easy to visit many of New York's many vegan restaurants. The rooftop bar has views of the Empire State Building and Chrysler Building.
Click here for the latest prices and availability.
austin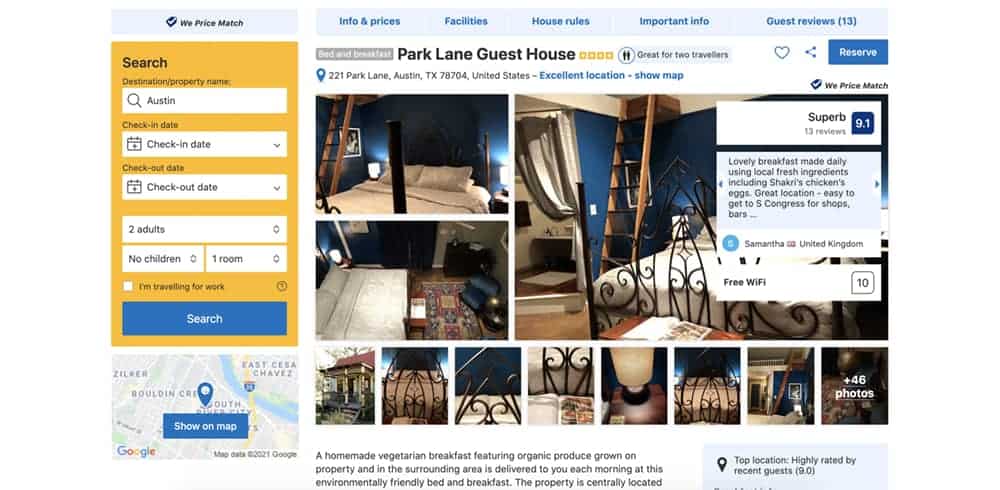 Park Lane Guest House is an eco-friendly vegetarian hotel in Austin. Austin's already a vegan-friendly city, so why not choose a bed and breakfast where you're guaranteed a vegan breakfast?
Accommodation is in private cottages, set around a natural pool. Bikes are available for rent and electric vehicle charging is provided.
Be sure to request a vegan breakfast.
Click here for more information.
Casa delphine

Casa Delphine is a boutique vegan hotel that just opened in UNESCO World Heritage listed city San Miguel de Allende. They serve a vegan breakfast every day, and host pop-up vegan dinners by different chefs.
The hotel has 5 suites, including a rooftop suite that has panoramic views of the city from its private roof terrace. Every suite has a fireplace, air conditioning, WiFi, a flat screen TV, high thread count cotton sheets and bath products handmade by local artisans.
Click here for more information.
mother earth

Mother Earth is a brand new vegan hotel in Tamarindo, minutes from the beach.
Featuring a rooftop yoga studio, a natural saltwater pool and a vegan, zero-waste poolside restaurant, this looks like a wonderful place to stay.
The whole hotel is designed in an eco-conscious manner, using solar polar and recycled wastewater for the grounds.
Click here for more information.
europe
Best Vegan Hotels in Europe
Looking for a vegan hotel Europe?
If you're looking for vegan or vegetarian resorts, a vegan all inclusive or the best veg hotel to make your vegan trips a success, Europe has the widest range of vegetarian and vegan accommodation, whether you're searching for a vegan wellness spa or basic vegetarian accommodation.
From Germany to Spain, you'll find vegan getaways galore. Read on to find the best vegan hotels Europe has to offer.
germany
Germany
Looking for vegan hotels Germany? There are vegan/vegan-friendly hotels in Berlin, Hamburg and beyond. For my full guide to vegan hotels in Berlin, click here.
berlin hotel vegan

Almodovar Hotel is the only Berlin vegan hotel. (Actually, it's vegetarian, but it's perfect for vegan guests as the breakfast and restaurant have a lot of vegan options.) I stayed here last time I visited Berlin, and it was a delight to stay in this 4 star hotel.
Berlin is a paradise for vegans and that includes accommodation. As far as vegan hotels Berlin go, Almodovar is Berlin's first organic and vegetarian hotel and it's worth staying here if you can get a room.
This vegan friendly hotel in Berlin uses environmentally friendly design to make the building as eco friendly as possible. Located in the trendy Friedrichshain district, the Almodovar veggie hotel Berlin is near vegan friendly restaurants. However, staying in Almodovar's vegetarian hotel Berlin, you may not even want to leave the premises!
Almodovar Hotel's breakfast buffet is organic and all-vegetarian and includes vegan options, as does the on-site restaurant, plus each room comes with a yoga mat and you can book spa services such as a massage or at the rooftop spa.
Click here for the latest prices and availability.
zeltingen

Hotel Nicolay 1881 is a family hotel (run in the same family for the last five generations), which is now completely vegan. Located on the picturesque Moselle River in Zeltingen, Germany, the hotel has views of the river, vineyards and scenery.
Hotel Nicolay offers a vegan breakfast buffet and a wellness center, which has a four different saunas, an indoor pool, gym and yoga studio. The breakfast buffet is included in room rates and when the weather is warm, it's served outside on the terrace by the river.
Dogs are welcome!
There are three vegan restaurants on site and the hotel even boasts a vegan wine cellar.
Click here for the latest prices and availability.
hamburg

Green Haven's Hamburg vegan hotel is the only completely vegan accommodation in the city, although the Archotel chain's Hamburg location also offers vegan menu options.
This veggie hotel Hamburg offers private rooms with shared bathrooms or a self-contained apartment and shared communal areas (kitchen, dining room, living room). While there may be no vegan hostel in Hamburg for the budget-conscious (yet!), Green Haven is affordable for Hamburg.
You have the option of self-catering or a vegan breakfast (extra charge) at the Green Haven hotel. Hamburg is pretty strong in terms of its vegan scene so you'll also find a selection of vegan and vegan friendly restaurants in the city.
Click here for the latest prices and availability.
uk
Vegan and vegetarian hotels UK
Looking a vegan hotel in the UK? Or vegan hotels in London?
Whether you're looking to see what vegan hotels Scotland has, or vegan friendly accommodation in the UK capital of London, I've got a roundup of the best vegan friendly accommodation in the UK here.
Below you'll find a list of vegan hotels in some of the most popular destinations in the UK.
I've also got a longer guide to vegan hotels, retreats and B&Bs in the UK here. And if you're looking for a bit of luxury or a vegan spa in the UK, check out my guide to vegan resorts here.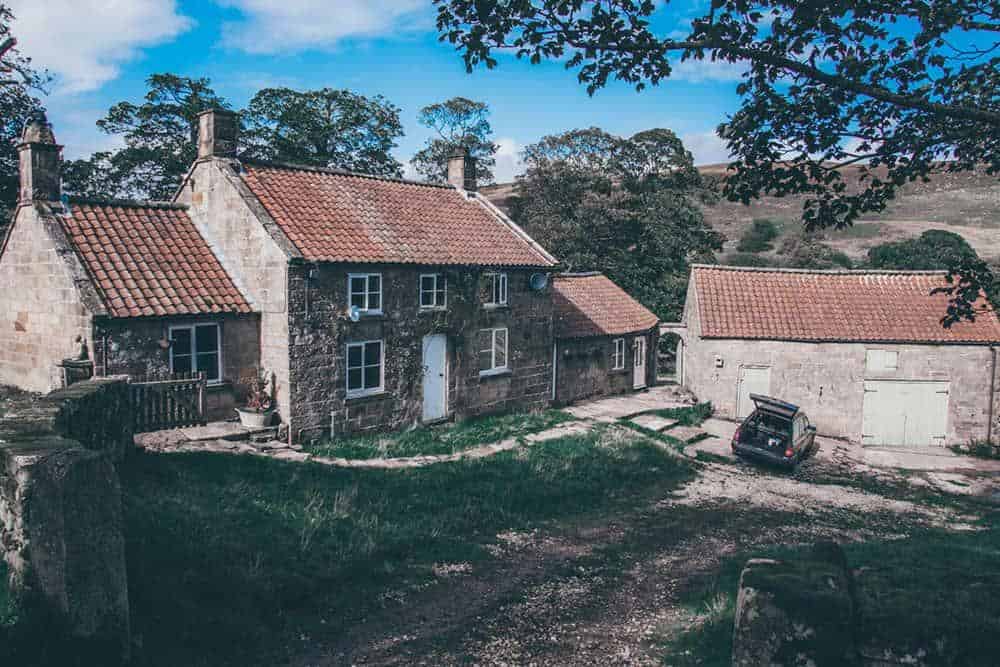 Looking for a vegan hotel in London or vegan hostel in London? Click here to see my guide to vegan-friendly hotels in London.
London: Temple Lodge veggie bed & breakfast
Vegetarian bed & breakfast away from hustle & bustle of city.
London: Vegan hotel suite, Hilton Bankside
100% vegan suite (mini bar, room service, furnishings, cleaning products) in 5 star hotel.
Click here to read review.
Vegan hotel Brighton: Number 14 B&B
This bed & breakfast has vegan breakfast options on request. Click here to read my vegan guide to Brighton and see more vegan friendly hotel options.
Vegetarian hotel Ambleside: Ambleside Manor
A veggie bed & breakfast with vegan options in the Lake District.
Click here to find out more.
Vegetarian hotel York: Gregorys of York (vegetarian & vegan friendly B&B)
Looking for a vegan hotel York? Gregorys of York is a vegan friendly B&B. Vegan options and gluten free options can be prepared at breakfast on request.
Click here to find out more.
Vegan hotel Hastings: Baytree Vegan B&B
This 100% vegan B&B provides organic, vegan breakfast (included in room rates) and is dog friendly by prior arrangement.
Vegan hotel Scotland (on Isle of Arran): Stonewater Vegan B&B
Stonewater vegan B&B is a completely vegan bed and breakfast on the beautiful Isle of Arran. Looking for a vegetarian hotel Scotland? You can't find a more picturesque location, with views across Lamlash Bay.
Click here to find out more.
Vegan hotel Edinburgh: Claymore Vegetarian Guest house (vegetarian B&B)
This vegetarian B&B is vegan friendly and centrally located, 15 minutes' walk from Edinburgh's Princes Street.
Vegan hotel Wales: Over the Rainbow (vegetarian guesthouse)
Over the Rainbow is a 100% vegetarian guesthouse that's vegan friendly. Located in a restored characterful Georgian mansion, it's just 3 miles from the Welsh coast.
Click here to find out more.
london

Temple Lodge Club is the perfect option if you want to explore one of the most vegan-friendly cities in the world, while staying in vegetarian accommodation away from the hustle and bustle of the city centre.
This 3 star bed & breakfast is located in Hammersmith, within easy reach of central London by tube. It's located by the river in a really lovely location (I know because I live in London and am familiar with the area!) and is just steps away from one of the best vegetarian restaurants in the city, The Gate, which is housed on the same property.
Located in a listed Georgian era building, Temple Lodge Club is a tranquil haven -- not just because of its location but because there are no TVs in the hotel. It's surprisingly affordable for London and prices include an organic breakfast (vegan options available).
Note they do mention on their site they use feather and down duvets--presumably they can swap those out on request since they're listed as a vegetarian and vegan hotel but best to check. (Please do let me know if you've stayed there and know if they can!)
Alternatively, the Hilton (see below) has built an entirely vegan hotel suite in London, including all vegan furnishings and bedding.
Click here for the latest prices and availability.
London vegan suite

London's Hilton Bankside made headlines in early 2019 when it opened the world's first fully vegan suite at a major hotel chain.
With help from the Vegan Society, Hilton Bankside designed this entirely vegan suite within their Bankside hotel. The London vegan hotel suite features vegan decor and bedding, toiletries and room service menu.
Everything, from the pineapple leather furniture to the buckwheat pillows, is vegan friendly. The mini bar is stocked full of vegan snacks, housekeepers use vegan detergents to wash the sheets and cruelty-free cleaning solutions to clean the suite and there is a vegan menu available. If you dine in the hotel restaurant, there are designated 'vegan tables' with non-leather chairs.
A stay at the Hilton Bankside isn't cheap, but if you want a luxury vegan stay or a vegan honeymoon with attention to every small detail, it's the perfect experience. Be sure to request the vegan suite.
I'm hoping it's part of a wider trend!
Click here for the latest prices and availability.
saorsa

The Saorsa Hotel is a vegan boutique hotel in Pitlochry, Perthshire, Scotland. Set in a country house on the edge of Cairngorms National Park.
Everything in the hotel is vegan, from furnishings to the on-site restaurant. The restaurant has excellent reviews, and it's overseen by former Noma chef Deborah Fleck. The cocktails on the menu feature local ingredients.
Click here for the latest prices and availability.
spain

Vegan hotels Spain
Looking for a Spanish vegan hotel? Spain is home to some beautiful vegan hotels and here are my picks of hotels in the most popular destinations!
Mallorca: Villa Vegana
100% vegan hotel with panoramic views, in a 15th century manor home.
Lleida: Casa Albets
Entirely vegan hotel Casa Albets is located halfway between Barcelona and Andorra. In a renovated farmhouse, this 4-star hotel serves up vegan food in a relaxed and peaceful setting.
Click here to read the full review.
Vegan hotel Barcelona: Eco Boutique Hostal Grau (eco friendly hotel)
Although you won't find a Barcelona vegan hotel just yet, Eco Boutique Hostal Grau is my top choice in Barcelona. This eco hotel is centrally located near Plaza Catalunya and walking distance to most of Barcelona's vegan restaurants, plus it's eco friendly!
Click here to find my vegan guide to Barcelona, and my guide to vegan friendly Barcelona accommodation here.
Ibiza: Ibizazen
Looking for a vegan hotel in Ibiza? If you're looking for an Ibiza vegan hotel you'll be disappointed to learn the island doesn't have any 100% vegan hotels just yet. However, Ibizazen is a vegan friendly hotel that's happy to make vegan food on request.
Click here for more information.
Gran Canaria: Eco hostel Bettmar
Looking for a vegan hotel in Gran Canaria? While there aren't any entirely vegan hotels or hostels in Gran Canaria right now, eco hostel Bettmar is a good bet. The hostel is eco friendly and you can prepare your own meals in the shared kitchen. Check out my vegan Gran Canaria guide here!
Click here for more information.
hotel vegan mallorca

If you're looking for vegan hotels Mallorca has to offer, look no further. Villa Vegana, a Mallorca vegan hotel, was established in 2013 and is one of the oldest vegan hotels Europe has. Set within a conservation area, it offers panoramic views and a little slice of vegan heaven.
Villa Vegana's vegan Mallorca hotel is set in a refurbished 15th century manor house with a lot of character.
Enjoy a vegan breakfast buffet every day and food from the restaurant, which serves all plant-based and mostly ecological food (soon from their own permaculture garden).
Villa Vegana is cleaned using vegan and sustainable products and toiletries provided are all cruelty-free and vegan.
Villa Vegana also has an outdoor pool.
Click here for the latest prices and availability.
lleida

Casa Albets is a 4 star vegan hotel in a gorgeous converted stone farmhouse about two hours' drive outside Barcelona, halfway between Barcelona and Andorra. The hotel has been designed in a sustainable and eco-friendly manner and has a vegan restaurant on site.
Casa Albets' room rates include vegan breakfast and the hotel is dog friendly.
The hotel offers massage, yoga and bicycle rentals.
Click here for the latest prices and availability.
italy

Vegan hotels Italy
Looking for a vegan hotel in Italy? Italian cuisine naturally has many vegan/veganisable options but there's nothing nicer than waking up on your holiday knowing you've got a vegan breakfast option waiting for you downstairs.
Here are a few of Italy's vegetarian and vegan hotel options.
Vegan hotel Rome: B&B Bio Organic
Searching for a vegetarian hotel Italy? This B&B in Rome offers organic vegan breakfast for just 5 Euros.
Click here for more information (and use this link to get £25 off your first Airbnb stay!).
Hotel vegan Rimini: Hotel Luxor Bellaria Igea Marina
Hotel Luxor is a 3 star family-run hotel that's vegan friendly and just a 1 minute walk from the beach. Buffets are served at breakfast, lunch and dinner and they say 90% of the dishes are vegan.
Click here for more information.
Vegan villa Tuscany: I Pini
I pini is a vegan hotel and vegan vineyard in Tuscany that's giving me some serious thoughts about hopping on a plane to Tuscany and checking it out right now. Panoramic views, a saltwater pool and vegan breakfast and a 4-course dinner served on the patio.
Click here for more information.
Vegan hotel Tirol: La Vimea
La Vimea is a 100% vegan 4 star hotel in Italy's northeast, in south Tyrol near the Austrian border. Furniture is green (organic cotton, biodegradable mattresses), vegan toiletries provided and all food is organic and vegan.
Click here for more information.
austria

Vegan hotels Austria
Looking for a vegan hotel in Austria? This country's not short on vegan friendly accommodation options. Take your pick of the top destinations below.
Vegan hotel Wien / Vienna: Hotel Bristol (vegan friendly)
This 5 star luxury hotel is located just next to the Vienna State Opera. The hotel has views of the city and several on-site restaurants. The Bristol Lounge (one on-site restaurant) offers vegan a la carte menu options.
Click here for more information.
Hotel vegan Osterreich: Naturhotel LechLife (vegan friendly)
Looking for veggie hotels Osterreich? Overlooking a wild river, this vegan friendly hotel is one of the most vegan friendly non-veg hotels I've come across. As well as offering vegan food options, let them know you're vegan and vegan toiletries and vegan wine can be provided.
Click here for more information.
netherlands
The Netherlands
amsterdam

Looking for vegan hotels Amsterdam? De Bedstee boutique capsule hotel is Amsterdam's only vegetarian hotel. Not suitable for the claustrophobic or those with large luggage (although they do have space for cabin-sized luggage), de Bedstee offers capsule/cabin rooms (e.g. a bed-sized compartment, no extra room) in a traditional Dutch style.
De Bedstee's is Amsterdam's first vegetarian and vegan hotel. Click here to see my full Amsterdam vegan guide, including my top picks of Amsterdam's vegan friendly hotels apart from De Bedstee.
Click here for the latest prices and availability.
vegotel

Vegotel is a vegan hotel chain with locations in seven European countries (see all locations here). If you're looking for hotels with vegan menu dishes, all the hotels have 100% vegan menus. This location, in the Friesland region of the Netherlands, has excellent reviews on Booking.com.
Located in a 19th century farmhouse, Vegotel Blije is on the age of the Waddensea area, a UNESCO World Heritage site. There are lots of opportunities for walking and cycling. You can also go on a day trip (bikes included) to two Waddensea islands.
Vegan breakfast is available, as well as half- and full-board (dinner and picnic lunches too). Vegan breakfast options are a Dutch breakfast/lunch (fresh baked bread, vegan cheese and vegan cold cuts, spreads, coffee or tea and orange juice), Italian breakfast or a full English (including a vegan fried egg, plus vegan sausages, bacon, baked beans, mushrooms, tomatoes, toast, tea and juice).
Two rooms are available, both with private bathrooms, and views of the meadow. Rooms have a vegan minibar. Bicycle, e-bike and electric car rental available.
Packages for two people are available for one or two-night stays with some or all meals included.
Click here for the latest prices and availability.
france
France
France has a reputation not being particularly vegan-friendly. France is evolving, though, with more and more vegan restaurants opening across the country, and more vegan friendly hotels opening, too.
Paris is now really vegan friendly (if you stick to vegetarian and vegan restaurants - non-veg restaurants still don't usually have vegan options) but the French countryside can still be a challenge for vegans. Unless, that is, you stay at a vegan hotel like Le Cheval Blanc. Here's where to stay!
paris

Best for: vegan hotel Paris
Looking for a vegan hotel in Paris? Chambres de la Grande Porte is a vegetarian bed and breakfast in Paris offering vegan options. (See my vegan guide to Paris here!)
You also have the option of dinner for 15 Euros. The bed and breakfast is within walking distance of Gare du Nord train station (the Eurostar station).
The property also has a shared kitchen.
Click here for the latest prices and availability.
saint antonin

Finding vegan food in the French countryside can prove tricky. But this vegan bed and breakfast is in a surprisingly vegan friendly medieval village, Saint Antonin Noble Val in rural Southwest France (thanks to the owners, Natalie and Peter, who are hard at work on veganising the village!).
If you're dreaming of spending your next trip in a picturesque French village but are worried you won't find anything to eat, Le Cheval Blanc is the place for you.
All food is vegan and they run plant based cooking classes as well. Breakfast is included and dinner can be purchased as well, or there's a self-catering option.
You could also take part in food tours, a gourmet weekend or cycling holidays at Le Cheval Blanc (check upcoming dates before you book).
Click here for the latest prices and availability.
portugal
Portugal
Vegan hotel Portugal: Casa da Cumeada
Portugal's 100% vegan hotel, Casa da Cumeada, is a vegan bed and breakfast with food prepared in the macrobiotic style.
Click here for more information.
greece

Vegan hotels Greece
Heading to Greece and looking for a vegan hotel Greece? If you're headed to the capital, check out my vegan Athens guide, which shares the best vegan restaurants and vegan friendly accommodation here. If you're headed to Santorini, I've got a guide to vegan friendly restaurants and accommodation here.
Corfu: Mythos Aparthotel (vegan friendly)
Mythos apart-hotel in Corfu is vegan friendly. They serve a vegetarian breakfast and dinner buffet. Vegan options available. Also available: yoga, tai chi, pilates, meditation.
Click here for more information.
czech republic
Czechia: Prague
Vegan hotel Prague: Sophie's Hostel (vegan friendly)
This hostel offers a breakfast buffet and is very accommodating to vegans. Ask about vegan food and they'll point out all the vegan options and may even make you porridge with non-dairy milk.
Click here for more information.
sweden

Sweden
Vegan hotel Stockholm: Crystal Plaza (vegan friendly)
Crystal Plaza Hotel is happy to accommodate vegans at breakfast if you ask in advance (providing non-dairy milk and yoghurt as well as bread, jam and fruits).
Click here for more information.
denmark
Denmark
Vegan hotel Copenhagen: Andersen Hotel (vegan friendly)
The Andersen Hotel is centrally located and offers a vegan friendly breakfast.
Click here fo rmore information.
asia
Best vegan & vegan friendly hotels in Asia
If you're looking for a wellness hotel vegan style then you're in luck, because Asia is home to several vegan luxury hotels and entirely vegan retreats and wellness centres. If you're looking for a luxury vegan hotel, vegan and vegetarian guesthouse or vegan spa hotel, read on.
bali

Being Sattvaa is a luxurious Bali vegan hotel just a 15 minute drive from Ubud. If you want to escape everything but still be near enough civilisation you can get into town for a meal or a fresh juice, this is the place to go. You can drive or hop on the free shuttle into Ubud.
The 4 star hotel is surrounded by gorgeous, lush greenery, the perfect relaxation spot. You'll find a yoga pavilion, or pamper yourself with a massage.
You can also go trekking, kayaking or rafting nearby. Or you can join a retreat; yoga and raw food retreats take place here, among others.
The vegan kitchen is open all day and room service is available.
Click here for the latest prices and availability.
thailand
Thailand
Looking for a vegan hotel in Thailand? Whether you're looking for a vegan friendly spot to stay amid the hustle and bustle of Bangkok or a retreat to relax at, read on.
koh phangan

Wonderland is a vegan retreat centre on the island of Koh Phangan. Get away from it all at this completely vegan hotel.
Wonderland is nestled among palm tree forests and gardens, with views of nearby mountains and waterfalls.
Yoga and meditation retreats and classes are available as are holistic treatments, such as traditional Thai massage. You'll also find a steam room and outdoor pool.
There's an onsite vegan lounge, buffet and juice bar, serving vegan meals throughout the day.
Click here for the latest prices and availability.
bangkok

Ariyasom Villa is a 4 star hotel in the heart of Bangkok, at the start of Sukhumvit Road. Tranquil in spite of its central location, Ariyasom is decorated in 1940s style and features and outdoor pool.
The organic on-site restaurant is vegan friendly.
There's a spa at the hotel if you want to pamper yourself, and rooms overlook the landscaped gardens.
Click here for the latest prices and availability.
philippines
Philippines

The Farm at San Benito is one of the top wellness centres and spas in the world. This five star vegan hotel is tucked away in a quiet 48-hectare garden.
Yoga, tai chi and treatments can be arranged.
Click here for the latest prices and availability.
Don't forget to pack your vegan sunscreen and your deodorant! See my vegan deodorant guide here and my vegan sunscreen buying guide here.
Pin this for later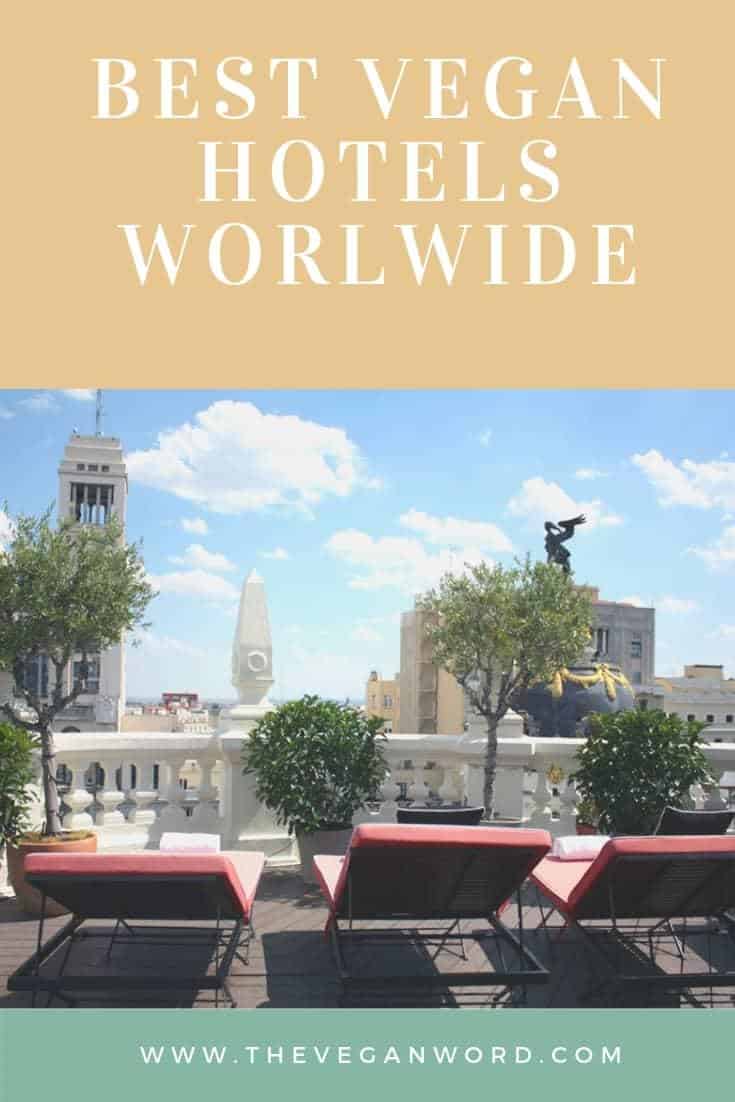 Planning your next trip and not sure where to go? Click here to read my list of the 25 most vegan friendly cities in the world!
Want to join a vegan group tour? See my guide to vegan tour operators and upcoming tours here!
Find out more about vegan accommodation in different parts of the world here, and see all my vegan travel guides here.