This post may contain affiliate links (see full disclaimer here). This means if you make a purchase after clicking, I may get a small percentage of the sale, at absolutely no extra cost to you.
Vegan meal kits can be a timesaver for busy households, cutting out the time spent shopping and on meal prep, and recent studies show a vegan food delivery box can even be an eco friendly option by cutting down on food waste. If you've been thinking of getting a vegan meal kit delivery, but aren't sure which to choose, I've got you covered!
If you've looked around, you may have noticed many meal prep delivery services don't offer vegan options. Fortunately, more and more meal kit providers are putting out vegan options, and some all-vegan meal kits are out there now too. I combed through the menu of 24 meal kit providers, and chose the 7 best ones for vegan meal delivery nationwide (plus one in Canada). Read on to find out which vegan meal box is best, plus how the costs compare.
The best vegan meal kit services I'll be reviewing are:
Note: this article compares US-wide plant based meal kits (and one Canadian option). To see the UK version of the article, click here.
table
Vegan Meal Kit Comparison Table
what
What are vegan meal kits?
If you've ever looked for easy vegan meal prep, you've likely come across two different concepts: meal kits for vegans and vegan prepared meal delivery. What's the difference between the two?
Meal kits are boxes of pre-prepped ingredients, which you still have to cook at home. Usually they come with pre-measured spices and sauces and sometimes even pre-chopped veggies.
Meal delivery consists of refrigerated or frozen vegan meals, delivered to your home. All you need to do is reheat and eat.
In this article, I'm going to be focusing on vegan meal kits, but if you're interested in vegan meal delivery, I have an article devoted to that.
Click here to see my guide to the best vegan food delivery services.
Unfortunately many of the biggest meal kit services, like Blue Apron and Hello Fresh, don't provide vegan options, or they provide one only once every few weeks. What makes a meal kit vegan? Surely, containing only vegan ingredients–but on Hello Fresh's site, they advise vegan customers to buy vegetarian meal kits and just 'don't use'/throw away the non-vegan parts of the recipes, like cheese. This is completely unacceptable for most vegans, who don't buy animal products out of ethical or environmental concerns, and even for those who are plant-based for health reasons, this is a really wasteful practice (environmentally and cost-wise). As an ethical vegan and an eco-conscious consumer, I was really unimpressed with this advice.
Fortunately, as you'll see below in the vegan meal delivery reviews, more and more vegan meal prep companies are springing up, and meal kit providers are starting to offer plant-based boxes. You'll find the best vegan meal kit delivery options reviewed below.
why
Why and when to order vegan meal prep delivery
Meal kits are a popular way to save time, for example if you're going through a busy period at work, are in the middle of a move, or have just had a baby. While vegan food kits still require some cooking time, they cut out most of the food prep and shopping time required to make home-cooked meals.
A vegan meal prep service is the right fit for you if any of the following are true:
You want to cook plant-based meals at home, but lack the time to shop and prep ingredients. Ideally you have around 15-30 minutes available to cook meals (as meal kits still require some cooking)
You're new to a vegan diet and don't know what to make/need inspiration, or are looking for a vegan beginner meal plan
You're pressed for time because you just had a baby, moved house or are going through a busy time
In any of these cases, vegan meal kits delivery can save you time while still ensuring you feed your family healthy food.
If you are really busy and don't have the 15-30 minutes of time to cook, I recommend looking at vegan meal delivery services. Click here to read my review of vegan food delivery services.
If you have at least 15 minutes to devote to cooking, then read on to find out about the best plant based meal kits.
However, bear in mind that all meal kits, vegan or not, are more expensive than cooking from scratch, while being less expensive than takeout or getting prepared frozen/refrigerated meals delivered. Plus, they create a lot of packaging waste (although the environmental effect of this vs food waste is debatable; see below).
eco
Are meal kits eco friendly?
You may be wondering if there's such a thing as an eco meal kit, and questioning the eco credentials of mainstream meal kit providers, most of whom talk about recycling on their sites while sending out ingredients packed in individual plastic packages. Most people (including myself) wonder how an industry that generate so much waste can ever be eco friendly.
However, looks may be deceiving. Recent studies indicate that in spite of the packaging waste generated many of these products, their average greenhouse gas emissions are LOWER than shopping for ingredients in a supermarket and cooking meals from the food you bought there.
What?!
Yeah, I was shocked too.
The reason for this is partly because of supply chains, and mostly down to food waste. Because vegan meal delivery kits send you the exact amount of food you need for a recipe, there's no food waste. And food waste currently is currently a huge contributor to climate change. If food waste were a country, it would the third biggest contributor to greenhouse gas emissions on earth, after the US and China.
So, ordering vegan food packages just might reduce your footprint. If you're already running a zero waste/low waste kitchen, that's unlikely to be the case (so keep up what you're doing!). However, if you're like most people and throw away a lot of food that has gone bad every week, vegan delivery meal kits can help.
If you're switching from meals including to meat to vegan meal kit delivery services, this will have an even bigger effect on reducing your eco footprint, as studies cutting meat and dairy from the diet can cut an individual's carbon footprint from food by 73%.
However, other studies indicate that packaging is a major problem, regardless of the reduction of food waste thanks to meal kits. I've noted which companies use compostable, biodegradable or recyclable packaging below.
best
Best vegan meal prep kits
If you're trying to choose the right vegan meal service for you, you'll want to consider what's most important to you: price, range of vegan choice, whether ingredients are organic, etc. I've outlined the best vegan meal delivery services below, along with the key facts for each in terms of price, vegan options, special diets/allergies, etc. so you can determine the best vegan and best vegetarian meal delivery kit for you.
Each vegan meal delivery kit company has its own distinct offering and some are quite unique! From all-vegan meal kit companies to a service that replicates takeout meals to a company that provides meal plans and allows you to do the cooking, there's a wide range of choice! Read on for the vegan meal kit reviews. Please note some of the links below are affiliate links, meaning if you make a purchase through them I'll receive a commission. Thanks for your support!
purple carrot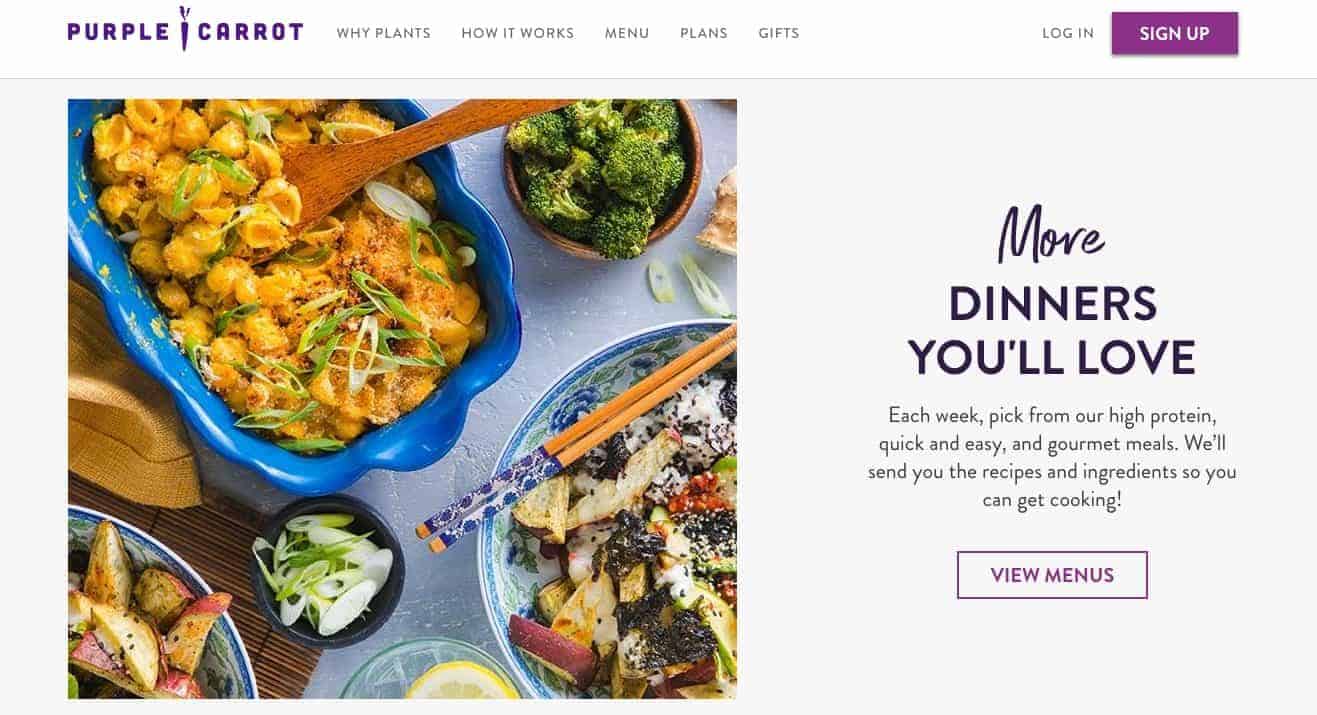 Cost: from $7.99 per serving
Vegan options: 100% vegan
Packaging: Recyclable
Special Features: Gluten-free options available
Exclusive discount: "carrot30″ to get $30 off your first order!
Purple Carrot is the only vegan meal plan delivery that's a 100% vegan company. That means you won't be relegated to choosing from just a small handful of options from a weekly menu; everything is plant-based!
In my opinion, it's the best vegan prepared meal delivery service!
With the Purple Carrot vegan home delivery meal kits, you'll be able to choose 3 or 6 meals from the menu each week (each making two servings). The menu varies, so you won't get sick of having the same meals, and some of the dishes sound really inventive and delicious. When ordering Purple Carrot cooking kits, you might get to choose from Japanese gnocchi with miso tomato butter, a chickpea quinoa bowl with roast broccoli and creamy almond dressing or seitan shawarma bowls with tzatziki sauce and a cherry tomato salad.
Purple Carrot states on their site that the packaging from their vegan meal boxes is recyclable, depending on what your community accepts, and they give a breakdown of each component used. It's important to check what your local recycling program does and doesn't accept.
Unfortunately, they're not able to accommodate allergies in their vegan box meals but they do have gluten-free options available. They also don't offer organic ingredients (if you want a meal kit that's organic, check out Sun Basket or Green Chef). I was a bit surprised that many of the vegetables require chopping and aren't pre-prepared, and dishes use multiple appliances/pans (so make sure your kitchen is well-stocked with the essential kitchen tools for vegans!). However, it's a great way to try out recipes you wouldn't otherwise try, as long as you don't mind a bit of extra prep.
There's a reason Purple Carrot's so popular — it's one of the best vegan vegan meal delivery kits!
Discount: use "carrot30″ to get $30 off your first order!
Click here for more information.
vegan and organic

Cost: from $9.99 per serving
Vegan options: Vegan options
Packaging: Recyclable
Special Features: Organic ingredients used. GMO-free.
Exclusive discount: click here to get $80 off your first order + free shipping
Green Chef is perfect for you if you're looking for a vegan diet meal plan kit that's also completely organic.
One thing I'd like to see changed is how to filter/find the vegan delivery box on their site. Their vegan and vegetarian meal kit delivery services are grouped together under the Plant Powered menu section of their site, which means it's somewhat difficult to see which meals are fully vegan, and which are vegetarian, unless you click onto the individual recipe page and look at the labels.
On the plus side, Green Chef's recipes sound really creative and good, with past recipes ranging from vegan tempeh crab cakes with basil-lemon aioli and arugula slaw to a maple cauliflower power bowl with quinoa, kale, pecans, cranberries and a herby tahini-miso sauce. Plus, one that I've never come across in all my years of cooking and would love to try: apricot-glazed tofu (served with rosemary-roasted potatoes and salad).
Looking at their menus, they seem to have a decent number of gluten-free options on the vegan menu, but since it varies, it's not guaranteed they'll have vegan gluten free delivery kits available every week.
Green Chef's packaging is recyclable (depending on your local community) and they also offset all their carbon emissions as a company, which is a step in the right direction. I'd like to see other companies on this list do the same.
Click here for more information.
veeestro

Cost: from $9.90 per serving
Vegan options: All vegan
Packaging: Compostable and/or recyclable
Special Features: Mostly organic. Gluten-free, soy-free, Kosher and nut-free options available.
Veestro is the perfect option if you want pre-made meals you can simply reheat and eat.
Veestro is a bit different to others on this list in that their meals don't require any meal prep. They ship the meals to you frozen (with dry ice) and you only need to heat them up and eat them.
If you're really time-pressed or don't have access to a kitchen, these vegan boxed meals could be a lifesaver.
Veestro says their meals are 96% organic and they also have options for Kosher, gluten-free, soy-free and nut-free meals.
Simply choose the meals you want (you can order up to 30 at a time), Veestro will ship them to you, and you can store them in the freezer for up to 8 weeks or in your fridge for a week.
Click here for more information.
splendid spoon

Cost: from $9.00 per serving
Vegan options: All vegan
Packaging: Recyclable
Special Features: Gluten-free. GMO-free.
Splendid Spoon is the perfect option if you want ready-to-eat, healthy vegan food like soups, smoothies and bowls.
The Splendid Spoon menu offers some of the most delicious-sounding options, such as the coconut curry rice bowl, a brown rice taco bowl with black beans and salsa and the butternut turmeric soup with sweet potatoes and nutmeg.
All their meals are vegan, and they're also gluten-free and GMO-free. They've ensured all packaging is recyclable, too.
Choose a plan (depending on whether you want breakfast and/or lunch) and the options you want from the weekly menu, and your food will be shipped to your door. Soup and bowls last up to a week in the fridge or a month frozen, and smoothie have a printed use-by date.
Click here for more information.
fresh n lean

Cost: $9.00 per serving
Vegan options: Vegan options
Packaging: Food packaging is recyclable but packaging includes styrofoam, which they claim is recyclable but which obviously isn't great.
Special Features: Gluten-free. GMO-free. Organic. Locally-grown ingredients.
Fresh n Lean delivers refrigerated, pre-made meals to your door, so all you have to do is heat them up and eat. If you don't have time to cook, but don't want to order frozen meals, it's a good option.
They offer free shipping nationwide, and the food packaging trays and film are recyclable. However, they pack the boxes with styrofoam padding, which for obvious reasons isn't good from an environmental perspective. They do claim it's recyclable in certain locations (you can find out more here).
Their vegan option is clearly marked. In addition, their food is gluten-free, GMO-free and organic and they use locally-grown ingredients (I imagine local to where they're based - California).
Click here for more information.
vegan and healthy

Cost: from $10.99 per serving
Vegan options: Vegan options
Packaging: Recyclable and/or biodegradable
Special Features: Organic ingredients used. Dietitian approved.
Sun Basket's vegan meal subscription box uses organic ingredients and their vegan meal delivery box (like their other boxes) are dietitian approved. Their in-house dietitian ensures all recipes comply with the latest nutritional guidelines.
Plus, the recipes in their vegan food kit are designed to take less than 30 minutes to prepare, saving your time.
Sun Basket is a little more expensive per serving than other brands, but their ingredients are organic and seasonal, plus they have great reviews, with most people enjoying their meals and saying the food arrived in good condition.
They've upped their packaging game in the last year and worked to make all the components of the packaging either recyclable or biodegradable (of course, it may depend on what your local recycling center accepts, so always check).
On Sun Basket, can select the Vegan Plan and choose the recipes you want from there. The menu varies by week, but you might choose from recipes like BBQ tofu burgers with kale slaw or spicy chipotle red bean and sweet potato hash with tempeh.
If you'd like some additional sides or snacks alongside your vegan food box delivery, they have add-ons (with vegan options marked) in the form of salads and snacks (like crackers or veggies with dips).
Click here for more information.
plate joy

Cost: from $8/month
Vegan options: Vegan options
Packaging: none
Special Features: Great for new vegans. A meal plan creator, rather than meal kit delivery service. Perfect if you want to save money. Gluten free options. Nut free options.
Exclusive discount: Use 'THEVEGANWORD' for $10 off & Try the first 10 days free
PlateJoy is completely different to the other vegan meal prep companies here. Rather than selling vegan meal kit services where pre-measured food is sent to you, PlateJoy offers a vegan and vegetarian meal plan service. They send you meal plans, and you do the shopping and cooking -- or if you prefer not to do the shopping, you can use the grocery delivery service they've partnered with.
Setting up PlateJoy is simple. You just tell enter some details, like your dietary requirements (they have a vegan option!), how many people you cook for and how much time you have available to cook, and they'll create a meal plan that meets your requirements and preferences.
The questionnaire is really thorough. You can add additional requirements, for example if you have allergies (you can select gluten free, peanut free etc.) or if you need to eat a low-sodium diet. You'll also be asked if you prefer seasonal ingredients or don't mind out-of-season ingredients. You can even note ingredients you prefer to avoid, like spicy food or cilantro for all those cilantro haters out there!
Other questions PlateJoy asks are whether you want budget-friendly foods or more variety that may cost more, whether you want to batch-cook (and save money) or make smaller amounts, whether you want to try new flavors or prefer familiar and family-friendly flavors and which appliances you have.
PlateJoy's algorithm actually takes 50+ data points into consideration to construction your personalized meal plans. If you don't like any of the dishes on your meal plan, you can delete them permanently.
You can also select how many of each meal of the day you're planning to cook this week -- I love the flexibility it gives, especially considering how often many of us change our mind last minute about eating out.
Once you've made a meal plan for the week, you have the option of printing out a shopping list or ordering ingredients through Instacart, which deliveries groceries in most major cities.
One feature I really love is that they ask you which ingredients you already have in your pantry, so you're not ordering more than you need or wasting any food! Another feature I like is that they combine recipes in the meal plans to minimize food waste.
PlateJoy is ideal if you want help planning meals, are just transitioning to vegan and aren't sure what to eat or you've been stuck in a food rut and need some new recipes and inspiration. It makes figuring out what to eat much easier, and saves time, while still allowing you to make fresh, home-cooked meals. It's also a much more budget-friendly option and it means if you're concerned about packaging waste you can shop for groceries as normal.
Plus, it's much more complete than many meal kits, which usually only provider dinner and/or lunch -- PlateJoy provides recipes for unlimited meals, including breakfast and snacks.
You can try the first 10 days for free. Find out more here.
Use discount code "THEVEGANWORD" to get $10 off!
Click here for more information.
takeout kit

Cost: from $6.75 per portion
Vegan options: Vegan options
Packaging: mostly recyclable
Special Features: Long shelf life. No subscription required. Available on Amazon.
Takeout Kit has a completely different take on vegan meal box delivery than the traditional meal kit service. Rather than being a vegan meal prep service that sends pre-prepared ingredients to your home weekly, Takeout Kit makes an alternative to takeout food, allowing you to eat your way around the world and explore new cuisines without having to buy expensive authentic bottles and sauces that you won't be able to use up.
I also think it would make a fun alternative to takeout with your family and friends. Each box serves 4 people so you could turn it into a fun night in, try a new dish and save some money in the process!
Their global takeout vegan delivery boxes contain enough spices, sauces and other authentic ingredients to make 4 servings of a takeout-style meal. You just need to add fresh ingredients.
Because they don't send fresh produce like the standard vegan meal subscription box, their boxes contain only shelf-stable ingredients and last a long time. You can always have ingredients on hand, and choose when to make a meal. The downside, of course, is you need to buy your own fresh ingredients.
Meals come together quickly, in 25-40 minutes, and boxes contain high-quality, hard-to-find authentic ingredients, pre-portioned for you.
Since they don't include fresh ingredients, it contains far less packaging than most meal kits. Most of it is recyclable.
They have some vegan boxes, all of which are available to order on Amazon, so if you're looking for an Amazon fresh meal kit with vegan meal delivery nationwide, here you are. The vegan options are:
Sichuan mapo tofu meal kit
Shakshuka (Moroccan baked eggs) meal kit -- yes, weirdly, this is vegan -- because eggs aren't included in the kit -- so you can leave them out, or I'd substitute scrambled tofu)
Ethiopian lentils (misr wat) & injera meal kit
I think these would also make a good gift! Personally, I'd go for the Ethiopian lentils & injera meal kit -- Ethiopian food is SO good, but injera is almost impossible to find! I've tried many times and even in a global city like London, it's incredibly difficult to buy (I've never actually found anywhere to buy it).
Click here for more information.
hungry root

Cost: from $4.71 per item (but some of these are sauces, not entire meals)
Vegan options: Vegan options
Packaging: Recyclable
Special Features: Everything is pre-prepared and takes just minutes to assemble. Some organic items.
Hungry Root is probably the best vegan meal prep delivery service if you're really pressed for time, as you can assemble meals in 10 minutes or less. Unlike other vegan and vegetarian meal prep delivery services, which still require you to chop or cook, pretty much everything is pre-done for you with Hungry Root.
Hungry Root is different from other vegan and vegetarian meal subscription services in that it doesn't send you a meal kit, per se. Instead, it sends you a selection of healthy ingredients.
In the Hungry Root vegan meal packs, you'll be sent pre-cut veggies, prepared grains and proteins, and sauces and dressings, which you just need to mix together and assemble.
You can combine them how you like, although they do provide suggestions.
They say everything they send is either ready to eat right away, or can be assembled in minutes.
You can select vegan from your preferences, along with any allergies.
It's difficult to compare price-wise, since they price per item, rather than per meal. Packaging is recyclable (depending on your area) but since everything is pre-prepared, it does have more waste than other vegan and vegetarian meal plan delivery services.
Click here for more information.
peach dish

Cost: $12.50 per serving
Vegan options: Vegan options
Packaging: Recyclable (at home, or for a small fee you can mail materials back to them to be recycled)
Special Features: Southern food
Southern food and vegan may not be the most obvious combination, particularly considering how meat-heavy a lot of Southern dishes can be. However, Peach Dish is busting that myth by providing vegan options! This Southern style meal kit service operates out of Atlanta, and they say they're a perfect way to "discover the farm-fresh taste of the South." And yes, they have vegan options! They provide at least one, but sometimes more, per week. You can easily filter dishes of the week by what's vegan on their site.
One thing I like about Peach Dish is that you can either order a subscription, or you can order a "guest box" (meaning no subscription or commitment). This is good because a lot of vegetarian meal prep service companies require you to get a subscription, and that means cancelling or skipping a week can be a bit of a pain. It's especially handy with Peach Dish, since the number of their vegan options varies by week. Some weeks, they may only have one option, and you might want to skip that week.
Vegan options might include roasted okra and peppers with a peanut vinaigrette over farro grains, a fresh corn, herb and potato soup with tomato-basil sandwiches or an ATL (avocado, tempeh bacon, lettuce) sandwich with Georgia peaches.
Packaging for the vegan cooking kit is recyclable and on their site they provide information on how to recycle locally or reuse. A feature I like is that they also offer the option of shipping packaging back to them for a small fee, so they can recycle it in the most efficient way.
Click here for more information.
plant prepped

Cost: from CAD$11.66 per serving
Vegan options: Fully vegan
Packaging: Recyclable and compostable
Special Features: Best vegan meal kits Canada, best vegan delivery service for those in Quebec/Ontario. Gluten-free and soy-free options.
Plant Prepped is an all-vegan meal kit service shipping to most of Quebec and Ontario. It's the best vegan meal delivery service in Canada (well, in fact, it's the only all-vegan meal kit service in Canada that I know of!). If you want vegan meal kits delivered to your door and you live in Quebec or Ontario, Plant Prepped is the best choice.
Dishes vary by week, and might include a chickpea "tuna" melt, carbonara with smoky mushrooms and seared asparagus or a baked tofu Buddha bowl with brown rice, sauteed bok choy and a creamy peanut and ginger dressing.
They also have gluten-free and soy-free options available on request.
Plant Prepped's packaging is made out of 80% recycled content and is recyclable itself and the rest of packaging is mostly recyclable, biodegradable or compostable. The coolers food is shipped in are made out of corn and can be dissolved in water and used as plant food or even used as fire starters. Their large containers are made out of plastic and are recyclable and smaller containers are made out of corn and compostable. I like their use of compostable materials! They seem to have a greater proportion of compostable packaging than other companies in the space.
Plant Prepped works with local and artisanal suppliers and try to source local and organic ingredients as much as possible. For example, their soy products are made with soybeans that are grown in Canada and GMO free. Their tempeh is from a producer in Quebec. If you're looking for vegan meal delivery in Canada that's also eco-conscious, it's your best choice.
Click here for more information.
delivery

Best vegan meal delivery services
If you don't have time to cook, you might prefer pre-made vegan food delivered, rather than a meal kit, which requires some cooking time. If you want vegan and vegetarian meals delivered to your door, I've put together a guide to the best meal delivery for vegetarians and vegans here.
Click here to see my top pick for best vegan meal delivery.
Click here to read my guide to the best vegan meal delivery services available.
Pin this for later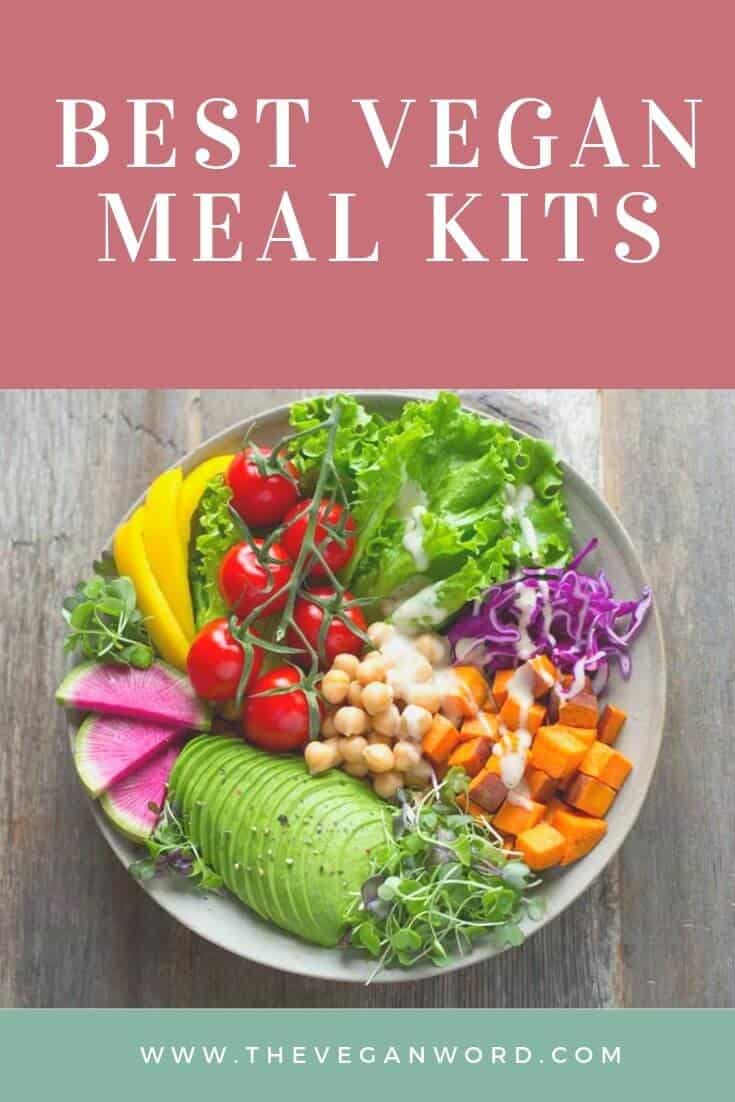 Still looking for some vegan cooking inspiration? Maybe instead of a meal kit, you'd prefer to take a vegan cooking class or look through some vegan magazines or vegan cookbooks for inspiration. Or, if you're just looking to try new foods, a vegan snack box subscription might be right up your street.
Find more vegan product reviews here.
As an Amazon Associate I earn from qualifying purchases.