Looking for a vegan retreat? The best vegan retreats are trips where you don't have to worry about what you're going to eat.Due to Covid, some retreats are limited or cancelled so be sure to check local restrictions with each centre. Here some of the best vegan-friendly retreat centres (check with them for the their upcoming retreats):
Most retreats focus on a specific activity, such as yoga or meditation classes, and they're usually in an idyllic natural setting, to allow you time to disconnect and unwind. And what's more relaxing than knowing your food is taken care of for you?
If you feel like you need a digital detox, with plant-based food included, then consider one of these vegan vacations.
If you are looking for vegan resorts where you can just chill out for a week without having to partake in yoga classes, check out my guide to the best vegan all inclusive resorts.
Vegan retreats in North & South America & the Caribbean
Whether you're looking for a vegan yoga retreat in California, or a raw food weekend retreat you can do over a long weekend, these are some of the best vegan retreats in North America and the Caribbean.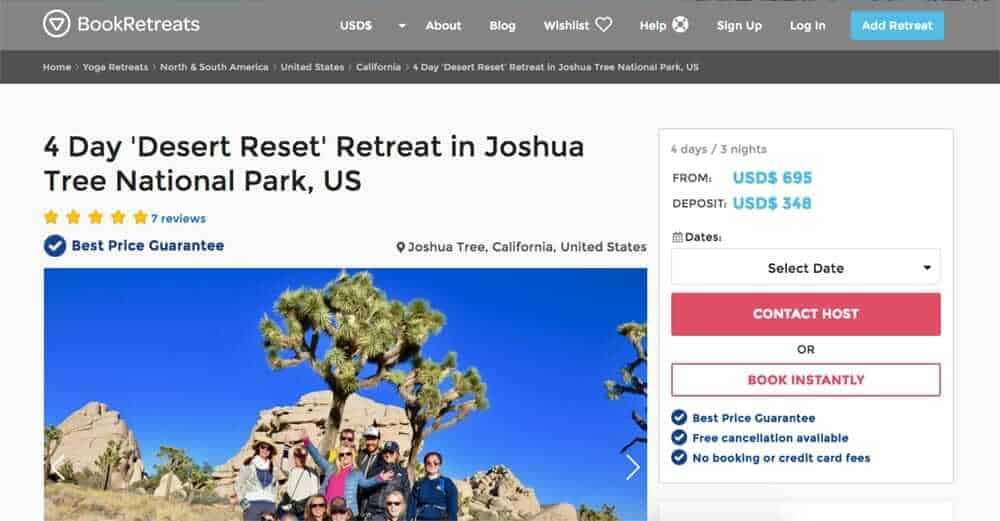 Best of: vegan retreat USA
This entirely vegan retreat is perfect for you if you feel like you need to hit the reset button.
Taking place in Joshua Tree National Park, California, expect a transformative experience, with yoga, breathwork, sound bath meditation and 3 plant-based meals a day.
All food at the plant based retreats is vegan and healthy, made using local and organic foods and brought in from a renowned vegan chef in Palm Springs. Gluten-free options are available.
Cynthia runs the retreats every few months, so you can choose dates that suit you.
Click here for more information.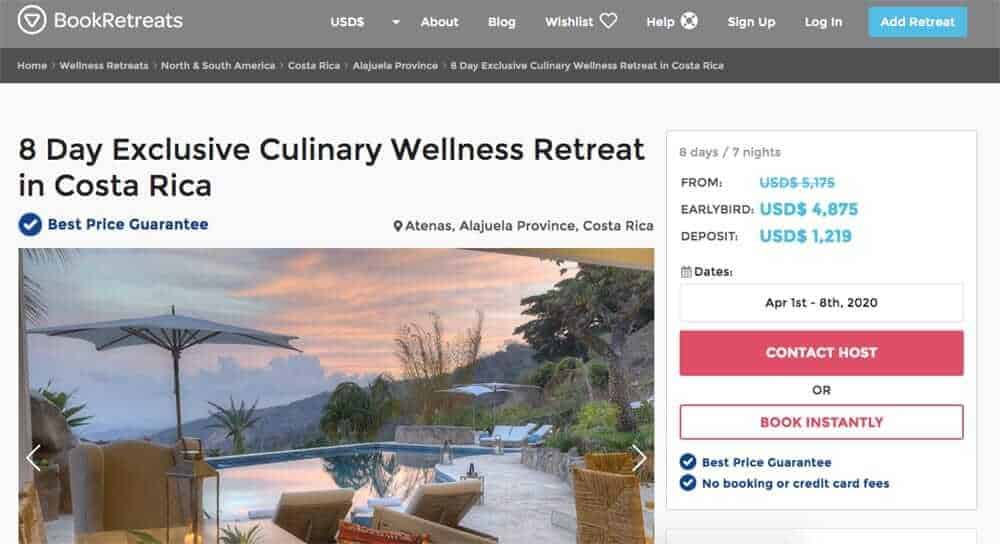 Best of: vegan wellness retreat Costa Rica
If you're looking for a raw vegan retreat, look no further than this vegan friendly retreat in Costa Rica led by chef Sunita Vira, author of RAW for LIFE!
You'll learn how to make plant-based meals for your health. If you're looking for a vegan yoga retreat Costa Rica, they have yoga too. The vegan health retreat includes yoga, hikes, local sightseeing and an infrared sauna session.
According to Sunita, many of the participants at this Costa Rica vegan retreat make life-changing decisions after the retreat, because it gives them time away to think and recharge.
It takes place at The Retreat, a luxury boutique-style resort chosen as "best wellness spa of the Americas" by the World Boutique Awards. The resorts is in the lush mountainside, overlooking the beautiful Nicoya peninsula.
All meals are included and all include vegan and gluten free options.
Click here for more information.
Vegan retreats in Europe
Whether you're looking for a vegan spa retreat, vegan meditation retreat or a vegan yoga retreat, there are plenty of choices for a vegan retreat in Europe.
Best of: vegan retreat UK
Escape to Kent and re-connect with yourself for this 2-day Ashtanga yoga retreat in an Edwardian country house.
Included in the retreat is 5 hours of yoga practice, meditation, sound meditation, vegan meals and time to explore nature in the area.
You'll get 1 night's accommodation in a beautiful Edwardian arts and crafts house in the Kentish countryside, and vegan meals.
Click here for more information.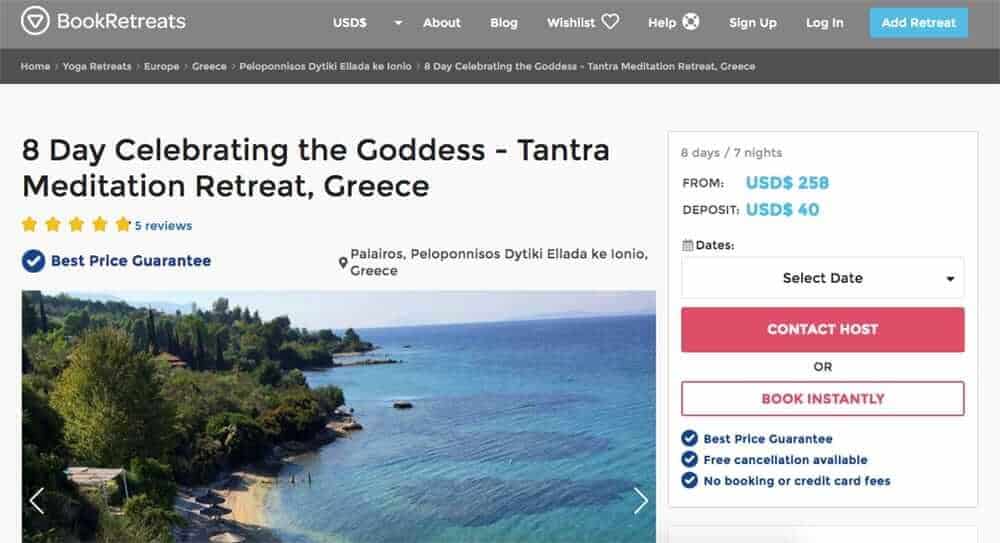 Want to take the time to learn to deepen your meditation practice? This tantra meditation retreat is 12 days, but is also open for 8 days for anyone limited on time.
Teaching is based on donation (but they will give you guidelines for suggested donations).
During the vegetarian retreat, you'll sit for meditation three times and some days will include yoga as well.
Breakfast and dinner is offered — all vegetarian with vegan options available.
The retreat takes place on the Greek island of Lefkada, so during free time you can explore the beautiful island and go to the beach.
Click here for more information.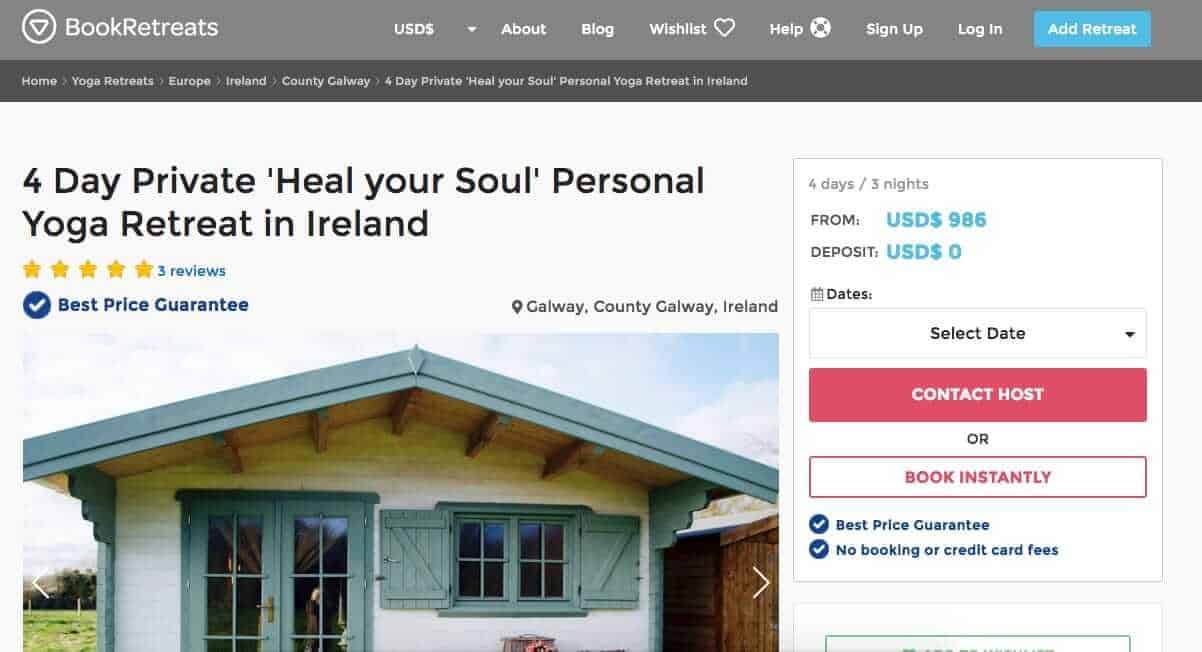 Escape, spend time with yourself and transform your life with this personal yoga retreat, in a cosy cabin in Ireland.
The cabin originally served as a hideaway for yoga instructor Teresa Spelman, who used it to write and spend time by herself for two years.
Head to the cabin to unplug, disconnect from wifi and reconnect with nature and yourself.
Breakfast and supper are provided daily with vegan options available: foods include raw salads, soups, sourdough bread and fermented food.
The retreat also includes two daily yoga sessions, daily meditation, early morning walks and free time in nature, and you can work with Teresa to create a personalized programme tailored to you if you want.
Click here for more information.
Asia & Australia
If you're looking for a vegan wellness retreat or raw food yoga retreat in Asia, you can choose from a range of retreats and resorts.

Bali: raw retreat & vegan yoga retreat Bali
Best of: vegetarian & vegan retreat Bali
Looking for a Bali raw food retreat, a vegan-friendly yoga retreat or just a resort in which to relax?
Being Sattvaa is a 4-star, all vegetarian (with plenty of vegan options) retreat that offers vegetarian and vegan Bali retreats. Escape everything at this hotel surrounded by lush greenery, only a 15 minute drive from Ubud (and if you change your mind and want to get back to civilisation, you can get the free shuttle into town).
At Being Sattvaa you'll find a yoga pavilion and massages available.
They run a number of different retreats, including yoga retreats and even raw food retreats.
There's also a vegetarian and vegan kitchen at the hotel (with room service available) so you won't have to worry about trying to find plant-based fare.
Click here for more information.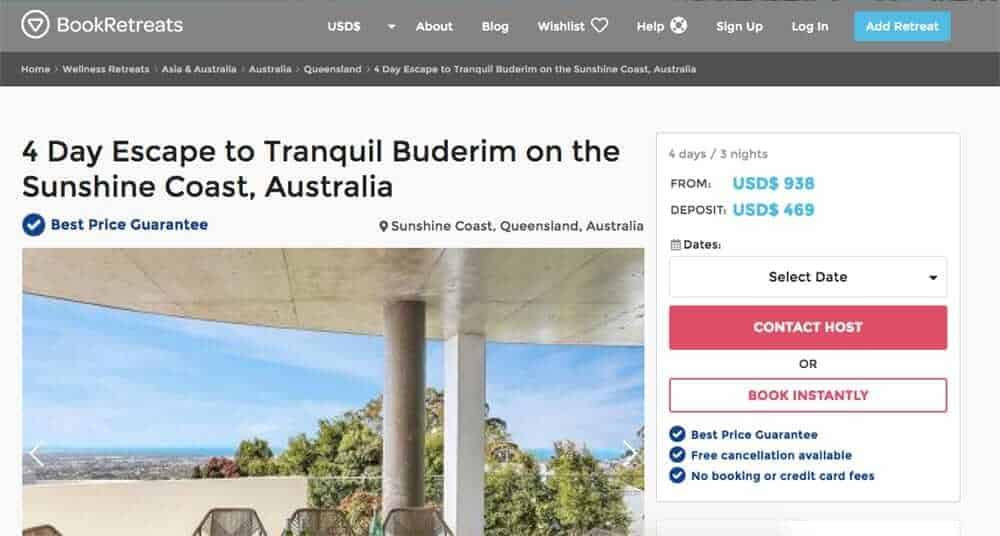 Get away with this 4-day women's only health, fitness and yoga retreat in a stunning property in Buderim on the Sunshine Coast. The retreat is held in an idyllic property with views of the sea, a cinema, pool and gym.
3 nights' acommodation in the stunning setting is included, along with all meals, with vegan options available.
Also included are daily yoga and meditation sessions, an energy healing massage and thought-provoking discussions and conversations with their woman's circles.
Click here for more information.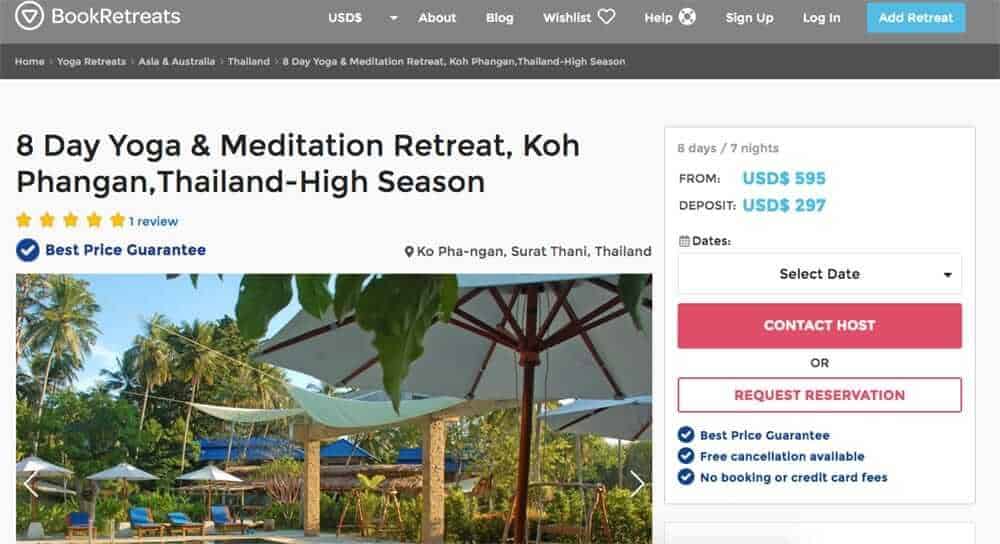 This 8-day yoga & meditation retreat is the perfect place to unwind and relax in a resort in a vegan resort nestled in a lush, tropical forest with mountain views.
You can cater to your own needs, and choose from a variety of classes at the resort: hatha, ashtanga, yin, jivamukti, acro and partner yoga, qi gong and meditation.
The resort also has an outdoor pool and herbal steam room you can use and 3 daily vegan meals a day. You can also sign up for a vegan or raw cooking workshop while you're there.
Click here for more information.
Pin this for later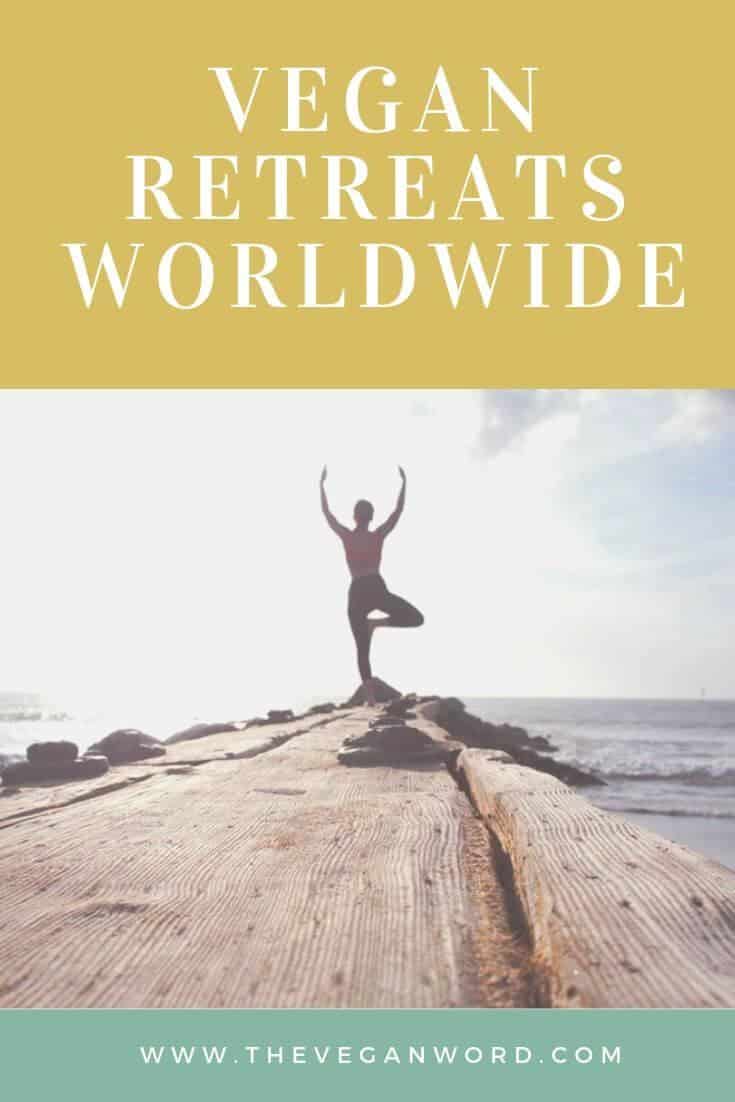 Looking for more trip inspiration? I've got a guide to the best vegan hotels worldwide, a list of the top vegan and vegan friendly all inclusive resorts and a list of vegan tours. I also have guides to vegan hotels in Berlin, vegan friendly hotels in London and vegan hotels across the UK.
Want to find more vegan hotels? Check out vegan accommodation guides and find out more about vegan travel.
If you're looking for places to visit, check out my list of vegan friendly cities, plus my vegan guides to Brighton, Barcelona, Athens, Amsterdam and Paris.