Planning the best vegan trip starts at home, with your vegan luggage — and I don't just mean what you pack inside your vegan weekender bag (although that's important too!). I mean making sure you have a vegan suitcase to start with.
Some of the top pieces of vegan luggage I'll be covering include:
Many brands of luggage use leather, whether as a primary material or on zippers and accents, but you can choose a more ethical and environmentally friendly option with one of the vegan bags I've rounded up below.
I've outlined some of the best vegan, ethical and eco suitcases out there. I've also got a full guide to vegan handbags here.
If you recently went vegan and you're wondering what to do with leather luggage you currently own, there's no reason to throw out your luggage; that would be wasteful!
Instead, I'd recommend continuing to use it until it's no longer usable. That would be my number 1 recommendation. But if you feel uncomfortable continuing to use it, give it away (make sure it finds a good home where it will be put to use) and buy a vegan and eco friendly suitcase.
Preparing for your next trip and want an eco friendly carry on? Whether you're going to Gran Canaria or Amsterdam, if you're looking for best vegan luggage, here are some of the best options for vegan travel bags on the market today!
The best vegan weekend bag
The weekender or weekender bag typically refers to a holdall bag with two carrying handles and enough capacity to pack for a few days.
However, it can mean any type of bag (duffel bags, backpacks, satchels) with a big enough capacity to hold a weekend's worth of stuff, for that city break you're planning.
Investing in a good quality vegan leather weekender bag or canvas weekender bag is worth it, because a good one will last you years and many trips.
Bags with interior pockets and good organisation also save you valuable time trying to find your belongings (critical when time is at a premium over a weekend trip!).
Many weekender bags also double as perfect carry-on bags when flying, but always double check their size to make sure they fit within your airline's requirements as individual airlines allow different bag dimensions.
Grab your weekender, vegan magazine, a couple of changes of clothes and your toiletry bag and you're ready to go!
Here is the ultimate list of the best vegan weekend bags.
Looking for vegan luggage brands? Matt & Nat is a brand that makes exclusively vegan products (bags and accessories), made with vegan leather and lined with a lining material made out of recycled plastic bottles! They make the best vegan bags in terms of how long they last.
Matt & Nat's faux leather luggage is extremely durable. I have a Matt & Nat wallet that I've owned for nearly 10 years and it's still going strong!
The Matt & Nat vegan weekender bag is a classic weekend bag, made of vegan leather.
With a classic style, it's made of a grey vegan leather and comes with two carrying handles and a removable shoulder strap. Because it's such a classic, unisex style, this faux leather weekend bag will stay in fashion forever, and it would work for anyone.
Inside, you'll find a zip pocket and a smartphone pocket.
With dimensions of 18.5″L X 10″H X 9.5″D it will work as a perfect faux leather carry on bag for many airlines. As mens or womens vegan leather travel bags go, this is one of the best options.
Click here for more information.
Will's Vegan Store is a UK-based vegan shoe and bag company that makes high-quality vegan leather goods, primarily men's shoes, but recently they've expanded into wallets and bags.
I've never owned a Will'sproduct, but I've heard glowing reviews from everyone I know who has purchased one of their vegetarian bags. They say the quality and durability are second to none.
The Will's vegan holdall is another classic, unisex vegan leather shoulder bag. Made of a heavyweight canvas with vegan leather accents, this vegan overnight bag is made in Italy sweatshop-free.
You can carry it with the two handles or with a shoulder strap. You'll also find an interior zip pocket and an exterior zip side pocket.
Dimensions: 23″W X 13″H X 9″D
Will's has online stores for the US, UK, Germany and rest of EU – you can change country/currency in the upper left corner.
Click here for more information.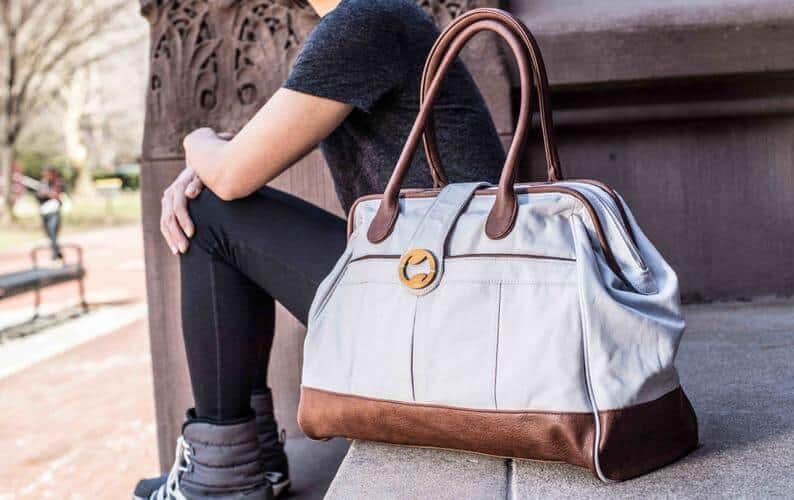 If you want a bag that will fit a lot of stuff, but still fit under seat or overhead on the plane, the Cassia canvas weekender is perfect.
I love Etsy for buying unique products and for supporting small businesses. This weekend bag on Etsy says it will fit a yoga mat, clothes and shoes, and will fit under the seat or in the overhead storage on a plane.
Made of sturdy canvas with vegan leather, and wood accents, it's also cute and stylish, plus it has five pockets to organise your belongings.
Dimensions: 18″W X 12″H X 8″D.
Click here for more information and the latest prices.
The Friendly Swede's vegan duffel bag is made of a waterproof, BPA free coated polyester. Perfect for weekend trips, camping (when you'll be happy for the waterproof material!) and as a vegan gym bag.
With a roomy, 30L compartment and a 15.6″ laptop pocket inside, this vegan duffle bag will fit plenty of clothes and your essentials.
It features a rolltop cover, making it safe from pickpockets, and its classic, unisex design means you'll be able to use it for years to come.
Dimensions: 20″ X 15″ X 9″ (carry on friendly).
It's also foldable and packable.
Click here for more information and the latest prices.

Best vegan suitcases: carry on & larger sizes
Looking for a vegan suitcase for your next trip? Here are some of the best wheeled cruelty free luggage options out there. Whether you're looking for vegan carry on luggage or a larger suitcase for a trip abroad, these eco friendly luggage brands deliver.
Looking for vegan spinner luggage? Samsonite's new eco luggage range comes in this handy carry on size!
The entire range is made out of recycled plastic yoghurt cups and recycled plastic bottles. How cool is it that a major luggage brand like Samsonite is doing this? Samsonite luggage is SUPER durable — I have a spinner wheel Samsonite carry on suitcase that's over 10 years old and has been to two dozen countries! I'm sure this vegan travel bag will last a similarly long time.
The Samsonite Eco carry on, like the entire Samsonite eco friendly luggage range, has fabric made entirely of 100% post consumer waste recycled plastic bottles, from the exterior fabric to the lining.
This recycle suitcase has a hidden expansion system, telescoping pull handle and an easy access storage compartment where you can keep your passport and valuables when going through the airport.
Dimensions: 18″H X 14″W X 8″D
Click here for more information.
The Samsonite Theorym large spinner is perfect if you need a suitcase that's larger than carry on size for longer trips.
Like the Samsonite Eco suitcase above, it's made out of recycled plastic bottles (if you've seen a nature documentary recently, you know how big a threat these are to our oceans!).
The suitcase is made out of Recyclex, polyester made from 100% recycled PET bottles.
This eco suitcase has an extendable handle and dual spinner wheels to make it easy for you to pull.
Dimensions: 32.75″ X 21″ X 12.75″
This Stella McCartney big tote is cruelty free, like the entire Stella McCartney range. Made of recycled polyester, polycarbonate and polyurethane, this big tote would be a great weekender bag.
If you're looking for a luxury vegan weekend bag, this is it.
Looking for more designer style? Check out my guide to vegan designer bags here.
Click here for the latest information.
Need a budget friendly eco suticase option? My favourite way to buy specific secondhand items (e.g. not browsing a secondhand shop for a dress but when I know exactly what I want) is on eBay.
There are new items on eBay too, so be sure you filter on the lefthand side menu for used items only.
You can search for whatever you want — a carry on suitcase, a backpack or a vegan leather duffle bag!
Click here for more information.
Vegan Travel Bags & Backpacks
Many travellers prefer a backpack to a wheeled suitcase. If you have any back problems, you'll likely want to opt for rolling, wheeled luggage.
However, if you're planning to do any camping or hiking, a backpack might be better suited to your trip.
If you like travelling light, check out my full guide to vegan backpacks here.
If you prefer a backpack, here are some vegan friendly backpacks. From your basic vegan rucksack to the Osprey travel backpack (it has travel-specific features) here are some of the best vegan backpacks.
Opsrey make some of the best travel backpacks out there, and their Fairview and Farpoint backpacks are one of the most popular backpacks among travellers!
In recent years, Opsrey designed different backpacks for male and female frames (Farpoint and Fairview, respectively). I ended up choosing an Osprey Fairview myself because I'd read a lot of bad stories from other women who travel about how backpacks designed for men hurt their backs.
Osprey packs come in varying sizes. The 40L model is the smallest and is carry-on friendly. I haven't had trouble on EU budget airlines.
This vegan backpack is made completely out of synthetic, durable materials.
They're very durable and incredibly well-designed, with a ton of different pockets, a very long zipper that allows you to open from the top in an airport/bus station or to open the bag completely to better access the contents.
My Fairview vegan back pack has an extra-cool feature that allows you to zip up the shoulder straps behind a zipper so they don't get in the way when you stash it in the overheard compartment on the plane.
It's also a lot more comfortable than any backpack I've used previously (although to be fair, before this I used standard backpacks for travel — oh, and I tried a budget Amazon Basics backpack that was so uncomfortable I returned it before even attempting to use it!).
I've linked above and below to the model I have, the carry on sized female travel backpack; click here to see the Opsrey Farpoint (male vegan travel backpack).
Dimensions: 21″ X 14″ X 9″
Click here for more information and prices.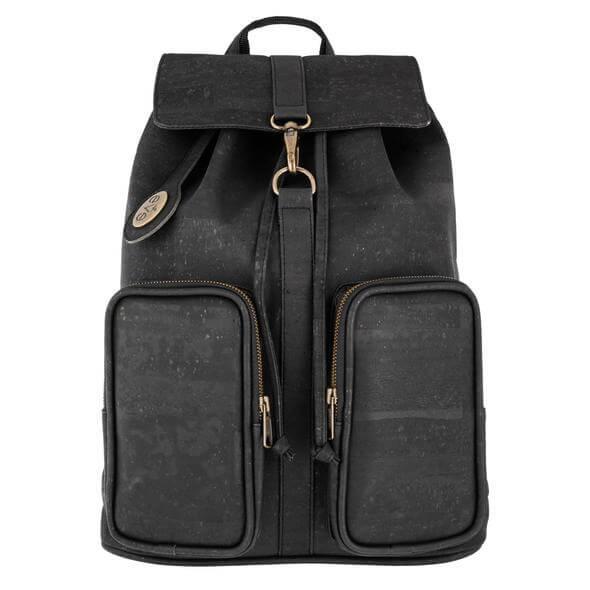 The Eve Cork grande backpack is a large, eco friendly backpack made of cork. As far as vegan backpack brands go, Eve Cork is a great find – specialising in cruelty free, eco friendly cork products made in Portugal with vegan glues and vegetable dyes.
Eve Cork's products are ethically made in Portugal. As an alternative to vegan leather backpacks, cork is a great option. It's a very eco friendly product made from cork trees which grow in Spain and Portugal.
This backpack is waterproof, stain-resistant and easy to clean, plus as well as being cruelty-free it's lighter, more durable and softer than Italian leather!
The Eve Cork grande backpack features two exterior zip pockets and an interior zip pocket to keep your valuables safe. It features sturdy Italian brass hardware.
Dimensions: 16.5″H X 14″L X 5″W
Click here for more information.
What materials to look for:
Of course, canvas is an obvious naturally vegan option. Polyurethane is a vegan alternative that looks like leather. PVC is another vegan leather-like option but there are many concerns about its environmental impacts (although whether it's better or worse for the environment than leather is debatable!).
As vegan fashion has grown, a ton of innovative, eco friendly leather alternatives have come onto the scene that are currently being made into vegan shoes and purses (but sadly few have made their way into luggage — yet!): pinatex (pineapple leather), mushroom leather, cork (from a tree) and a new leather alternative made of grape skins, seeds and stalks (which would have been waste material otherwise).
Be sure to check there isn't any leather trim on any bag! For each of the bags I've listed below, I've selected either vegan companies or bags listed as vegan.
Pin this for later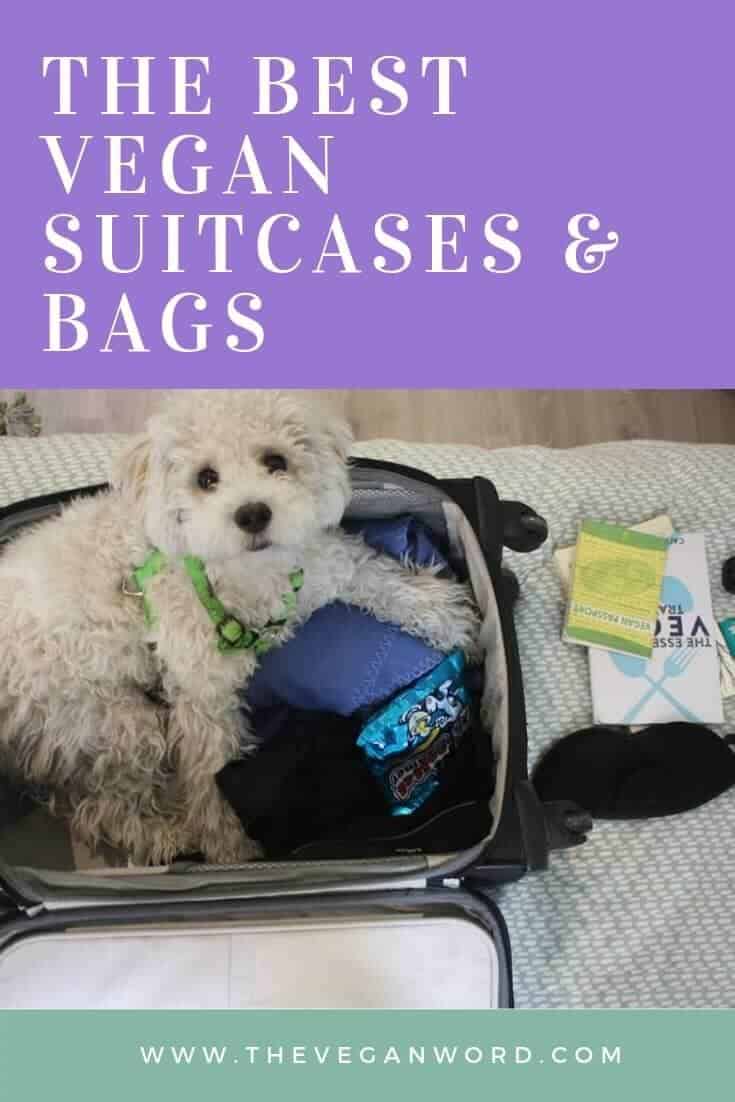 Not sure what to pack in your bag? Click here to read my list of the best vegan travel snacks to get some ideas of snacks to pack!
Don't forget to bring your vegan toiletries with you! See my vegan deodorant reviews, my vegan sunscreen guide and my list of the best vegan shampoos.
And are you wondering where to take your vegan suitcase? I've put together a guide to the best vegan hotels worldwide here. You and your eco friendly, non leather bag will fit right in!
Need a bag for your laptop? Check out my guide to vegan laptop bags, vegan briefcases or my guide to vegan messenger bags.
Looking for more bags? I've got a guide to the best vegan handbag brands, a list of vegan totes, vegan bucket bags, vegan clutches or vegan crossbody bags.
Find more vegan travel product buying guides, and learn all about vegan travel.