Need a vegan briefcase for work? Whether you're looking for a bag to carry your laptop and essentials to the office, a smart look for business meetings or a bag for conferences, it can sometimes be tricky finding a high-quality non leather briefcase.
As a vegan of over a decade, I know all about the struggle to find good-looking vegan bags. Thankfully, as more and more people go vegan, more vegan bag makers have started up, and there's plenty of choice now when it comes to a vegan leather briefcase.
Read on for the best non leather briefcase options.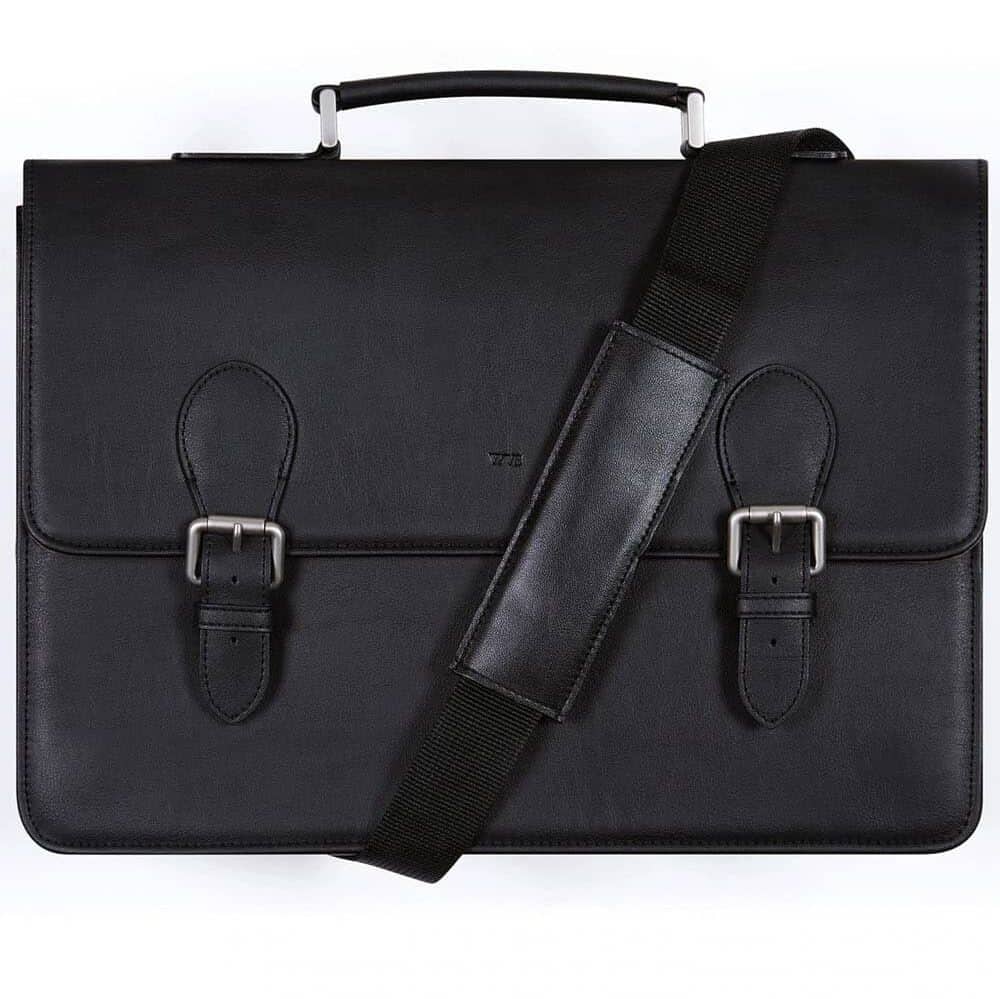 This classic style briefcase is my top pick of vegan leather briefcase. It is made of an Italian vegan leather made with a bio oil from organic Northern European cereal crops. The lining is vegan suuede
It will fit a 15-inch laptop, books, A4 notebooks, long wallet, umbrella, or tablet, and it also has an internal zippered compartment where you can stash your phone and keys.
It has a top carry handle and a longer strap you can wear crossbody or over the shoulder. The front opens with the buckles or quick-release magnets.
If you're looking for a classic style briefcase, this is ideal. It has 5/5 stars with 4 reviews, and one customer praised both the capacity (they said it fits 2 laptops) and customer service, who sent them a replacement strap when theirs broke. The only downside I see is if you have a very large laptop (16-inch) then it won't fit the bag.
---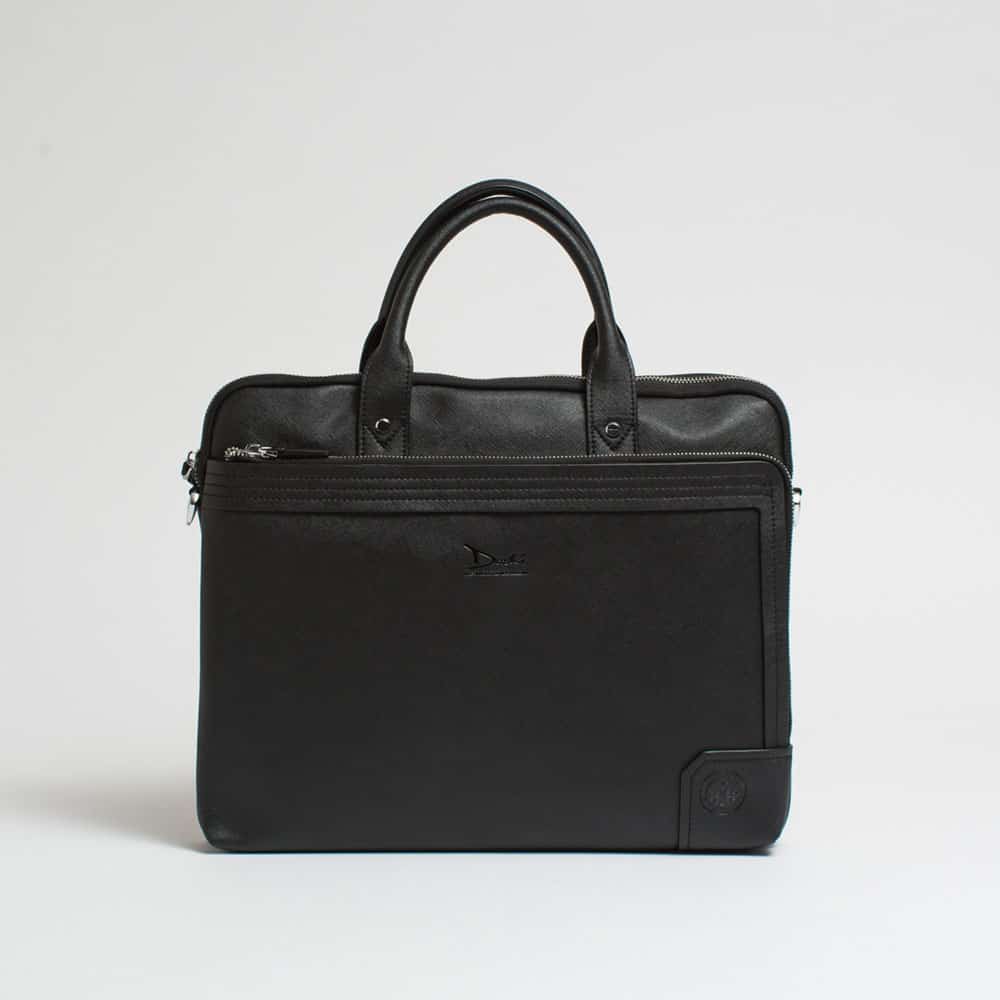 This medium sized briefcase is made of a pebbled texture vegan microfiber leather, with a canvas lining.
One thing I like about this briefcase is it has lots of handy storage spaces. The front zips open to reveal pen holders, business card holders and a phone pocket.
It also has a 14-inch laptop sleeve.
The briefcase is PETA approved vegan.
---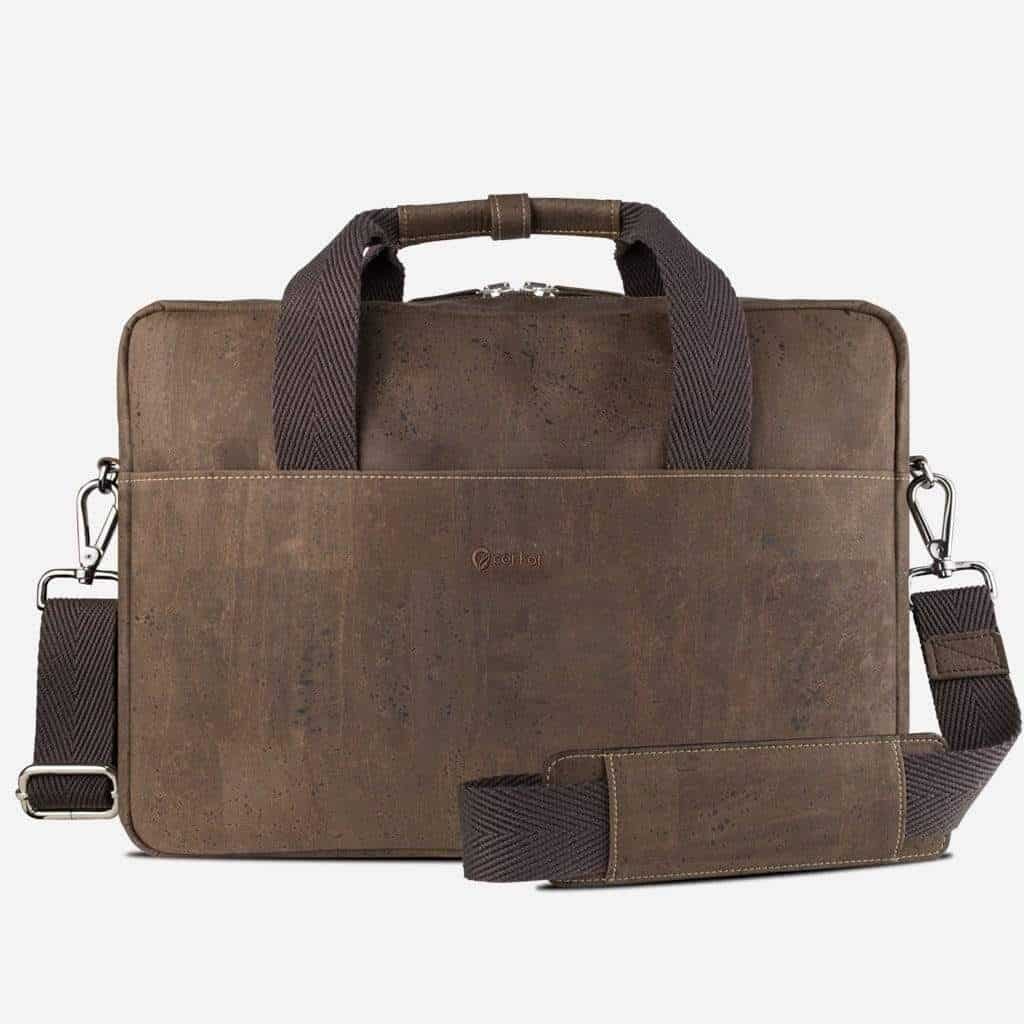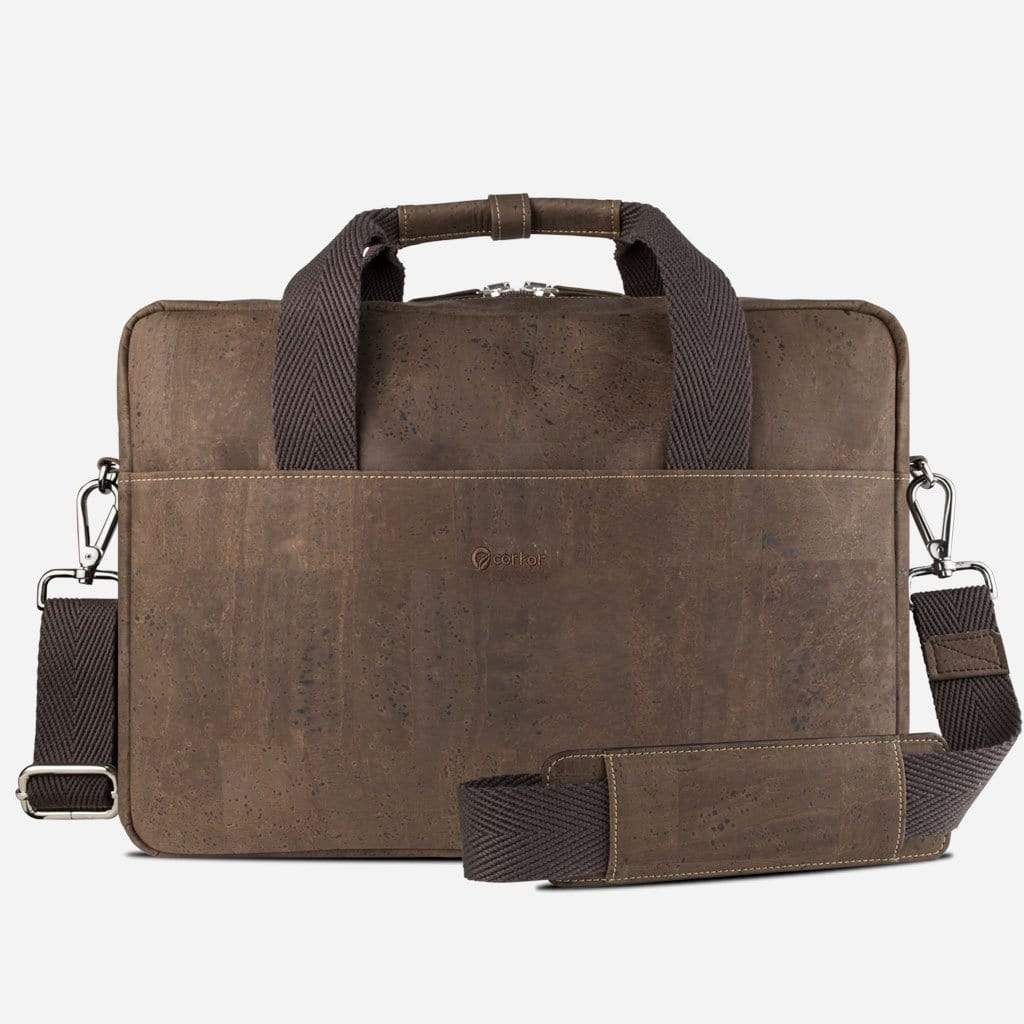 This vegan briefcase bag is made of cork, an incredibly eco-friendly material, which is naturally lightweight, durable and water-resistant. Cork is harvested from cork trees without cutting down or harming the trees, and these trees don't require much water, which is what makes it so eco-friendly.
This very practical vegan business bag has a laptop pocket inside with space for a laptop up to 15.6 inches, as well as a 10-inch tablet pocket, two smaller pockets, pen loops and a key holder.
It also has a trolley pocket so you can easily slip it onto a suitcase handle, plus a front slip pocket for things you need to reach quickly.
The shoulder strap is cotton, and the inside is lined with cotton
---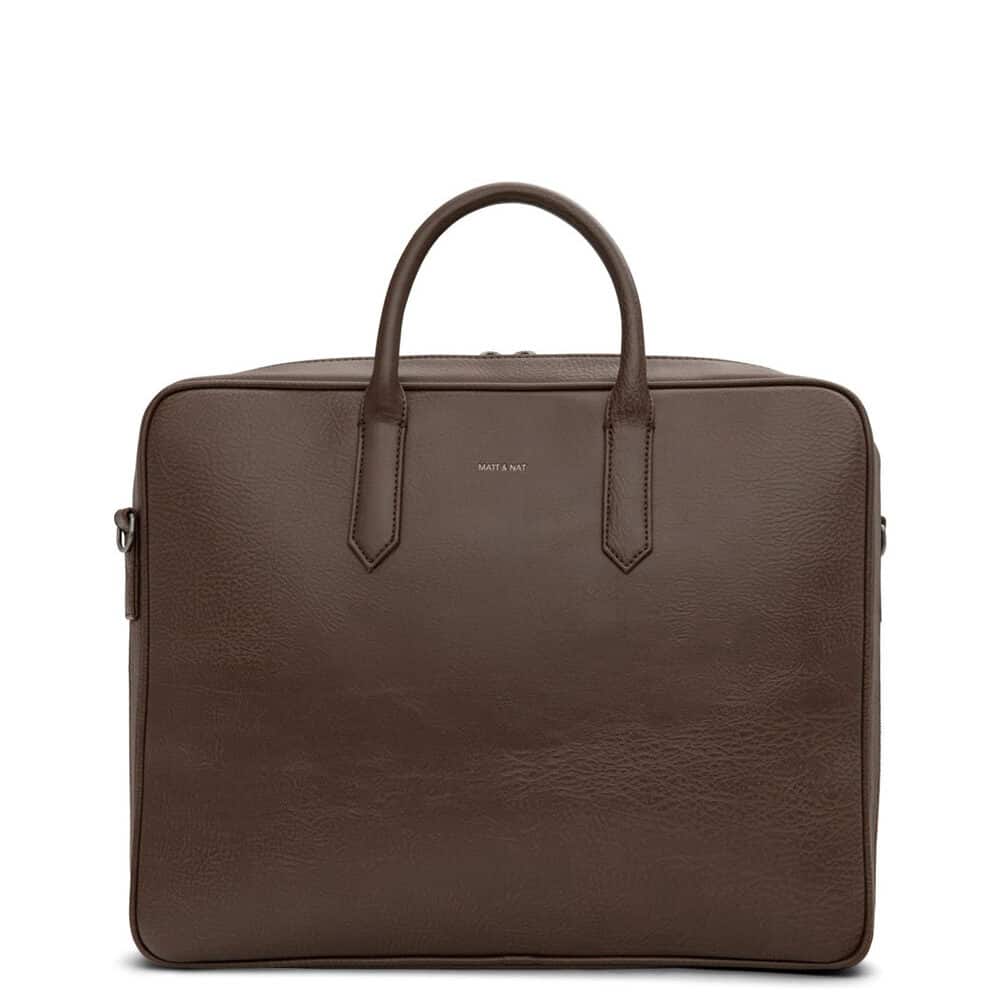 This dark brown vegan leather briefcase from Matt & Nat has a two-way zip that reveals an interior with a 15-inch padded laptop pocket, smartphone pocket, pen slots and additional zippered pocket.
It comes with a detachable crossbody strap with a shoulder patch, or you can carry it with the two top handles.
Like all Matt & Nat bags, the interior lining is made of 100% recycled plastic water bottles.
---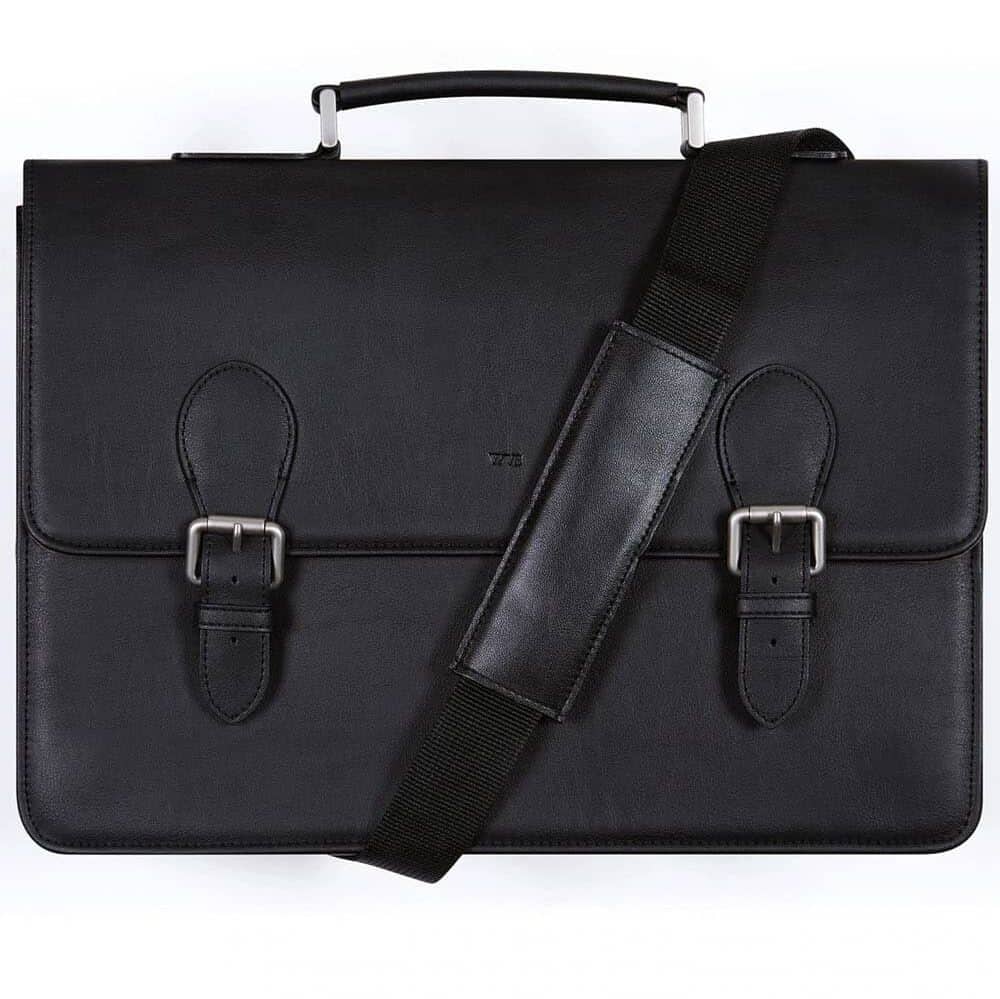 Will's vegan briefcases, like their shoes and bags, tend to be classic in style. This slim black vegan leather briefcase is made of Italian REACH and OEKO-Tex vegan leather. The inside is lined with vegan suede.
It can be carried by the top handles or the longer strap as an over the shoulder or crossbody bag.
Inside there's space for a 15-inch laptop, or A4 notebooks, hardback books, your umbrella etc.
---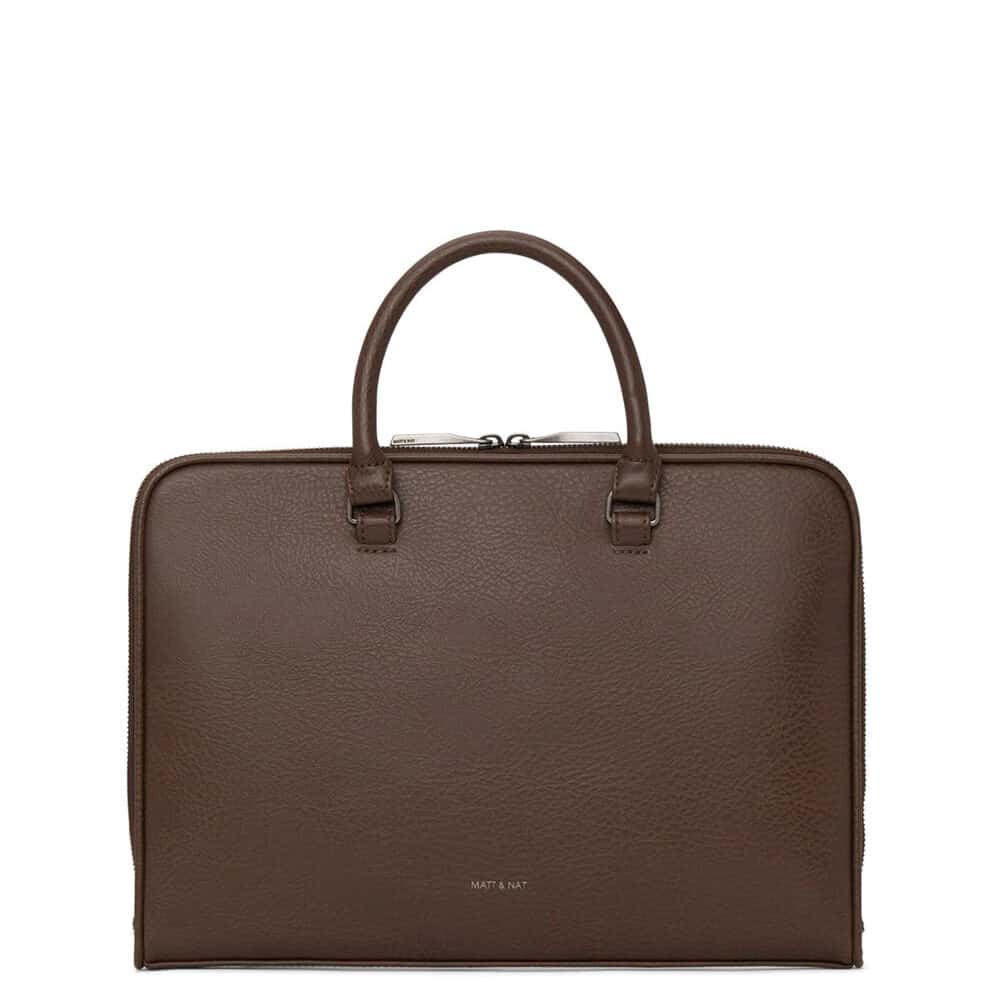 This slim briefcase is for you if you're looking for a streamlined look. It's made of brown vegan leather and lined with recycled plastic bottles.
Inside, there's a 13-inch laptop compartment, smartphone pocket and zippered pocket.
It has two top carry handles and a detachable longer strap to carry over your shoulder or across your body.
---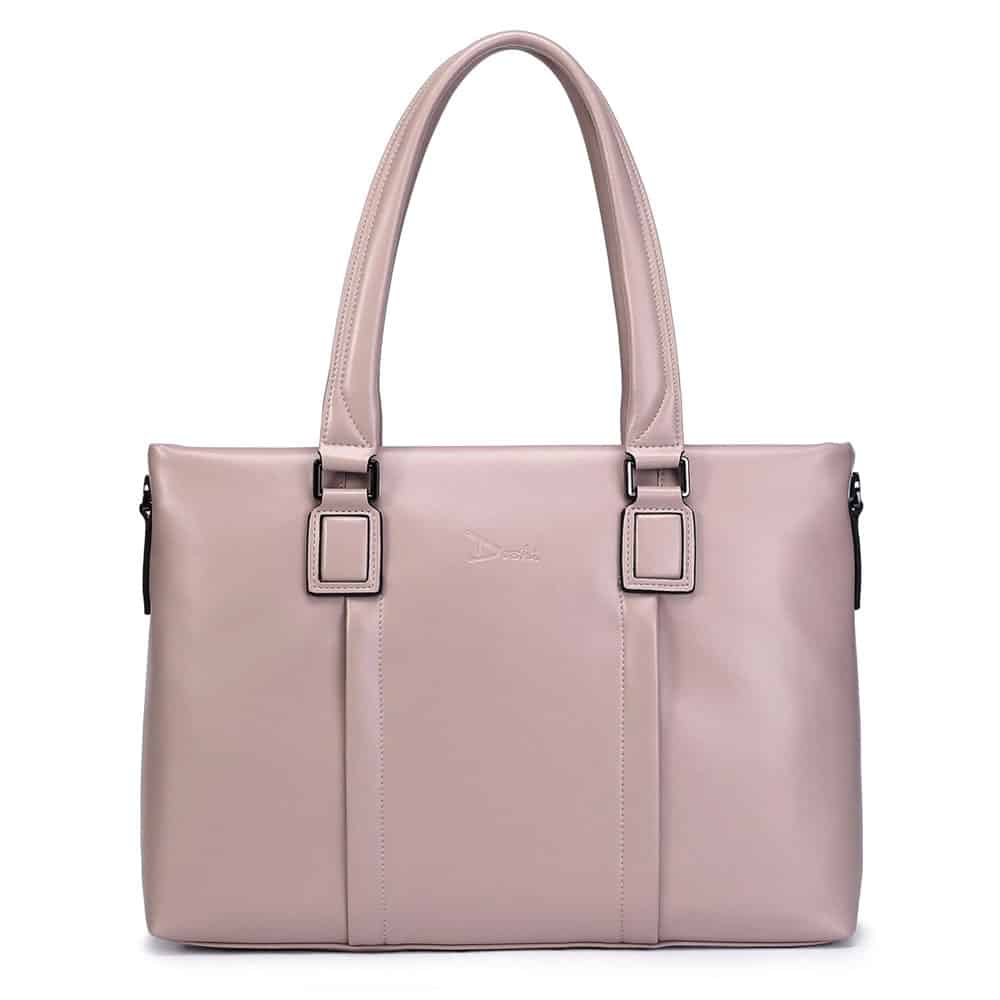 Doshi's Business Brief 2.0 is made of a soft, scratch-resistant vegan leather and comes in 5 different shades.
It has a laptop sleeve that fits a 13-inch laptop, a phone pocket, and multiple interior pockets.
---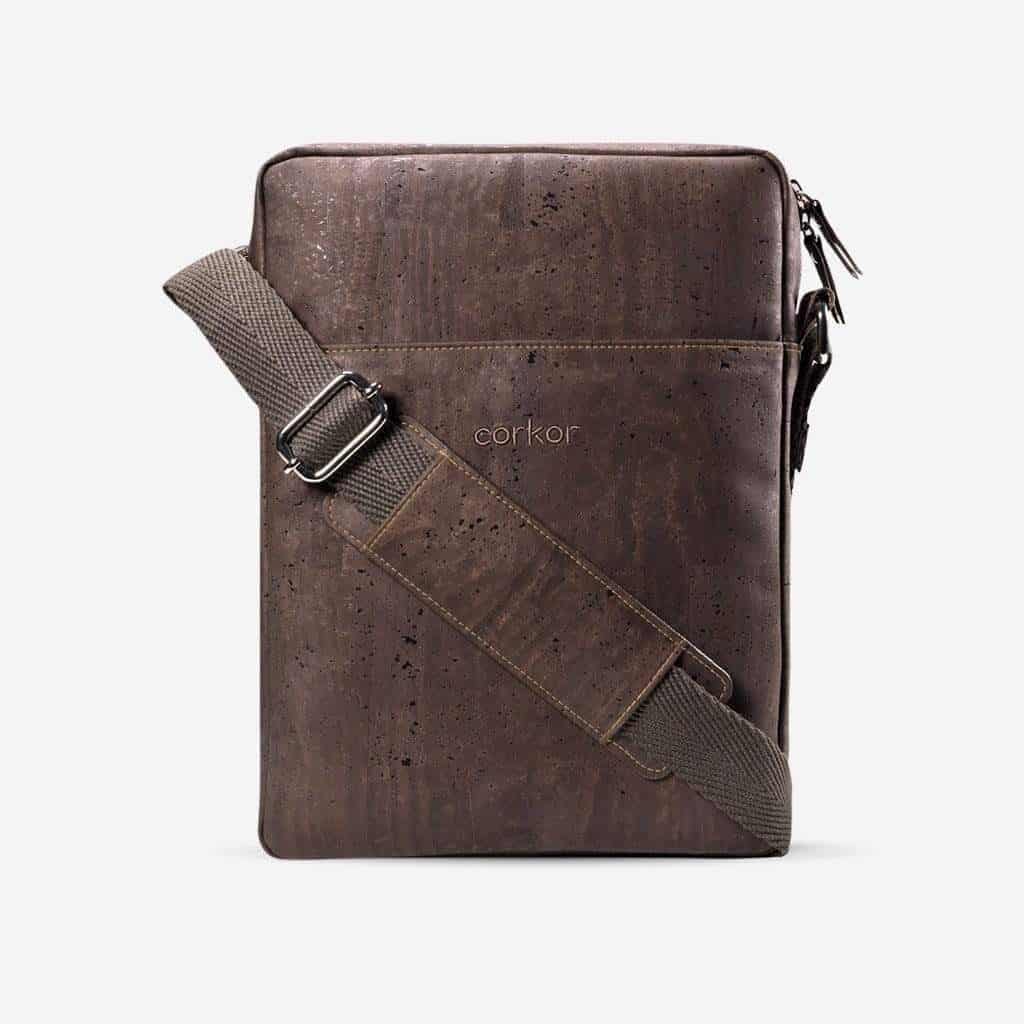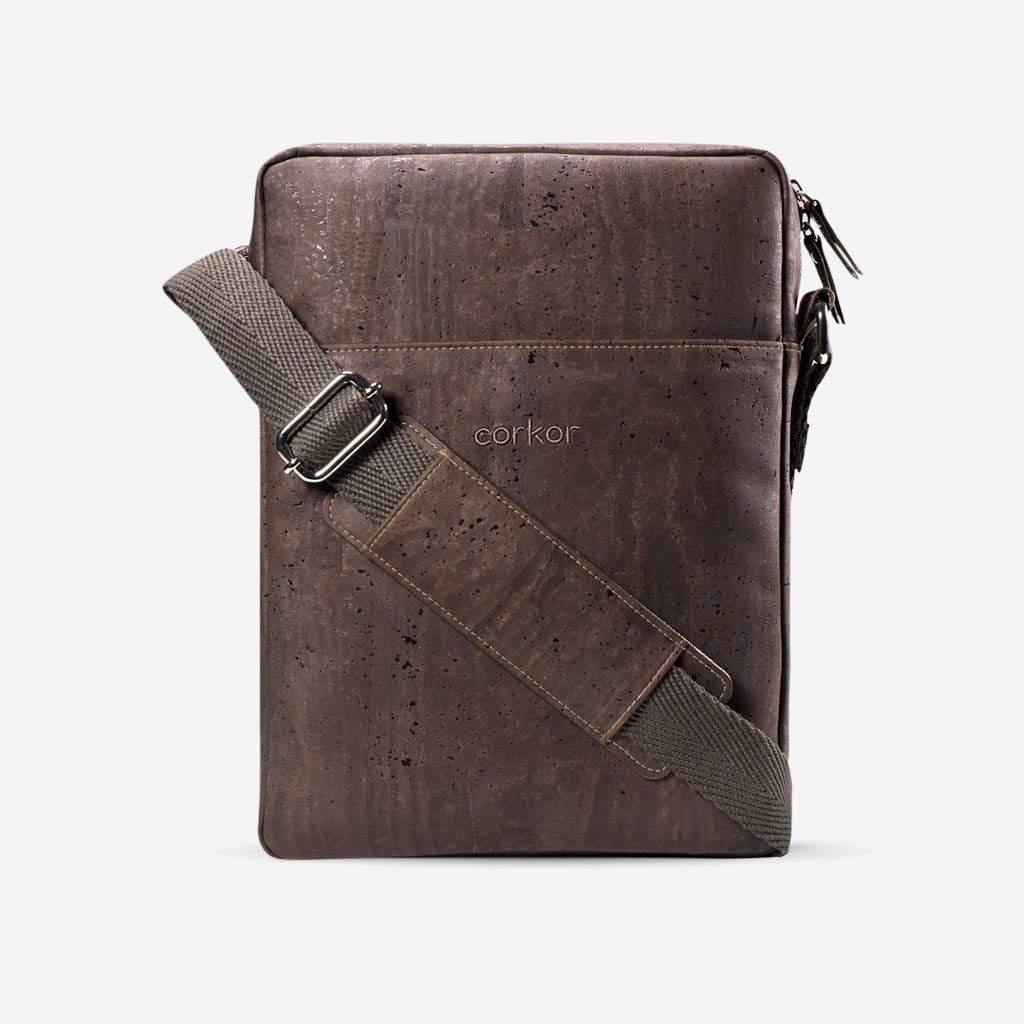 This compact vegan briefcase takes a typical briefcase and turns it on its side – with a vertical configuration.
It has a 13-inch padded laptop pocket, plus pen loops, a keyholder and an additional 6-inch pocket.
Cork is naturally durable, eco-friendly and water-resistant. The briefcase is lined in cotton.
---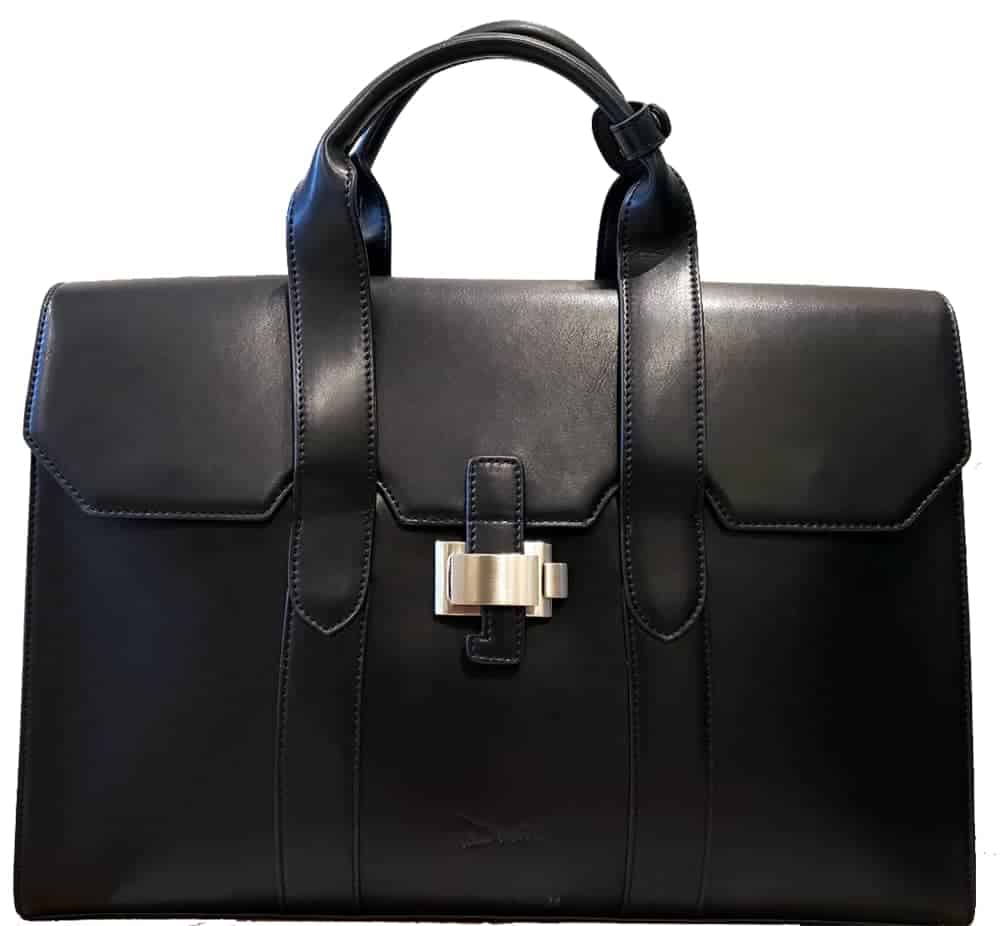 This briefcase is designed with the commuter in mind, and features a shoulder strap attached to solid D rings so there's less slippage.
It's made of a durable vegan microfiber outer with a lining made with recycled plastic. It also has a trolley strap so you can slip it over your suitcase handle when traveling.
It has a 15-inch laptop sleep, pen holders and a variety of large and small pockets.
The briefcase has 4 reviews with an average of 5/5 stars.
---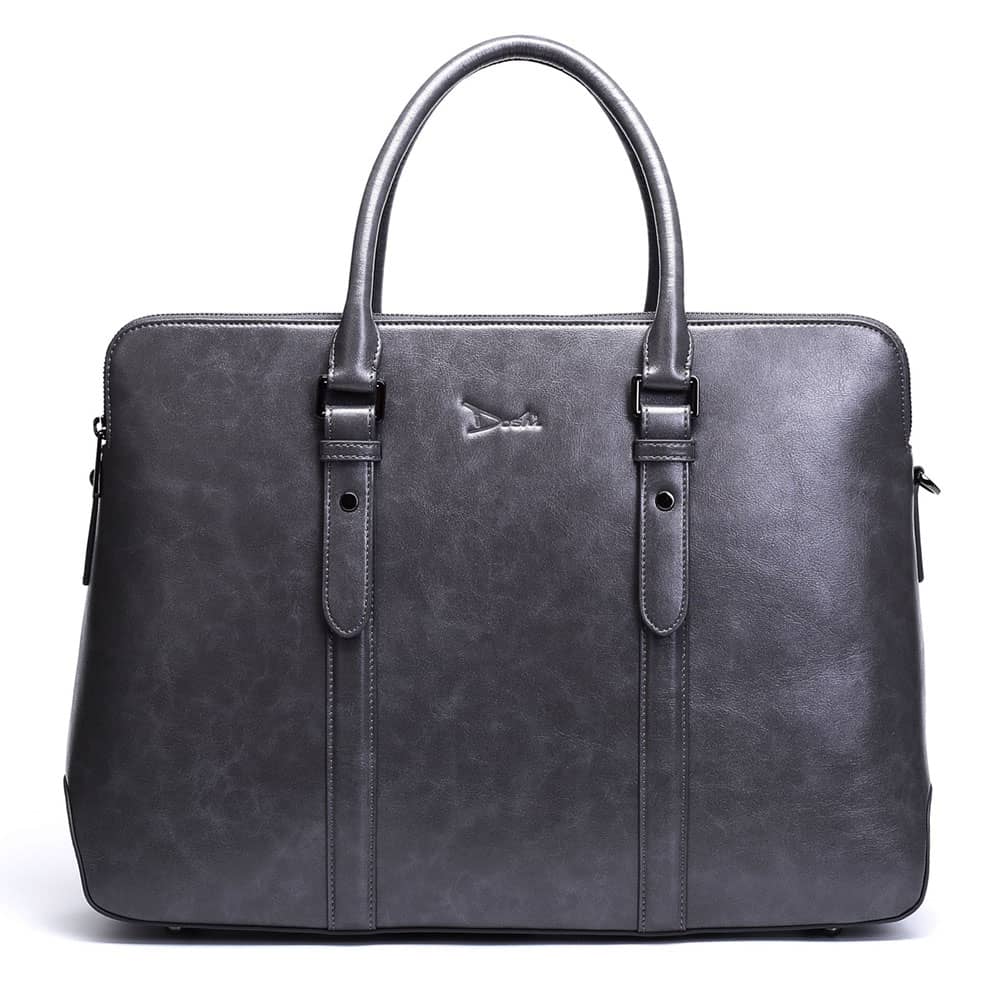 This large vegan briefcase will fit everything you need.
It has a 15-inch laptop compartment, a divider for files, a second compartment with space for larger items like a sweater, an interior zippered pocket, pen holders and an additional slip pocket.
It's made of a durable, high-quality waxed vegan microfiber leather and has two top carry handles plus a padded shoulder strap.
It has an average of 5/5 stars with 18 reviews.
---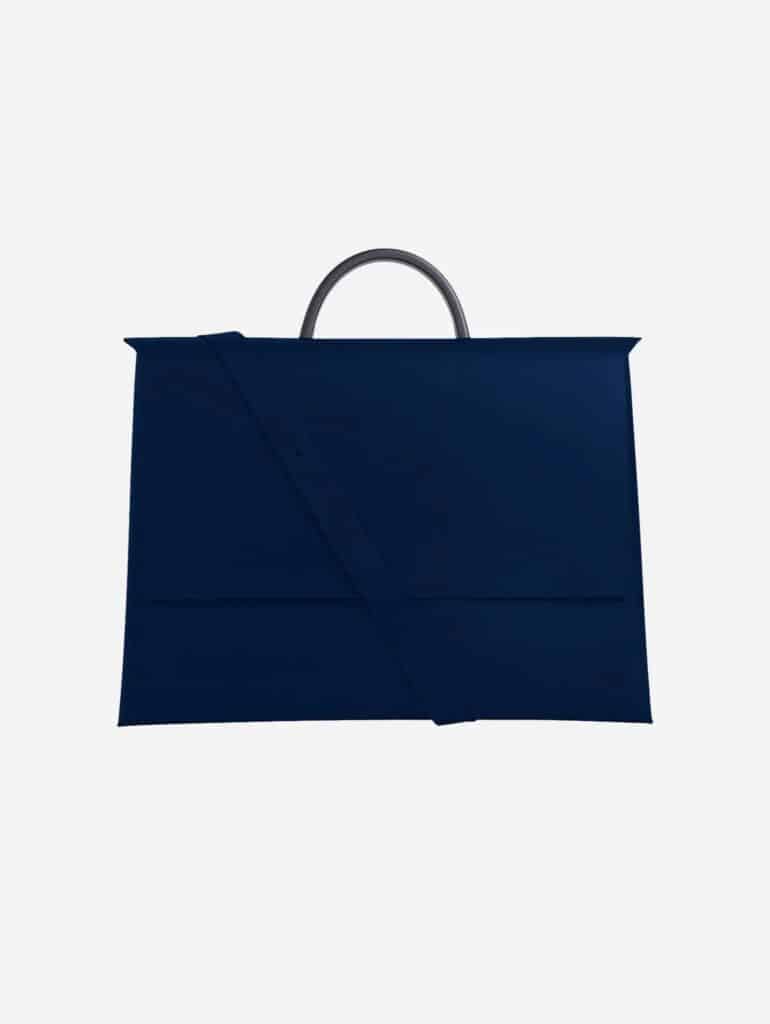 This portfolio bag from Hemincuff is made from recycled vegan leather, making it a great eco option.
Fashion forward Hemincuff is known for their minimalism and clean lines. The bag may not be the right option for you if you need a briefcase with lots of pockets and dividers, but if you want a clean and sleek piece, it's ideal.
Made using an origami technique that requires no stitching, this briefcase is the epitome of clean lines.
---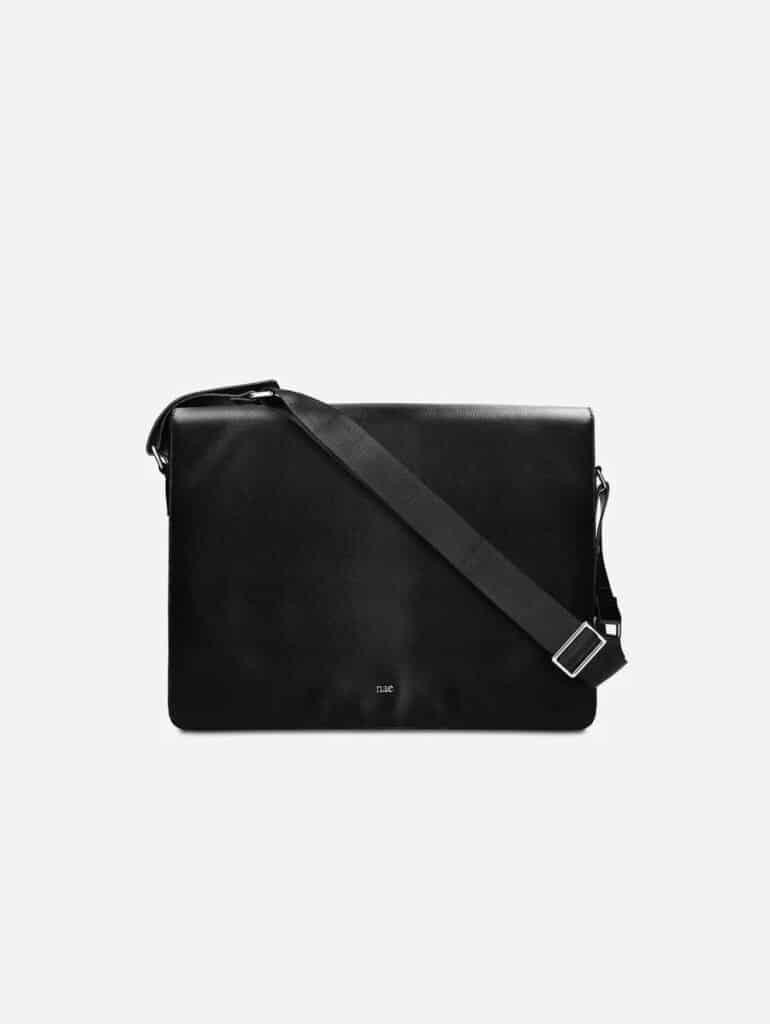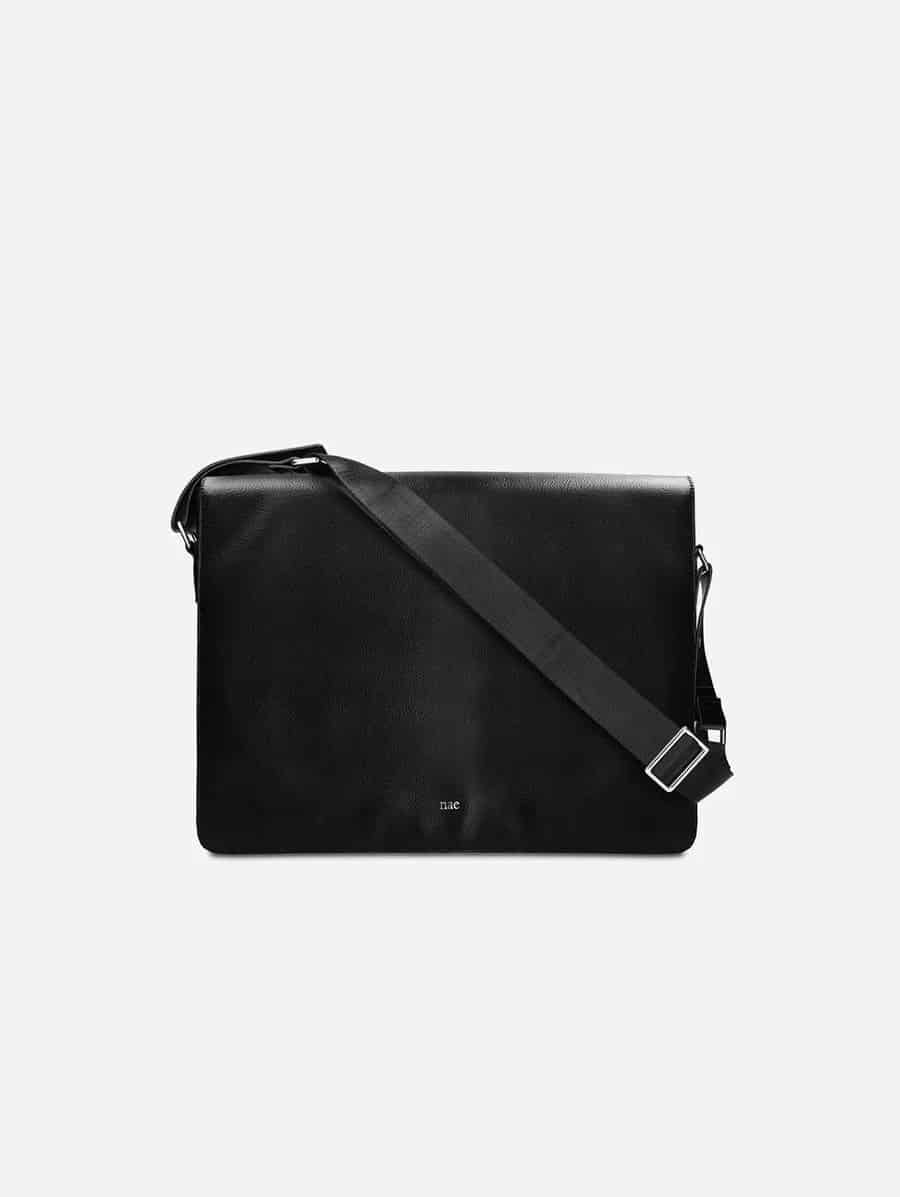 This briefcase from NAE is made of eco-friendly vegan apple leather. Made from the byproducts of the apple juice industry, it uses apple skins which otherwise been waste.
Inside, it has a divider and pockets such as a card holder. The lining is made from GOTS certified organic cotton.
It closes with both a zip and a flap with magnetic buttons, making it extra secure.
FAQ
What is vegan leather?
Vegan leather is made from a variety of non-animal sources. While vegan leather used to be made from PVC (which is terrible for the environement), the most common is now polyurethane. Other leather alternatives include cork (very eco-friendly!) and new materials such as vegan pineapple leather or apple leather, both made from waste from the food industry.
What is a vegan briefcase?
A vegan briefcase is one made without any animal products such as leather. Instead, it may be made of cork, canvas or vegan leather.
Where to buy vegan briefcases?
The stores near you may not stock vegan briefcases (or may not know if their briefcases are vegan), so buying online is often easiest. Consult the list above for vegan briefcases you can buy online!
Pin this for later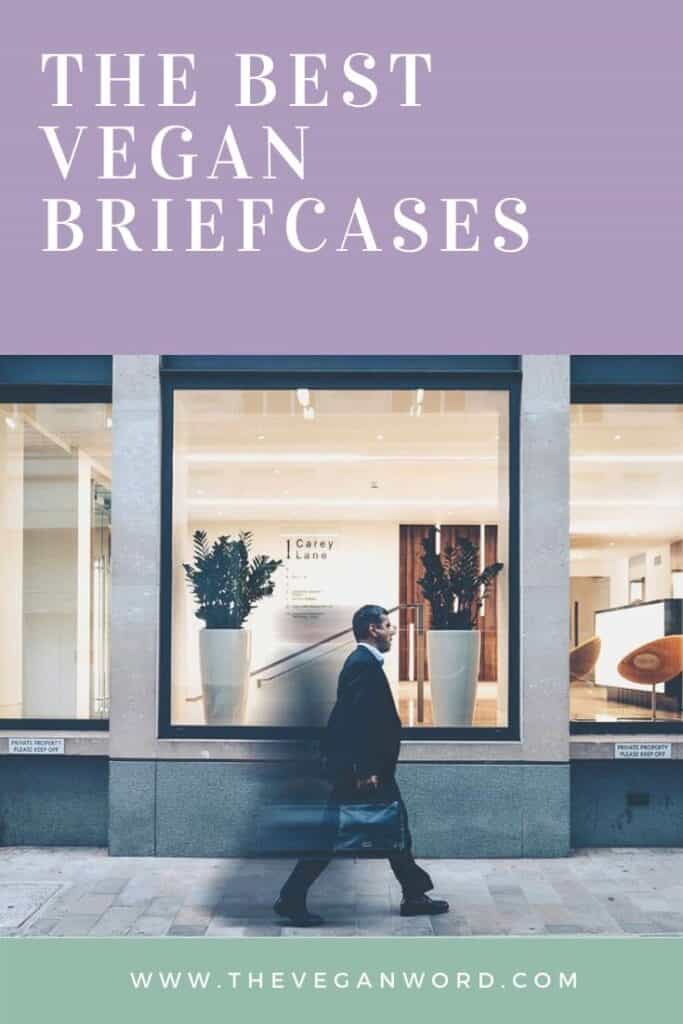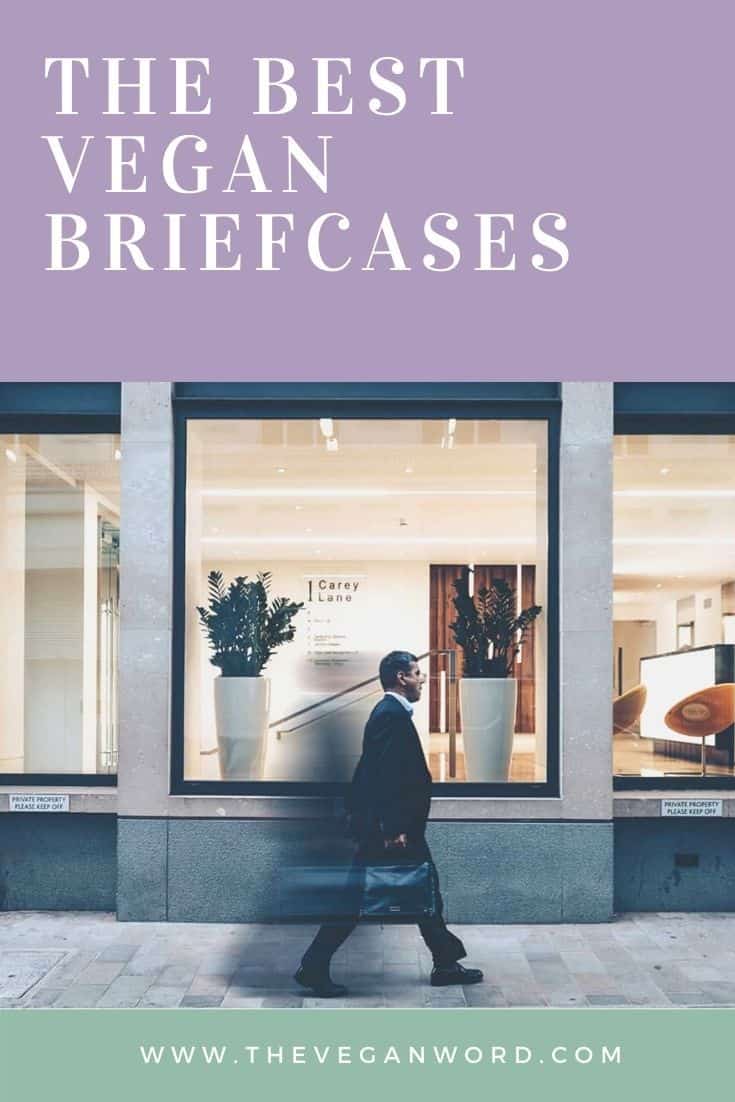 Looking for a vegan laptop bag instead? I have a guide for that! I also have guides to vegan luggage, backpacks and vegan messenger bags.
If you're searching for more styles of vegan bags, check out my list of the best vegan purse brands, plus guides to vegan crossbody bags, vegan cactus leather bags, vegan tote bags, vegan clutches, vegan satchels, vegan shoulder bags and vegan bucket bags.
I also have a guide to vegan designer bags.
Find all my vegan fashion guides.
Photo by Nigel Tadyanehondo on Unsplash