A vegan crossbody bag is the ideal mix of practical and fashionable. According to experts, crossbody bags are better than handheld bags for your back because they distribute weight more evenly (but be sure to switch shoulders from time to time). Not to mention vegan crossbody bags can be stylish to boot and even make your outfit!
Special discounts:
Some of the brands I'll be looking at include:
More vegan bag brands:
There are more and more brands making vegan bags all the time (click here to see my full guide to vegan bags), including crossbody bags.
Vegan bags are made from a number of different materials, from canvas to the super sustainable cork to a growing number of vegan leather alternatives.
These range from polyurethane (PU) to PVC, which is best avoided, and eco-friendly pineapple leather, apple leather or mushroom leather. Synthetic leather has come a long way!
Ready to see the best vegan leather crossbody bags? Here they are…

Location: UK
Features: 100% vegan company
My top pick: The WEEK/END catcus leather bag
This iconic debut bag from Frida Rome was featured on BBC's Dragon's Den! It is made from cactus leather, a new sustainable vegan leather alternative made from Nopal cacti, and vegan eco-suede.
Cactus leather is soft, require little water (given the growing conditions of cacti) making it eco-friendly and lasts 10 years or more.
You can find my full guide to vegan cactus leather bags here.
Frida Rome was nominated for Vegan Brand of the Year '21 by Eluxe magazine.
One thing I love about this bag is that it's crafted so it can be deconstructed (the studs are not only decorative but serve to fasten) and can transform into different styles by adding a panel.
It can be worn as a crossbody, shoulder bag or clutch. It can even be packed flat into the dust bag it comes with once deconstructed, making for easier storage or travel.
It's hand made in England by skilled artisans and bespoke made-to-order.

Location: Canada
Features: 100% vegan, free shipping on orders over $100/£70
My top pick: Matt and Nat Bee crossbody bag
Matt and Nat is one of the best-known vegan bag brands and they have the widest range of non leather cross body bags.
With so many options, it can be hard to choose.
Here are the most popular ones:
Matt and Nat Sam crossbody bag
Matt and Nat triplet crossbody bag
My top Matt and Nat crossbody bag is the Bee bag. This vegan leather crossbody purse is part of the Purity collection of bags that are made of recycled materials, both the outside and the lining.
The Bee bag has an adjustable, removable strap and inside has 12 pockets for credit cards, 2 pockets for cash and a coin purse. It comes in 7 different colors.

Location: Canada
Features: 100% vegan, free climate positive shipping over $99
My top pick: Bubbly black faux leather crossbody bag
Pixie Mood is a Canadian vegan company that is aiming to make their shipping as eco-friendly as possible.
They have a really big range of vegan crossbody handbags. The Pixie Mood Victoria crossbody bag is one of the most popular of their vegan cross body bags, but my top pick is the Bubbly crossbody.
It's a black faux leather crossbody bag, with a lining made of recycled plastic bottles. It has an interior zippered pocket and it closes with a magnetic snap.
It also comes in brown and sand.

Location: Israel
Features: 100% vegan, handmade
My top pick: Lee Coren's small vegan purse
Lee Coren handcrafts vegan leather bags in her workshop in Israel. She uses local materials (apart from the vegan leather, which she gets from Italy), and she has the most beautiful designs inspired by travel.
I love the gorgeous lines on the small crossbody bag, inspired by Greek architecture and Art Deco designs.
Made with a soft vegan suede, it has a removable chain strap (so you can use it as a necessities bag too) and an inner slip pocket.
This vegan suede bag closes with a zipper – as I've mentioned before I prefer zippered bags for travel (they are less tempting to pickpockets) and removable straps so I can secure my bag around my chair when sitting in an outdoor cafe table.
I also love Lee Coren's confetti design wallets and bag like this one, which were inspired by Rome.

Location: UK
Features: 100% vegan company, sweatshop-free, eco-friendly
Best for: vegan crossbody bag UK
My top pick: Kensington vegan crossbody bag
Labante is a vegan bag company that's been making sustainable and sweatshop-free bags since 2009, and their specialty is evening crossbody bags.
Their crossbody bags come in a variety of styles and colors, including classic black, but also yellow, nude, green and red.
My top pick is the Kensington vegan leather crossbody bag, which would look perfect with evening wear but work equally well in the day.
Its gold chain strap and V-shaped design make it stand out, and it has a zippered pocket at the back for your valuables.
I wouldn't wear this bag anywhere I thought pickpockets might be operating though, since the magnetic snap closure probably isn't enough to deter them – instead I'd go for a style that has both a zipped compartment and a snap closure.

Location: New York
Features: 100% vegan, free shipping to the US & Canada
My top pick: Emily vegan crossbody purse
GUNAS is an all-vegan bag company that makes a number of different vegan crossbody purses.
They have several multi-wear bags (which work as belt bags, clutches or crossbodies), a men's sling bag and my pick, the Emily vegan leather crossbody purse.
The Emily comes in lots of different color combinations and if you're looking for a vegan crossbody bag with guitar strap, the straps are detachable and GUNAS even makes the REBEL strap, which comes in different colors, so you can customise your bag.
The guitar strap trend is a fun way to bring uniqueness to your bag, and when I travel I always look for bags with detachable straps so I can hook one end around the chair while sitting down at a an outdoor table at a cafe.
That way I don't have to worry about bag thieves stealing my bag from the back of my chair when I'm not looking.
The Emily bag has two internal zippered pockets for your valuables and an interior slip pocket. The inside lining is made of recycled plastic and the hardware is recycled metal.

Doshi makes long-lasting bags with materials like vegan microfiber leather and more unusual eco-friendly materials such as Kraft paper.
They sent me a few of their bags and the first thing I noticed was the quality of the vegan leather. It's very soft and I later learned that vegan microfiber leather is much more durable than the vegan PU leather more commonly used, which is why they selected microfiber.
Whereas PU leather tends to peel and crack over time (ever noticed that on a favourite bag? I certainly have!), microfiber lasts much longer.
The crossbody camera bag comes with two different options of straps, a short strap and a wide strap, and they're detachable so you can switch between them.
It can also be worn attached to a belt around the waist (a belt is not included though Doshi has vegan belts available too, or check out my guide to vegan belts here).
It has two separate zippered pockets you can access from the top. There's also a zippered pocket on the front of the bag.

Location: LA
Features: 100% vegan
My top pick: Tashi vegan crossbody handbag
Svala is a vegan bag company, and they have a small but timeless collection of vegan, cruelty free crossbody bags.
My top pick is the Tashi, which comes in black or white, embossed with a vegan snakeskin print. It looks like an ideal size, small enough to be easy to carry but large enough to fit your wallet and phone.
It has an interior pocket to fit cards or ID and a magnetic snap closure.
Location: US
Features: 100% vegan
Melie Bianco has an affordable range of vegan bags, including crossbody bags.
My top pick is the Nicky bag, a small vegan crossbody bag. This faux leather mini crossbody has three compartments in the interior (but none are zippered, so not the best choice if you need to protect your valuables) and a back slip pocket.

Location: US
Features: 100% vegan
Top pick: Cher micro signet
Angela Roi is a luxury vegan bag maker whose bags mix classic style and fashion forward looks. The Angela Roi Hamilton crossbody, for example, is a classic look crossbody bag that will stay in style forever.
My top pick of Angela Roi crossbody, however, is the Cher micro.
This mini crossbody tote comes with a textured pebble finish vegan leather (in 7 different colors), with four studs on the bottom, presumably to protect your bag from the floor.
There's an interior zip pocket for valuables, and magnetic closure. It comes with handles and you can purchase a chain strap separately to use it as a crossbody bag (or you can use a guitar strap!).

Location: US
Features: 100% vegan
My top pick:
JW Pei is an affordable vegan bag brand that makes one of the biggest ranges of vegan bags.
Their most popular crossbody bags are the JW Pei Julia bag.
It has an interior pocket that fits phones of all sizes, an exterior pocket and a zippered pocket.

Location: Portugal
Features: 100% vegan, uses sustainable cork
My top pick: Corkor's small crossbody purse
Corkor is an eco-friendly vegan bag brand that makes all their products out of cork, which is one of the most sustainable materials, thanks to its quick growth, the fact you can harvest cork from trees without cutting down the trees, and since the trees need little water or fertiliser to grow.
They have a few different styles of crossbody bags, including a cork briefcase, but my top pick is the small crossbody bag.
It's just the right size and the top zips up, making it safer for travel and keeping your valuables away from pickpockets than a magnetic pocket with gaps at the sides. The interior features two slip pockets and one zippered pocket.

Location: Based in Greece
Features: 100% vegan designer bags
My top pick: Amaryllis Black
Looking for vegan designer crossbody bags? Vegan designer label Mashu makes small quantities of each bag so you're unlikely come across someone with the same bag as you.
Their bags are handcrafted in Greece using sustainable materials.
My pick is the Amaryllis Black, made with a bio vegan leather and their signature square handles (made with recycled plastic).

Location: Based in the UK
Features: Leather-free/vegetarian company (all bags vegan)
My top pick: Falabella Mini Tote
If you're searching for a designer vegan leather cross body bag, Stella McCartney is the most famous designer label making vegan bags today.
As a lifelong vegetarian, Stella McCartney doesn't use any leather in her designs (she does use wool in some of the clothing on her label, but bags and shoes are leather-free and vegan).
The famed Falabella is her signature line and my top pick is the Falabella mini tote.

Location: US
Features: 100% vegan company
My top pick: Grandeur shoulder bag
Scarleton is a good option if you're looking for an inexpensive crossbody bag. Vegan bags from all-vegan designers can sometimes be on the more expensive side.
This is usually because of the cost involved in making smaller quantities, using eco-friendly materials and paying fair labour costs – so I think it's worth paying more for a bag where possible but that's not always possible and sometimes we're on a budget so brands like Scarleton hit the mark! (Or better yet, if you're on a budget, I recommend combining wallet-friendly with eco-friendly check out your local secondhand store or a secondhand app like ebay, Vinted or Depop.)

Location: UK
Features: 100% vegan company
My top pick: Camden vegan purse (crossbody)
Watson and Wolfe makes classic style vegan bags, so you can be sure they'll match just about everything in your closet and won't go out of fashion.
My top pick is the Camden, which is a vegan purse with changeable straps, meaning you can replace it with whatever strap you want.
Need a vegan crossbody bag with wide strap? Replace it with a wider strap (extra straps aren't included). Looking to get in on the guitar strap trend? Replace the strap with a guitar strap of your choice and you've got a vegan crossbody with guitar strap.

Location: US
Features: 100% vegan company
My top pick: Water Moon satchel
Vegan designer label Alkeme Atelier makes some of the best vegan bags if you want to stand out.
They're also committed to using eco-friendly materials, including a sustainable vegan leather exclusive to the brand made with 70% recycled materials.
They have a few different non leather crossbody bags, but my pick is the Water Moon satchel. I also have a full guide to vegan satchels here.

Location: Spain
Features: 100% vegan company
My top pick: Trotto vegan crossbody tote bag
Canussa is a Spanish vegan bag manufacturer whose aim is to create vegan bags that are both ethical and long-lasting.
Their crossbody vegan leather bags come in a range of styles and colours but my pick is the Trotto. This practical bag even has a special water bottle holder!

Location: UK
Features: 100% vegan company
My top pick: 3 vegan leather bags in 1
I love the idea behind the Morphbag. Created by luxury bag designer and busy mum Giovanna Sessi-Knott, these bags are a versatile solution to all your style and bag needs.
From day to night, the 3 vegan leather bags in 1 transform into 4 different styles. There's the reversible maxi tote, the crossbody bag which fits inside it and the clutch, which fits inside both.
The tote will fit a laptop and work shoes, and you can fit all three together to meet airlines' hand luggage allowance.
It's also really practical, as well as stylish. The tote is also made with wide straps for comfort. The clutch has a wrist strap, so you can shake hands while also holding a glass of wine.

Location: Australia
Features: 100% vegan company
My top pick: Long Lunch mini tote
After working in the leather bag industry for years, Cathryn Wills went vegan and decided to start Sans Beast, a vegan accessories brand.
My pick is the Long Lunch mini tote, which has enough room for essentials and pockets for cash, cards and phone.
The detachable strap allows you to carry it in multiple ways, or to replace the strap for another look like a guitar strap for a vegan leather crossbody bag with guitar strap. (Additional straps are not included, though Sans Beast does sell straps separately.)

Location: Poland
Features: 100% vegan company
My top pick: Muffin crossbody vegan purse
PETA award winning luxury vegan brand Alexandra K makes beautiful vegan bags.
The Muffin is my top pick of crossbody body bags.
Vegan leather camera bag The Muffin is made with corn leather, one of the latest innovative and sustainable vegan leather alternatives. The bag features a badge which reads "This bag is animal cruelty-free and vegan."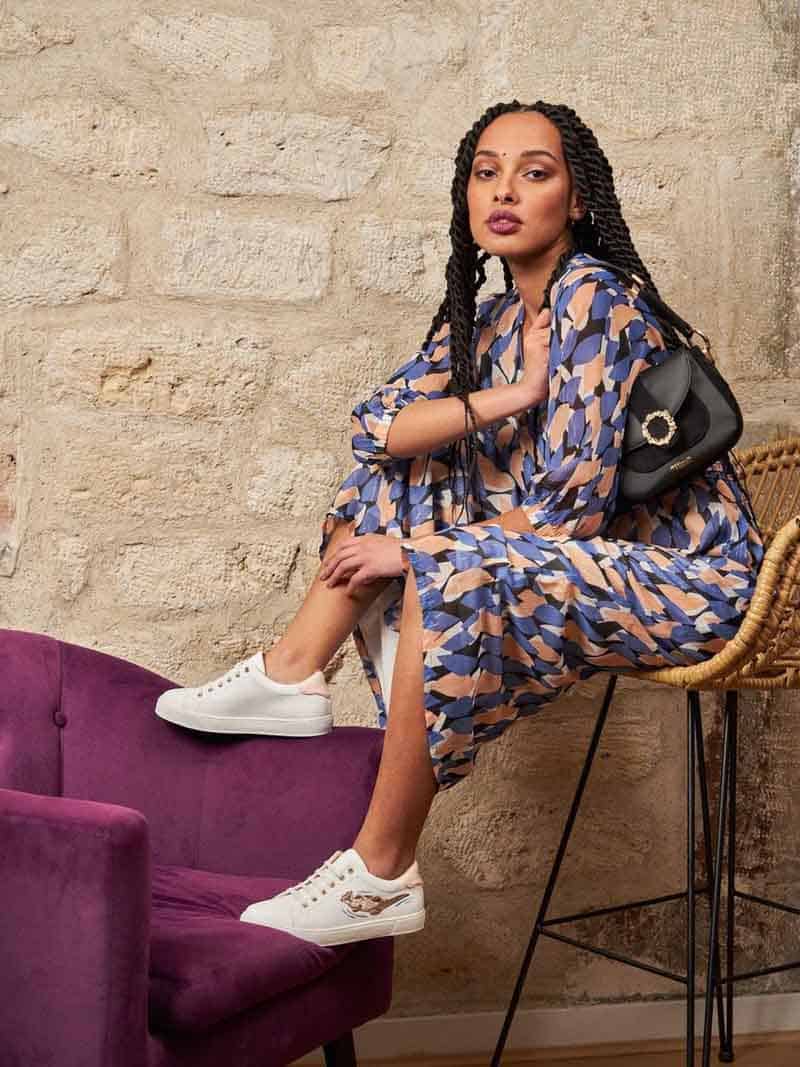 Location: France
100% vegan company
My top pick: Mira vegan grape leather crossbody
Minuit Sur Terre is a vegan brand based in France that started out as a shoe brand but has since expanded to make vegan bags, accessories and knitwear as well.
I have a pair of their sandals I love and I really like the design of their products. Their vegan crossbody purse range is really cute.
My top pick is the Mira vegan small crossbody bag.
It's made with eco-friendly grape leather, a vegan alternative made from grape skins left over from the wine industry that would otherwise have gone to waste. It closes with a gold-tone clasp with a leaf motif, which I really love.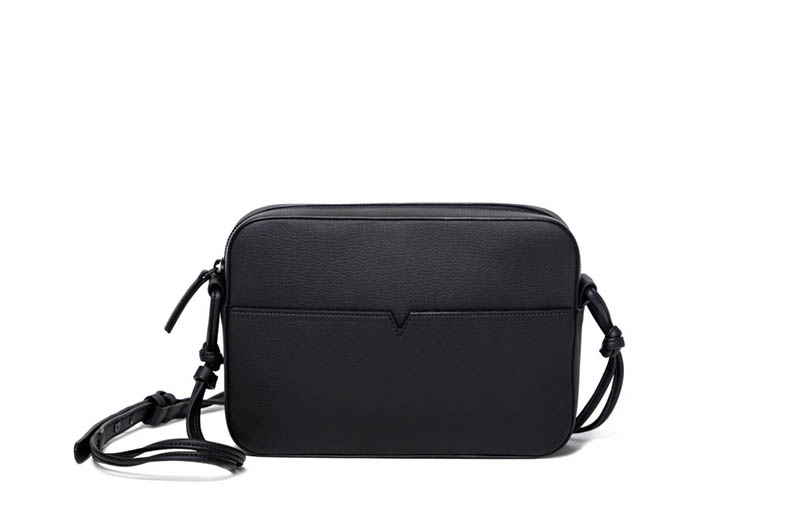 Von Holzhausen makes classic bags with high-quality vegan leather.
The idea behind this 100% vegan brand was to create a vegan leather alternative that outperforms leather itself.
Most of their bags are made from Technik-Leather, their own material which is biodegradable in landfill. It's made of post-consumer plastic and is lightweight, resistant to stains, scratches and water.
My pick is their black vegan crossbody bag (though it also comes in cream, grey, light brown and blue). It's a streamlined look that will match any outfit and I love that it closes with a top zip (good against pickpockets).
It has 4.7/5 stars with 21 reviews, with most reviewers praising the bag, though one complaint is that it would be better with pockets inside.
More vegan crossbody bag brands:
Pin this for later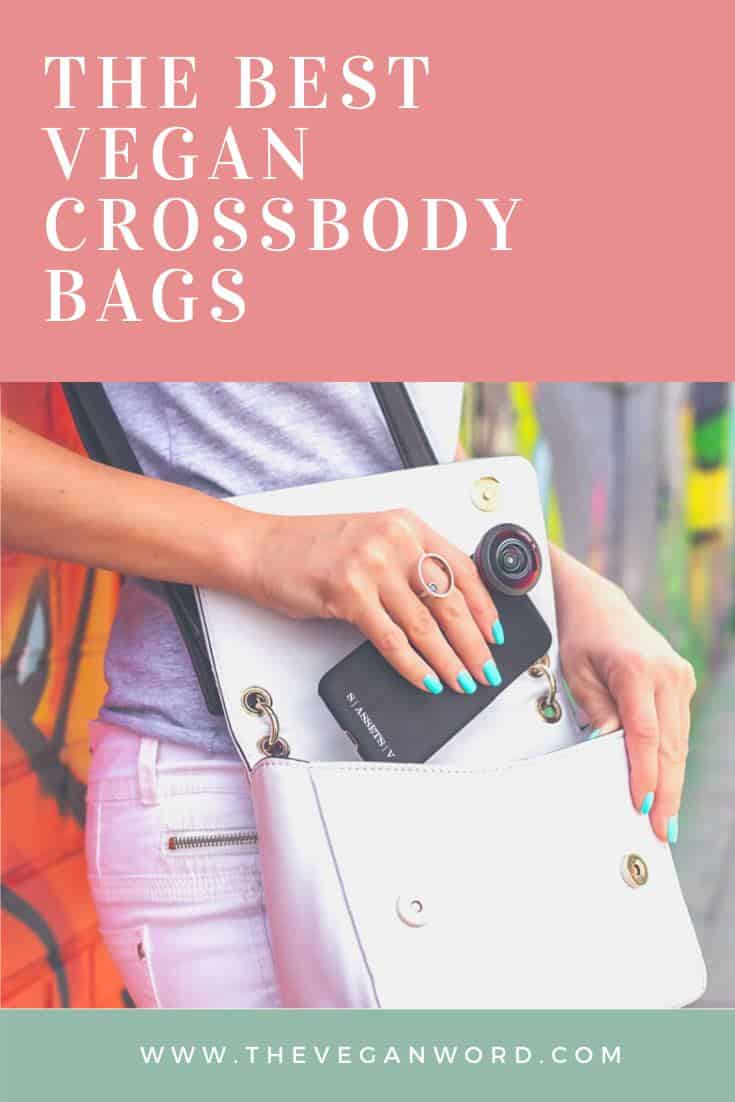 Looking for more bags? If you're looking for vegan shoulder bags, clutches or more, check out my full guide to vegan handbags.
Prefer a tote bag or vegan leather shoulder bag? See my guide to vegan tote bags. Or would you rather a backpack? See my guide to vegan backpacks. I also have a guide to vegan bucket bags.
If you need to lug your laptop with you, check out my guide to vegan laptop bags and my list of the best vegan messenger bags.
If you're looking for designer bags, see my guide to vegan designer bags.
See all my vegan fashion & beauty guides.
Shopping for shoes too? See my guide to vegan shoes and article on designer vegan shoes. I've also got a guide to vegan boots, and a guide to vegan heels.