Vegan crossbody bags are the ideal mix of practical and fashionable. According to experts, crossbody bags are better than handheld bags for your back because they distribute weight more evenly (but be sure to switch shoulders from time to time). Not to mention the right vegan crossbody bag can be stylish to boot!
There are more and more brands making vegan bags all the time (click here to see my full guide to vegan bags), including crossbody bags.
Vegan bags are made from a number of different materials, from canvas to the super sustainable cork to a growing number of vegan leather alternatives. These range from polyurethane (PU) to PVC, which is best avoided, and eco-friendly pineapple leather, apple leather or mushroom leather. Synthetic leather has come a long way!
Some of the brands I'll be looking at include:
Ready to see the best vegan leather crossbody bags? Here they are…

Location: UK
Features: 100% vegan company, sweatshop-free, eco-friendly
My top pick: Kensington black vegan crossbody bag
Labante is a vegan bag company that's been making sustainable and sweatshop-free bags since 2009, and their specialty is evening crossbody bags.
Their crossbody bags come in a variety of styles and colors, including classic black, but also yellow, nude, green and red.
My top pick is the Kensington vegan leather crossbody bag, which would look perfect with evening wear but work equally well in the day.
Its gold chain strap and V-shaped design make it stand out, and it has a zippered pocket at the back for your valuables.
I wouldn't wear this bag anywhere I thought pickpockets might be operating though, since the magnetic snap closure probably isn't enough to deter them – instead I'd go for Labante's Marlene vegan black crossbody bag, which features both a zipped compartment and a snap closure.

Location: New York
Features: 100% vegan, free shipping to the US & Canada
My top pick: Emily vegan crossbody purse
GUNAS is an all-vegan bag company that makes a number of different vegan crossbody purses.
They have several multi-wear bags (which work as belt bags, clutches or crossbodies), a men's sling bag and my pick, the Emily vegan leather crossbody purse.
The Emily comes in lots of different color combinations and if you're looking for a vegan crossbody bag with guitar strap, the straps are detachable and GUNAS even makes the REBEL strap, which comes in different colors, so you can customise your bag. The guitar strap trend is a fun way to bring uniqueness to your bag, and when I travel I always look for bags with detachable straps so I can hook one end around the chair while sitting down at a an outdoor table at a cafe. That way I don't have to worry about bag thieves stealing my bag from the back of my chair when I'm not looking.
The Emily bag has two internal zippered pockets for your valuables and an interior slip pocket. The inside lining is made of recycled plastic and the hardware is recycled metal.

Location: Canada
Features: 100% vegan, free shipping on orders over $100/£70
My top pick: Matt and Nat Bee crossbody bag
Matt and Nat is one of the best-known vegan bag brands and they have the widest range of non leather cross body bags.
With so many options, it can be hard to choose.
Here are the most popular ones:
Matt and Nat Sam crossbody bag
Matt and Nat triplet crossbody bag
My top Matt and Nat crossbody bag is the Bee bag. This vegan leather crossbody purse is part of the Purity collection of bags that are made of recycled materials, both the outside and the lining.
The Bee bag has an adjustable, removable strap and inside has 12 pockets for credit cards, 2 pockets for cash and a coin purse. It comes in 7 different colors.

Location: Canada
Features: 100% vegan, free climate positive shipping over $99
My top pick: Bubbly black faux leather crossbody bag
Pixie Mood is a Canadian vegan company that is aiming to make their shipping as eco-friendly as possible.
They have a really big range of vegan crossbody handbags. The Pixie Mood Victoria crossbody bag is one of the most popular of their vegan cross body bags, but my top pick is the Bubbly crossbody.
It's a black faux leather crossbody bag, with a lining made of recycled plastic bottles. It has an interior zippered pocket and it closes with a magnetic snap.
It also comes in brown and sand.

Location: Israel
Features: 100% vegan, handmade
My top pick: Lee Coren's small vegan purse
Lee Coren handcrafts vegan leather bags in her workshop in Israel. She uses local materials (apart from the vegan leather, which she gets from Italy), and she has the most beautiful designs inspired by travel.
I love the gorgeous lines on the small crossbody bag, inspired by Greek architecture and Art Deco designs.
Made with a soft vegan suede, it has a removable chain strap (so you can use it as a necessities bag too) and an inner slip pocket. It closes with a zipper - as I've mentioned before I prefer zippered bags for travel (they are less tempting to pickpockets) and removable straps so I can secure my bag around my chair when sitting in an outdoor cafe table.
I also love Lee Coren's confetti design wallets and bag like this one, which were inspired by Rome.

Location: UK
Features: 100% vegan, sustainable materials
My top pick: Zaha apple leather convertible vegan crossbody
Luxtra is an all-vegan company that makes bags with sustainable, innovative materials like cactus leather, grape leather and apple leather, amongst others. All these vegan leathers are eco-friendly alternatives that use industry waste to make vegan materails.
Luxtra has a number of crossbody bags, from a classic vegan black crossbody bag to a silver bag for nights out or for bringing some bling to everyday looks.
My top pick is the Zaha bag, which can be worn either as a belt bag or a crossbody bag. This non leather crossbody bag is made of apple leather!
The interior compartment fits the largest iPhone and it comes with an organic cotton dust bag.

Location: LA
Features: 100% vegan
My top pick: Tashi vegan crossbody handbag
Svala is a vegan bag company, and they have a small but timeless collection of vegan, cruelty free crossbody bags.
My top pick is the Tashi, which comes in black or white, embossed with a vegan snakeskin print. It looks like an ideal size, small enough to be easy to carry but large enough to fit your wallet and phone.
It has an interior pocket to fit cards or ID and a magnetic snap closure.
Location: US
Features: 100% vegan
Top pick: Melie Bianco crossbody mini
Melie Bianco has an affordable range of vegan bags, including crossbody bags.
My top pick is the Nicky bag, a small vegan crossbody bag. This faux leather mini crossbody has three compartments in the interior (but none are zippered, so not the best choice if you need to protect your valuables) and a back slip pocket.

Location: US
Features: 100% vegan
Top pick: Cher micro signet
Angela Roi is a luxury vegan bag maker whose bags mix classic style and fashion forward looks. The Angela Roi Hamilton crossbody, for example, is a classic look crossbody bag that will stay in style forever.
My top pick of Angela Roi crossbody, however, is the Cher micro. This mini crossbody tote comes with a textured pebble finish vegan leather (in 7 different colors), with four studs on the bottom, presumably to protect your bag from the floor. There's an interior zip pocket for valuables, and magnetic closure. It comes with handles and you can purchase a chain strap separately to use it as a crossbody bag (or you can use a guitar strap!).

Location: US
Features: 100% vegan
My top pick: JW Pei envelope chain crossbody bag
JW Pei is an affordable vegan bag brand that makes one of the biggest ranges of vegan bags.
Their most popular crossbody bags are the JW Pei Julia bag and my pick, the envelope chain crossbody.
It has an interior pocket that fits phones of all sizes, an exterior pocket and a zippered pocket.

Location: Portugal
Features: 100% vegan, uses sustainable cork
My top pick: Corkor's small crossbody purse
Corkor is an eco-friendly vegan bag brand that makes all their products out of cork, which is one of the most sustainable materials, thanks to its quick growth, the fact you can harvest cork from trees without cutting down the trees, and since the trees need little water or fertiliser to grow.
They have a few different styles of crossbody bags, including a cork briefcase, but my top pick is the small crossbody bag. It's just the right size and the top zips up, making it safer for travel and keeping your valuables away from pickpockets than a magnetic pocket with gaps at the sides. The interior features two slip pockets and one zippered pocket.

Location: US, but bags are made in Italy
Features: 100% vegan handmade luxury bags
If you're looking for a handmade designer vegan crossbody bag, then Jill Milan is your best bet. Made in Italy in an atelier that has been making luxury bags for generations, Jill Milan bags are handcrafted and high quality.
They only have one crossbody bag at present, the Hollywood Hills bag, in vegan snakeskin. It's small enough to be comfortable but just big enough to fit your essentials, and features and interior zippered pocket.
Pin this for later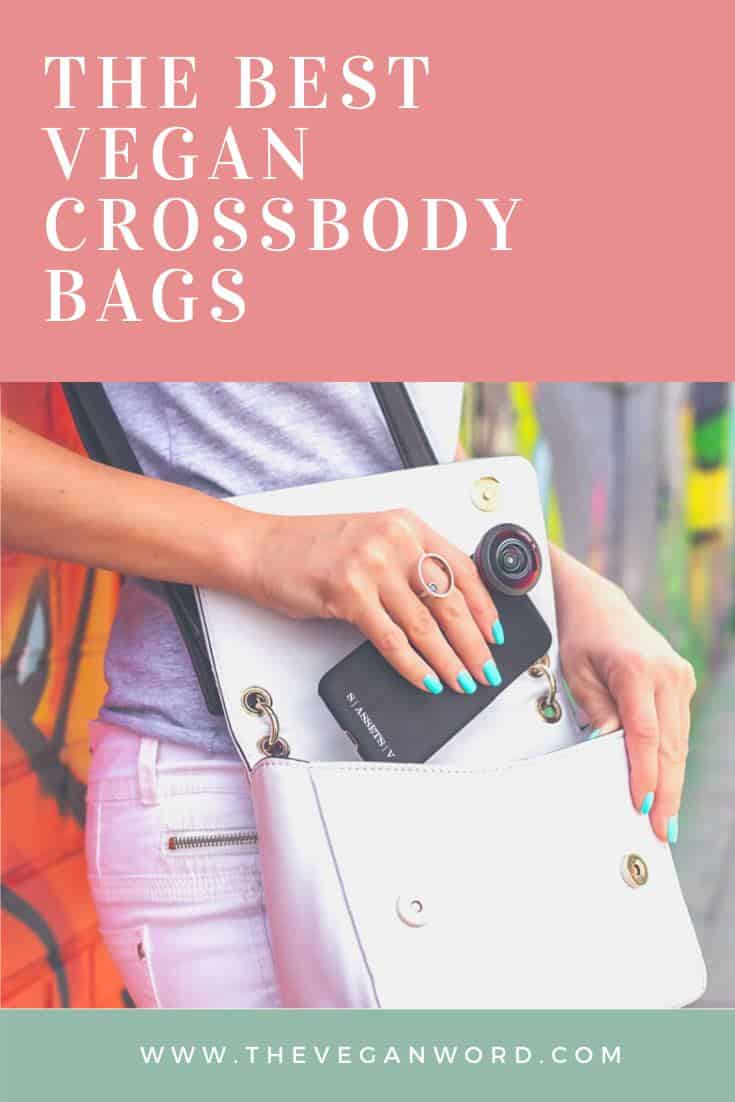 Looking for more bags? Check out my full guide to vegan handbags here.
Prefer a tote bag? See my guide to vegan tote bags here.
See all my vegan fashion & beauty guides here.
Shopping for shoes too? Click here to see my guide to vegan shoes and find designer vegan shoes here. I've also got a guide to vegan boots here, and vegan heels here.