Vegan tote bags are a practical choice if you need a bag that will fit all your essentials. The best vegan tote bags fit your laptop, your beach gear or your baby's food and diapers.
As a lifelong vegetarian and long-term vegan since 2008, I know how tricky it can be to find a vegan leather work bag or vegan bag for other occasions.
Special discounts:
Some of the vegan leather tote bag brands I'll be reviewing include, among others:
Plus, more vegan tote bag options:
A vegan tote can be fashionable, as well as practical. Vegan leather totes tend to be stylish additions to your outfit, while cloth tote bags are foldable and perfect to take with you shopping (helping you stay zero waste!) or to the beach.
If you're looking for more vegan bags, see my full guide to vegan handbags here.
Here are the best non leather tote bags:

Best for: vegan work bags
Special features: 100% vegan, sustainable materials, sweatshop-free
Free United States shipping
My top pick: Sophie vegan leather tote bag
Labante London is a sustainable, sweatshop-free vegan bag company offering free shipping in the US and UK and making some of the best vegan leather tote bags.
Their range of vegan leather tote bags is full of timeless pieces that will stay in style for years, but my top pick is the Sophie black vegan leather tote.
If you're looking for vegan tote bags for work, the Sophie vegan black tote bag is elegant and will match any work outfit. This black faux leather tote bag with zipper even comes with a matching black pouch to help you stay organised. It's the perfect bag for day-to-night.
The vegan black tote fits a 14-inch laptop and closes with a zipper.
If you're looking for more vegan laptop tote bag options, check out my guide to vegan laptop bags.
They also have lots of other styles of vegan leather handbags. Though based in the United Kingdom, they have international shipping available.

Special features: 100% vegan brand, free shipping to the US and Canada
My top pick: TIPPI vegan tote purse
GUNAS has been making vegan bags since 2009, and they have a wide range of styles, including ethical tote bags. These are the best vegan totes if you're looking for a colorful bag.
If you need a vegan leather tote bag for work, my top pick is the TIPPI, a vegan laptop tote that can hold up to a 15-inch laptop, and which is also one of their best sellers. From work to happy hour, this vegan tote handbag is perfect for everyday use.
The bag comes in a number of different hues, perfect for adding a pop of color to outfits, and since the tassel is detachable you can use it as a vegan work tote.
This vegan leather bag for work has a zippered top and an internal slip pocket you can use to store money or other items.
If you're searching for the best vegan work bags, see my guide to vegan briefcases here.

Special features: 100% vegan company, free shipping on orders over $100/£70
My top pick: Matt and Nat Abbi tote bag
Matt and Nat is one of the biggest and best-known bag brands and the Matt and Nat tote bag vegan collection is fairly extensive.
Looking for a vegan leather tote bag with zipper? My top pick is the Matt and Nat Abbi tote bag from the Purity collection.
This vegan leather tote with zipper is practical, with an interior zippered pocket and an additional interior pocket for your phone. The Purity collection bags are made with recycled materials for both the exterior and the lining.
Their other most popular totes include:

Special features: 100% vegan, free climate positive shipping over $99
My top pick: Alicia Tote II
Pixie Mood is an all-vegan bag company that makes affordable vegan bags. They're perfect if you're looking for the best vegan leather totes for less.
They have plenty of choices when it comes to vegan tote handbags, and my top choice is the Pixie Mood Ali tote. This Pixie Mood tote bag is a firm fan favorite.
has a top zipper, an interior slip pocket and metal feet. It also comes with a removable pouch, which has crossbody bag straps, so essentially you're getting two bags for the price of one with the Ali tote!
Pixie Mood also works with Terrapass on becoming carbon neutral and offset their shipping.

Special features: 100% vegan
My top pick: Maddox tote
Watson & Wolfe makes the best faux leather tote bags in quintessential styles. Vegan leather bags in classic styles are their specialty.
My top pick is their Maddox vegan leather tote in black & cobalt. Made of high quality materials, it's also big enough to fit your water bottle as well as your daily essentials.
In fact, this large vegan leather tote will fit everything you need – it's spacious enough you could even use it as a weekend travel bag! (To see my full guide to vegan weekend bags & vegan luggage, click here.)
The Maddox is made with premium vegan Italian leather, and vegan leather handles. The inside is lined in cobalt blue and contains a zippered pocket.
There's an exterior slip pocket and three popper buttons to adjust the opening of the bag. It fits a 15 inch laptop. This black vegan tote also has feet on the base.

Special features: 100% vegan luxury handbags
My top pick: Cher tote
Angela Roi makes luxury vegan bags in mostly timeless designs.
The Angela Roi Cher tote is top pick. Made with a soft vegan leather, this Angela Roi tote has a top closure with a magnetic button, four bottom studs and a center zippered compartment.
It's a classic vegan leather handbag, and will work for all outfits and occasions, dressing up or down.

Special features: 100% vegan affordable bags
My top pick: Clara tote in beige canvas
JW Pei makes affordable vegan bags and has one of the biggest ranges I've come across. Whether you're looking for a crossbody bag, a satchel or of course a tote, they've got it all.
For those who are looking for vegan canvas tote bags, my pick is the Clara canvas bag. This canvas tote comes with a vegan leather shoulder strap. This vegan canvas bag contains one slip pocket and looks nice and roomy for all your things.

Special features: 100% vegan company
My top pick: Maxi Tote Black Grape
Alexandra K is a vegan bag maker based in Poland.
My pick is the Shopper in Black Grape. This black vegan leather tote bag is made with grape leather, an innovative vegan leather that uses waste from the wine industry!
The inside of the vegan shopper bag is lined with fabric and contains a slip pocket. The top fastens with tied strings or a side lobster closure.

Special features: Vegan-friendly company, luxury vegan handbags
Stella McCartney is a vegetarian designer and so she doesn't use any leather or fur in her designs; however she does use wool and silk so not everything in her range is vegan. Her bags and shoes, however, are all vegan.
The Falabella tote bag has now become a designer classic since launching a few years ago, having become a favorite of many celebrities. It features a press stud fastening and top handles, plus a slip pocket, and its signature silver chain.
As well as the classic Falabella tote, you can find variations such as the Falabella maxi tote, fold-over tote and raffia tote.
If you're looking for more designer bags, see my guide to vegan designer bags here.

Features: 100% vegan company
My top pick: Weekender tote
Doshi is an all-vegan bag manufacturer that makes durable and long-lasting bags.
Their Weekender tote is perfect for travel or to use as a diaper bag. This is one of the best vegan laptop bags or bags to take on an overnight trip and it features a zippered top and a sleeve that will fit a 15-inch laptop and five interior slip pockets.
This vegan computer bag also has a crossbody strap you can use to carry lighter loads.
Doshi uses vegan microfiber leather for the vegan transport tote, rather than the more common PU leather that you'll find used in many other vegan bags, because it lasts much longer.
They sent me a few of their bags to try out and I noticed right away how soft the supple the vegan leather was.
While PU leather tends to crack and peel over time, microfiber leather lasts much longer, making this a great choice for a bag you can enjoy for a long time to come!

Features: Vegan options, uses eco friendly cork
My top pick: Cork Gold Basket Bamboo bag
Studio Cork specializes in bags made of cork, which is an extremely eco-friendly material, thanks to the fact cork trees need little input in the way of water or fertilizer, and can be harvested without killing the tree.
It's also naturally water-impermeable and makes an extremely sustainable alternative to leather!
My pick is Studio Cork's gold bamboo basket bag, which features laser-cut gold textured cork in a geometrical cut-out design, bamboo handles and a zippered red fabric bag inside.
It closes with snap tabs on the side and the bag inside zips shut. It also has a tassel charm.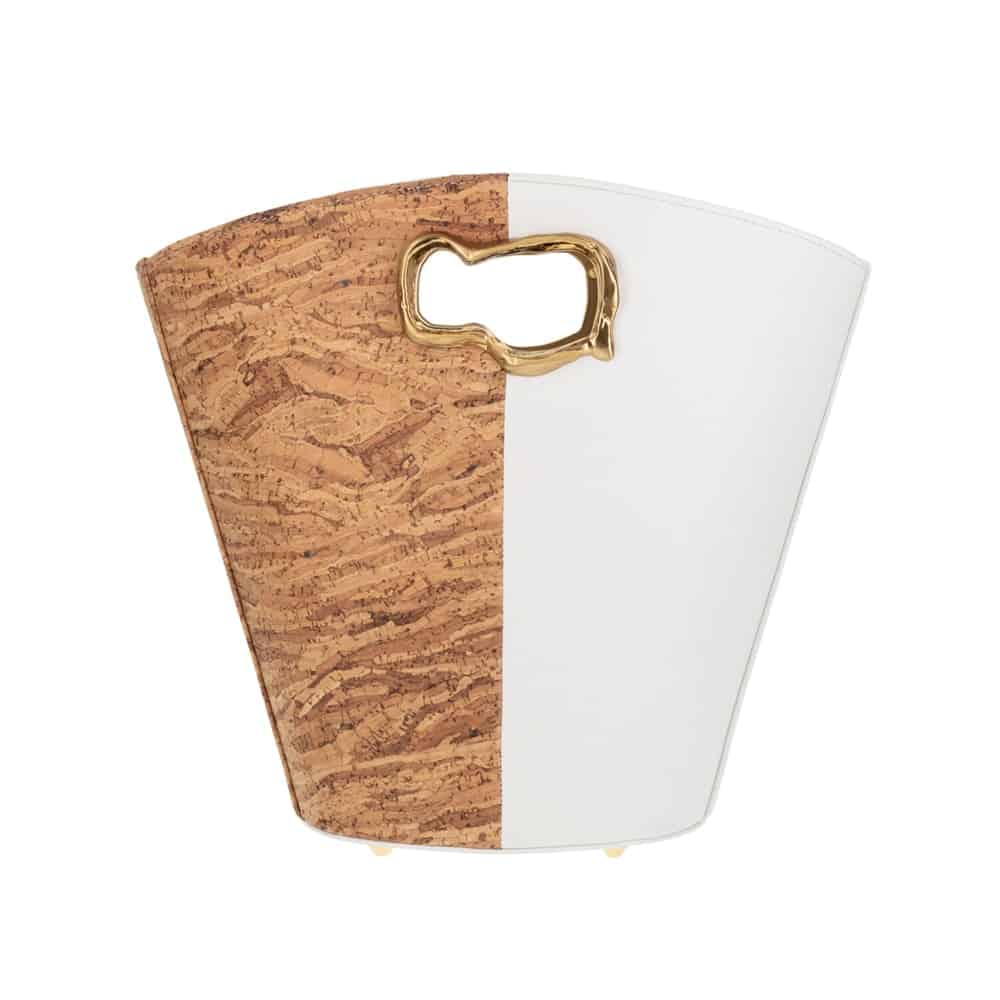 Features: best for vegan tote bags UK
My top pick: Mashu Cassiopeia
If you're looking for a designer vegan totebag, Mashu makes unique designs with eco friendly materials in Greece.
These are the best vegan tote to stand out, with their unique handles. Some of Mashu's bags feature square wooden handles, while the Cassiopeia features their signature hammered gold-toned hardware handle, in an irregular shape inspired by nature.
The Cassiopeia is half cork (a very sustainable material) and half vegan cactus leather, an innovative and sustainable vegan leather alternative made from the leaves of the Nopal cactus.
The interior is made of polyester made from recycled plastic bottles.

Features: 100% vegan
Looking for vegan tote bags with zipper? The Corkor satchel is a vegan tote bag with zipper made from cork, an eco-friendly material for bags.
It has a laptop compartment, so it's perfect if you need a vegan laptop bag.
The vegan leather laptop bag has multiple pockets, protective feet and wider straps for comfort.

Features: 100% vegan
My pick: Stylish work tote
Scarleton makes the best vegan leather totes that are also affordable.
My pick is their Stylish Work Tote. This black vegan tote bag features magnetic closures and comes with a coin purse with zipper.
The vegan leather tote purse is practical and roomy and will fit a 13-inch laptop, phone, wallet, umbrella and hand sanitizer.

100% vegan
My pick: Vegan shopper tote
I love von Holzhausen for sturdy, practical vegan bags. My friend has one of their crossbodies and it's clear how well-made and durable it is.
The brand was actually founded with the idea of disrupting the leather industry by creating vegan leather that's better and more durable than animal leather, and their bags are made of their own vegan leather.
Looking for vegan shopping bags? My top pick is the vegan leather shopper tote, which has plenty of space for everything you might want to tote with you.
It's made of vegan Technik-leather, which is lightweight, soft, stain- and water-resistant and biodegradable.
The shopper tote even fits a laptop up to 15 inches if you want to use it as a vegan leather computer bag.

100% vegan
My top pick: Totissimo large vegan tote
Canussa's faux leather tote handbags are made of high-quality vegan leather and made in Spain. Their classic, minimalist style mean they'll work with any outfit and you can use them for years to come.
My top pick is the Totissimo vegan leather tote handbag. This shoulder bag is practical and stylish. The material is even foldable.
The interior of the bag is made using Seaqual, one of the most eco-friendly materials, made from 100% plastic recovered from the ocean.
With an average of 4.9/5 stars with 15 reviews, customers love the bag.

100% vegan
My pick: Tailored tote
Frida Rome is a newcomer to the vegan bag scene, starting out with their WEEK/END crossbody bag and now adding two luxury vegan tote bags to their line-up, the tailored tote and the slouch tote.
All their bags are handmade in the UK and made-to-order (so you should allow extra time when ordering one for the bag to be made).
My top pick is the tailored tote, which also converts into a backpack and can be used as a vegan laptop work bag as it fits a 13- or 14-inch laptop.
Their bags are made of eco-friendly cactus leather and as mentioned before are handmade in the UK.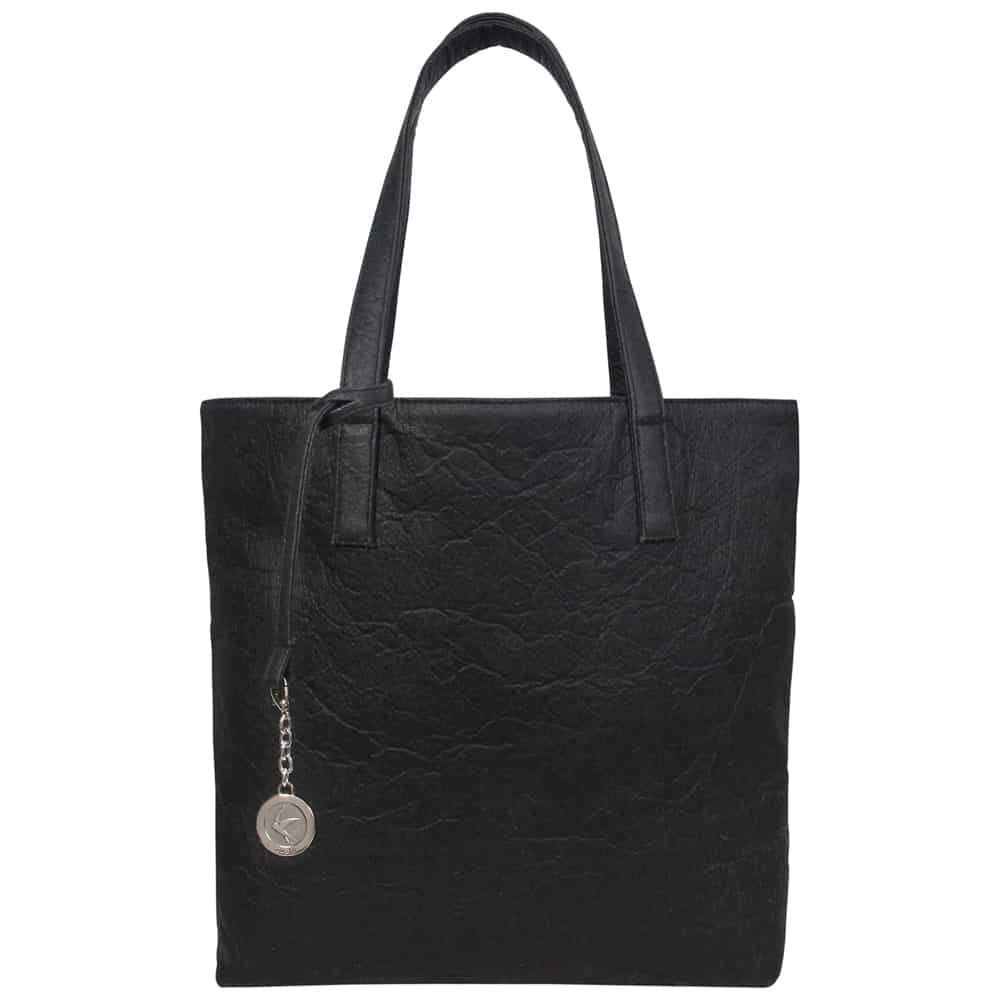 100% vegan
My pick: Simma tote
This vegan leather black tote from Svala is perfect for play and work, and will fit your 13-inch laptop.
It also has a smartphone pocket inside. It has a magnetic closure and the lining is made of organic cotton and polyester made with plastic bottles.
This Svala bag comes in versions made of several different materials – vegan PU leather, vegan pineapple leather or Mirum, a new vegan, plastic-free, eco-friendly leather.
Mirum is a new, innovative and sustainable fabric made of plant-based materials.
Unlike other vegan leathers, it's plastic-free and is even compostable. At the end of its life cycle, it can be made into new Mirum.
It's a bio-based product, and can be made of a number of different materials based on each company's specifications, for example plant-based oil, cork and natural rubber. Mirum doesn't use up any water during the manufacturing process, and has a low carbon footprint.
More vegan totebags:
FAQ
Are tote bags good for the environment?
Lots of people use tote bags or canvas bags for food shopping and wonder if they're actually better than plastic bags (which you now need to pay for in some locations).
The truth is that it's complicated, because cotton bags take more resources to produce, and may need to be used hundreds or thousands of times to more eco-friendly than plastic – but they don't contribute to the plastic pollution problem in waterways like plastic bags do.
The best bag to use is one you already have, so don't buy a bag specifically for shopping unless secondhand, and be sure to use the bags you have as long as possible, and recycle any plastic bags that you can't use any more.
What's a tote bag used for?
Tote bags can be used for work, as a weekend bag or diaper bag, or as a beach bag, since they tend to be large and roomy and have lots of space to store your things.
A vegan leather work tote should ideally also have a laptop compartment.
If you're worried about pickpockets, be sure to get one with a zippered top, and be mindful of the fact that a heavy bag carried on one shoulder isn't great for your back so shouldn't be carried frequently or for long time periods. You're better off with a backpack in those cases.
If you need a bag for shopping, canvas totes are the best option and it's likely you have some in your closet already that you may have been gifted at events. If not, you can even get custom tote bags printed with the slogan of your choice, or your business logo if you run a business.
What are tote bags and can they be used for school?
A tote bag is a bag, usually rectangular in shape, with two parallel handles that emerge from inside the bag.
They tend to be medium to large in size and are often unfastened on top, although many come with zippers or snap closures.
They are useful for carrying many things as they tend to be quite large, and are often used to carry a laptop or even as a weekend bag.
They can certainly be used for school, but be mindful that when carried for long amounts of time with heavy loads, they aren't good for your back and can cause back, neck and shoulder pain.
So if you have to carry a lot of books for school you're much better off with a backpack, which will distribute the weight more evenly and won't hurt you.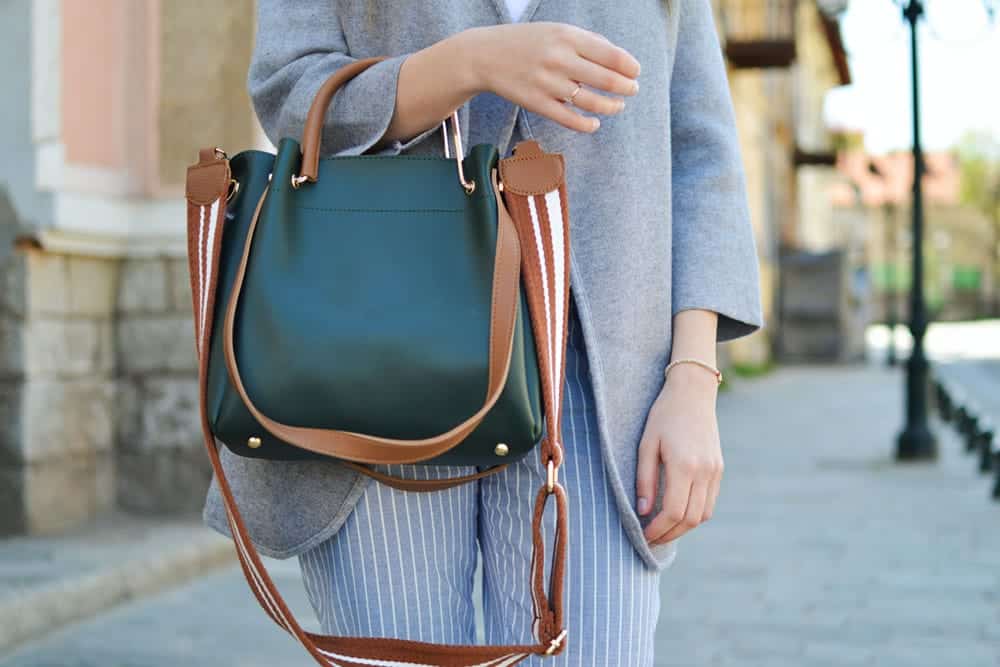 What's a vegan bag?
Simply put, a vegan bag is made without the use of any animal products like leather. Some bags are naturally vegan, such as canvas tote bags, and some are intentionally made vegan, like those made with vegan leather.
What are vegan bags made out of ?
Vegan bags can be made from a huge range of materials — cotton, cork, jute or vegan leather, whether that's polyurethane or apple leather.
Are vegan bags eco-friendly?
They can be and often are! While in the past many vegan shoes and bags were made with PVC or polyvinyl chloride, which is very detrimental to the environment (Greenpeace called it a "poison plastic"), and should be avoided, that is rarely used nowadays.
The good news is most manufacturers these days use alternative materials that are more eco-friendly, including sustainable options in the list above. These sustainable materials include natural materials like cork, or plant-based leathers such as cactus leather or grape leather, made with leftover waste from the wine industry. Even synthetic materials like PU (or polyurethane) vegan leather is more sustainable than animal leather.
Rothys makes their bags from recycled plastic, thereby preventing it from ending up in the ocean. Other manufacturers use polyurethane, which is a plastic, but is ranked as more eco-friendly than leather on the Higgs index.
However, if you want a really eco-friendly option, then I recommend cork!
How to choose a tote bag?
First of all, know what you need the new bag for and when. If it's your first order on a website, for example, and you need the bag for an event at the weekend, how many days of delivery are expected? Will it ship the next business day?
If you don't need the bag right away, you don't need to think about this as much. How big of a bag do you need? Will it need to fit your laptop and therefore does it need a padded laptop compartment?
Where do you plan to use it? Is it for work, school or more formal events? All these factors will influence your search and therefore your selection results.
Are vegan bags expensive?
Vegan bags come in a wide range of price points, from Stella McCartney at the high end to JW Pei's affordable vegan bag collection to midrange options like Urban Expressions.
If you're on a very tight budget then I recommend looking secondhand, either at a charity shop near you or online on eBay or a secondhand app.
A bonus is that as well as being good for the wallet, shopping secondhand is a sustainable alternative – by purchasing an already existing product, you're reducing demand for the creation of new goods, which always takes up more resources.
And in today's fast fashion dominated apparel industry, that's a great thing, and an alternative to the seemingly endless creation of new goods inspired by fast fashion.
Pin this for later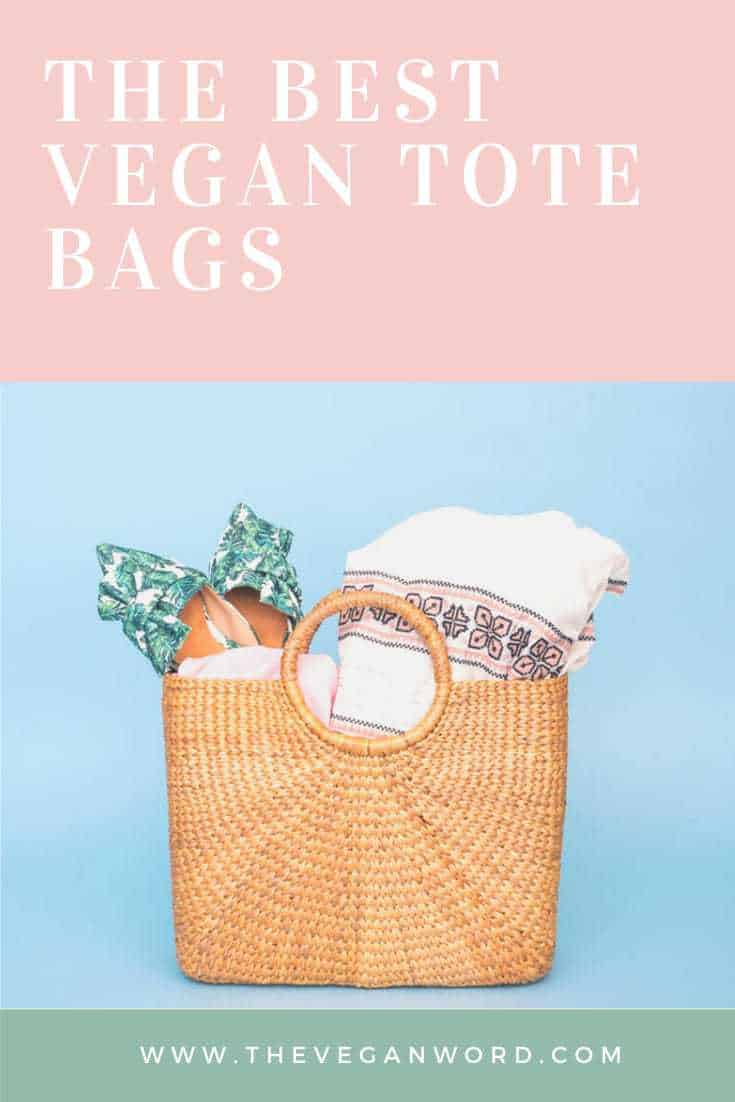 Looking for more vegan bags? See my full guide to vegan handbags.
Trying to find a laptop bag, specifically? Find my list of vegan laptop bags and vegan briefcases. I also have a guide to vegan messenger bags, including messenger bags with laptop compartments.
I also have a guide to vegan crossbody bags, vegan leather shoulder bags, vegan clutches, vegan satchels and vegan bucket bags.
Prefer a backpack? Check out my guide to vegan backpacks.
Find all my vegan beauty & fashion guides.