Looking for the best vegan deodorant that works? It's a search I've been on for years!
Having now tried dozens of vegan deodorants, I thought I'd share my findings with you, the deodorant I use plus some of the best-reviewed products I haven't tried yet.
Plus find out why I NO LONGER USE the best deodorant I've ever tried.
If you're hunting for the best cruelty free deodorant, read on to find out which ones came out at the top and why!
Here are some of the vegan deodorants I'll be reviewing:
The Best Vegan Deodorant Brands
Looking for the best cruelty free deodorant brands? The best eco deodorant? I've rounded up the best animal product free and cruelty free deodorant, prioritising eco-friendly deodorants.

Pretty Frank (formerly Primal Pit Paste) is my top pick vegan aluminum free deodorant in the US. Important: note that the paste form of deodorant (in glass jars) is vegan, but their stick deodorant is not as it contains beeswax!
Pretty Frank is the best vegan natural deodorant because it comes in a range of different ingredients for all skin types and body chemistries!
They have baking soda, charcoal, magnesium and zinc oxide deodorants and even sell a body chemistry test kit of mini versions so you can try all of them and see which works best for you.
Their deodorants come in stick form (not vegan!), glass jars or mini/travel versions in metal tins.
They also have a range of scents, including unscented!
Click here for more information.

Natural Deodorant Co's gentle cream deodorant is the best vegan deodorant for sensitive skin.
Since my problem with bicarbonate of soda, I tested a lot of bicarb-free deodorants and this was by far the best I came across. Weirdly I read about it on food writer Anna Jones's blog!
The gentle deodorant is bicarbonate of soda-free and uses magnesium hydroxide and white clay. It also comes in scented (I like the lavender) and unscented versions.
Natural Deodorant Co also make bicarb-based deodorants but I haven't tried those.
If you're looking for vegan zero waste deodorant, order the largest size (55g) as it comes in a glass jar with a non-plastic lid (the small sample size jars are plastic and the medium size jars are glass with a plastic lid).
Click here for more information.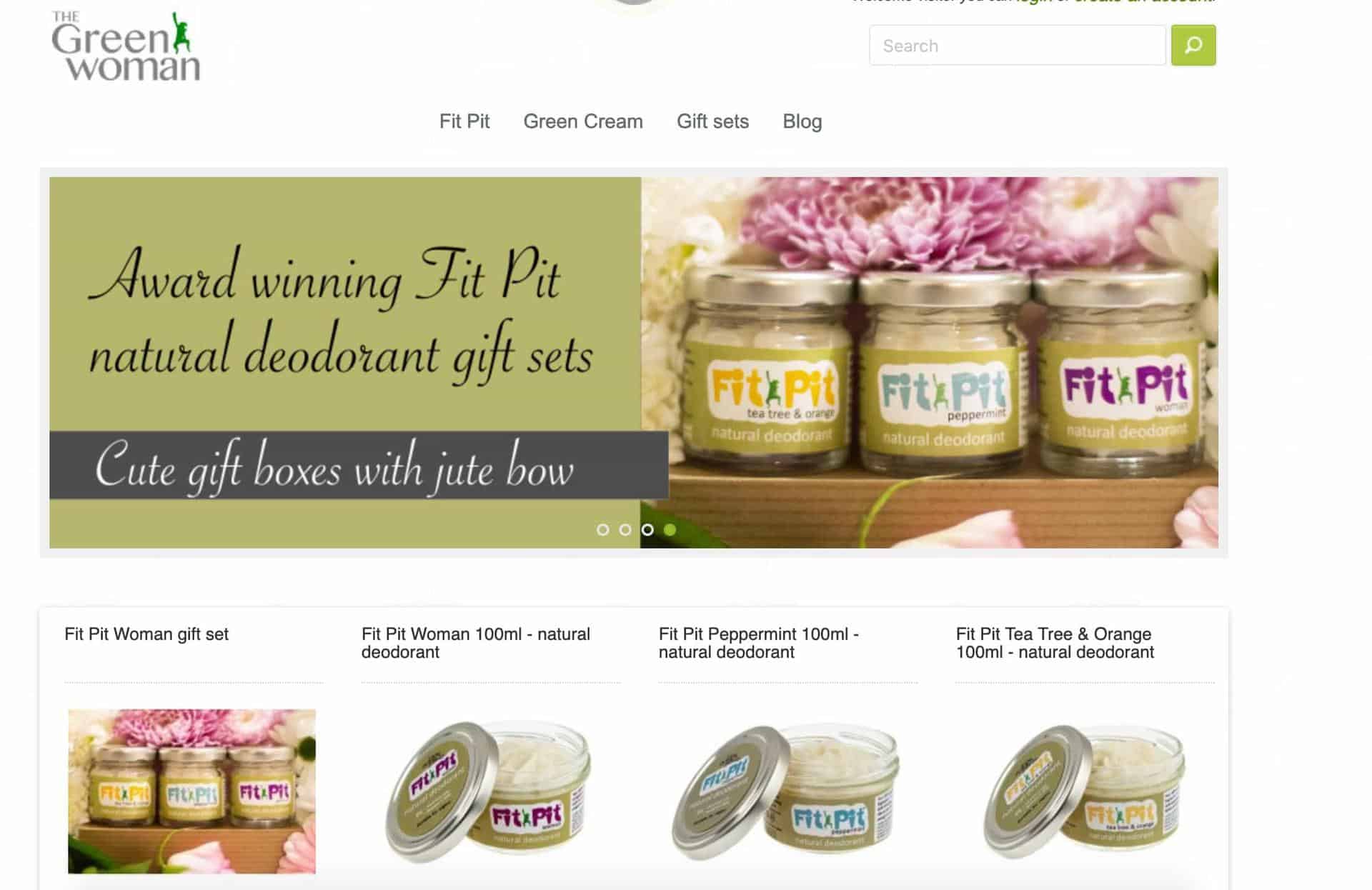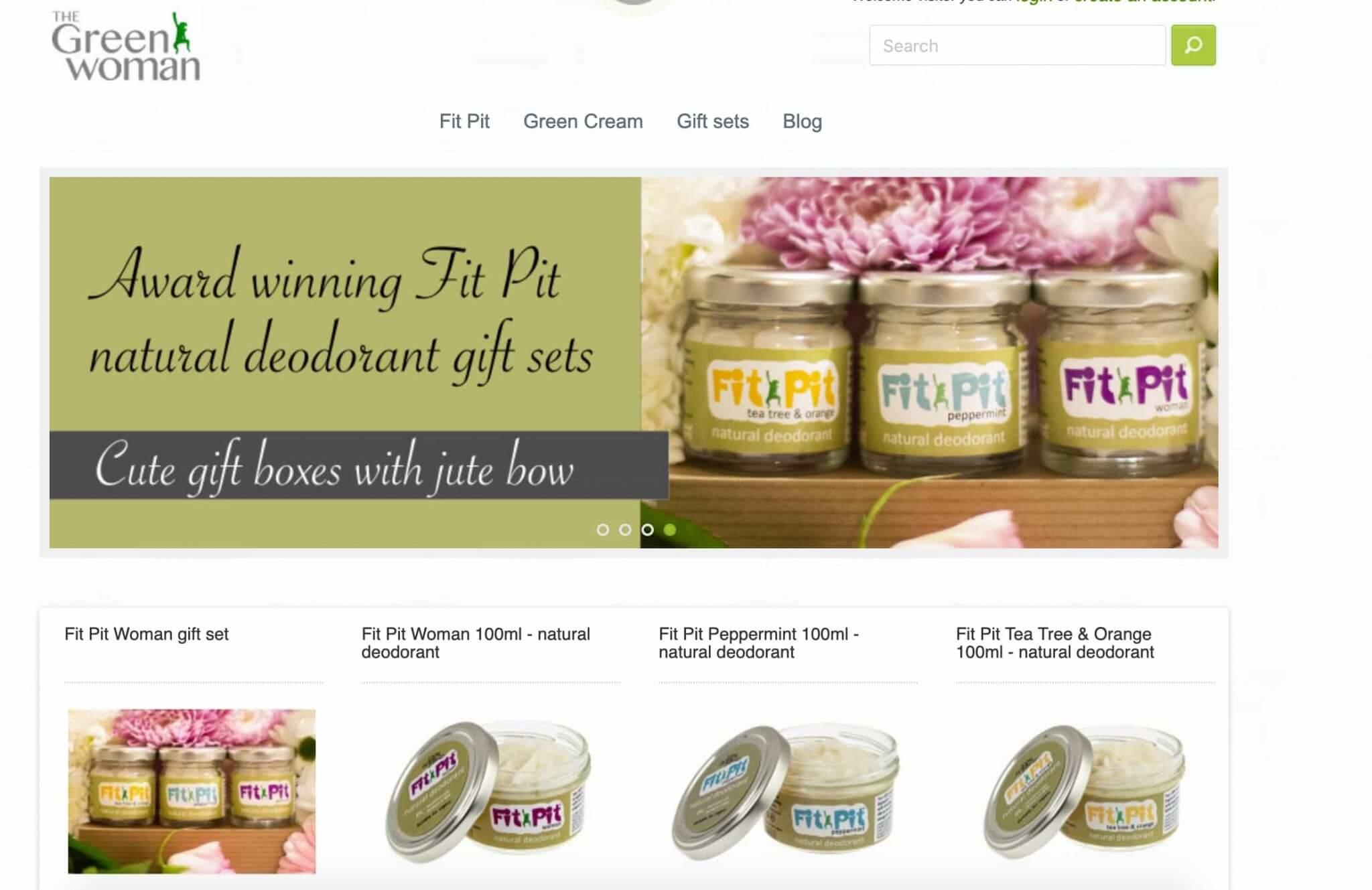 Fit Pit is the best zero waste deodorant I have come across, and the best vegan deodorant I've tried. Before trying this, I constantly wondered if there was a vegan deodorant that actually works.
This stuff is BETTER than the deodorant I used to buy in my pre-vegan days!
But bear in mind it's made with bicarbonate of soda, so not suitable for those who've had a reaction (as I found out the hard way, when my skin was irritated by bicarb).
I believe it's the best plastic free deodorant because:
1. It lasts a long time — Fit Pit's vegan men's deodorant (which I used to use because it's stronger, and who cares about gender labels!) used to last me 2-3 days!
2. It comes in a glass jar with a metal lid you can reuse or recycle.
3. It's handmade and the company gives 10% of their profits to work against climate change.
Free from: parabens, BPAs and aluminium salts.
Fit Pit Men is not just the best vegan deodorant for men…it's the best vegan deodorant for all! They have other deodorants but my friends and I found this version most effective.
Click here for more information.
Another one I own. I found it wasn't strong enough on its own for me, but I kept it and I keep it in my bag during the summer in case I need a top up during hot weather (I don't like carrying glass jars of deodorant paste with me in case they leak or the glass breaks). Unfortunately however it is plastic.
Pros: Smells great, aluminium free
Cons: Doesn't last long (for me)
It's not the best natural vegan deodorant I've ever tried, but it's not the worst.
So, you may want to try it and see if it works with your body chemistry. If you prefer stick deodorant to paste deodorant (that you have to apply with your finger) you may also prefer it.
Click here for more information.

If you've been on Instagram any time in the last year, you've probably seen approximately five billion ads for Nuud (or is it just me?!).
Nuud deodorant claims to last for days between uses, but does it really?
I haven't tried this one so I can't attest but reviews are mixed. As I've said before, it's best to test a few deodorants and see what works with your body. Some say you need to give it a few weeks to start working and then you can go 3-4 days between uses.
How does it work? With micro silver.
They say micro silver stops the smell.
Honestly, one of the reasons I never tried it was beucase I wasn't sure if silver was eco-friendly or safe and haven't found out a lot about it. They say that micro silver is safe, unlike nano silver, but I couldn't find much information about micro vs. nano silver online (and nano silver may cause environmental problems although it's not believed to be that likely).
The packaging is in sugar cane plastic with a plastic lid.
Click here for more information.


Tom's of Maine is a popular vegan-friendly personal care brand that's widely available across the US and the world. You can even find this vegan deodorant at Walmart!
They have a few different deodorant and antiperspirant formulations and they're all vegan except for the 'Natural Strength' deodorants which include beeswax.
The antiperspirant contains aluminium.
Their tea tree oil deodorant, among other scenets, is aluminium-free and vegan.
All their deodorants are packaged in plastic.
Click here for more information.


Schmidt's vegan deodorant is available worldwide. It comes in a few different scents and two different formulations: Signature (contains baking soda) and baking soda-free.
Several reviewers stated they had painful reactions to the baking soda version–ouch! As I mentioned before, baking soda can cause irritation for those with sensitive skin (it happened to me) so if that's use, go for the baking soda-free version, which uses magnesium.
Packaging is in plastic tubes.
Click here for more information.

Is Native deodorant vegan? It is! It's also aluminum and parabens free.
If you're looking for vegan deodorant in Target, Native's sold there!
It comes in a range of scents, including unscented.
It has really great reviews and most seem happy with how long it lasts.
However, it does contain baking soda, meaning it could cause irritation. And unfortunately packaging is plastic.
Click here for more information.

If you're looking for vegan spray deodorant, then try the Weleda Wild Rose, Sage or Citrus spray deodorant.
It contains alcohol so if you have sensitive skin might not suit you, and you shouldn't use it right after shaving as it will sting!
They're free from aluminium and come in glass spray bottles.
I haven't tried it but my friend said they were her favourite before using Fit Pit deodorant (though now she vastly prefers Fit Pit as it lasts much longer). This one didn't always last 24 hours, she told me.
Click here for more information.


Is Jason deodorant vegan? Yes, and it's a widely available natural body care brand.
The stick deodorant is aluminium free but not baking soda free, and it does come packaged in plastic.
They have a few different scents and also a spray deodorant (alcohol based and baking soda free).
Click here for more information.

Ben & Anna is the best choice if you're looking for the best eco friendly deodorant that comes in stick form.
Unlike most stick deodorants, this one comes in a cardboard rather than plastic tube.
It's aluminium free BUT it contains bicarbonate of soda. In fact, bicarb is the first ingredient on the list meaning it's the ingredient with the highest concentration in the product so proceed with extreme caution is you have sensitive skin. Bicarb can cause irritation and painful rashes in those with sensitive skin.
Click here for more information.

Meow Meow Tweet was one of the early players in the zero waste deodorant game. (For my full guide to the best zero waste products, click here.)
They have a range of deodorants, including a vegan roll on deodorant in a cardboard tube, bakign soda and baking soda free deodorants that come in glass jars with metal lids.
The baking soda free version uses magnesium to fight odour.
They also have unscented versions.
And all of their products are vegan!
Click here for more information.

Soapwalla is a vegan company and their deodorant is aluminium free. They also have a baking soda-free sensitive version.
Both come in glass jars.
Click here for more information.
Tarte vegan deodorant has the cutest packaging. But does it work? Reviews are mixed.
It's aluminium and baking soda free and it looks like it's relying on corn starch to absorb moisture (and odour?) which may not be enough for some people.
Unfortunately packagign is plastic.
Click here for more information.

Sukin is a vegan Australian skincare brand and their deodorant is aluminium- and baking soda-free.
It's a spray deodorant, based on alcohol so may not be suitable if your skin is sensitive to alcohol. Also, don't use an alcohol-based product after shaving — it will burn.
it comes in a glass spray bottle.
Click here for more information.


Lume deodorant says it was developed by a doctor to offer 72 hour protection. It also advertises itself as underarm and private part deodorant, which I found slightly disturbing. Are they trying to convince people now that they need to put deodorant on their bits?
I tried Lume and it didn't work for me. However, some people say it works really well for them and really does last multiple days, so it may be worth a try to see if it works for you.
It's aluminium- and baking-soda free, and comes in a few different scents and unscented version.
It comes in either a roll-on or cream format. Both are packaged in plastic.
Click here for more information.
Prebiotics (and probiotics) are all the rage right now. This deodorant uses them in an attempt to stop the stink.
Looking for organic vegan deodorant? 90% of the ingredients in this deodorant are organic and fairly traded.
It contains aluminium (in the form of potassium alum), but it's parabens free and baking soda free.
Packaging is plastic.
The Green People deodorant range includes other roll on deodorants and an unscented deodorant.
Click here for more information.
Crystal deodorant is vegan. There are several brands marketing deodorant made of crystal (mineral salts). Crystal brand was the first.
Crystal deodorants all contain aluminium (in the form of mineral salts) and this one's no exception.
Packaging is plastic unfortunately.
Click here for more information.
If you're a heavy sweater, this cruelty free antiperspirant is clinical strength. Like all antiperspirants, it contains aluminium.
Looking for a heavy hitter? This is the best vegan antiperspirant — it's clinical strength.
Packaging is plastic.
Click here for more information.
Homemade vegan deodorant recipe
Want to make your own DIY vegan deodorant? The best homemade deodorant usually contains baking soda, so this won't be suitable if you have sensitive skin like me (though you can find recipes online using magnesium, but it might be harder to get your hands on).
My friend used to make her own deodorant that worked really well, and she followed a recipe like this one.
How is deodorant vegan (or not)? What makes deodorant cruelty-free?
Like many skincare products, deodorant sometimes contains non-vegan, animal-derived ingredients or is tested on animals.
Note: Recently a number of companies have started touting their products as vegan because they don't contain any animal ingredients, but are tested on animals. Clearly, this would NOT fit most vegans' definition and is an attempt to cash in on the rising number of vegans. Watch out for this!
Here are just a few animal ingredients that you may find in personal care products.

Antiperspirant vs. deodorant
Vegan deodorant is much more common than vegan antiperspirant. What's the difference?
Deodorant stops you from smelling, whereas antiperspirant stops you from sweating.
Deodorants work by killing the bacteria on your skin that causes sweat to smell, while antiperspirants use an ingredient (usually aluminium compounds) to stop you sweating.
Some products are both, including many sold in drugstores.
Watch a video from the BBC on how deodorant work here.
Is aluminium bad for you and why is it in antiperspirant?
So, why is aluminium in antiperspirant? In the 1940s, it was discovered that aluminium compounds reduce the amount you sweat. It mixes with sweat to form a gel that blocks sweat glands.
Is it bad for you? That depends on the condition you're referring to. You may have heard about a link between aluminium in antiperspirant and breast cancer, Alzheimer's or kidney disease.
The US National Cancer Institute states there's no scientific evidence linking it with breast cancer, while Breast Cancer UK says 'limited scientific evidence suggests aluminium in antiperspirants may be associated with increased breast cancer risk'.
With regards to Alzheimer's, Alzheimer Society Canada states studies have not shown strong evidence of a link.
In terms of kidney disease, the FDA requires antiperspirants to carry a warning for those with kidney disease; however the National Kidney Foundation says this is only meant for those with Stage 4 or 5.
Personally, I stopped using antiperspirants a few years ago because although the evidence seems weak, there's no harm in being cautious since it's easy to find aluminium-free deodorants that still block the smell–plus I was concerned about the environment and antiperspirant (more below).

What about parabens?
Breast Cancer UK states that parabeans, which are used as preservatives in many cosmetics, have been found in breast tissue and in high amounts mimic oestrogen and may be linked to breast cancer.
Additionally, there are environmental concerns about parabens (more on that below).
Environmentally friendly deodorant
While there may be little to no evidence linking aluminium to cancer or Alzheimer risk, it's not necessarily an eco-friendly ingredient. There are the environmental impacts of the mining industry and the electricity and water used in refining.
Parabens have been found in the tissue of dolphins and other marine animals, leading to concerns about their environmental impact.
Then there's the issue of packaging. Anyone trying to to live a lower waste or plastic-free life will be happy to know there are plenty of vegan deodorants that come in reusable glass jars or recyclable cardboard tubes.
Are crystal deodorants aluminium-free?
No!
This may surprise a lot of people (it surprised me when I found out!). Since they're often promoted as 'natural' (a word which as a marketing term means nothing) or 'healthy' many assume they're aluminium-free.
Well, they're not. Most crystal deodorants contain alum, or aluminium salts.
Aluminium-free deodorants: what ingredients do they use?
So, we know how aluminium works, and why some avoid it. But how do aluminium-free deodorants work? As mentioned before, deodorants (as opposed to antiperspirants of aluminium which stop sweating) work by stopping the smell, usually by killing the bacteria that cause it.
Alcohol
As such, alcohol is a popular ingredient, and in fact some people apply alcohol like vodka in pinch! (Not necessarily recommended – on its own it can be harsh on the skin!) If you have sensitive skin, you'll probably want to avoid it.
Although I have to say, the idea of going into a bar, ordering a shot of tequila and rubbing it on your armpits really amuses me!
Bicarbonate of soda
Bicarbonate of soda, or baking soda, is a very popular ingredient in alternative deodorants. First of all, anyone who's ever put it in their fridge to absorb smelly fridge odours knows that bicarb is an effective absorber of bad smells. Plus, it absorbs moisture. Additionally, it's alkaline and the bacteria that causing body odour thrive in acidic conditions.
However, this alkalinity can make it a nightmare for sensitive underarm skin (as I found out the hard way!). Because it is much more alkaline than skin, it can cause redness, irritation and rashes if you have sensitive skin.
When this happened to me, I didn't realise what it was and continued using the deodorant, while changing my shaving patterns. If you get redness or a rash while using bicarbonate of soda-based deodorant I recommend to stop using the deodorant immediately and see if it improves!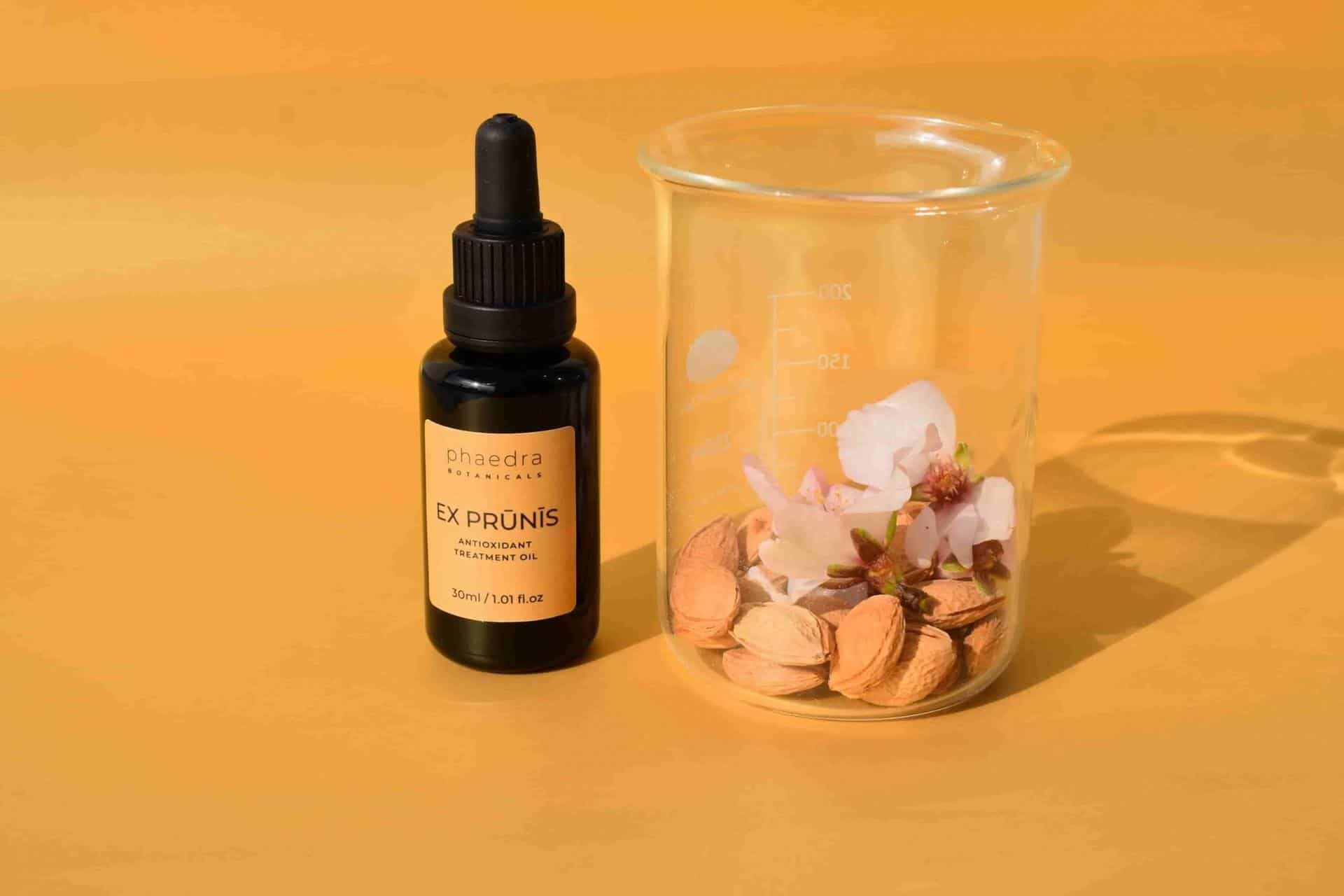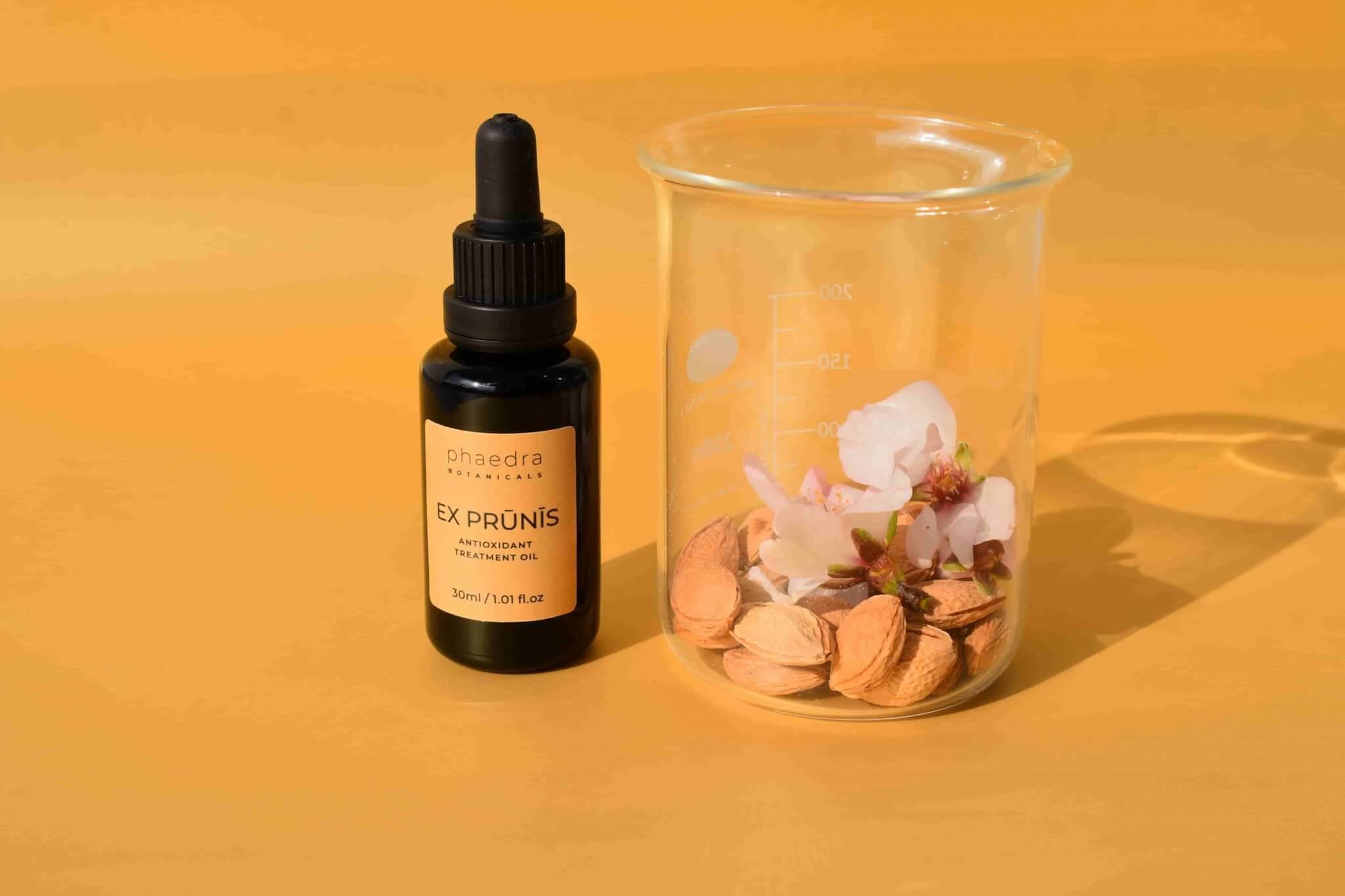 Magnesium

Magnesium (usually magnesium hydroxide) is used in a lot of sensitive natural deodorants, because it destroys odour-causing bacteria while being gentle on the skin. In fact, some people report using straight milk of magnesia as deodorant!
It's in the deodorant I currently use, the Natural Deodorant Co's gentle deodorant.
Zinc oxide
Zinc oxide — yes, the same zinc oxide found in physical sunscreen — is also an effective deodorant!
It's antimicrobial and reputedly good for sensitive skin.
How to choose an active deodorant ingredient
Pretty Frank (formerly Primal Pit Paste) deodorants recommends trying a few to see what works with your individual body's chemistry, since everyone's different.
You can buy sample sizes from many deodorant companies.
You may want to try bicarbonate of soda, magnesium and zinc. Pretty Frank even sell a sample set (aka a body chemistry set).
Scented vs. unscented
Another consideration is scent. Now, you're looking for deodorant to cover the stench of your stinky pits, so your inclination is to find a deodorant that smells great — and smells strong, right?
Well, not so fast.
Recently I read the book Beyond Soap, written by a dermatologist, and it talks about how fragrance and especially essential oils are some of the biggest skin irritants in skincare.
What?!
I was shocked! It turns out we love scents and so companies include them, but they can wreak havoc on sensitive skin.
So if you have sensitive skin you may want to look for unscented deodorant. Don't worry, if it's doing its job and killing the bacteria you should just smell of nothing!

The best deodorant I've ever tried – and why I don't use it any more (but you should)
A few years ago, I was at a vegan fair with some friends and we got samples of a deodorant and changed my life: FitPit.
It was hands down the best deodorant I've ever tried and worked BETTER than drugstore antiperspirants I used in my teen years.
I could apply it and it would last DAYS.
I loved it so much and used it for several years.
Then one day my armpits started to feel scratchy. They turned red, turned sore and the skin even started to peel off. I couldn't work out what was going on and turned online. Various websites suggested to alter my shaving habits and not apply deodorant after shaving. Others suggested waxing instead. Nothing worked.
I switched deodorants to another (bicarb-containing) brand and it continued.
I tried a deodorant a friend made (also containing bicarb) and still, my armpits were flaking off skin. Gross!
I dug a bit more on the internet and found out that bicarbonate of soda can irritate skin (now there's a lot of info online about it but a few years ago it was harder to find!).
Sadly, I put the bicarb deodorants away for good.
I then went on a hunt for a bicarb-free deodorant that lasts to this day. I've tried dozens and settled on one that's decent but not perfect for my body (but miles ahead of others I tried).
But I still highly recommend FitPit to everyone I meet!
Everyone's body is different and lots of people use bicarb-containing deodorants without any issue.
That's why it's important to test different ones, and since it works so well for so many of my friends, I highly recommend giving FitPit a try.

The vegan deodorant I currently use
The Natural Deodorant Co gentle deodorant is the best I've tried so far.
It works extremely well in winter and sometimes even lasts me two days.
However, I've found in hot weather conditions it doesn't last so long.
And now that I've moved to Spain, I'm pretty sure it won't hold up in the summer here.
So, I'm going to have to start experimenting again to find a summer deodorant!
Since this one is magnesium based, I plan to try a zinc-based deodorant (probably Pretty Frank) next to see how it works with my body chemistry in the heat.
And so, the search continues…
Pin this for later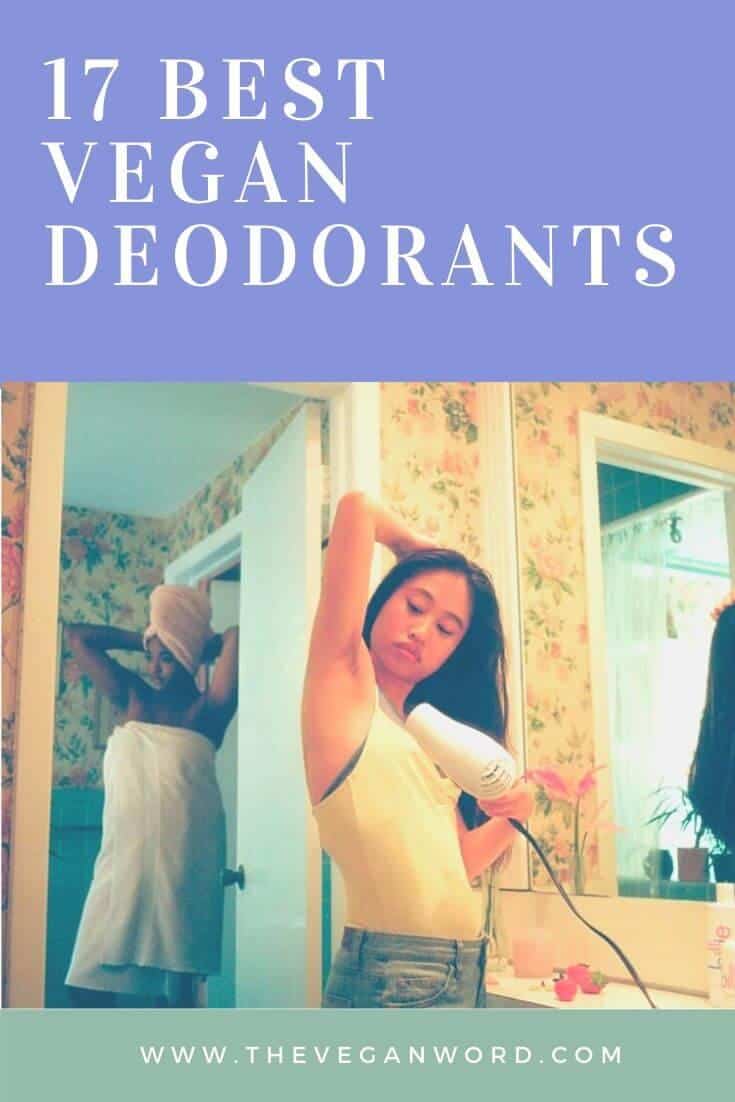 Planning a trip to a vegan resort? Along with vegan deodorant, don't forget to pack your vegan sunscreen in your vegan luggage!
Looking for more great vegan products? Find more vegan product reviews and buying guides here.
As an Amazon Associate I earn from qualifying purchases.