Update 11 January 2016: Unfortunately Rizoma closed at the beginning of this year as the owner moved abroad.  It may re-open again at another location in the future. In the meantime, I'd recommend Teresa Carles!
Heading to Barcelona soon?  If not, you should be!!  It's an amazing city…full of sun, jaw-dropping architecture, tapas, the beach, the mountains and a surprising number of vegan and vegan-friendly places!  Basically, everything you could want in a city…  Since I'm somewhat settled in now after a month (of running around trying to furnish my flat, see open-air cinema in a castle moat on top of a mountain, and adopt a puppy), I wanted to help you out with some insider tips on vegan Barcelona!
I live in Gracia, which is the best neighbourhood in Barcelona (I'm a little biased though!).  We have a vegetarian bar, vegan croissants at the bakery, a fresh farmers market every day, dozens of yoga studios, an organic clothing shop, a meditation centre just down my street, the cheapest vegan cafe in Barcelona, and a vegan supermarket…
Vegan Croissants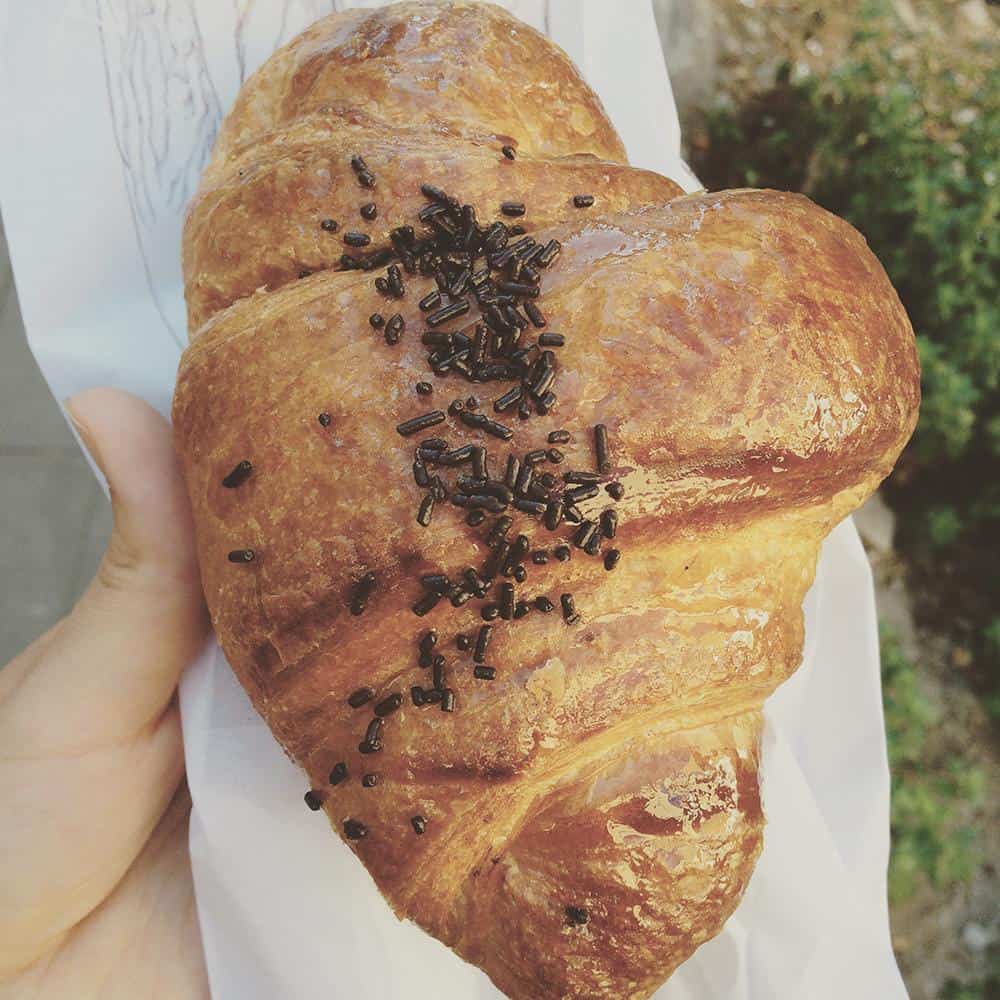 Probably my favourite find in all of Barcelona is the bakery round the corner from my flat, Knella, which sells 4 types of vegan croissants – chocolate filled (which I have every Sunday for brunch), regular croissant, whole grain (both perfect with jam) and spelt.
Rizoma
Update 11 January 2016: Unfortunately Rizoma closed at the beginning of this year as the owner moved abroad.  It may re-open again at another location in the future. In the meantime, I'd recommend Teresa Carles!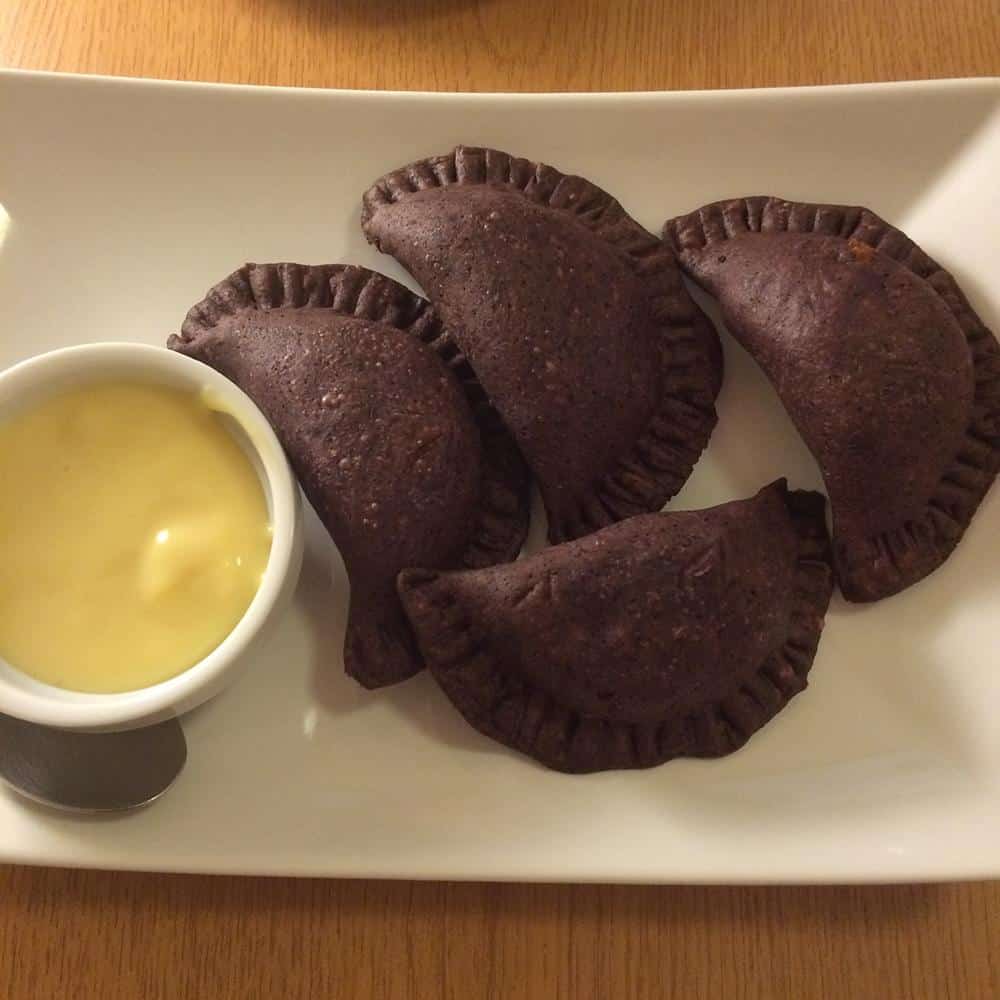 One day, I noticed a girl in the elementary English class I was teaching had a vegan badge on her bag, and in the cross-border international language of veganism (in spite of a few stutters and stumbles) we excitedly began discussing the state of veganism in Barcelona.  She told me it's come on leaps and bounds in the last few years, and when I started mentioning vegan classics like Gopal, she interrupted me and said "no, no, no! If you want the best vegan meal in Barcelona, you have to go to Rizoma!  It's new but it's my favourite."  I looked it up online later, and several websites described it as Teresa Carles, completely veganised.  Teresa Carles is an upscale vegetarian restaurant and probably the best fine dining vegetarian in Barcelona.  So I was excited!  Rizoma did not disappoint.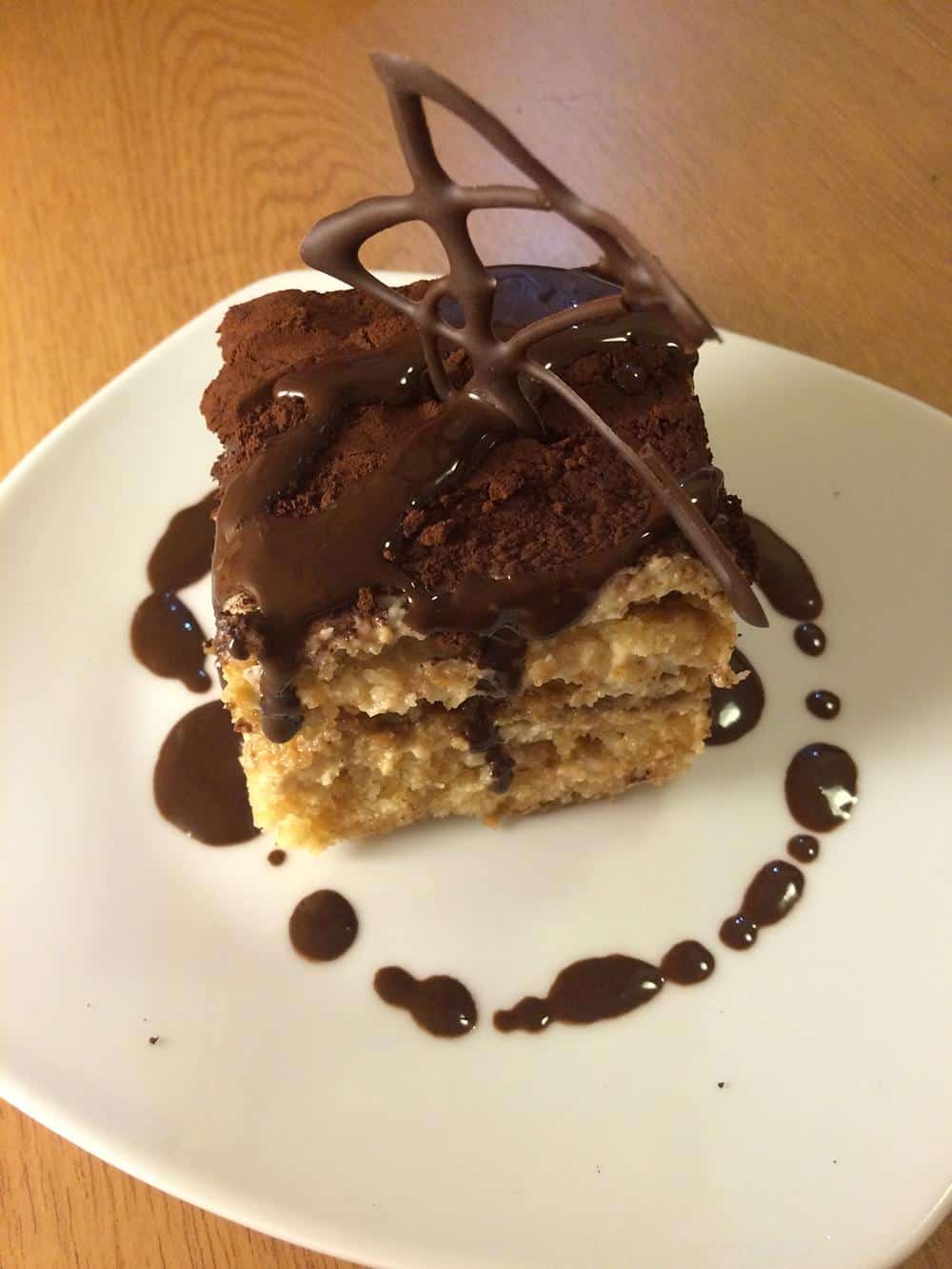 The decor and ambiance is a bit more relaxed than Teresa Carles (think cafe meets Swedish minimalism) but the food is just as top notch.  I had mini blue corn empanadas with a vegan cheese sauce – no clue what they did with this vegan cheese, but it was amazing and gooey.  For a main, I had a raw vegan lasagne and for dessert – tiramisu.  I love tiramisu and it's been ages since I've had a true tiramisu.  I think this might be the first time I had a vegan tiramisu that tasted like tiramisu.  Rizoma's a must!
Vegetart
Vegetart is a casual takeaway cafe (no seating), which mainly gathers the lunch crowd.  It's near my house so I love it for a quick bite for dinner, and my favourite thing is the prices!  They have the best vegan tortilla (a Spanish potato omelette) and it's only €1.50 a slice!
Gelato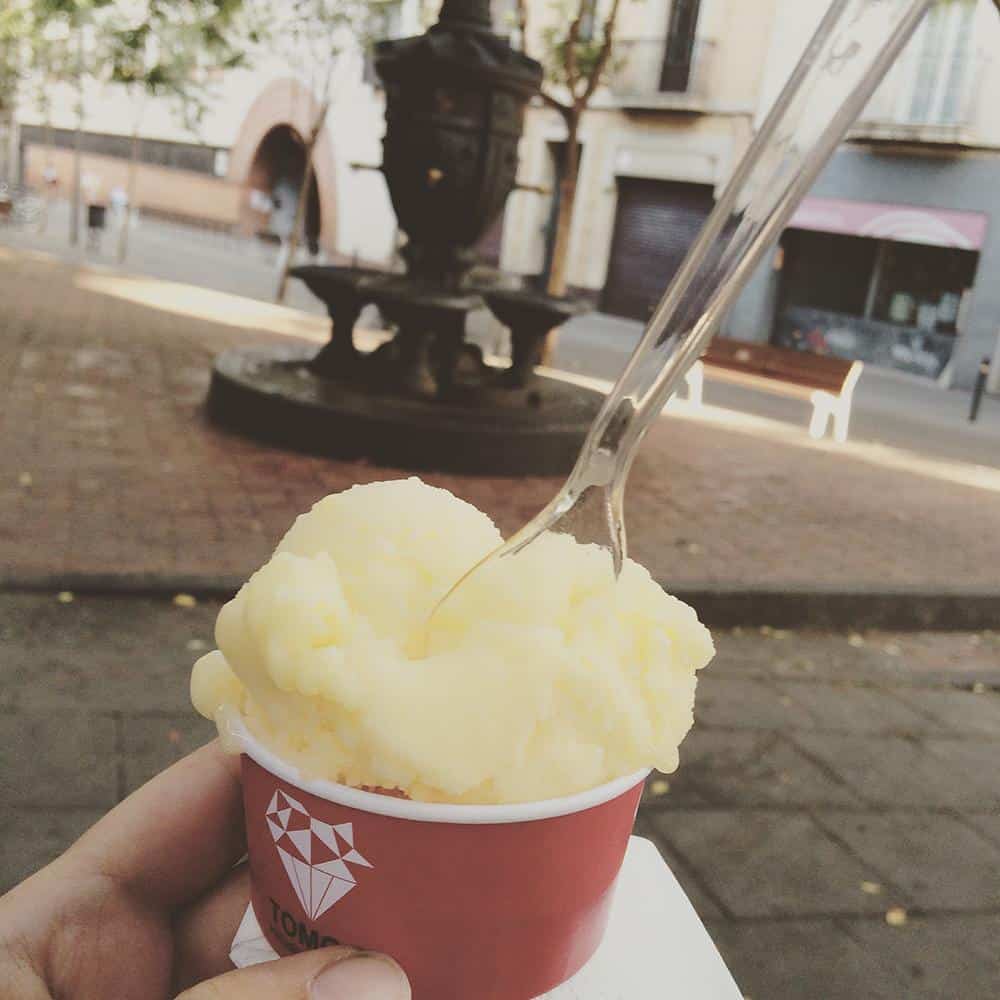 You'll find small heladerias/gelato stalls tucked all over Barcelona, especially in the plazas.  There's nothing better than sitting in the shade of a plaza, eating a fruity gelato on a hot summer day!  Luckily, since they are made in the Italian style, most ice cream places here have vegan options (normally in the fruit section) – just ask if they have any that are dairy free (sin leche).  And they are delicious!
Tapas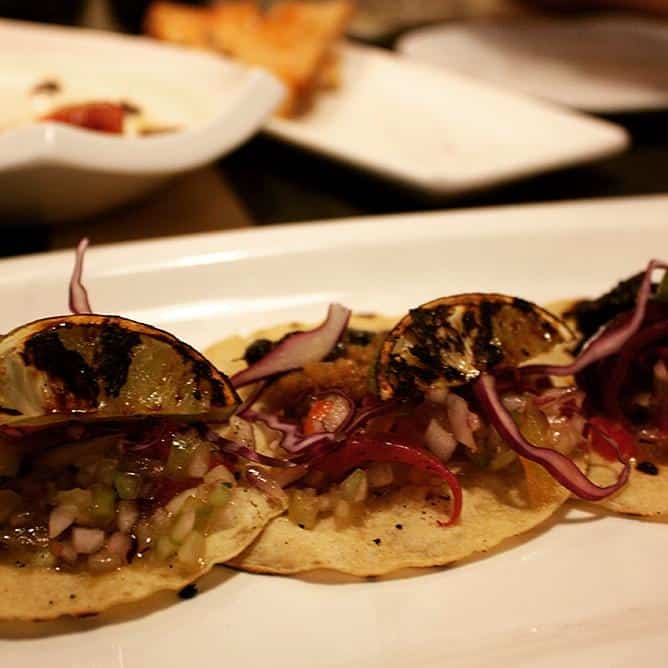 You can still enjoy tapas as a vegan!  Look for some typically vegan tapas which are usually on the menu (and just enquire with them if they are vegan):
Pa amb tomaquet (tomato bread) – a typical Catalan breakfast dish (but great at any time of day!) of toasted bread rubbed with tomato and olive oil.  It's simple but delicious!
Escalivada (roasted vegetables) – usually a mix of grilled aubergines, onions, red peppers and tomatoes
Pimientos de padrón (roasted padron peppers) – roasted in olive oil and sprinkled with sea salt, these are simple but incredibly delicious
Gazpacho – a chilled tomato soup which is perfect for a hot summer day!
Patatas bravas minus alioli – fried potato chunks in a spicy tomato/paprika sauce. Check if the sauce is vegan and just make sure they leave off the alioli (which is like a garlic mayonnaise).
Sometimes you'll also see other grilled vegetables on the menu – for example, grilled artichokes (alcachofas) or grilled mushrooms (champiñones a la plancha).  And weirdly, a lot of tapas places around Barcelona seem to sell hummus with crackers or bread!  And of course, last but not least, a lot of places will offer a bowl of olives!
Ecocentre
If you're staying in an apartment in Barcelona, you might want to see if you can get one near Ecocentre!  Ecocentre is a vegan supermarket, but much larger than any in London.  It's about on par with Veganz in Hamburg for size.  It's not a huge supermarket like a big national chain, but this competes with the little grocery stores.  Ecocentre is my vegan heaven – the first time I saw it, I nearly cried at their range of vegan products and the fact that it's so close to my house.  Looking for vegan tuna? They've got 3 varieties!  Mayo? At least 7 (including different brands and all sorts of flavours!).  Whipped cream? 5 kinds!  It's got everything in vegan form.  It's amazing.  They've just moved to a new location on Diagonal (as of 15 July).
Beans & Market Stalls
If you've got a kitchen, you'll definitely want to check out the local markets!  Although there are some disgusting sights in there (unfortunately the meat stalls and vegetable/fruit stalls are usually not separated – although thankfully the fish stalls are often segregated into one smelly, awful area!), there are some fantastic fruit and veg stalls.  It's like a farmer's market that runs every day (except Sundays, usually), and they're very local.  Apart from La Boqueria, the famous market off Las Ramblas, most of the markets in Barcelona are not frequented by tourists.  The city's put a lot into regenerating the markets and they are fantastic.  I was advised by an elderly lady in my building to always shop in the market because the fruits and vegetables are higher quality but also cheaper.  In addition to fruits and vegetables, you'll usually find stalls that sell spices, nuts, dried beans, olive oils, bread and even Japanese and Middle Eastern stalls selling tahini, wasabi and the like!
But my absolute favourite part of the markets are the cooked bean stalls!  You'll find cooked bean cafes dotted around the city, as well as the stalls in the markets.  There, you'll usually find giant bowls of cooked chickpeas (giant and small), white beans, lentils and more, and you can buy as many grams of whatever variety of cooked beans you want.  They cook them fresh each morning.  I made the best hummus I've ever eaten in my life using some of these beans and authentic tahini from a Lebanese supermarket.  They're brilliant if you want to pack in the flavour of beans cooked from scratch but don't have the time or energy to make them from dried (which is especially true if you're a tourist and trying to devote your time to exploring Barcelona rather than cooking dried beans!).  I'm lazy, so I've rarely cooked beans from dried in the past – but now that I've discovered these stalls, I can't go back to tins of beans (or glass jars of beans, as they are sold here), so consume carefully.
Supermarket Finds
There are a surprising number of accidentally vegan foods in supermarkets.  It helps if you can read Spanish, have a Spanish speaker with you or have a handy translation app on your smartphone!  For example, I've found accidentally vegan version of:  hot chocolate mix for churro dipping, frozen churros, chocolate sauce for ice cream and caramel sauce.
Gra de Gracia
Lastly, if you're staying in Gracia, you're in luck.  Check out Gra de Gracia, one of my favourite shops in the area.  It's a shop that sells dried foods in bulk, without any packaging, to reduce waste.  They sell all sorts of rices, flours (but no white flour!), teas, sugar, nuts, seeds, spices, pastas (of all varieties – kamut, quinoa, etc), and more.  They also sell a delicious vegan almond herb cheese made locally and only available here!  The shop is beautifully arranged and the containers of food look like a work of art!  Just grab some paper bags and fill with as much of you want and when you get to the till they'll weigh and label them.  Perfect for getting a little bit of that one spice you need for just a single dish.  I always hate buying a big jar and wasting! Especially useful when you're on holiday and might only use a little bit over the course of your trip. Useful tip: vegan is vegà in Catalan.  They have a lot of vegan cookies and mueslis and the ones that are vegan are labelled vegà.
If you have a Barcelona-related question feel free to get in touch!  I'll be reviewing more restaurants as I explore.
Are you in Barcelona or planning a visit soon?  Want to get your free copy of Barcelona's 5 Best-Kept Vegan Secrets and a discount on my Barcelona vegan guidebook?  Click on the button below: