Vegan Barcelona: to the uninitiated, this sounds like an oxymoron (isn't Spain the land of cured ham?). But to those in the know, Barcelona, alongside cities like Amsterdam, is one of the vegan capitals of Europe.
I want to show you where to find a killer vegan breakfast in Barcelona, authentic and vegan tapas in Barcelona and vegan pizza in Barcelona. Read on to find out the best vegan restaurants in Barcelona, where to stay and vegan shops you shouldn't miss.
where
Where to stay in Barcelona: the best vegan hotel Barcelona
Unfortunately, if you're looking for a Barcelona vegan hotel, the city doesn't have any 100% vegan hotels yet, but there are some vegan- and eco-friendly accommodation options! And if you're willing to venture out of the city, you'll find Casa Albets, a vegan hotel.
Spain actually has quite a few vegan hotels, and one of the best ones, Casa Albets, is just a few hours from Barcelona. If you're looking for a place to stay in the city, on the other hand, I've got a few eco- and vegan-friendly options for you.
luxury

The Grand Hotel Central is widely regarded as one of the best hotels in Barcelona.
The 5-star hotel combines old-school elegance, with its location housed in a refurbished Twenties era building, and modern amenities: each room has a rain-effect shower, air conditioning and a well-stocked free minibar. The location is ideal, in the trendy neighbourhood of Born, with views over the Gothic Quarter and rooftop infinity pool that boasts view of Barcelona Cathedral.
The rooftop bar is buzzy and the hotel has a fitness centre that offers massage services too.
Since it's so centrally located, it's within easy reach of many of Barcelona's best vegan restaurants.
Click here for the latest prices and availability.
midrange: grau

Eco Boutique Grau is one of the best choices in terms of location, price and eco-friendliness,
The 2-star hotel is extremely centrally located (near Placa Catalunya in the Gothic Quarter, considered the centre point of the city), and eco-friendly too, using renewable energy. The hotel bar serves ecological wines and the hotel itself is constructed with environmentally-friendly technology. Rooms are painted with PVC-free paint.
Rooms have balconies or face a vertical garden. From the hotel, you can easily walk to most of Barcelona's attractions and some of its best vegan restaurants.
Click here for the latest prices and availability.
casa bella gracia

Casa Bella Gracia is an eco-friendly hotel in one of my favourite areas of Barcelona, Gracia.
Gracia's still close to the main attractions but a little quieter, with a more bohemian and neighbourhood feel to it, and a ton of vegan businesses, ranging from restaurants to a vegan supermarket, a vegan shoe shop and a vegan makeup store. The neighbourhood also has lots of independent designers, eco clothing shops and yoga studios.
Casa Bella Gracia offers a free airport shuttle, and each room has air conditioning, free wifi and a flat-screen TV, plus organic teas and a kettle.
Click here for the latest prices and availability.
jam hostel

Jam Hostel is an eco-friendly hostel. Like Casa Bella Gracia, it's located in Gracia, one of my favourite neighbourhoods in Barcelona. It's a bit out of the centre (but still easy to reach by public transport or walking), with a village-y, local feel, and a lot of vegan businesses. From vegan restaurants and cafes to a vegan shoe shop, supermarket, makeup store, eco clothing shops and yoga studios, Gracia's got it all!
Jam Hostel has a big terrace, where they hold yoga classes. It also has two shared lounges, one with computers and one with a shared kitchen, dining area, TV and board games.
Every dorm room and individual room is air conditioned and has personal lockers and plugs for each bed, and the shared bathrooms have hair dryers and are adapted for those with reduced mobility.
There's also a shared laundry area and free fairtrade tea and coffee is available throughout the day.
Click here for the latest prices and availability.
casa albets

If you feel like taking a trip to the countryside from Barcelona, you couldn't choose a better spot than Casa Albets, an all-vegan hotel.
This beautiful old stone Spanish farmhouse has been transformed into a 4-star vegan, eco and dog-friendly hotel. Visitors love the on-site vegan food.
The views of the surrounding area look absolutely stunning, and a variety of popular activities are available locally, including skiing and cycling.
Click here to check the latest prices and availability.
best restaurants
vegan barcelona/span>
Vegan Barcelona: Is Barcelona Vegan Friendly?
Barcelona: Why the Catalan Capital is a Plant-based Paradise
Barcelona is an amazing city...full of sun, jaw-dropping architecture, tapas, the beach, the mountains and a surprising number of vegan and vegan-friendly places (so much so, I wrote a whole vegan Barcelona guidebook -- and you can download a FREE sample here)!
In 2016 Barcelona's city council even declared it a #VegFriendly city and promised to promote vegetarianism and veganism.
Basically, it's got everything you could want in a city... After living in Barcelona, eating in all its vegan restaurants and co-founding the biggest vegan social group in Barcelona, the Barcelona Vegan Meetup, I'm pretty well-versed in all things vegan Barcelona.
So I wanted to help you out with some insider tips on vegan and vegetarian Barcelona (if you to learn absolutely everything I know about vegan Barcelona, you can grab a copy of my Barcelona Vegan Guide)!
Click here to find out more about the Barcelona Vegan Guide.
I used to live in Gracia (and now live near it), which is the best neighbourhood in Barcelona (I'm a little biased though!). Gracia is chock-ful of Barcelona vegan restaurants and has a vegan bar, vegan bakery, dozens of yoga studios, sustainable clothing shops, the cheapest vegan cafe in Barcelona, and a vegan supermarket... If you're wondering where to stay in Barcelona I highly recommend Gracia. But shh, don't tell anyone else! It's thankfully a little less touristy than the Gothic Quarter and I'd like to keep it that way!
best restaurants
The Best Vegan Restaurants in Barcelona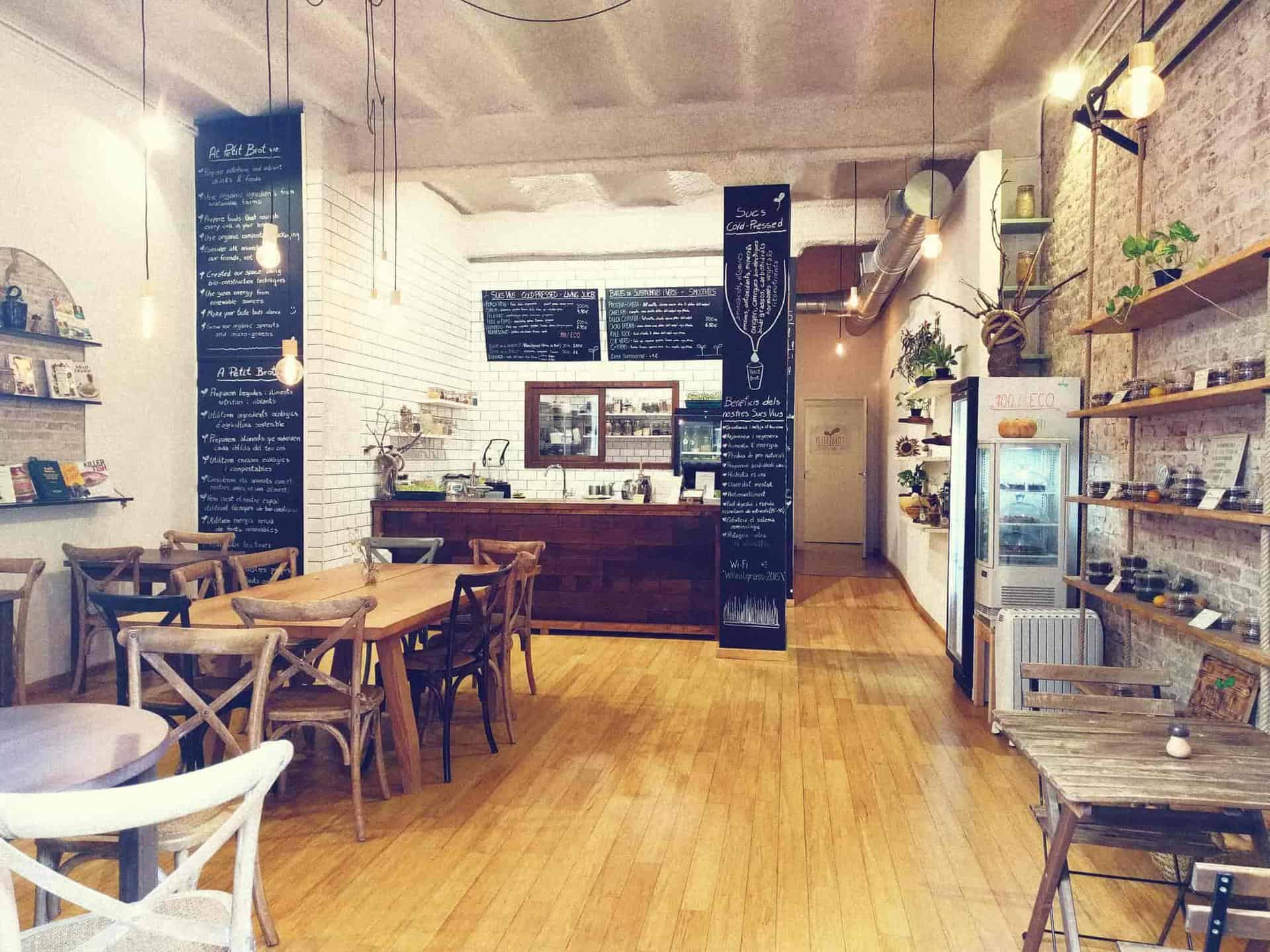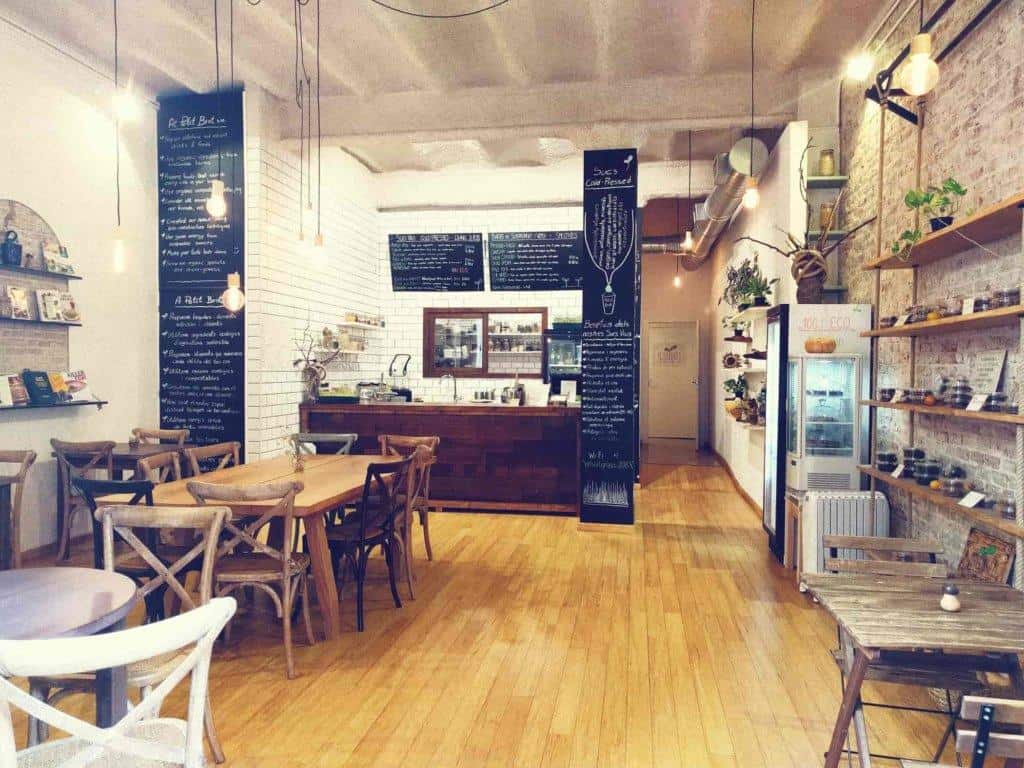 With so much to choose from (a lot of people don't believe just how vegan-friendly this jamon-obsessed city is), it's tough to single out the best vegan eats but with my extensive experience eating my way around Barcelona here are my choices!
Important Note: I've linked to the restaurants' site where you can check their hours but you should always call to double check hours because SO many places in Barcelona change their schedules due to holidays, siesta...or just because they feel like it! There's nothing more disappointing than standing melting in the heat, staring at a paper sign taped to a restaurant window in Catalan, which you can't read, but which you think more or less says "we're shut."
Opening hours:
I used to list restaurant opening hours but took these out because they change so frequently in Barcelona. Instead, I recommend phoning or messaging the restaurant to confirm current hours (see above).
Restaurants: Varies by restaurant, but most restaurants serve lunch from approximately 1:30 - 3:30pm and dinner from 8pm to midnight. If you try to eat outside these hours, the restaurant or its kitchen may be shut (unless it's a touristy place).
Shops: Most local, independent shops close for siesta (usually from 2pm to 4:30pm or so) but do not always note siesta times in their opening hours listed on their website.
Holidays: Most places close for 2-3 weeks in August. Some also closed between Christmas and Three Kings' Day (6th of January).
€ = mains under €7
€€ = mains €7-12
€€€ = mains €12+
teresa carles
If you're looking for a vegan spot for date night, it has to be Teresa Carles or Green Spot. Both eateries have a more upmarket ambiance than your average vegetarian eatery in the city, and both are vegetarian with plenty of vegan options. If you want to impress (your parents, a date, yourself) then go to one of these two.
Teresa Carles
Located right in the city centre in the Gothic Quarter, Teresa Carles is a good option if you're staying in El Gotico. Teresa Carles is one of the oldest vegetarian restaurants in Barcelona, and it's popular, so it's best to book a table in advance. Click here to book.
What to get:
Their layered vegan lasagne with cashew cheese and sundried tomatoes.
Teresa Carles (€€€)
Address: Carrer Jovellanos 2
Phone: +34 93 317 18 29
Website
Green Spot
Green Spot is located near the marina. I wrote before about the magic of the freshly prepared Green Spot vegan curry. While it's a fairly large restaurant, it's popular so it's a good idea to book a table. Click here to book.
What to get:
The green curry--you can tell how fresh it is by the fragrant herbs. (Just be aware they have dialed down the spice level for the local palate.)
Green Spot (€€€)
Address: Carrer de la Reina Cristina, 12, 08003 Barcelona
Phone: +34 938 02 55 65
Website
vegetart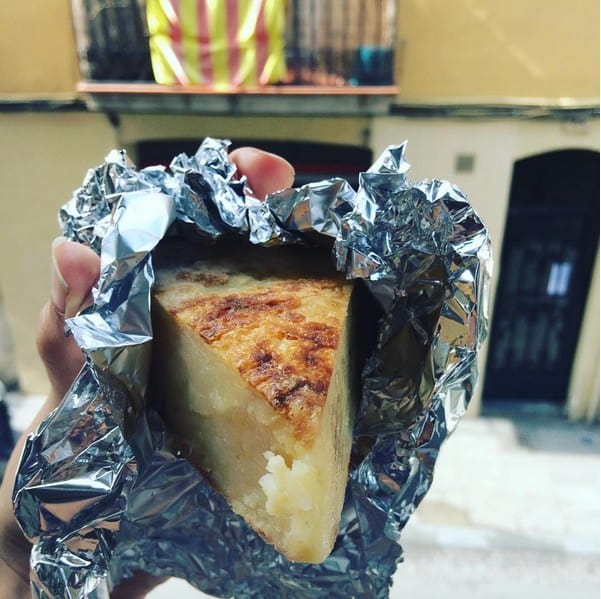 A vegan in Barcelona doesn't have to spend a lot of money to try some of Barcelona's best vegan food, because one of the city's best-kept secrets is this tiny vegan deli tucked away on Torrent l'Olla in Gracia, which sells some of the best vegan food in Barcelona on a budget. Takeaway only, their vegan tortilla (traditionally an egg and potato omelette but this one is made with chickpea flour in place of the egg!) is the best in all of the city, hands-down. It sometimes sells out within minutes. Even better, the tortilla is only €1.50 a slice! In fact, all their food is all just a few Euros! Spend 3 Euros on some food there and take it to nearby Placa del Sol for an al fresco lunch.
What to get: don't miss the tortilla. It sells out fast!
Vegetart (€)
Address: Carrer Torrent de l'Olla 138
Phone: +34 668 88 53 75
Facebook
Note: closes for siesta
vegetart
This all-vegan sangria bar by the beach is the only place in town with an entirely vegan tapas menu! They also have vegan paella* and of course, several types of sangria. It's the best vegan Barcelona tapas menu, so don't miss it.
*Side note: paella is actually from Valencia (which is surrounded by rice fields), so it's not typical of Barcelona, although lots of restaurants serve it for tourists. Fideua, made with small noodles instead of rice, is more typical of Catalan cooking. Sangria is also not that popular in Spain, with most locals drinking tinto de verano (red wine mixed with gaseosa, a sort of lemonade-Sprite hybrid) instead. That's not to say you can't enjoy paella in Barcelona (many locals do too!), but be aware it's not a Catalan dish.
What to get: polenta cubes (stuffed with mushroosm and coated in vegan parmesan), potatoes with romesco sauce and, if you're a fan of vegan seafood, the konjac 'squid' rings are popular
Bar Celoneta (€€)
Address: Carrer Torrent de l'Olla 138
Phone: +34 668 88 53 75
Facebook
Note: closes for siesta
vegesana
I don't know why more people don't talk about Vegesana, but they should. This vegetarian Chinese restaurant serves the best Yuxiang eggplant (berenjena salteada). Crispy, salty but not overly so, with a perfectly balanced sweet and sour sauce on top. Also, the chef is obsessed with carving carrot animals and he makes the cutest little carrot creations!
They deliver, too -- order directly by calling them.
What to get: Yuxiang aubergine (berenjena salteada)
Vegesana (€€)
Address: Carrer d'Aribau 14
Phone: +34 933 01 34 42
Website
veg world india
Veg World India (who call themselves 90% vegan -- what that means is almost everything on the menu is vegan except for a few marked items) is not only great value for money but they're one of the few places in the world I know of where you can get stuffed vegan cheese naan! (Be sure to ask for the vegan version because this place does serve dairy, too.)
What to get: the lunchtime deal (great value for money) if you're there at lunch
Veg World India (€€)
Address: Carrer Bruniquer 26
Phone: +34 932 10 70 56
Website
dolce pizza

Blu Bar is a laidback bar and restaurant in the former industrial area of Poblenou, near the beach. In late 2019, they converted to fully vegan and they have what is currently my favourite vegan pizza in Barcelona! The Don't Call Me Margarita has rocket pesto and their homemade cashew cheese.
To me, a lot of commercial vegan cheeses (the ones that are famous for melting) may have started to successfully replicate the gooeyness of cheese, but don't taste like anything. I'm a huge fan of cashew cheese (so creamy! so much flavour!) so I love this pizza. If you prefer a commercial melty vegan cheese, they have that too on some of their other pizzas.
What to get: the Don't Call Me Margarita pizza with homemade cashew cheese, rocket pesto and cherry tomatoes
Blu Bar (€€)
Address: Rambla del Poblenou, 11, 08005 Barcelona, Spain
Phone: +34 932 21 09 71
Website
Mostly vegan pizzeria: Dolce Pizza
Still looking for pizza? Dolce Pizza y los Veganos is a vegetarian pizzeria, with about half their dishes as vegan. They make their own vegan cheese from tofu and carrots. Try the pesto pizza with vegan pesto and chorizo!
Dolce Pizza y los Veganos (€€)
Address: Carrer d'Hipolit Lazaro 34
Phone: +34 932 13 12 20
Website
dolce pizza
Vyb bar is the place to go if you're looking for vegan cocktails, especially the kinds of drinks you wouldn't normally find in vegan form, like a white Russian made with vegan cream, vegan Baileys or their piña colada, made with condensed coconut milk.
The bar is located down a quiet side street in Gracia, just off Verdi, and has a cosy ambiance.
What to get: White Russian or piña colada, double chocolate chip cookie if you're hungry
Vyb bar
Address: Carrer de Vallfogona, 23, 08012 Barcelona, Spain
Phone: +34 930 01 97 93
Facebook
sesamo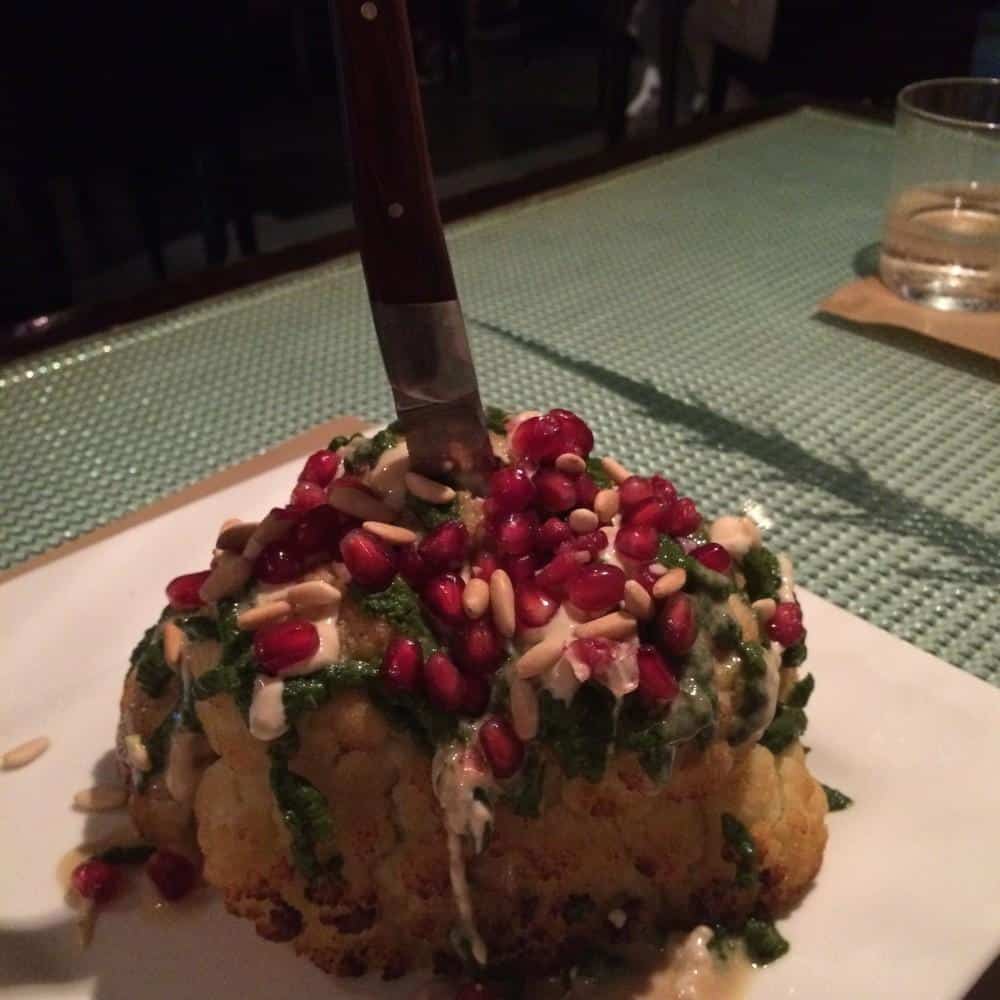 For pure impressiveness when it's brought to your table, the whole head of roasted cauliflower (complete with a steak knife sticking out of it!) at Sesamo wins for the most impressive vegan dish in Barcelona. Try their vegan tapas, too, or their tasting plate if you want to sample a lot of dishes.
Reservations are highly recommended as it gets busy in this place!
Click here to make reservations.
What to get: the roasted cauliflower with tahini, green sauce and pine nuts
Sesamo Barcelona (€€€)
Address: Carrer de Sant Antoni de Abat 52
Phone: +34 934 41 64 11
Website

roots and rolls

If you're after a fix of creative vegan Asian fusion, head to Roots & Rolls. This Barcelona vegan restaurant is one of the only entirely vegan spots to feature sushi on the menu. Their sushi is very unique, because instead of using white sushi rice, they use a mix of four grains -- and it's a purple-pink hue! Their sushi fillings are also very inventive -- think prickly pear, truffle oil and spiced pumpkin.
Weirdly, I prefer their starters to their mains (I find the flavours more creative and tasty) so I recommend you order a few starters and a selection of sushi. Try the popcorn cauliflower and the gyoza in sweet dashi sauce.
What to get: sushi tasting platter, popcorn cauliflower, gyoza
Roots & Rolls (€€€)
Address: Carrer del Consell de Cent, 401, bajos, 08009 derecha, Barcelona, Spain
Phone: +34 931 71 79 02
Website
vacka
Since I wrote my original review, Vacka moved to a new space inside a coworking space in the Poblenou neighbourhood. I haven't been yet. It's still open to the public but the menu is very limited (just a set lunch menu without choices) and I've heard the space is quite small. They post the weekly menu on their Instagram, so you can see which day you'd like to go. The menu might include mushroom bourguignon, a sushi bowl or calzone. They also run workshops there, including vegan cheesemaking classes!
Vacka (€€)
Address: Carrer dels Almogàvers, 138, 08018 Barcelona, Spain (inside Apocapoc coworking space)
Phone: +34 652 44 64 14
Website
Another healthy lunch option is 2Y, an all-vegan macrobiotic restaurant. They are only open for lunch apart from on Fridays when they open for dinner, too. For those unfamiliar with macrobiotic food, it tends to be quite simply prepared grains, vegetables and beans, without many sauces or spices, and a specific proportion of grains, vegetables and beans/tofu are on each plate.
2Y (€€)
Address: Passatge de Batlló, 4, 08036 Barcelona, Spain
Phone: +34 933 48 54 38
Website
quinoa bar
This down-to-earth, cosy bar serves vegan burgers, sandwiches and wraps at reasonable prices. Don't miss the lunchtime special (menú del día). If you're a fan of old-school veggie burgers made with beans over thew newer burgers that replicate meat, then head to Quinoa Bar. They make my favourite burgers in Barcelona (I'm a fan of bean-y burgers!).
Quinoa have expanded with a slightly bigger and more central location on Arago, while keeping their original bar on Travessera de Gracia (which is cosy, but only has a few tables). Reservations are still highly recommended to avoid disappointment if you can't find a seat! I'd definitely go for one of the burgers. (P.S. Their only downfall is they don't come with chips/fries and they don't have them on the menu. Consider yourself warned!)
Click here to make a reservation.
What to get: The beetroot burger if it's the special. Otherwise, the classic burger.
Quinoa (€)
Address: Carrer d'Aragó, 209, 08011 Barcelona
Travessera de Gràcia, 203, 08012 Barcelona, Spain
Phone: +34 931 12 93 26
Facebook
Reservations recommended.
gallo santo

Don't miss the vegan Mexican food and cocktails at Gallo Santo. I came to this restaurant half a dozen times before realising it was gluten free as well as vegan. I'm not usually a fan of gluten free food, but you will not miss or even notice the lack of gluten here.
You have to try the potato and sweet potato flautas -- an explosion of flavours and textures. Also don't miss the apple crumble with granola, millet and caramelised nuts. I nearly skipped it since I figured I've had plenty of apple crumbles in my life and you definitely shouldn't miss this.
Some people have complained portion sizes are small. I think the problem is really that the mains and starters are around the same size, so you definitely shouldn't order just a main. Unless you have a very small appetite, you'll want both a starter and main.
What to get: Apple crumble, sweet potato (boniato) flautas, stuffed with potatoes and sweet potatoes and fried. And be sure to add some of the trio of salsas (ask which ones are spicy).
Gallo Santo (€€)
Address: Carrer del Torrent de l'Olla, 64, 08012 Barcelona, Spain
Phone: +34 930 27 67 46
Facebook
xavier pellicer
Best for upscale: Xavier Pellicer
Looking for an upscale vegan meal? Xavier Pellicer's previous restaurant, Celeri, was awarded a Michelin star and I loved my meal there. Celeri has since closed, but he opened a new restaurant under his name, and it's also vegan friendly.
The menu is based around vegetables, and for each vegetable there is a vegan option and a non-vegan option. If you're a fan of seasonal, local vegetables prepared creatively, head here for a meal.
Xavier Pellicer (€€€)
Address: Carrer de Provença, 310, 08037 Barcelona, Spain
Phone: +34 935 25 90 02
Website
other
Other vegan spots worth a visit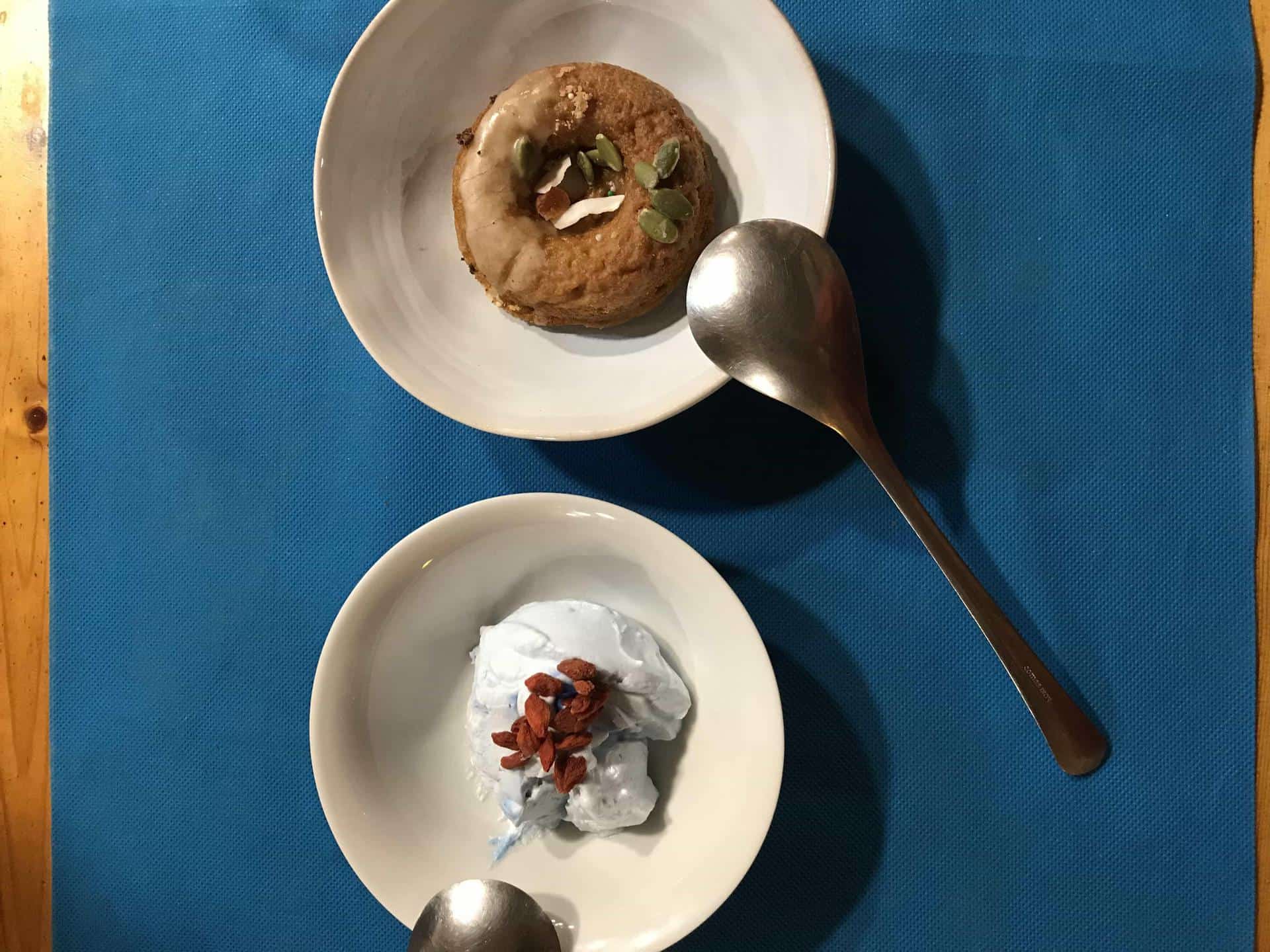 The only place I know of in Barcelona that serve a vegan full English breakfast, CactusCat bar is a vegan restaurant right by MACBA, the contemporary art museum. They also have tapas, vegan lasagne and cake (try the doughnuts served with coconut cream!). Named after a mythological creature named the CactusCat, you'll find their logo and interior adorned with cute cat drawings.
This cute little cafe, right in the heart of the Gothic Quarter, is the perfect place to stop for coffee and cake. They also have a few savoury dishes like sandwiches. (Note: If you search for The Vegan Corner, you'll find a Youtube cooking channel. Be sure to search for 'The Vegan Corner Barcelona')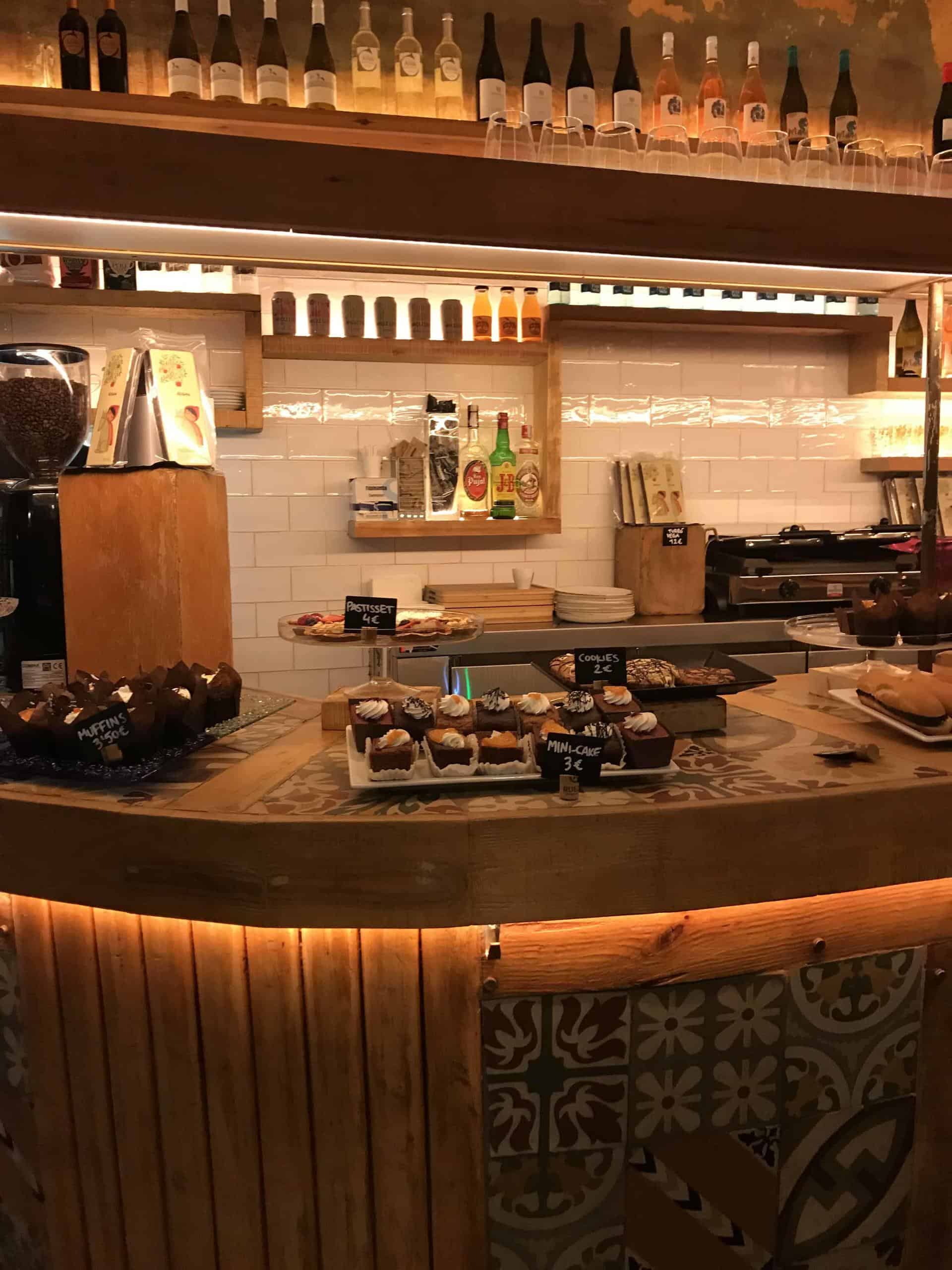 Not related to CactusCat bar, Cat Bar is one of the oldest all vegan places in Barcelona, if not the oldest vegan place in Barcelona, and home to some of Barcelona's best vegan patatas bravas. This laidback vegan bar is the perfect spot for a beer and a burger in Born. There's also a piano in the bar and if you're lucky you might get to hear someone playing it (or you can play it yourself!). Plus, the prices are really reasonable.
Monchito's is a vegan Mexican taqueria in the centre of Barcelona. I went when it opened and the menu was a bit vegan meat heavy for my taste, but others loved the vegan meat tacos so if that's your thing, go here. The owner is a long-time vegan, too (I think he said more than 20 years!).
If you're on a budget, Veggie Garden is a very affordable, laidback vegan restaurant with multiple locations. The food is too bland for my tastes, but it's popular because of the prices.
I haven't been here in many years, but when I went, I remember being impressed by the inventiveness of the flavours at this vegetarian restaurant. Several people tell me it still is creative, so I'm going to go try it again soon. Be aware that it's a little on the 'gastronomic'/high end side, by which I mean well-presented dishes but with small portion sizes. They also some ingredients from their own garden.
Breakfast
Best Vegan Breakfast Barcelona
Wondering what the best vegan brunch Barcelona has to offer is? Barcelona went through a period of a bit of a dearth of good vegan breakfast options but thankfully that time has ended, and you have plenty of options when it comes to brunch!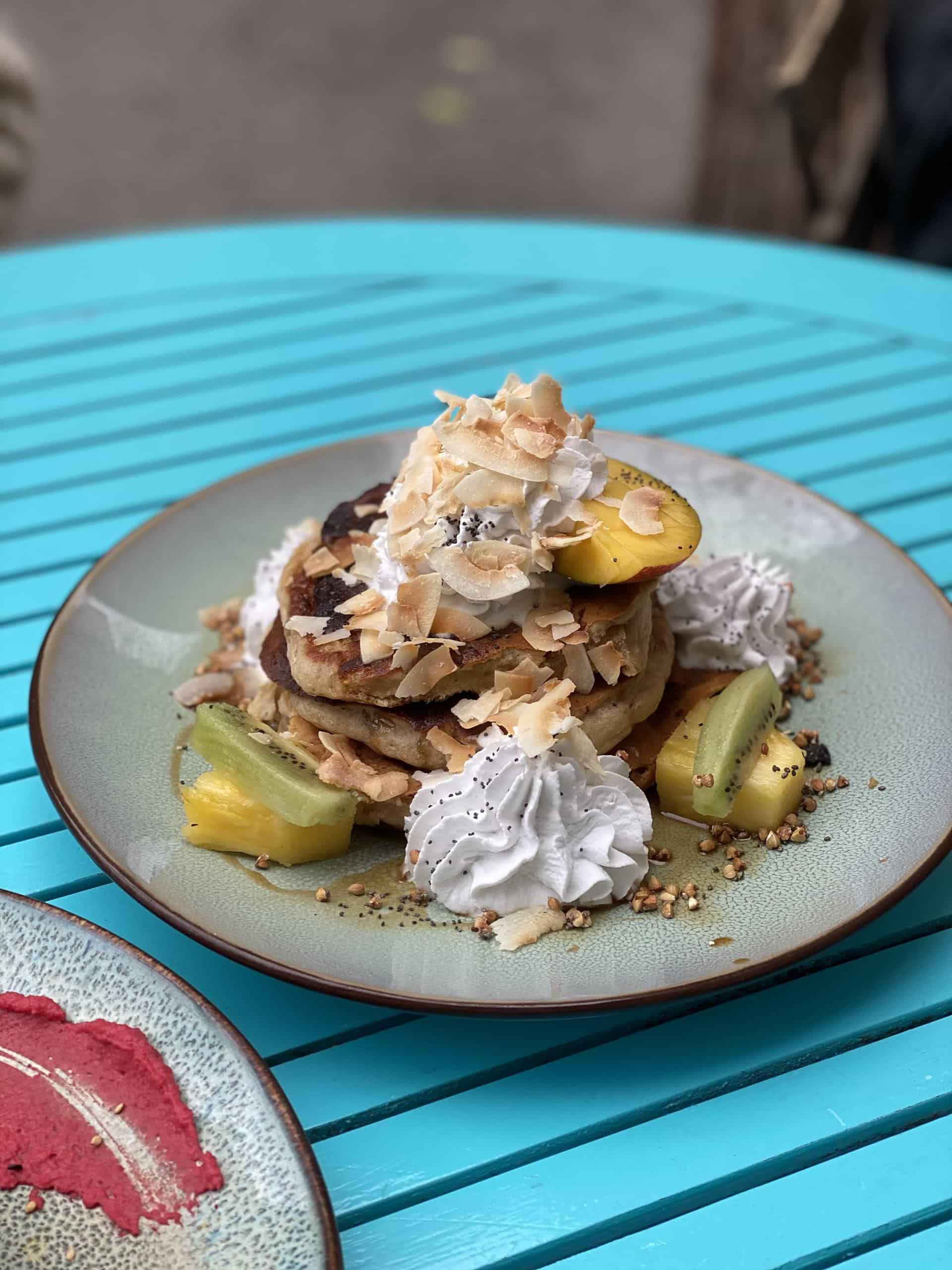 My current favourie vegan brunch in Barcelona is Eat My Trip. This non-vegetarian restaurant has excellent vegan options. I was worried the first time I went that it was an 'Instagram cafe' - pretty interiors and pretty plates, but food lacking in flavour. I was wrong. The food both looks and tastes good.
Do not miss the pancakes! They change the flavours but the best I've tried were the apple pancakes with amaretto cream. The guacamole toast is another standout, a more flavourful take on your typical avoado toast.
What to get: vegan pancakes
This all-vegan cafe specialises in breakfast and brunch options like chickpea omelettes, avocado toast, pancakes and porridge. The service can be a bit slow, and the day I went I was in a rush to get to a flat viewing, so this is one I need to go back and try again. I've heard good things about the chickpea omelettes and the croissants.
There's only one vegan full English breakfast in Barcelona, and that's at CactusCat bar. So if you're craving a full English, head here.
This flexitarian restaurant serves up healthy vegan breakfasts like an acai bowl, pink pitaya bowl, chia flax bagel with vegan cream cheese and tempeh or more.
If you don't mind a menu with only one vegan brunch option, Cremat 11 does a delicious vegan breakfast plate. But it's their only vegan breakfast option! It's a good option if you're with a non-vegan who isn't up for trying a vegan spot. And the breakfast is delicious: baby potatoes, roasted tomatoes, spinch and sourdough served on the most delicious cheesy coconut cream base.
Eat vegan breakfast anywhere with tomato bread
Barcelona vegan food can be simple (and widely available). Bread rubbed with garlic, tomato and olive oil (a sort of Catalan version of bruschetta) is a popular breakfast food in Catalunya and available in 99% of tapas bars. So pop into a local bar and order an espresso and pan con tomate (pa amb tomaquet in Catalan).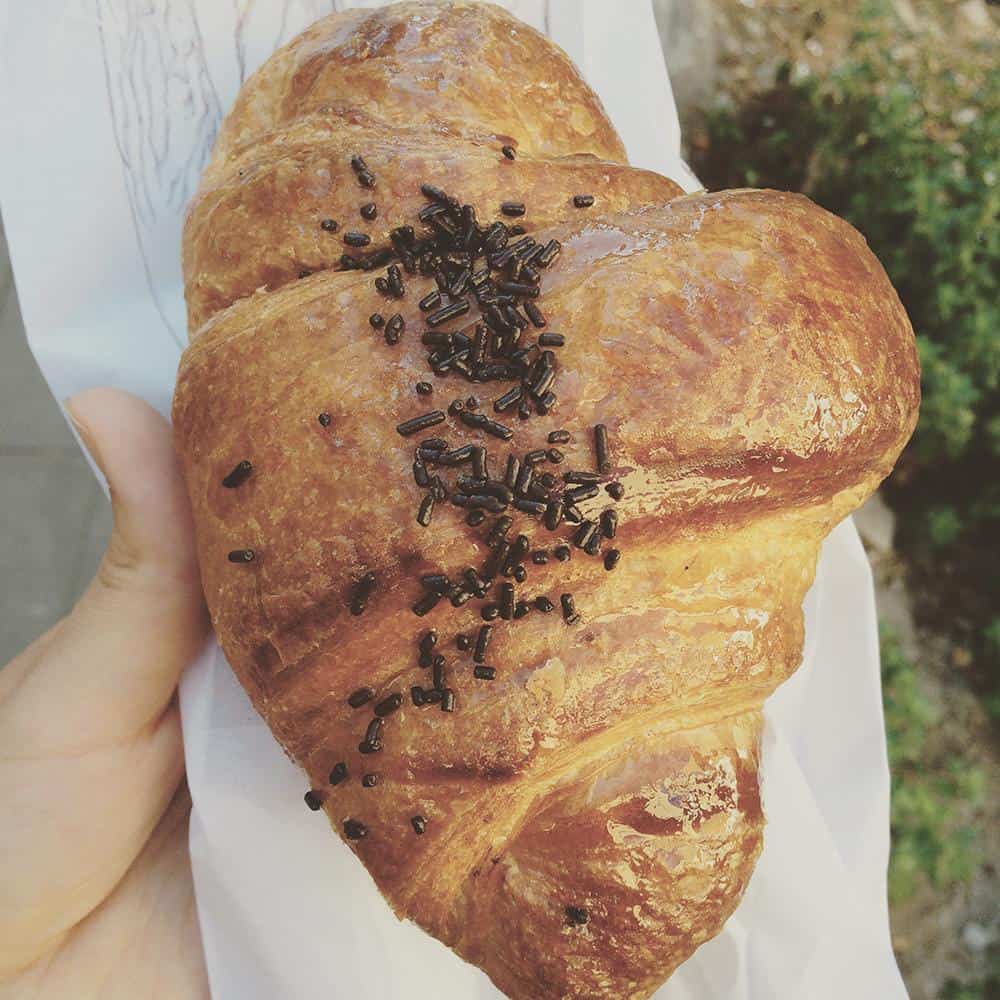 Croissants at Santa Clara, Crois Sants and Santoni
My favourite vegan breakfast in Barcelona is a croissant! There are a few bakeries that make vegan croissants (unfortunately, my favourite, Knella/D'Monica, has now closed) and the best ones, in my opinion, are the chocolate-filled ones! You can get vegan croissants (ask which are vegan) at Santa Clara Bakery (just €1.70 per croissant) in Gracia, Crois Sants in Sants or Santoni in the centre, near Universitat.
Lunch
Vegan Lunch in Barcelona
Takeout in the plaza
My favourite lunch in Barcelona is takeout from all-vegan deli Vegetart, eaten in the nearby Placa del Sol. Nothing feels more Barcelona than eating al fresco in a sunny plaza. Vegetart makes the best vegan tortilla (they've even won awards!) so grab a slice for just €1.50.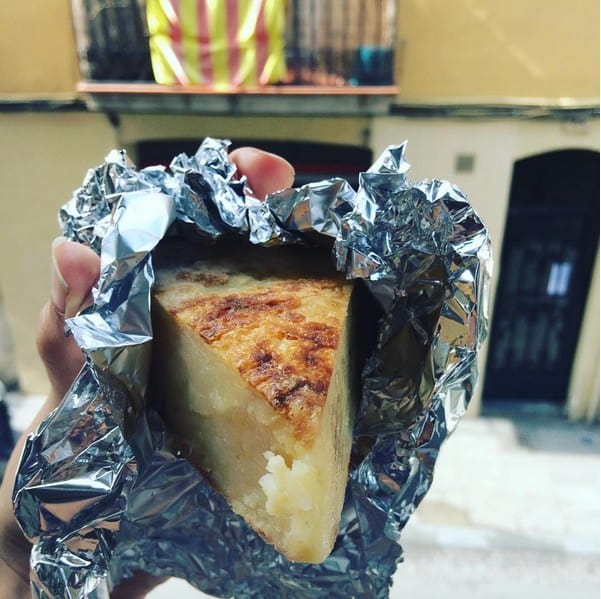 Bargain Barcelona lunches with menú del día
Don't miss out on the menú del día -- lunch specials offered at many restaurants around town. You can save quite a bit on lunch with the menú del día (which usually includes three courses - a starter, main and dessert - for anywhere from €10-15). My top vegan menu is Quinoa, which offers delicious, fresh sandwiches and burgers. Second choice goes to Veg World India; if you like Indian food and want a filling lunch, theirs includes an unlimited salad bar, a thali (selection of curries, rice, dhal, etc) and bread (ask for vegan cheese stuffed naan!).
tapas
Vegan tapas in Barcelona: how to eat vegan ANYWHERE
If you're travelling with non-vegans to Barcelona, don't fear! You can find a vegan meal in any tapas bar since some tapas are naturally vegan!
Here's what the choose from the tapas menu to make sure your meal is plant-based...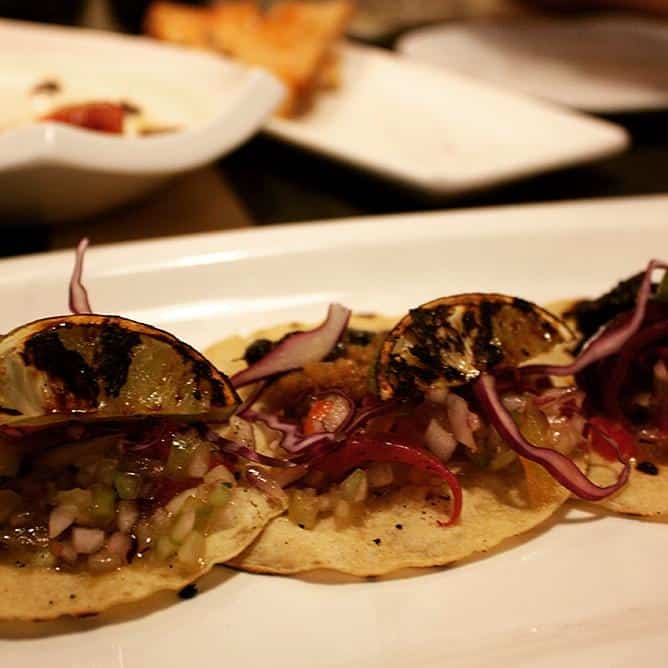 You can still enjoy tapas as a vegan! In fact, one of the easiest ways to get vegan food in a non-vegan place is to go for tapas. Look for some typically vegan tapas which are usually on the menu (and just double check if they are vegan):
Pa amb tomaquet/pan con tomato (tomato bread) - a typical Catalan breakfast dish (but great at any time of day!) of toasted bread rubbed with tomato and olive oil. It's simple but delicious!
Escalivada (roasted vegetables) - a mix of grilled aubergines, onions, red peppers and tomatoes, usually served with bread
Pimientos de padrón (roasted padron peppers) - roasted in olive oil and sprinkled with sea salt, these are simple but incredibly delicious
Gazpacho - a chilled tomato soup which is perfect for a hot summer day!
Patatas bravas minus alioli - fried potato chunks in a spicy tomato/paprika sauce. Check if the sauce is vegan and just make sure they leave off the alioli (which is like a garlic mayonnaise; the authentic, old-school version is vegan but many modern versions contain eggs).
Olivas (olives) - make sure they aren't stuffed with anchovies! It's best to ask for 'olivas con hueso' (olives with pits).
Sometimes you'll also see other grilled vegetables on the menu - for example, grilled artichokes (alcachofas) or grilled mushrooms (champiñones a la plancha). And weirdly, a lot of tapas places around Barcelona seem to sell hummus with crackers or bread.
Want tapas at an all veggie/vegan place?
bakeries
Vegan bakeries, ice cream & treats
Vegan bakeries in Barcelona
There are a few vegan and vegan-friendly bakeries in Barcelona, so you won't miss dessert.
La Besneta is an all-vegan bakery in the Gracia neighbourhood that has muffins, cookies and cake (including cake in a jar!). Try the jar cake.
Wild Lulita is the loveliest little vegan bakery and concept store promoting female-made artisan products. As well as the bakery counter, which features cakes and brownies, they sell vegetables, ceramics and crafts. Try the salted hazelnut brownie.
This vegan bakery and cafe has vegan croissants (with a variety of fillings and without), empanadas, muffins and other baked goods.
Bakeries with vegan options:
Chok is a bakery in the Gothic Quarter and Gracia with vegan options, including vegan Nutella-stuffed doughnuts.
Boldu (a bakery chain) has vegan doughnuts.
Demasie is a bakery in Born with vegan cinnamon rolls
Candela Canela is a cinnamon roll place in Gracia with a vegan option
Santa Clara is a traditional Spanish bakery in Gracia (open since 1951) that always has a wide range of vegan options (including croissants and savoury options), including vegan versions of typical Catalan baked goods. Definitely go here if you want to experience a typical, old-school Barcelona bakery! I love the croissants with a coffee (they have non-dairy milk available).
Petritxol Xocoa might be the only spot for vegan churros Barceloa has (at least with vegan chocolate dip, too). I haven't been yet but if you want to try vegan churros, this is apparently the place to go!
Vegan ice cream Barcelona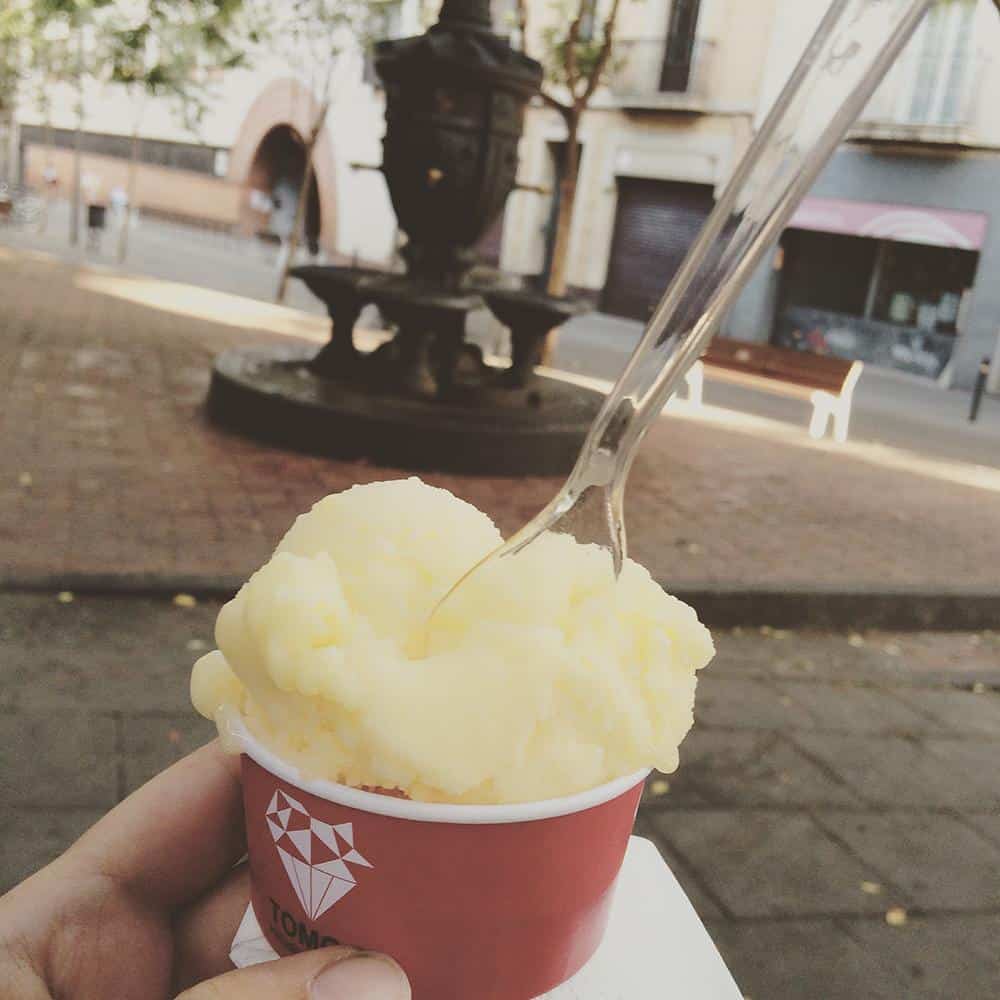 You'll find small heladerias/gelato stalls tucked all over Barcelona, especially in the plazas. There's nothing better than sitting in the shade of a plaza, eating a fruity gelato on a hot summer day! Luckily, since they are made in the Italian style, most ice cream places here have vegan options (normally in the fruit section) - just ask if they have any that are dairy free (sin leche). And they are delicious!
For a fully vegan gelato experience, head to Gocce di Latte, a dairy-free gelateria. Check whether their cones are vegan as they have been reported not to be in the past.
flight
Booking your flight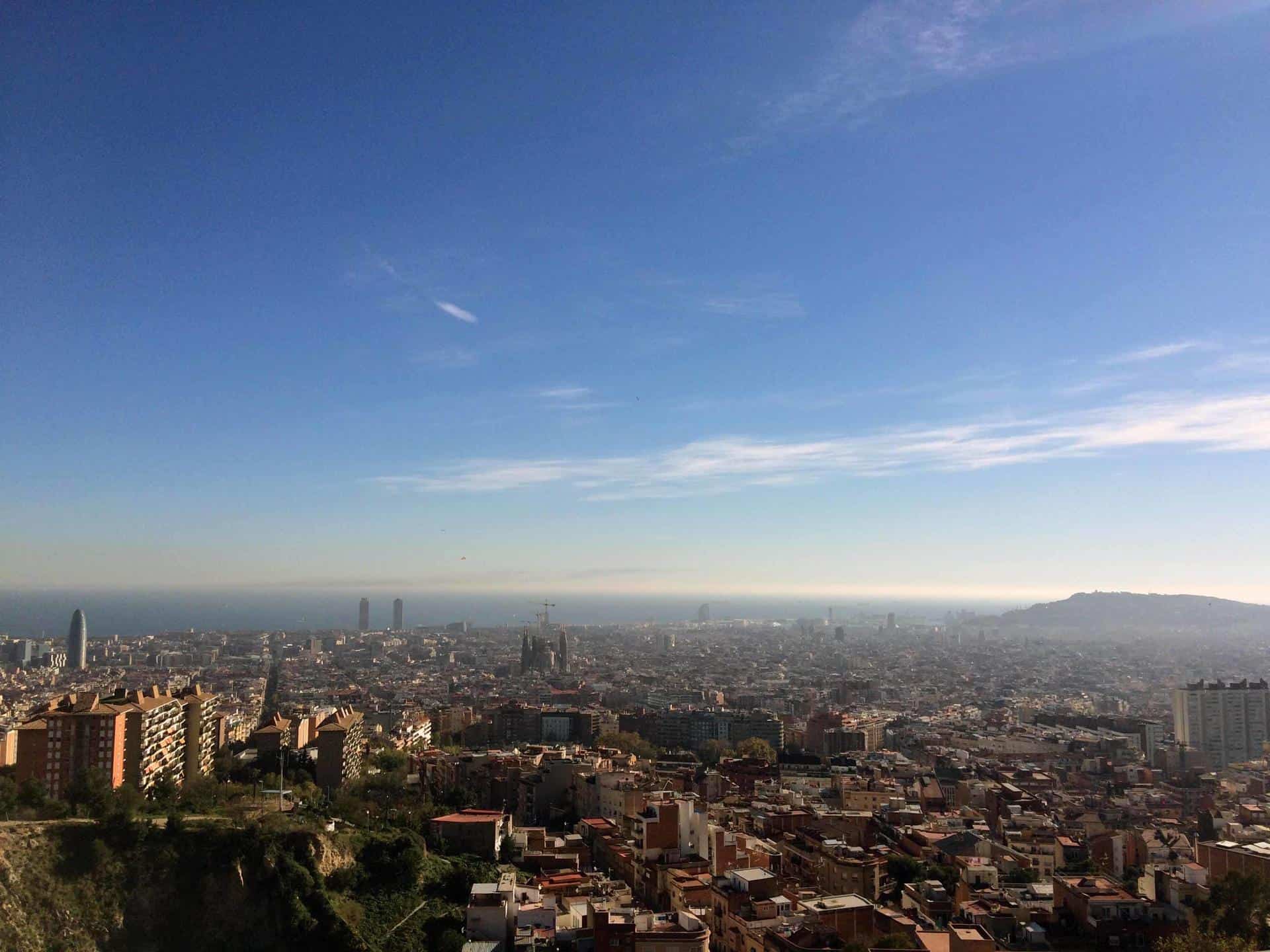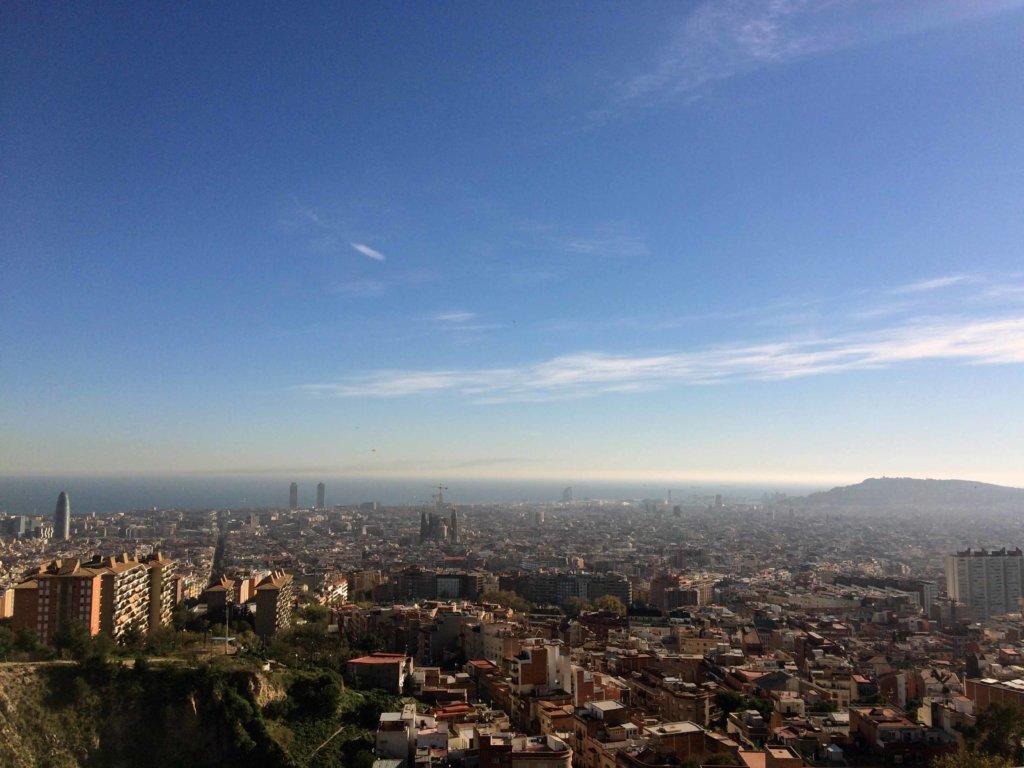 The airport in Barcelona is called El Prat (BCN) and is located around 12 kilometers/7.5 miles from the centre of Barcelona. It's easy to get to the city centre from the airport in under half an hour by taxi, airport bus, train or metro (but note you'll need to buy a special airport metro ticket -- standard metro tickets won't cover the journey). You may sometimes see flights listed at Girona (GRO), which is a city around 100 km / 60 miles from Barcelona. Beware that Girona airport is NOT in Barcelona and it will take around an hour and a half to get from Girona to Barcelona by taxi or train.
Booking the flight
Within Europe
If you're booking a flight to Barcelona from within Europe, I highly recommend using Skyscanner. I've found it always searches out the best deals within Europe on a number of different airlines and aggregators. Search Skyscanner flights and book here.
From North America
If you're flying to Barcelona from North America, I recommend Expedia. Skyscanner is my preferred flight tool for flights within Europe and from Europe to North America, but for flying from North America to Europe I think Expedia's got the edge. Check and buy flights on Expedia.
packing
What to Pack

Barcelona is the pickpocket capital of Europe so it's a good idea to have a purse or backpack that can be attached to chair legs and with zippered compartments that can be tied shut like this bag. You needn't be concerned about your safety as Barcelona is a very safe city in general, but pickpockets are very skilled here. I met someone who'd been pickpocketed 6 times in the year he'd lived in Barcelona, a friend had her wallet stolen while visiting me and I've also witnessed several phone snatchings.
You don't have to buy a bag that's slash-proof like this (although it won't hurt), but look for a bag that has clips that can secure compartments and zippers. Most importantly, you need a bag like this that has removable straps that can be tied securely to your chair in restaurants. Never leave your bag at your feet or hanging from the back of your chair without securing it to the chair or yourself!
Click here to check the latest prices.

I highly recommend bringing a waterproof case to the beach if you plan on swimming. Put your phone, cards, hotel key and cash in here and bring it with you into the water. Or, make sure someone in your group stays with the bags. Do not leave bags unattended on the beach! Pickpockets love nothing more than finding an unattended bag on the beach and when you come back from swimming, you'll more than likely find all your valuables have disappeared.
Also, make sure (as always) that you have a secure hold on your bag when you're at the beach and that no one can access the zippered compartments without you noticing (and don't fall asleep!).
Click here to check the latest prices.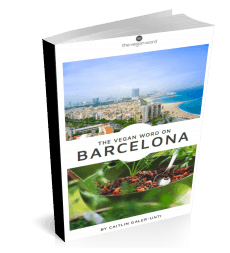 If you want to find out all the best vegan restaurants in Barcelona, PLUS the nearest vegan restaurants to all the attractions in Barcelona (great for when you've finished sightseeing and are hungry!), vegan events and more, then my Barcelona Vegan Guide is for you. I've included everything you might expect in a guidebook, from transport to where to stay to shopping, all with an eco, vegan or healthy twist!
Click here to check the latest prices.

Now, this book won't give you vegan information and inspiration, but to learn about the city's history, architecture and main attractions I recommend the Rick Steves Barcelona guide.
Click here to check the latest prices.
Spain uses European power sockets, so make sure you have a European plug adapter if you're coming from a country with a different power socket. Nothing's worse than arriving in a new country and realising your phone is running out of charge and you don't have a plug adapter, so can't charge it!
Click here to check the latest prices.
Seasonal clothing
Contrary to popular belief, Spain does, in fact, experience winter. It's a much milder winter than some places like New York City, but it still does get chilly in December and January. Be sure to bring a winter coat if you're visiting in winter!
Conversely, in summer, make sure you pack plenty of light summer clothing -- it gets very hot in July and August. And don't forget your sandals! Click here to see my guide to vegan sandals.
If you plan to swim, bring a swimsuit. Late spring, summer and autumn are good times for swimming in the sea. (Yes, autumn can actually be the best time to swim because the sea is at its warmest in Setember.)
Be sure to pack vegan sunscreen for your trip; Barcelona is very sunny and hot especially in the summer, so you can easily burn. Not all sunscreens are vegan (some contain animal products or are tested on animals). I recommend Jason sunscreen. I've also gota guide to choosing the best vegan sunscreen here with many more choices.
Click here to check the latest prices.
shopping
Vegan Shopping (groceries, shoes, makeup and more)
Where to Buy Vegan Food in Barcelona: Supermarkets & Markets
Vegans & Bio vegan supermarket Barcelona
Vegans & Bio is a vegan supermarket, and it's much larger than most vegan supermarkets I've seen in London, Paris or Berlin. It's about on par with Veganz in Hamburg for size.
It's not a huge supermarket like a big national chain, but this competes with the little grocery stores you'll find dotted around Barcelona.
Vegans & Bio is a vegan heaven - looking for vegan tuna? They've got 3 varieties! Mayo? At least 7 (including different brands and all sorts of flavours!). Whipped cream? 5 kinds! It's got everything in vegan form. It's amazing.
If you're itching to try vegan chorizo (a popular spicy Spanish sausage) while you're in Barcelona, it has a whole fridge full of them.
Vegacelona is a small but well-stocked vegan store near Sagrada Familia. Since it's small, they specialise mainly in vegan products you can't get in a typical supermarket -- like specialty vegan meats and cheeses, whipped cream and Oatly barista. They have several kinds of vegan burgers, including the Beyond Burger, available in bulk so if you just want to purchase one or two to try, head here. It's also dog-friendly and the owners have been invaluable to me in giving me tips on having a dog in Barcelona. They also sell vegan dog food.
Ven Vegano is another vegan store near Sagrada Familia, and they sell a range of both specialty vegan products and dried goods like noodles and beans. They also have a room in the back where they sometimes have talks so keep an eye out for upcoming events! They also said dogs are welcome here.
Vegadiso's a vegan granel/bulk store in the city centre (Raval). Here you can find vegan items that I've not seen in bulk elsewhere such as vegan M&Ms and vegan white chocolate chips!
Cal Veganic's a vegan shop in the Poblenou area that sells vegan food and refills of vegan household products like washing up liquid.
If you're into raw food or healthy eating, or you just want to check out Barcelona's artisan vegan cheese scene, you have to check out The Living Food. An all vegan and mostly raw shop in hipster haven Sant Antoni, The Living Food sells every superfood, supplement, sauce, syrup and dried good you could want. Plus they make their own artisan vegan cheeses!
Beans & Market Stalls
If you've got a kitchen, you'll definitely want to check out the local markets!
Although there are some disgusting sights in there (unfortunately the meat stalls and vegetable/fruit stalls are usually not separated - although thankfully the fish stalls are often segregated into one smelly, awful area!), there are some fantastic fruit and veg stalls.
It's like a farmer's market that runs every day (except Sundays, usually), and they're very local.
Apart from La Boqueria, the famous market off Las Ramblas, most of the markets in Barcelona are not frequented by tourists. The city's put a lot (millions of Euros!) into regenerating the markets and they are fantastic.
I was advised by an elderly lady in my old building to always shop in the market because the fruits and vegetables are higher quality but also cheaper. In addition to fruits and vegetables, you'll usually find stalls that sell spices, nuts, dried beans, olive oils, bread and even Japanese and Middle Eastern stalls selling tahini, wasabi and the like!
But my absolute favourite part of the markets are the cooked bean stalls! You'll find cooked bean shops (legumes cuits) dotted around the city, as well as the stalls in the markets.
There, you'll usually find giant bowls of cooked chickpeas (giant and small), white beans, lentils and more, and you can buy as many grams of whatever variety of cooked beans you want.
They cook them fresh each morning. Sometimes they also sell cooked pasta, rice and quinoa. I made the best hummus I've ever eaten in my life using some of these beans and authentic tahini from a Lebanese supermarket.
They're brilliant if you want to pack in the flavour of beans cooked from scratch but don't have the time or energy to make them from dried (which is especially true if you're a tourist and trying to devote your time to exploring Barcelona rather than cooking dried beans!).
I'm lazy, so I've rarely cooked beans from dried in the past - but now that I've discovered these stalls, I can't go back to tins of beans (or glass jars of beans, as they are sold here), so consume carefully.
Supermarket Finds
There are a surprising number of accidentally vegan foods in supermarkets. It helps if you can read Spanish; if not, be sure to have a handy translation app on your smartphone (Google Translate is free to download)!
For example, I've found accidentally vegan versions of: hot chocolate mix for churro dipping, frozen churros, chocolate sauce for ice cream and caramel sauce.
A few items you might want to try: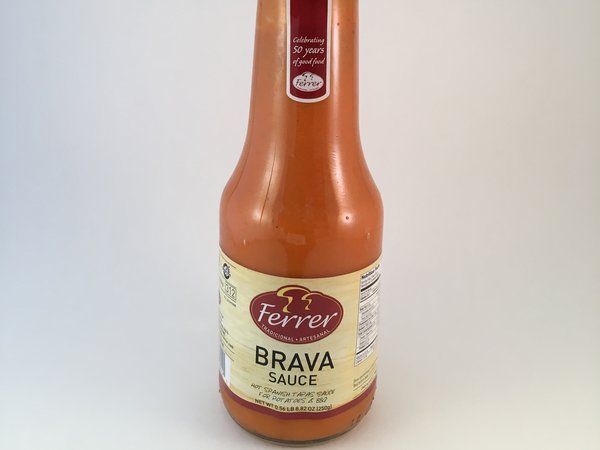 Patatas bravas sauce (this is a famous fried potato dish, served at tapas restaurants and usually with brava sauce and aioli - which usually isn't vegan). It's so good on boiled or roasted potatoes but even just on some bread!. Here's a recipe for vegan patatas bravas. You can also order it on Amazon if you want to taste it before your trip. Buy it here.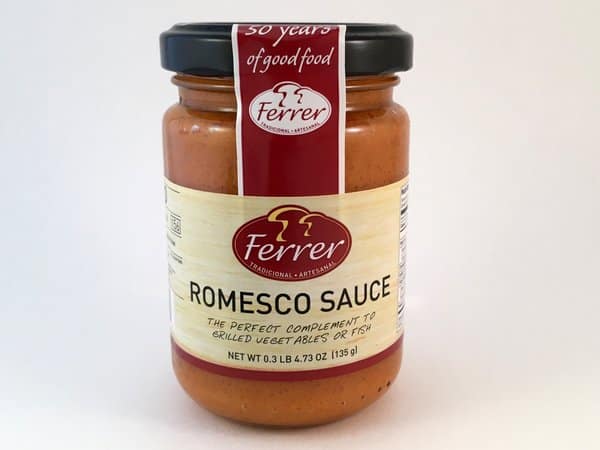 Romesco sauce is a traditional Catalan sauce made of almonds and roasted red peppers. It's delicious on roasted vegetables or bread and is traditionally eaten with calcots (spring onions) at a spring onion barbecue. Here's a romesco sauce recipe if you want to make your own! Or you could order it on Amazon to try before your trip. Order it here.
Gazpacho: I remember years ago people telling me how everyone in Spain beats the heat by eating this chilled tomato soup. I didn't see how this could compete with air conditioning, but after living in Barcelona, I get it. Ok, it doesn't quite beat air conditioning, but it really is refreshing! Most gazpacho is vegan -- it's just tomatoes, bell pepper cucumber, bread, olive oil and vinegar blended.
Horchata, a drink originally from Valencia in Spain and made from chufa, or tiger nuts (many brands add milk but this one's suitable for vegans). If you've never tried it, you should -- it's delicious!
Granel/bulk stores
One thing I love about Barcelona is how manu bulk (granel/gra) shops they have! You'll find them all over the city, and there's a real mix. Some are old-school, traditional stores that have been around for many decades -- since bulk shopping has long been a part of life here. Others are shiny new stores inaugurated in the last few years as the zero waste movement picked up steam. You'll also find prices vary a lot. They're in most neighbourhoods so take a look around where you're staring.
Here are a few I particularly like:
Gra de Gracia
If you're staying in Gracia, you're in luck. Check out Gra de Gracia, a bulk store with an excellent vegan labelling system. It is pricier than some other bulk stores, so I tend to go here for special vegan items they stock, like vegan Nutella in bulk (made with local hazelnuts), vegan bulk cookies and their tahini, which is the best.
It's a shop that sells dried foods in bulk, without any packaging, to reduce waste. They sell all sorts of rices, flours, teas, sugar, nuts, seeds, spices, pastas (of all varieties - kamut, quinoa, lentil etc), and more.
The shop is beautifully arranged and the containers of food look like a work of art! Just grab some paper bags and fill with as much of you want and when you get to the till they'll weigh and label them.
Perfect for getting a little bit of that one spice you need for just a single dish. I always hate buying a big jar and wasting.
Especially useful when you're on holiday and might only use a little bit over the course of your trip.
Useful tip: vegan is vegà in Catalan. They have a lot of vegan cookies and mueslis and the ones that are vegan are labelled vegà. They also stock some vegan cheeses.
Gra de Gracia
Address: Carrer de Puigmarti 11
Phone: +34 932 10 28 46
Website: https://gradegracia.cat/
You probably won't end up here unless you're staying in Gracia, but this place (near metro Joanic) is awesome because the prices are good, the owner is very lovely and helpful and they have quite the selection of beans! They have local beans, rare and unusual artisan beans and multiple varieties of the usual beans like chickpeas. They also have an enormous selection of bulk pastas (hence the name), flours, spices, nuts and more. They don't label things as vegan but if you ask the owner he will check ingredients for you. Most things they sell don't require labelling though as they tend to just be ingredients.
El Safareig is a long-standing bulk store in Gracia that sells all kinds of household cleaning products in refills/bulk, like soaps, detergents and even essential oil refills! I'd love to see better vegan labelling, however.
Vom Fass is a bulk store in Gracia specialising in liquids! They sell bulk oils, vinegars and alcohols. They even have a section of bulk oils for skincare. The owner is great to talk to and will regale you with facts and stores while refilling your oil.
Vegan shoes, makeup & more
Vegere Vegan Beauty in Gracia is Barcelona's first vegan beauty parlour, using only vegan products with their massages, nails, facials, make-up and hair removal.
VeGala Vegan Beauty is a vegan cosmetics shop in Gracia, which sells vegan and cruelty-fre makeup, shampoo, nail varnish, soap and soy candles. VeGala also offer makeup appointments.
Gata Organic Cosmetics is a vegan-friendly organic makeup store in Raval. The owner, who's vegetarian herself, is very knowledgeable about which products are vegan and will give you lots of advice--she's a gem!
Amapola in Gracia is an all-vegan shoe shop, which also sells vegan bags, belts and more. It's also dog-friendly!
Nae vegan shoes is the flagship store of the Nae shoe brand, and they're less expensive in-store than buying online. They make vegan and sustainable shoes in Portugal and use some of the coolest sustainable materials like Pinatex (vegan leather made from pineapples) and recycled PET (recycled plastic!)
Another place to find vegan cosmetics, bags and t-shirts are at the monthly vegan fairs in Barcelona, which take place monthly on a Saturday or Sunday in the Born neighbourhood. Check on Facebook for the next Feria Vegana: https://www.facebook.com/FeriaVegana/. You'll find around two dozen stalls selling mainly food but also bags, t-shirts and cosmetics.
phrases
Vegan Phrases You Need to Know
Here are some Spanish phrases you need to know before your trip:
I'm vegan (male/female). Yo soy vegano/a.
I don't eat meat. Yo no como carne.
Does that contain cheese? ¿Contiene queso?
Does that contain gluten? ¿Contiene gluten?
Does that contain soy? ¿Contiene soja?
Is it raw? ¿Es crudo?
Soymilk Leche de soja
Gluten-free Sin gluten
Without ham Sin jamón
Without lard Sin Manteca
Vegan Vegano/a (vegà in Catalan)
*Why Spanish? What language do I need to know in Barcelona? Barcelona is the capital of Catalunya, and as such locals speak Catalan. It is not, as some mistakenly believe, a dialect of Spanish; it is a language which developed out of Latin and I personally see more similarities with French than Spanish.
While some of the older generation may not be completely fluent in Spanish, most people under the age of 50 are fluent in Spanish, and learn it in school. There are political sensitivities around language use and Spanish vs Catalan.
However, there are many immigrants from other parts of Spain and Latin America (not to mention the rest of Europe and the world) living in Barcelona, who speak Spanish. So, for this reason, I've given you the translations in Spanish, rather than Catalan, as you're more likely to be understood by both locals and immigrants alike.
freebie
The End + Your Freebie!
Hope you've found this helpful! I've tried to condense as much information on vegan Barcelona as I could in one post, but of course my guidebook is much more extensive.
Click here to buy my Barcelona vegan guidebook.
As a thank you for reading this far, I'd like to offer you a free sample from my Barcelona Vegan guidebook. Click here to grab your free sample!
Note: This post was originally published in July 2015 but I update it every 6 months or so with the latest and best vegan restaurants in Barcelona, and information for Barcelona visitors. This is not meant to be an exhaustive guide (see my book for that!) but an overview and as much info as I could squeeze into a blog post.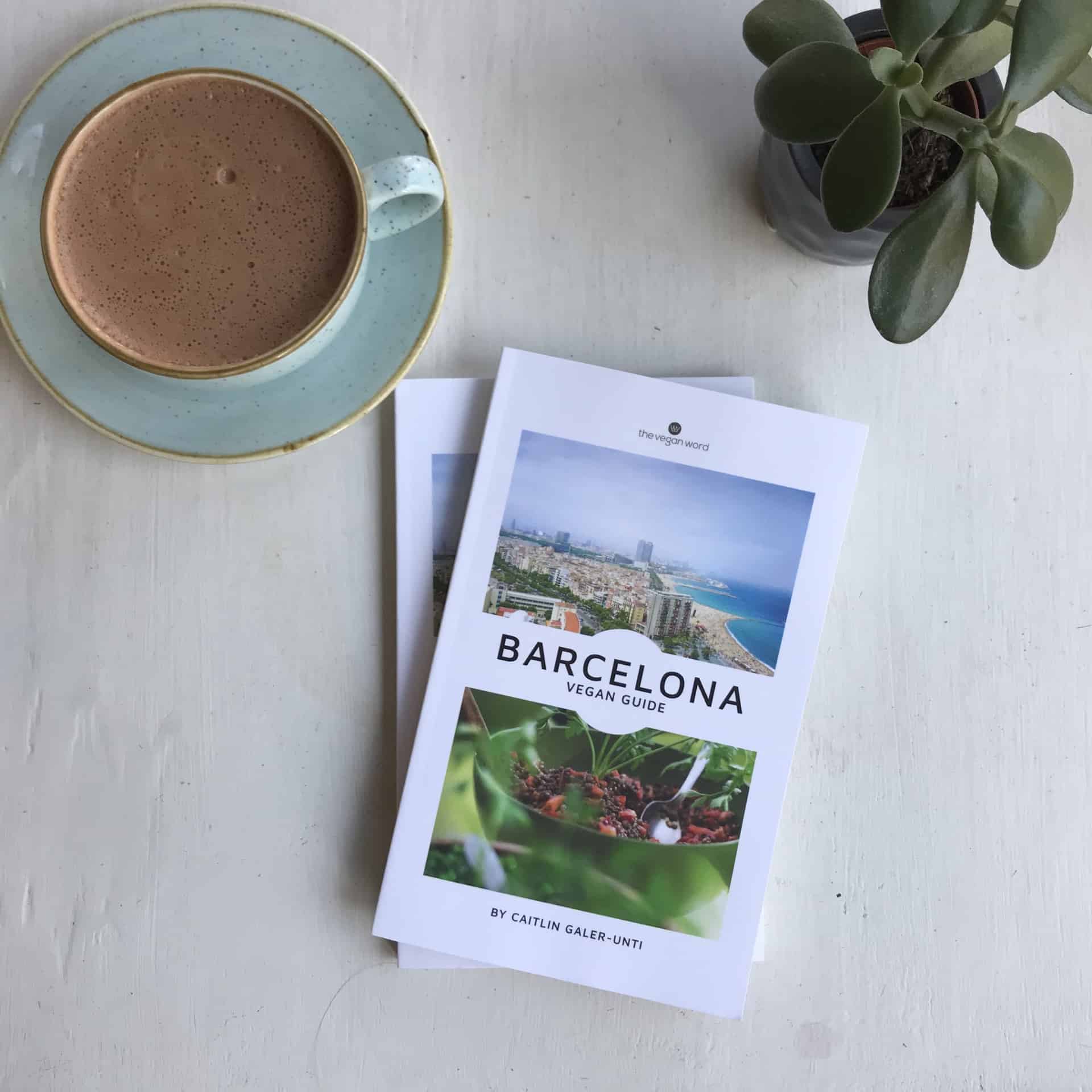 Want to stay in a vegan hotel on your next trip? Read about the best vegan hotels worldwide here.
Find all my vegan travel tips here, and learn more about vegan travel here.
As an Amazon Associate I earn from qualifying purchases.