Vegan designer bags are becoming more and more popular, but how can you be sure it's fully vegan? Hermès recently announced the launch of a mushroom leather bag that isn't even vegan (though it was reported as a vegan bag in the press) – it has calfskin trim. Yikes!
As a longtime vegan of over a decade, I know it can be tricky finding a high-quality, cruelty-free handbag, so I put together this list to help you find a 100% vegan designer bag.
My top picks of best vegan designer bags:
---
---
---
---
---
---
---
If you're looking for designer bags, non leather ones aren't always the easiest to come by but more and more are available these days.
So, which designer bags are vegan (remember: the previously mentioned Hermès mushroom bag is not actually vegan)?
In this article, I'm outlining some of the best vegan luxury bags from 100% vegan brands, as well as vegan options from some mainstream designers.
The best vegan handbags are not just animal product-free but also eco-friendly and treat workers fairly too, so I've noted the sustainability and labour credentials of brands where applicable.
Read on to see the best vegan bags.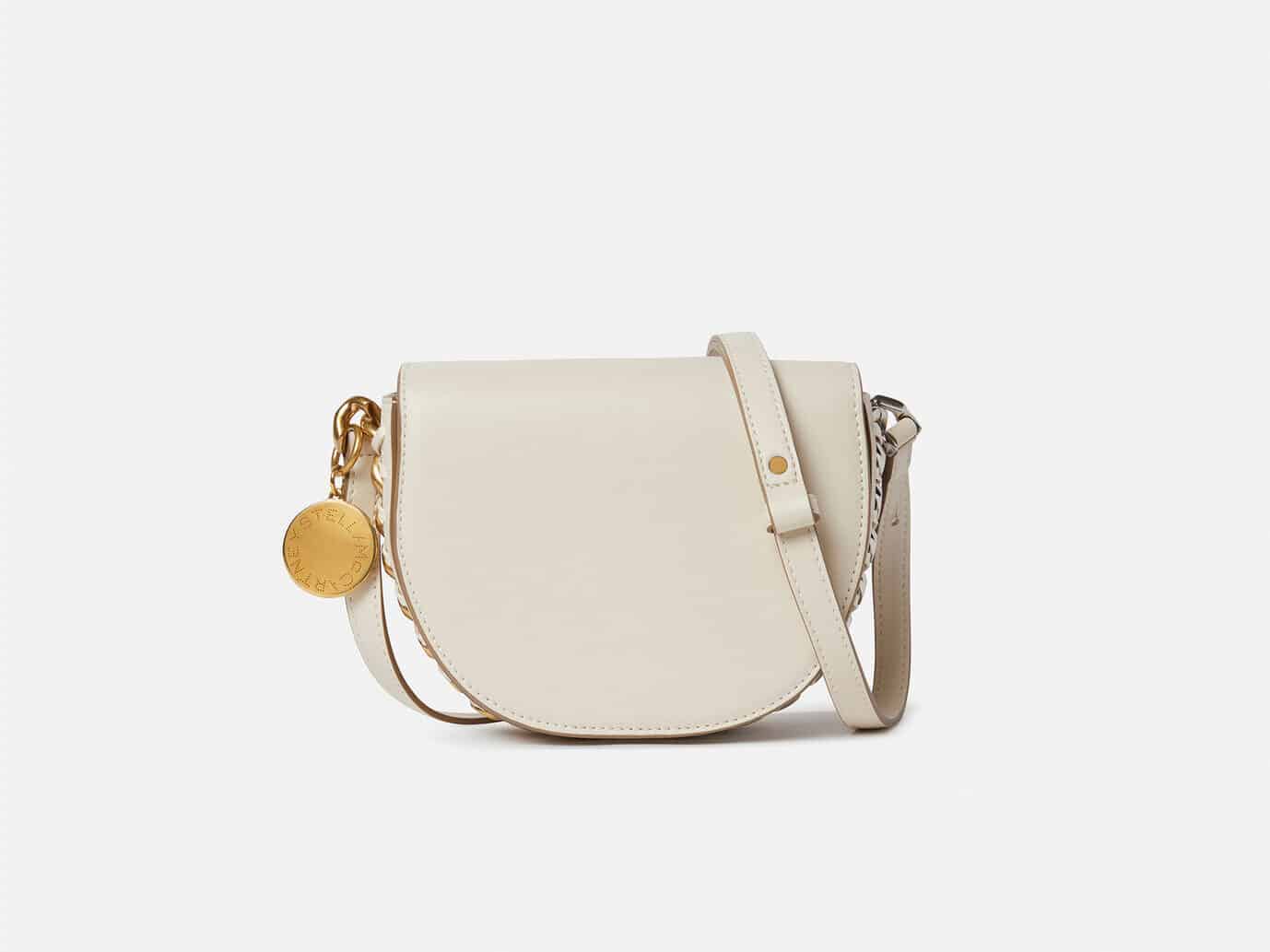 Features: vegan-friendly company
My top pick: Falabella tiny tote
Stella McCartney is synonymous with vegan designer handbags, as arguably the biggest mainstream designer who eschews leather and therefore the most famous of all luxury vegan handbag brands.
While her entire collection isn't vegan, because she uses wool and silk, as a lifelong vegetarian all of Stella McCartney's bags and shoes are vegan and crafted using cruelty free vegan leather.
Stella McCartney vegan handbags command a high price; that's because they combine luxury, excellent craftmanship and vegan style.
Of Stella McCartney's luxury vegan handbags, my pick is her iconic Falabella bag tiny tote (pictured bottom photo). This shoulder bag has become a classic, and Rihanna, Anne Hathaway and other celebrities have sported it.
The Falabella vegan leather handbag is made with vegan leather made of 70% recycled polyester and lined with 100% recycled polyester, and the strap is the signature diamond-cut chain strap.
There are many variations of the Falabella vegan leather tote bag, but my pick of the vegan luxury handbags is the tiny tote.
One thing to note is that with the large Falabella tote, like many other big tote bags, it can be easy to "lose" items inside the cavernous bag, so I recommend putting essentials in a small zippered pouch.
Or go for a smaller designer vegan bag like the tiny tote or a crossbody.
In my opinion, these are the best luxury vegan handbags if you want a bag from a well-known name.
See more Stella McCartney bags here.
---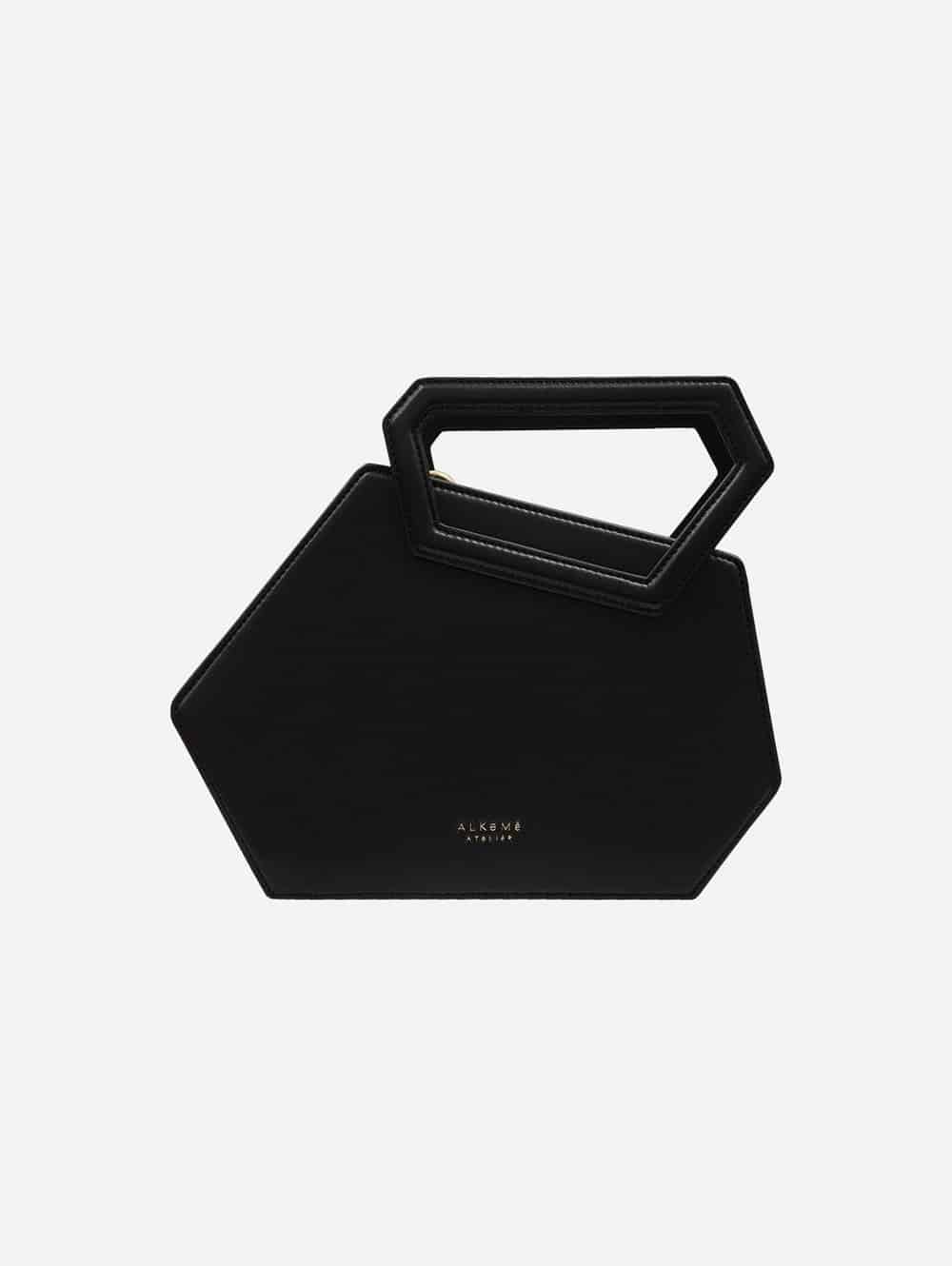 Features: 100% vegan, uses sustainable materials
My top pick: Water moon satchel
Alkeme Atelier's luxury vegan bags aren't just beautiful, but good for the planet.
Their vegan leather designer bags are made with eco-friendly faux leather such as cactus leather, bamboo and grape leather, made using waste from the wine industry.
They even make their own leather, Alkeme vegan fiber to use in their designer vegan leather bags, which is made with 70% recycled materials and weighs 1/3 of leather's weight. It's also water- and scratch-resistant and made to last longer than animal leather.
My pick is the Water moon satchel (pictured on right above), an eye-catching fan design with circular, gold-toned handles. It has a zipper closure and an interior pocket, and comes in 8 colors, including an eye-catching yellow hue.
The Water Moon satchel probably won't be your everyday bag (though who knows!) but it's perfect for when you want to stand out.
See more bags from Alkeme Atelier.
---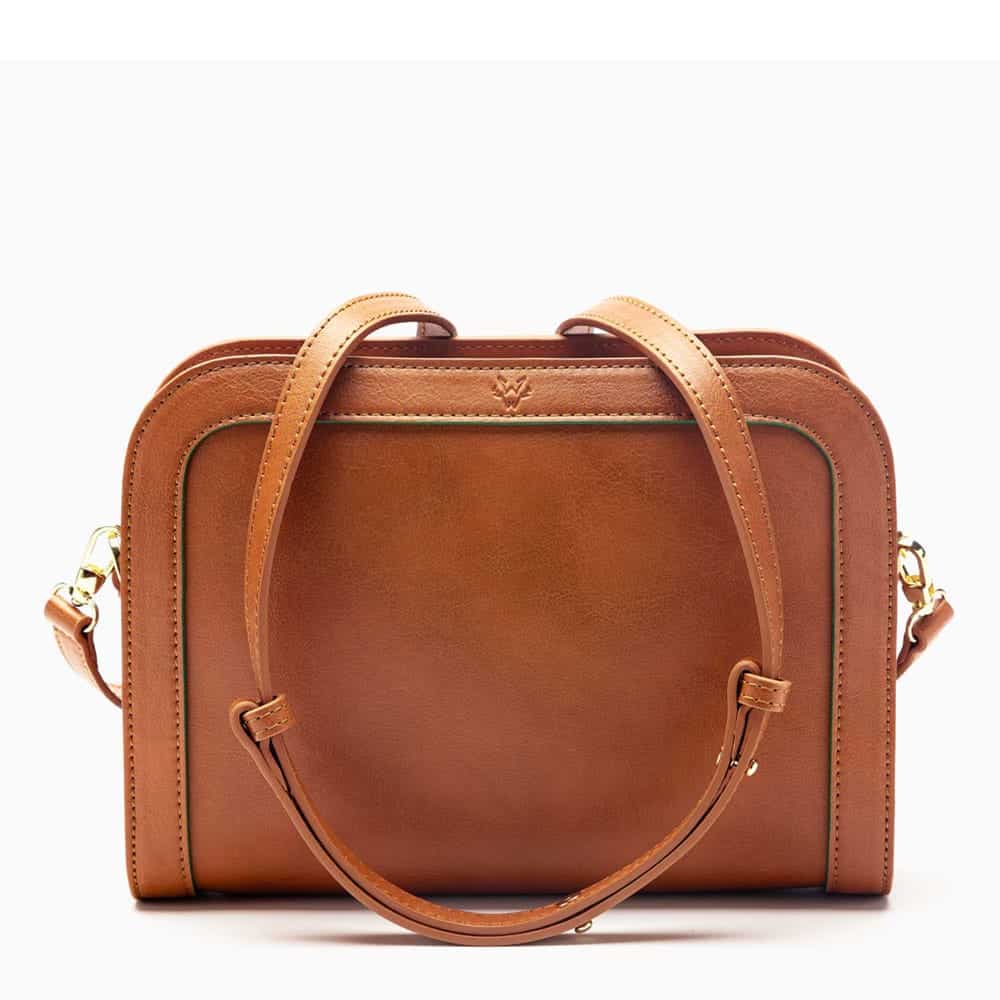 Features: 100% vegan company
My top pick: Maddox vegan leather tote
Watson & Wolfe make non leather designer bags in classic styles. If you've ever looked at high end vegan bags and just wished for one in a style that will never go out of fashion and work with any outfit, Watson & Wolfe is the brand for you.
My top pick of luxury vegan tote bags is the Maddox tote in black with striking cobalt blue accents. It's large enough to make the perfect work bag, as it will fit your 15 inch laptop.
It's made of premium Italian vegan leather and lined with fabric made of recycled plastic bottles. There's an exterior slip pocket and an interior zippered pocket.
Or, if you're looking for vegan designer crossbody bags, they have classic-style crossbody options too.
If you want an out-there statement piece, then this isn't the brand for you (try Alkeme Atelier's vegan luxury purses), but if you have a classic sense of style, Watson & Wolfe bags will suit you perfectly.
See more styles from Watson & Wolfe.
---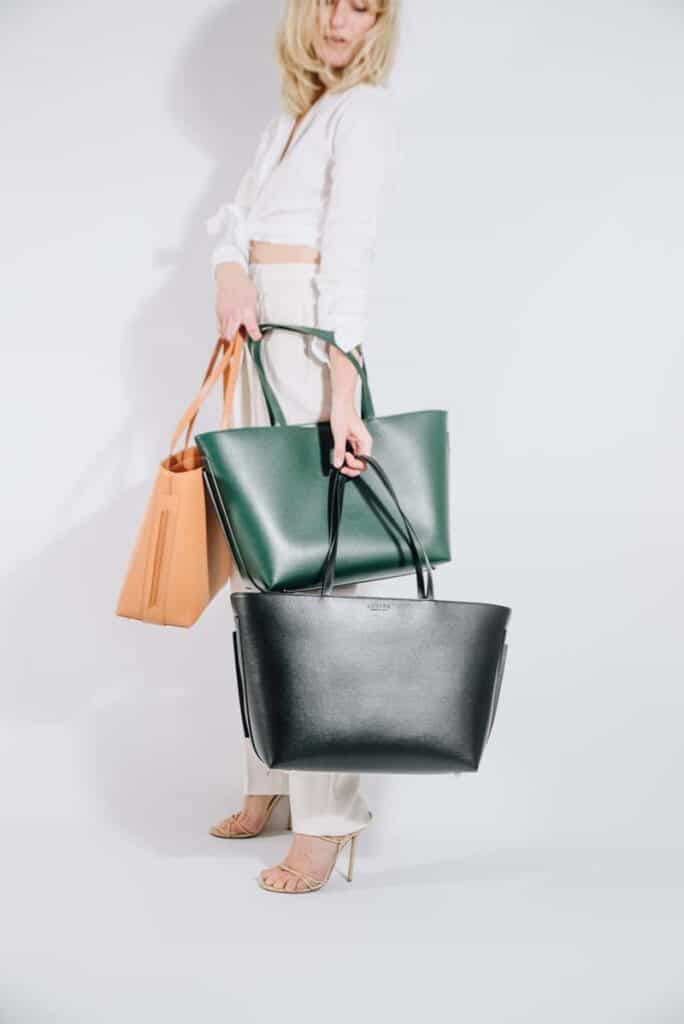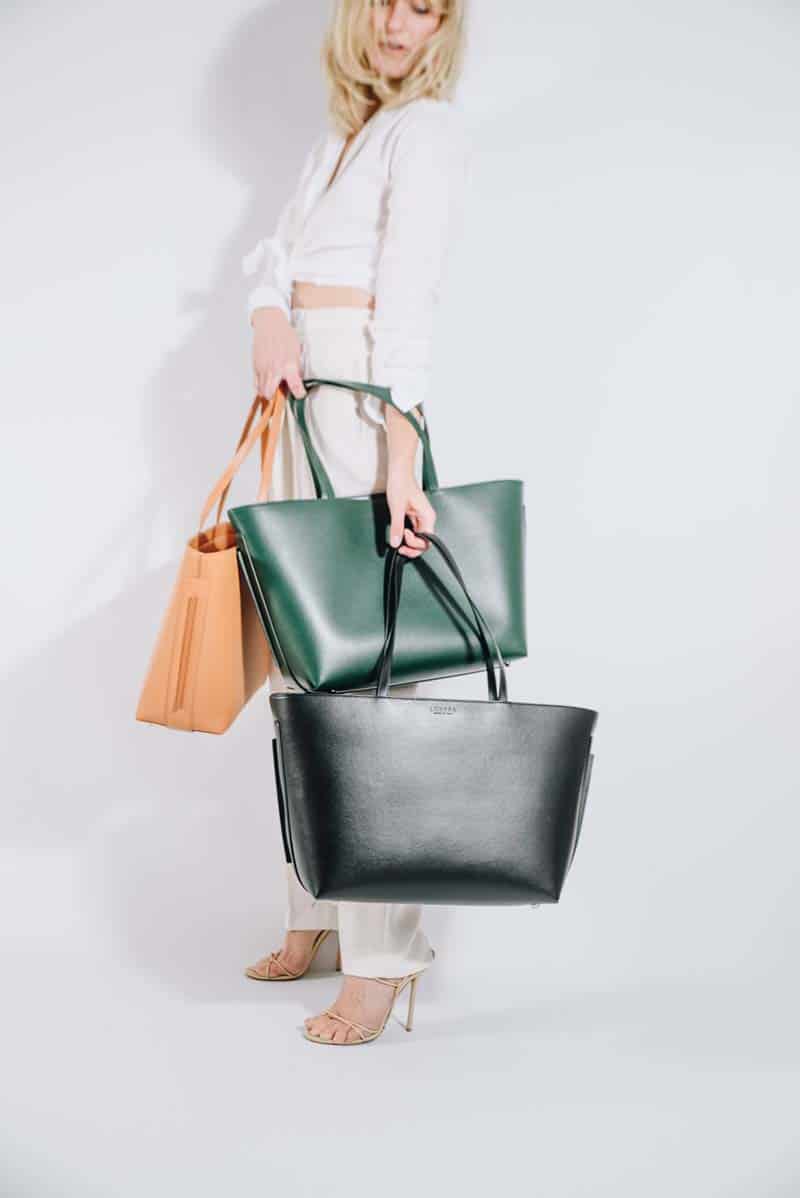 Features: 100% vegan company, uses sustainable materials
My top pick: Zaha apple leather vegan purse
Shaker make vegan designer purses from innovative sustainable materials like pineapple leather, apple leather, cactus leather and mango leather (made from waste from the food industry).
My pick is the Zaha bag (middle photo), which can be worn either as a belt bag or a crossbody, so you can easily transition from daily errands to going out.
It's made of eco-friendly apple leather, a waterproof Italian vegan leather, and the interior compartment fits the largest iPhone. I love the pink shade.
Every bag is named after a woman who has changed the world, but is less well known, and they post each woman's story on their Instagram page. I love how they shine a spotlight on history-making women in this way.
My pick is the Zaha apple leather bag (middle photo). It's a convertible bag that can be worn either as a belt bag or shoulder bag.
It's pretty small so it's great if you want something compact to carry your essentials, but if you need a bag that will fit a laptop or notebook, it's not the style for you.
---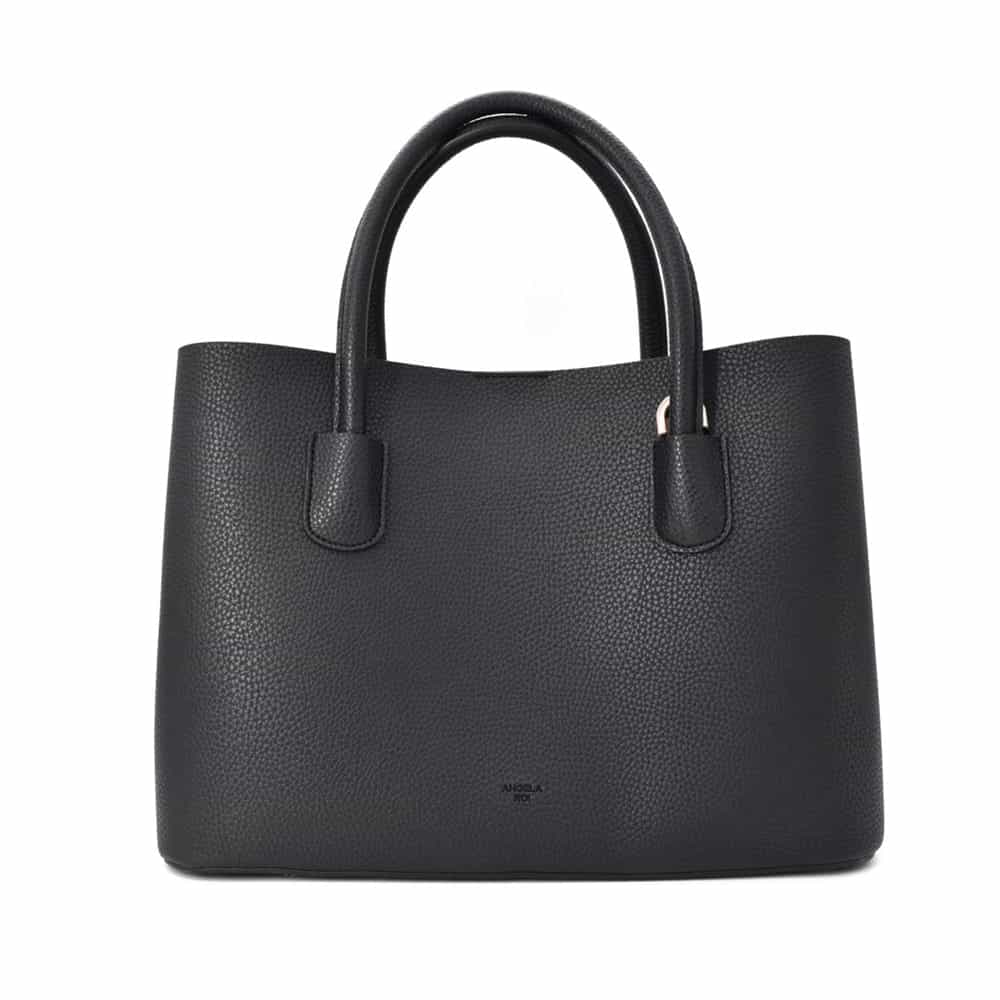 Features: 100% vegan company
My pick: Cher tote
Angela Roi believes that you shouldn't have to sacrifice personal style for your values, and their designer vegan purses are proof.
My pick is the Cher tote (lefthand picture), a timeless tote in black pebble textured vegan leather with a top magnetic closure and interior zippered pocket.
It would work with any outfit, whether for work or at night!
The only thing I'd make different about it is that it closes with a magnetic closure, rather than a zipper.
Living in a city with pickpockets, I don't like carrying valuables in bags that don't have zip closures, particularly ones open on top, though the bag does at least have an interior zippered pocket. Depending on where you live it might not be an issue for you though.
Click here to see more styles from Angela Roi.
---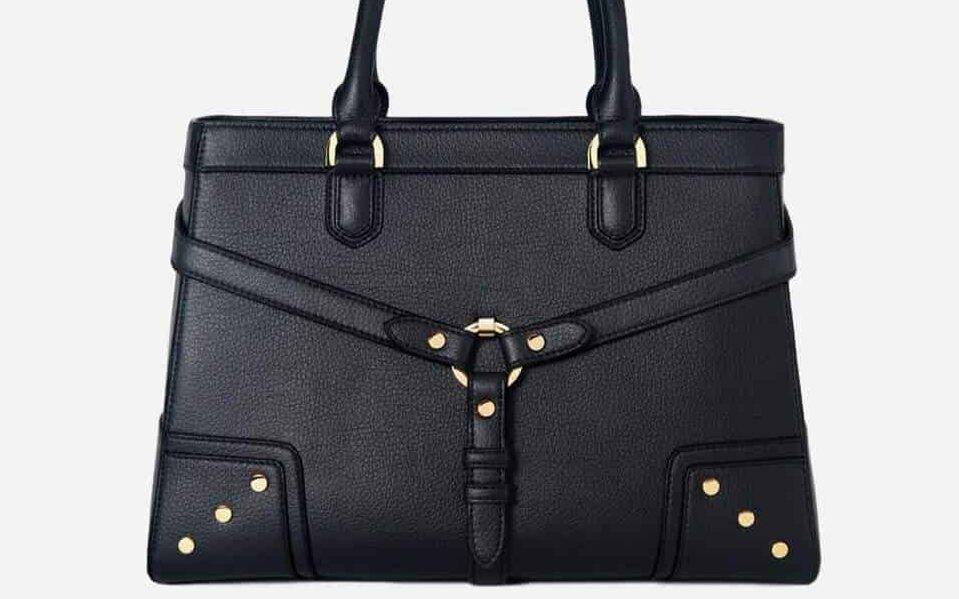 My top pick: Stockholm bag
Looking for vegan luxury brands based in the US? Ava Carrington is an LA-based brand founded by Swedish sisters Sofia and Helena Mattsson in 2019. They wanted to merge the best of luxury fashion and ethical practices.
Their aim was to create the best vegan leather bags that were made with high quality vegan leather that was eco-friendly and also lightweight, stain-resistant, scratch-resistant and water-resistant.
Their luxury vegan leather bags have inner linings made with recycled plastic bottles and hardware is 24k gold plated.
My top pick is the Stockholm vegan leather handbag, which comes with a removable shoulder strap so you can decide how to carry it.
It also has a phone pocket, pen pocket and interior zippered pocket so you can keep your things organised. Ava Carrington has a very limited range – just the Stockholm and a crossbody bag – so if you want a different kind of bag you'll need to look at another brand on the list.
Click here to see more pictures.
---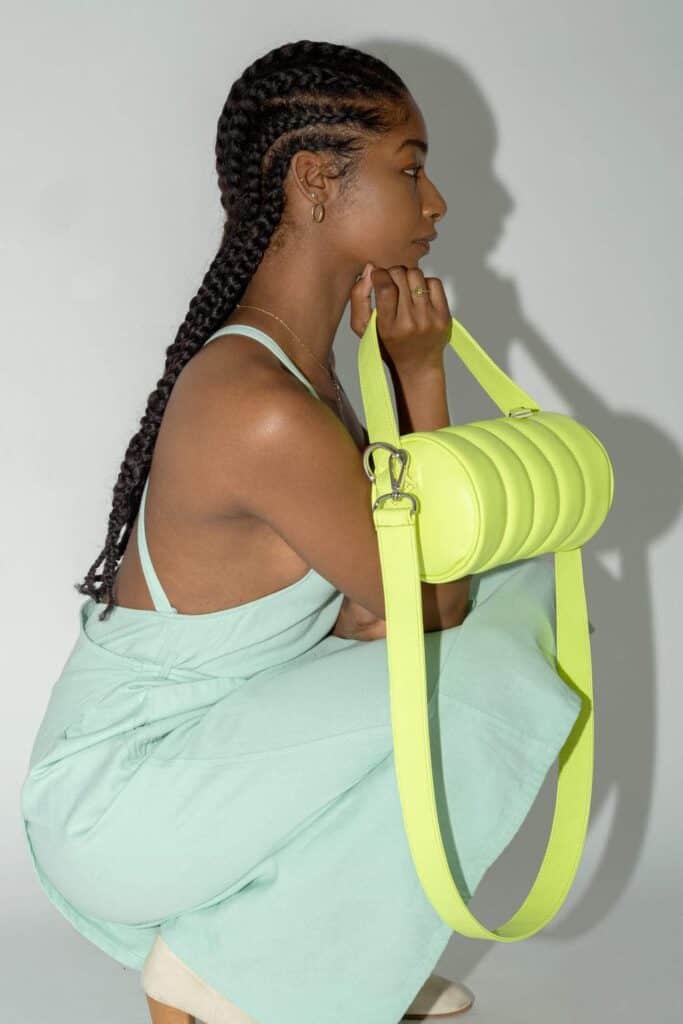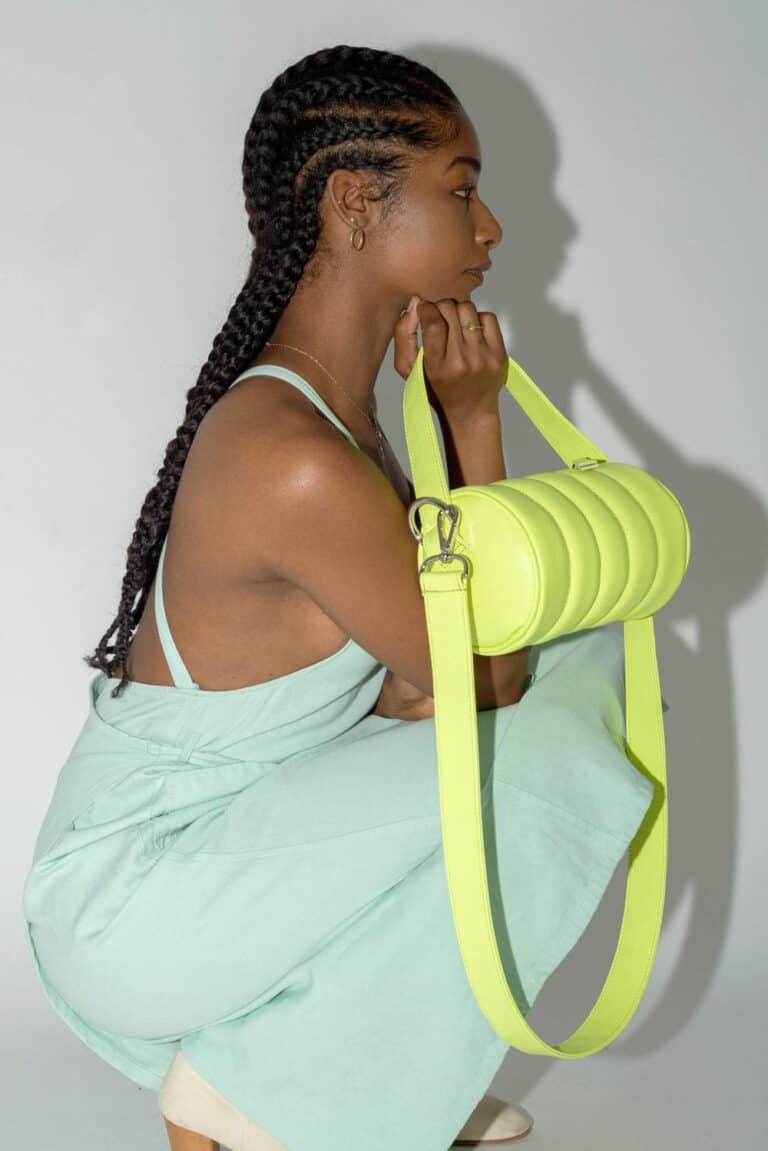 If you're searching for designer bags not made of leather, Hozen is one of the new generation of vegan leather purse brands based in California. Their vegan high end bags are known for the colourful designs and playful shapes.
This vegan handbags designer's name means 'conservation' in Japanese. They use eco friendly materials for their cruelty free luxury bags such as Pinatex (vegan leather made from pineapple waste) and biopolyoil (grain based) vegan leather.
The inner linings of these designer vegan handbags are made with recycled plastic and organic cotton. Even the zippers and thread are eco friendly and made with 100% post consumer recycled plastic..
The faux leather designer bags are produced in Los Angeles in a fair wage factory and 10% of their profits are donated to Mercy for Animals.
My pick of their vegan leather designer handbags is the quilted Desserto vegan Cactus leather mini duffle bag in grasshopper. With its bright yellow hue, it's not suited to flying under-the-radar, but perfect if you want to stand out.
It comes in other shades if you want something more muted.
Click here to see more bags from Hozen.
---
Nanushka's been making non leather luxury bags since they started – they also make vegan leather trousers and dresses too. While they're not a vegan brand (they use wool in some clothing), they don't use leather.
If you're looking for a well-known name in design who happens to make vegan friendly designer bags, Nanushka's for you, but if you're looking for an all-vegan designer, I'd go for Alkeme Atelier or Watson & Wolfe.
Nanushka's Anja Baguette ruched bag is sure to turn heads.
Click here to see more faux leather luxury bags from Nanushka.
---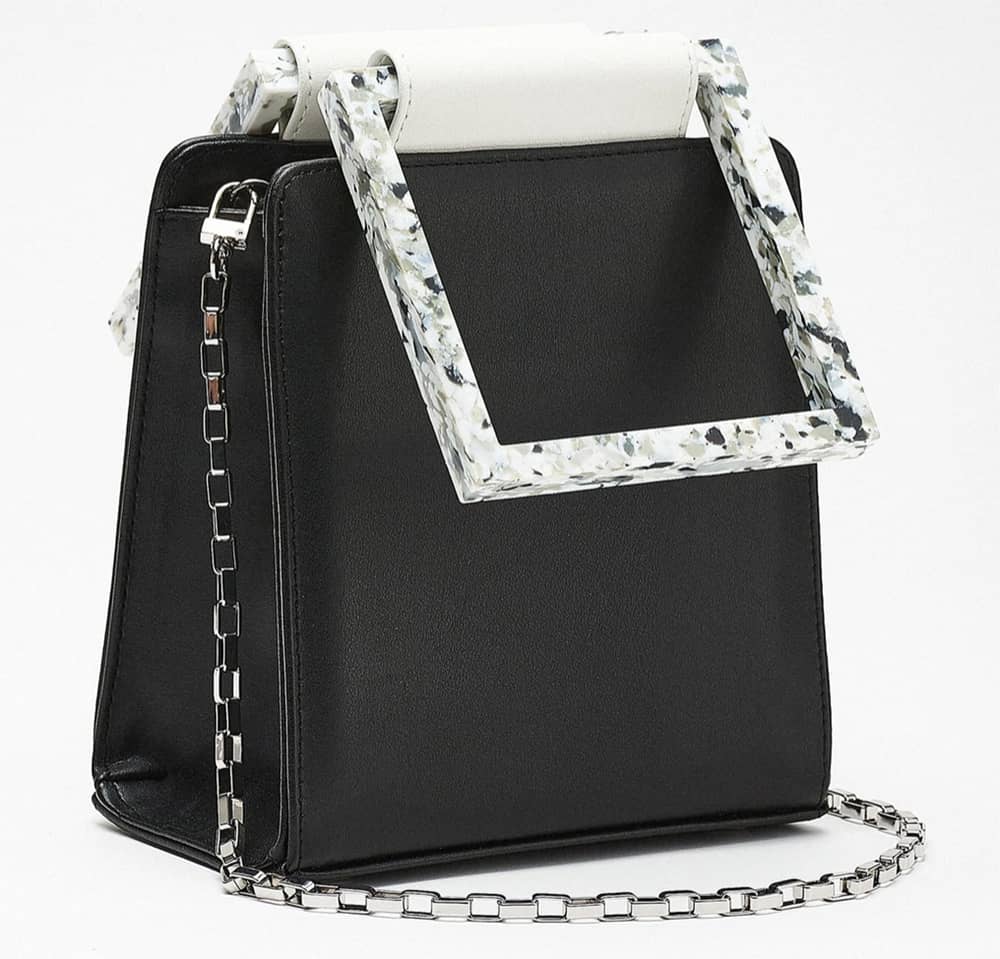 Features: 100% vegan company
Mashu handcrafts their cruelty free handbags in Greece and uses eco-friendly materials to their vegan leather luxury bags.
My pick of their high end vegan purses was designed during lockdown, the Cassiopeia bag (pictured on the right).
This super sustainable bag is made out of white cactus leather, and lined with Mashu vegan suede, made from recycled plastic bottles and recycled polyester.
It has a unique handle inspired by the shapes of the natural world, and a removable interior zippered pouch to hold your valuables. It also comes with a removable crossbody strap.
It's quite a large bag so if you don't have lots of carry you might prefer something smaller like one of Mashu's crossbody bags instead.
Click here to see more bags from Mashu.
---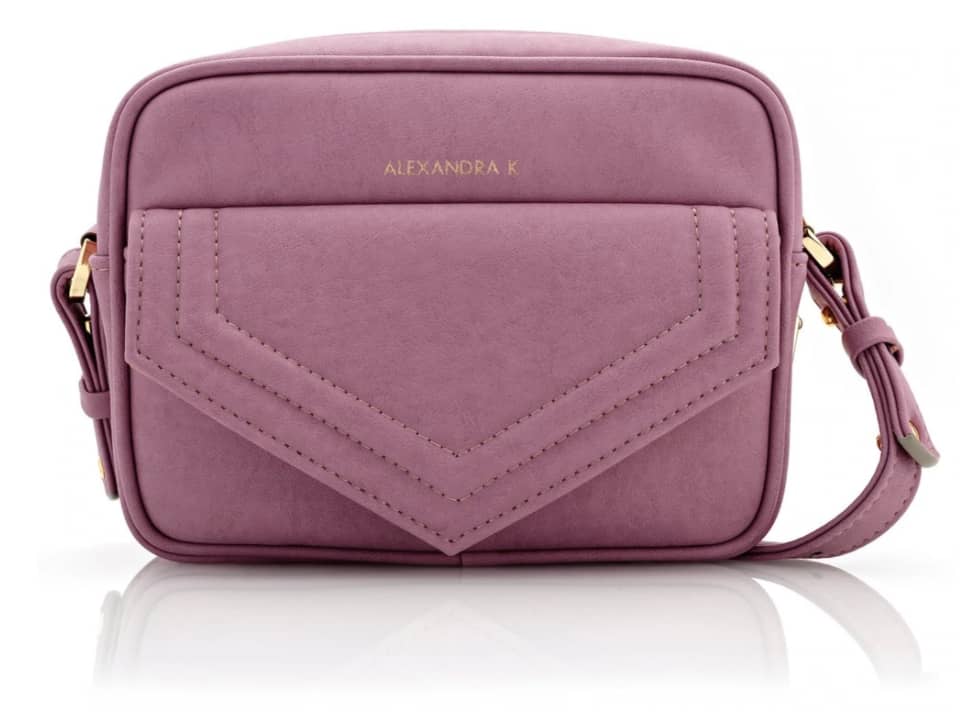 Alexandra K is a PETA award winning vegan luxury brand based in Poland. They've won awards for their luxury vegan purses and also an award for their vegan leather jacket.
My pick is the black shopper (pictured on the right), which is made of grape leather. This innovative vegan and sustainable material is made of leftover waste from the wine industry.
The inside of the bag is lined with fabric and contains a slip pocket, and the top fastens with side ties or a lobster closure.
If you need a smaller bag, prefer a designer vegan crossbody bag (there's nothing for comfort like a crossbody!), or like me you want a bag with a zip top closure for security for day-to-day use, I recommend the muffin camera bag (pictured on the left). It's made of Italian corn leather, another vegan and eco-friendly material.
Click here to see more styles from Alexandra K.
---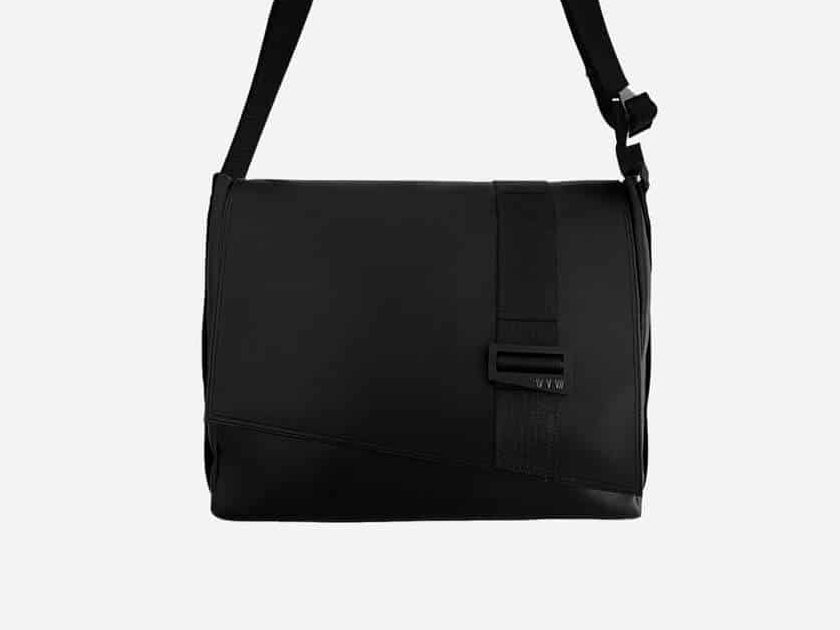 11. BEDI (formerly 457 Anew)
Features: vegan
My top pick: Hawken Desserto cactus leather bag
BEDI is a Canadian brand making faux leather designer bags and outerwear in a sustainable way.
Started by the founder of Matt & Nat (one of the most famous vegan handbag brands), BEDI is his new venture, focusing on slow fashion and Canadian production.
BEDI's high end vegan handbags are made using innovative and sustainable materials like fishing nets pulled from the ocean, scrap seatbelts and Desserto vegan cactus leather.
Find my full guide to vegan cactus leather bags here.
All items are designed and handmade in Montreal, using local hardware. Their packaging is plastic-free.
My top pick is the Hawken Desserto cactus leather messenger bag. All of BEDI's bags are black and quite plain in style.
They're ideal if you're looking for an eco-friendly vegan bag that's utilitarian and will go with everything, but if you want an eye-popping colour, check out Hozen or Alkeme Atelier instead.
Click here to see more styles from BEDI.
---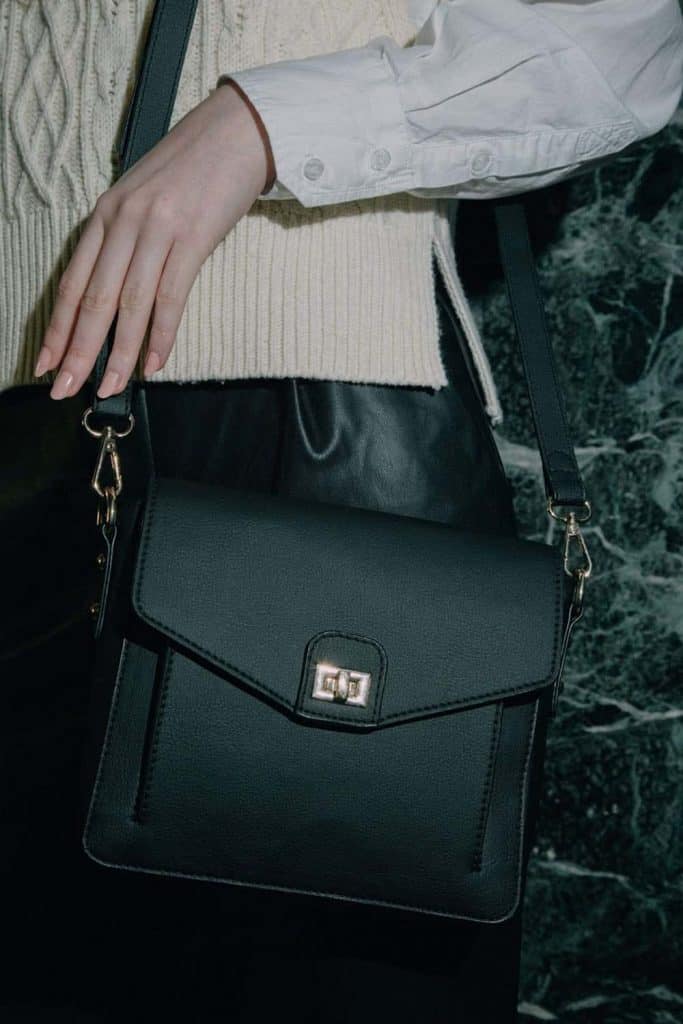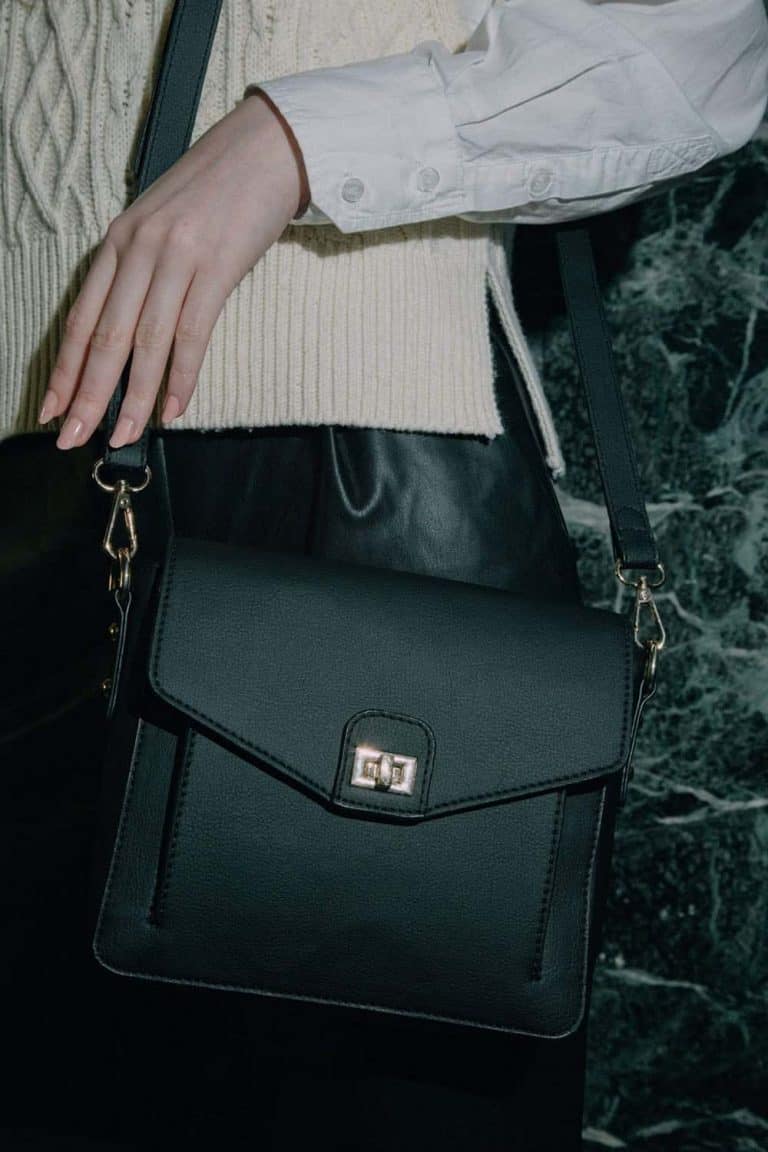 Thalie makes some non leather designer handbags (though not all their bags are vegan, as some are made of upcycled leather). They launched in Paris during the March 2020 lockdown.
Their first vegan collection is made with Desserto, vegan cactus leather. This innovative material is sustainable, with low carbon emissions and low use of land and water.
It's an OEKO-TEX certified organic material, made using organic cacti, and is highly durable, resistance to tears and scratches and isn't susceptible to rotting or cracking in water or with humidity, as animal leather does.
My pick is the Flore Desserto vegan cactus leather crossbody bag in green. They are new and the collection is fairly small, with just three styles in different colours.
If you're looking for a wider range or different styles of sustainable vegan bags, check out the apple leather and pineapple leather bags from Shaker.
Click here to see more pictures.
---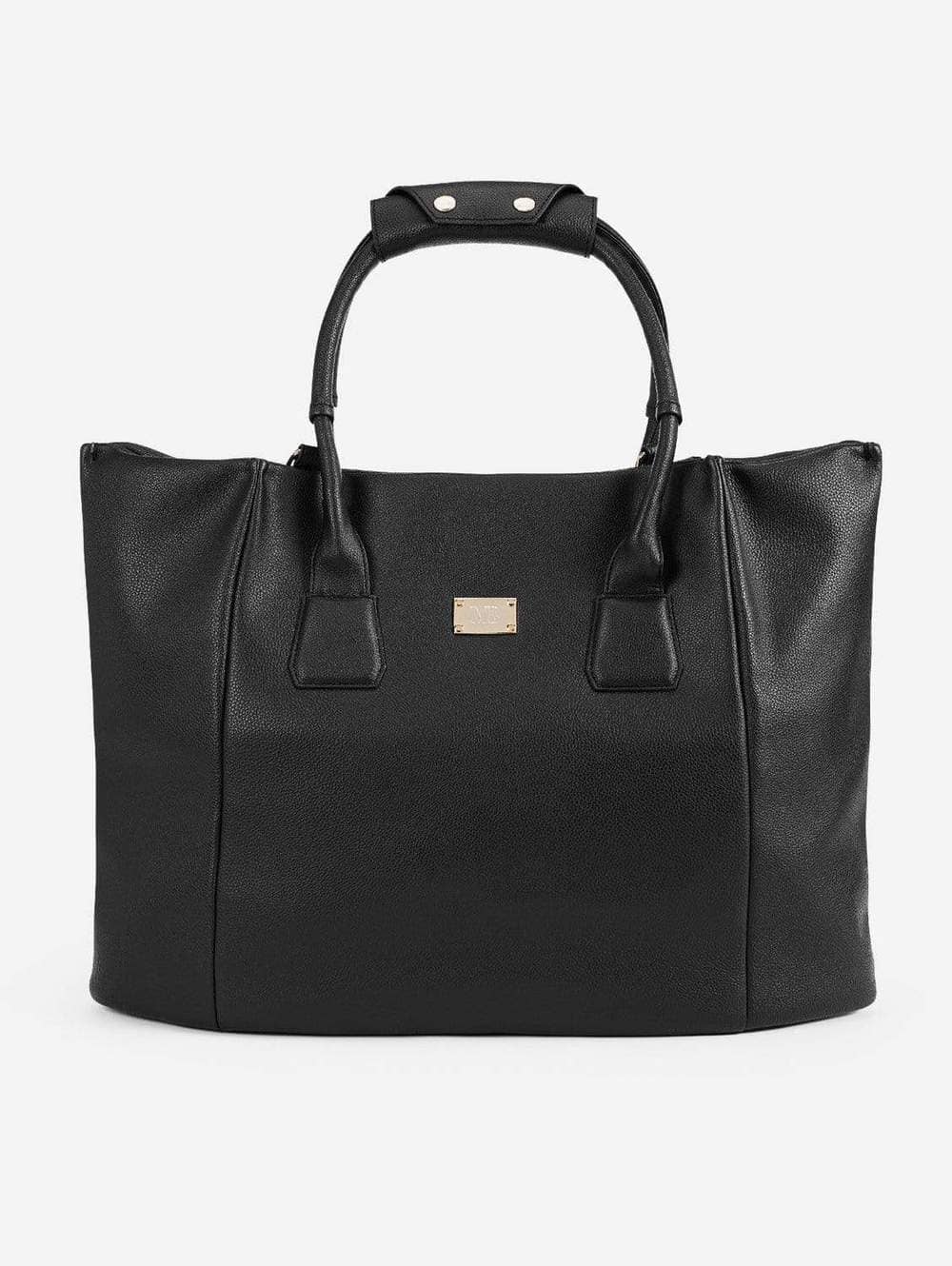 My top pick: Angel extra large shopping bag
Melina Bucher's luxury vegan leather handbags that aims to combine luxury, design, ethics and sustainability. The designer, Melin Bucher, teaches sustainable fashion management at universities in Heidelberg and Reutlingen.
These cruelty free designer handbags are also sustainable, and they aim to produce their bags in a circular process.
The main material, which outperforms animal leather, is a cotton fabric backed with a thin PU and vinyl layer, which is soft and also durable. The inner lining of these high end vegan leather bags is GOTS certified organic cotton.
The brand only uses OEKO-TEX and GOTS certified suppliers, meaning they meet the highest labour standards. The printing materials, paper and even furniture in the brand's headquarters are vegan.
My pick is the Angel extra large vegan leather shopping bag. The bag comes with a detachable padded pocket that will fit a laptop up to 15 inches, so it's great for a work bag.
In order to fit a laptop and more, though, it's a really big bag, so if you don't need to transport your laptop I'd go for something smaller (they also have a crossbody/clutch).
Click here to see more bags from Melina Bucher.
---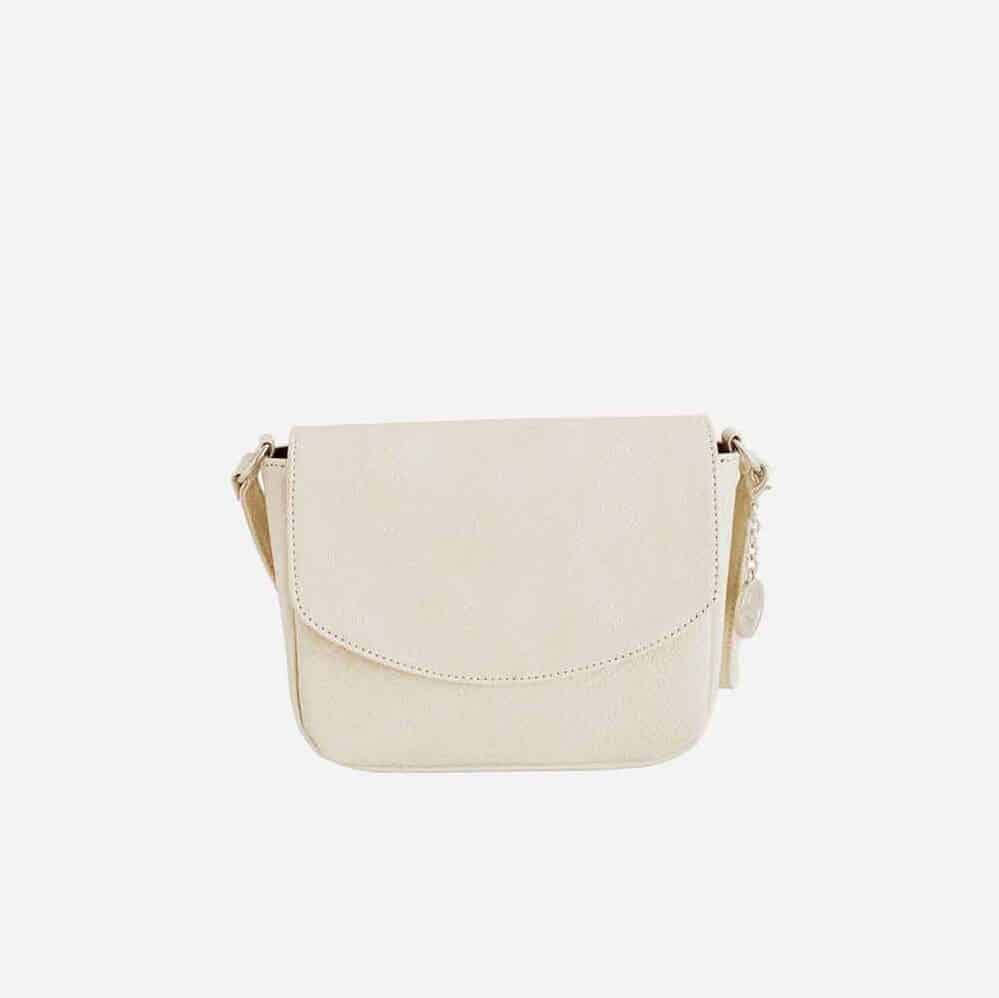 Features: 100% vegan company, bags made in LA
My top pick: Didi clutch in cream Python
Svala makes cruelty free designer bags out of European vegan materials, and makes them in Los Angeles where all workers are treated fairly.
Their vegan leather purses are classic and won't go out of style, and are lined with cotton and recycled polyester.
My pick is the Didi clutch in python vegan leather (pictured on right). It can be used as a clutch or a shoulder bag with the detachable strap. It has an interior pocket to store ID and cards, and a hidden magnetic closure.
It's a small bag, so if you need something larger you might prefer one of Svala's shoulder bags or totes. You can find my full guides to vegan shoulder bags here.
Click here to see more bags from Svala.
---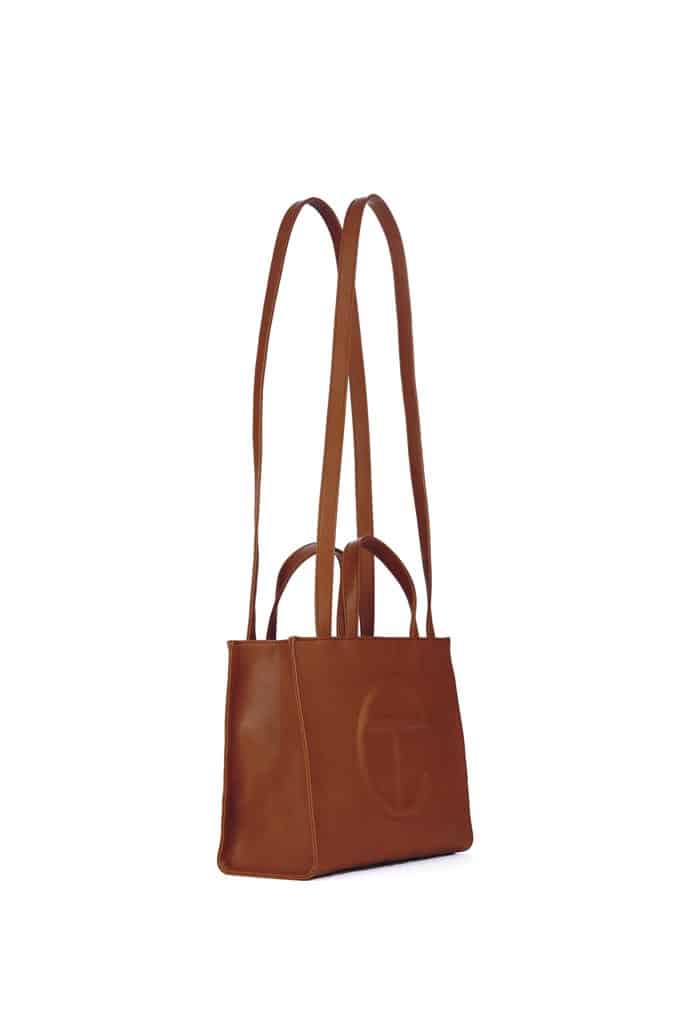 Features: Vegan options
The Telfar vegan leather shopper was likened the 'it' bag of the decade by The Guardian.
As a black-owned, unisex fashion house, Liberian-American designer Telfar Clemens described the aim of creating the bag as "genderless, democratic, and transformative."
Based on the dimensions of a shopping bag (Bloomingdale's, specifically), it also has plenty of handles and straps to make it useful for whatever you want to carry – plus it's made with vegan leather.
As the strapline says, it's "the everyday bag for everybody."
---
THEMOIRè aims to create vegan high end purses in as eco-friendly a manner as possible, and they plant a tree for every bag sold. They use innovative materials such as previously making a bag out of paper for their Bios paper bag.
My top pick is their Bios gold bag. It is made of vegan eco-nappa leather. The gold colour makes it really eye-catching and it would be perfect for evening wear.
---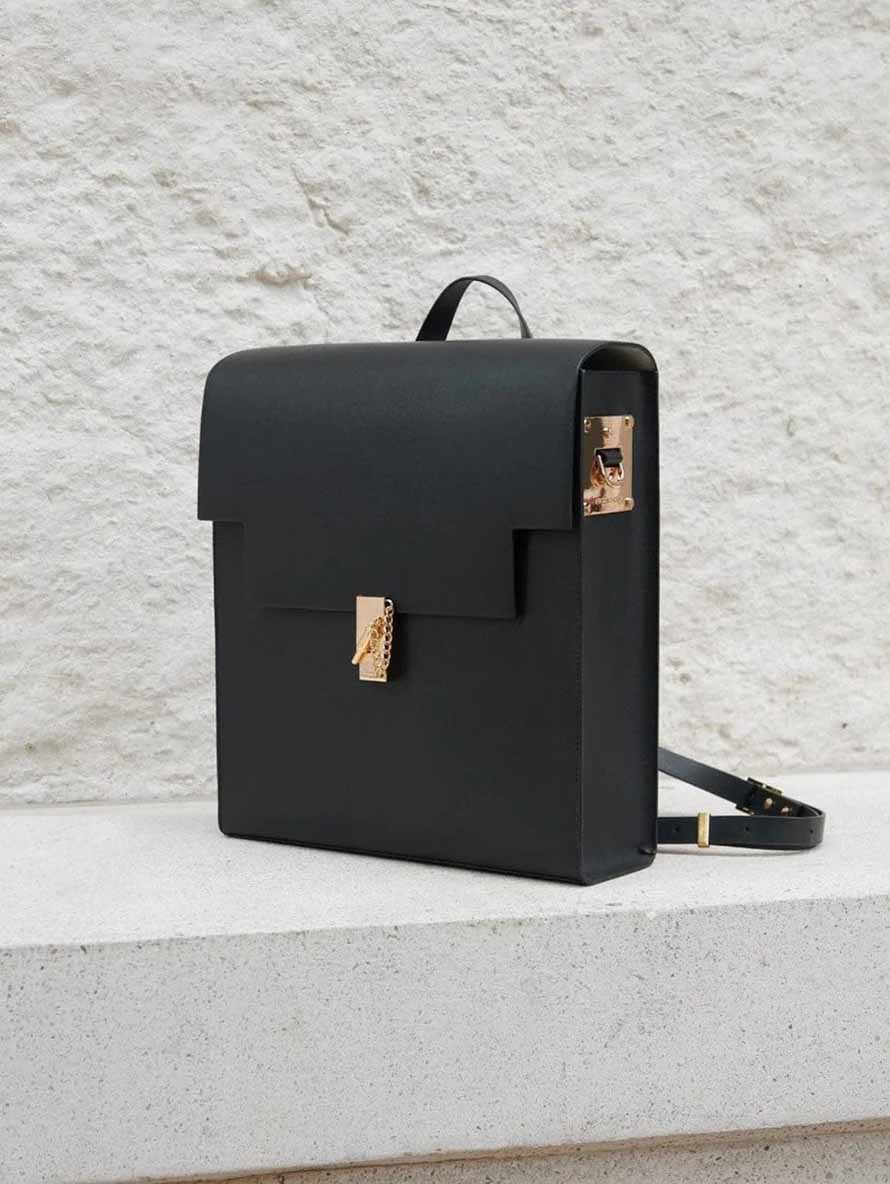 My top pick: The WEEK/END crossbody bag
These bags are made to order and are handmade in the UK, using eco-friendly materials like cactus leather and vegan microsuede dyed with water-based dye, so you can be sure you're getting a bag that's high-quality, beautiful and eco-friendly.
I love the innovative design of their WEEK/END bag (pictured top right), which was their first bag and which can be completely deconstructed, packed flat and put in your luggage.
The luxury vegan crossbody bag is made of cactus leather, a relatively new vegan leather material made with the leaves of the Nopales cactus. Given cacti grow in desert conditions, it takes much less water than many bag materials, and it is harvested with cutting down the cacti.
Cactus leather is also durable and built to last 10+ years.
Frida Rome bags are made in the UK so the founders can keep a close eye on working conditions (they're handmade just 15 minutes from their offices) and both founders are vegan. The brand is PETA approved vegan.
The vegan leather handbags' designer was featured on BBC's Dragon's Den and the brand was nominated for Eluxe's Vegan Brand of the Year 2021.
Their newer designer vegan handbag model is the structured tote (pictured top left), which can also be carried as a backpack, and is made with cactus leather.
Choose between the 'Saint' (no story inside) or 'Sinner' option (which comes with an erotic story inside).
Note: given that each of the luxury non leather bags are handmade to order, allow time for the bag to be crafted and shipped.
Click here to see all the Frida Rome designer non leather bags.
---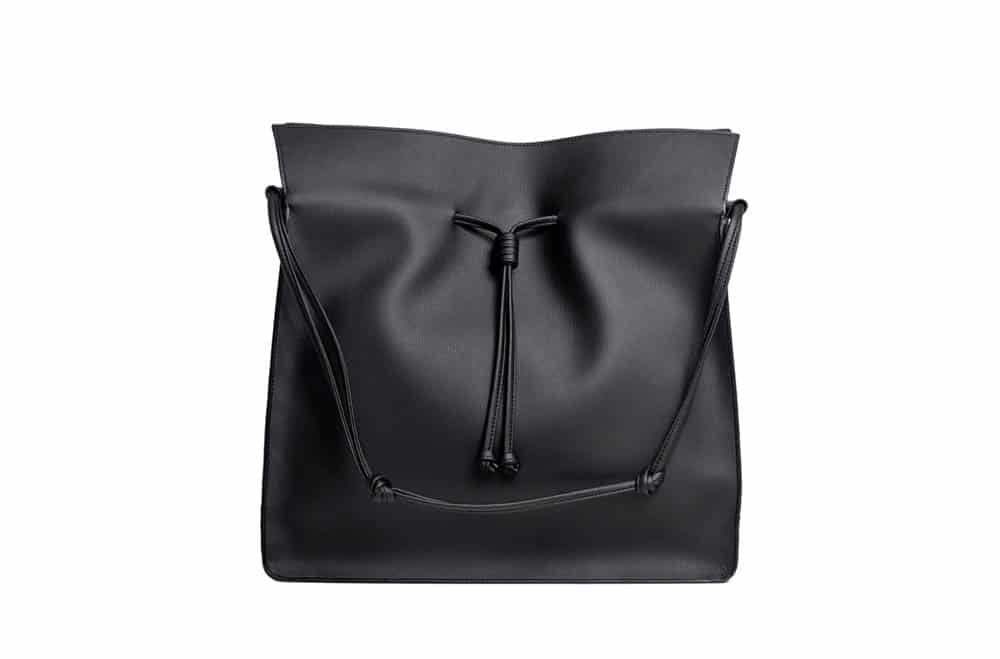 My top pick: the Large shopper tote
von Holzhausen's aim is not just to make timeless vegan bags, but to shake up the whole industry with the creation of vegan leather alternatives that are superior to their animal leather counterparts.
Most of their cruelty-free designer hangbags are made of their own Technik-Leather, which is made of post-consumer plastic and is biodegradable in landfill. It is lightweight, stain-resistant, water-resistant and scratch-resistant.
Their designs have a classic feel and are sure to match any outfit.
My top pick is the large shopper tote (top left picture), but if you prefer a crossbody I recommend the zippered crossbody (middle and right top pictures), or for a backpack, the bucket backpack (bottom).
As well as bags, they also have belts, wallets and even a vegan leather car interior for Teslas.
---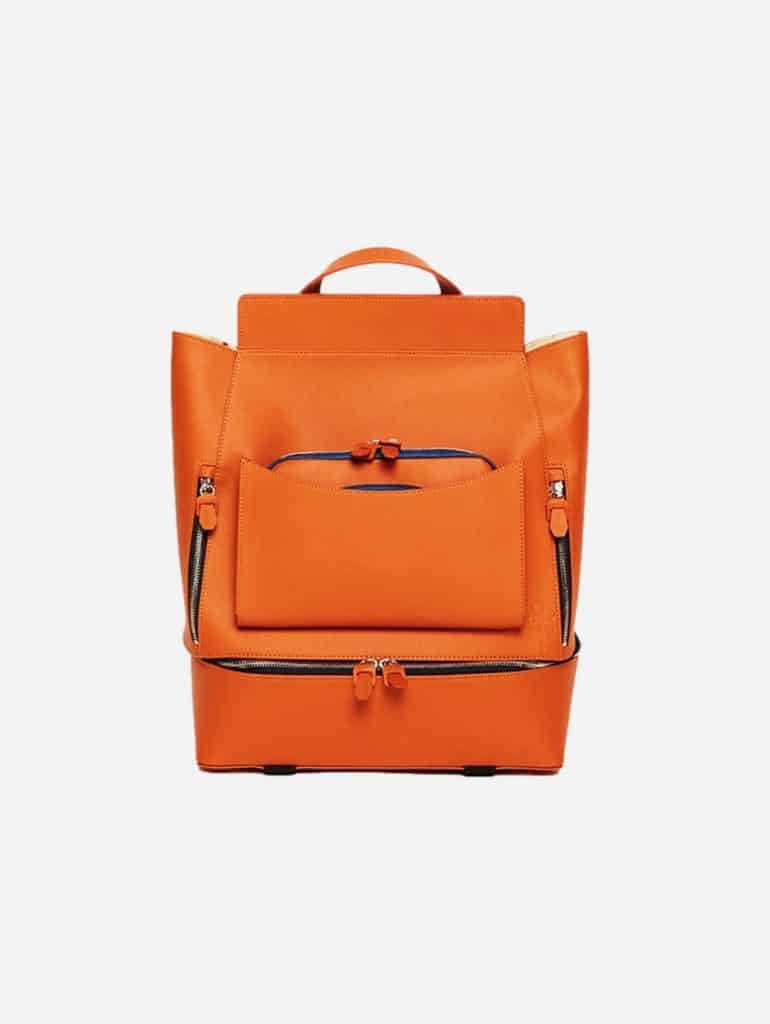 If you want a versatile backpack that does everything, this is the bag for you. These designer faux leather bags come in an eye-catching orange or a navy blue.
A truly thoughtful design, I love how they've thought of everything. This is actually three bags in one!
The backpack has a matching crossbody and clutch, both of which snap into place and can be removed, making the backpack perfect for day to night. Take your laptop in the backpack to work in the morning, and remove the crossbody bag to go out in the evening. Both the backpack and crossbody have zippered pockets.
It has an extendable laptop area which fits a 13-inch laptop, and a waterproof food-safe area for keeping your lunch or storing wet gym clothes.
You can also attach a yoga mat to the bottom of the bag.
The bag is made of high-quality vegan PU leather and the inside is lined with organic cotton in a cute print that matches the bag exterior.
---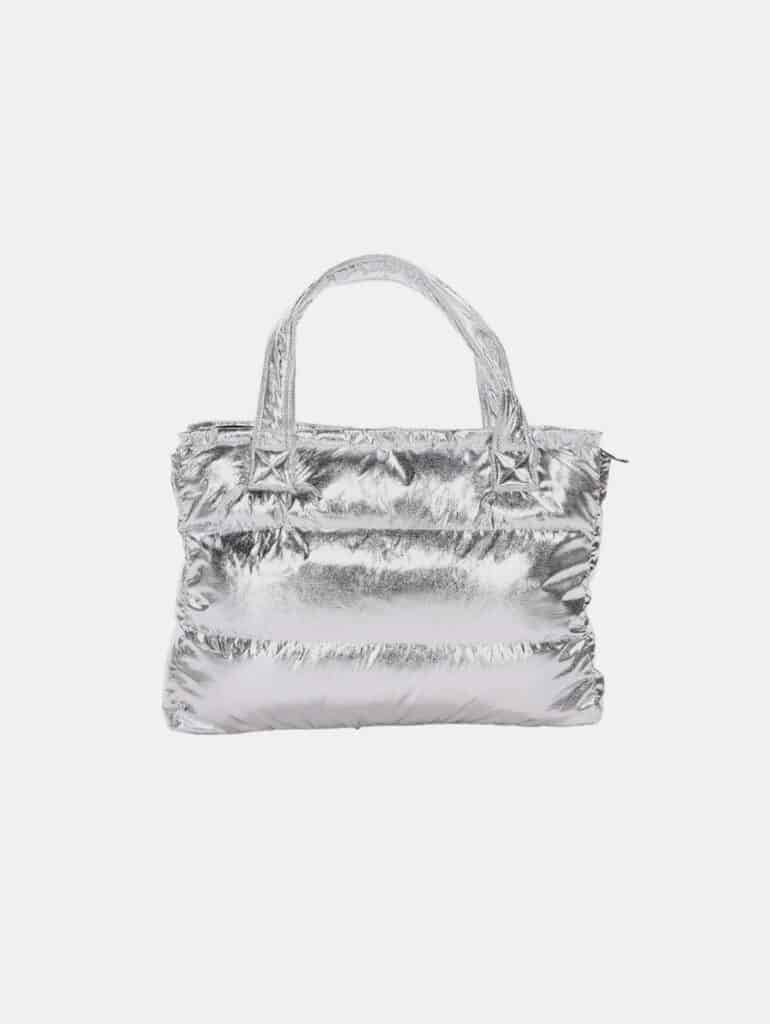 This puffer bag is made of recycled vegan leather and comes in silver, gold and black. The puffer/insulation material is also recycled.
The practical bag has lots of storage for all your things, while the outside protects the contents but will also squash down.
Inside, there's a laptop flap, water bottle pocket, phone pocket and zippered pocket for valuables.
It's rainproof and has studs on the bottom to protect it on the floor.
It closes with a zip on top (which I like as previously mentioned as it makes it harder for pickpockets to target your bag) and features the Culthread logo on the side.
The material is easy to care for and wipes clean.
Looking for more luxury vegan brands? More designer vegan purse brands:
FAQ
Are there any vegan designer bags?
You might be wondering which designers make vegan handbags – the answer is that of the mainstream fashion houses, not many. Stella McCartney is the exception – as a lifelong vegetarian, she doesn't use any leather in her designs (though the brand isn't vegan, as she uses wool and silk in some of the clothing designs).
Whilst other well-known designer brands don't have vegan bags in their ranges, there are plenty of lesser-known, but gorgeous, vegan luxury brands making all vegan bags. For a full rundown, see above. A particular favourite of mine is Shaker, which makes sustainable and vegan bags.
What about some of the main designers? How can I find a Chanel vegan bag?
If you're looking for designer vegan bags not made of leather, Chanel doesn't make the cut.
Unfortunately, you can't get your hands on a vegan Chanel bag as at this time, I couldn't find any Chanel vegan handbags (they all appear to have leather detailing).
Are there any Louis Vuitton vegan bags?
It doesn't appear that there is a single Louis Vuitton vegan bag – further, Louis Vuitton still uses exotic animal skins in its designs and is the target of campaigns by animal activists.
Have a look at Stella McCartney instead, whose bags are vegan.
Is there a Gucci vegan bag?
While Gucci has pledged to stop using fur, and has created vegan sneakers in the past, thus far they haven't created a vegan Gucci bag.
Instead, for vegan bags check out Jill Milan, which has been worn on the red carpet many times, or Stella McCartney.
How can I find the Givenchy Antigona vegan bag?
The only Givenchy vegan bag to be made, the Antigona Vegan was unfortunately a limited edition and sold out, and it's hard to get your hands on it secondhand now.
Try Vestiare Collective for a verified secondhand bag, but you might have to wait to find one. If you love it, email them and ask them to bring it back!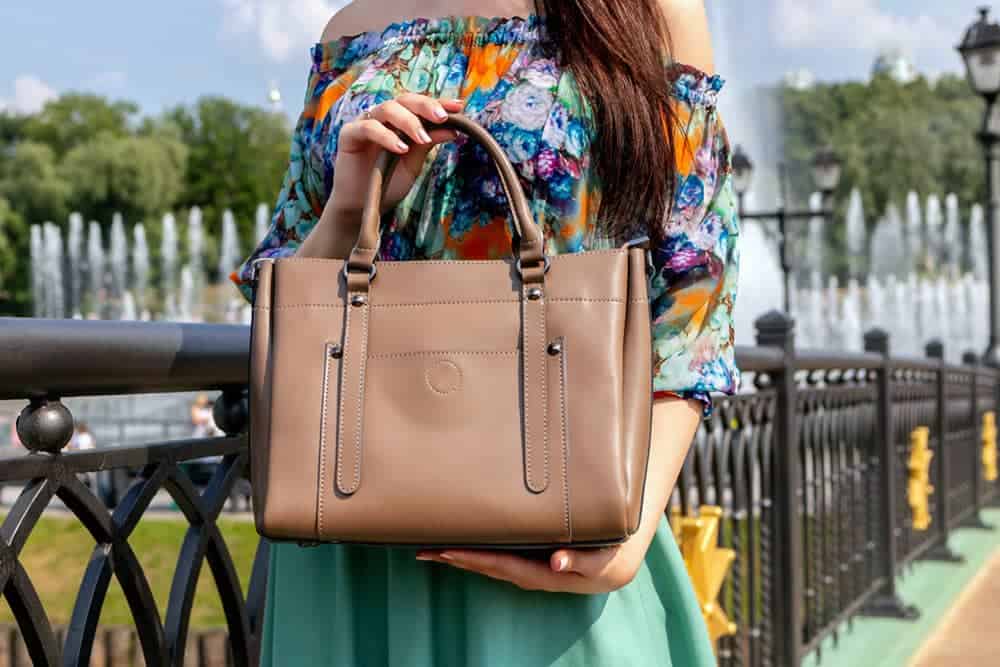 Is there a Prada vegan bag?
Like other mainstream designer brands, Prada tend to use vegan details and trim even on otherwise vegan materials, so they don't have vegan bags at present.
Where can I find a YSL vegan bag?
Is there a vegan YSL bag? Yves Saint Laurent has made vegan bags in the past, but it might be tricky to find one – the Kate bag, for example, was for sale through Selfridges and is now sold out. You can always keep an eye for verified second hand bags on an app like Vestiare Collective.
What about a Coach vegan bag?
I couldn't find a definitive answer on vegan Coach bags.
It looks like Ellen gave out Coach vegan bags in 2013 but I can't find any vegan models since. (If you know of one, please let me know.)
Will we see more vegan designer bags in the future?
I suspect that with the rise of veganism more and more luxury brands will start designing vegan bags, though unfortunately some are missing the mark, case in point the mushroom leather Hermes bag that got a lot of press.
You'd expect it to be vegan, given how keen they were to push the mushroom leather angle…but they made all the trim from calfskin! What were they thinking?!
However, as more and more luxury brands take on board environmental concerns, I'm optimistic we'll start to see a pivot to more vegan fabrics and more 100% vegan handbag designers.
In particular I'd expect to see plant-based leathers used to make faux leather designer handbags, like pineapple leather, mushroom leather or cactus leather, since these are eco-friendly and up-and-coming.
According to this article, Kering, which owns Gucci, Alexander McQueen, Yves Saint Laurent and Balenciaga paired up with Bolt Threads, the company behind Mylo mushroom leather, to create a supply chain for mushroom leather, meaning those brands may launch more mushroom leather products soon.
Pin this for later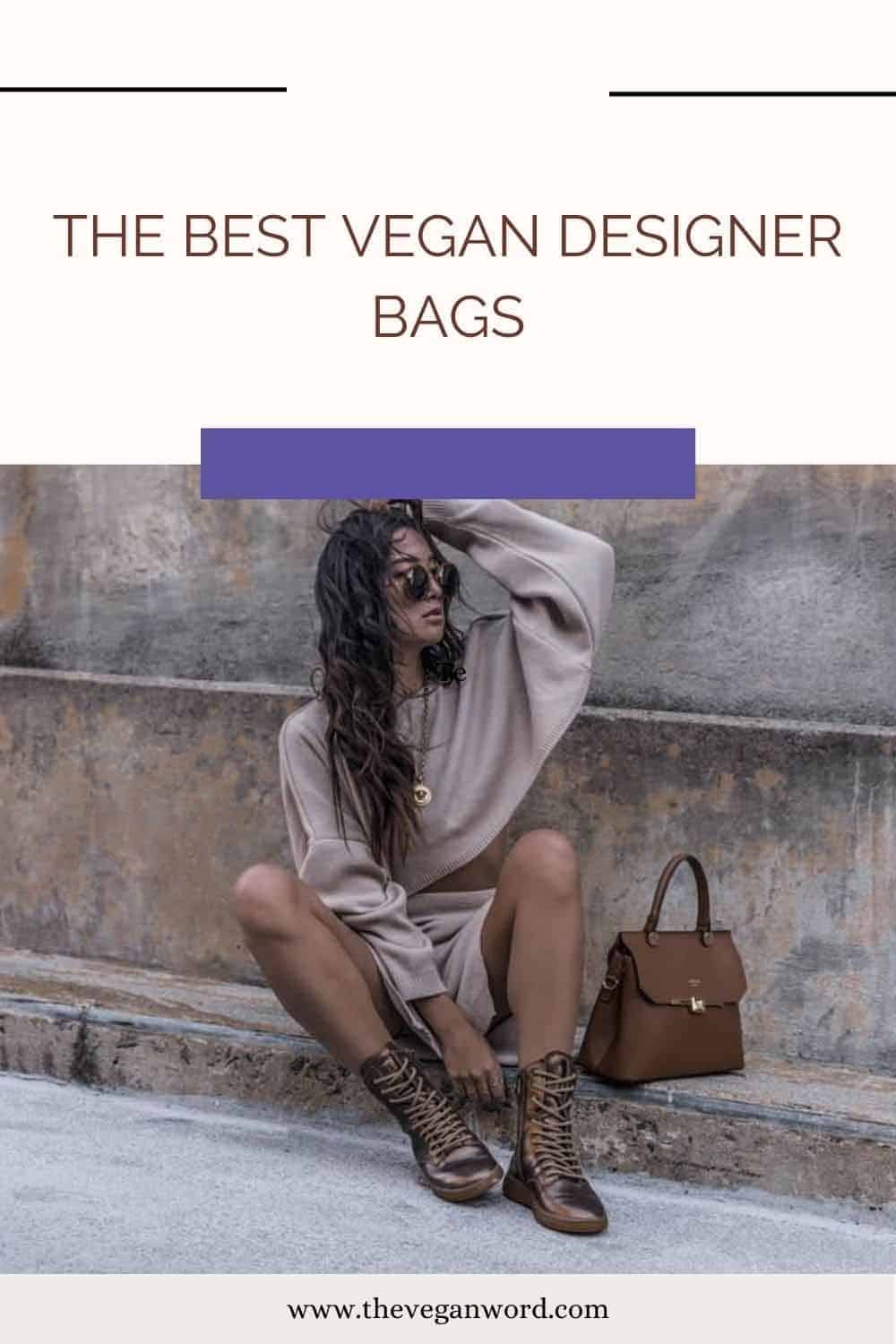 Want more vegan designer fashion? See my guide to vegan designer shoes.
Need a wallet for your bag? Find my full guide to vegan wallets, including designer pieces
Looking for more styles of vegan leather handbags? Check out my full guide to vegan leather bags.
If you're looking specifically for a vegan leather crossbody bag, I've got a guide to vegan crossbody bags. I also have guides to vegan satchels and vegan bucket bags.
Find my guide to vegan tote bags here.
I also have guides specific to vegan backpacks, luggage, laptop bags, briefcases and messenger bags.
See all my vegan fashion & beauty guides.