Vegan designer bags are becoming more and more popular, as evidenced by Hermès' recent announcement of the launch of a mushroom leather bag. When Hermès announces a vegan bag, you know it's big.
So, which designer bags are vegan (asides from the previously mentioned mushroom bag)? In this article, I'm outlining some of the best all vegan luxury handbags brands, as well as vegan options from some mainstream designers.
Some of the designer vegan bags I'll be covering are:

Features: 100% vegan company, handmade in Italy
My pick: Art Deco clutch
Jill Fraser started her company with her partner Milan Lazich in 2010 after years of fruitless searches for classic vegan luxury handbags.
Jill Milan bags are hand-sewn and the metal hardware is handmade. They're made in Italy in an atelier that has been making luxury bags for generations.
Their designer vegan handbags focus on classic designs that are well-made, though many come in eye-catching shades.
My pick is the gorgeous Art Deco clutch, made of Italian stainless steel. It was voted 'Most Wanted' by W magazine and is entirely handmade in Florence. It would look stunning with evening wear.

Features: 100% vegan company, unique & limited edition designs
My pick: Satori Moon
This vegan bags designer specialises in limited edition bags. For example, they are only making 99 of each colour of the Satori Moon bag.
Six Realms' vegan luxury bags are made in an artisanal way, meaning there are very limited editions of the bags.
The Satori Moon bag is made of Italian vegan leather and handcrafted in Spain. The metal frames are made locally in Canada and the design is eye-catching. I looked at the picture for several seconds trying to work out how it was crafted, because the frame suggests a floating bag.
If you want an attention-grabbing bag while also ensuring you're unlikely to ever run into someone with the same bag, Satori Moon is for you.

Features: 100% vegan, uses sustainable materials
My top pick: Water moon satchel
Alkeme Atelier's luxury vegan bags aren't just beautiful, but good for the planet. Their vegan leather designer bags are made with eco-friendly faux leather such as cactus leather, bamboo and grape leather, made using waste from the wine industry.
They even make their own leather, Alkeme vegan fiber, which is made with 70% recycled materials and weighs 1/3 of leather's weight. It's also water- and scratch-resistant.
My pick is the Water moon satchel, an eye-catching fan design with circular, gold-toned handles. It has a zipper closure and an interior pocket, and comes in 8 colors, including an eye-catching yellow hue.

Features: vegan-friendly company
My top pick: Falabella fold-over tote
Stella McCartney is synonymous with vegan designer handbags, as arguably the biggest mainstream designer who eschews leather.
While her entire collection isn't vegan, because she uses wool and silk, as a lifelong vegetarian all of Stella McCartney's bags and shoes are vegan and crafted using cruelty free vegan leather. Stella McCartney vegan handbags command a high price; that's because they combine luxury, excellent craftmanship and vegan style.
Of Stella McCartney's luxury vegan handbags, my pick is her iconic Falabella bag. This shoulder bag has become a classic, and Rihanna, Anne Hathaway and other celebrities have sported it.
The Falabella vegan leather handbag is made with vegan leather and lined with recycled polyester, and the strap is the signature diamond-cut chain strap. There are many variations of the Falabella vegan leather tote bag, but my pick is the fold-over tote, which can be worn either as a tote bag or a vegan leather clutch.

Features: 100% vegan company, uses sustainable materials
My top pick: Zaha apple leather vegan purse
Luxtra, which stands for 'luxury transformed' make vegan designer purses from innovative sustainable materials like pineapple leather, apple leather, cactus leather and mango leather (made from waste from the food industry).
My pick is the Zaha bag, which can be worn either as a belt bag or a crossbody, so you can easily transition from daily errands to going out. It's made of eco-friendly apple leather, a waterproof Italian vegan leather, and the interior compartment fits the largest iPhone. I love the pink shade.
To add more spice to your outfit, go for Luxtra's silver Pinatex crossbody.

Features: 100% vegan company
My top pick: Maddox vegan leather tote
Watson & Wolfe make non leather designer bags in classic styles. If you've ever looked at high end vegan bags and just wished for one in a style that will never go out of fashion and work with any outfit, Watson & Wolfe is the brand for you.
My top pick is the Maddox tote in black with striking cobalt blue accents. It's large enough to make the perfect work bag, as it will fit a 15 inch laptop. It's made of premium Italian vegan leather and lined with fabric made of recycled plastic bottles. There's an exterior slip pocket and an interior zippered pocket.

Features: 100% vegan company, bags made in LA
My top pick: Didi clutch in cream Python
Svala makes cruelty free designer bags out of European vegan materials, and makes them in Los Angeles where all workers are treated fairly. Their vegan leather purses are classic and won't go out of style, and are lined with cotton and recycled polyester.
My pick is the Didi clutch in python vegan leather. It can be used as a clutch or a shoulder bag with the detachable strap. It has an interior pocket to store ID and cards, and a hidden magnetic closure.

Features: 100% vegan company
My top pick: Cassiopeia cork and white
Mashu handcrafts their cruelty free handbags in Greece and uses eco-friendly materials to their vegan leather luxury bags.
My pick is their latest creation, designed during lockdown, the Mashu bag. This super sustainable bag is made out of cork and cactus leather, and lined with Mashu vegan suede, made from recycled plastic bottles and recycled polyester. It has a unique handle inspired by the shapes of the natural world, and a removable interior zippered pouch to hold your valuables. It also comes with a removable crossbody strap.

Features: Vegan options
The Telfar vegan leather shopper was likened the 'it' bag of the decade by The Guardian. As a black-owned, unisex fashion house, Liberian-American designer Telfar Clemens described the aim of creating the bag as "genderless, democratic, and transformative."
Based on the dimensions of a shopping bag (Bloomingdale's, specifically), it also has plenty of handles and straps to make it useful for whatever you want to carry - plus it's made with vegan leather. As the strapline says, it's "the everyday bag for everybody."

Features: 100% vegan company
My pick: Cher tote
Angela Roi believes that you shouldn't have to sacrifice personal style for your values.
The Cher is a timeless tote in black pebble textured vegan leather with a top magnetic closure and interior zippered pocket.
It would work with any outfit, whether for work or at night!

Features: vegan bags
Nanushka's been making non leather luxury bags since they started - they also make vegan leather trousers and dresses too.
The Anja Baguette ruched bag and the deep purple Trapeze are both sure to turn heads.

Features: vegan
THEMOIRè aims to create vegan bags in as eco-friendly a manner as possible, and they plant a tree for every bag sold. They use innovative materials such as paper for their Bios paper bag.
My top pick is their Bios gold cork bag. Cork is an incredibly eco-friendly material, because cork trees are low input (they don't need much water or fertiliser) and can be harvested without damaging the tree. The gold colour of the cork makes it really eye-catching and it would be perfect for evening wear.
More designer vegan purse brands:
FAQ
What about some of the main designers? How can I find a Chanel vegan bag?
At this time, I couldn't find any Chanel vegan handbags (they all appear to have leather detailing).
Are there any Louis Vuitton vegan bags?
It doesn't appear that there is a single Louis Vuitton vegan bag - further, Louis Vuitton still uses exotic animal skins in its designs and is the target of campaigns by animal activists.
Is there a Gucci vegan bag?
While Gucci has pledged to stop using fur, and has created vegan sneakers in the past, thus far they haven't created any vegan bags.
How can I find the Givenchy Antigona vegan bag?
The only Givenchy vegan bag to be made, the Antigona Vegan was unfortunately a limited edition and sold out, and it's hard to get your hands on it secondhand now. If you love it, email them and ask them to bring it back!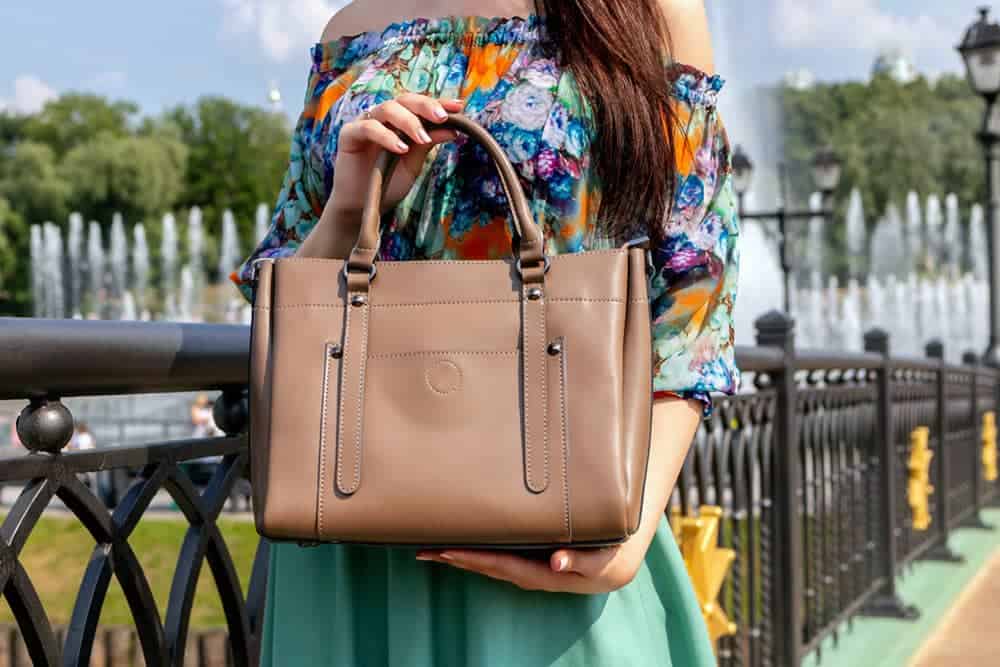 Is there a Prada vegan bag?
Like other mainstream designer brands, Prada tend to use vegan details and trim even on otherwise vegan materials, so they don't have vegan bags at present.
Will we see more vegan designer bags in the future?
I suspect that now Hermes has launched a vegan bag, more luxury brands will follow. As more and more luxury brands take on board environmental concerns, we might see a pivot to more vegan fabrics. In particular I'd expect to see plant-based leathers used, like pineapple leather, mushroom leather or cactus leather, since these are eco-friendly and up-and-coming. According to this article, Kering, which owns Gucci, Alexander McQueen, Yves Saint Laurent and Balenciaga paired up with Bolt Threads, the company behind Mylo mushroom leather, to create a supply chain for mushroom leather, meaning those brands may launch more mushroom leather products soon.
Pin this for later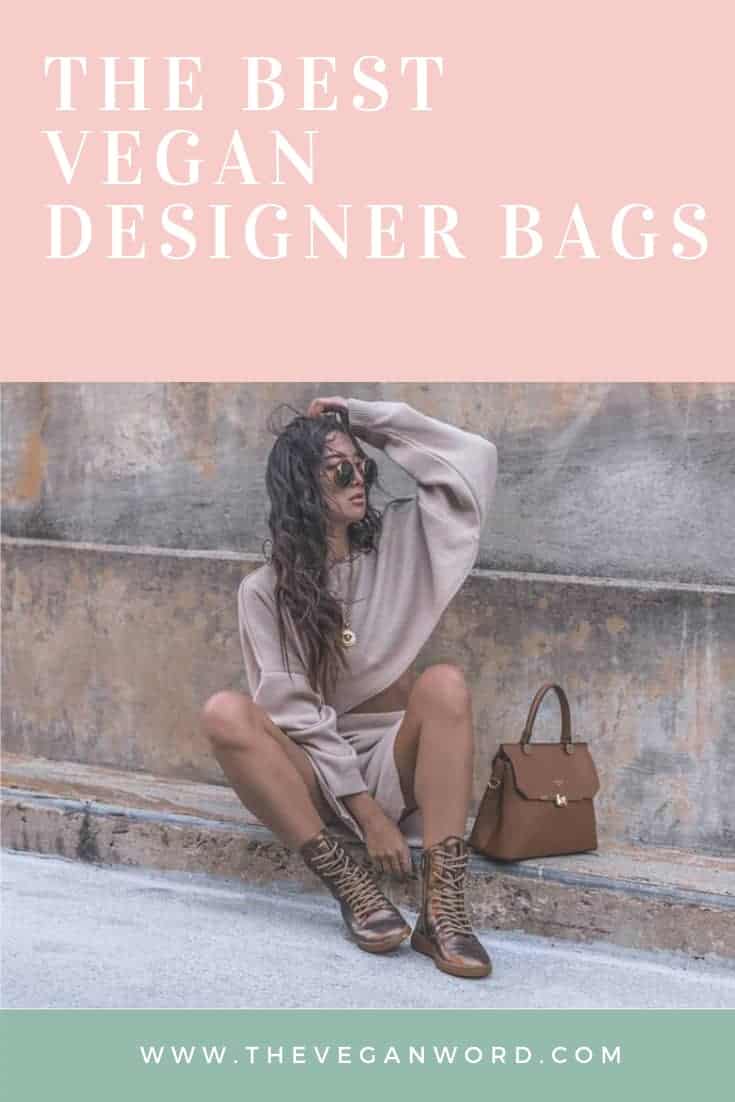 Want more vegan designer fashion? See my guide to vegan designer shoes here.
Need a wallet for your bag? Find my full guide to vegan wallets, including designer pieces, here.
Looking for more styles of vegan leather handbags? Check out my full guide to vegan leather bags here.
If you're looking specifically for a vegan leather crossbody bag, I've got a guide to vegan crossbody bags here.
Find my guide to vegan tote bags here.
See all my vegan fashion & beauty guides here.