Vegan designer bags are becoming more and more popular, but how can you be sure it's fully vegan? Hermès recently announced the launch of a mushroom leather bag that isn't even vegan (though it was reported as a vegan bag in the press) – it has calfskin trim. Yikes!
As a longtime vegan of over a decade, I know it can be tricky finding a high-quality, cruelty-free handbag, so I put together this list to help you find a 100% vegan designer bag.
Special deals:
My top picks of best vegan designer bags:
---
---
---
---
---
---
---
If you're looking for designer bags, non leather ones aren't always the easiest to come by but more and more are available these days.
So, which designer bags are vegan (remember: the previously mentioned Hermès mushroom bag is not actually vegan)?
In this article, I'm outlining some of the best vegan luxury bags from 100% vegan brands, as well as vegan options from some mainstream designers.
The best vegan handbags are not just animal product-free but also eco-friendly and treat workers fairly too, so I've noted the sustainability and labour credentials of brands where applicable.
Read on to see the best vegan bags.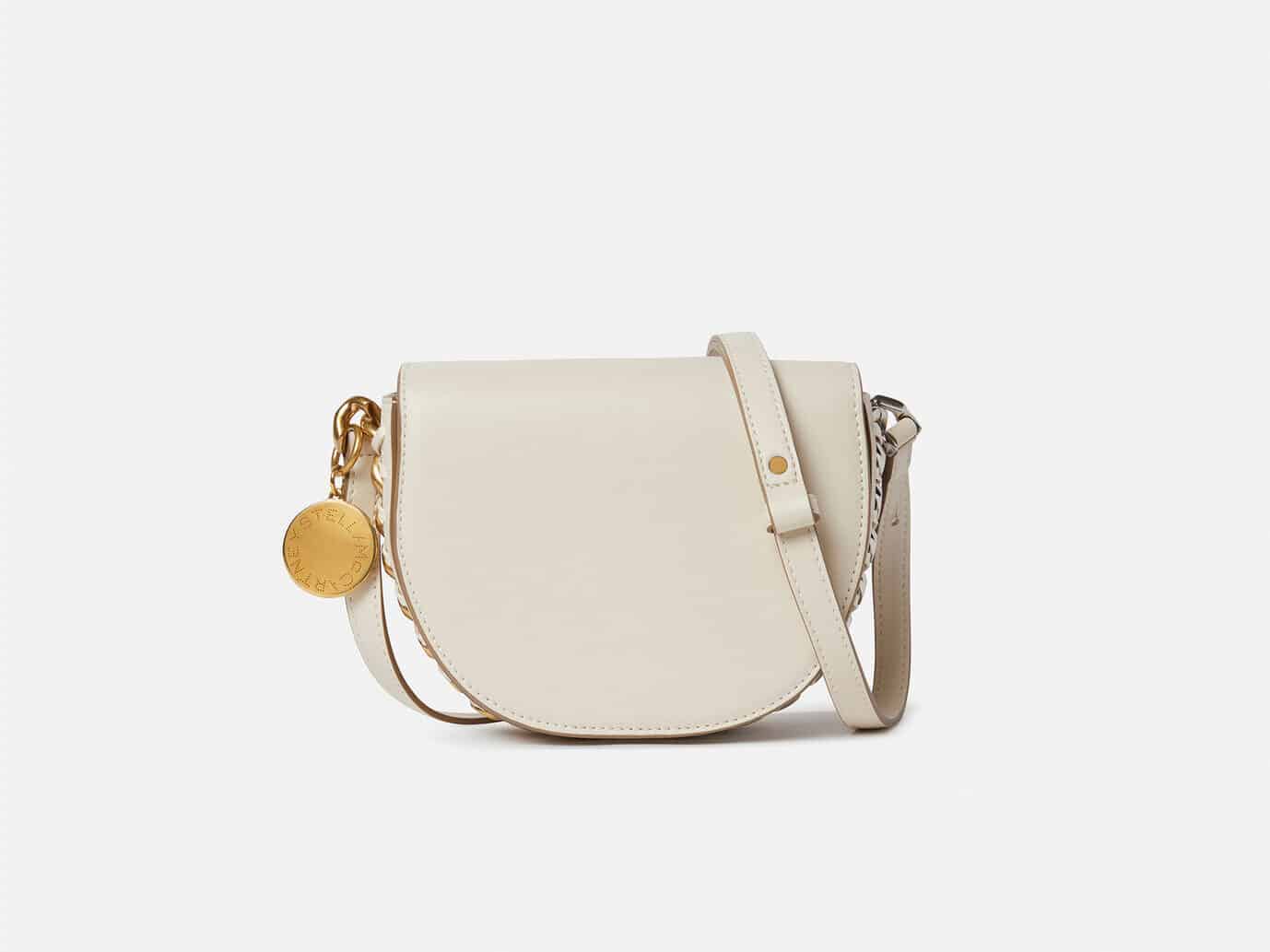 Features: vegan-friendly company
My top pick: Falabella tiny tote
Stella McCartney is synonymous with vegan designer handbags, as arguably the biggest mainstream designer who eschews leather and therefore the most famous of all luxury vegan handbag brands.
While her entire collection isn't vegan, because she uses wool and silk, as a lifelong vegetarian all of Stella McCartney's bags and shoes are vegan and crafted using cruelty free vegan leather.
Stella McCartney vegan handbags command a high price; that's because they combine luxury, excellent craftmanship and vegan style.
Of Stella McCartney's luxury vegan handbags, my pick is her iconic Falabella bag tiny tote (pictured bottom photo). This shoulder bag has become a classic, and Rihanna, Anne Hathaway and other celebrities have sported it.
The Falabella vegan leather handbag is made with vegan leather made of 70% recycled polyester and lined with 100% recycled polyester, and the strap is the signature diamond-cut chain strap.
There are many variations of the Falabella vegan leather tote bag, but my pick of the vegan luxury handbags is the tiny tote.
One thing to note is that with the large Falabella tote, like many other big tote bags, it can be easy to "lose" items inside the cavernous bag, so I recommend putting essentials in a small zippered pouch.
Or go for a smaller designer vegan bag like the tiny tote or a crossbody.
In my opinion, these are the best luxury vegan handbags if you want a bag from a well-known name.
See more Stella McCartney bags here.
---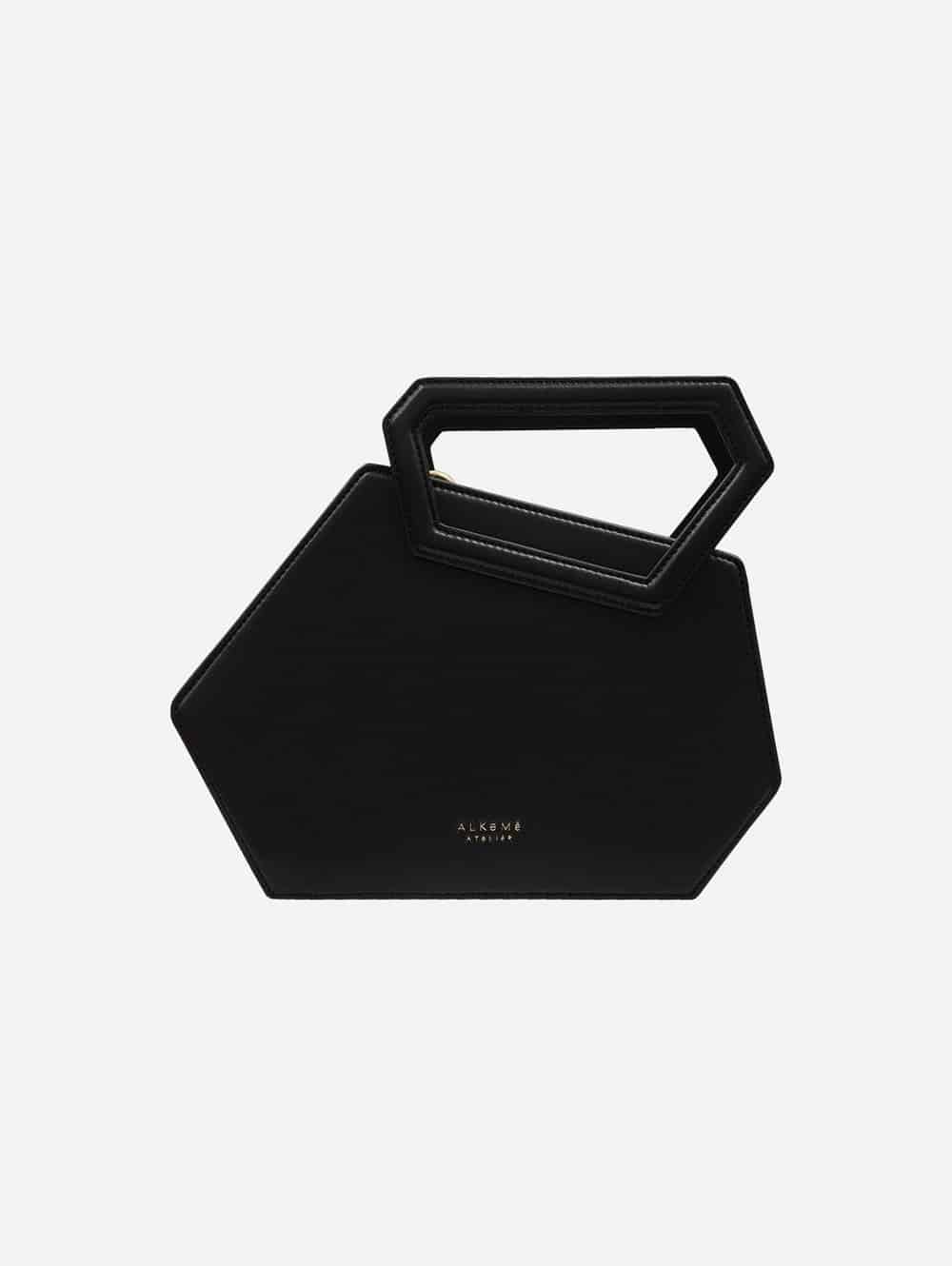 Features: 100% vegan, uses sustainable materials
My top pick: Water moon satchel
Alkeme Atelier's luxury vegan bags aren't just beautiful, but good for the planet.
Their vegan leather designer bags are made with eco-friendly faux leather such as cactus leather, bamboo and grape leather, made using waste from the wine industry.
They even make their own leather, Alkeme vegan fiber to use in their designer vegan leather bags, which is made with 70% recycled materials and weighs 1/3 of leather's weight. It's also water- and scratch-resistant and made to last longer than animal leather.
My pick is the Water moon satchel (pictured on right above), an eye-catching fan design with circular, gold-toned handles. It has a zipper closure and an interior pocket, and comes in 8 colors, including an eye-catching yellow hue.
The Water Moon satchel probably won't be your everyday bag (though who knows!) but it's perfect for when you want to stand out.
See more bags from Alkeme Atelier.
---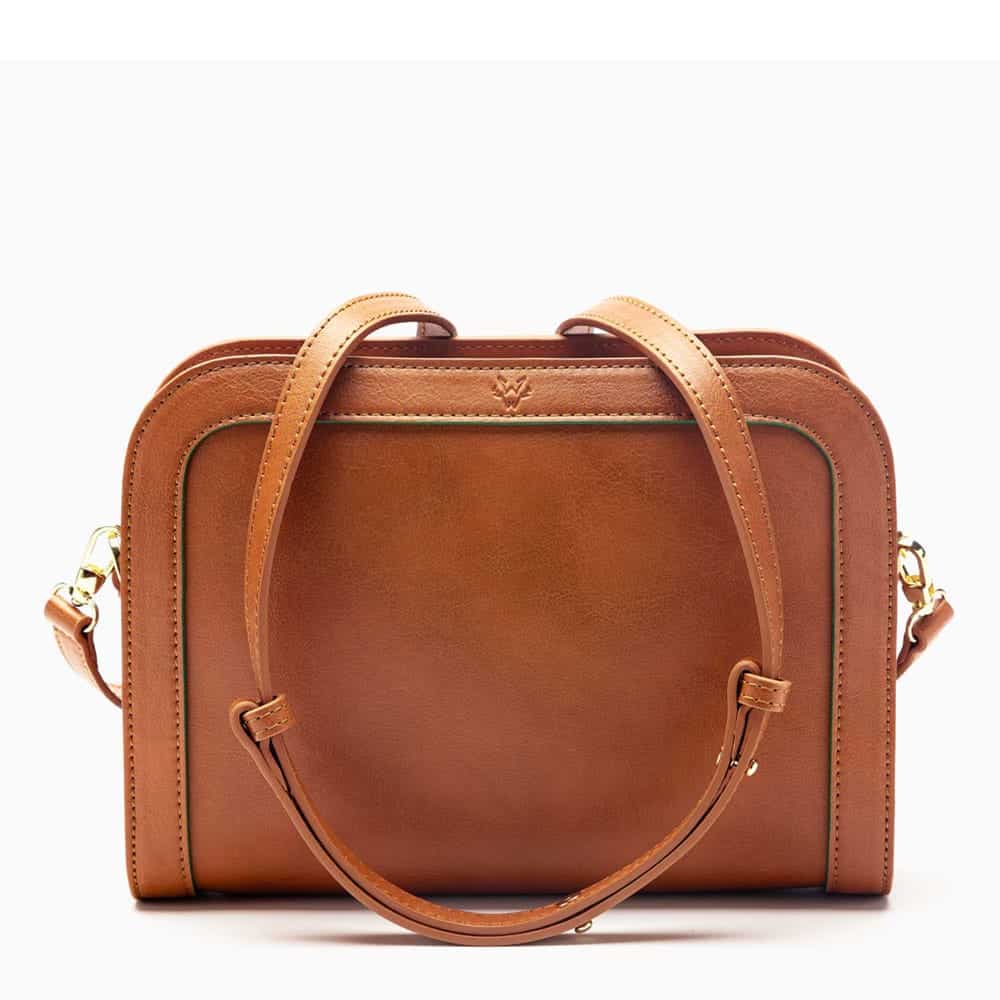 Features: 100% vegan company
My top pick: Maddox vegan leather tote
Watson & Wolfe make non leather designer bags in classic styles. If you've ever looked at high end vegan bags and just wished for one in a style that will never go out of fashion and work with any outfit, Watson & Wolfe is the brand for you.
My top pick of luxury vegan tote bags is the Maddox tote in black with striking cobalt blue accents. It's large enough to make the perfect work bag, as it will fit your 15 inch laptop.
It's made of premium Italian vegan leather and lined with fabric made of recycled plastic bottles. There's an exterior slip pocket and an interior zippered pocket.
Or, if you're looking for vegan designer crossbody bags, they have classic-style crossbody options too.
If you want an out-there statement piece, then this isn't the brand for you (try Alkeme Atelier's vegan luxury purses), but if you have a classic sense of style, Watson & Wolfe bags will suit you perfectly.
See more styles from Watson & Wolfe.
---