A vegan leather jacket is a must-have item in my closet, and a classic coat that will add an edge to any look.
Among others, some of the best faux leather jackets I'll be covering include:
More options:
Fake leather jackets are a look that never go out of style and you can keep in your closet for years to come.
Whether you're looking for mens faux leather jackets or vegan leather jackets for women, there are lots of choices when it comes to vegan jackets. From blazers to classic look biker jackets, vegan leather puffers or long length vegan jackets.
Read on to see the best faux leather jacket brands. (All jackets are vegan, from the vegan leather used to the down-free filling.)
The best faux leather jacket brands

Best for: faux leather jacket (men 's)
These vegan biker jackets from Will's are made from a supple and durable pebble grain vegan leather.
The black vegan leather jacket is made in small productions in Tuscany, Italy.
Will's started out making vegan mens shoes, but have since expanded to make women's shoes, non leather jackets and accessories.
This men's non leather biker jacket has a classic look and is lined with viscose to make it easy to take on and off.
These mens faux leather jackets have nickel free hardware and three pockets lined with cotton for everything you may need to carry.

This lightweight puffer is made with vegan leather piping and nylon fiber insulation made from recycled plastic water bottles.
This vegan leather coat is windproof and free from harmful chemicals. Since it's a lightweight puffer, they recommend you can layer is under another coat for extra warmth on colder days.
Noize is a vegan sustainable fashion company. They are PETA approved vegan.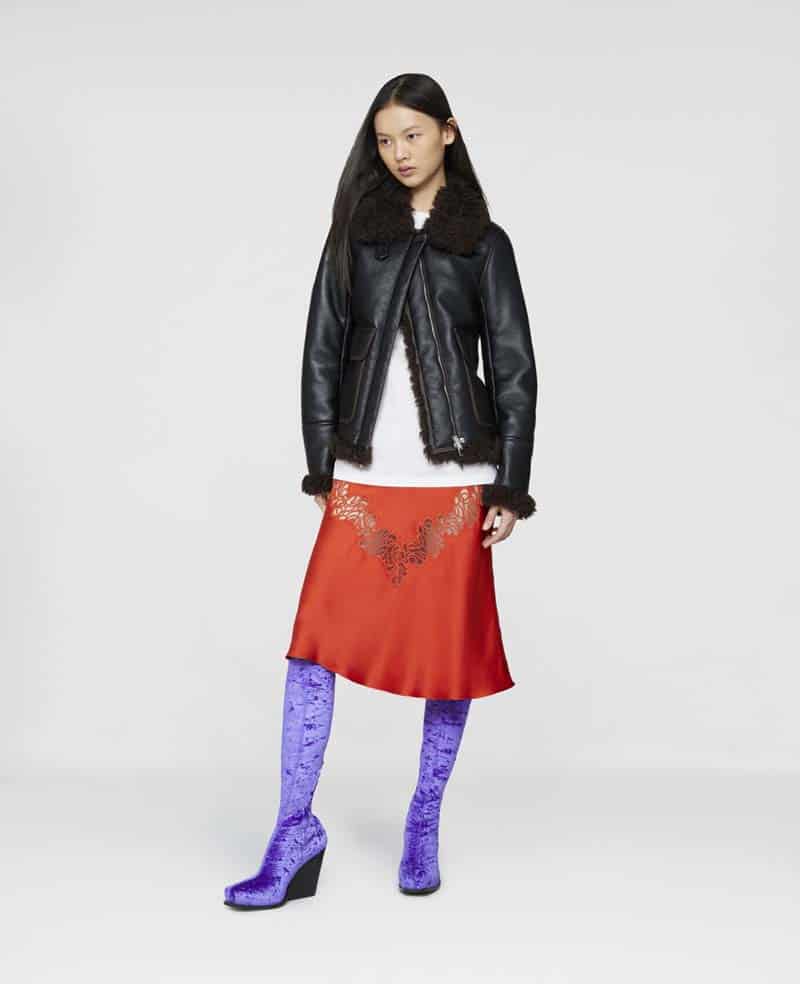 This vegan leather bomber jacket from luxury designer Stella McCartney is made of her signature Alter Mat, a vegan leather alternative, and a ribbed hem.
It has a buckle collar, two front slip pockets and a zippered pocket on the sleeve.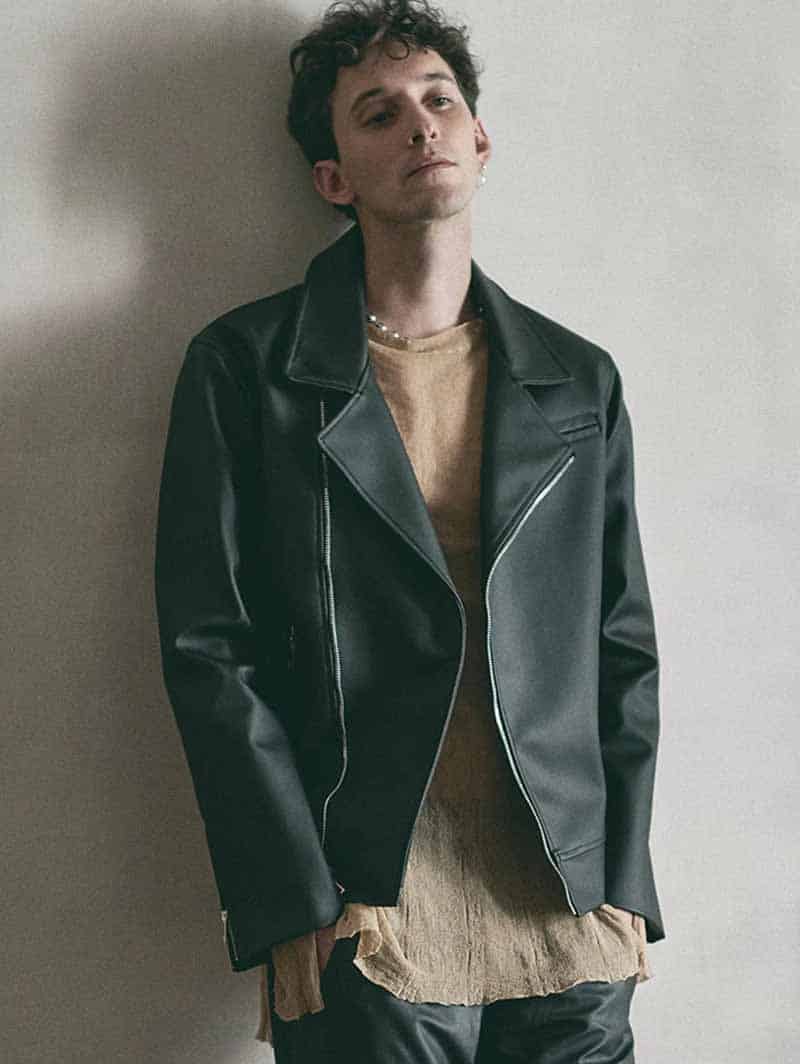 Cactus leather jackets are here! I've seen cactus leather bags but this is the first time I've seen it used in a jacket.
This innovative and sustainable material is made using the parts of the Nopales cacti which otherwise would have gone to waste. Since cacti don't use much water, it's a more sustainable material.

This hooded faux leather jacket is reversible and made from a recycled vegan leather. The duster jacket is rainproof and the hood is removable. The front pockets are faux fur, or in reverse are black.
It has two large inside and two large outside pockets, and the buttons are recycled too.
The long vegan leather jacket is made by Culthread, a vegan outerwear brand. Their vegan leather outerwear is PETA approved and handmade. They use rescued deadstock for their materials to be eco friendly.
Culthread's mission is to create high quality slow fashion. They pay workers fairly.

The Britt jacket is designed in a snakeskin textured vegan polyurethane leather.
It comes as a blue or grey python effect vegan leather.
Like all Noize coats, it's 100% PETA approved vegan.
Pair with everything from jeans to dresses.

Based in the UK
This brown fake leather jacket is made from a smooth, soft Italian vegan suede.
The jackets are made in small batches in Tuscany.
It's cut to sit on the hips, and features two side zip pockets to carry your essentials, plus responsibly sourced, nickel-free hardware.
It's lined with viscose to make it easy to get on and off and for ease of layering.
It's certified carbon neutral and like other Will's products, delivered through their carbon neutral supply chain.
You can also return it in 365 days through their carbon neutral returns delivery service. They also have a return to recycle scheme for the product at the end of its life.
Will's has online stores for the US, UK, Germany and rest of the EU – just choose your country/currency in the upper lefthand corner. They offer free carbon neutral shipping in the US and £3 carbon neutral shipping in the UK (no minimum order).
Will's started life as a men's vegan shoe company, and now make a wide range of vegan clothes and accessories for men and women. They also have a vegan leather moto jacket, vegan mens bomber jacket and more vegan leather jackets.

This Nanushka vegan leather jacket is now a Nanushka icon. The Nanushka faux leather puffer is locally made from their signature vegan leather and lined in a smooth satin. It features hidden snap closures and a high-neck collar.
The Nanushka Hide black faux leather puffer jacket has an outer made of polyurethane and polyester.
Nanushka have a number of vegan leather clothing items, from vegan jackets to vegan trousers.
If you're looking for a vegan puffer coat, check out my guide to them here.
If you're looking for a vegan puffer jacket, check out my guide to them here.

Going for a goth look? Killstar have a number of vegan leather jackets in their signature goth style (like their spiky vegan biker jacket).
This unisex vegan leather vest is made with a soft vegan polyurethane leather.
It features a zip front, stud pockets, a belt and a satin lining.

This beautiful trench coat is made from a luxe vegan marbled leather.
It has a long hemline that runs to the knee and a belted waist tie.
For every coat purchased from Unreal Fur, they'll plant a tree!
Unreal Fur are based in Australia and specialise in vegan fur coats, but make some vegan leather coat options such as this coat. All their coats are PETA approved vegan, and their latest line includes recycled materials in some of the coats.

This vegan leather puffer jacket is perfect if you're looking for athleisure wear. It has a classic puffer style but the outer is vegan leather with a python print.
It has a high neckline, quilted look and semi metallic faux snakeskin print. The womens vegan leather jacket also has two outer side pockets.

This cropped vegan black leather jacket is covered in studs for an edgy and stylish look.
There are studs along the collar, sleeves and outer body of the jacket. The jacket also has an asymmetrical zipper and other design elements such as decorative side waist snaps and a decorative chest zipper.
It also has two zippered side pockets.

This faux leather jacket for women comes in a green shade that would be perfect for spring or summer – or for anytime if you want a different-from-the-usual vegan leather jacket look.
This jacket from Noize has a mid-length, boxy fit, a single-breasted button front and double flap side pockets. Designed in collaboration with Tezza and Cole, it's the perfect statement piece.
All of Noize's vegan leather coats are PETA approved vegan.

Will's make some of the best fake leather jackets because they have such a wide range. (See Will's full range of womens vegan leather jackets here.)
This vegan moto jacket is made of a soft Italian vegan Nappa leather. The sustainable vegan leather jacket also has vegan suede panels made of cotton and a viscose lining made from sustainable eucalyptus wood.
Like all of Will's range, the non leather motorcycle jacket is certified carbon neutral and shipped via a carbon neutral delivery service.
It's produced in small batches in Tuscany in a family-owned factory.
Will's also has a service where you can return products to them at the end of their life cycle to be recycled using their "Return to Recycle" programme.

Best of: vegan leather jacket (men's)
Will's vegan leather mens jacket is a classic shirt collar jacket, made of a pebble grain vegan Italian leather.
The vegan mens leather jacket has two outer slip pockets and one inner slip pocket. The faux leather jacket for men is lined with viscose to make it easy to slip on and off.
Will's has a range of vegan leather jackets. See all of Will's mens vegan leather jackets here.
More vegan leather jackets:
High-performance vegan motorcycle jacket from specialist vegan motorcycle gear brand Andromeda
Vegan leather jackets FAQ
What are vegan leather jackets made of?
Vegan leather jackets are made from vegan leather, rather than animal leather, and are free from all animal products (including filling like down).
Most often they are made out of polyurethane or PU leather, but some such as Sentient jackets from other vegan leathers like cactus leather.
Both are innovative and sustainable new materials made from the leftover waste from the food industry.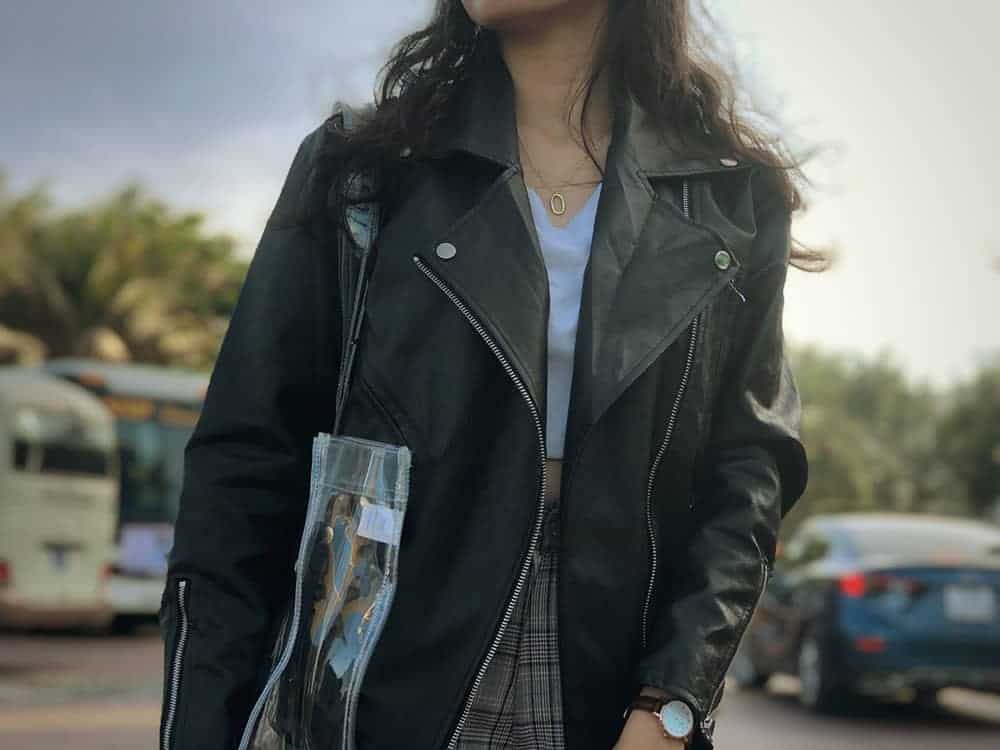 Where can I buy a vegan leather jacket?
You can often find faux leather jackets in clothing stores (check the labels to see what they're made out of), but the internet offers a lot more options, including buying from vegan and sustainable brands who will ensure it's a wholly vegan jacket.
Hence, the list I've put together here of vegan leather jackets.
Another, more eco friendly option is to look at charity shops. When I'm looking for a specific product, like a vegan leather jacket, I like searching secondhand online because I can be look by keyword.
Check eBay, Depop and Vinted for vintage faux leather jackets.
Which brand is best for faux leather jackets?
That's partly a matter of personal taste and style, but any of the brands listed here make quality vegan leather jackets.
Pin this for later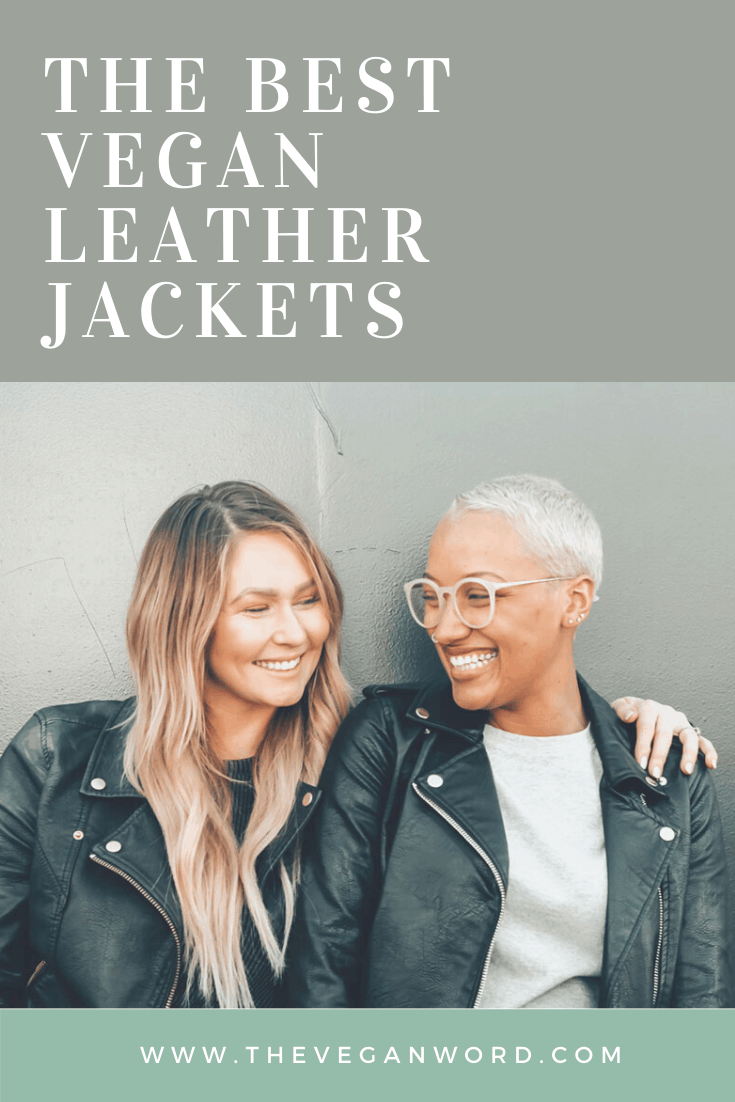 Looking for more vegan jackets? Check out my guides to vegan coats and jackets, vegan wool coats, vegan parkas and my guide to vegan puffer jackets.
Veganising your wardrobe? See my guides to vegan clothins brands and my guide to vegan tshirts.
I also have guides to vegan accessories like vegan wallets, vegan belts and vegan watches.
Find my guids to vegan leather boots.
See all my vegan beauty & fashion guides.