Summer is nearly here, so are you looking for vegan sandals to get you through the upcoming heat waves?
Whether you're looking for vegan flip flops to lounge pool-side or on-trend vegan huarache sandals to pair with your summer dresses, read on to find the best vegan sandals to sport this summer.
Some of the top brands for vegan sandals I'll be reviewing include:
More vegan sandal brands:

Special features: 100% vegan company
Based in Canada
My top pick: Lunna slip on sandals
Matt & Nat is a vegan company that started out selling non leather bags, and now makes non leather sandals too. They have heeled and flat sandals in traditional colors. These slide sandals are my pick.
They're simple, easy to take on and off poolside or on the beach, and the light blue shade reminds me of blue skies, sunshine and the sea during the summer.

Special features: 100% vegan company, made in all-vegan shoe factory
Based in Brazil
My top pick: Dalia flat sandals
Ahimsa was one of the first companies to build a vegan shoe factory where they make their shoes. Their sandals mostly come in classic styles and colors. You can see their full sandal range here.
My pick is the Dalia flat sandals, in brown and sunshine yellow.

Special features: 100% vegan company, uses recycled materials
Based in Portugal
My top pick: Sara vegan wedge sandals or Doria vegan gladiator sandals
Nae is a vegan shoe brand based in Portugal; their brand name stands for No Animal Exploitation. My top pick are these vegan cork sandals with a wedge.
If you're looking for a heeled sandal, they're perfect for adding some height to your outfits this summer. If you prefer flats, my pick is the Doria gladiator sandals, which look comfortable and stylish.

Special features: 100% vegan company
Based in France
My top pick: Da Vinci vegan clog sandals
The first vegan shoe company in France, Good Guys Don't Wear Leather makes vegan slip on sandals in a variety of colors and designs. These vegan clogs are my pick.

Special features: 100% vegan company
Based in France
My top pick: Algarve flat sandals
I love Minuit Sur Terre's beautiful vegan shoes, and after admiring them online for several years I finally ordered some for myself for this summer.
These vegan strappy sandals are my pick – they're the sandals I bought for myself for this summer (though mine are in light brown and gold, which appears to be no longer available as a colour choice).
Special features: vegan friendly
Based in the US
Their vegan rope sandals are made using partly recycled polypropylene. They are handmade in a community in Nicaragua that the company works with closely.
Comfy soles are made by Vibram and they aim to cut out excess packaging.

Special features: 100% vegan
Based in the US
My top pick: Donna wood clog
This vegan shoe company makes ethically conscious shoes, including a variety of sandal styles, from strappy heeled sandals to slides.
My top pick of their vegan leather sandals is the Donna wood clog, with a comfortable cork insole. Their neutral colour will work with any outfit, while the metallic finish will make you stand out.
Special features: 100% vegan company
Based in Canada
Call it Spring makes affordable vegan shoes, including a wide range of sandals. Shop all their styles here.

Special features: 100% vegan company
Based in the US
Novacas is an all-vegan shoe company, and they have slides, clogs and more. Find all their ethical sandals here.

Special features: 100% vegan company
Based in the UK
Vegetarian Shoes is one the oldest vegan shoe companies running today, having been making vegan shoes since 1990. They have a range of classic sandals, including these vegan footbed sandals.

Special features: has vegan options
Based in the US
If you're looking for non leather Birkenstocks, you'll be pleased to know that the company now makes vegan leather Birkenstocks.
Choose from the men's Birkenstock vegan Arizona or the women's Birkenstock vegan Mayari. You can see all the vegan Birkenstocks here. If you need comfy sandals you can walk in, these are your friend.
Find my full guide to vegan Birkenstocks here.

Special features: has vegan options
Based in the UK
From on-trend vegan fisherman sandals to more classic vegan black sandals like the vegan Blaire sandals, there are plenty of vegan Dr Martens styles these days.
Find my full guide to Dr Marten vegan sandals here.

Special features: has vegan options
If you're looking for vegan hiking sandals, check out these Chacos Odyssey vegan sandals. Beyond vegan walking sandals, Chacos also makes sandals for relaxing, like these Chacos Chillos slides.

Special features: has vegan options
Looking for comfortable vegan sandals? Teva has some vegan sandals now, like these Original Universal sandals, which are made with recycled polyester straps (each pair of sandals saves 4 plastic bottles from landfill).

Special features: made from fair trade FSC certified rubber
Based in the UK
Waves make their vegan flip flops from sustainable rubber, rather than recycled plastic, because rubber breaks down naturally in the environment, making these the eco-friendly flip-flop option. See all flip flops here.

Special features: 100% vegan company, plastic free packaging, carbon neutral shipping
Based in the UK
My top pick: Vegan huarache sandals
Will's is an all-vegan shoe company, which makes both men's and women's vegan sandals.
Will's has US, UK, Germany and European online stores – just choose your country/currency in the upper left corner.

Special features: has vegan options
Based in the US
If you're looking for vegan barefoot sandals, Xero are the shoes for you. Almost all their shoes are vegan, except for the Alston and Coalton, which are leather, and the Mika and Pacifica, which contain wool. Otherwise, shoes are vegan. see their full collection here.
FAQ
What are vegan sandals?
Simply put, vegan sandals are simply sandals made without leather, animal-based glue or any other animal products. Instead, vegan sandals are made with alternatives like rope, jute, canvas and vegan leather.
Are vegan shoes more eco friendly than leather shoes?
Although there's a misconception amongst some that vegan shoes aren't eco-friendly (common refrains are that they're made of 'plastic' or 'not natural') nothing could be further than the truth.
First, vegan shoes can be made of non-plastic materials, like cotton or rope.
Secondly, although commonly used vegan leather alternative PU leather does contain plastic, it is still rated as more eco-friendly than leather on the Higgs index.
Leather isn't eco-friendly because it is responsible for the same environmentally destructive effects as the meat industry, including the deforestation of the Amazon rainforest and the production of greenhouse gases.
Additionally, 90% of leather isn't biodegradable because of the tanning process it undergoes, which uses chromium, a highly dangerous material for workers.
According to Common Objective, it is linked to increased cancer risk and irritated airways and workers in the industry are as young as 10 years old.
Do be sure to avoid shoes made of PVC, which is very bad for the environment.
You can choose canvas or rope or one fo the more sustainable and innovative new vegan leathers, like mango leather or pineapple leather, which are made from leftover waste from the food industry that would have otherwise gone to landfill.
How durable are vegan sandals?
Durability varies a lot, just like with non-vegan sandals. I've had vegan sandals that lasted me years, and others that upset me when they started falling apart after only a season.
Look for durable and well-crafted shoes (which may be more expensive).
Are vegan sandals expensive?
Prices vary greatly – you can pick up vegan flip flops for very little, or luxury vegan sandals for hundreds. It all depends what you are looking for, but there are price points for all.
Do vegan shoes make your feet sweaty?
There's a misconception that vegan shoes aren't breathable, a particular concern in the summer. This belief likely dates back several decades to when most vegan shoes were made of PVC, a plastic-based material that is very sweaty – and also isn't eco-friendly.
Thankfully, very few shoes are made of PVC these days (and I recommend avoiding those that are).
In fact, this footwear site says that synthetic materials used today are lighter weight and more breathable than leather.
There are also a range of vegan shoe materials, including rope and canvas, that you may find less sweaty, and different styles too.
Pin this for later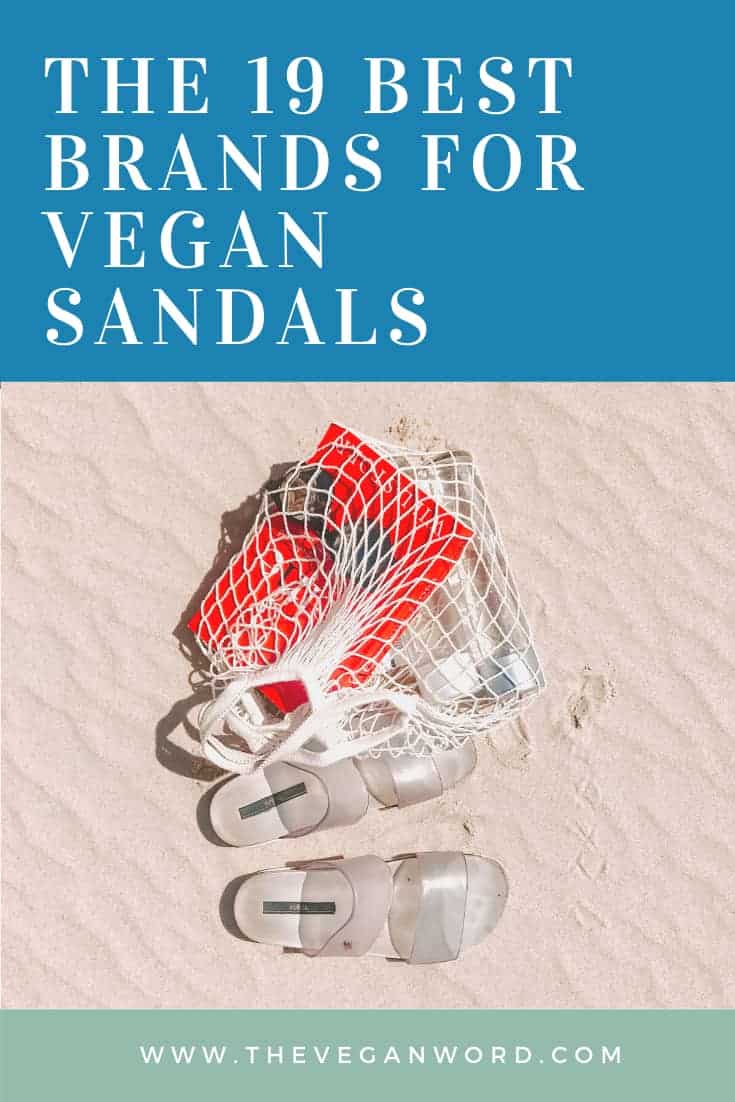 Don't forget your sunscreen this summer! I've got a guide to vegan & reef friendly sunscreens.
Looking for more shoes? I have a guide to all vegan shoes, and also specific guides to vegan mens shoes and vegan womens shoes.
Want to get your feet ready for winter? Check out my guide to vegan boot styles.
I also have guides to specific styles of boots: find my guide to vegan Chelsea boots, vegan ankle boots, vegan combat boots, vegan cowboy boots, vegan knee high boots and vegan winter boots.
Active and need sporty & comfortable shoes for your exercises? See my vegan sneaker guide and vegan Reeboks.
Also check out my guides to vegan loafers and vegan flats.
I also have a list of the best vegan clogs if you work on your feet, and vegan slippers if you just need something comfy and cosy to slip your feet into at home.
Searching for fancier shoes? Check out my guides tovegan heels and vegan dress shoes. I also have a guide to vegan designer shoes.
Find all my vegan beauty & fashion guides.
What style of sandals do you like best?