On the hunt for the best vegan heels? Whether you're looking for heels for work, a wedding or going out, there are thankfully more choices than ever when it comes to vegan footwear!
From pineapples to olive leaves, a huge variety of materials are now used to make eco-friendly alternatives to leather.
Whether you're searching for vegan block heels or stilettos, here are the best vegan high heels.

All-vegan shoe brand Nae makes all their shoes in Portugal and prioritises using eco-friendly materials like recycled plastic bottles and airbags. They have low heels, vegan heeled sandals and more in their range of ethical heels.

Canadian brand Matt & Nat makes vegan bags, shoes and accessories. I have a Matt & Nat Wallet I've owned for nearly ten years so they definitely seem durable! They've got a selection of different heels, from wedge heels to block heels to heeled mules and more.

Allkind make classic style vegan high heel shoes. They have vegan pumps with a block heel and court shoes with a stiletto heel, in black, blush, silver and vegan snakeskin, and vegan patent leather and suede. So if you're looking for classic vegan black heels to pair with your classic LBD/little black dress, this is the brand for you!

If you're looking for vegan heeled sandals, Mireia Playa is for you. They have sandals made of recycled polyester vegan suede, and you can choose from platforms or mid heels. There's also a wide range of colors - beyond black, white and brown, you'll find red, turquoise and lime green sandals.

Luxury vegan shoe brand Taylor + Thomas has vegan court shoes, heeled loafers, and stilettos. If you're looking for vegan designer heels, don't miss LA-based Taylor + Thomas.
For more vegan designer shoes, see my guide to vegan designer shoes here.

From vegan heeled boots to vegan kitten heels, Beyond Skin has a really wide range of vegan heels. They even have vegan bridal shoes! Beyond Skin shoes are really well-made; I've owned several pairs. And they have a really cute range of vegan high heel boots and heeled sandals and vegan Mary Jane heels.
BC Footwear sells a range of vegan leather heels on Amazon, including vegan platform heels, court shoes and more.

Bhava has a range of understated vegan heels in colors that will work with any outfit. Their non leather heels are ideal vegan work shoes for women since they come in classic black, blush and white.

I love the beautiful designs of French vegan shoe brand Minuit sur Terre. Check out their elegant range of vegan pumps and vegan heeled sandals.
Pin this for later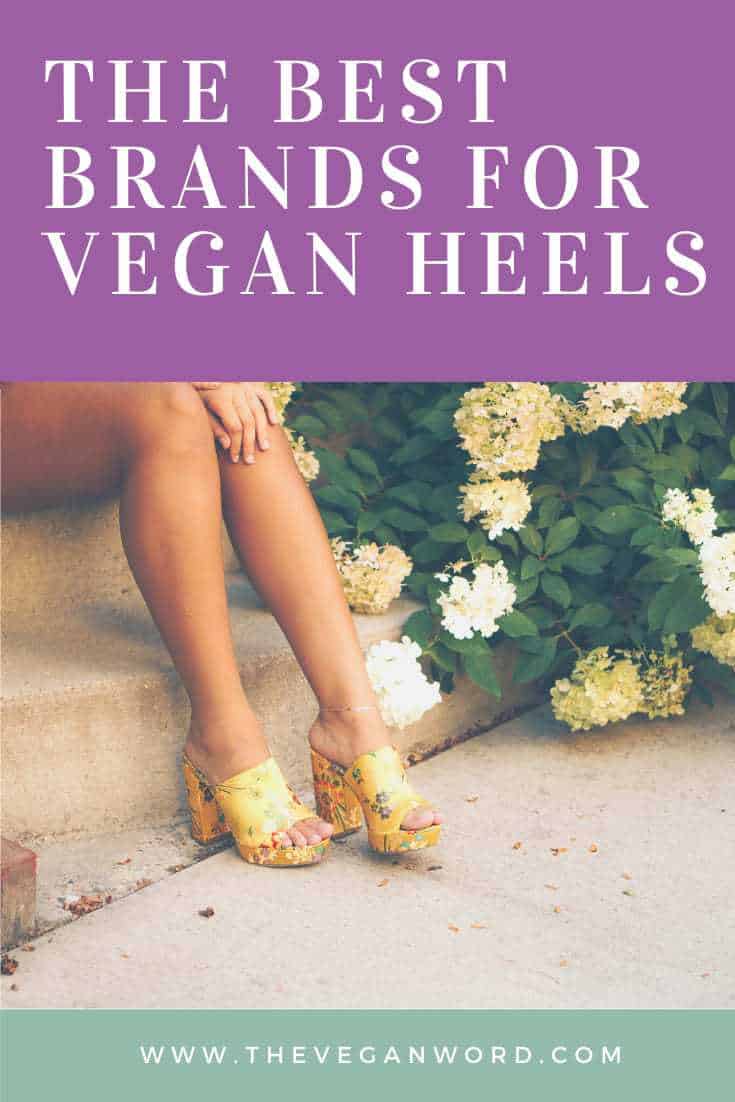 Looking for more vegan shoes? Check out my guide to vegan boots here, vegan sandals here and vegan sneakers here.
Click here to see all my vegan beauty & fashion guides.
What's your favourite pair of vegan heels?