On the hunt for the best vegan heels? Whether you're looking for heels for work, a wedding or going out, there are thankfully more choices than ever when it comes to vegan footwear!
From pineapples to olive leaves, a huge variety of materials are now used to make eco-friendly alternatives to leather.
Special deals:
Some of the best vegan heel brands I'll be covering include:
More options:
When it comes to vegan shoes, heels might be what you reach for for parties or going out out (though if you're looking for other styles, see my vegan women's shoe guide here or my guides to vegan dress shoes).
Whether you're searching for vegan block heels or stilettos, here are the best vegan high heels.

Use code "VEERAHXTHEVEGANWORD" for 10% off!
Based in the US
Features: 100% vegan company, option to accessorise shoes with brooches & tassels
Veerah is a brand that specialises in making sustainable vegan heels. They use materials like apple leather (made from food industry waste), algae-based foam and recycled plastic.
One of the most innovative things about Veerah is the ability to change up their shoes.
After the founder noticed she had to bring multiple pairs of shoes to work conferences to go to different events, she realised there was a better way – customising the same pair of heels with tassels, brooches, etc.
I love this idea – it's a great way to be more eco-friendly, save money and pack lighter.
Whether you're looking for vegan party shoes or vegan nude heels for work wear, you can use them to dress up your classic black vegan heels for a night out or change up your work shoes at a conference.

Best for: vegan heels UK
Based in the UK (they have dedicated US + EU stores too)
Features: 100% vegan company
Will's Vegan Store started out making men's vegan shoes and then expanded into women's shoes plus bags and clothing.
They have a few different styles of heels, like these vegan strappy heels, classic court shoes and heeled brogues.

Based in Portugal
Features: 100% vegan company, uses sustainable materials
All-vegan shoe brand Nae makes all their shoes in Portugal and prioritises using eco-friendly materials like recycled plastic bottles and airbags. They have low heels, vegan heeled sandals and more in their range of ethical heels.
The Valentina vegan low heels pictured above is a ballerina-style heel. The vegan kitten heels, adorned with a bow, are made out of a breathable ec0-friendly vegan microfibre.

Based in Canada
Features: 100% vegan
Free shipping for orders over $200 in US
Canadian brand Matt & Nat makes vegan bags, shoes and accessories. They have one of the widest ranges of vegan shoes for sale in their collection, making everything from vegan running shoes and comfortable vegan shoes to heels.
I have a Matt & Nat Wallet I've owned for nearly ten years so they definitely seem durable!
They've got a selection of different vegan shoes, heels and more. In terms of vegan womens heels, from wedge heels to block heels to heeled mules and more. Check their site for sales as they often have sales on affordable vegan heels.
The Amari block heels have a 3-inch heel and feature a v-cut design. These faux leather heels come in black PU leather, which will match everything, or a burnt orange corduroy if you want to add a pop of colour to outfits.

Based in LA
Features: 100% vegan company, uses eco-friendly materials
Luxury vegan shoe brand Taylor + Thomas has vegan court shoes, heeled loafers, and stilettos. If you're looking for vegan designer heels, don't miss LA-based Taylor + Thomas.
They use eco-friendly materials for shoes like FSC certified wood, a water-based and solvent-free polyurethane, recycled polyester suede and insoles made from castor beans and recycled rubber. They're made by artisans paid fair wages.
For more vegan designer shoes, see my guide to vegan designer shoes here.
The Marianne vegan court shoe is made in Italy and inspired by a classic court shoe but with a Western twist. Made with vegan Nappa leather, it has an orthopaedic memory foam insole, recyclable rubber outsole and FSC certified 2.8-inch beech wood heel.

Based in the US
Features: 100% vegan company
Bhava has a range of understated vegan heels in colors that will work with any outfit. Their non leather heels are ideal vegan work shoes for women since they come in classic black, blush and white.
The Phoebe loafer is perfect for work. These comfortable vegan heels have a removable cork insole for extra comfort and the timeless design is made using an Italian vegan leather free of PVC, formaldehyde and chromium.
They feature a solid wood heel and are made by artisans in Spain who've been crafting shoes for generations.
They also have vegan heeled boots.

Based in France
Features: 100% vegan company, uses sustainable materials
I love the beautiful designs of French vegan shoe brand Minuit sur Terre. I recently bought a pair of their vegan leather shoes, too. They make well-designed vegan sandals, heels and more.
Check out their elegant range of vegan leather pumps and vegan heeled sandals. Minuit sur Terre uses some sustainable and recycled materials such as eco-friendly apple leather for their sneakers.
They have vegan white heels, black heels and some colourful shoes like the Belem heels pictured above. The Belem heels are made with OEKO-Tex certified recycled material made in Italy and feature a comfortable and elegant 5cm heel. They're made in Portugal and also come in blush, black and red.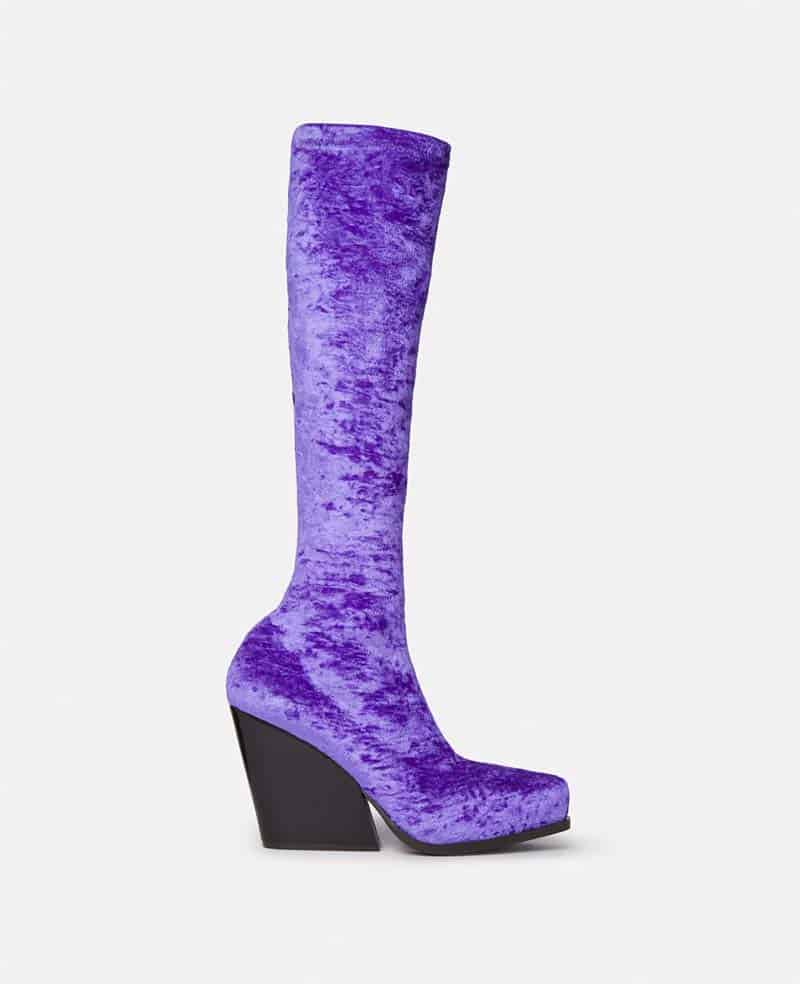 Looking for designer vegan heels?
As a lifelong vegetarian, Stella McCartney doesn't use any leather in her range (her entire shoe range is vegan, though not her full clothing range — some contain wool or silk).
If you're looking to stand out, these purple velvet heeled cowboy boots will do the trick. THe range also has other heeled boots, plus wedge trainers.
More brands making vegan heels:
FAQ
What are vegan heels?
Vegan heels are heels that are made without the use of any animal products – from leather to wool or animal-based glues.
How are vegan heels made?
Vegan heels are made using the same techniques as non-vegan heels, just using vegan materials like vegan leather and vegan glue.
Where to buy vegan heels?
If you are lucky, you might live in a city that has a vegan shoe store, but those are pretty rare.
You can try a department store, but employees don't often know what's vegan and although you may be able to tell if they're made of leather (see this site to find out more about materials behind the images on shoe labels), they don't usually label whether they contain animal-based glue.
Are vegan shoes more eco friendly than leather ones?
Leather is ranked by the Higgs Index as the second least sustainable material after alpaca wool (which also isn't vegan).
As a by-product of the meat industry, it's responsible for greenhouse gas emissions and the destruction of the Amazon rainforests.
Also, 90% of leather is treated with chromium during the tanning process (making it non-biodegradable), which has a detrimental effect on workers, some as young as 10.
However, you should choose vegan materials carefully, because PVC is terrible for the environment (though thankfully, it's not used very frequently anymore).
PU leather is more eco-friendly, as are polyester and cork (according to the Higgs index). Some vegan shoe brands use recycled polyester.
There are also some newer innovative and sustainable materials, such as Piñatex, or pineapple leather, apple leather and mango leather. All are made with leftover waste from the food industry. Find out more here.
What is the difference between PU leather and PVC leather?
PVC, or 'pleather' as it is sometimes known, was common used as a vegan leather alternative decades ago. Now, it's becoming less and less popular, as it's known to be terrible for the environment. Greenpeace called it the most environmentally-damaging plastic.
Polyurethane, or PU leather, also contains plastic, but is considered much better for the environment. It is rated as better for the environment than leather on the Higgs index.
Find out more about it here. However, for optimum eco-friendliness you might want to look for alternatives like recycled poylester, cork, apple leather or mango leather (which is biodegradable).
Is it okay to keep shoes that are leather after becoming vegan especially since I purchased them well before becoming a vegan?
Yes! While there may be some disagreement in the vegan community about it, most would say yes, it's fine. I certainly would.
It's wasteful to throw away clothes or shoes. As more and more awareness grows on the environmental impacts of fashion (particularly the fast fashion industry), more of us are becoming aware that the best place to shop for clothes is your own closet.
I'd never recommend throwing away perfectly good shoes.
If it bothers you (and some people find they can't bear the thought of putting on leather shoes after going vegan), then give them away to friends, family or a charity shop near you, or sell them on eBay or a secondhand clothing app like Depop or Vinted.
But as long as it doesn't bother you, you can keep on wearing them until they fall apart – and then replace them with vegan shoes one day.
Are vegan shoes expensive? How can I find affordable vegan shoes?
It's a misconception that veganism is an expensive lifestyle.
Now there are certainly expensive vegan shoes, even luxury vegan shoes. And many vegan shoes do tend to be more expensive because a lot of vegan shoe companies prioritise paying workers fair wages and using eco-friendly materials, which can be more expensive.
However, it's certainly possible to find vegan shoes on a budget. For a start, you might be able to find 'accidentally' vegan shoes at a discount store near you, although it's not always easy to tell if they've used animal-based glues unless you know the brand.
But my advice for those on a budget is to always shop secondhand! You can check out secondhand stores near you, but I have had a lot of luck searching for vegan shoes and bags on eBay and on secondhand apps like Vinted and Depop.
As a bonus, secondhand is best for the environment, since you're reusing things that have already been made and diverting them from landfill.
Where can I find well made vegan shoes?
Durability is an important factor to look for when looking for shoes, especially since durable goods are better for the environment than constantly buying new things.
It depends of course on how you use your shoes (shoes you use a lot for walking or sports won't tend to last as long as heels you only wear for special occasions), but the best thing is to look for shoes that are well manufactured.
Vegan shoe companies like Bhava and Taylor + Thomas are made by artisans who utilise traditional shoe-making techniques.
To make your shoes last longer, be sure to rotate shoes and air them out between wearings.
I also highly recommend finding a good cobbler/shoe repair shop near you, so you can have your shoes re-soled and repaired as needed, which will greatly prolong their life!
For example, I have a pair of vegan boots that I use heavily every winter – the soles need near-annual replacing – but thanks to the cobblers, I've had them over six years.
Pin this for later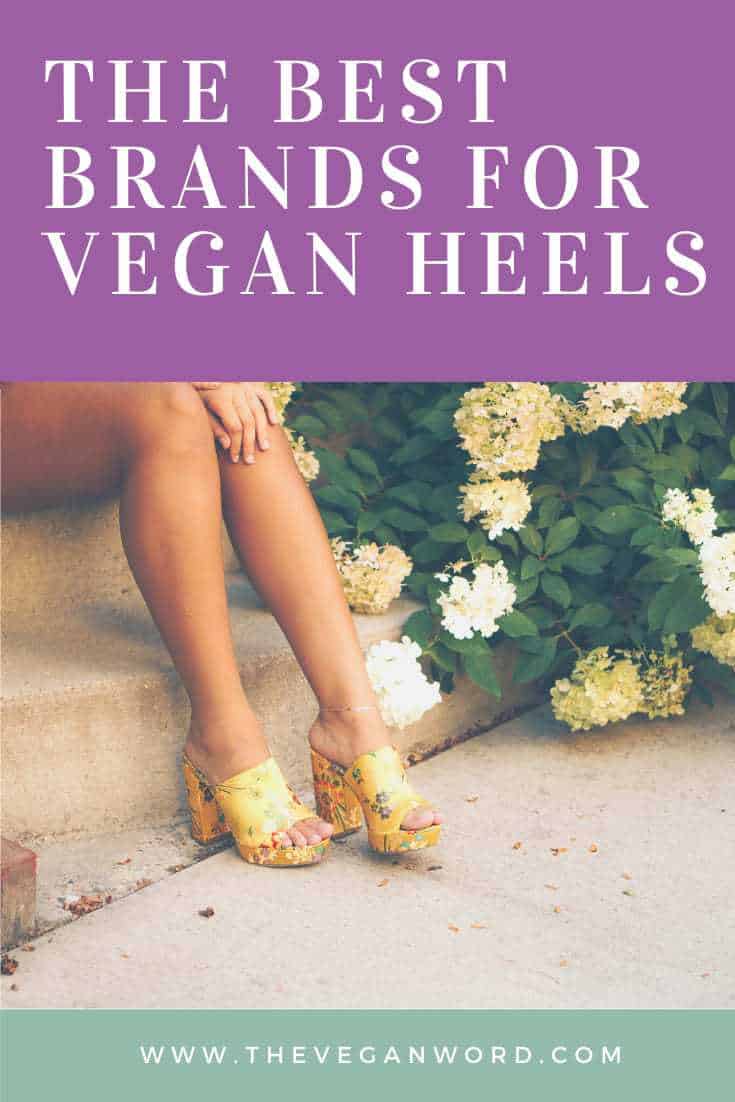 Looking for more vegan shoes? Whether you're looking for vegan sneakers, vegan boots, vegan sandals, vegan luxury shoes or vegan barefoot shoes, I've got a guide for you. Check out my guides to vegan boots, vegan sandals and vegan sneakers.
I also have guides to vegan Chelsea boots, combat boots, cowboy boots, ankle boots, knee high boots and winter boots.
Check out my guide to vegan luxury shoes.
Don't miss my guides to vegan Reebok, vegan flats and vegan loafers.
If you're looking for comfort, check out my guide to vegan clogs or my list of the top vegan slippers.
I also have a guide to vegan mens shoes.
See all my vegan beauty & fashion guides.
What's your favourite pair of vegan heels?