Cow-free cowboy boots? It might sound like an oxymoron, but for vegans looking to make a fashion statement, sans cruelty, cute vegan cowboy boots are a great addition to your closet.
My adventures in buying vegan shoes started back in my childhood; where we shopped never labelled shoes as non-leather and my dad would try his "scratch and sniff" method to see what was real leather vs faux. Thankfully, we've come a long way since then, but to help you in your own cruelty-free hunt (and so you can avoid being told off by a store clerk for scratching and sniffing shoes) I've put together this list of vegan cowboy boots for you. All are 100% vegan.
The best vegan cowboy boots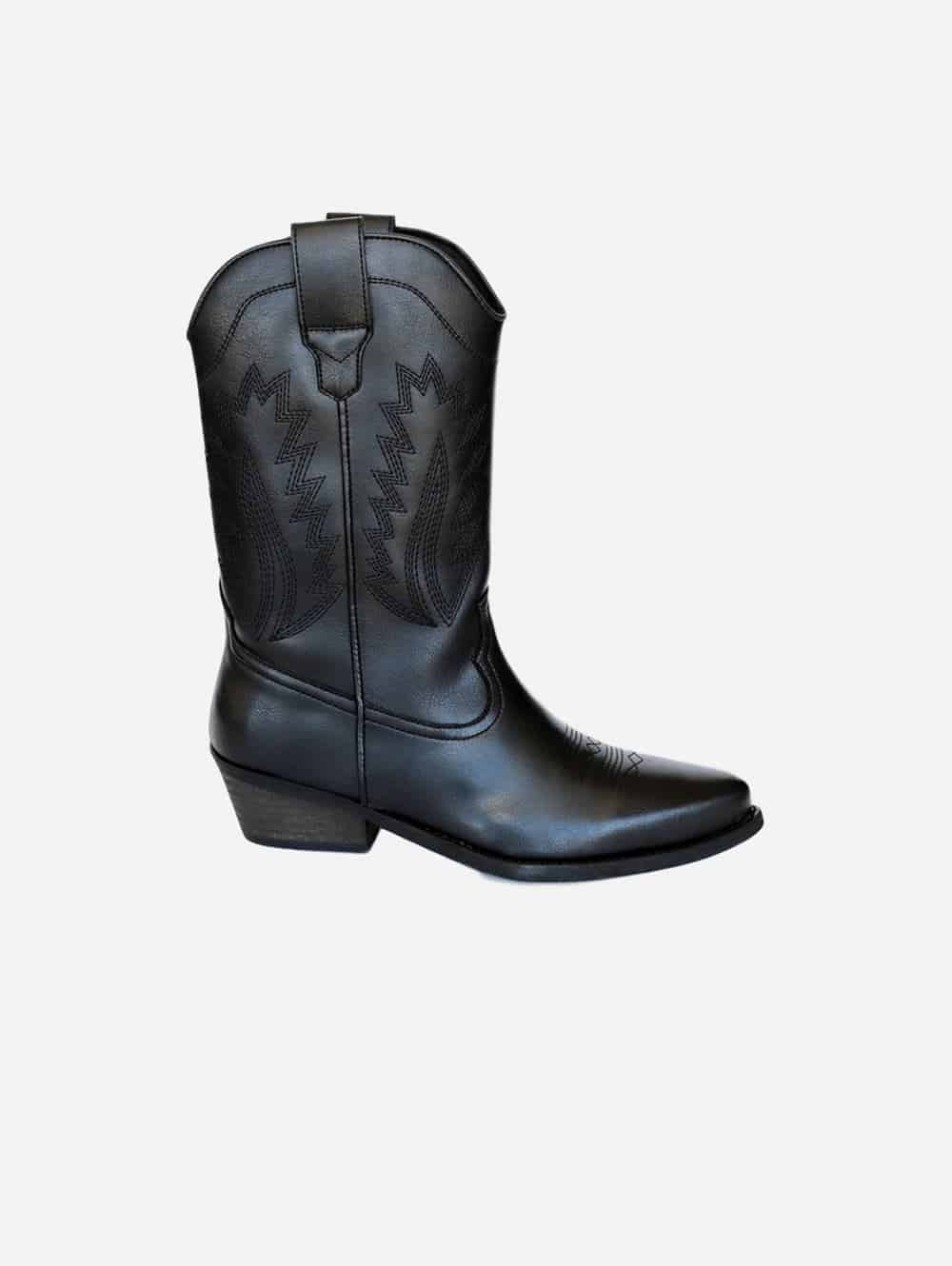 These are classic cowboy boots, vegan and sustainable style. They're made of a soft and eco-friendly vegan microfibre leather with a breathable and antibacterial lining.
The unisex vegan leather cowboy boots have an elastomer sole and wooden heel. They also have Western-style pull straps on either side.
They are OEKE-TEX certified and made using a CO2-free manufacturing process.
Like all Good Guys Don't Wear Leather shoes, they are designed in France and ethically made in Portugal.
The pull straps make them easy to get on, and their classic style will work with many different outfits. They say the sizing is accurate to a half size bigger, so choose your size wisely. They don't have any different calf sizes, unfortunately.
---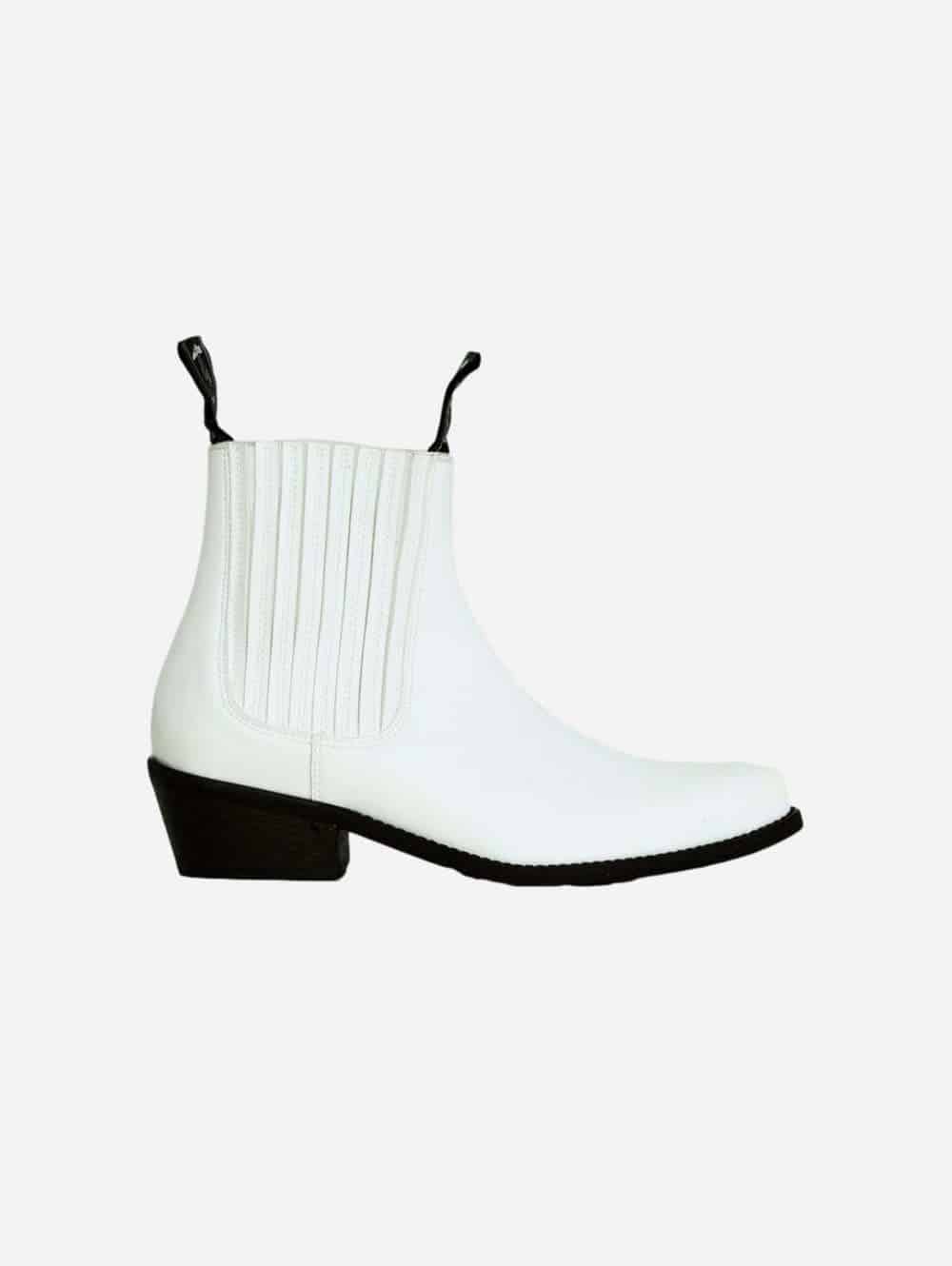 These classic boots come in a wide range of colours, whether you're looking for black vegan cowboy boots, white vegan cowboy boots, or brown, beige or mustard boots.
The iconic Duke boots come with elasticated sides and pull tabs to take them on and off.
The upper is a soft vegan microfibre leather that's OEKO-Tex certified. The boots have an elastomer sole and wooden heel, and a breathable lining.
Like all Good Guys Don't Wear Leather shoes, they're eco-friendly and ethically made.
They're a more subtle Western-style boot than some of the others on the list, and thus very versatile.
---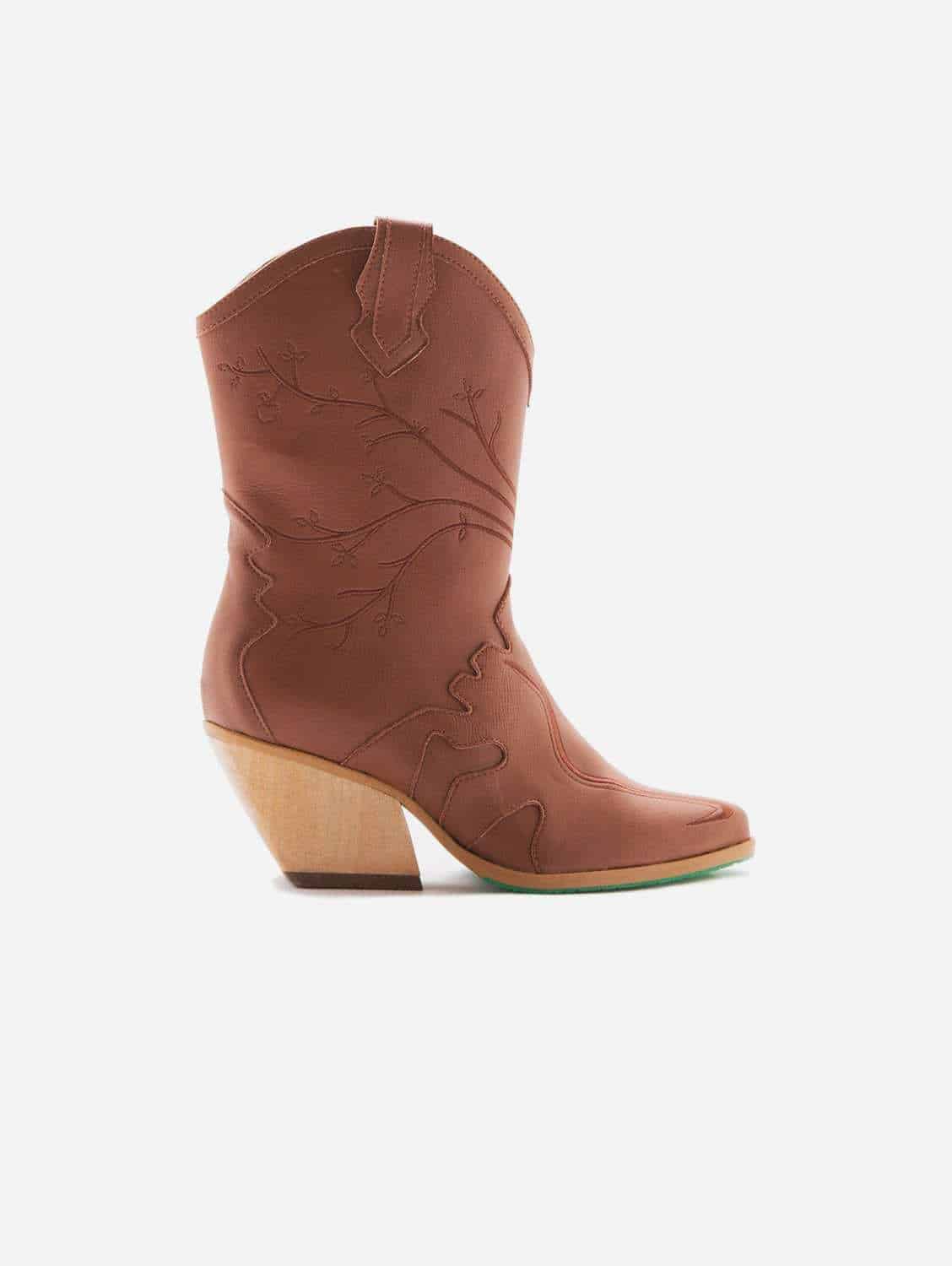 These vegan cowgirl boots are made from vegan apple leather, a sustainable alternative made from waste from the food industry.
The upper is made of apple leather and recycled PET, and they have an embroidered design with the text "Walking on plants" and a small, embossed green apple on the inside exterior of the right boot (see more pictures here).
The lining is a breathable microfiber, the insoles cork, the outsoles recycled rubber and the 7cm (approx 2.75″) heel is made of wood.
They come in brown, cream and a cream, blue and green design.
The style is bolder than others on the list, and includes text on the side ("Walking on Plants") so they wouldn't suit if you want something low-key, but are a great fit if you want to make a statement.
---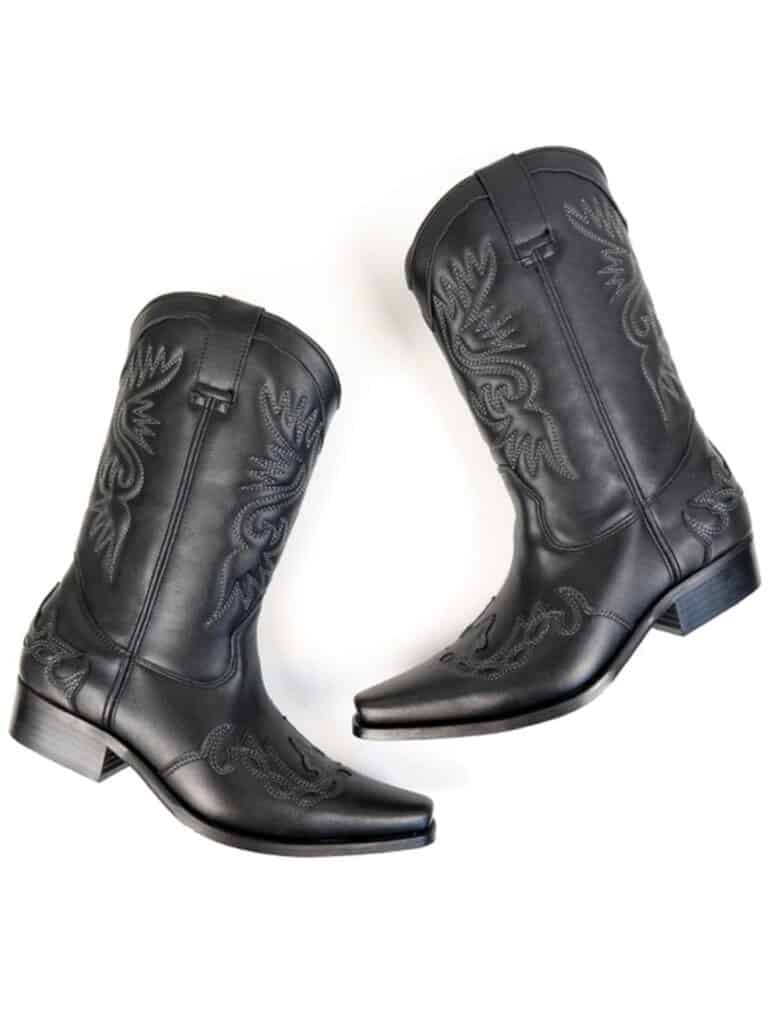 You can find both men's and women's sizing of these classic style vegan Western boots. Vegan clothing brand Will's started out making vegan men's shoes but have since expanded into women's shoes, vegan jackets, bags and more.
They are made of a breathable, water-resistant vegan Italian leather made with bio oil sourced from Northern European cereal crops. The upper is decorated with stitched detailing.
The inside is lined with vegan suede and the insoles are made of recycled rubber. They have a 3.6cm (1.4″) heel.
---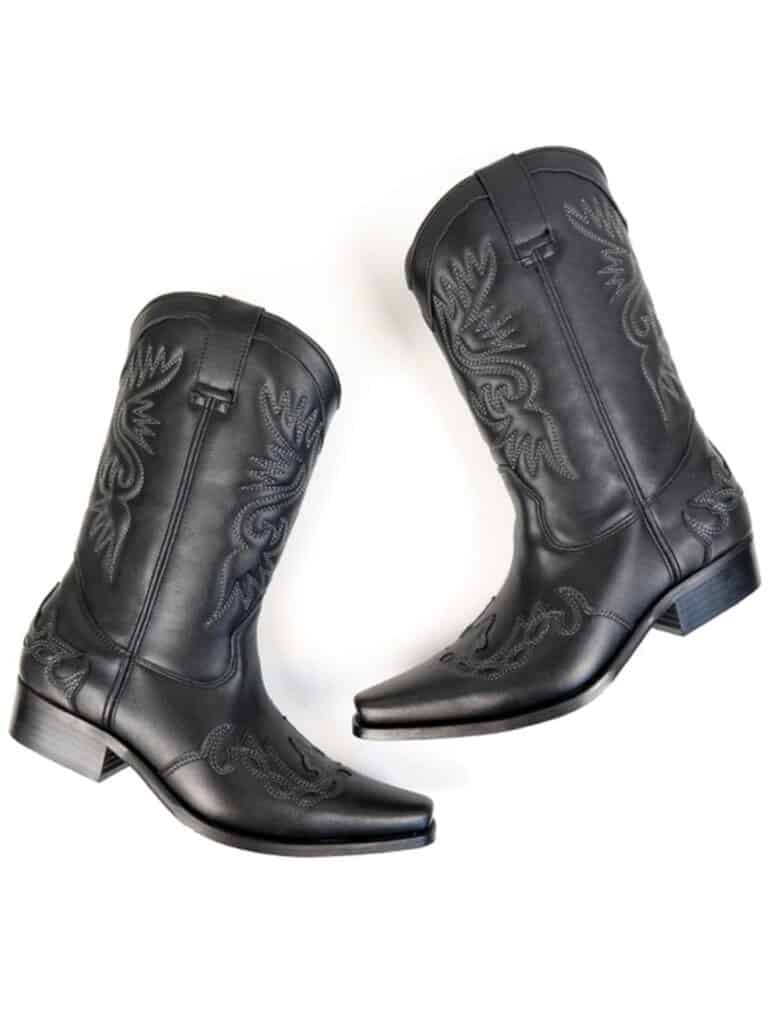 These non leather Western boots are just like the boots listed above, but in women's sizing and with a slightly higher heel height. They are made with vegan Italian leather, a vegan suede lining and recycled rubber soles.
They have stitched/applique detailing and a 4.5cm / 1.8in heel.
Like all Will's footwear, they are certified carbon neutral, made in Portugal and can be returned for recycling at the end of their life.
---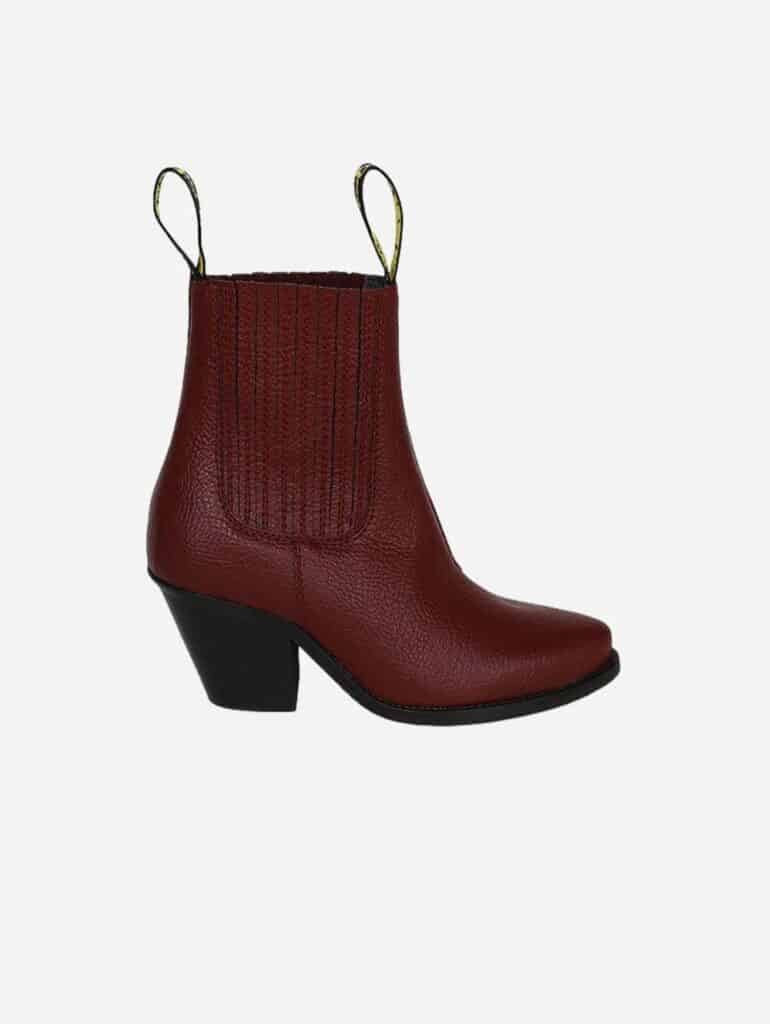 These vegan leather cowboy boots are similar in style to the Duke boots listed above, also from the brand Good Guys Don't Wear Leather, except these feature a higher heel and only come in women's sizing.
The Daisy vegan leather cowgirl boots come in burgundy and brown, and are made of eco-friendly, vegan AppleSkin leather. Apple leather is a sustainable leather alternative made from food industry waste.
They have elasticated sides and pull tabs on front and back. The lining is made of recycled materials and corn. Both the apple leather and the lining are breathable, and the lining material is also antibacterial.
The boots are OEKO-Tex certified.
They have an elastomer sole and wooden heel with a height of 7.5cm (just under 3 inches).
Like all Good Guys Don't Wear Leather shoes, they're ethically made in Portugal in a fair-trade company with fair working conditions.
---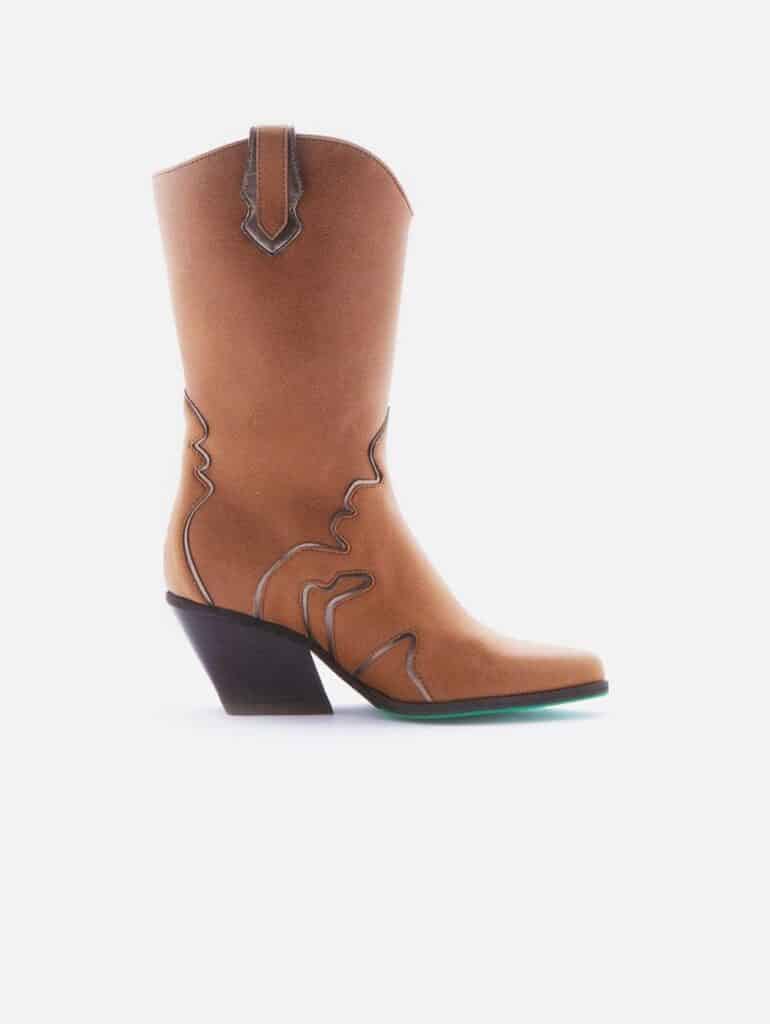 These heeled vegan cowboy boots are made of a soft vegan suede made from corn and recycled plastic bottles recovered from the ocean.
The lining is an OEKO-Tex certified microfibre material that's breathable, antibacterial, sweat-resistant and hypoallergenic.
The insoles are cork, while the outsoles are recycled rubber with grip. The heel has a height of 7cm (approx 2.75 inches).
---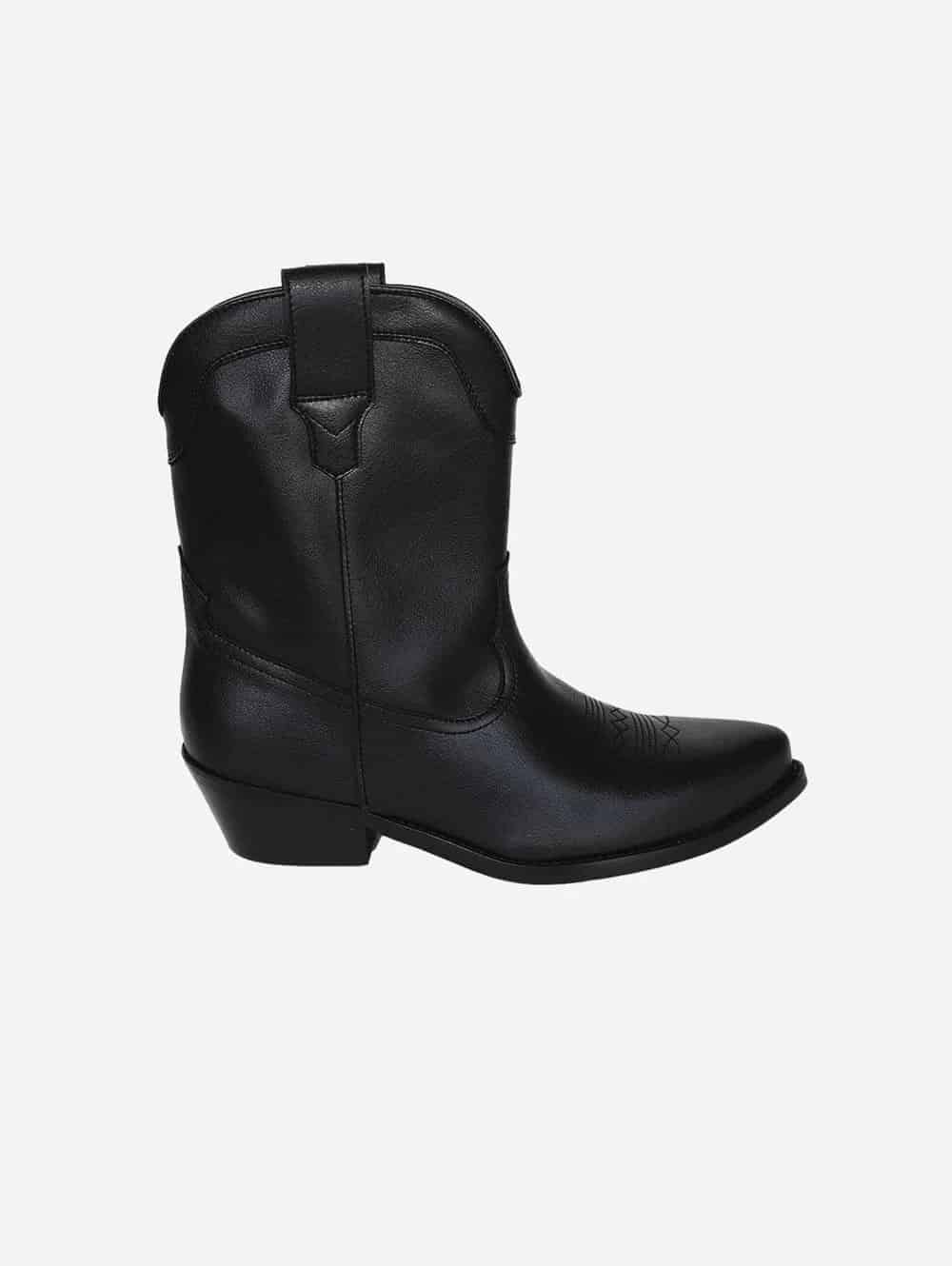 These Western style boots hit at mid-calf, and are the shorter version of the Good Guys Don't Wear Leather Lucky high-top boots listed earlier in this post.
The Gabe boots have a vegan microfibre leather upper, a lining made of corn and recycled materials, an elastomer sole and side loops to take them on and off easily.
The heel is 5cm (just under 2 inches).
---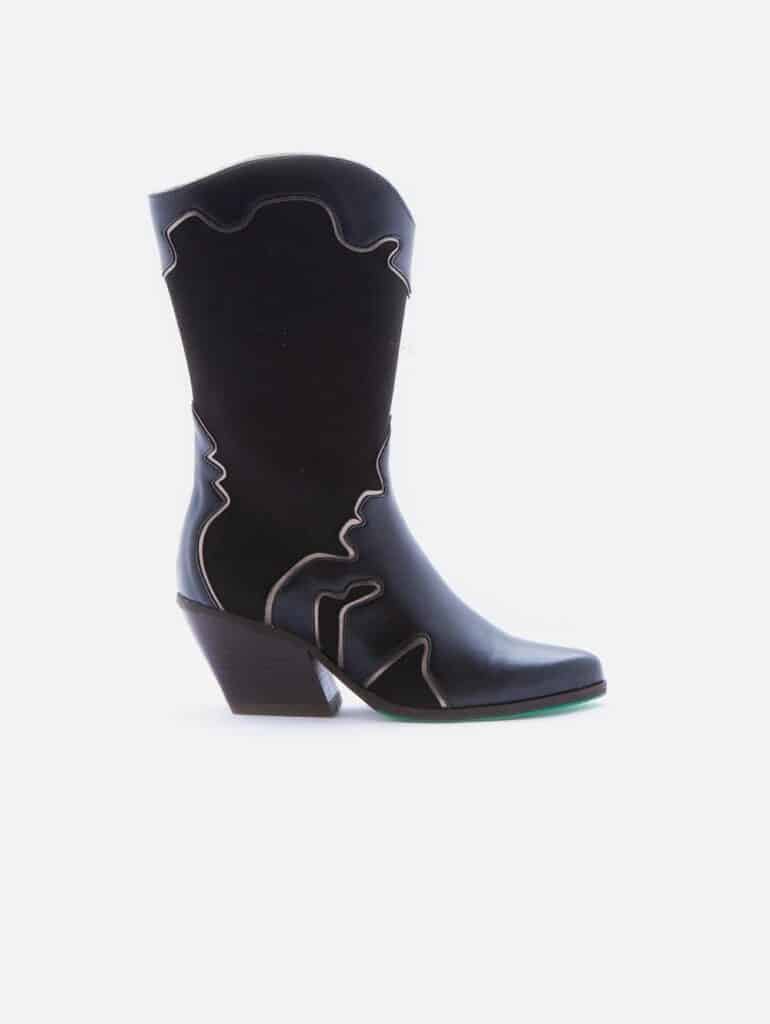 These cowboy boots are made of eco-friendly vegan apple leather and vegan suede uppers, with a breathable lining made from corn and plastic bottles extracted from the sea.
They have cork insoles and recycled rubber outsoles, with a heel height of 7cm (approx 2.75 inches).
I love the unique design of these, and the green sole (see more pics here) — these ones are best worn if you want statement shoes though!
---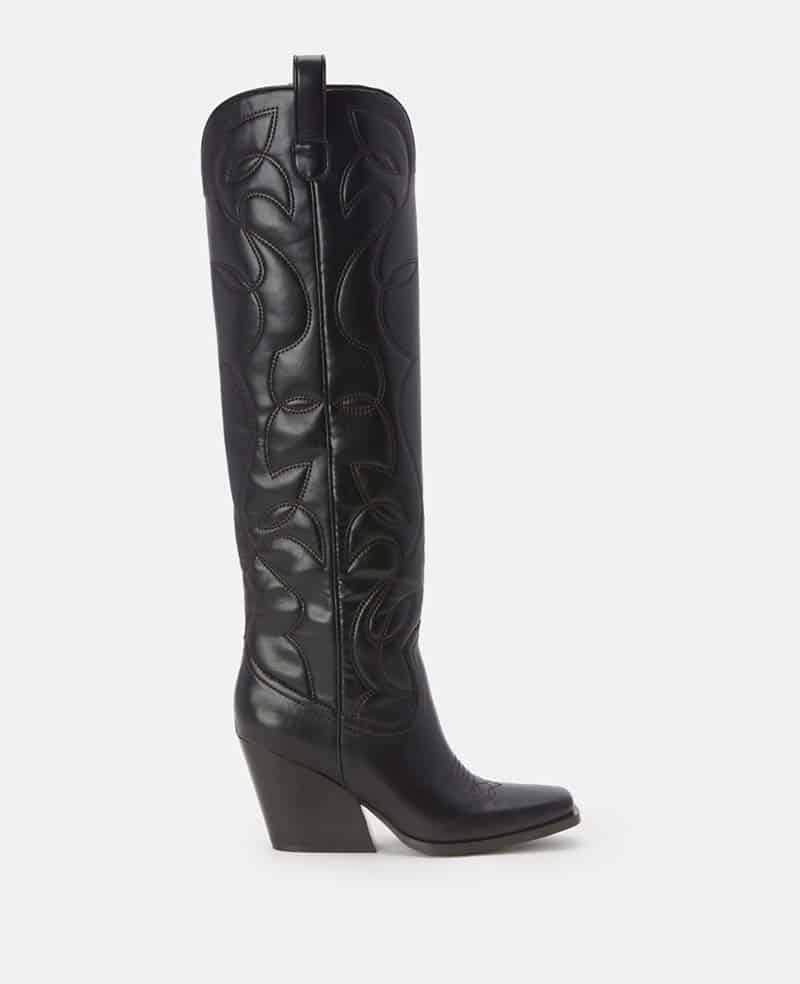 Looking for designer vegan cowboy boots? Luxury designer Stella McCartney's take on cowboy boots have arrived!
As a lifelong vegetarian, Stella doesn't use any leather in her collection, and her shoe range is vegan, as is her range of handbags (though be careful with clothing as her clothes range isn't all vegan – she sometimes uses silk and wool).
These classic cowboy boots are made from a soft black vegan leather and decorated with a stitched pattern. They have a square toe and a Cuban heel, and have a loose fit on the calves.
---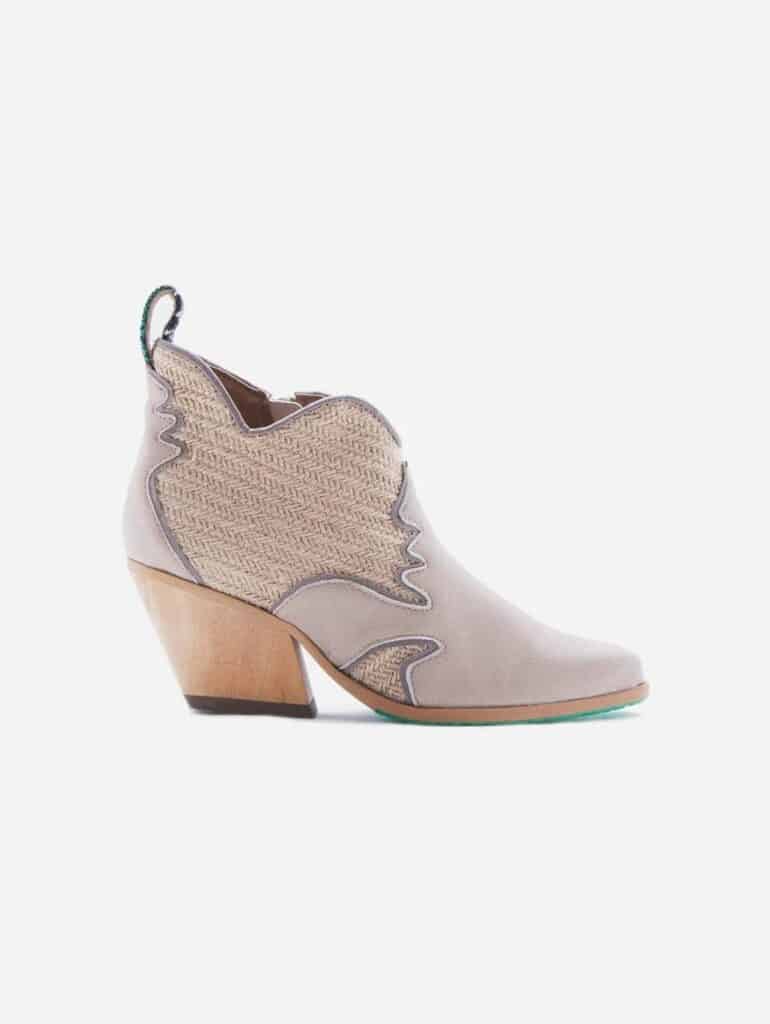 If you want a cowboy boot look but with the height of an ankle boot, these boots from A Perfect Jane are the perfect fit.
Made of taupe vegan apple leather and jute, they're an eco-friendly twist. Apple leather is made using the waste from the apple industry, which would normally be discarded, while jute is a sustainable natural fibre.
They have an intricate design, 7cm (2.75-inch) heels made of wood and a cork insole. The lining is a breathable microfiber, while the outsoles are made of recycled rubber.
---
These Western-style booties are made of vegan black leather.
These faux leather cowboy boots are much shorter than other Western-style boots on the list and hit around ankle height.
The heel is 2 inches (around 5cm).
Click here to see more pictures.
---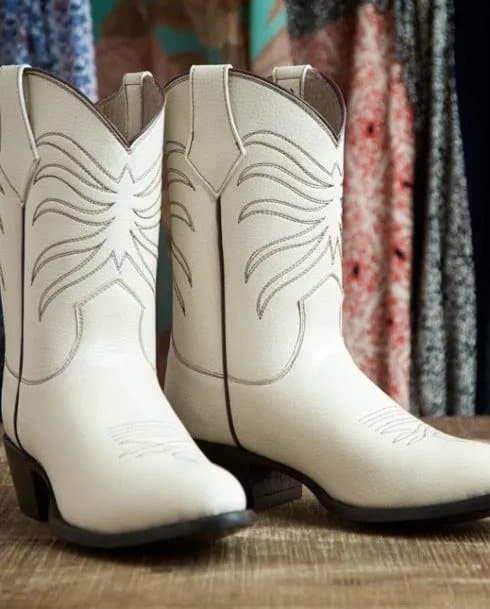 These Kat Mendenhall boots, like all boots from her line, are 100% vegan and are handmade in Texas.
The authentic vegan white cowboy boots are customisable, and you can choose from a a full range of 12 different colours.
You can also choose the toe shape (from 9 shapes, such as square toe or pointed toe) and the stitching colour (from 13 shades).
You can choose from three heel heights: 1.25″, 1.5″ or 1.75″.
The microfibre vegan leather used is durable, breathable, plus water- and stain-resistant.
They have sizing for both mens vegan cowboy boots and womens sizes.
---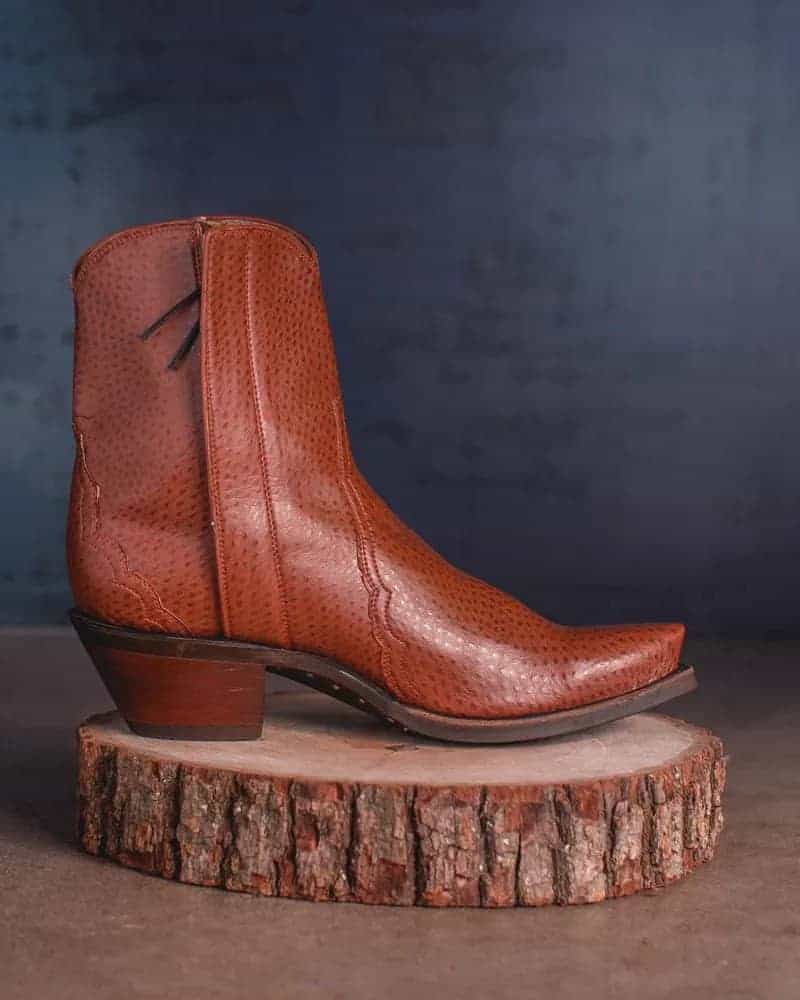 This boot is shorter than other Kat Mendenhall boots and comes in vegan rust ostrich (though you can choose from a dozen other shades, if, for example, you want red vegan cowboy boots, or black to match everything).
You can also customise the heel height: 1.25, 1.5 or 1.75 inches.
Like all Kat Mendenhall boots, they're 100% vegan and handmade in Texas.
They're also durable, breathable, stain-resistant and water-resistant.
---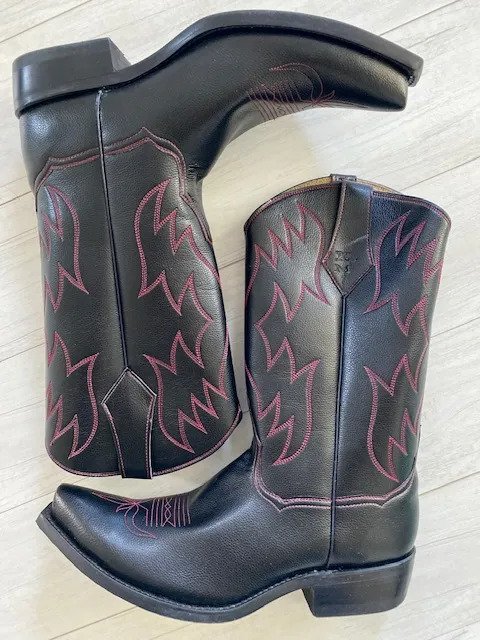 These vegan mens cowboy boots come just in a 10.5 wide men's size.
They are made of black vegan leather with red stitching in a flame design.
The materials are sourced from the US and are breathable, water- and stain-resistant and durable.
The boots are handmade in Texas. As well as boots, you can also find vegan Western style belts on Kat Mendenhall's site.
Find my full guide to vegan men's boots here.
---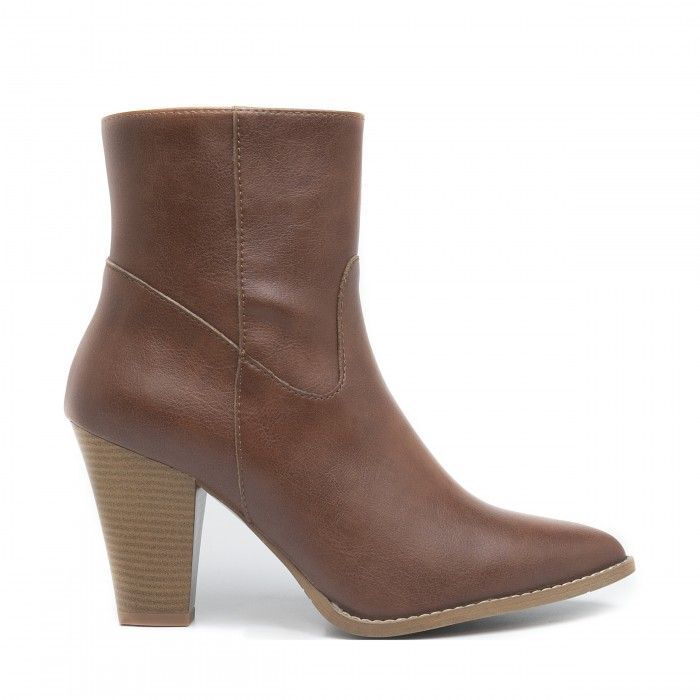 These heeled Western style boots are made of brown vegan microfiber leather with a chunky high heel. The vegan leather used is water-resistant and durable, and they're lined with hypoallergenic and antibacterial microfiber.
The outsole is non-slip rubber and these boots are manufactured in Portugal.
---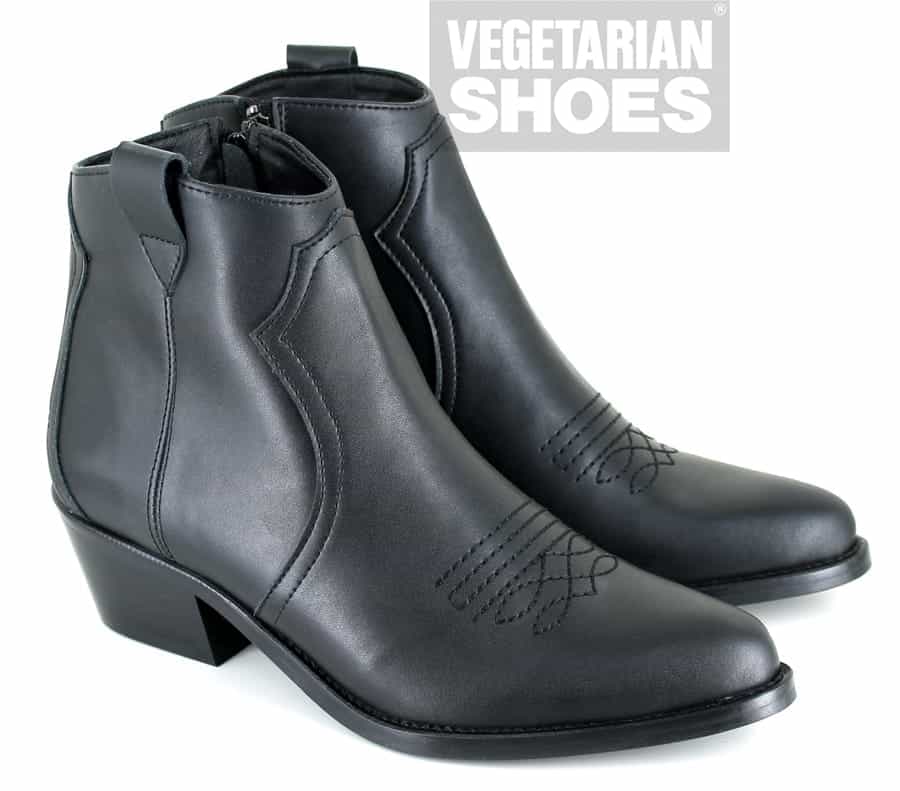 These cow-free vegan cowboy boots come in women's sizes only. The ankle boots have embroidered stitching and a 2-inch (5cm) heel.
They also have pull-on tabs and are made with a durable, breathable and water-resistant vegan microfiber leather upper.
They are made in Portugal.
FAQ
What are vegan boots?
Vegan shoes are simply footwear that don't contain any products of animal origin, whether leather, wool or even animal-based glues (some, though not many, mainstream manufacturers may make shoes without any leather but use animal-based glue).
All the shoes on this list are from vegan companies and are therefore 100% vegan.
Where to buy vegan cowboy boots?
The easiest place to find them is online, hence this list!
If you prefer to buy in-person, check out this guide to symbols so you can check for non-leather uppers and soles, but do be aware that some manufacturers still use animal-based glues (and are not required to label it as such).
Where can I find vegan cowboy boots for men and women?
Many of the cowboy boots listed above are unisex and come in both men's and women's sizes. In particular, check out Good Guys Don't Wear Leather's Lucky boots and their Duke boots, and Kat Mendenhall's range.
Pin this for later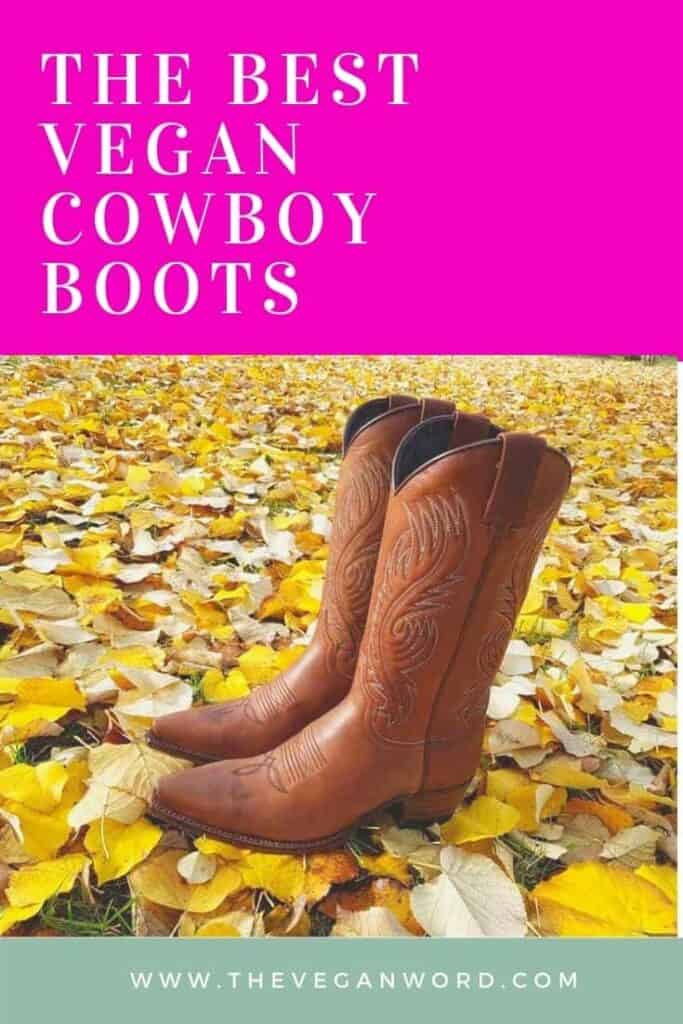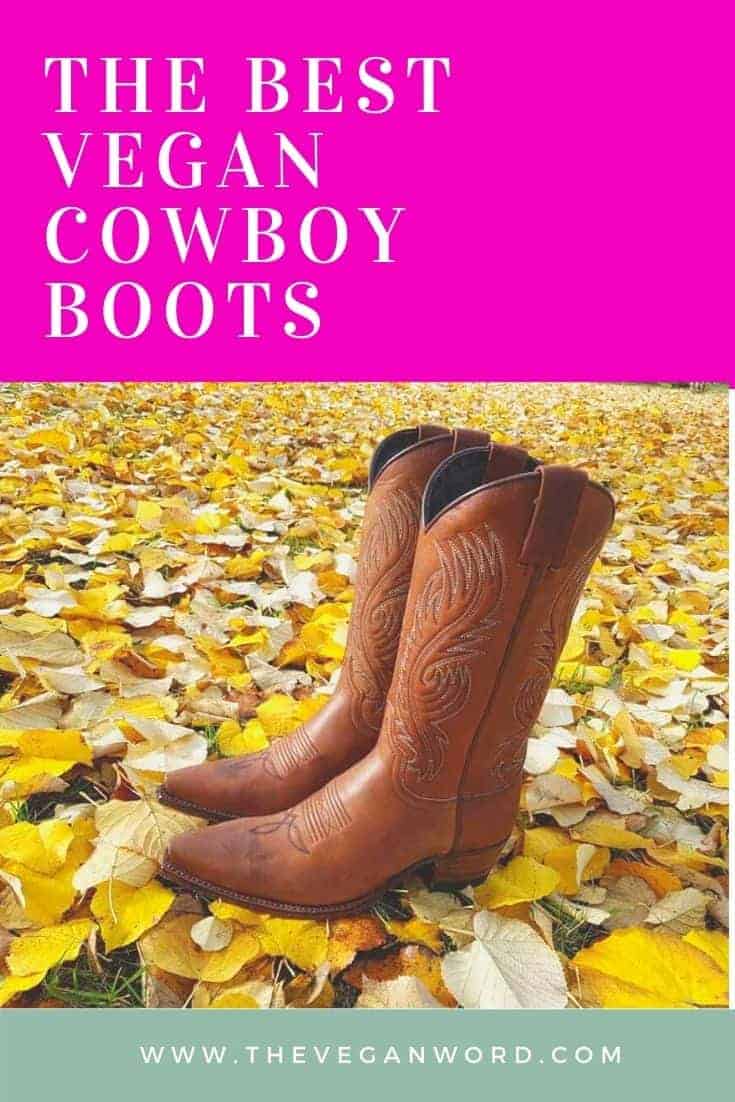 Some more posts you might enjoy
Looking for more vegan boots? Check out my full list of vegan leather boots, my guide to all vegan shoes, vegan winter boots, vegan Chelsea boots, vegan combat boots, vegan knee high boots or vegan ankle boots.
Also, check out my guides to the best vegan loafers, vegan flats and vegan Reebok style sneakers.
I also have more shoe-related posts: vegan clogs, vegan sandals, vegan slippers, vegan heels, vegan designer shoes, vegan sneakers, vegan dress shoes, vegan mens shoes and vegan womens shoes.
Find my full section of vegan beauty & fashion guides here.