Now that the weather is turning colder, perhaps you're searching or mens vegan boots. I know from experience finding vegan shoes can be a bit tricky.
I've been vegan since 2008, though I stopped wearing leather much earlier (as a lifelong vegetarian, once I discovered where leather came from, I didn't want to wear it anymore).
Unfortunately most major retailers don't label their vegan shoes (though you can use this guide to symbols to try to work it out). It's often easiest to find mens vegan shoes online for that reason!
To help you out, I've put together this guide to the best brands for vegan mens boots.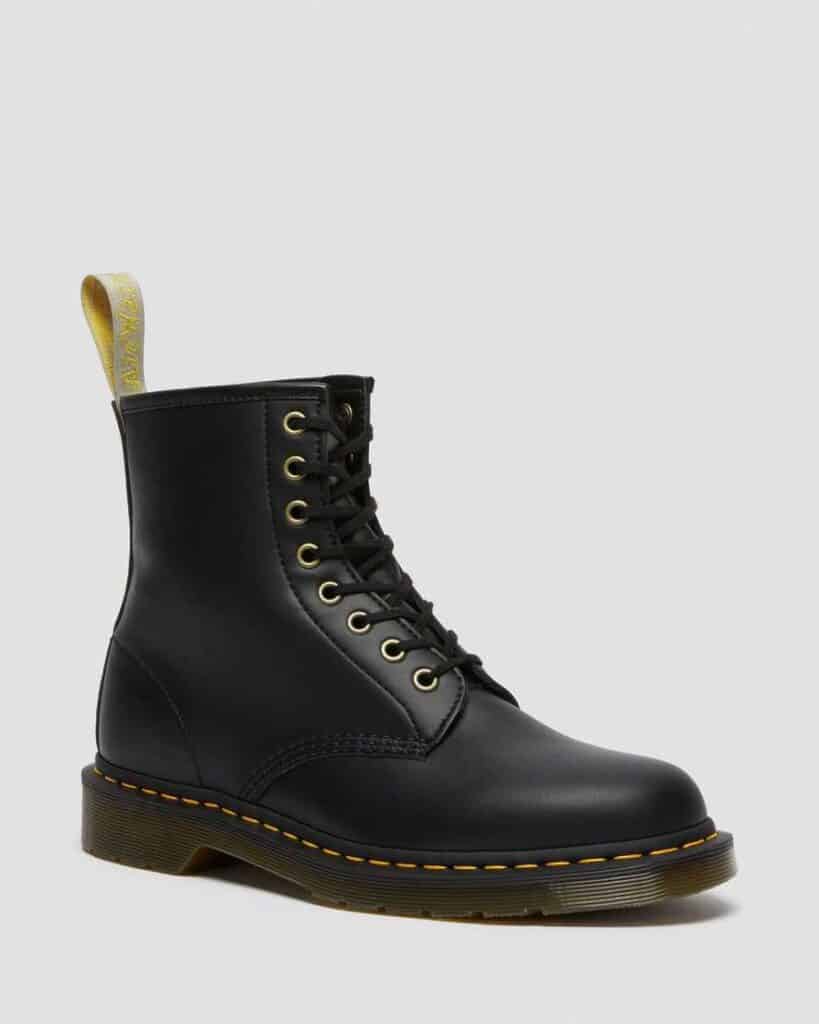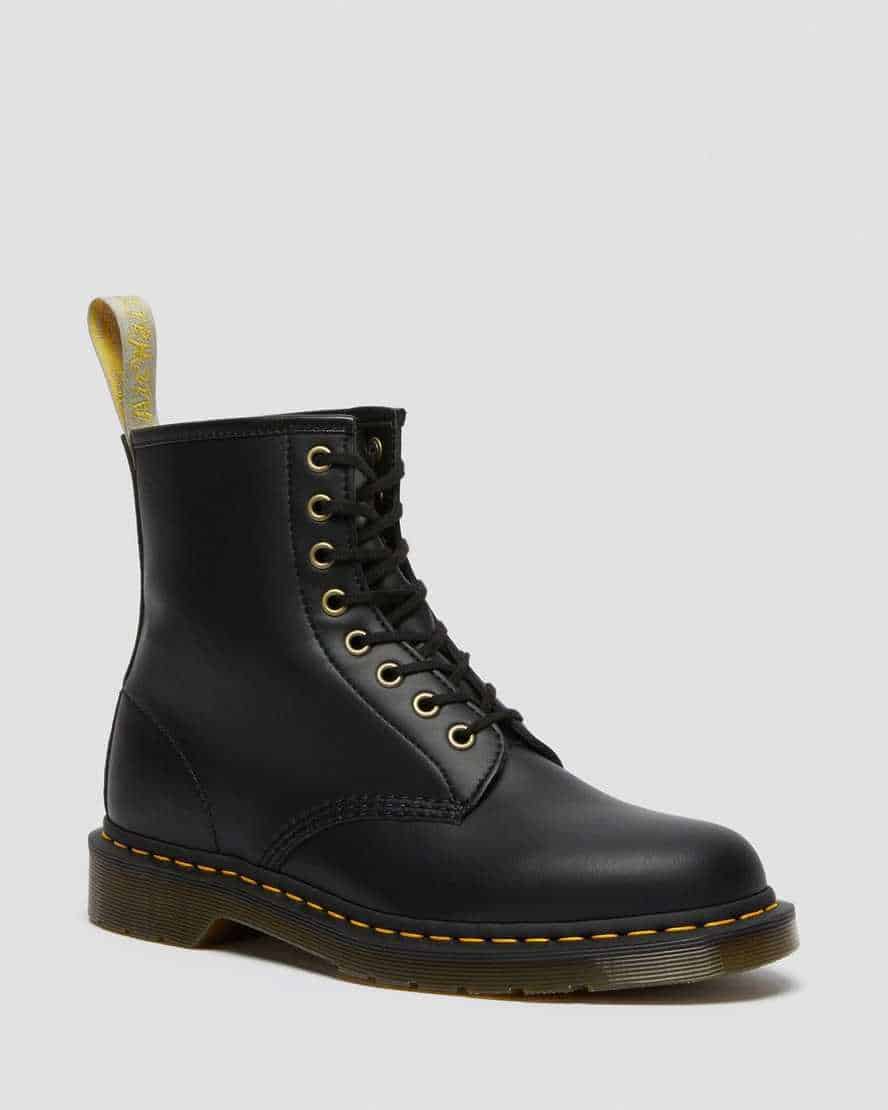 These vegan lace up boots from Doc Martens are a classic style that will never go out of fashion. Doc Martens has a number of boots available in their vegan range, with their classic styles made out of vegan leather.
But like their whole range, these Doc Marten vegan boots are made with their air cushioned sole, which is Goodyear welted (read here about why Goodyear sole construction is the most durable).
I have full guides to vegan Doc Martens, vegan Doc Marten boots and vegan Doc Marten Chelsea boots.
---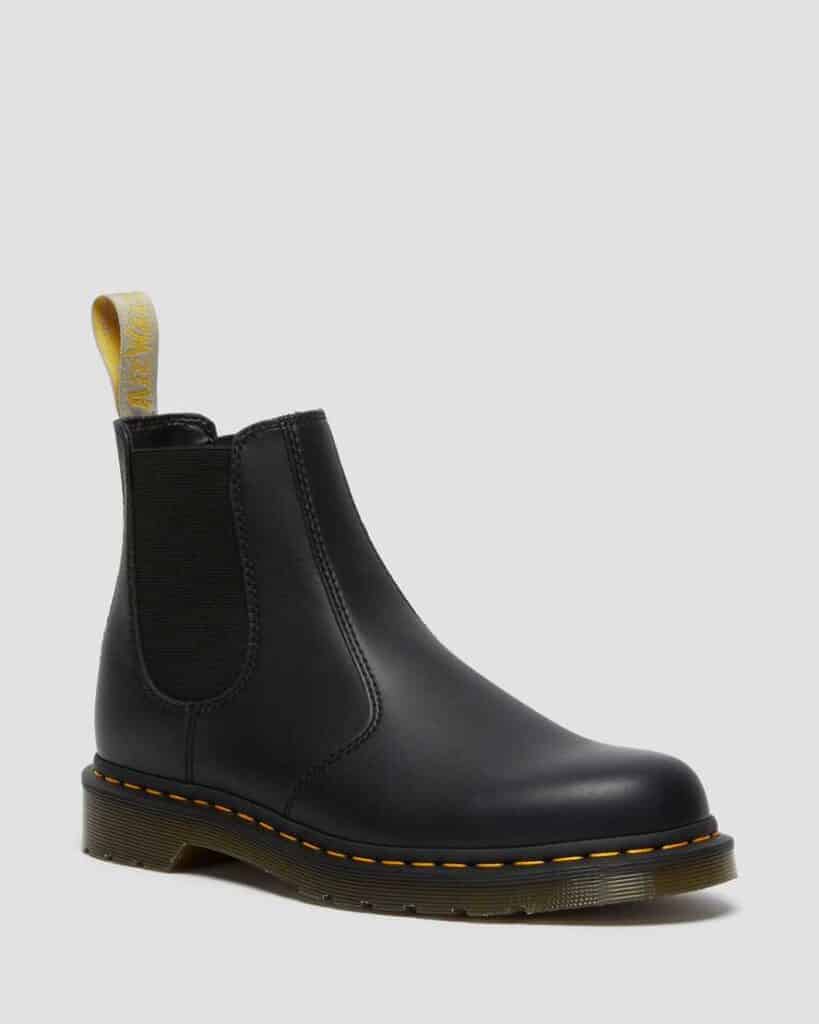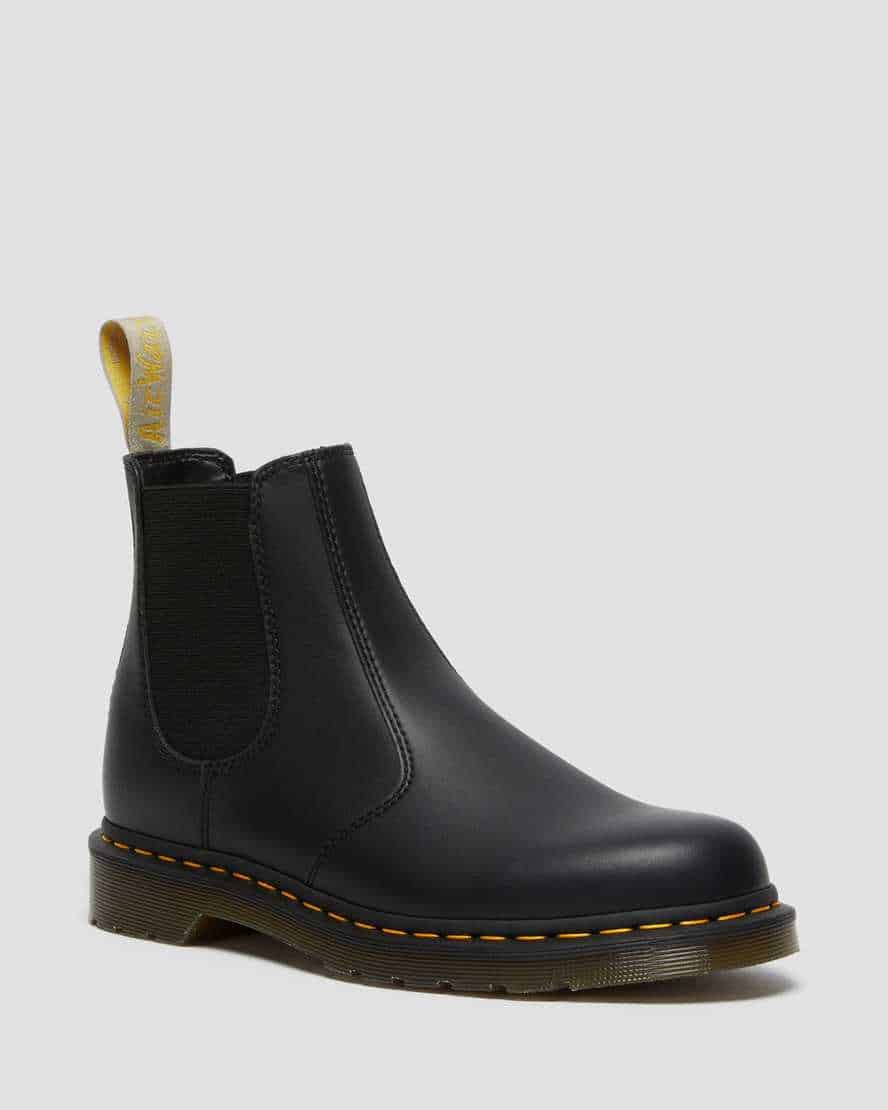 The Dr Martens vegan 2976 Chelsea boots are a classic style of mens vegan Chelsea boots.
These Dr Martens vegan boots are a unisex style, made with an easy-on, easy-off elastic ankle and a pull tab on the back.
These vegan mens Chelsea boots, like all Doc Martens, come with their iconic yellow stitching, plus their air-cushioned sole, with is slip-resistant, and a sturdy Goodyear welted sole.
---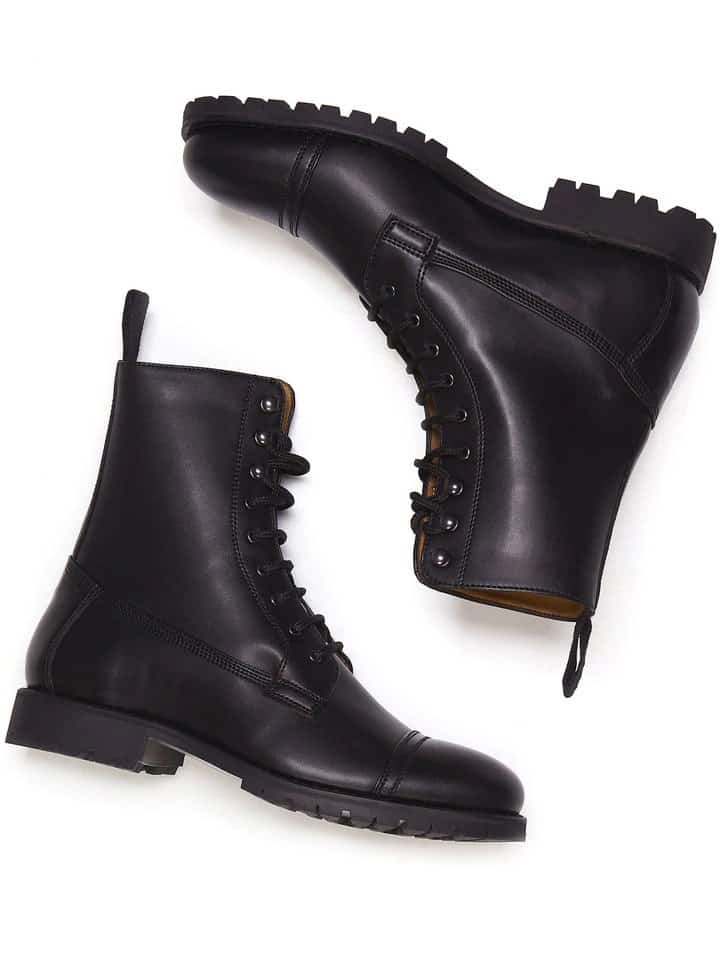 Will's started out as a vegan men's shoe company (though now they also sell women's shoes, plus a range of vegan clothes and bags), so their range of vegan boots for men offers excellent choice.
Wills vegan boots' style tends towards classic, like these black lace-up boots.
They are constructed using Goodyear welting, considered the gold-standard of boot construction, which can take up to eight weeks to make.
Because of the way Goodyear soles are made, they are easier to repair (more information here), making them longer-lasting and more eco-friendly.
These boots are made of Italian bio-based vegan leather and lined with vegan suede.
---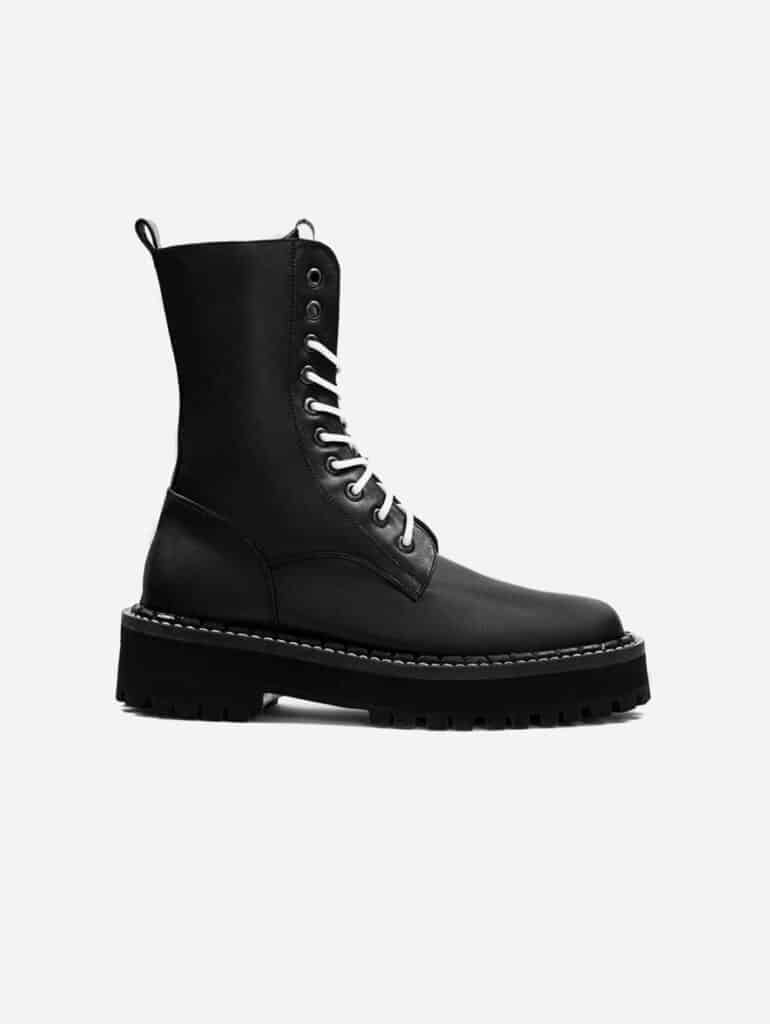 The lace up vegan boots from Bohema are made of eco-friendly cactus leather.
Cactus leather is a relative newcomer to the vegan leather scene. It's made using the leaves of the Nopales cactus, which would otherwise be waste material, and because cacti are desert-dwellers, requires much less input of water than many other products.
The mens vegan leather boots has a black cactus leather upper, rubber sole with a height of 3cm and white laces.
---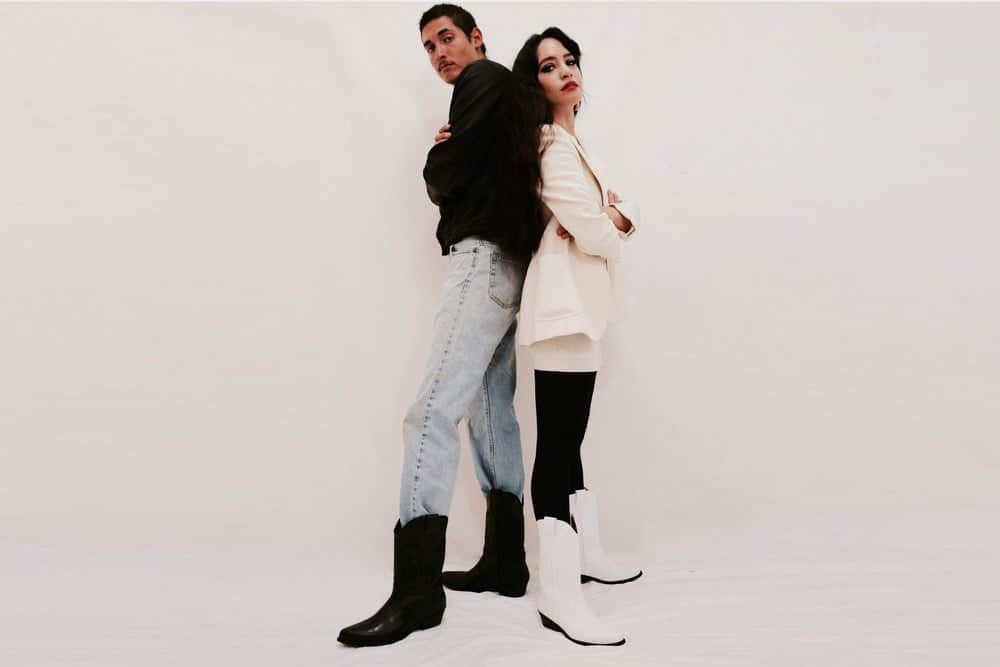 The Lucky cowboy boots from Good Guys Don't Wear Leather are unisex and come in black and white.
The high top vegan mens cowboy boots are made of a soft microfibre vegan leather and embroidered with a Western design.
The side pull tabs on these men's vegan boots make them easy to take on and off.
They have an elastomer sole, wooden heel and a breathable, antibacterial lining. Like all Good Guys Don't Wear Leather shoes, they're made in Portugal in a CO2-free manufacturing system.
---
Looking for white vegan boots? The Duke cowboy boots from Good Guys Don't Wear Leather come as vegan white boots, as well as in black, brown, grey and other hues.
These unisex boots are made of microfibre vegan leather with extra-strong pull tabs for ease of use. They have a pointed toe, wooden heel and elastomer sole, and a breathable lining.
Like all the brand's shoes, they're ethically made in Portugal.
---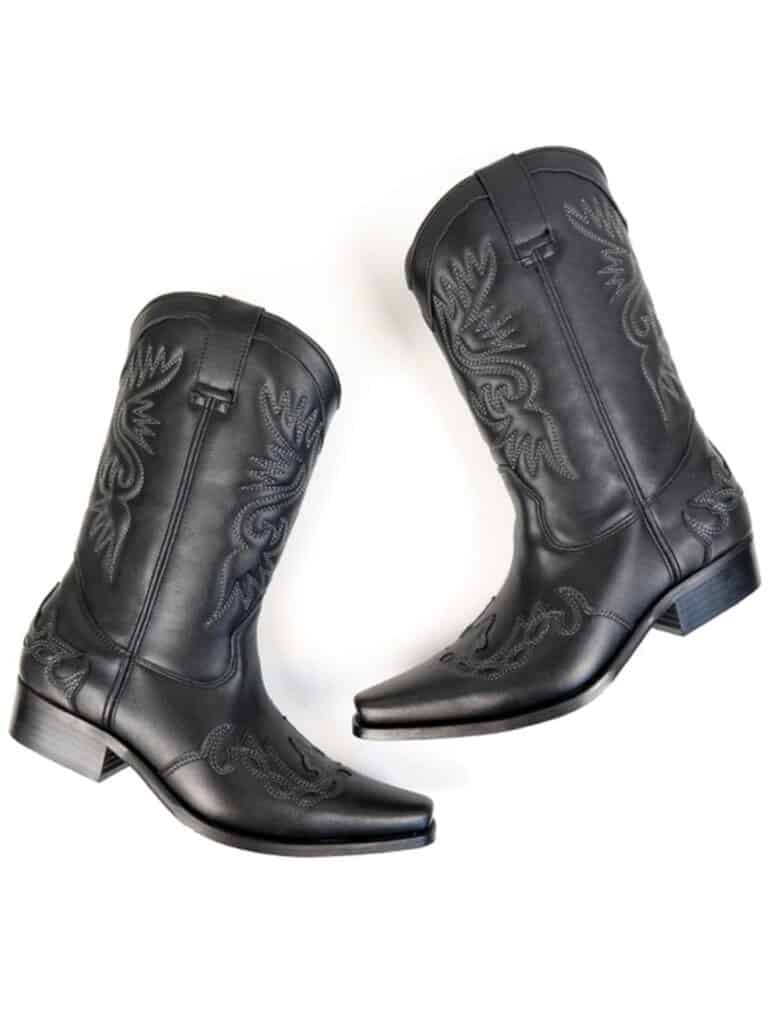 These Western style boots from Will's, a brand which started life specialising in vegan men's footwear (though has since expanded), are a classic black cowboy boot with stitch detailing.
They're made of bio-based vegan Italian leather (made with bio oil sourced from Northern European-grown organic cereal crops).
They're water-resistant and breathable and lined with vegan suede.
The boots have a 3.6cm-1.4 inch heel.
---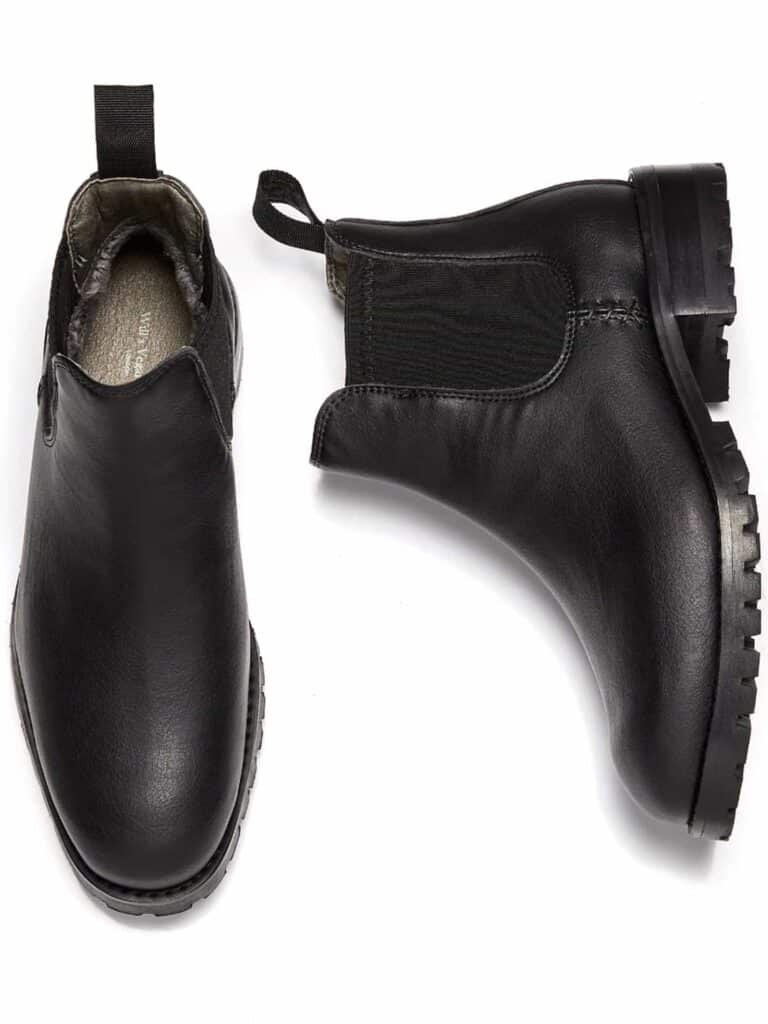 If you're looking for stylish boots that will also double up as winter boots, these insulated and waterproof Chelsea boots from Will's are perfect.
Classy enough to wear to work, yet waterproof and warm, they come in black or brown.
They'll even keep your feet warm down to -22 Celsius / -7.6 F!
The waterproof vegan boots have waterproof vegan leather uppers and are lined with Primaloft insulation (made from 90% recycled materials) and vegan fur to keep your feet nice and warm.
The solid rubber outsole have a deep tread for extra traction.
---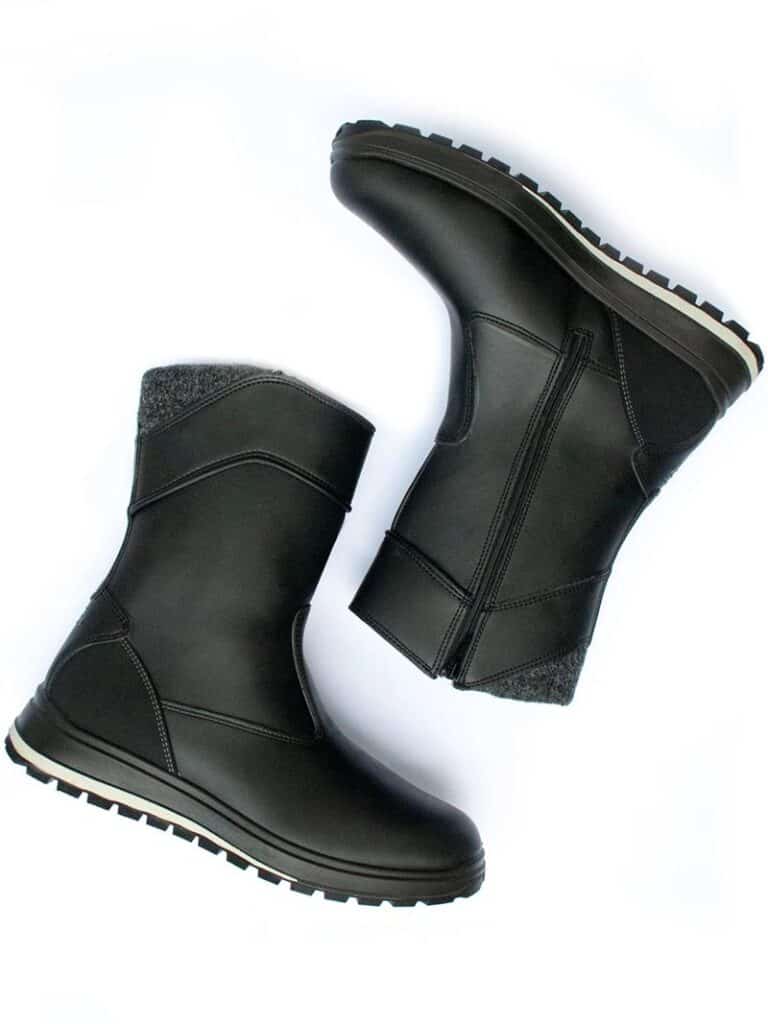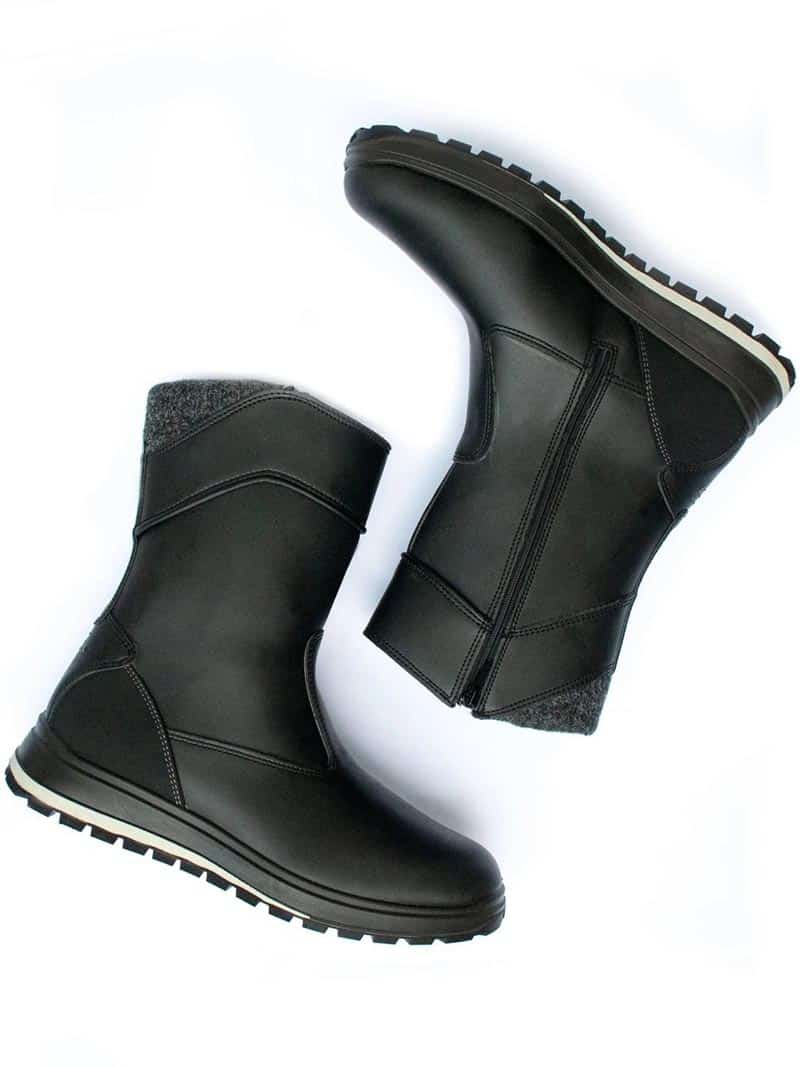 These walking boots combine the versatility of wellies with the comfort of walking shoes.
They're roomy, with space for walking socks, and the rubber Vibram outsoles have plenty of traction.
The uppers are water-resistant and scratch- and abrasion-resistant. Note that they're not suitable for wearing in running water, deep snow or deep puddles for extended periods of time as they're only water-resistant rather than water-proof, so if you live in a snowy climate this won't make good snow boots.
Thanks to the anatomic recycled cushioned insoles, they're comfortable for walking extended periods.
---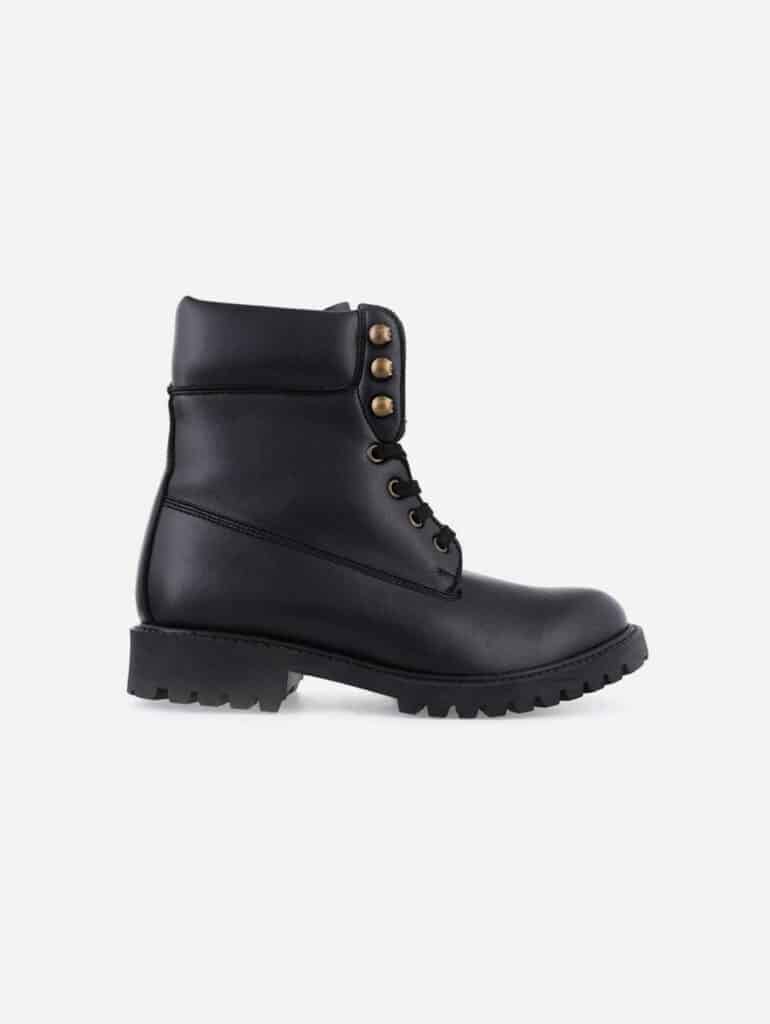 These vegan winter boots for men from NOAH Italian Vegan are made of a breathable and water-repellent micronappa vegan leather upper.
They have a non-slip sole and heel of 3.5cm (1.4 inches), and a removable insole.
All NOAH shoes are PETA-approved vegan.
---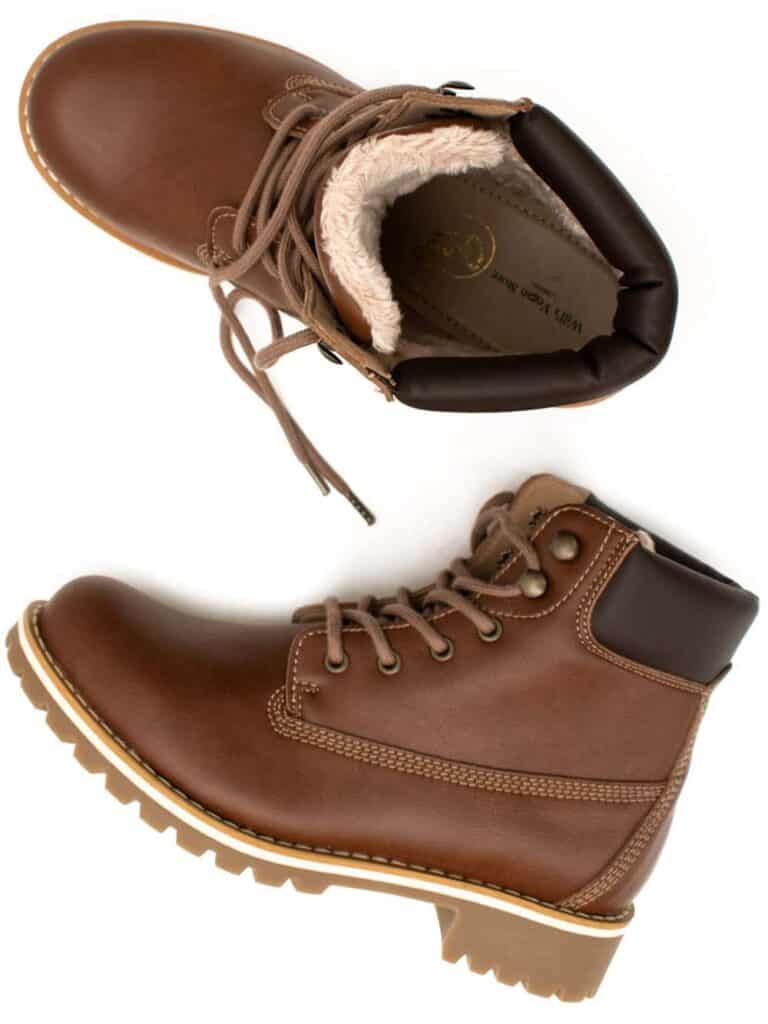 These brown vegan boots have been bestsellers for Will's Vegan Store since they first launched them in 2015.
They come in brown or black bio-based vegan leather, or a grey vegan suede.
Thanks to padding around the collar, they have good ankle support, and you can tighten the laces just how you want.
The TR outsoles are grippy and durable, and the boots are lined with Primaloft insulation (made of 90% recycled materials) to stay warm down to freezing temperatures.
---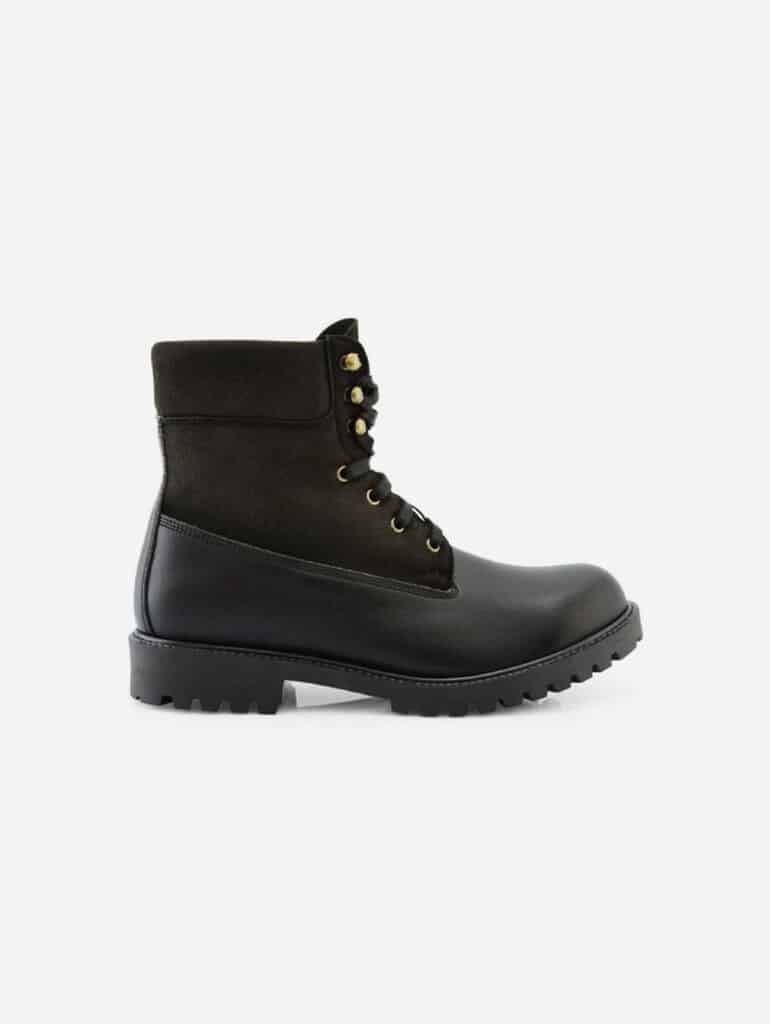 These warm vegan boots from NOAH Italian Vegan are breathable and water-repellent.
The vegan fur boots have a cosy faux fur lining to keep your feet warm during winter.
The vegan mens winter boots have an upper of microfibre vegan leather and vegan microsuede.
They have a non-slip sole and reinforced 3.5cm/1.4-inch heel.
---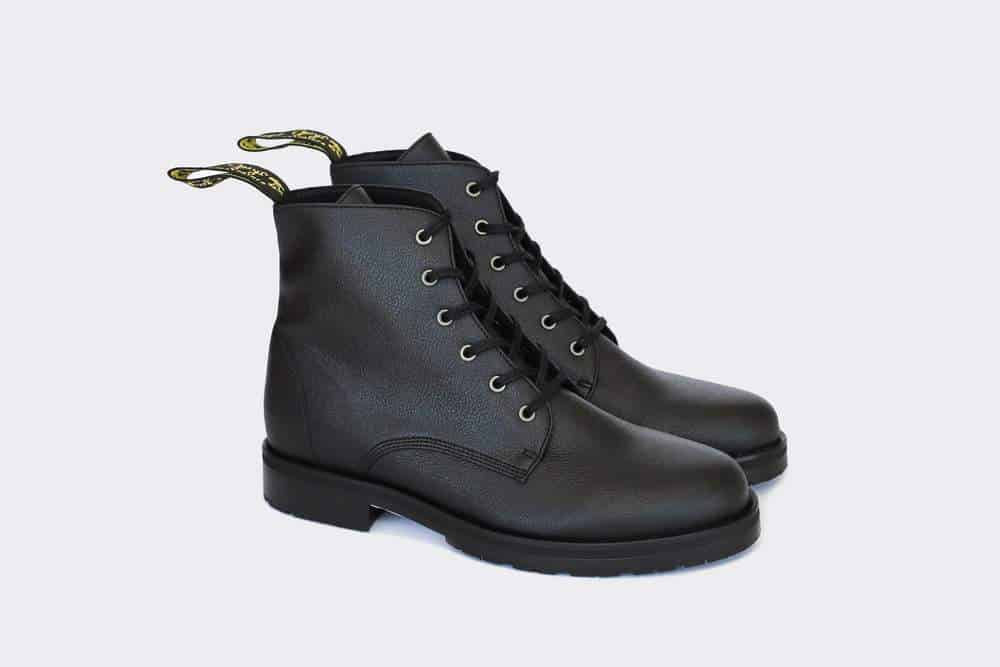 These bestselling black vegan ankle boots are made of soft, supple vegan apple leather. This innovative material was developed relatively recently and is made of apple skins from the apple industry that would otherwise have gone to waste.
They have an antibacterial, breathable lining and a rubber sole.
Good Guys Don't Wear Leather was the first entirely vegan shoe company in France, and their shoes are made ethically in Portugal.
---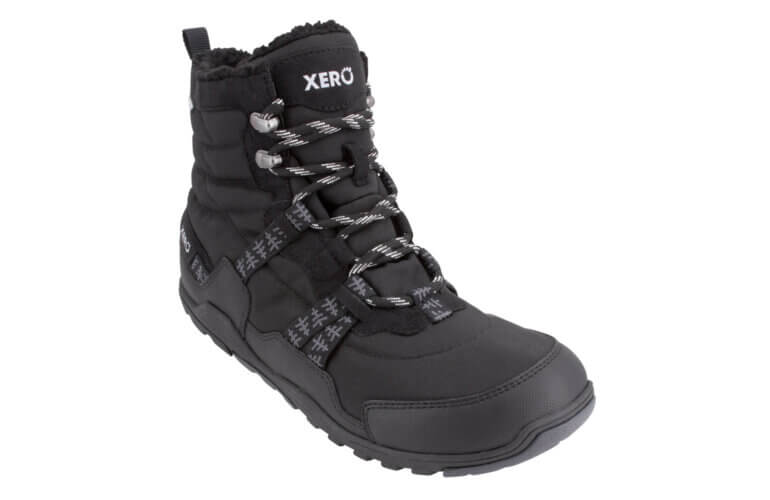 Many runners swear by minimalist running shoes, which emulate being barefoot.
It's not easy finding "barefoot" winter boots, especially vegan ones, but Xero makes these vegan minimalist winter boots.
They are water-resistant and insulated to keep your feet dry and warm all winter.
The lug tread gives traction, while the shoes remain true to minimalist footwear and are flexible and lightweight.
---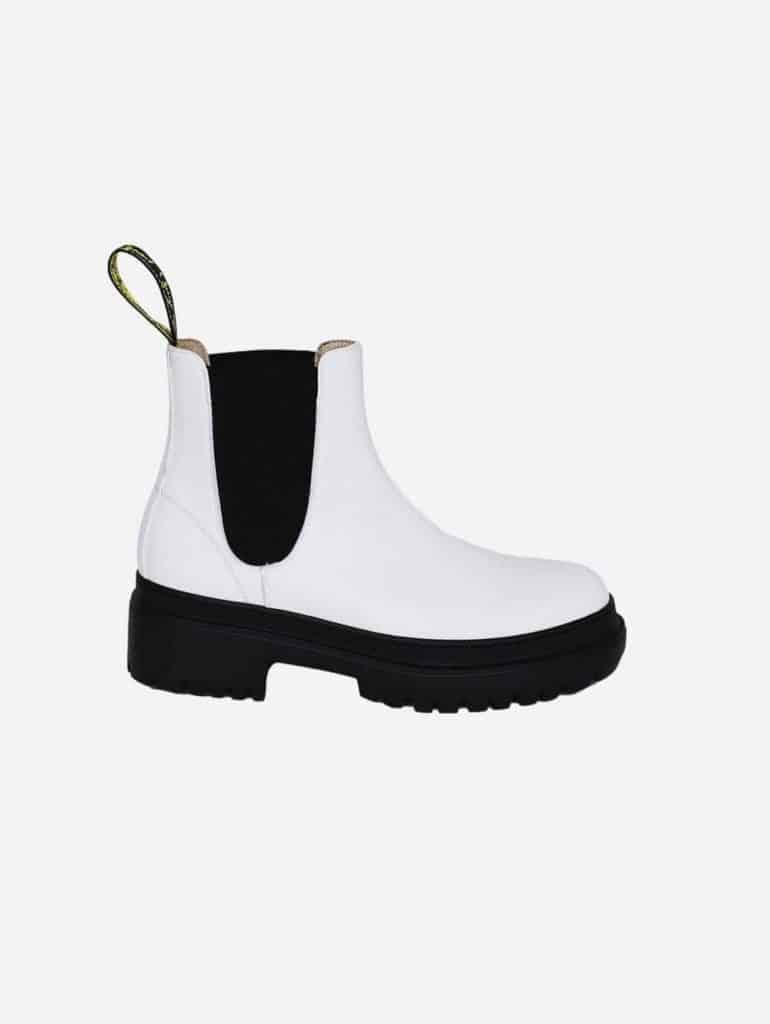 These white vegan Chelsea boots are made of a vegan leather microfibre upper, and a lining made with corn, which is recyclable.
The upper is white vegan leather, while the side panel elastics are black, and the rubber sole is also black.
---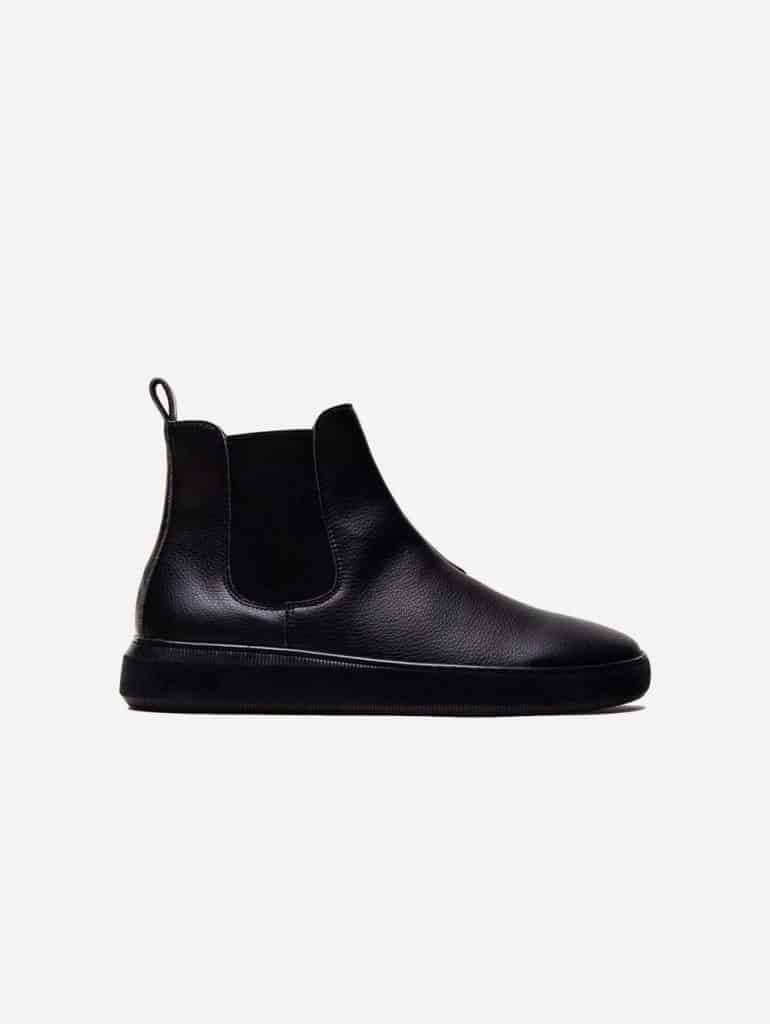 These Chelsea boots from eco-friendly Swedish brand Humans Are Vain are made of a microfibre vegan suede upper, while the lining is made of corn and recycled PET. The lining material is breathable and absorbent.
The sole is made of rubber (70% recycled) and the laces from organic cotton. The insole is recycled cork and foam for comfort, and they're ethically made in Portugal.
---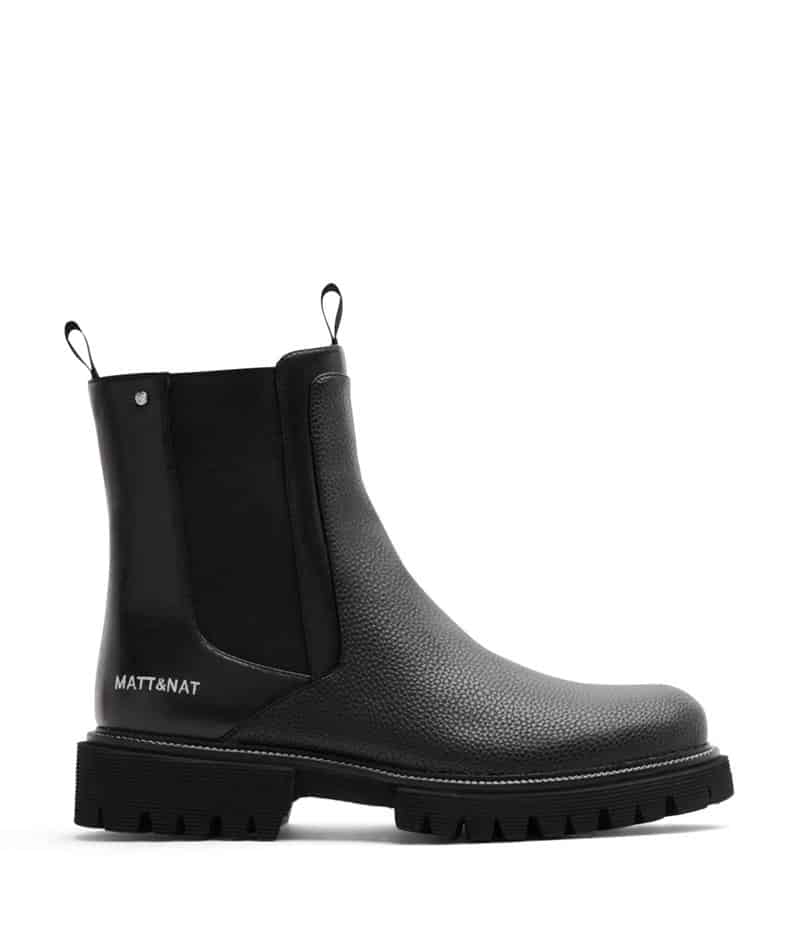 Matt and Nat are more known for their bags (they've been making vegan bags since 1995) but introduced a line of vegan shoes a few years ago.
Arlo is their take on the classic Chelsea boot.
Pin this for later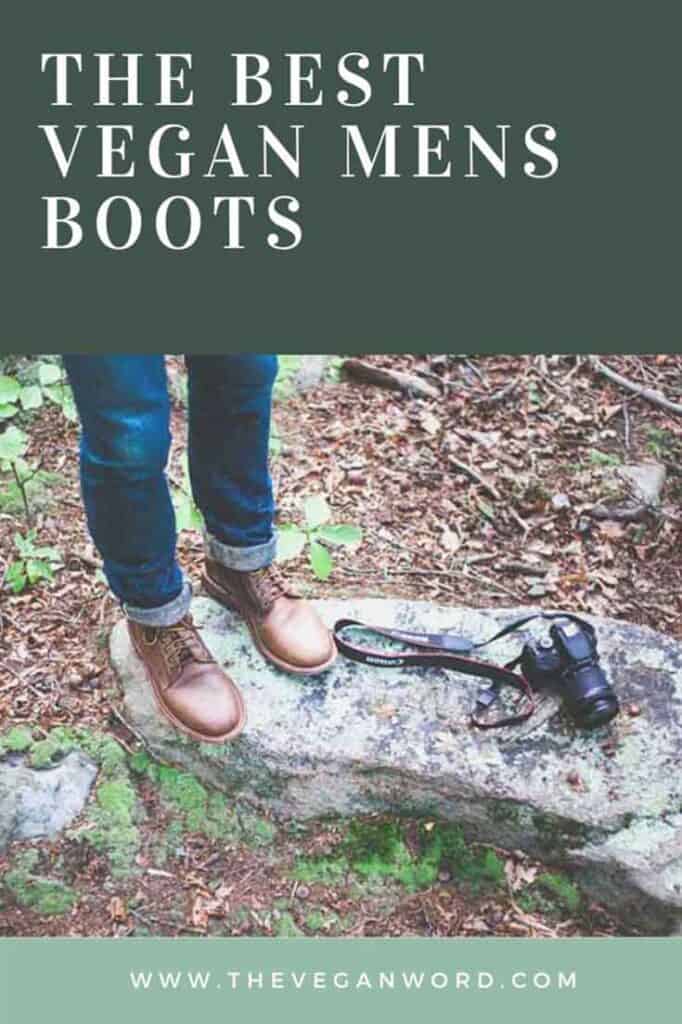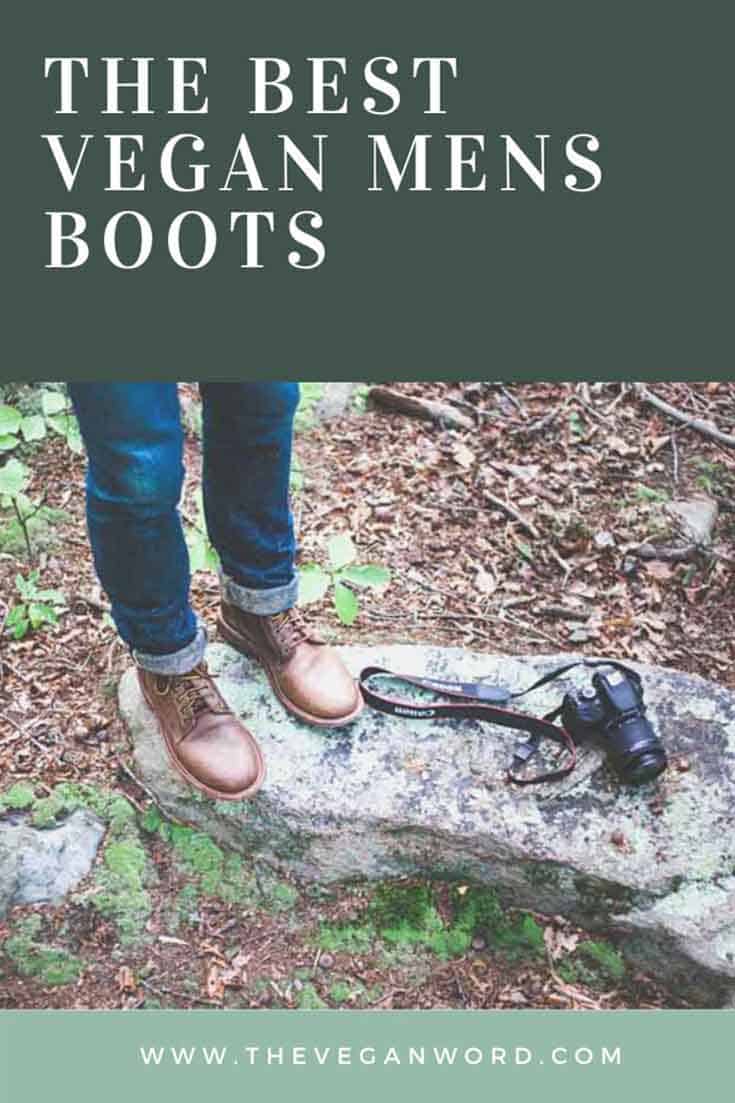 Looking for more boots? Check out my full guide to the best vegan boots, plus my guides to vegan Chelsea boots, winter boots, vegan Timberlands, combat boots and cowboy boots.
I also have a guide to vegan mens shoes, vegan dress shoes plus the best vegan shoe brands and vegan sneakers.
As well as men's shoes, I have a guide to vegan womens shoes, plus vegan knee high boots, vegan designer shoes, vegan ankle boots, vegan sandals and vegan heels.
Find all my vegan fashion guides.