Vegan Chelsea boots are a classic look for autumn and winter, but what if you want a little edge with your Chelseas? Dr Martens are a good way to add edge, and Dr Martens vegan Chelsea boots range will help you do just that.
Here are the vegan Dr Martens Chelsea boots, plus DM style options from 100% vegan brands.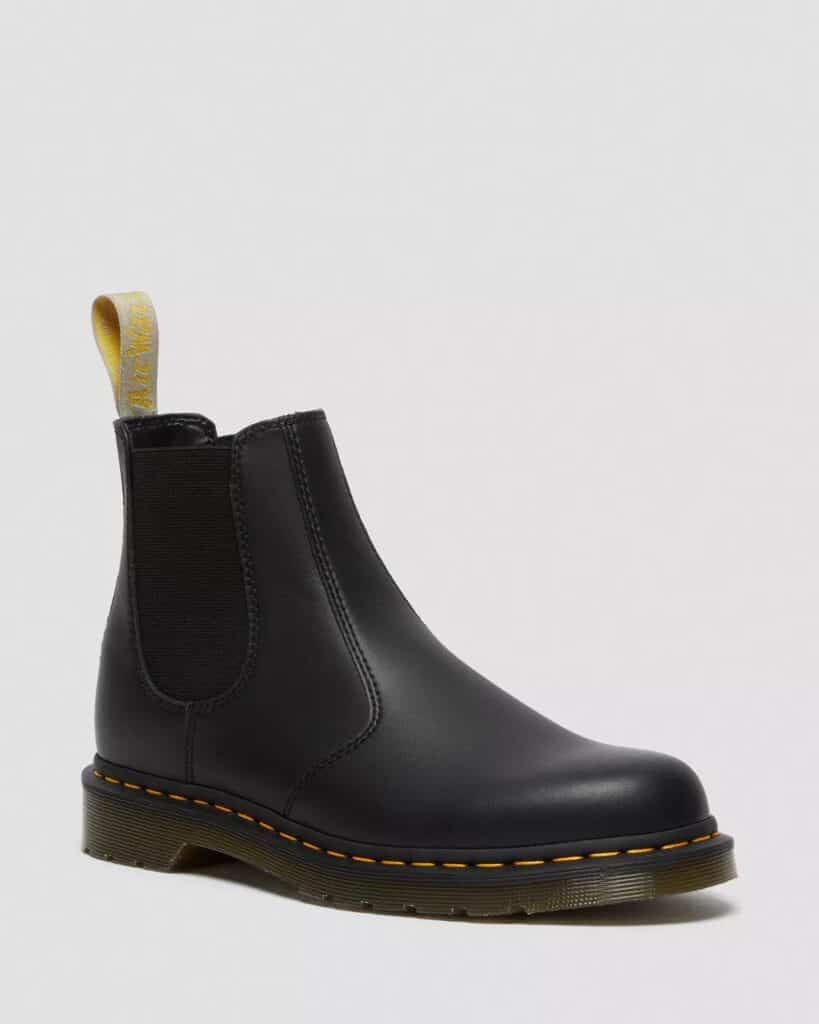 The Dr Martens vegan Chelsea boot is a classic Chelsea boot look, with elasticated ankles and black vegan leather stitched uppers. The stitch detailing in the upper is black, but the stitch details around the sole are the classic Doc Marten yellow stitching.
Doc Martens vegan Chelsea boots have DM's famous air-cushioned soles, which are oil-resistant and non-slip, and are secured using the Goodyear welt method. This is the gold standard of boot construction, as they're durable and more easily replaced than other types of boot construction, meaning they last longer.
The Doc Martens vegan Chelsea boots also have the iconic Dr Martens heel tab, in yellow and white for vegan shoes (this is how you can tell if a pair of DMs is vegan — they'll have the yellow and white, rather than yellow and black, heel tabs).
---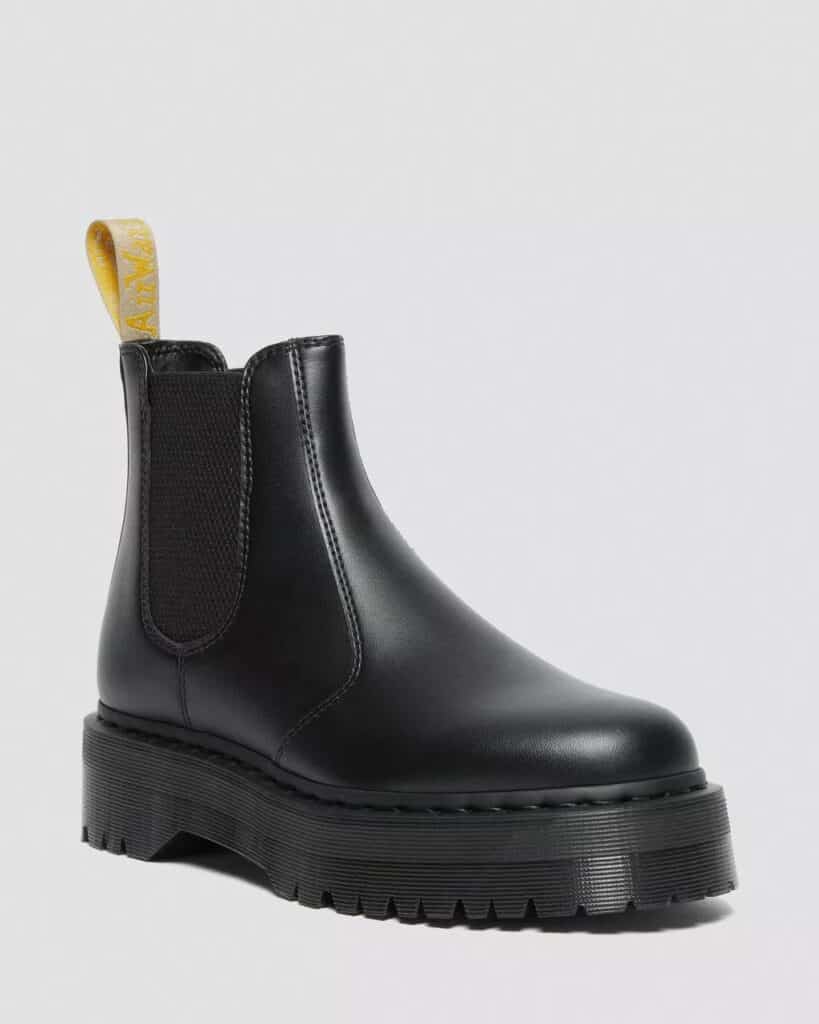 Want a bit of boost with your Dr Martens Chelsea boots? Vegan platform boots are the answer!
These vegan Dr Martens Chelsea boots are similar to the Dr Martens vegan 2976 Chelsea boots pictured above, except with a platform and black stitch detailing connecting the uppers and soles, rather than yellow stitching.
However, the Dr Martens vegan platform boots, just like their other boots, have Goodyear welted soles. As I mentioned before, this is widely considered the gold standard of boot construction as they last longer and are easier to replace when the soles wear out.
The Doc Martens vegan Chelsea boot is made of Felix rub-off vegan leather and have elasticated side panels. DM have been making Chelsea boots in this styles since the 70s, so these are definitely a classic, and won't go out of style.
They have a 1 1/2 inch (3.8cm) platform and 1 7/8 inch (4.8cm) heel.
---
Doc Marten-style vegan Chelsea boots from all-vegan brands: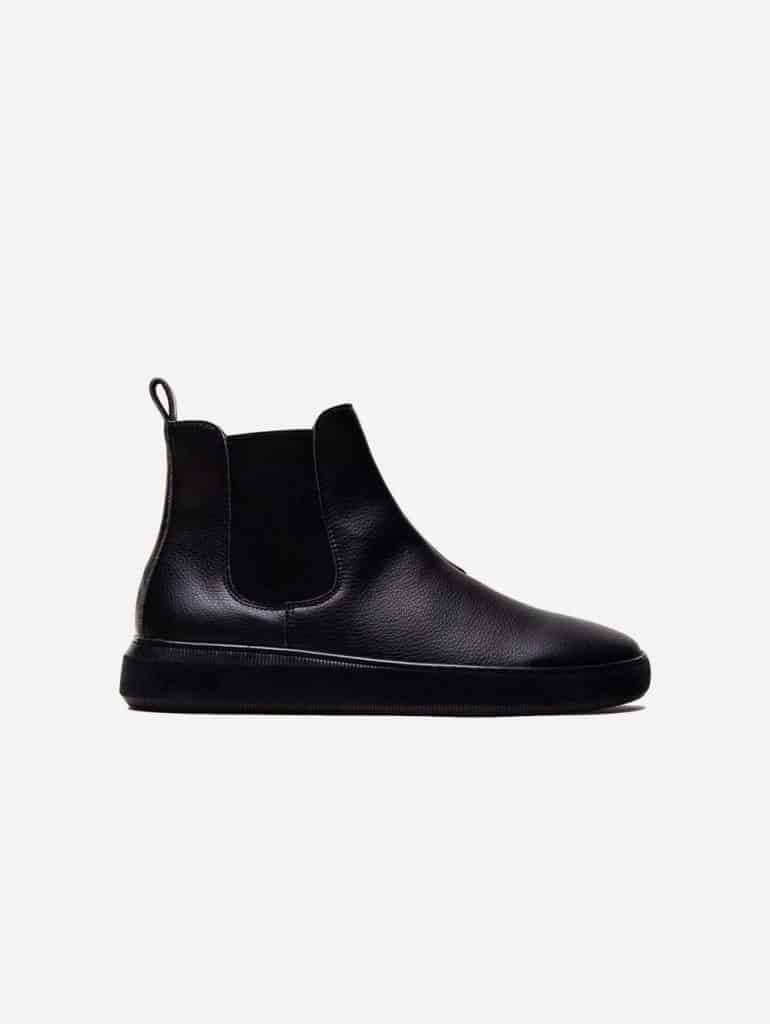 A little less chunky than DMs, but sleek, these are the go-to if you want a more sustainable boot than the vegan Doc Martens Chelsea boots, or prefer to buy from a 100% vegan brand.
Humans are Vain is a 100% vegan sustainable shoe brand from Sweden. All their shoes are made in Portugal and use eco-friendly materials and recycled packaging.
These unisex vegan leather Chelsea boots are made from a matte OEKO-Tex certified vegan leather upper and have a lining made from recycled PET and corn fiber. The upper is lightweight and antibacterial, while the lining is breathable and fast-drying.
The sole is inspired by trainers and made from 70% recycled rubber. The boots are made with vegan, water-based glues.
---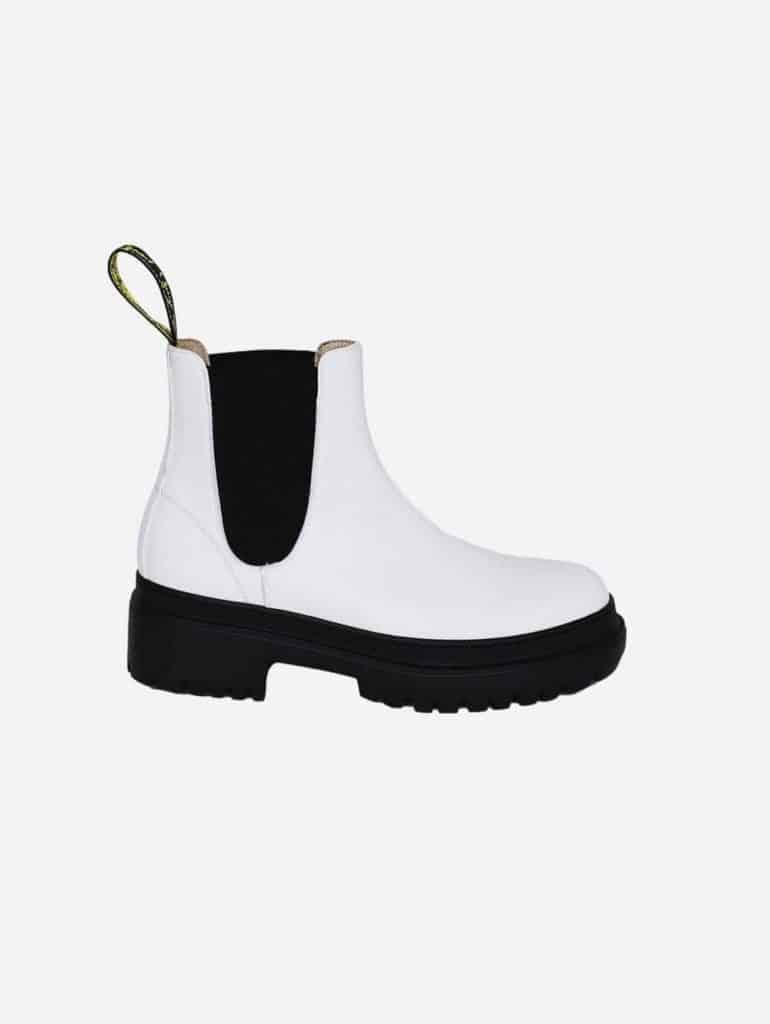 If vegan DM Chelsea boots in black aren't cutting it for you, why not try these white mens vegan Chelsea boots to add a bit of a pop to your outfit?
These vegan mens Chelsea boots are made by all-vegan French footwear brand Good Guys Don't Wear Leather. The boots are made in a family-run atelier in Italy.
The upper is made from a microfibre vegan leather and the soles are rubber.
Whilst not DMs, they also have a heel pull tab similar in style to Doc Martens, in black and yellow.
---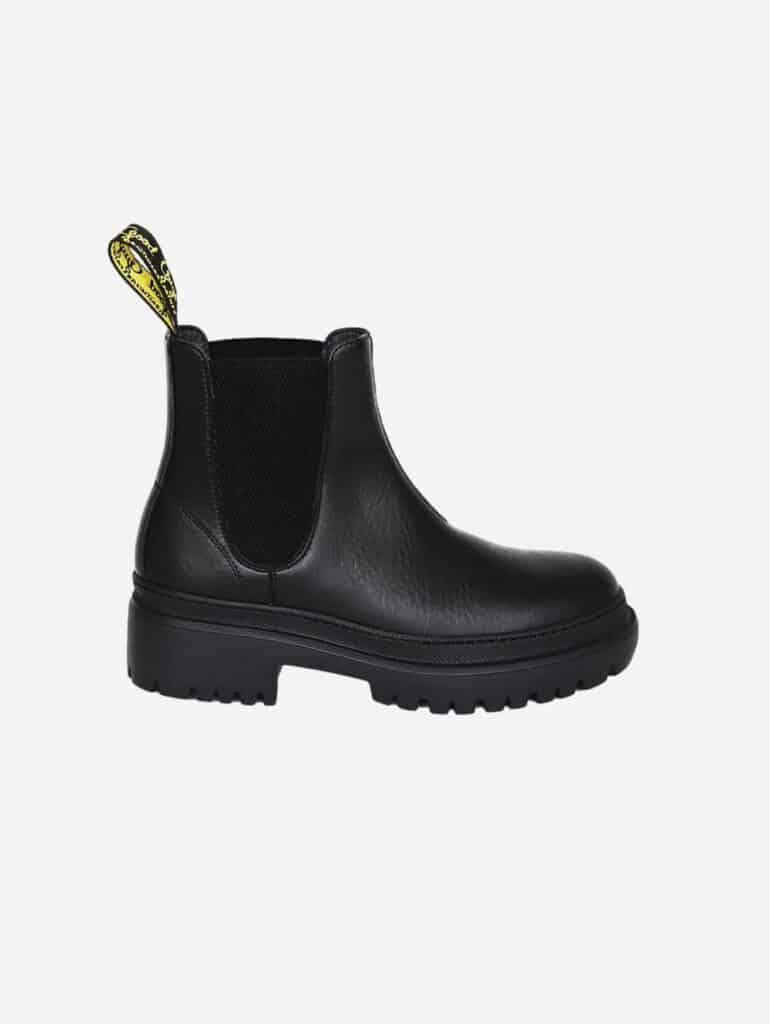 These womens vegan Chelsea boots are a great choice if you want boots made in the style of Dr Martens Chelsea vegan boots, but from a 100% vegan company.
Good Guys Don't Wear Leather was the first all-vegan footwear brand in France, and their take on non leather Chelsea boots looks very similar to DMs – they even feature a black and yellow heel pull tab.
These black vegan Chelsea boots are made from OEKO-Tex certified materials, and a microfibre vegan leather upper. They're made in a family atelier in Italy.
---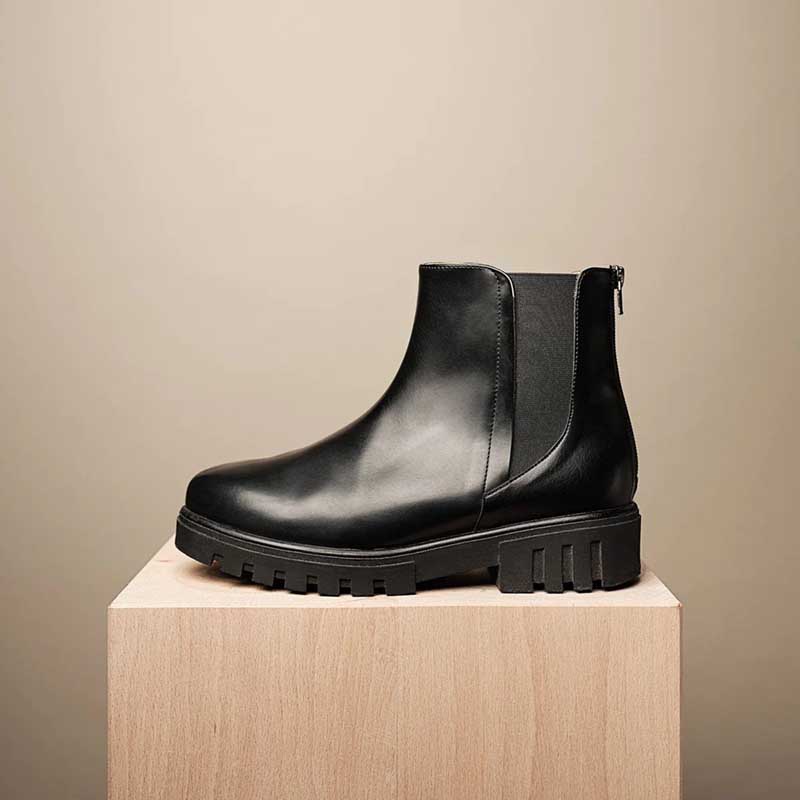 These vegan Chelsea boots from Bhava are made of vegan Italian leather and manufactured in Alicante, Spain, where generations of artisans have been making shoes for decades.
They come with removable comfy cork insoles and plush organic cotton-lined insoles for adding some extra warmth in winter.
They have 5 out of 5 stars and like many Bhava boots, many happy customers say they're very comfortable.
---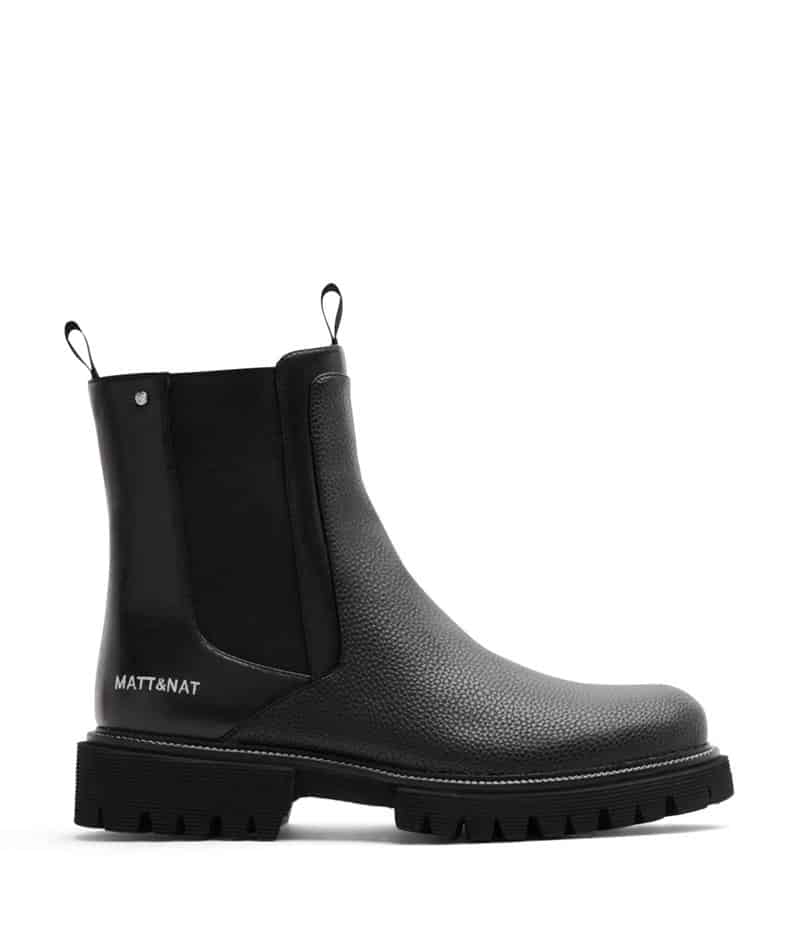 These men's vegan Chelsea boots feature not just heel pull tabs, but pull tabs on the front of the shoe, too.
They feature elasticated side panels, contrast stitching and 1 inch (2.5 cm) outsoles, and like all Matt and Nat products, they're PETA approved vegan.
FAQ
Are Doc Martens Chelsea boots vegan?
Not all Doc Martens are vegan, but they do have a selection of vegan leather sandals and boots, including two styles of vegan Chelsea boots.
Unfortunately, DM's Chelsea boot selection is more limited than their full boot range – they only have two styles – a classic Chelsea boot and a platform Chelsea boot.
That's why I've selected a few other makes of Chelsea boots from other (100% vegan) brands, which are Doc Marten-like – though I also have a full guide to vegan Chelsea boots if you want to see a whole range of styles of Chelsea boots.
My top pick for men's vegan Chelsea boots is the Good Guys Don't Wear Leather white Chelsea boots, while my pick of women's boots is the Good Guys Don't Wear Leather women's vegan Chelsea boots.
Which Doc Martens are vegan?
Doc Martens have a selection of vegan boots, ranging in style from vegan Chelsea boots to vegan combat-style boots and vegan sandals.
I have full guides to all the vegan Doc Martens range, plus vegan Doc Martens boots and vegan Doc Marten sandals.
What are Doc Martens' vegan shoes made from?
Doc Martens have their own vegan leather made of polyurethane (sometimes also called PU). PU vegan leather is a widely used vegan leather because it's fairly inexpensive and durable. Some people confuse it with PVC, which was a previously widely-used vegan leather alternative several decades ago, and which is an environmental disaster I recommend you avoid at all costs.
Vegan PU leather, on the other hand, is rated as more sustainable than animal leather, but some people don't like it as it contains plastic. Unfortunately, it's hard to manufacture a durable vegan leather without any plastic at all, as plastic is normally needed as "top layer" to ensure it's hard-wearing and durable (though some manufacturers are currently working on that!).
Some vegan leathers are more sustainable than others, though at present the ones used for shoes (to my knowledge) all use some form of plastic.
If you want a vegan shoe with less or no plastic, I'd recommend seeking out shoes made with hemp, organic cotton or cork, though these are less common in boots. Or, you could seek out secondhand vegan boots on platforms like eBay or Wallapop.
Personally, my approach is to try to buy a mix of organic cotton and good quality vegan leather shoes and have them repaired and keep them as long as possible, as well as buying mostly secondhand vegan clothes.
How to tell if Doc Martens are vegan?
You know the iconic yellow heel pull tab on Doc Martens? Have you ever noticed some of their shoes have a black and yellow tab while others have yellow and white tabs? The yellow and white tab signifies the shoes are vegan! (That's a fun way to spot vegan while out and about.)
Are vegan Doc Martens comfortable?
I always find it very individual whether or not shoes are comfortable as it depends wholly on the shape of your feet.
Some people love Docs while others find them uncomfortable. One thing to bear in mind is vegan leather doesn't tend to stretch as much as animal leather, so if vegan shoes are tight it's best to buy the next size up.
Pin this for later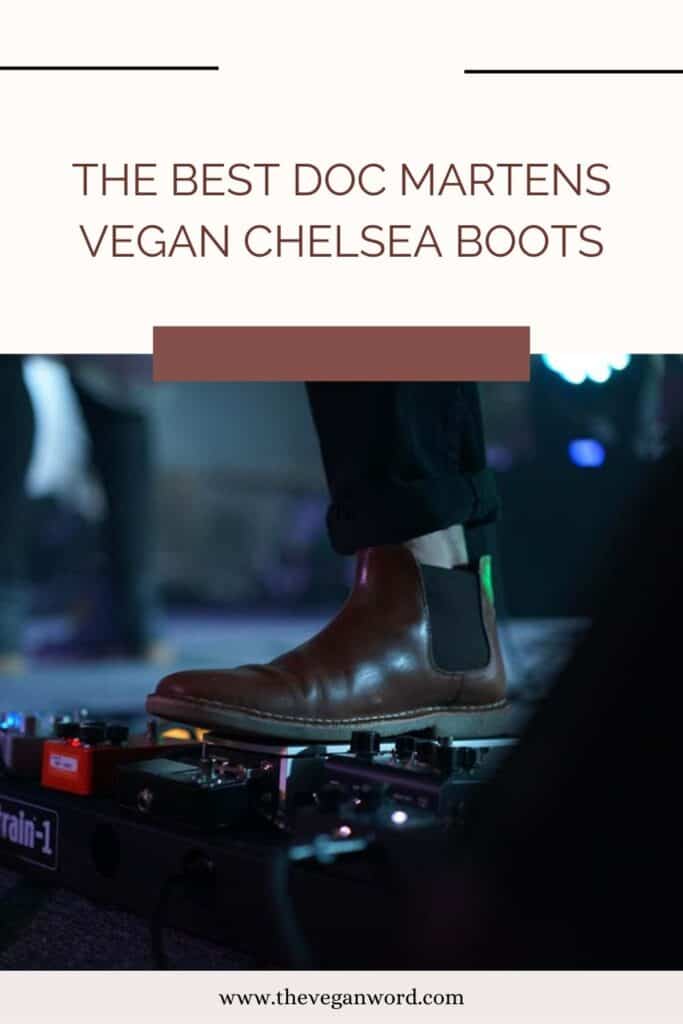 Looking for more vegan Doc Martens? Find my full guides to vegan DMs, plus vegan DM boots and vegan DM sandals.
I also have a full guide to vegan Chelsea boots.
Find all my vegan boots guides: vegan combat boots, vegan Timberlands, vegan winter boots, vegan ankle boots, vegan knee high boots and vegan cowboy boots.
I also have more guides to vegan shoes, such as vegan trainers, vegan loafers, vegan clogs and more.