Dr Martens are a classic for a reason, and now you can get vegan versions. Dr Martens vegan boots are just like their non-vegan counterparts but vegan. The same styles and the same comfort.
Here are the best Dr Martens vegan boot options, plus DM style boots from all-vegan brands if you prefer to buy from a vegan company.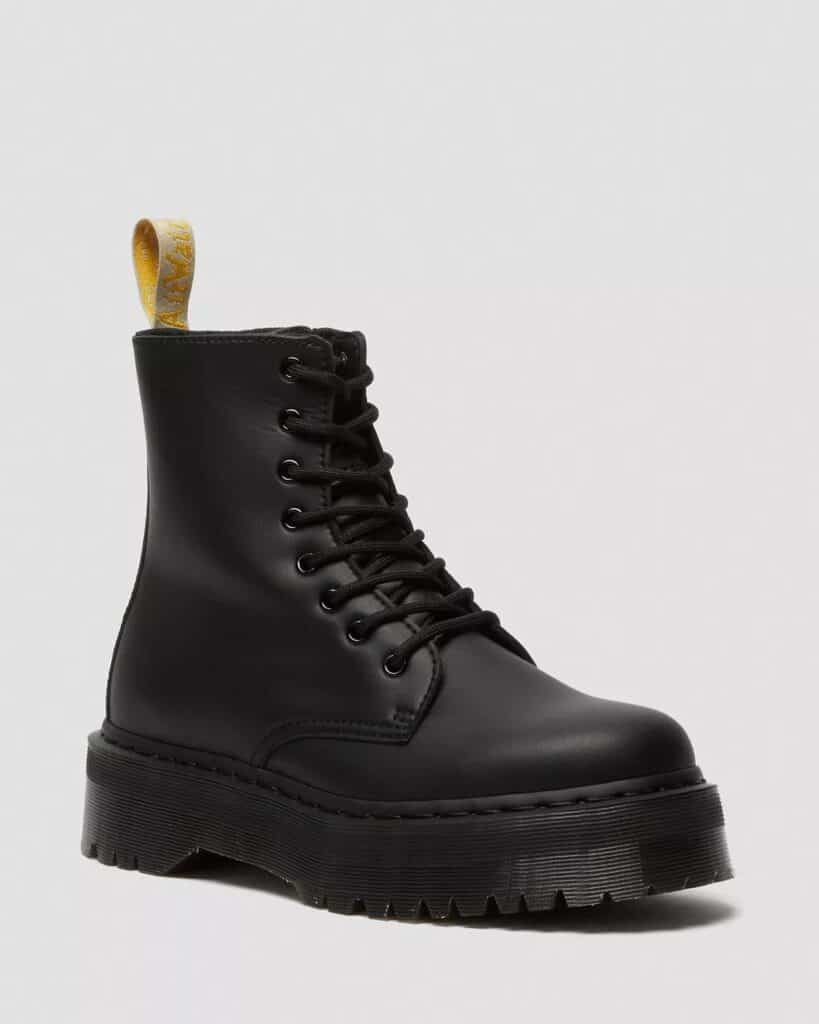 The Dr Martens vegan Jadon boots keeps all the details of the classic DM 1460 boots (eyelets, laces, etc) and adds a platform. With a heel height of 2 inches (5cm) you can add a bit of boost.
The Dr Martens Jadon vegan boots are made from DM's matte finish vegan leather, and they have their signature air-cushioned soles.
They also use Goodyear welting for the soles, which is widely regarded as the best technique (though it's not always widely used as it's more expensive than gluing on soles). It makes shoes more durable and means they can be re-soled multiple times.
These vegan leather Doc Martens are rated 4 out of 5 stars with over 400 reviews, with many praising how comfortable they are after breaking in.
---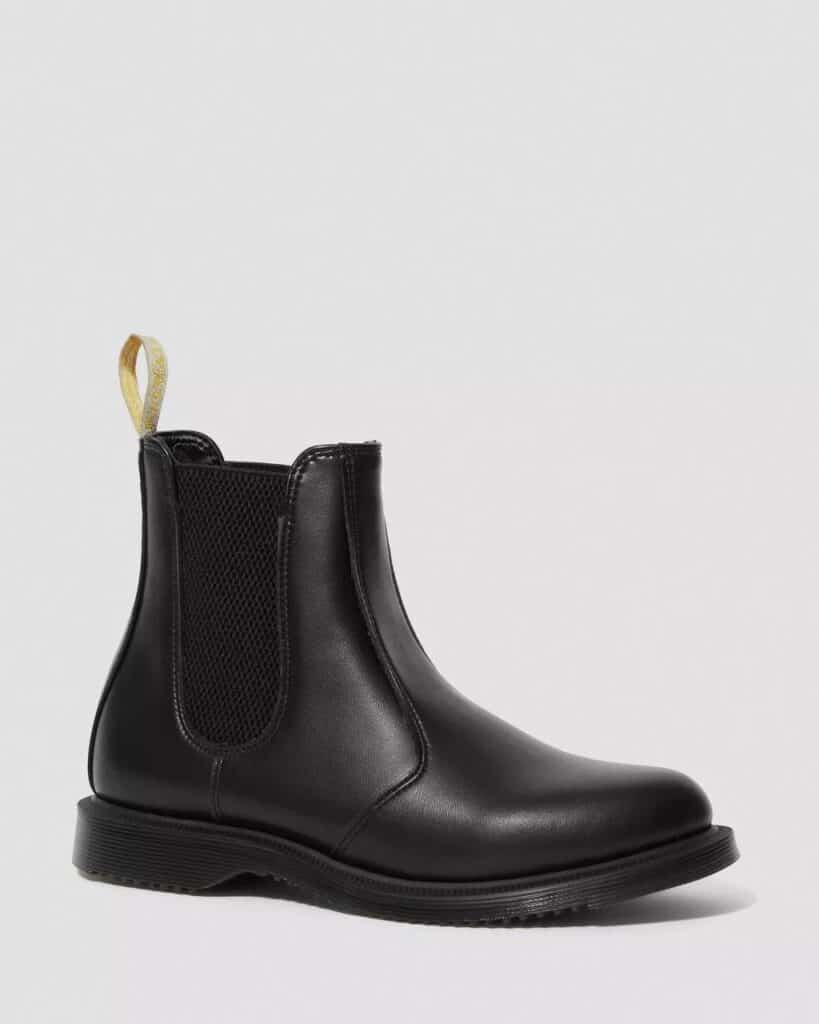 These Dr Martens vegan Chelsea boots are a timeless Chelsea boot design. I love that Chelsea boots, especially in a neutral tone like black, pair with just about everything, and dress up and down equally well.
The Dr Martens vegan Chelsea boot range also includes platform Chelsea boots if you prefer a bit of a boost.
These Doc Martens vegan Chelsea boots are unisex, come with their iconic air-cushioned soles and like all DM boots, have Goodyear welted soles. As I mentioned before, I recommend Goodyear welted soles if you can find them, as they make shoes last longer as they can be more easily replaced than glued-on soles.
---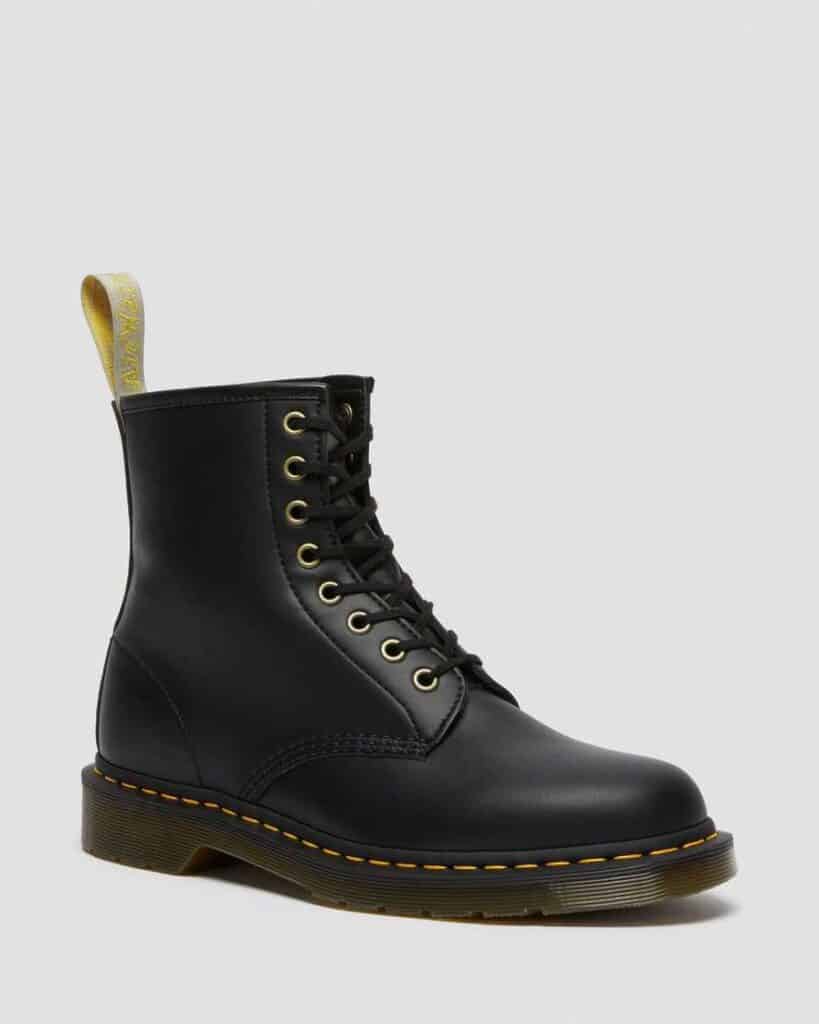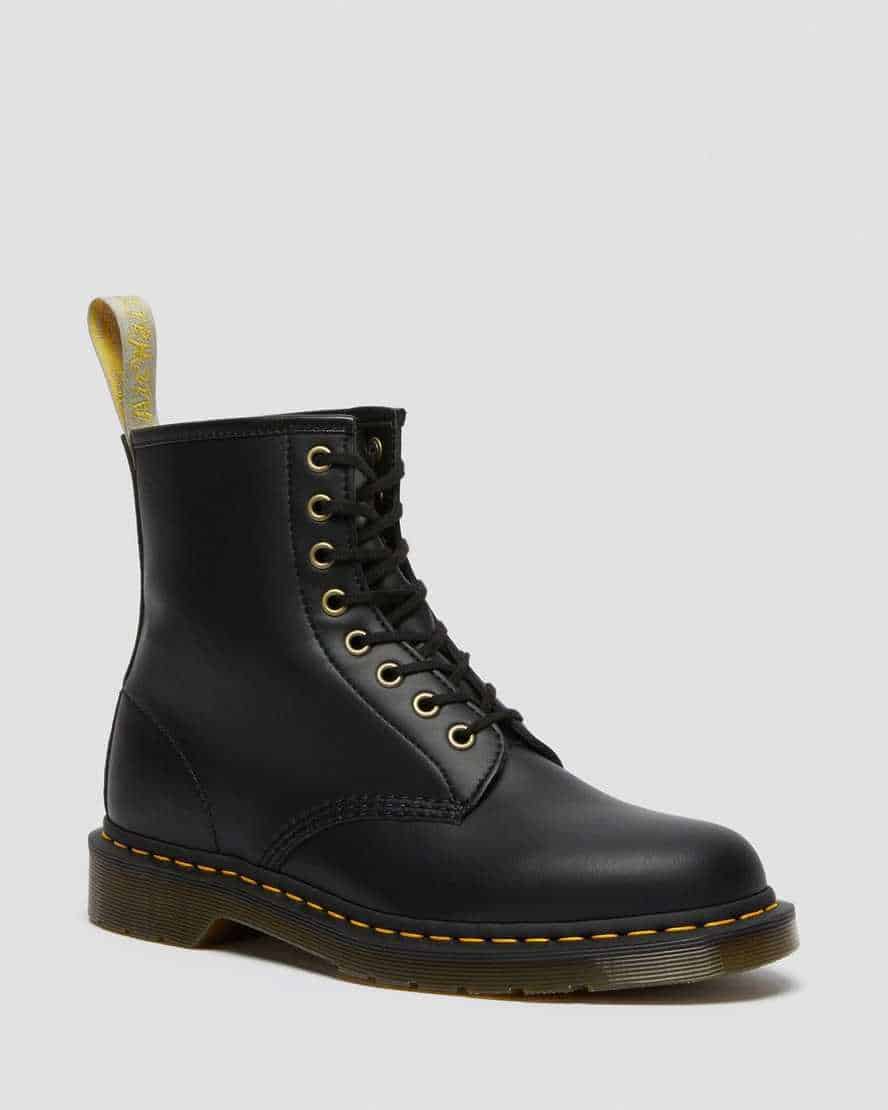 A classic style of Doc Martens vegan boots, these chunky lace-up boots are perfect for adding a bit of edge to an outfit.
These Doc Marten vegan boots are unisex, have 8 eyelets and are made of high-shine vegan leather. The air-cushioned soles are oil- and slip-resistant.
The soles are Goodyear welted, which is the gold standard in boot construction as they're durable and easy to replace.
These boots have 4.5 out of 5 stars with over 400 reviews for a reason – people love them for their styles and their comfort.
---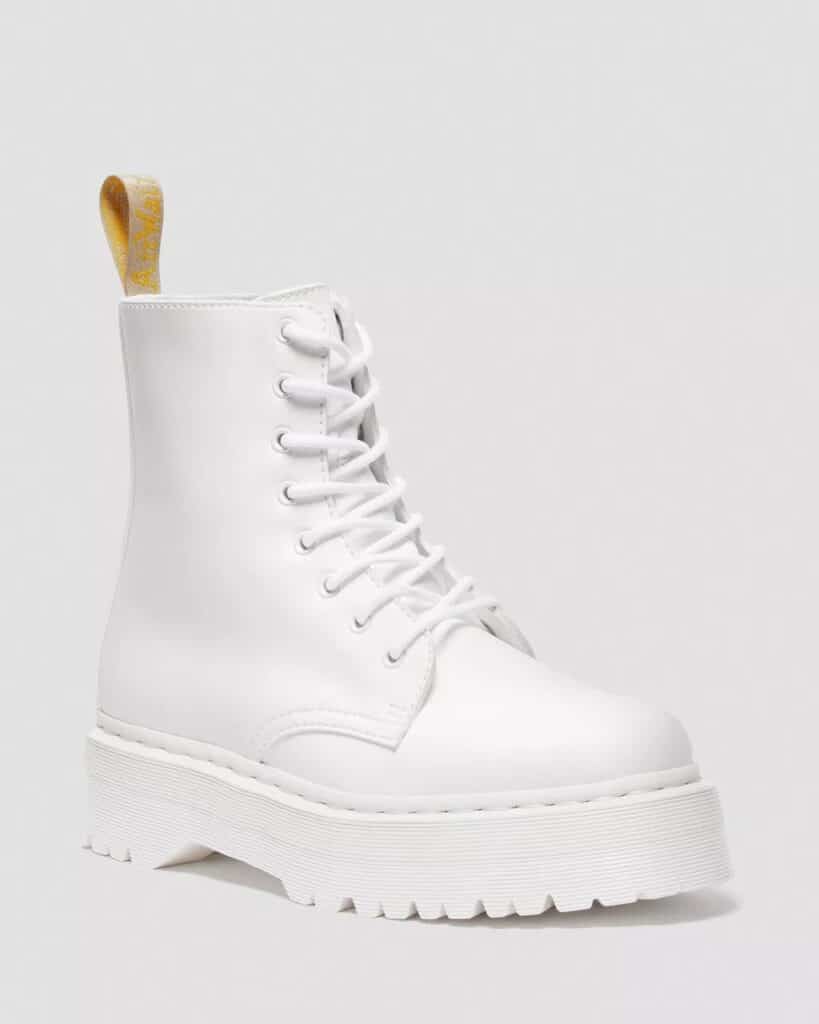 If you're looking for Doc Martens Jadon boots, they come in classic black or you can go for these vegan platform Doc Martens in all-white, from the upper to the sole and even the laces.
The Doc Martens Jadon vegan white boots are made of a matte finish vegan white leather, and have 2-inch (5cm) heels.
Like other DM boots, they Goodyear welted soles (more durable and long-lasting than other types of soles) and air cushioning for comfort.
---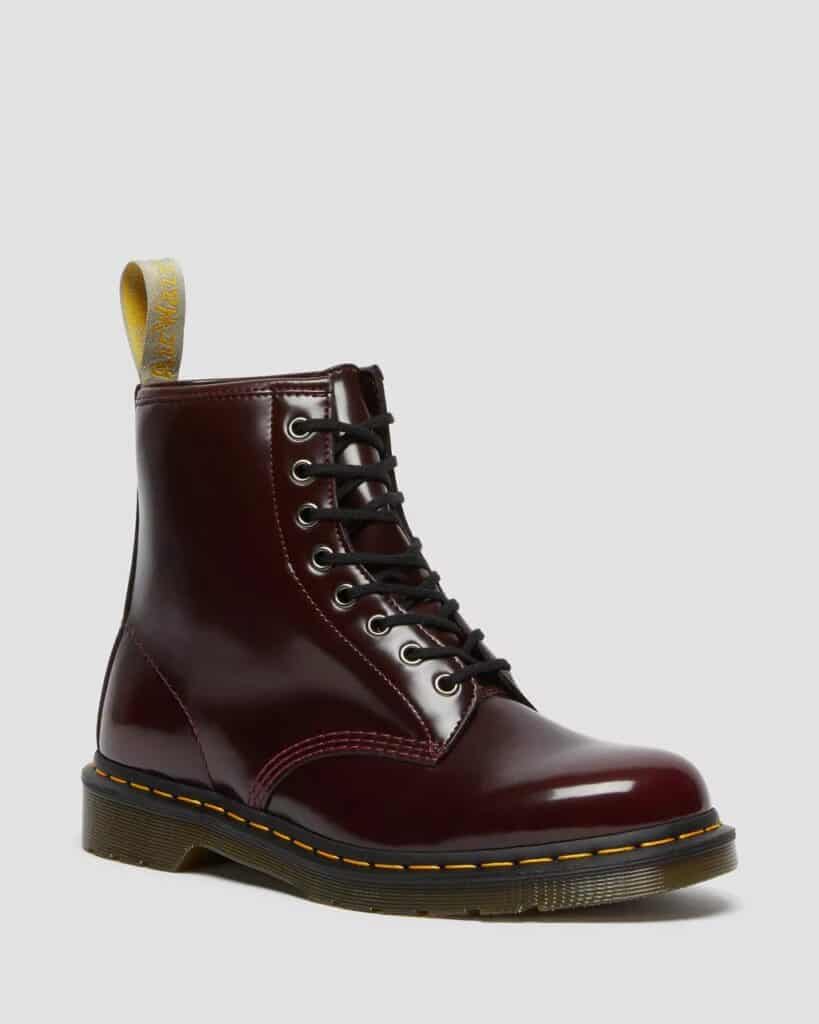 Add a subtle pop of colour to your outfit with these cherry red boots from Doc Martens.
The Doc Martens vegan cherry red boots are made from a two-tone vegan leather, with their iconic yellow stitching and pull tab (the yellow and white pull tab is used on vegan Doc Martens, making them easy to spot).
Like other DMs, they have a durable and long-lasting Goodyear welted sole.
---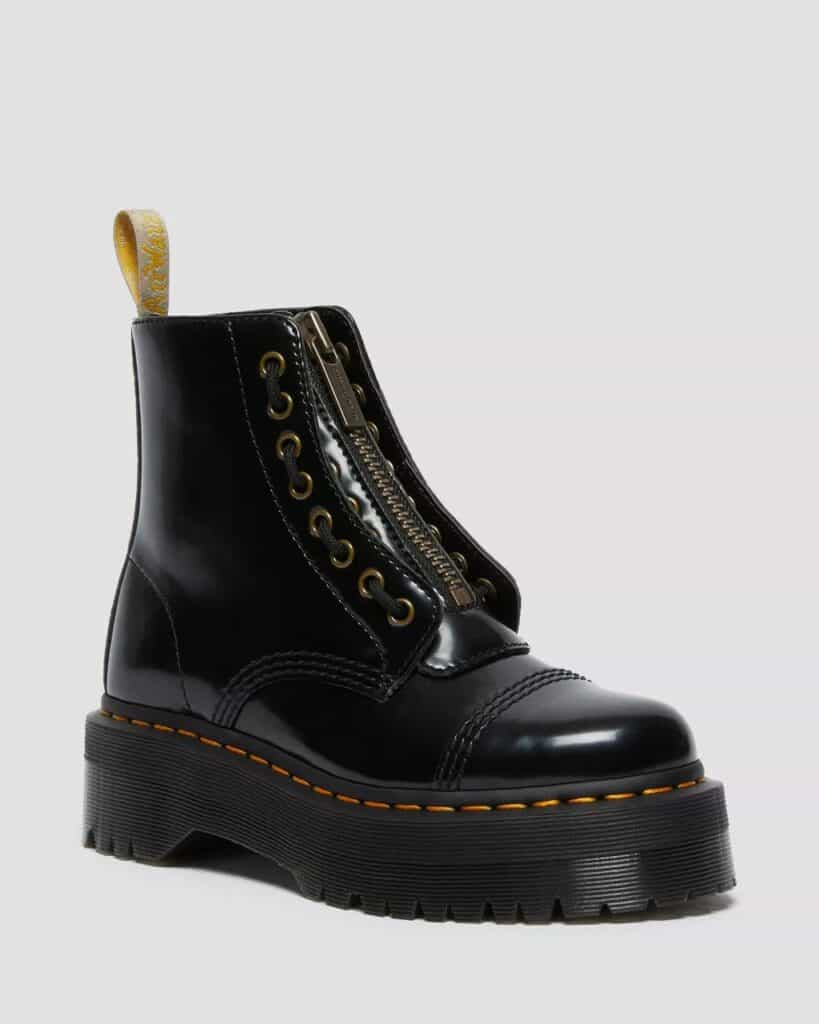 The vegan Sinclair platform boots are DM's vegan take on their Sinclair boot, made with their vegan Oxford leather.
It has eight eyelets but zips up the centre, and a 1 7/8 inch heel (4cm).
---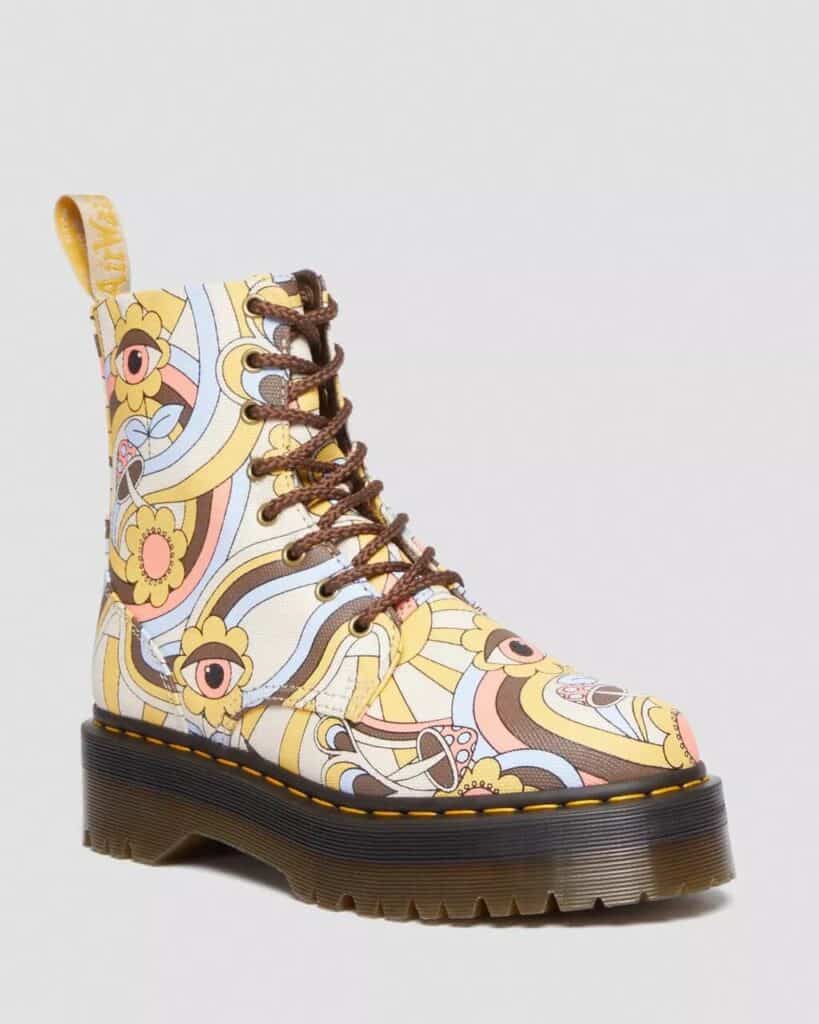 These Doc Martens vegan Jadon boots come in this really fun 70s style print (though you can also find black or white vegan Jadon Dr Martens).
I love how unique these boots are, with the psychedelic 70s style mushroom and flower print. The printed upper is on heavy weight canvas and they have brown soles and laces to complete the 70s look.
These vegan Doc Martens platform boots are 2 inches (5cm) tall.
---
DM-style boots from 100% vegan brands
Maybe you're just after Doc Martens style, but don't mind if it's DM branded or not. In that case, I'd recommend supporting a 100% vegan business.
Several vegan shoe brands make DM-esque boots, and some of them use more sustainable materials than the vegan leather used by Doc Martens – like the vegan apple leather boots below (whilst not perfect, as they still contain plastic (like most leather alternatives at the moment, though this is changing), they do make use of waste material, namely apples that would have gone in the rubbish otherwise).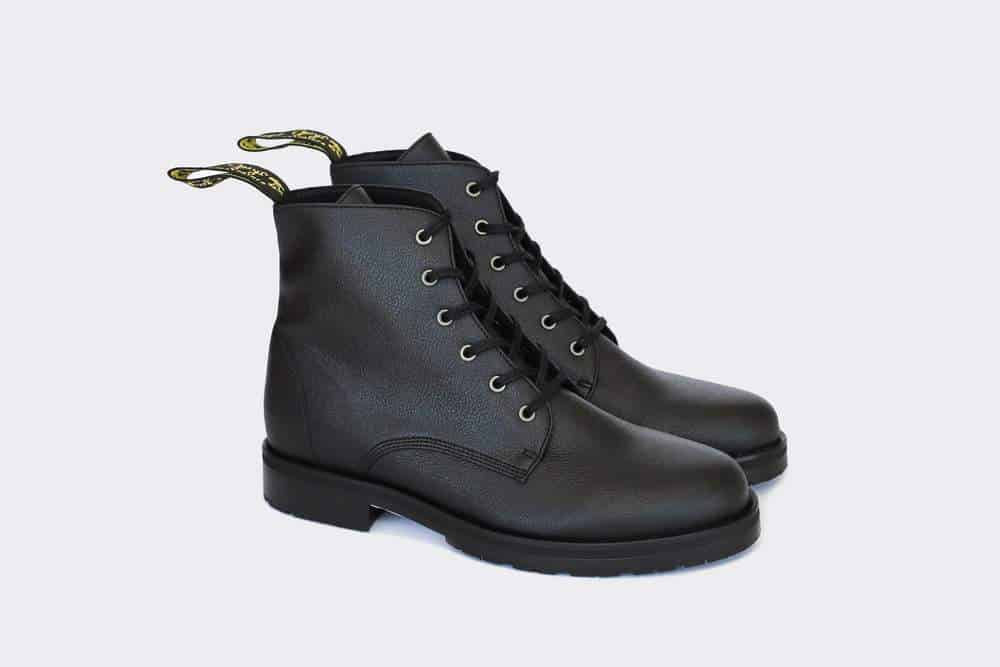 These are my top pick of DM style boots made by a 100% vegan and sustainable company! I absolutely love these vegan apple leather boots from Good Guys Don't Wear Leather.
They have the feel of a classic lace-up DM (and even have black and yellow pull tabs on the heel!) but are made from vegan apple leather, an eco alternative made using leftover waste from the apple industry that would've otherwise gone to landfill. Even better, it's already soft and doesn't require any breaking in.
Just be careful not to scuff them as a friend managed to do that fairly quickly after buying them.
Good Guys Don't Wear Leather was the first 100% vegan shoe brand in France, and is completely sweatshop-free. Their shoes are made in a fairtrade workshop in Portugal.
---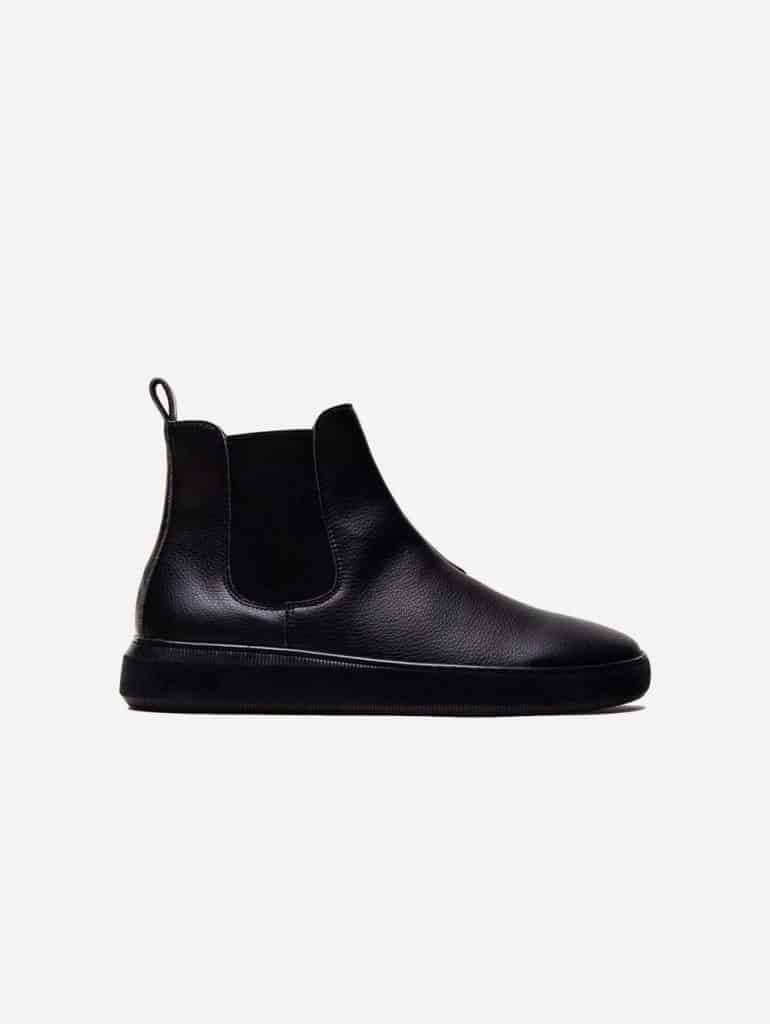 So these Chelsea boots are probably a little less chunky than DMs, but they're a good choice for eco-friendly vegan Chelsea boots.
The upper is made from vegan eco-microfibre leather, while they're lined with a material made from recycled PET plastic and corn fibres which is breathable and absorbent. The sole is made of 70% recycled rubber.
Humans are Vain is an eco-friendly vegan brand from Sweden. They use as many sustainable materials as possible in their shoes.
---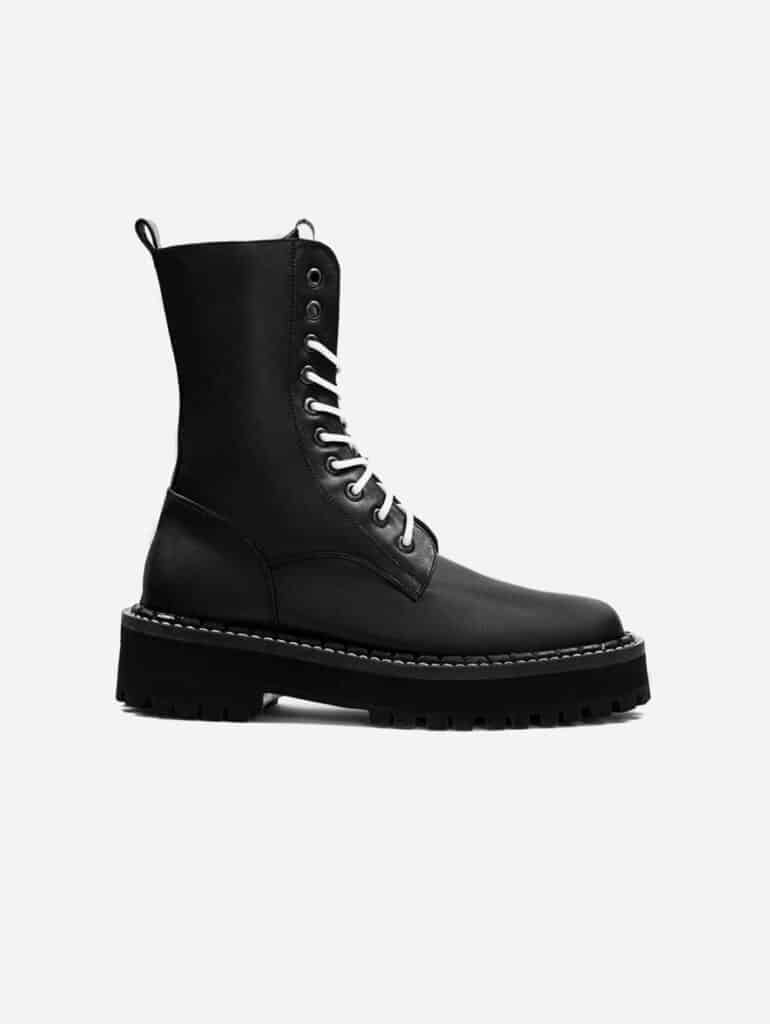 These combat boots are made from sustainable vegan cactus leather, an eco-friendly alternative made using the leaves of the Nopales cactus leftover from industry. Because cacti are a desert plant, they don't require much in the way of water input, making it eco-friendly.
They have a sole height of 3cm (1 1/4 inches).
---
These boots are from an all-vegan brand, are PETA certified vegan and made in a 100% vegan factory.
They're made in Portugal and have a fully recycled lining, organic cotton laces and 80% recycled soles.
---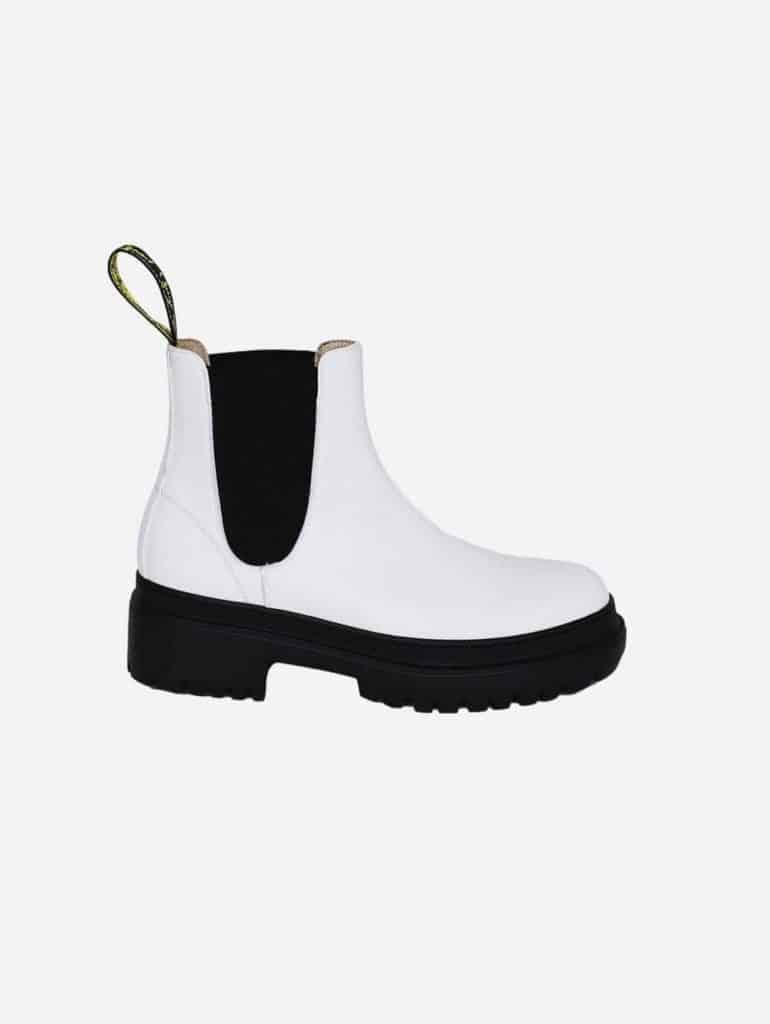 These beautiful boots are handmade in Italy in a family-run atelier.
The upper is made of vegan microfibre leather, while the lining is 100% recycled. They have a lightweight rubber sole that are durable and comfortable. They're comfortable for walking and built so they don't have to be broken in.
They're made using a "climb-stitched" method – these visible stitches join the upper and lining together and because of this method being used, they can be re-soled easily.
---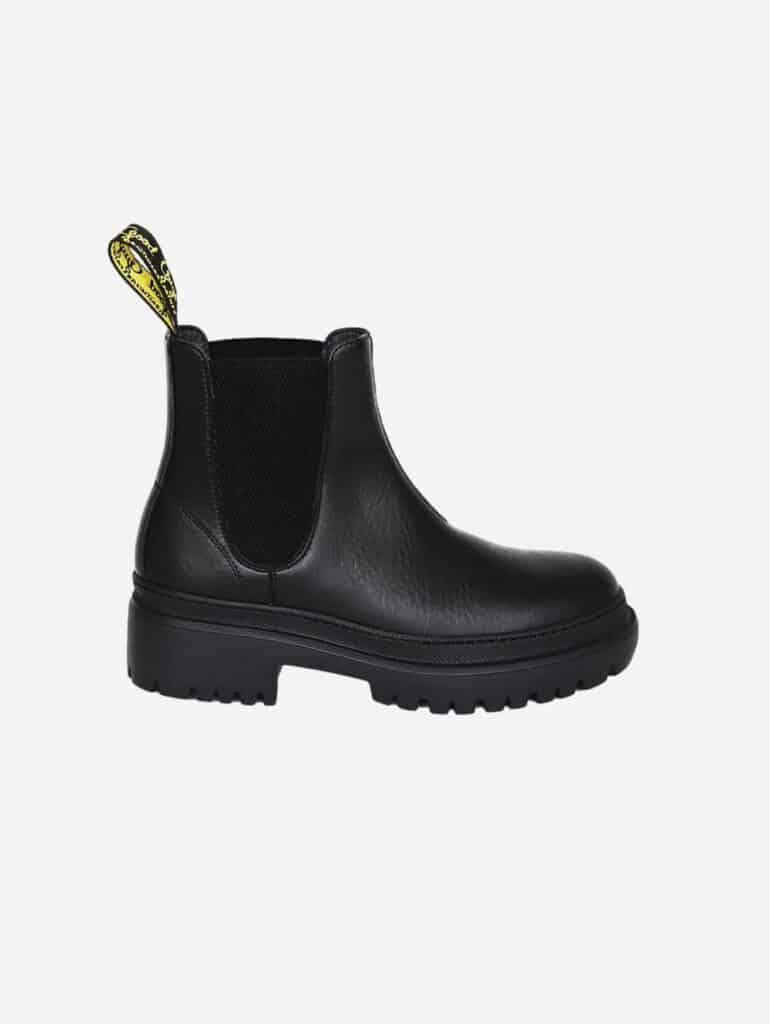 These vegan Chelsea boots are made in women's sizes and just like the white men's Chelsea boots above, they're handmade in a family-run atelier in Italy.
The materials are OEKO-Tex certified and the lining is recycled and recyclable, while the upper is vegan eco-microfibre leather. They have a lightweight rubber sole and a black and yellow heel tab, reminiscent of DMs.
Pin this for later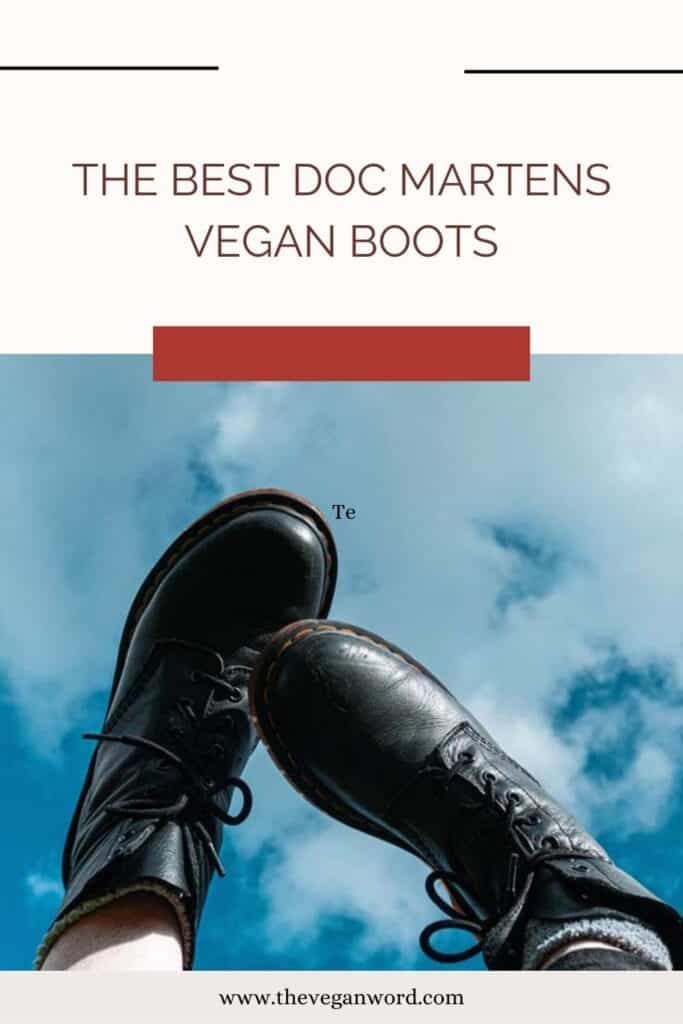 Looking for more Doc Martens? Find my full guides to all styles of vegan Doc Martens, vegan DM sandals and vegan Dr Marten Chelsea boots.
I also have guides to other styles of vegan boots, including mens vegan boots, vegan Chelsea boots, vegan winter boots, vegan combat boots, vegan cowboy boots, vegan ankle boots and vegan knee high boots.
For other shoe styles, I have guides to vegan sneakers, vegan loafers, vegan clogs and vegan flats.
To find all my vegan fashion guides, click here.