I love to cook and spend a lot of time doing so, and sometimes standing for so long in the kitchen makes my feet hurt (so I can't even imagine how your feet must feel after a full day working in a restaurant kitchen!).
One day I was curious so I looked up what chefs do and discovered some stand on padded/gel cushions, while many favour comfortable clogs.
Unfortunately, some clogs aren't vegan, but thankfully there are plenty of vegan options as I discovered when I decided to put this article together, so if I end up getting a pair for the kitchen I know where to look now!
Best comfortable vegan clogs for work
These are the best vegan clogs to wear if you work in a restaurant, bar, hospital or other job where you spend most of the day on your feet.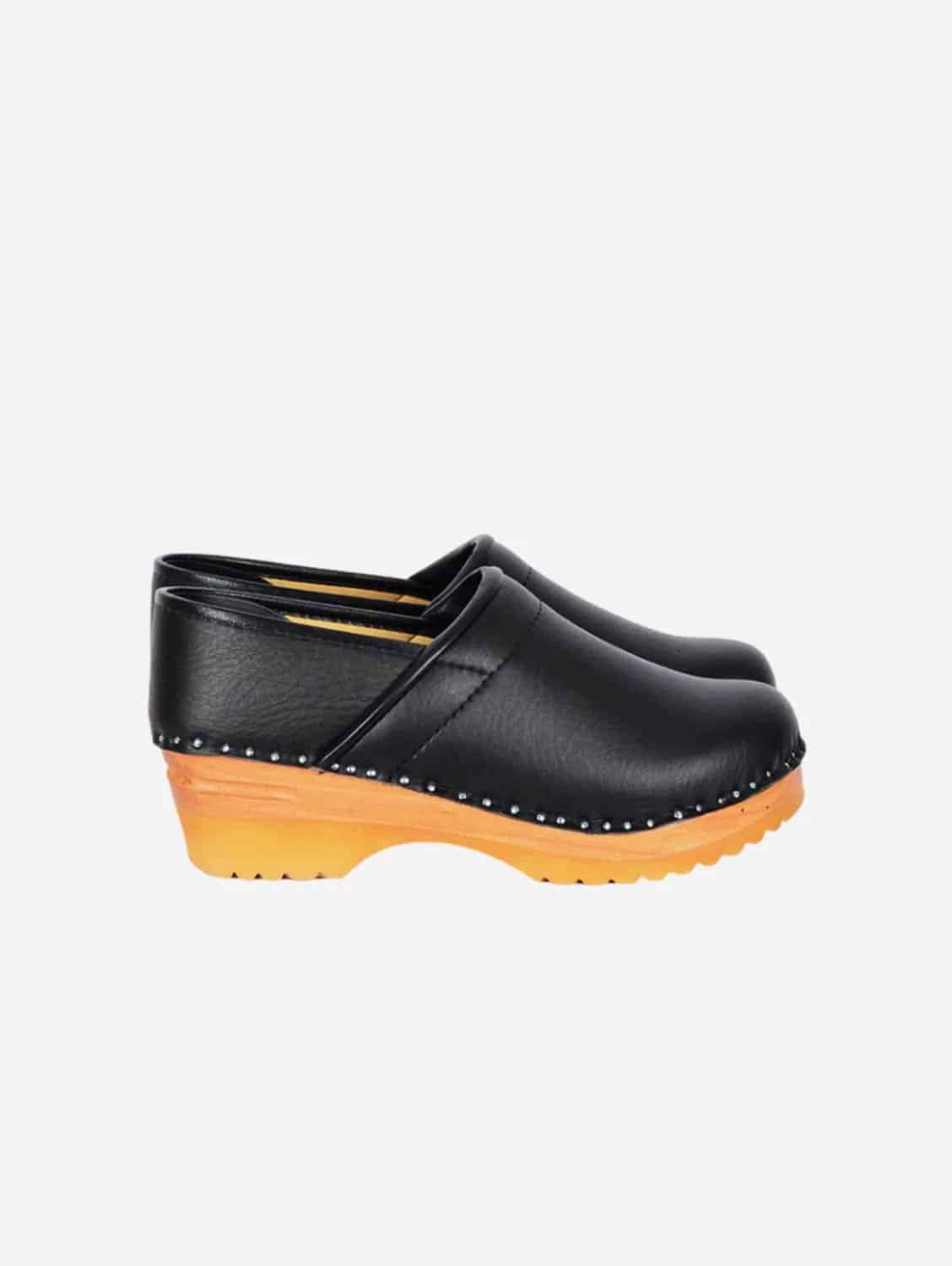 These vegan shoes are the perfect balance between practicality and looks.
If you don't mind a small heel, they look ideal for work shoes, since they have an anatomical footbed with arch support and a big toe indentation, a 2.2-inch (5.5cm) raised heel which they say puts your foot at the optimal angle for support and posture, and an antimicrobial lining for comfort and to keep your shoes fresh.
They are made of waterproof and eco-friendly vegan microfiber leather. And if you need vegan non slip work shoes, they have a Griptech PU sole.
The alderwood footbed was also chosen for moist absorption, to keep your feet dry.
Good Guys Go Vegan are an all-vegan French footwear brand (the first vegan shoe brand in France, in fact!) and their range of vegan clogs have glowing reviews online.
These comfortable vegan clogs are made in Spain primarily by hand, by a small, family-owned shoe-making company that has been manufacturing footwear for over 100 years, and now produces only vegan shoes.

Looking for vegan Swedish Hasbeens? Unfortunately, Hasbeens doesn't make any vegan shoes, but these vegan mule clogs are a great dupe, as they're made in the traditional Swedish clogs style.
A collaboration between Good Guys Go Vegan (formerly Good Guys Don't Wear Leather), France's first vegan footwear brand, and Troentorp, a Swedish shoe brand who've been making clogs for over 100 years, these are the best traditional style vegan Swedish clogs!
These non leather clogs are made with a waterproof, eco-friendly vegan microfibre leather upper that's OEKO-Tex certified.
They're lined with a soft eco-friendly microfibre and have a 5.5cm (2.2 inch) heel which puts the foot in the ideal angle for support.
The Da Vinci vegan clogs have an anatomically constructed footbed made of alderwood which is a moisture absorbing wood, keeping your feet dry, and a Griptech sole for traction.
They have great reviews from customers online, one of whom remarked that these are the only clogs they've ever found made with nails/studs instead of staples.
Several reviews said just like non-vegan clogs, they need to be broken in first while wearing socks, so bear this in mind before you plan a full day out with your new clogs.
Like all Good Guys shoes, the vegan clog slippers are PETA approved vegan.

Crocs: love them or hate them, many people swear by how comfortable they are, especially if you spend all day standing as a nurse, chef or pharmacist. But are Crocs vegan?
I'm happy to report that yes they are! In mid 2021, Crocs announced that by the end of the year they'd go entirely vegan for the environment.
Crocs are made out of Croslite, their proprietary closed-cell resin that forms the foam the shoes are famous for being made of.
Croslite is easy to clean with just soap and water, and is lightweight, resistant to marks, odor-resistant and comfortable. Be forewarned that many people don't find it a breathable material, so if you choose a closed-toe model you'll likely want to wear socks with your Crocs.
Lots of professionals who spend the day standing swear by their Crocs, though a small percentage of people don't find they have enough arch support for them. I think with footwear our level of comfort depends very much on the shape of our feet so it's best to try out different styles to find what suits us.
If you're keen to find comfortable Crocs for your job, you can see the full range of Crocs vegan clogs here. They also have a special range called Crocs at Work, featuring vegan nursing clogs, chef shoes, hospitality shoes and more.
Need vegan nurse clogs? The Specialist II vented clogs are specifically aimed at professionals, an include ventilating holes near sole at the front of the shoe, allowing water or debris to drain and improving airflow (as I mentioned earlier, Crocs don't have much breathability).
Depending on your job, the holes may or may not be helpful – Crocs also has options without vents.
The Specialist II clogs have heel straps for a secure fit, improved arch support and countoured footbeds. These vegan black clogs are waterproof, non-slip and you can clean them with just soap and water.

Will's Vegan Store started out life as one of the first 100% vegan men's footwear manufacturers, and now have expanded to more vegan items and women's wear too.
Their clog footbed sandals are made of a vegan bio leather, made in Italy using bio oil created with Northern European cereal crops.
The faux leather clogs have arch support and a shock absorbent cork footbed lined with vegan suede for comfort.
The strap is adjustable for fit and the soles are grippy rubber.
They also have the same model of vegan clogs for women, which you can find here.

Are Sanita clogs vegan? Some are!
Sanita is a well-known footwear brand. They have wide range and are known for their comfortable clogs. Vegan clogs in their range can be found here.
If you're looking for work vegan clogs, Sanita clogs make an excellent choice.
The brand is very popular with nurses, waitresses and others in occupations that involve long hours standing. Dansko and Sanita are perhaps the most popular clogs for work, but unfortunately there aren't any vegan Dansko clogs at present, so of the two, you'll have to opt for Sanita.
Looking for vegan nursing shoes with a twist? The Sanita Justine clogs are perfect if you want to add a little pop of colour and pattern to your outfit. They feature an alpine flower appliqué. The upper is made from recycled PET and they have an anatomical footbed with a soft insole made of microfibre.
These vegan nurse shoes also have a padded instep, a rocker bottom on the outsole and are approved by the American Podiatric Medical Association (APMA).
Click here for more information.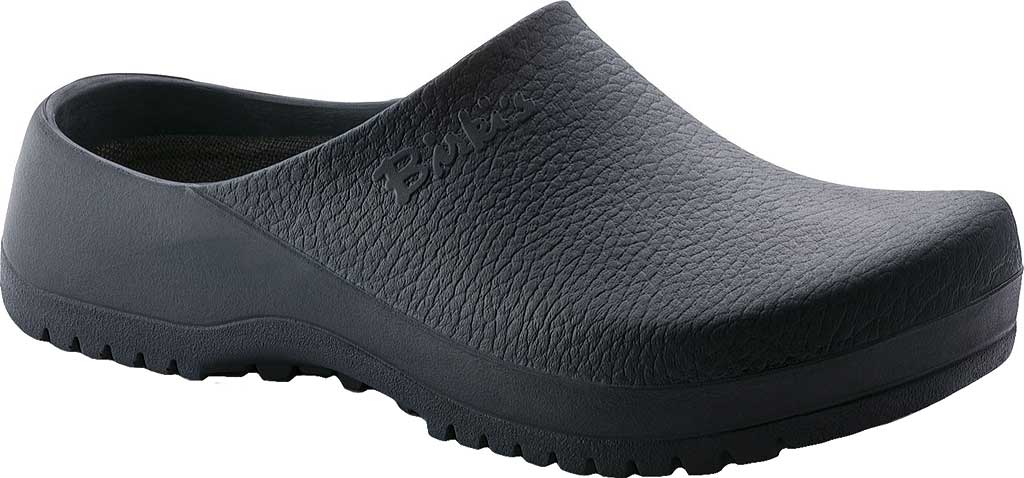 These black vegan Birkenstocks clogs are designed to be comfortable, with a removable anatomical cork-latex footbed, a comfortable fabric lining and arch support.
If you're looking for vegan nurse clogs, these are close toed (unlike some other vegan clogs) so good for a work environment.
The non leather Birkenstocks are made of a polyurethane upper and outsole. The outsole is also nonslip and oil-resistant.
The vegan Birkenstock clogs are easy to clean or sanitise. However, several reviewers say they are either too tight or too loose and since they don't have an adjustable strap, they can't be adjusted.
You can find my full guide to vegan Birkenstock styles here.
Best vegan clog brands for day-to-day wear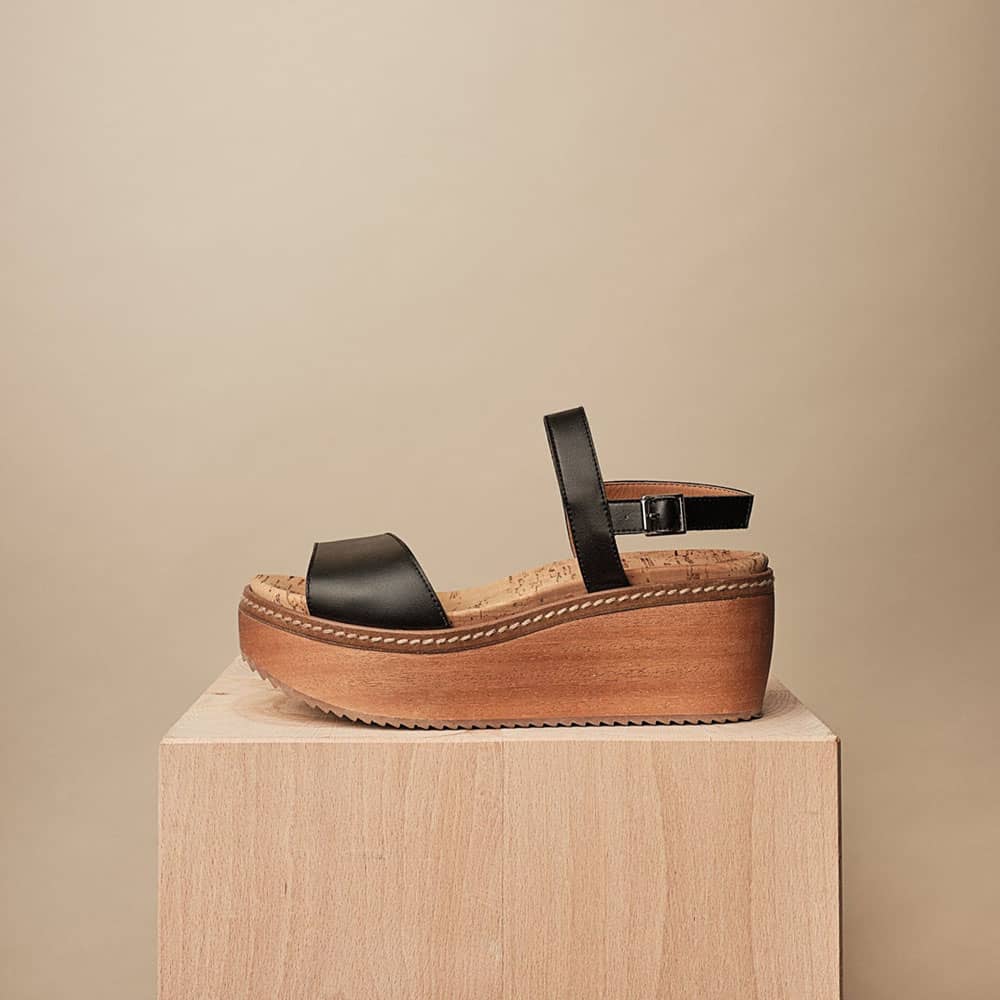 Looking for comfort and style? These vegan platform clogs have a shock-absorbent sports sole of natural cork, and they come with a detachable extra insole. It also has a soft vegan suede lining.
They have a 2.5 inch heel, so they're comfortable. The heel is made of solid wood, and the vegan leather upper is REACH certified and formaldehyde- and phthalate-free.
The shoes are made in Alicante, Spain, by hand, by artisans who've been crafting shoes for generations, and the upper and lining are Italian.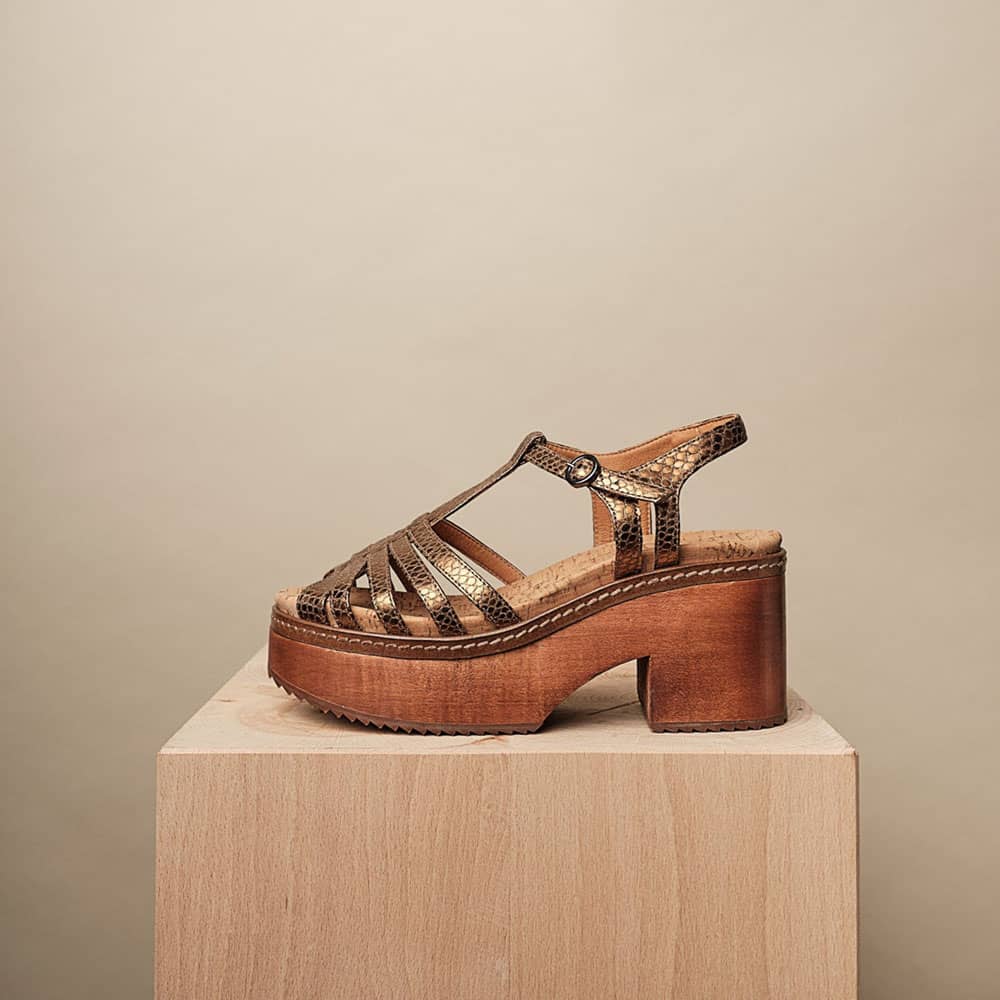 These cute platform heeled clogs have a bronze vegan snakeskin print faux leather upper (it also comes in black, brown and beige).
They have a detachable natural cork insole (it's a shock-absorbent sport sole for comfort), and they include an extra insole with the shoes.
The heel is just under 3 inches and is comfortable thanks to the insole.
The heel is made of solid wood and the shoes are made in Spain.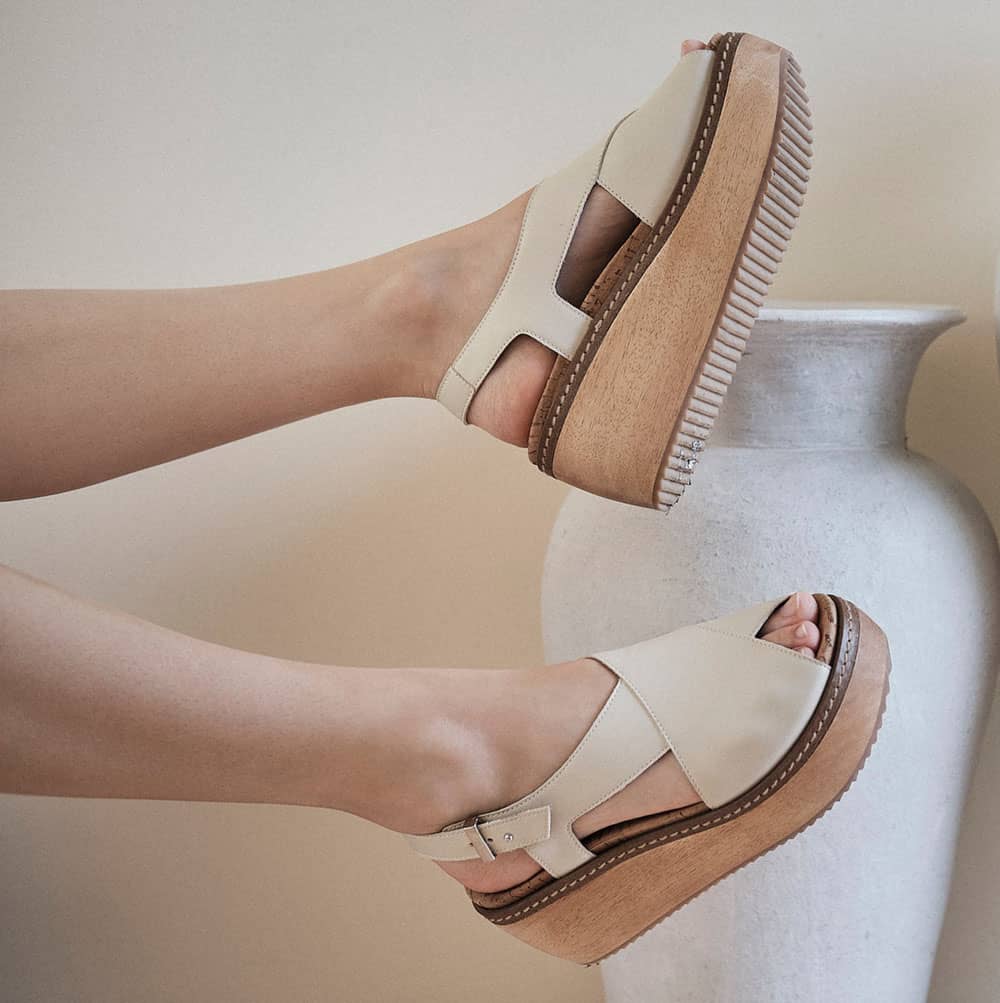 Another cute pair of sandals from Bhava, the Tilda wood clogs, just like their other clog models, have a solid wood heel and a comfortable shock-absorbent sole.
They have a height just under 2.5 inches.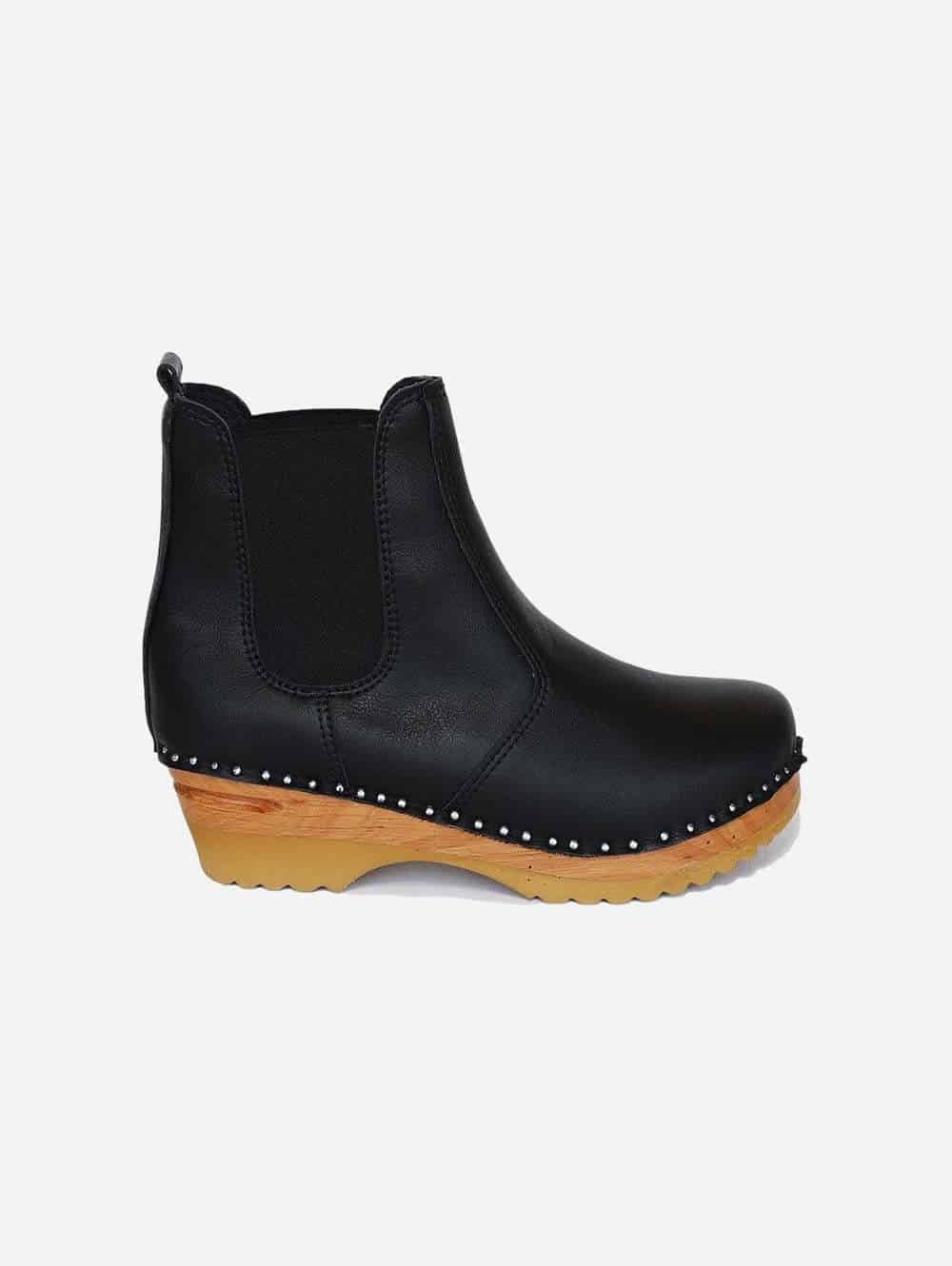 Looking for clog boots for winter? These boots from Good Guys combine the best of vegan clogs and Chelsea boots.
They are part of the vegan brand's collaboration with Troentorp, a Swedish company that's been making traditional Swedish clogs for 100 years.
The Chelsea boots have a waterproof vegan leather upper and a non-slip sole perfect for winter rainy days.
The vegan leather is a durable microfibre vegan leather that's OEKO-Tex and REACH certified.
These eco friendly vegan clogs have an anatomical footbed with arch support and a thick sole for extra comfort. The footbed is made of alderwood and they have a heel height of 5.5cm (2.2 inches).

Birkenstocks have a number of vegan shoes (look for the shoes labelled vegan) and the Boston vegan Birkenstock clogs are the vegan version of their Boston clogs.
The Birkenstock vegan Boston clog is a classic now available in their synthetic Birko-Flor, a durable vegan leather.
The have an anatomical cork-latex footbed and a soft microfibre lining for comfort.
More vegan clog options:
Vegetarian Shoes Moab vegan suede clogs slipper
If you're looking for more comfortable shoes, check out Dooeys vegan house shoes, which are supportive and comfy for working or lounging at home.
FAQ
Does Dansko make vegan shoes?
If you're searching for Dansko vegan clogs you'll be disappointed to hear Dansko have not stated whether any of their shoes are vegan.
Therefore, if you need vegan clogs, Dansko is not the brand to go to. Fortunately there are plenty of other brands which make vegan clogs – see the list above.
Dansko do have a small selection of clogs made with EVA but don't specify all the other materials in the shoe so it's disappointingly and annoyingly impossible to determine if they're vegan – and they haven't answered customer questions about it either.
Instead, I recommend vegan brands Good Guys and Will's, mainstream brand Sanitas, which makes a few vegan styles or Crocs.
Are clogs vegan?
Some clogs are vegan, whereas others aren't – it all depends what they're made of. Like any shoe, there are the obvious non-vegan materials like leather or wool, or hidden animal products that may be used, such as animal-based glues.
While many brands have moved to vegan, animal-free glues, not every brand has – and not all brands publicly state whether their glues, and shoes, are vegan.
Dansko, for example, who are famous for their clogs, have thus far refused to comment on whether any of their shoes are vegan.
Thankfully, there are plenty of all-vegan companies out there making shoes, like Will's, which started its life as a vegan mens shoes brand and has since expanded to make womens shoes, bags, clothes and more. Or there's Good Guys Go Vegan, the first vegan footwear brand in France.
In the realm of mainstream shoe brands, Sanitas have a few vegan styles of clogs. And Crocs (love em or hate em) made positive headlines when they announced they'd be turning ALL their shoes vegan to be more eco-friendly. Crocs in particular make vegan clogs aimed at use for work, eg working in a commercial kitchen.
Pin this for later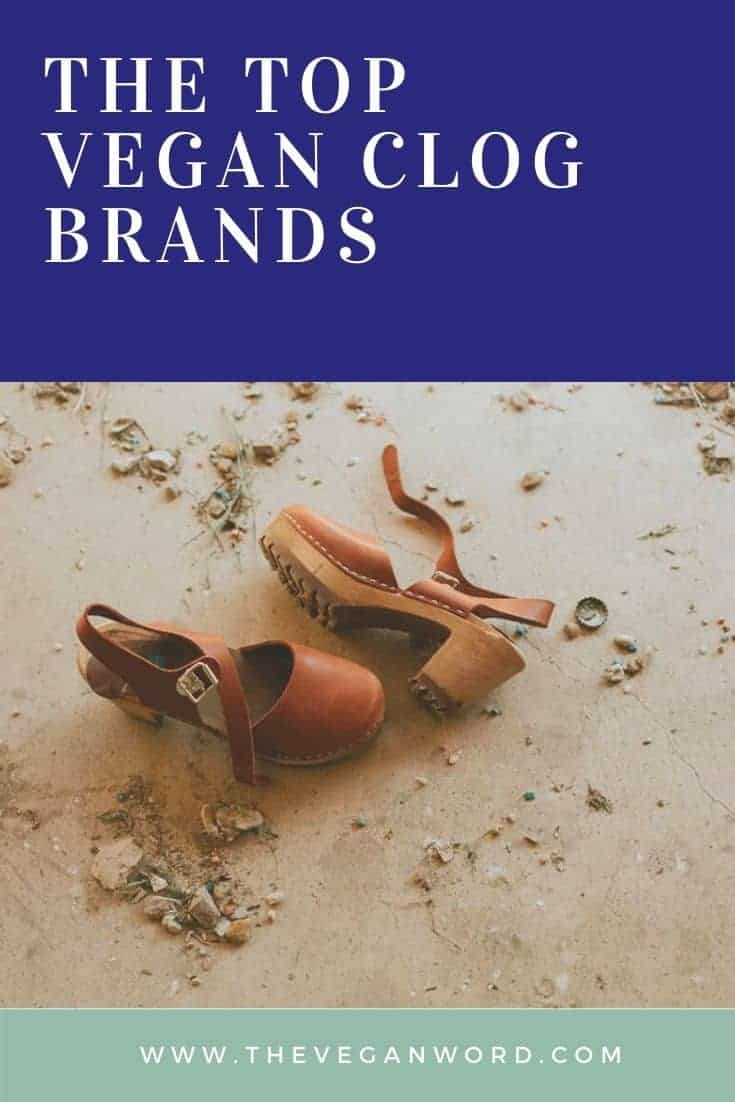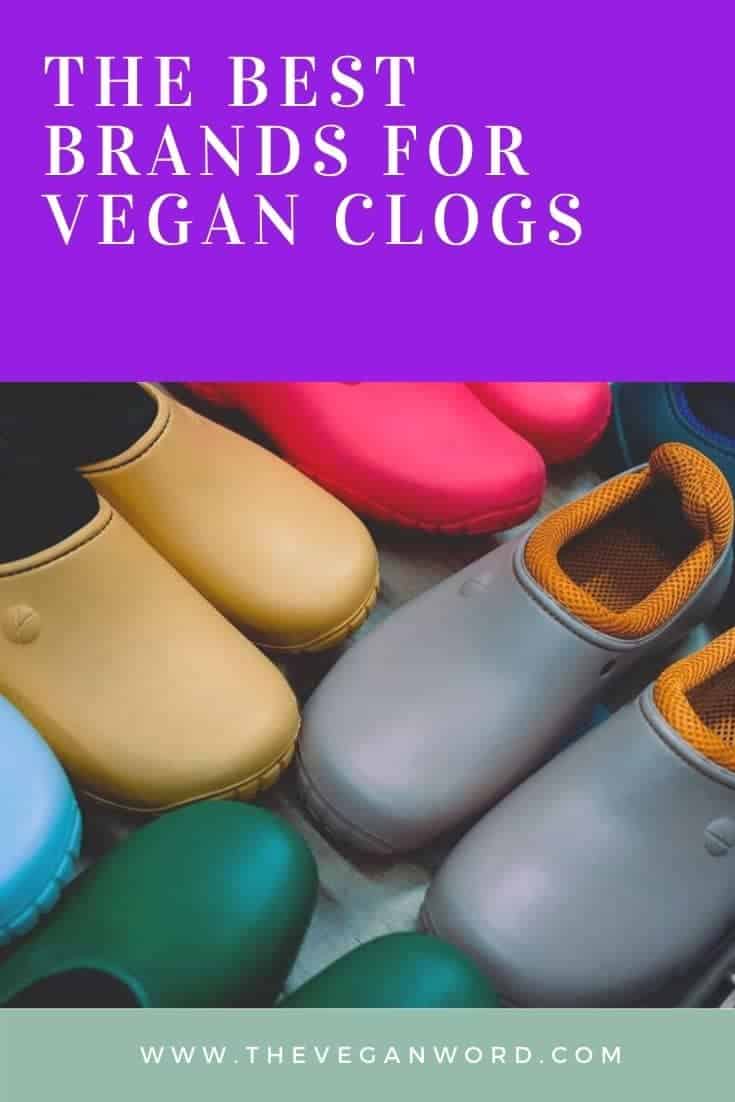 Looking for more vegan shoes? Check out my guide to the best vegan shoe brands here, vegan women's shoes here and vegan men's shoes here.
I also have guides to:
Vegan sneakers
Vegan Reebok style trainers
Vegan flats
Vegan loafers
Vegan sandals
Vegan Chelsea boots
Vegan ankle boots
Vegan cowboy boots
Vegan knee high boots
Vegan combat boots
Vegan heels
Vegan dress shoes
Vegan designer shoes
Find all my vegan fashion & beauty guides here.