Summer's coming up and you maybe wondering "are Birkenstocks vegan?" Birkenstocks were one of the earlier mainstream brands to introduce vegan models.
The range of vegan Birkenstocks is mostly made from Birko-Flor, Birkenstock's own vegan leather which is tear-resistant and easy-to-care-for.
While I applaud their range of vegan models, Birkestock need to work on sustainability and labour. According to the Good on You directory, the brand needs improvement in these areas and is rated "Not Good Enough". I'd recommend these shoes as a more sustainable & ethical alternative instead, made from eco-friendly vegan apple leather by an all-vegan brand which Good on You rates as "good".
Best vegan Birkenstock models:
Best vegan Birkenstock alternatives from 100% vegan brands: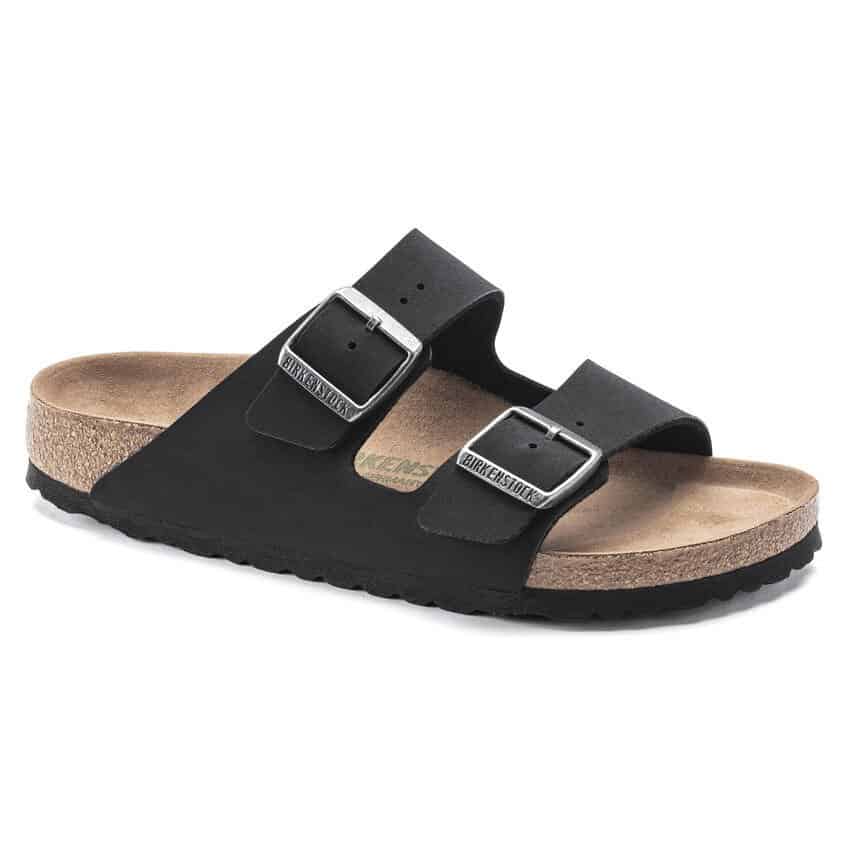 Looking for the classic Arizona Bikenstock? Vegan versions do exist! Birkenstock introduced a version made with vegan leather a few years ago.
The vegan Arizona Birkenstocks are my top pick of vegan Birkenstock sandals as they're a classic look. The black ones will go with any casual summer look from jeans to shorts.
The Birkenstock Arizona vegan sandals are made from Birkibuc, one of Birkenstock's own vegan leathers, with the iconic, comfortable cork-latex footbed sole.
They're unisex and available in men's and women's sizing, and a regular/wide or medium/narrow fit.
The Birkenstock Arizona black vegan sandals are pictured above but they also come in white or brown, so you can choose according to your preference.
The main thing I don't like is that Birkenstock is not fully vegan, don't use many eco-friendly materials and while they manufacture in the EU, they're rated as being behind on labour practices/paying workers fairly. So from that perspective, I recommend considering other vegan & eco friendly brands like this one that makes vegan apple leather sandals in a very similar style (with a footbed sole).
But if you have your heart set on Birkenstocks then go for a vegan model such as the Arizona in vegan leather.
---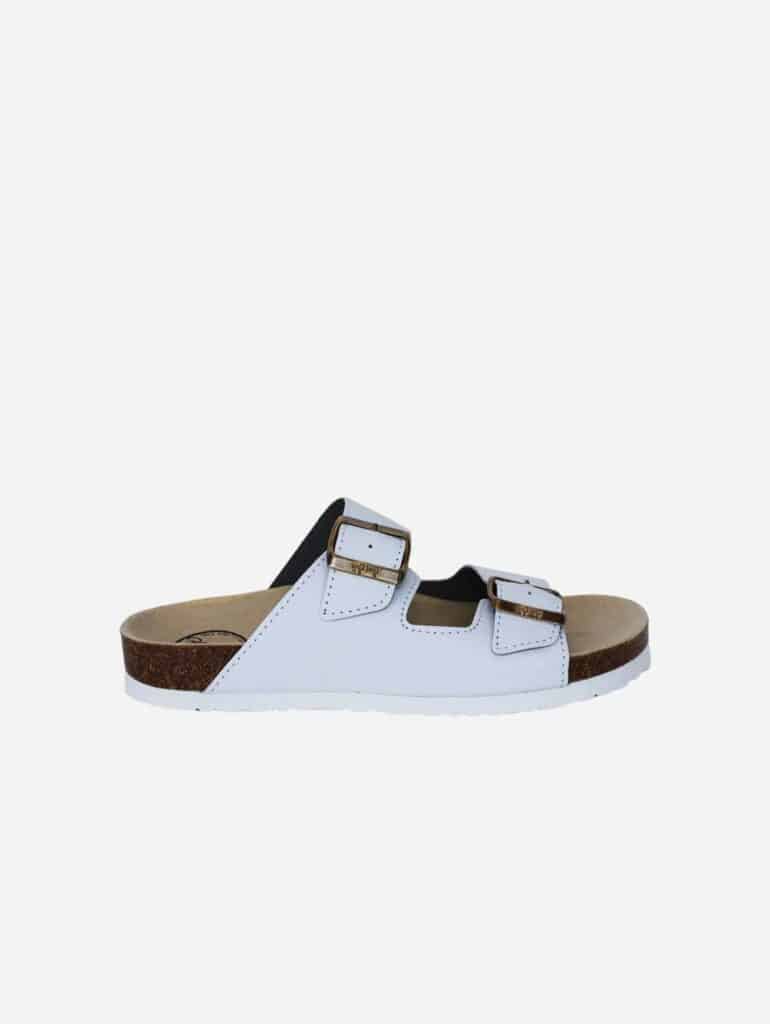 Women's sizes
These vegan leather sandals are my top pick of ethical & eco alternatives to Birkenstocks.
Designed in the style of vegan leather Birkenstocks, they have a comfortable contoured footbed made of cork, which adapts to your foot over time, just like Birkenstocks.
The two-strap vegan leather upper also looks similar, but is made from vegan apple leather, an eco alternative. Apple leather is made from the leftover waste from the apple industry, which would otherwise have been thrown away.
They have a non-slip EVA sole and an antibacterial, breathable microfibre lining.
The shoes are made in Europe, and materials sourced from Europe, too.
These are my top pick of vegan Birkenstocks alternative in women's sizing: made by a 100% vegan brand, they're also eco-friendly and respectful of workers. For men's sizes, I recommend Will's as an all-vegan alternative brand.
---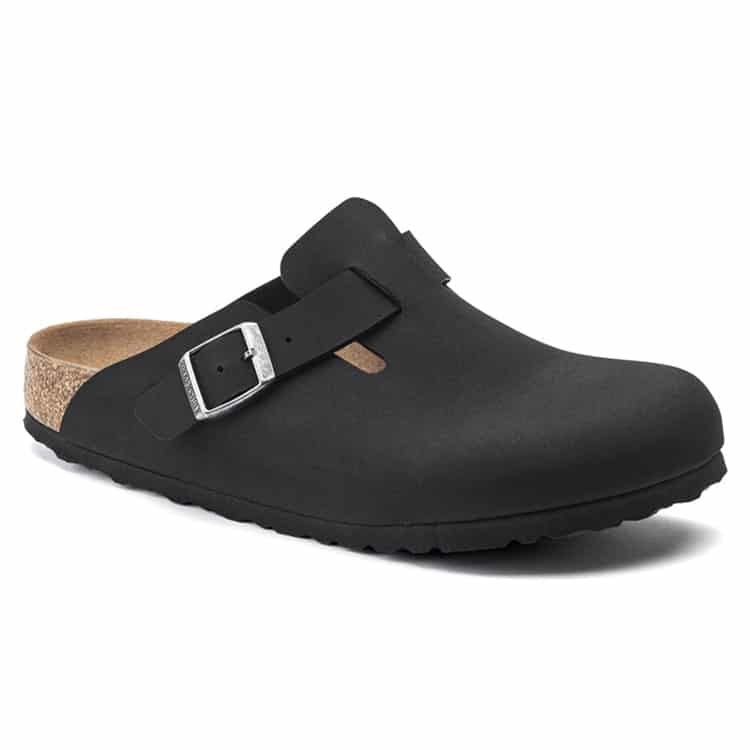 Looking for vegan Birkenstock clogs? The vegan Birkenstocks Boston model is your top bet. These classic clogs are unisex and available in men's and women's sizes.
The Boston vegan Birkenstock is made from Birkibuc, a tear-resistant and easy-to-care-for vegan leather alternative developed by Birkenstock. It is similar in texture to nubuck, and wipes clean with a damp cloth.
The vegan Birkenstock Boston clogs have their signature cork footbed with a microfibre lining.
As well as black, these clogs also come in khaki.
If you're looking for clogs specifically, don't miss my guide to the best vegan clogs.
---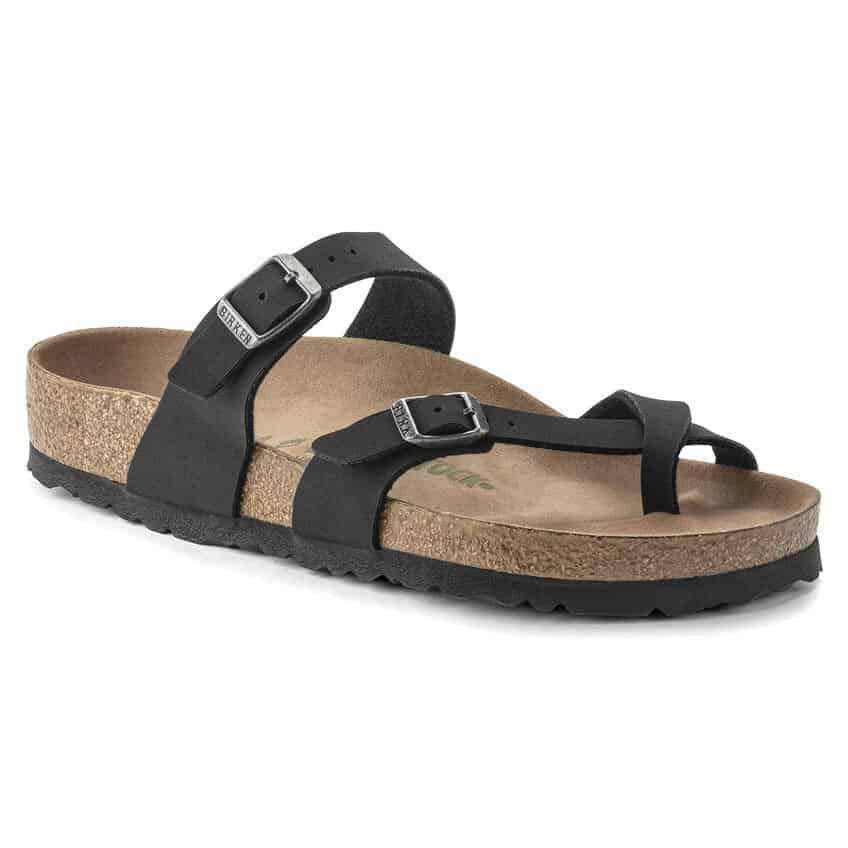 The vegan Mayari Birkenstocks are your best bet if you want crossover Birkenstock vegan sandals with a toe strap.
The adjustable criss-cross strap forms a single loop around the toe.
Like all models, the Mayari vegan Birkenstock has their signature anatomical cork footbed, while the upper is made from one of Birkenstock's own vegan leathers, Birkibuc.
---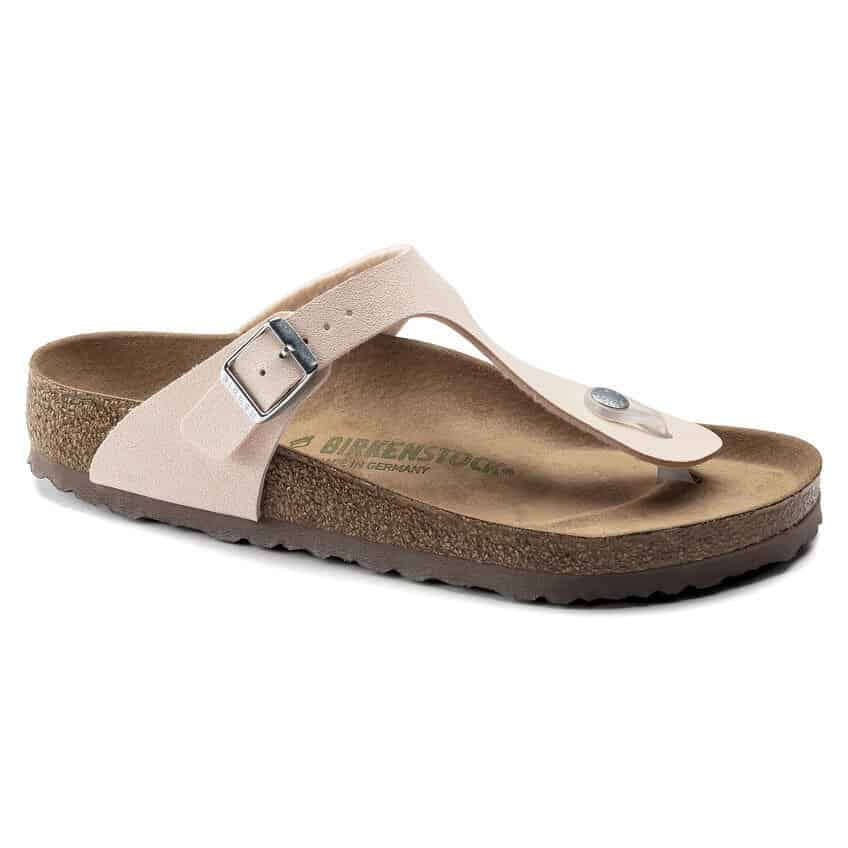 If you're looking for a thong-style sandal but with a footbed, the vegan Gizeh Birkenstocks are your best bet.
I used to hate the feeling of something between my toes when I was little and could never stand flip-flops. For some reason I grew out of that hatred and grew to love flip-flops! However, flip-flops are really best only for lounging around a pool or on the beach.
If you want sandals more suited to other activities, the Gizeh vegan Birkenstock would be perfect for summer. You can still slip them on and off, just like flip-flops, but they have Birkenstock's famous anatomical foodtbed.
I absolutely love the colour too – these light pink vegan Birkenstocks are really cute! They'd pair well with jeans shorts or a floral summer dress.
---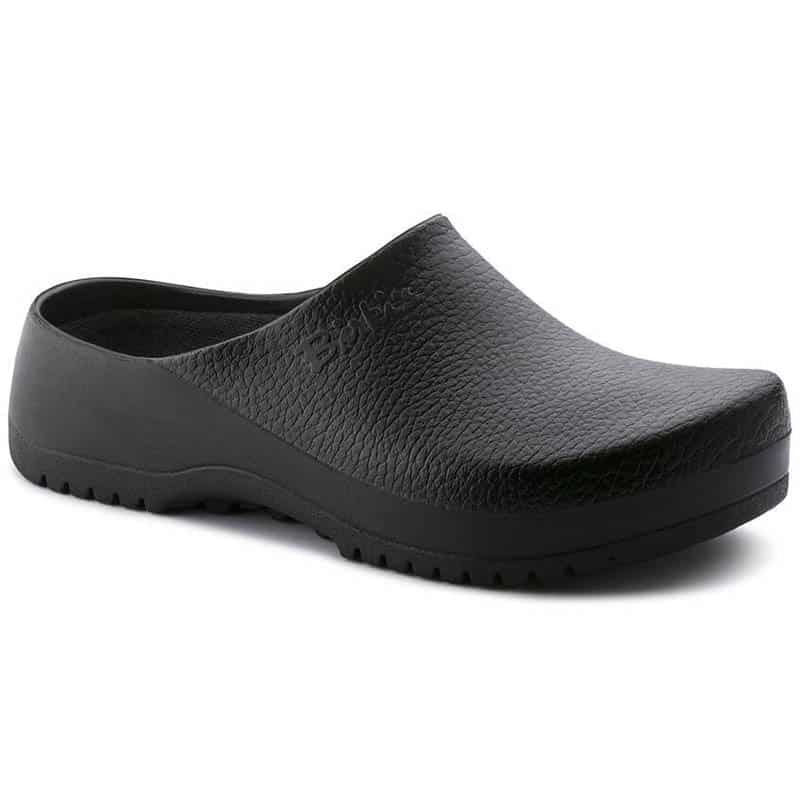 If you're looking for Birkenstocks you can wear to work, these black vegan Birkenstocks clogs are water-, oil- and grease-resistant.
The cork footbed can be removed and is machine washable, making these a good pick if you work somewhere on your feet and your shoes get dirty.
The whole shoe, which is made of polyurethane, can be washed as well at up to 60C so you can disinfect them.
---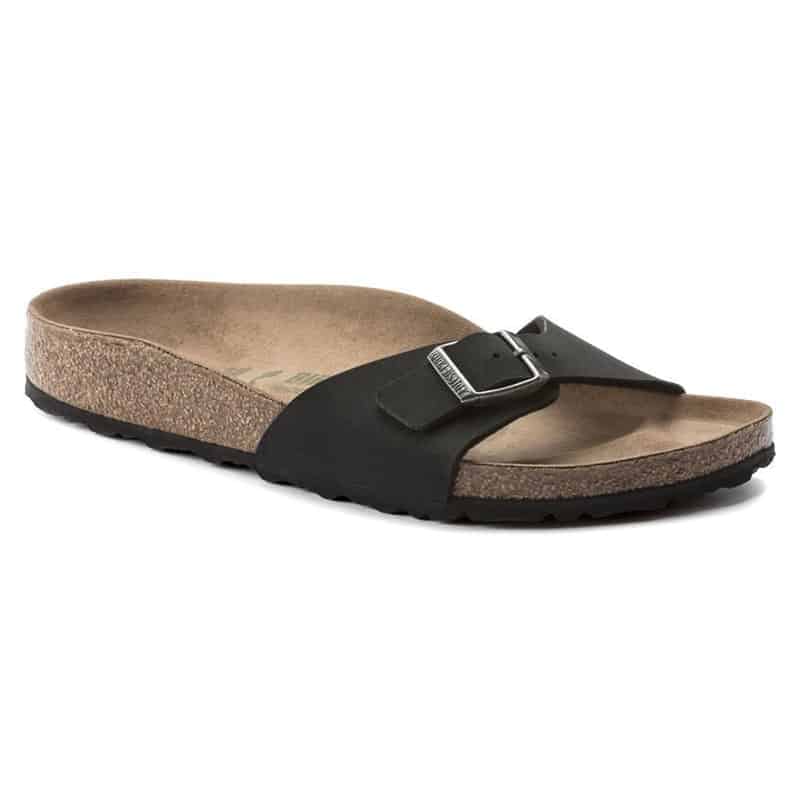 If you love simple sandals, these one-strap black vegan Birks are the ultimate no-fuss Birkenstock.
With a simple adjustable buckle strap made of vegan leather and the usual Birkenstock cork footbed, these sandals are simple and no-frills.
---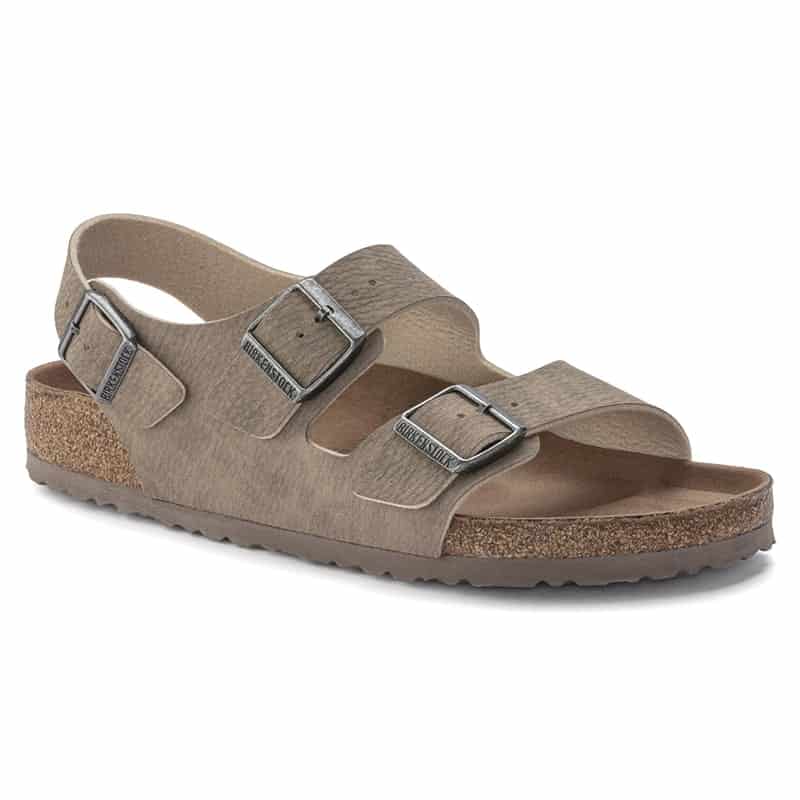 Personally, I prefer sandals with an ankle strap. I've had way too many experiences of walking down city streets in backless sandals and accidentally "stepping out" of my shoes (not a good ida on a street that might be littered with broken glass or dog poo). So I always try to buy sandals with a strap.
If you, too, prefer sandals with an ankle strap, but want Birkenstocks with their typical cork anatomical footbed, these are the sandals for you!
The Milano sandals feature two straps over the foot plus an adjustable ankle strap, all now available in vegan form made from microfiber vegan leather.
---
Birkenstock Alternatives from 100% vegan brands
These days Birkenstock have vegan versions of some of their shoes…but perhaps you prefer to support a 100% vegan brand? (I do too!)
These vegan shoe brands offer Birkenstock-style shoes, many of which have anatomical footbeds too. Some of them also use more sustainable vegan leather alternatives like vegan apple leather, and many also do better on the scale of treating workers fairly.
Here are my top picks.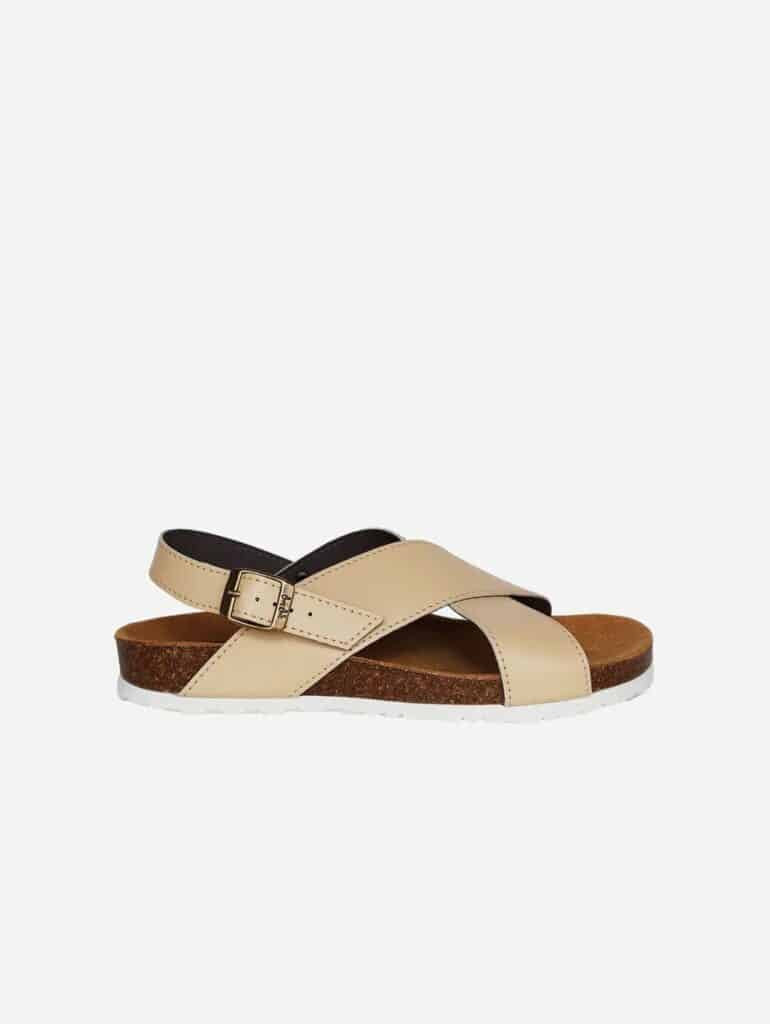 I love the look of these crossover sandals. Yes, the sole is slightly different to Birkenstocks (with a white sole) but they have cork footbed and are super cute. I'm also pretty sure I owned an identical pair of sandals as a teenager. Fashion really does come full circle. ;)
If you prefer a different colour, as well as beige seen above, they come in white, black and brown.
These sandals are made from vegan apple leather, an eco-friendly alternative made from leftover waste from the apple industry. I love how innovative the vegan fashion industry has become in recent years in utilising waste materials and making vegan leather alternatives from these products (such as pineapple leather, cactus leather, and of course apple leather!).
---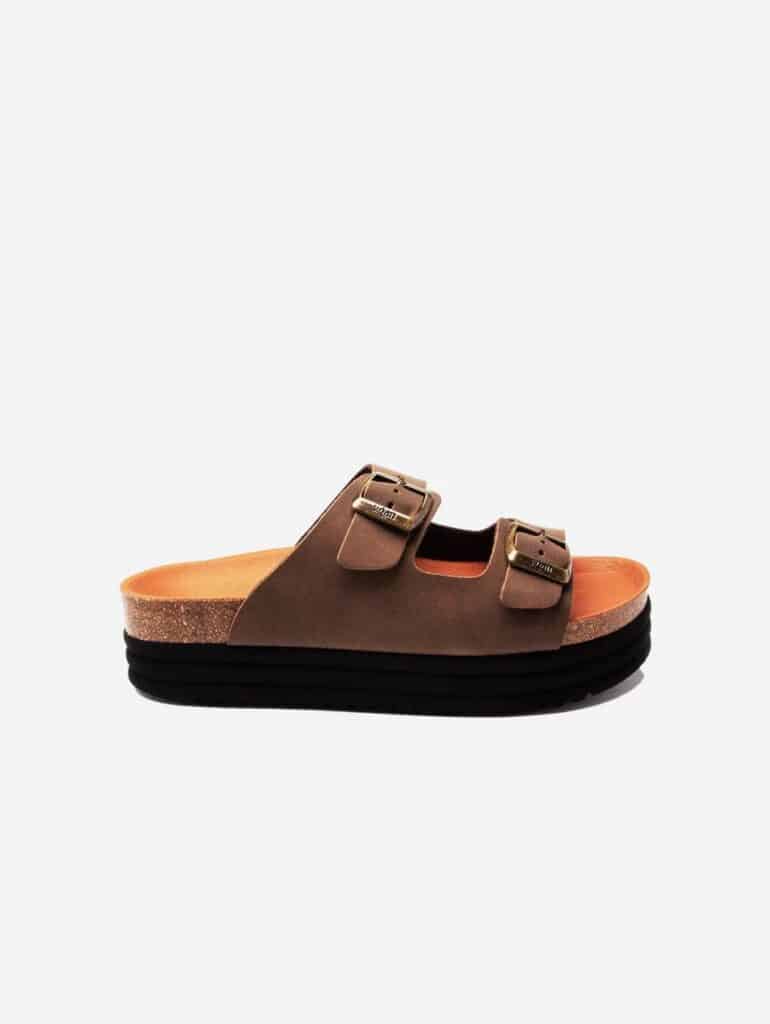 When you picture Birkenstocks or Birkenstock-style shoes in your mind, flats come to mind, right? But what if you want a bit of height?
These chunky platform sandals will give you the height you crave with the look and feel of footbed sandals.
---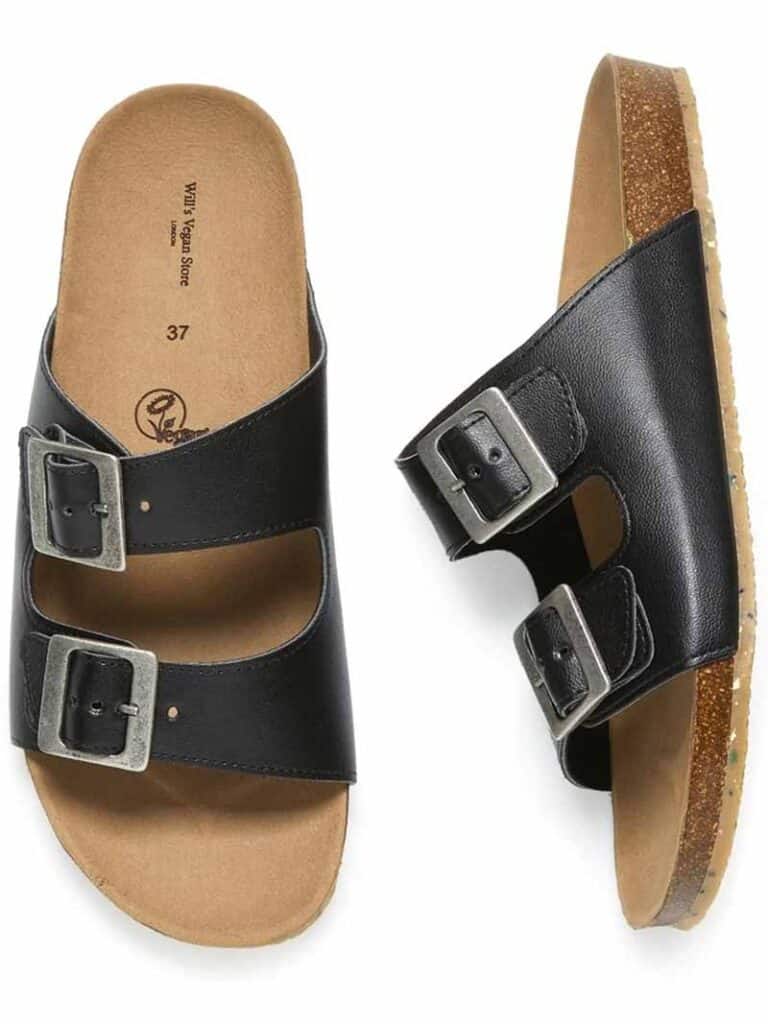 I love Will's classic shoe designs – they make vegan versions of loads of classic styles. These footbed sandals come in black and brown (and men's sizes as well – see below).
The upper is made of Italian vegan bio-based leather and are lined with soft vegan suede for comfort.
Customers agree – they have 4.5/5 stars with 13 reviews and several reviews state how comfortable they are.
---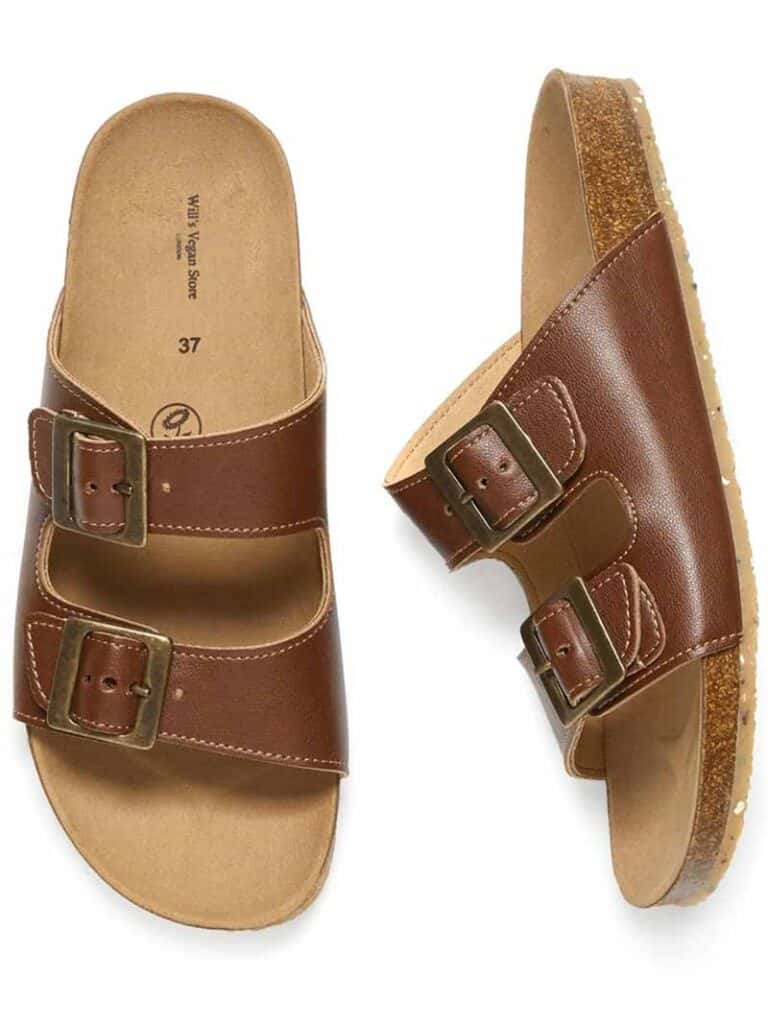 These are the same sandals as the above listing, but in men's sizes – they're Will's take on footbed sandals.
Will's was one of the first brands to specifically focus on men's vegan shoes – I remember when they launched at a vegan festival in London and caused quite a stir! They now make women's shoes as well, plus vegan bags and other accessories.
Customers love these (they have 4.5/5 stars) and state they're comfortable and durable.
---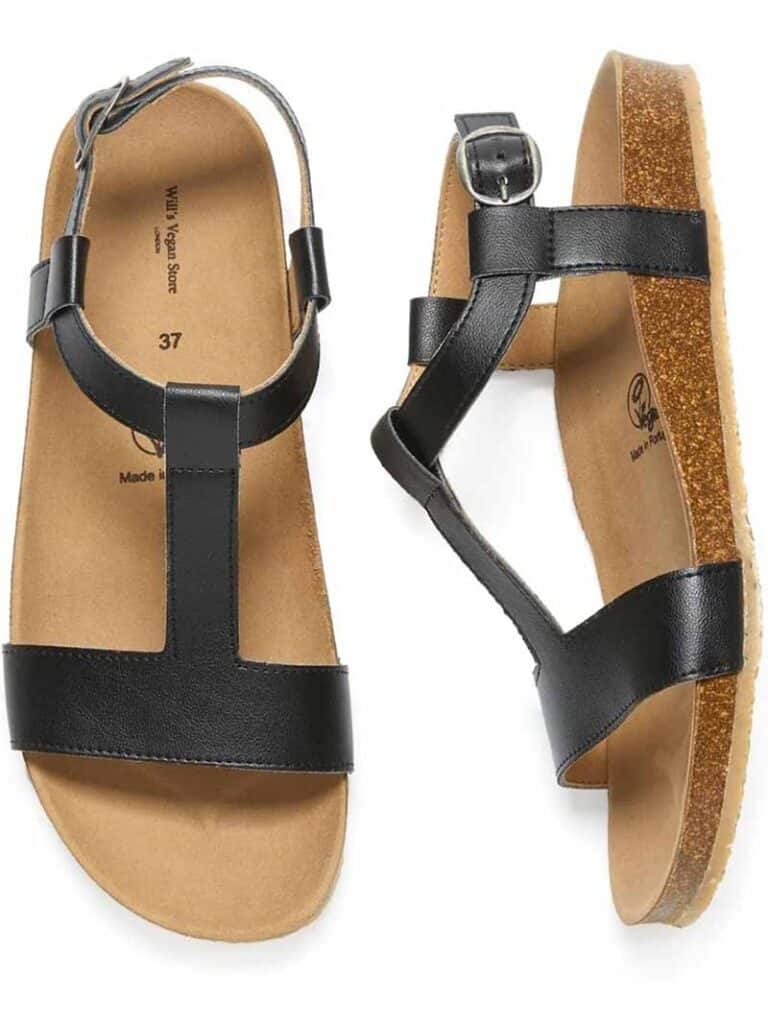 These are an elegant take on footbed sandals, and feature the oh-so-important-to-me ankle strap I mentioned before (personally I'm not keen on sandals without them because I don't like my feet slipping out).
They have grippy outsoles and the upper is lined with suede for comfort.
They're also very popular — they have a rating of 4.5/5 stars with 42 reviews on Will's site.
---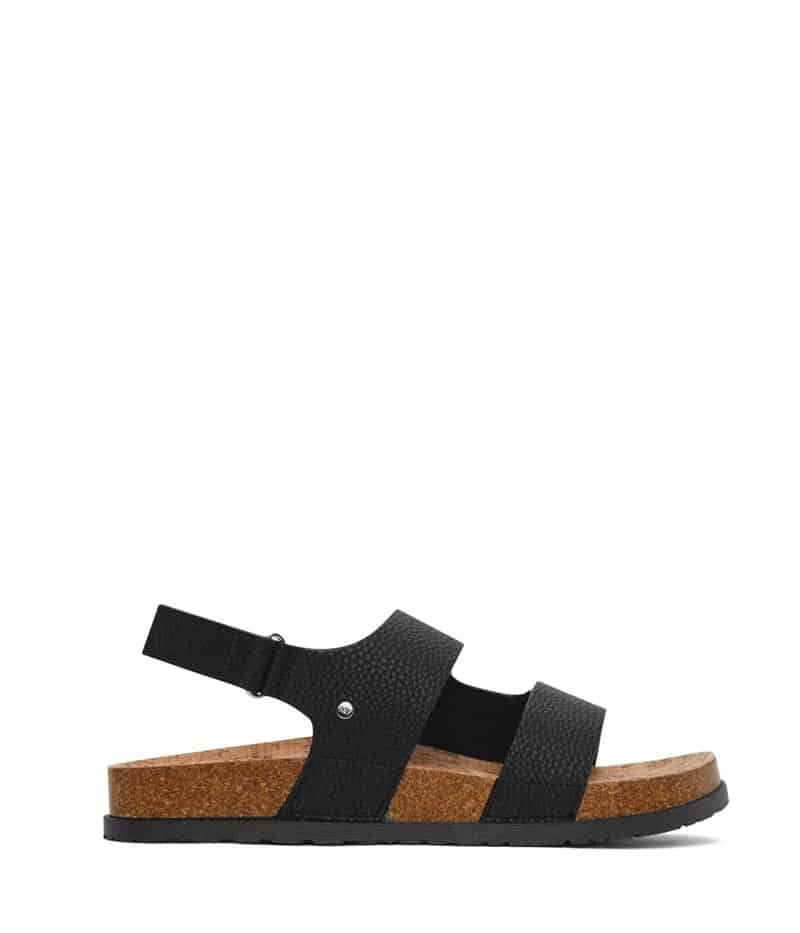 One last option are these sandals from long-standing vegan brand Matt & Nat, which come in black, white or khaki.
Pin this for later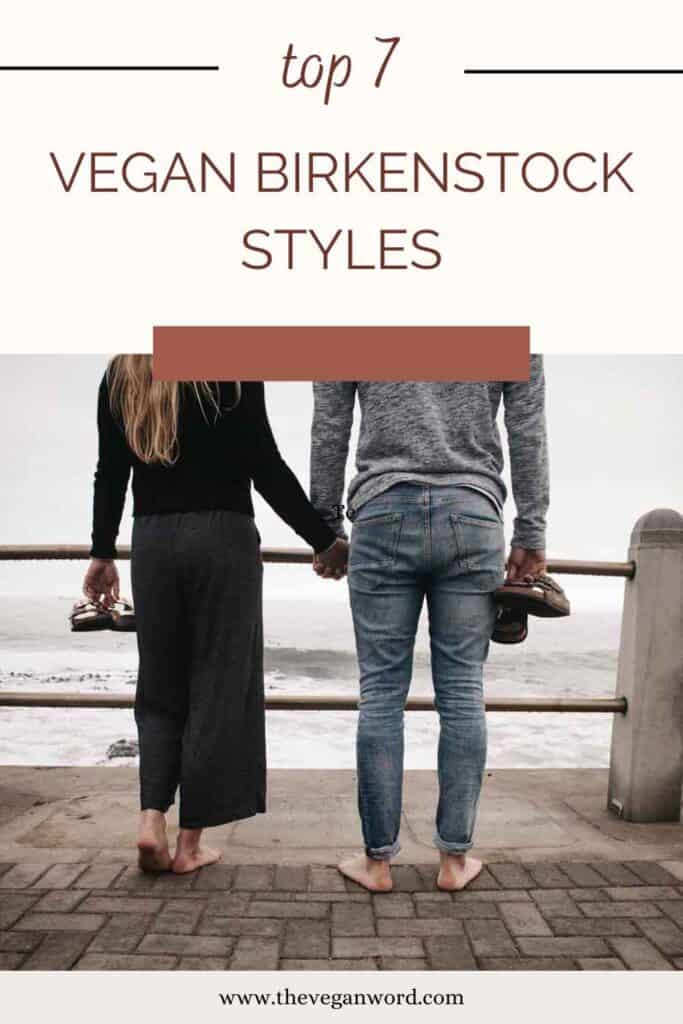 Looking for more sandals for summer? Check out my vegan sandals guide and my guide to vegan Doc Martens sandals.
I also have plenty of other vegan shoe guides:
and more!
Check out all my vegan fashion guides.