Summer's approaching…are you looking for Dr Martens vegan sandals?
You may have heard that there are a few styles of vegan Doc Martens, but the boots are the most famous. If you're wondering if they also make vegan versions of their sandals, wonder no more.
Vegan Doc Martens sandals do, in fact, exist! At the moment, though, they only make two vegan sandal styles, so I've found some Dr Martens-style sandals from a few 100% vegan shoe companies.
Here are the best vegan Doc Marten sandals and similar styles from vegan brands: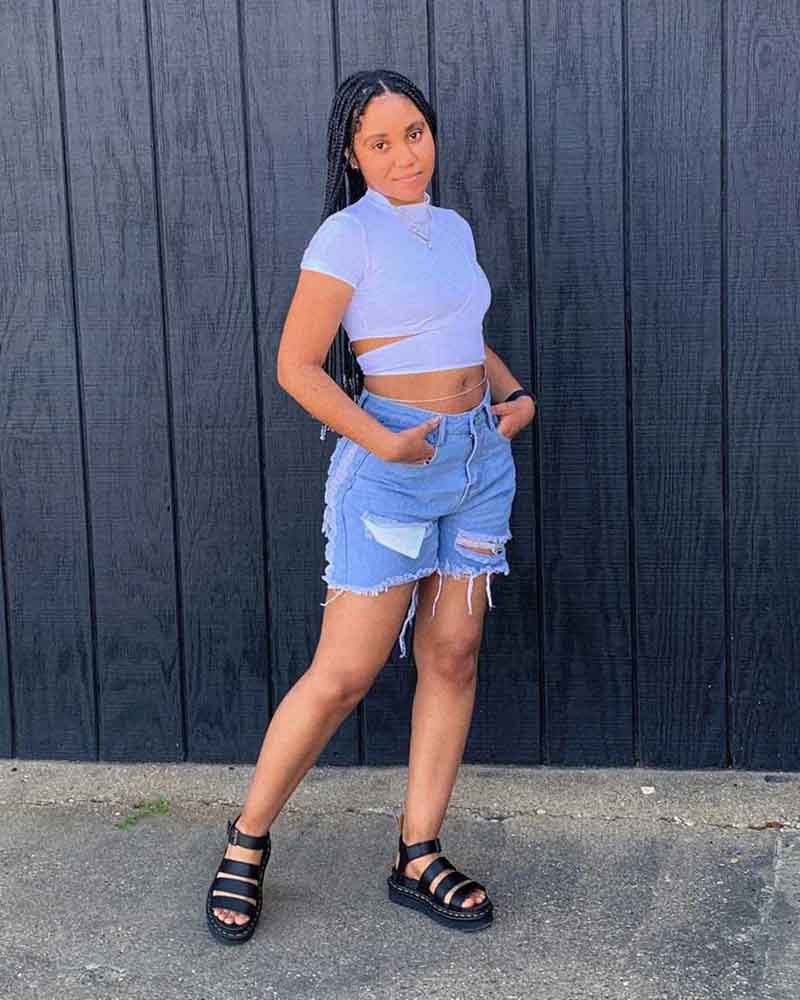 These chunky vegan Blaire sandals are done in a gladiator style with Dr Martens signature stitching on the sole.
If you're looking for hard-wearing sandals, one thing I love about the Dr Martens vegan Blaire sandals is they've got a Goodyear welted sole, just like their boots.
Goodyear soles are the gold standard in durable shoe construction (you can read more about it here). Goodyear welted soles allow the sole of the shoe to be replaced multiple times, so it vastly improves durability compared to non-replaceable soles.
I find sandals in particular often don't last me long, so I love the sound of repairable ones! I have boots that I've been re-soling for more than seven years now, and I've saved so much money (not to mention being much more sustainable) by having them re-soled rather than having to buy new boots each time the soles wear out.
The other thing I love about the Doc Martens vegan Blaire sandals is the strap. I really dislike the sensation of my shoes sliding off as I walk (plus they say having to grip onto a shoe with your toes isn't good for you), so I prefer sandals with an ankle strap.
If you're looking for a bit of a boost, they also have a subtle platform (1.5 inches/3.8 cm) with a heel height of 1.75 inches/4.4cm.
They also have an arched footbed. Beware that some reviewers state they run large, so you might need to size down.
---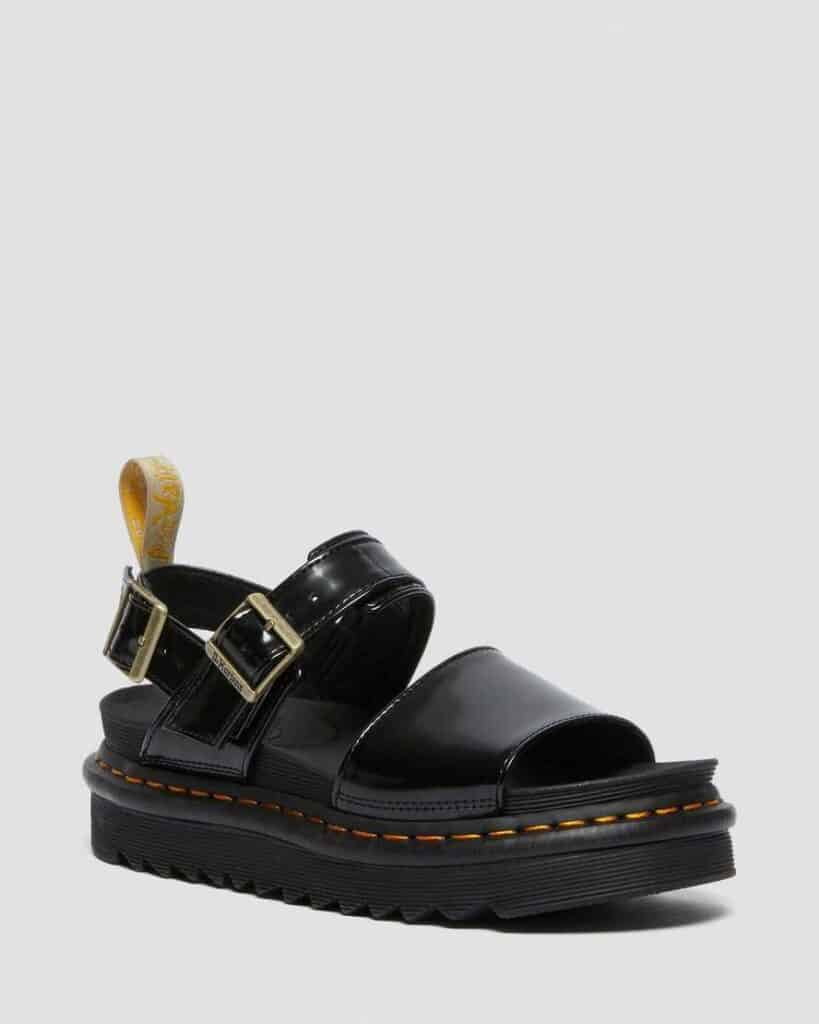 If you're looking for some chunky sandals with thick straps, these vegan Voss strap sandals from Dr Martens are for you.
Dr Martens vegan Voss sandals, like their Blaire sandals, have a Goodyear welted sole. As I mentioned before, this is the gold standard in soles and highly recommended for durability.
Goodyear soles can be replaced numerous times, making your shoes last a lot longer – a win for the environment and your wallet! ;)
The vegan Voss Dr Martens also have Dr Marten's iconic yellow stitching and heel tab, and two thick straps (the straps around the ankle are both adjustable), made of vegan leather.
These Doc Martens vegan sandals have a small 1-inch (2.5cm) platform and 1.5-inch (3.8cm) heel.
---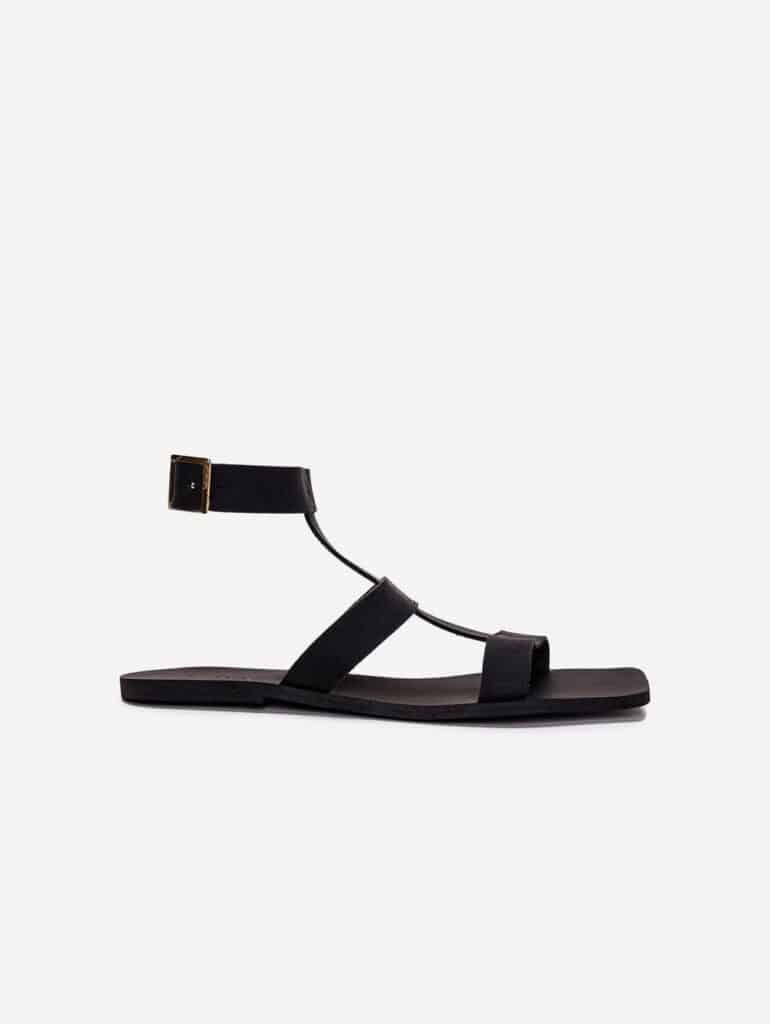 These sandals are lacking the typical chunky platform found on Doc Martens, but if you're looking for a thin-soled take on gladiator sandals (as opposed to a chunky sole, like the Doc Martens vegan Blaire strap sandals—see above) these are your best bet.
NAE is an all-vegan brand. These flat gladiators are made from vegan microfibre leather, which is water-resistant, breathable, hypoallergenic and durable.
The buckle fastening is made nickel-free metal, so the shoes are ideal if you have a nickel allergy.
Like all NAE shoes, they're made in Portugal in a fair working environment.
---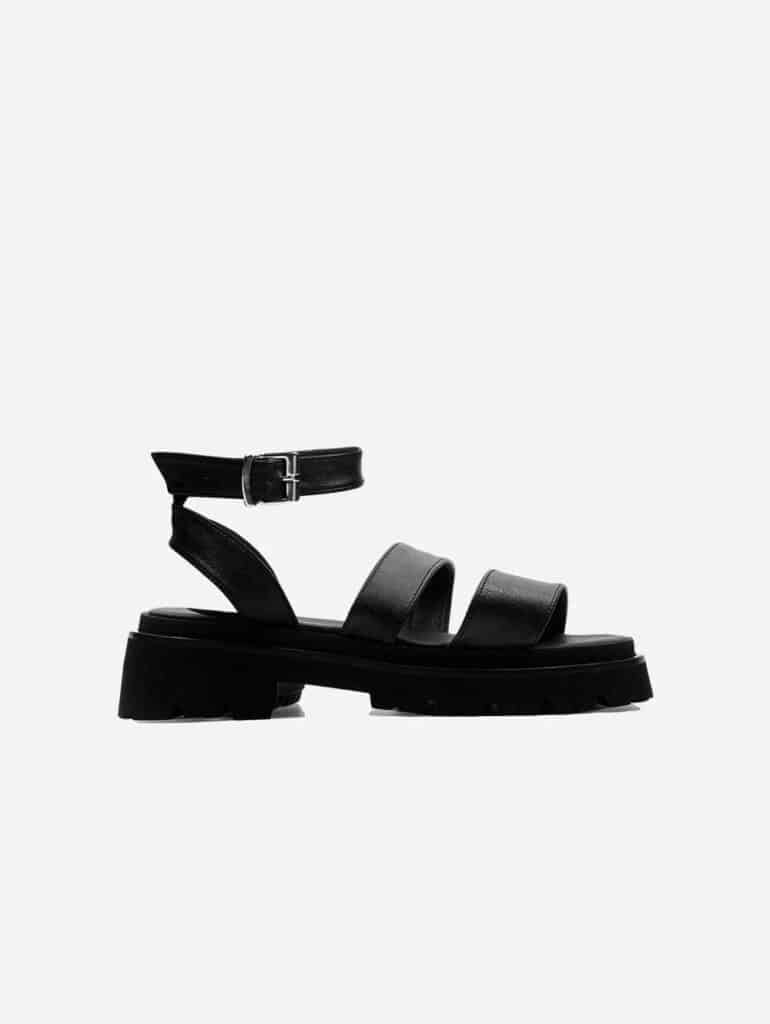 Bohema vegan cactus leather strappy sandals
These scrappy, chunky sandals are perfect for pairing with shorts this summer. Plus they're eco-friendly and made from vegan cactus leather!
While not from Doc Martens, these sandals have a thick sole, just like classic Docs. Plus they're from an all-vegan brand and made from a sustainable vegan leather alternative, cactus leather.
Vegan cactus leather is durable and eco-friendly. It's made from the leaves on the Nopal cactus, which uses much less water than animal leather, as cacti (obviously) don't require much in the way of water input.
They have a rubber sole and heel height of 3cm (1.2 inches).
---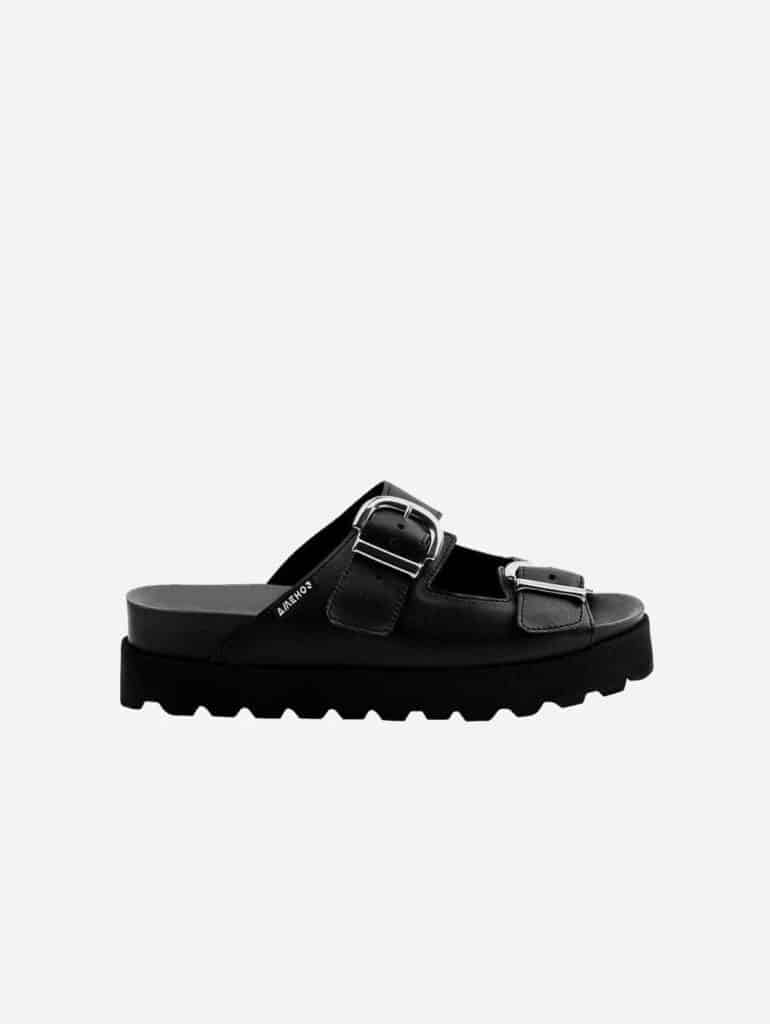 Bohema vegan cactus leather buckle slides
To me these look just like a vegan version of the Dr Martens Myles Brando sandals (which don't come in vegan leather), so if you've been searching for vegan leather Dr Martens sliders these are the perfect dupe.
The upper is made of eco friendly vegan cactus leather, an alternative to leather which uses far less water and is also durable and soft.
The inside of the shoes are made of breathable microfibre and the sole has a height of 3cm (1.2 inches).
FAQ
Are Dr Martens vegan?
Dr Martens is not all vegan, but they introduced their vegan range back in 2011 and between 2017 and 2019, experienced a 279% increase in sales of vegan shoes.
What are Dr Martens vegan shoes made of?
Dr Martens vegan leather is polyurethane-based. Polyurethane, or PU, vegan leather is one of the most common types of vegan leather.
Polyurethane sometimes gets a bit of a bad rap because some confuse it with PVC, a leather alternative that was often used decades ago (I highly recommend avoiding all PVC since it's terrible for the environment). PVC was also very sweaty and is where the myth of vegan leather not being breathable was born.
Polyurethane unfortunately still uses plastic, which is another reason it gets a bad rap, BUT it's much more eco-friendly than animal leather. In fact, on the Higgs Index, put together by the Sustainable Apparel Coalition, leather is rated the second-worst material for the environment.
It's true that plastic is best avoided, but sometimes there's no choice, and Dr martens vegan range is more eco-friendly than animal leather!
If you're looking for an even more eco-friendly option, then I recommend vegan cactus leather shoes, such as these vegan DM sandals dupes. Cactus leather is a sustainable fabric because cacti don't require much in the way of water or pesticides to cultivate.
Are vegan Doc Martens comfortable?
I always think it's *such* a personable and impossible question whether a pair of shoes are comfortable because everyone's feet are so different!
Generally speaking though, most of us find there's a "breaking in period" for Doc Martens, and then they're very comfortable once they conform to your feet.
Which Doc Martens are vegan?
Doc Martens have a number of vegan vegan Doc sandals and boots available now and thankfully, it's really easy to search for the vegan shoes on their website.
In terms of sandals, they only have two vegan styles (both listed above in more detail), the Voss and the Blaire.
They have a wider range of other shoes, such as: the Felix 1460 lace up boots (in multiple colours such as black and cherry red), Felix 3976 Chelsea boots, the Sinclair platform boots, Mary Janes, Oxford shoes, Jason max platform boots and more. You can find all their vegan shoes by filtering for "vegan" under the "material" menu on the sidebar on their site.
How to tell if Doc Martens are vegan?
At first glance, you can't tell which are vegan and which aren't (thanks to the advancements in vegan leather in recent decades, rendering it virtually identical-looking to animal leather, while of course being much more ethical and eco-friendly).
However there is one small detail that will allow you to tell the difference — if the model has a fabric loop at the back, a bright yellow loop signifies it's animal leather, while a creamy yellow loop is used on the vegan models.
Which sandals do you prefer, Birkenstock or Dr Martens?
This is a tough call! As mentioned above, I think comfort in shoes is down to your feet and how you use the shoes (how often and far you walk, if you're on your feet all day etc). Same goes for style, which is very individual.
However, that said, for me *personally* I'd go for DM vegan sandals for style, and Birkenstocks for comfort.
That may vary for you! Go for whatever you think looks best and will match your wardrobe so you get the most use of it.
P.S. If you are looking for vegan Birkenstocks, though, don't miss my guide to vegan Birkenstocks!
Pin this for later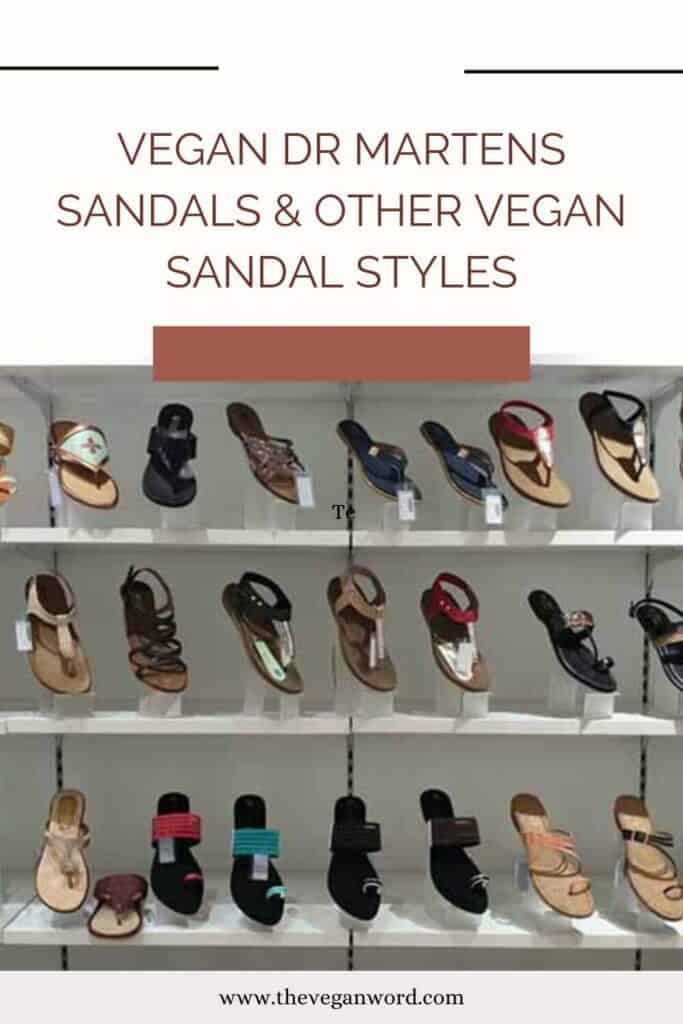 Looking for more styles of sandals? Find my full vegan sandal guide here.
You can find my full guide to vegan shoes here. I also have guides to vegan womens shoes and vegan mens shoes.