Want to really kick back and relax on your next trip? Vegan resorts make it easy!
Special deals:
As a vegan since 2008, I've had my fair share of trips where I spent the better part of the morning searching for a place with vegan breakfast options…
Let's face it, if you're going on a special trip, whether that's a honeymoon, anniversary or special family trip, the last thing you want is to waste time searching for breakfast. Staying at a vegan or vegan-friendly resort will make your trip much more enjoyable since you'll be guaranteed vegan breakfast every day! Not to mention if you opt for vegan all inclusive resorts you won't have to worry about any of your meals.
My top picks:
The best vegan vacations are worry-free – which means not worrying about food!
These are the best vegan all inclusive resorts and they make it easy to relax – at a vegan all inclusive, you won't have to worry about any of your meals.
Read on to see my full list of vegan and vegan-friendly resorts around the world, or choose from the menu below based on location.
These are the best vegan resorts in the world:
Best vegan resorts USA & vegan all inclusive resorts in North America
Whether you're looking for a vegan retreat, a vegan spa or vegan resorts, all inclusive style, these are the best vegan all inclusive holidays in North America, so you don't have to travel too far for your relaxing vacation. If you need all inclusive resorts that cater to food allergies, it's best to get in touch ahead of time. Many chefs are willing to accommodate allergies with advance notice. Read on to plan your all inclusive vegan holidays in the Caribbean, the US or elsewhere in North America.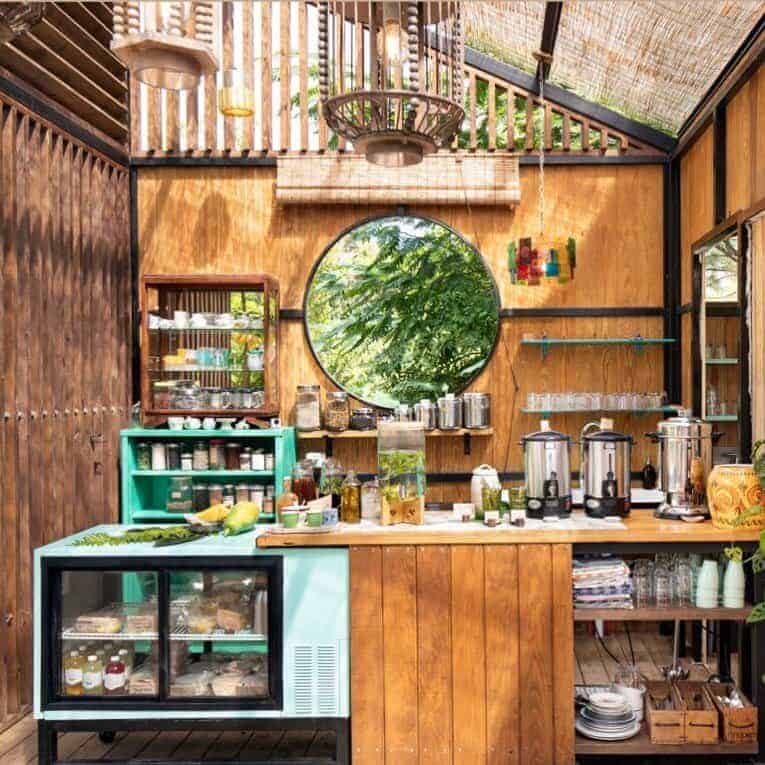 Best for: vegan resort Puerto Rico, vegan resorts Caribbean, yoga
Finca Victoria, in Vieques, Puerto Rico, is an Ayurvedic vegan retreat. Their snack bar always has vegan options available and vegan breakfast is included.
However, they don't serve lunch and dinner here so you'll need to find somewhere else to eat, or buy from the vegan snack bar.
Days start at this Puerto Rico vegan resort start with a complimentary yoga class outside at 7am, followed by vegan breakfast (with most ingredients from their garden). Every Friday, they host a vegan pop-up dinner with a different chef, and there's a 24-hour store on-site selling all vegan snacks. If you're looking for a vegan Caribbean vacation, look no further than Finca Victoria.
Massages are also available. Swim in the hotel pool or enjoy Vieques' white sand beaches or bioluminescent bay. Surrounded by lush vegetation and with a view of both sunrise and sunset, the hotel's location is idyllic. Thanks to a lack of light pollution, stargazing on the property is possible — you can even see the Milky Way at this resort!
They have over a hundred reviews and most reviewers are glowing. A few things that they consistently complaint about, however, are the number of bugs on this part of the island, that the hotel doesn't have air conditioning and that you need to rent a car to get around since local taxis aren't 24 hours. What they love is the free yoga, the breakfast and the feeling of being in an oasis.
---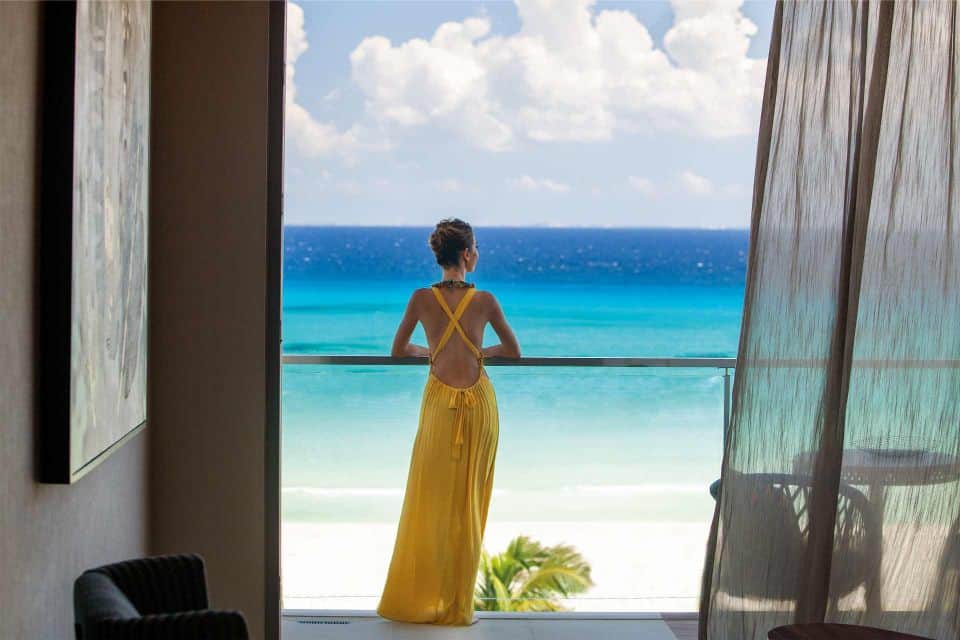 Best for: vegan resorts Playa del Carmen
Are you looking for vegan hotels in Riviera Maya or vegan resorts in Riviera Maya? Palmaia isn't 100% vegan but it's definitely the most vegan friendly place in the area. Playa del Carmen is now home to what is surely one of the most vegan-friendly resorts not just in Riviera Maya, but in in all of Mexico.
Palmaia – House of Aia is a new vegan friendly resort in Playa del Carmen where all the suites are vegan, with furniture that is non-leather, and bedding that is feather-free. Toiletries are cruelty-free and where the mini fridges are full of options like kombucha and coconut water.
At the hotel's restaurants, the menu is vegan with the option to add non-vegan toppings — so if you're traveling with your non-vegan partner or family this would be a good compromise. This place is truly all-inclusive — apart from spa treatments, everything is included. That means ALL your meals, drinks at the hotel's bars, mini-bar, room services, classes and activities (like yoga and sound healing) are included.
You won't find buffets here — you order your (included) plant based meals a la carte at one of the resort's four restaurants or the food truck.
Palmaia has a private beach with a beach bar. The resort also has four pools, one for each building. You have the option of booking a room on one of the top floors, with a sea view (apparently you can even hear the ocean!) or a swim-up room on the ground floor, which opens directly onto the pool.
The hotel aims to create a community (the owner is a fan of Burning Man), so there are events every night like live music, flamenco and usually a fire pit. During the day, you'll find meditation, sound healing, yoga classes and more. One thing several reviews noted is that you need to have an open mind to try new things to enjoy your experience here.
There's also an on-site spa. For families, there's a holistic children's program certified by Waldorf.
As you would expect, prices are high to match the fact that all is included, and price was the main complaint reviewers found. However, most wrote about their wonderful experience and the hotel has hundreds of glowing reviews, which you can read here.
Click here to see more pictures.
---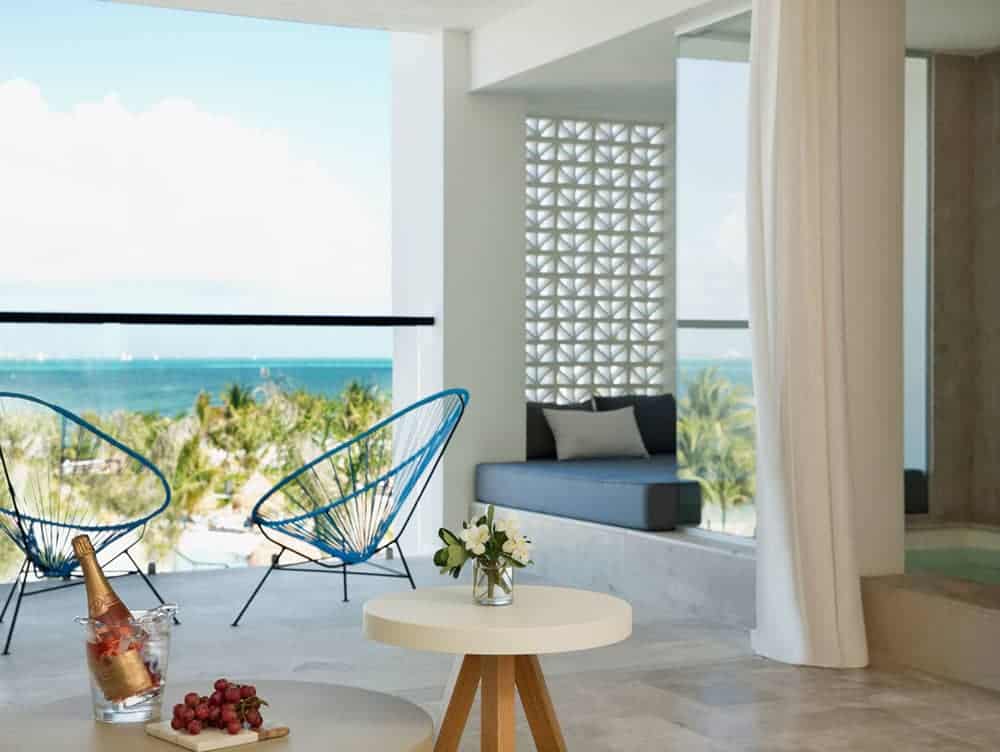 Best for: vegan friendly all inclusive resorts Mexico, vegan resort Caribbean
If you're looking for family-friendly and vegan-friendly all inclusive resorts Cancun, then Finest is one of the best vegan friendly resorts Cancun has to offer. Caribbean-facing with stunning views, Finest is set close to Playa Mujeres golf club. At breakfast and lunch, they have dedicated vegetarian zones and they always have vegan and gluten free options. Best of all, guests say the chefs are very accommodating and happy to prepare you vegan meals. Vegan friendly vacations have never been easier.
Apart from vegan food availability, Finest is the perfect place to kick back and relax — here, you'll get an all-inclusive meal plan and you'll find a range of amenities, like an outdoor pool, billiards table, tennis courts, a terrace bar, outdoor pool and Turkish steam baths.
A few people noted that the music near the pool is often very loud and mealtimes and there's a loud/party vibe near there, which may be a pro or con depending on what you're looking for. There's also a dinner dress code at most of the restaurants so make sure you pack some fancier clothes.
Click here to see more pictures.
---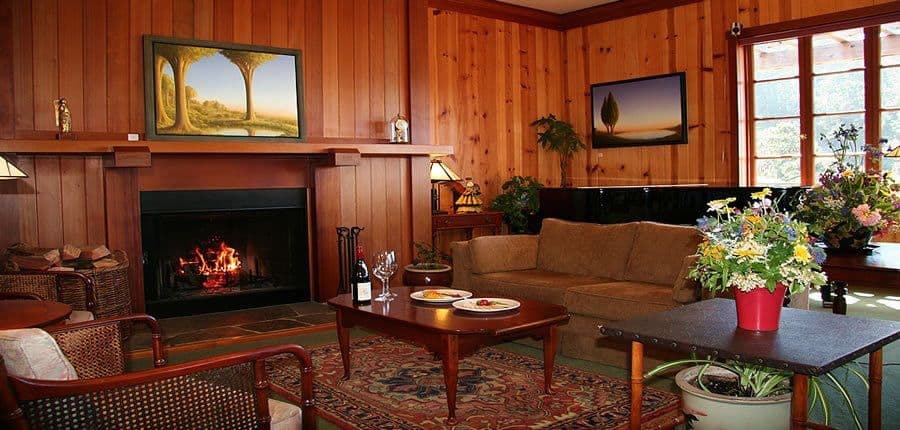 Best for: vegan vacations USA, vegan retreat California
If you'd like a vegan vacation closer to home, pick this plant based resort. California is home to Stanford Inn, a long-running vegan hotel in Mendocino. Vegan vacation resorts don't get better than this.
This 4-star hotel is pet-friendly and is also home to a wellness center. At the wellness center, you'll find a spa and meditation classes, cooking classes, nature tools, yoga and tai chi, gardening classes and creative workshops. Looking for organic all inclusive resorts? There's an on-site vegan and organic restaurant, Ravens.
While vegan breakfast is included, other meals need to be purchased separately unless you purchase an add-on package or attending a retreat.
Stanford Inn has many loyal customers and dozens of stellar reviews, but one downside a few reviewers noted is that the hotel, despite the name, is a little bit far from the sea, and overlooks the river more than the sea, so you shouldn't expect a sea view with the ocean feet from your window. Price was another downside, though Mendocino is an expensive area. The hotel has an intentionally rustic feel with antique furniture so if you like a modern vibe, this won't be right for you, but if you love antiques and fireplace the hotel is a cozy place to stay, with a fireplace in every bedroom.
Click here to see more pictures.
---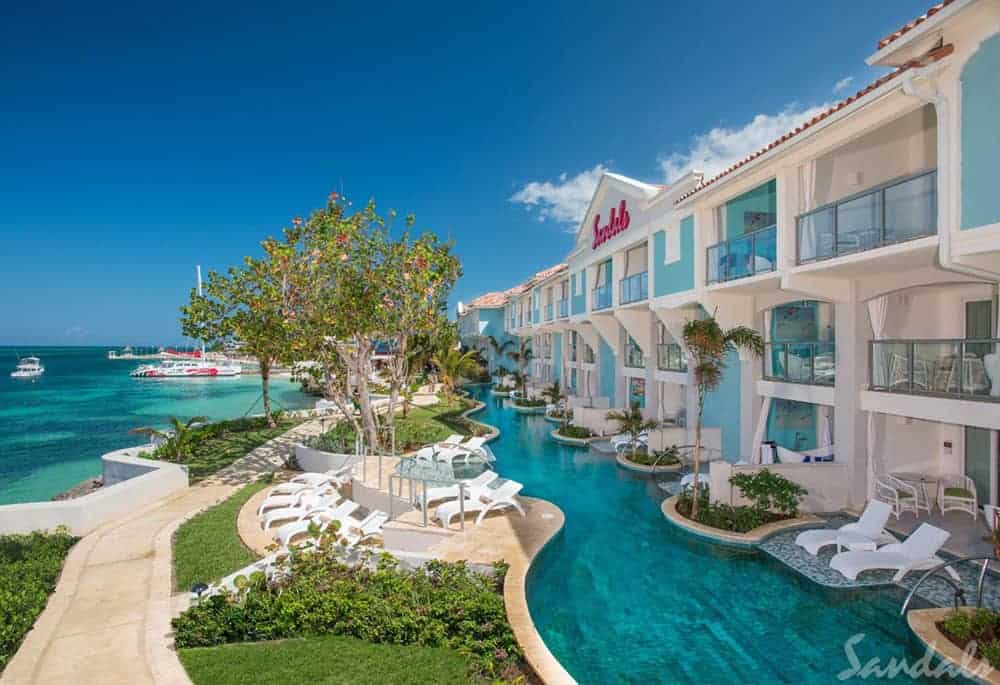 Sandals has 15 luxury vegan friendly resorts in the Caribbean, and all are vegan-friendly! You'll find their all inclusive vegan-friendly resorts in Barbados, Jamaica, Antigua, Grenada and Saint Lucia.
Their 5-star resorts are all vegan-friendly; all you need to do is ask staff which options are vegan and they say if there aren't vegan options on the menu they'll make vegan food off-menu for you.
While many reviewers loved the vegan options, a couple of people complained the vegan food was boring, with chefs mainly taking out non-vegan ingredients from dishes but resulting in flavourless food. If you're a foodie like me and food is an important part of your trip, you might want to consider Finest or Palmaia instead, but if location is more important, you're traveling with non-vegan family and you just want to know you'll have options, then this is a good choice.
Sandals Resorts are known for being a great destination for couples, since they are adults only (their Beaches resorts cater to families). They're all set in beautiful beachfront locations in the Caribbean, perfect for a honeymoon or special trip. See more pictures.
They're all-inclusive, so you don't have to worry about paying for your food, whether that's the breakfast buffet, fine dining at dinnertime or drinks at the bar.
As expected at a luxury resort, they also have on-site spas where you can be pampered, and you can choose from excursions like scuba diving or boat trips.
Click here for more information.
---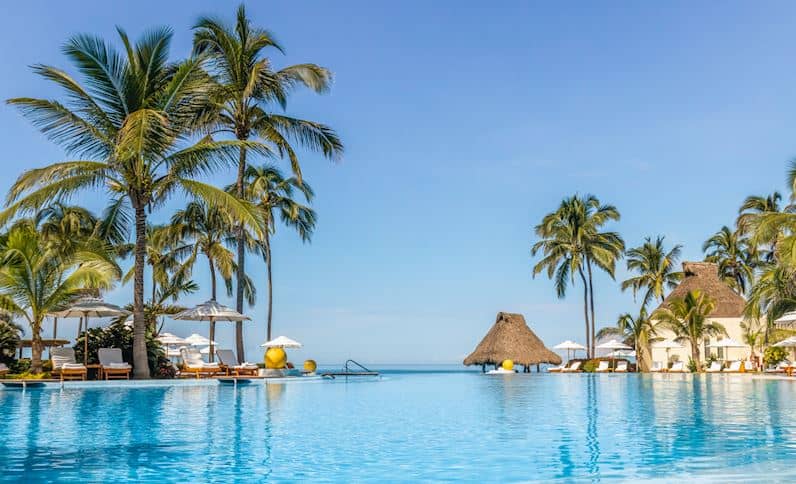 Best for: vegan resort Mexico, fancy restaurants, vegan beach resort (there's a beach at the hotel!)
Looking for a vegan all inclusive resort Mexico? There aren't any 100% vegan hotels in Riviera Nayarit but if you're interested in a (very!) vegan-friendly resort, look no further than the vegan-friendly Grand Velas in Riviera Nayarit.
They partnered up with a popular vegan chef in Mexico, Miguel Bautista, to add vegan menus to its three AAA Four Diamond restaurants and you can also order vegan food to your room with their 24-hour room service. As far as vegan resorts Mexico has, you can't get much better than this.
The Grand Velas is a 5-star resort, and an AAA Five Diamond Award winner. Luxury suites and private terraces overlook the beautiful Banderas Bay, and you can relax at the swimming pool, on the beach or with massage services. You can also choose from Pilates or kayaking. Please note beds come with goose down comforters, so ask the hotel to swap for a comforter made without down.
The hotel has mostly excellent reviews, which most guests loving the staff, food and pools, but several noted that the hotel doesn't have much in terms of entertainment, so if this is a priority for you, you might want to book a livelier resort like Palmaia, which has a Burning Man style series of community events, or Finest (which some people complained had too much of a party scene).
Click here to see more pictures.
---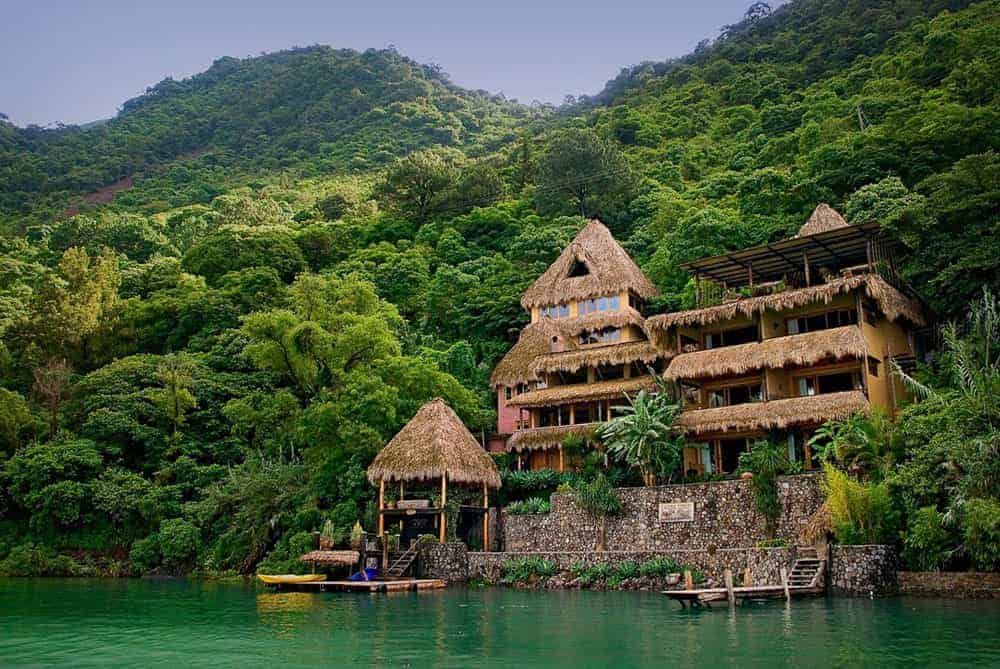 Laguna Lodge is a 5-star eco lodge set on the shore of Lake Atitlan. With vistas of the lake and volcanoes beyond, the stunning views are unmissable.
Crafted from volcanic stone, the lodge is eco-friendly. Whilst it's not all-inclusive, it does have an on-site vegetarian restaurant, Zotz, with vegan options on the menu. The restaurant itself has beautiful views and is lit by candelabras at night. They serve coffee they roast themselves and grow on the grounds. However, some reviewers found the food overpriced and bland (though some were meat eaters who complained about the lack of meat on the menu). On Happycow, reviews of the food were positive.
There's an on-site spa and the hotel is a great starting point to explore the Mayan highlands. Some of the tours and activities on offer at the lodge include boating on the lake, paragliding, hiking one of the volcanoes, golf and zip lining. It's set next to a nature reserve with lots of opportunities for walking and spotting wildlife.
The lodge has overall positive reviews, but the biggest drawback that most people agreed upon was price. Another con (or pro, depending on your viewpoint) is that rooms don't have TVs.
---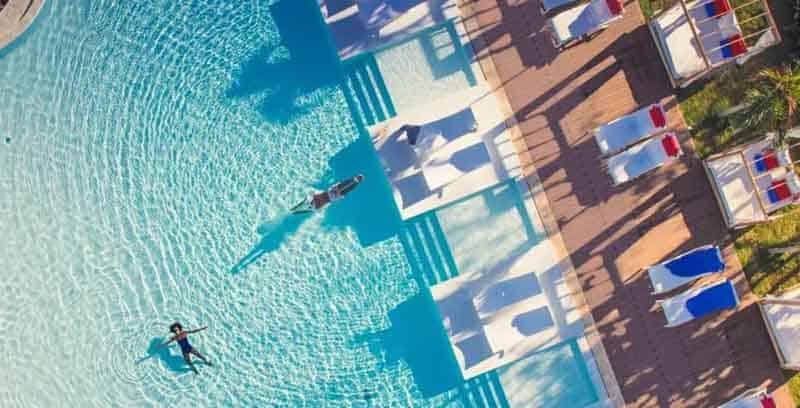 Club Med (Caribbean & Mexico locations) *Vegan options
If you're looking for vegan-friendly all inclusive resorts in the Caribbean, then I have some good news from Club Med for you!
They now have eight vegan friendly holiday resorts in the Caribbean and Mexico after teaming up with vegan chef Chloe Coscarelli to add vegan menus.
The following are their all inclusive vegan friendly resorts in Mexico & the Carribean: Club Med Cancun and Ixtapa Pacific in Mexico and in the Carribean, Club Med Columbus Isle (Bahamas), Club Med Turkoise (Turks and Caicos), Club Med Punta Cana and Miches Playa Esmeralda in the Dominican Republic, Club Med Caravelle in Guadeloupe and Club Med Buccaneer's Creek in Martiniqu.
Now that each of their Carribean/Mexico resorts is an all inclusive with vegan options, you can choose from vegan dishes such as beet bourguignon, tomato tartar with vegan feta and dishes featuring Beyond Meat, among others.
At Club Med resorts, beyond the vegan food, you'll also find children's clubs for kids aged 4 to 17*, an open bar, night-time entertainment such as live music and rooms ranging from standard rooms to suites.
*Note: apart from some of the clubs (e.g. Turks and Caicos) which are adults-only
Some of the resorts have stunning beaches, while others offer scuba diving, sailing, kayaking and other outdoor sports, seafront yoga and more.
---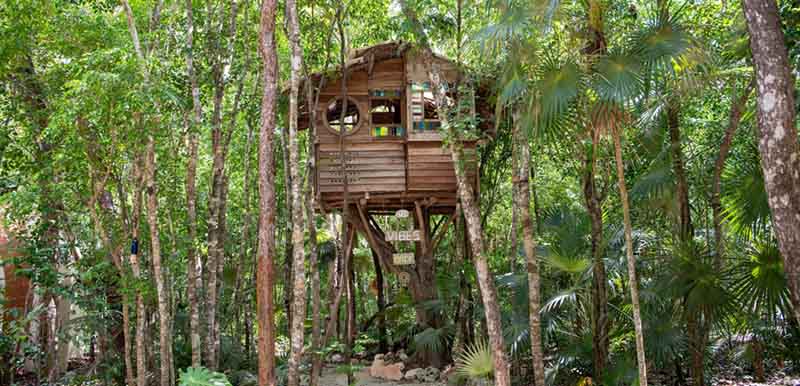 This vegetarian hotel located in the jungle in Tulum has plenty of vegan options on the menu, though it's not all inclusive. The restaurant is open for breakfast, lunch and dinner though so you have the option to always eat on site.
The menu includes vegan dishes such as vegan coconut ceviche, vegan 'tuna' tostadas or bean shawarma.
Rooms have air conditioning and some also have a terrace.
On site there's a pool, an art walk in the jungle, fire pit and creative coworking space. You can also book a massage or an activity such as a yoga class, cacao ceremony or sound bath.
---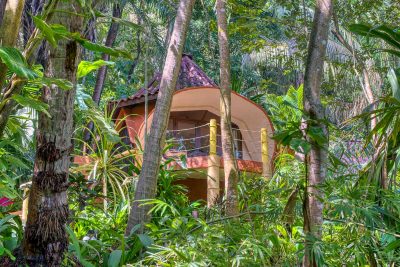 This beach resort is located directly on a white sand beach, so if you love sea and sand it's perfect for you.
It's a non-vegan establishment but they have plenty of vegan options at the on-site restaurant, Montezuma, so if you're travelling with non-vegan family is a good option for you.
Breakfast and dinner are included (but you'll need to buy lunch separately).
As well as the vegan menu, they also have a raw menu and gluten free options. Vegan dishes include blackened tofu steak with passionfruit sauce, Ylang Ylang curry with homegrown coconut milk, organic rainbow salad and vegan nachos.
As for your room, choose from suites, cabins and bungalows, some of which are steps from the beach and others which have jungle views.
There are plenty of activities to choose from, from zip-lining to a guided visit to a wildlife refuge, surf lessons and more (though unfortunately they do have some non-vegan activities too).
If you're a vegan couple or family and are looking for an all-vegan hotel in Costa Rica, I'd recommend this hotel in Tamarindo instead, which is 100% vegan. It's not all inclusive but it's entirely vegan and eco-friendly.
If, however, you're looking for an option which includes meals, and are travelling with non-vegan friends or family, Ylang Ylang might be for you.
Best vegan resorts in Europe
Looking for vegan all inclusive resorts in Europe? Here are some of the best all inclusive resorts for vegetarians and vegans, and the best hotels catering for vegans in Europe, so your Europe vegan travel will be easy as (vegan) pie.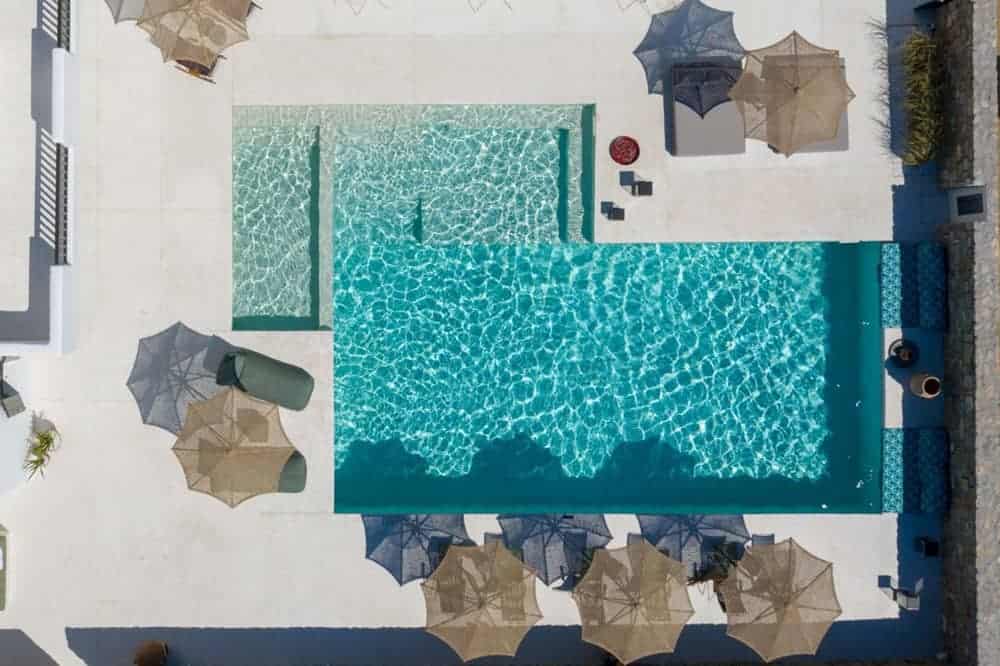 Best for: vegan all inclusive Greece (all inclusive optional)
The first vegan hotel in Greece, this 5-star accommodation is located 5 miles from Mykonos City.
As well as an on-site vegan restaurant, everything at this fully vegan hotel is vegan and cruelty free, from the toiletries to the furniture to the spa. They also offer activities such as a yoga classes.
The hotel aims to be as sustainable as possible. They use solar water heaters and biological wastewater purification, and plan to build a green roof.
Looking for a vegan package holiday in Greece? At Koukoumi, you have the option of going all inclusive, or the standard which includes complimentary vegan breakfast.
The vegan all inclusive hotel features a seasonal outdoor pool, bar, 24-hour front desk and room service. All rooms have air conditioning and a flat screen TV with satellite.
People mostly seem to love their stay at Koukoumi, and the hotel has over a hundred reviews, most of them stellar, but one downside a few noted was that the hotel is far from town so you should rent a car if you're staying here (which will make not just into town but getting around the island and to the beach much easier).
Vegan breakfast is included, but if you want lunch and dinner too note that you need to purchase the all-inclusive option additionally.
Click here to see more pictures.
---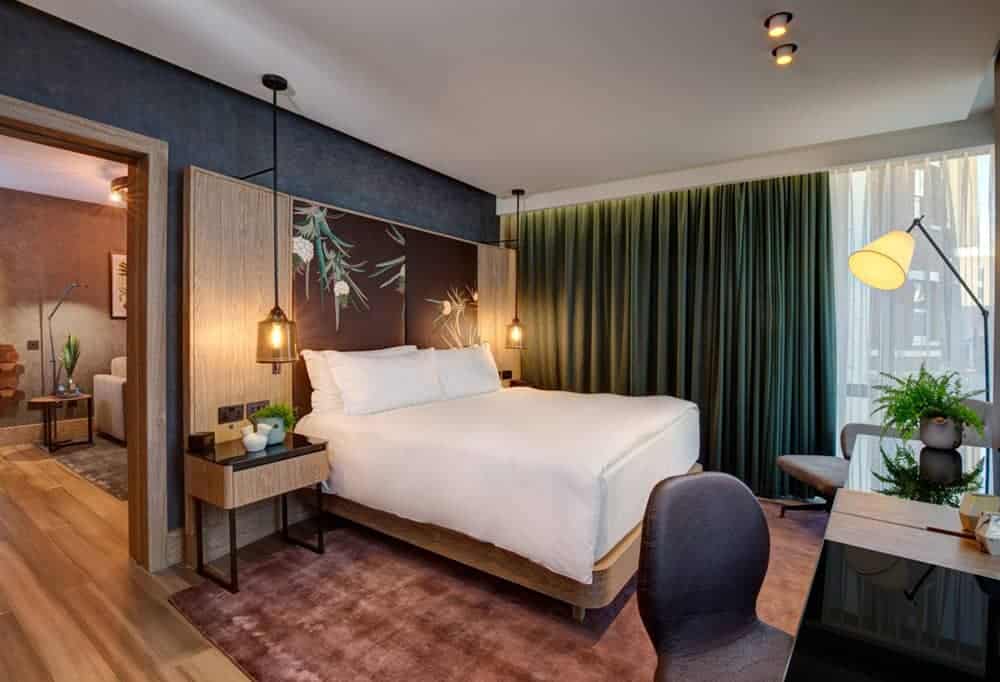 While not entirely vegan, if you're looking for luxury vegetarian hotels UK, you can't get much better than the luxury of the vegan suite at the Hilton London Bankside. Looking for a vegan spa in the UK? You'll also find that nearby.
They've really thought of everything with the suite–from the pineapple leather headboard on the bed, to the feather-free duvet, an eco-friendly bamboo floor, organic cotton carpets, vegan bathroom products and a vegan room service menu. If you dine in the vegan-friendly hotel restaurant, you'll even be shown to the vegan table, where seats are upholstered with vegan pineapple leather rather than leather.
And if you're looking for a vegan spa, London has a few vegan-friendly spas and salons, or check out Glass House Retreat, a spa centre in Essex near London which serves vegan foods (note that the spa treatments aren't vegan as they currently use Elemis products, which aren't vegan, but you can buy a day pass to use the sauna and pool).
Click here to see my full list of vegan-friendly London hotels.
Most reviews praised the hotel's cleanliness and service; on the cons side is that the free wifi can be slow unless you pay to upgrade. If you need to work while you're here, bear this in mind.
You need to specifically book the vegan suite (on Hotels.com select "Design Suite, 1 King Bed (Vegan)"), though if you stay in any other room you can still find vegan options on the menu at the hotel.
Click here for more information.
---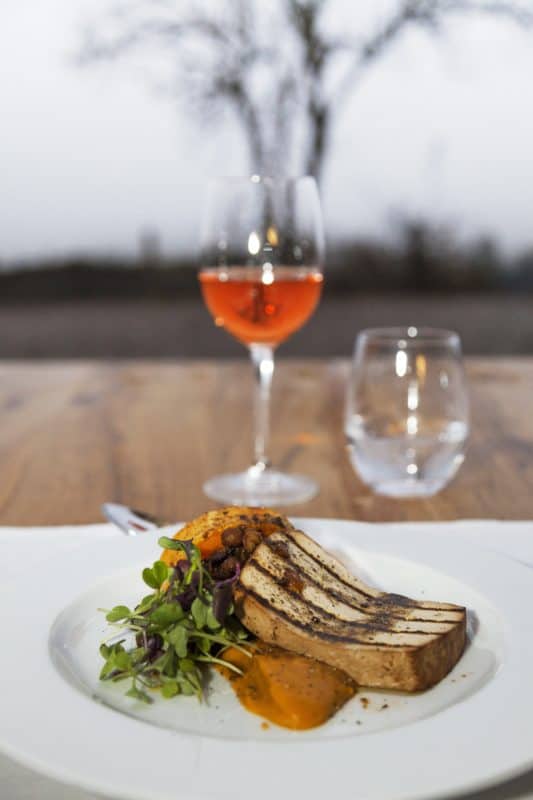 Casa Albets is a stunning converted farmhouse in the countryside between Barcelona and Andorra. If you're looking for vegan getaways in Europe then consider Casa Albets.
The house has been renovated in an ecologically friendly way, and all mattresses and linen are eco friendly too. Although it's not entirely inclusive of meals, breakfast is included and you can purchase dinner at the vegan restaurant. The hotel is completely vegan and has an on-site vegan restaurant. Breakfast is included in room rates but other meals are extra.
The dog-friendly 4-star hotel also has a garden, bar, terrace and shared lounge. The area is popular with hikers and skiiers and you can rent bikes from the property.
It has dozens of positive reviews. Most reviewers loved the food and the scenery, but some frequently cited downsides were the size of the pool and lack of natural light in some rooms. Since it's rural, you'll need to rent a car or take a taxi there.
If you're planning on visiting Barcelona (around 2 hours drive), check out my vegan Barcelona guide.
---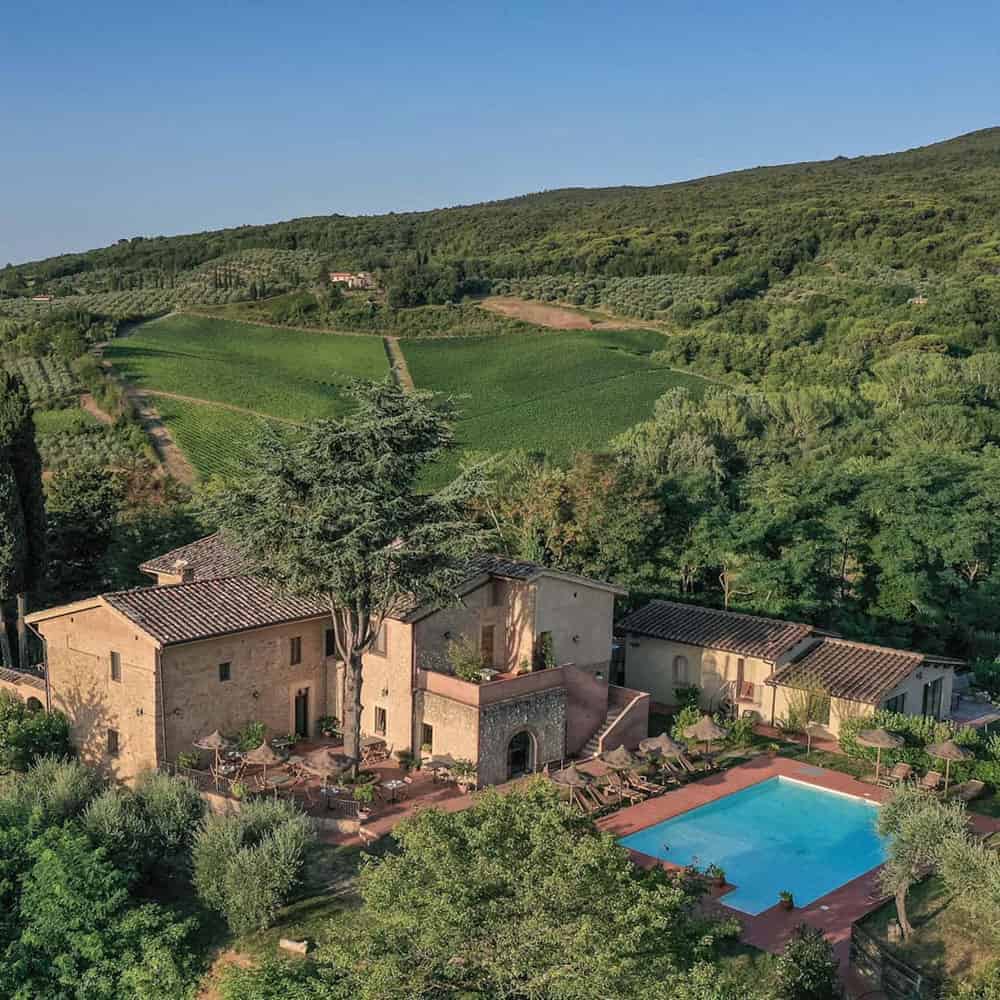 Agrivilla i Pini is a vegan hotel in Tuscany in a vineyard, nestled among olive groves. It's perfect if you're looking for vegan and vegetarian holidays in Italy, and it's one of the best resorts for vegans in Italy.
The villa has been renovated in an environmentally friendly way, and all furnishings are made of natural materials like hemp.
There's a natural saltwater pool on site, with views of olive groves, the vineyard and the beautiful landscape.
If you're looking for vegan all inclusive vacations, Agrivilla I Pini is a good option in Italy. Breakfast is provided and half-board is available. Light lunches are also available. You can also book yourself a cooking class on-site.
Most reviewers praise the quality of the food at i Pini, though some said it wasn't good value for money. Other cons are lack of air conditioning, while pros are the beautiful surroundings and walkability to nearby San Gimignano.
Click here to check availability.
---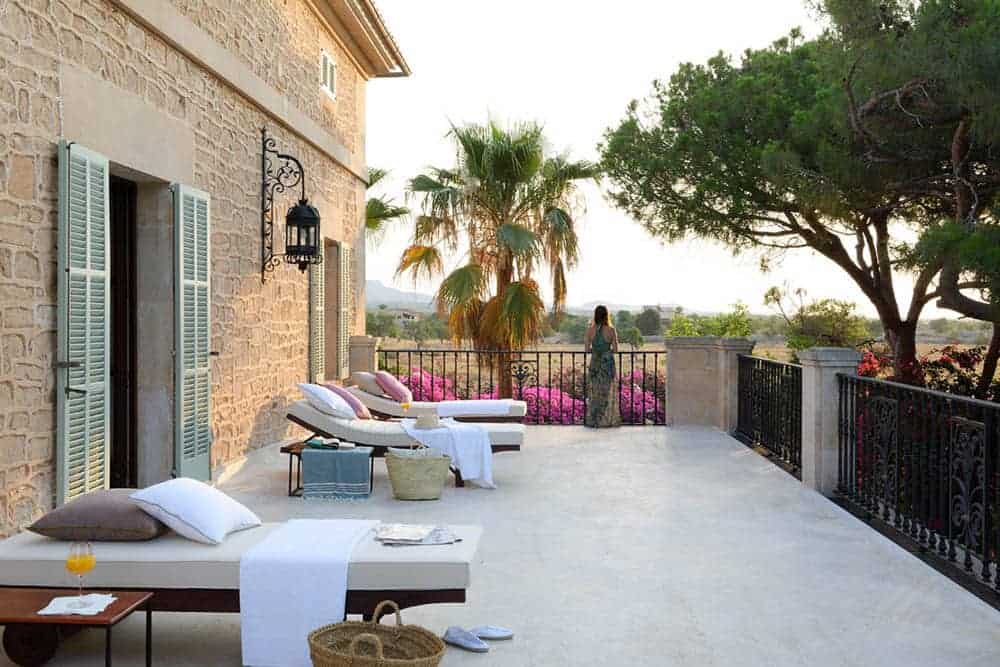 A first in Mallorca for luxury vegan holidays, Cal Reiet is a vegetarian boutique hotel near the picturesque village of Santanyi in Mallorca. The hotel restaurant is vegetarian with vegan options. They use mainly local, organic ingredients and can adapt to most allergies and intolerances with prior notice, so be sure to contact them about any allergies.
There is an outdoor pool, gardens and yoga shala that offers complimentary yoga classes each morning. They also run retreats throughout the year.
The retreat has 15 rooms and suites. All come with air conditioning, free wifi, bathrobes and sofa beds in many of the rooms.
The hotel has largely superb reviews, with praise for its tranquility, beautiful gardens and food. Unfortunately unless you're on a retreat food is not included so you'll have to buy meals separately.
Click here to see more pictures.
Best all inclusive resorts for vegans in Asia
Looking for vegetarian friendly all inclusive resorts in Asia? Below you'll find some of the best all inclusive vegan friendly resorts, vegetarian vacation packages and vegan honeymoon destinations.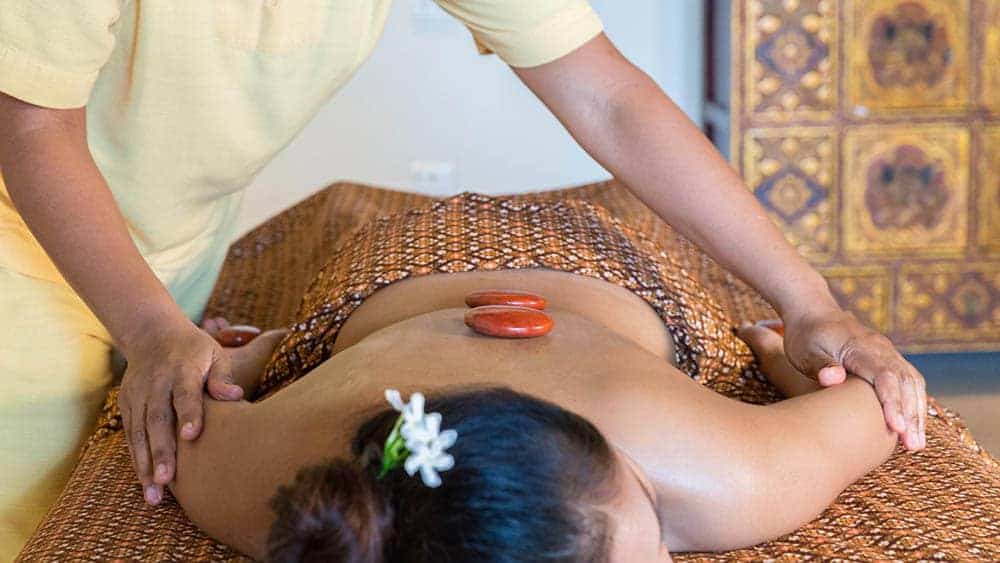 Looking for a vegan resort in Thailand? If you're looking for a vegan spa retreat, all inclusive resorts with vegan options like Kamalaya resort & spa are perfect. It's not fully vegan, but it's very vegan-friendly.
It's easy to be vegan at all inclusive resorts like this one, which offer plenty of vegan options. The 5-star hotel has a spa and wellness centre, sauna, pool, private beach, library, golf course and currency exchange.
Most people reviewing the resort seemed to love the staff and treatments. The most frequent complaint was that the resort is built onto a hillside so walking to and from the beach and around the resort can be tiring. Some of the rooms have outdoor bathrooms so be mindful to choose which style you prefer.
Click here to see more pictures.
---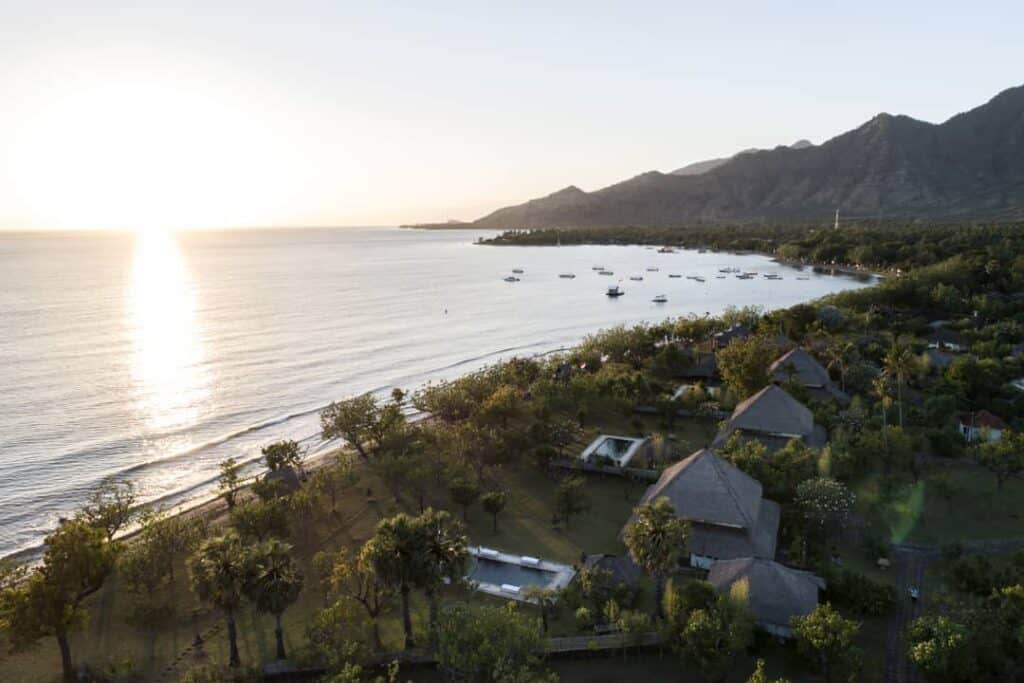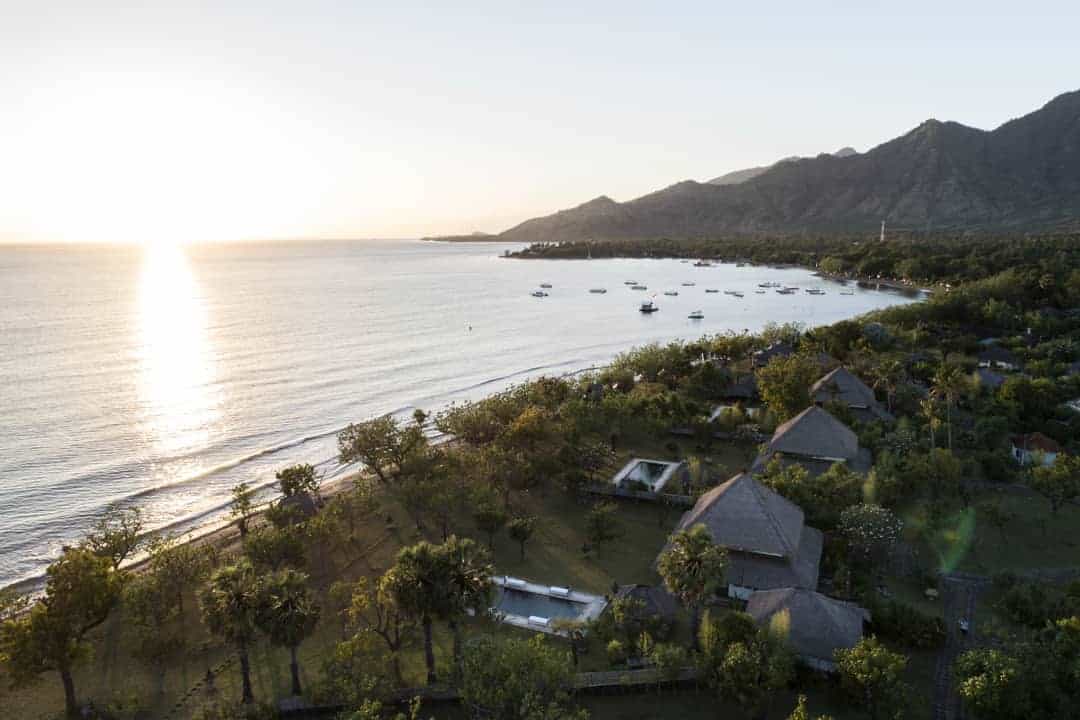 Searching for a Bali vegan resort? This vegan friendly holiday resort is vegan luxury at its finest. The 5-star hotel is home to villas by the beach, a library, a swimming pool and terrace.
The on-site restaurant serves fish, but has lots of vegan options, and is run by raw food pioneer Diana von Cranach. Taking a unique approach, she crafts authentic, raw living flavours of Southeast Asia. Expect to be introduced to lesser-known Indonesian foods. If you have an allergy, it's also possible to have food tailored to any needs.
While most reviewers were positive about the beautiful location and the food (though a few noted facilities were dated), one issue was that Puri Ganesha is in a fairly remote location so you'll likely end up traveling around 4 hours by car (so bear this in mind when booking and allow time for transport).
Click here to check availability.
---
Wonderland Healing Center is a 4-star yoga resort that serves all vegan food.
Each room has air conditioning, a flat screen cable TV and balcony with hammock and mountain views or garden views. They also have dorms and deluxe private villas available. The on-site restaurants serves vegan buffet food with a mix of Thai and Western style dishes.
They also run yoga retreats. A 7-day vegan retreat, for example, would include 3 yoga sessions, 2 meditation sessions, 3 vegan meals, Thai massages and access to the swimming pool and sauna.
The all vegan resort has a pool, yoga shala, meditation room with jungle views, herbal sauna, fire side chill out zone, organic vegetable garden, vegan buffet style restaurant and a juice bar.
Most reviewers loved the food and the staff, though some noted there is no food served between 1pm and 6pm (so no lunch) and the breakfast buffet usually doesn't open until 9am, so if you're an early riser you'll have to wait.
---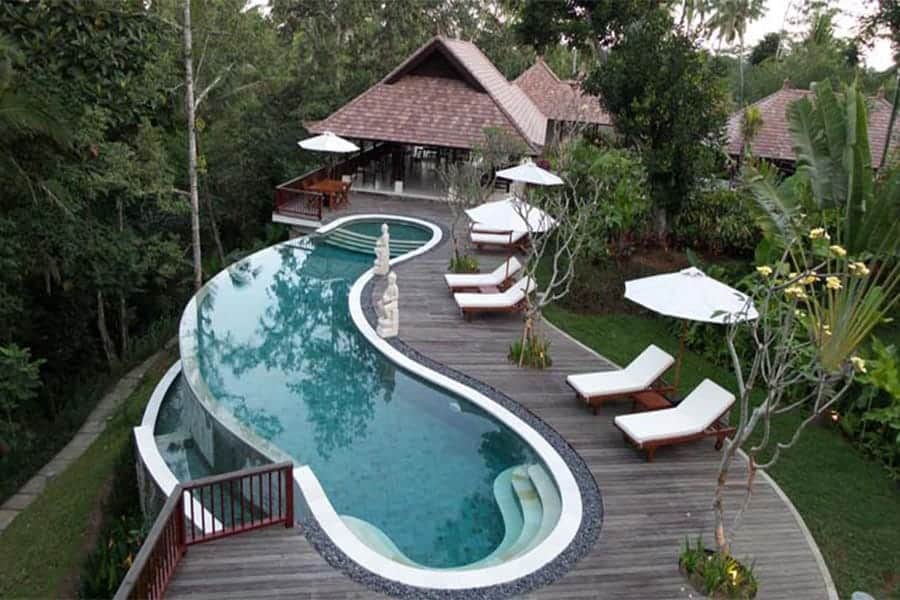 Being Sattvaa is a 4-star all-vegetarian retreat in Bali with plenty of vegan options. Surrounded by lush greenery but only 15 minutes from Ubud, you can escape back to civilisation if you want to with the free shuttle service.
You'll find a yoga pavilion, spa, Balinese garden and and pool with stunning sunrise views through the rainforest. The vegetarian kitchen uses mostly local and organic meals and provides vegan options, while the dining area overlooks the rainforest.
Choose between a pavilion bedroom with balcony or a villa. None of the rooms have televisions, in keeping with the ethos of Being Sattvaa, which aims to promote peace and quiet, though all come with free wifi.
The hotel has a shuttle service to Ubud (15 minutes away), but you'll need to pay for it.
Being Sattvaa has glowing reviews, with guests praising the food, garden and staff. However, one vegan said they were served honey and butter despite noting they were vegan in the booking and confirming it with staff; they said after this at every meal they had to state they were vegan and didn't eat honey or dairy. This could get tiring but you should make sure to request all dishes are vegan at each and every meal based on this person's experience (and I'd avoid going here if you have a severe allergy).
Why stay at a vegan resort?
If you're looking for a vacation where you can kick back and relax, vegan holiday resorts make it easy. Vegan vacation packages mean you won't have to worry about finding food or explaining what you do and don't eat ad nauseam every time you order a meal.
They also make the best vegan honeymoon destinations.
You'll need to decide whether you want to stay in an all-inclusive vs non-all-inclusive.
What's all-inclusive?
Usually all inclusive means all meals, snacks and beverages are included at your hotel. Sometimes flights are included too.
However, I've found not very many vegan resorts include all meals but many include breakfast and some are half-board, while others have on-site vegan restaurants at which you can order meals and snacks. I've noted in the descriptions of each resort whether they offer half- or full board or are entirely inclusive.
I've also included some vegan-friendly resorts as well as entirely vegan resorts, as there aren't that many 100% vegan resorts yet (but I expect this will change!). I've noted them.
If you're looking for plant based resorts for a special anniversary or a vegan honeymoon destination, then an all inclusive vegan resort might be the perfect place to book your next trip.
If you want to spend your days relaxing and unwinding poolside, without going out on the town much if at all, all-inclusive might be for you.
If, on the other hand, you prefer some flexibility, or you know you want to explore the local area and eat at local restaurants, then half-board or breakfast-only might be a good option for you, so you can choose which meals to eat at the hotel restaurant and which to eat in town.
What to do if you end up in a non-vegan resort
If you do end up on a package holiday with non vegan friends and family, then there are some steps you can take to try and ensure vegan food is available for you:
Ask the tour or package provider if they can provide vegan food
Call the hotel ahead of time (at least 2 weeks beforehand) and ask if they provide vegan meals, or if they can make vegan food for you
If they say they can't, bring food with you or, if they seem open, suggest easy vegan food they can make for you like roasted vegetables or pasta (made with dried pasta rather than egg pasta)
But, if you'd rather go to a vegan-friendly or 100% vegan all inclusive resort like Palmaia, Koukoumi or Finest, your life will be much easier. Imagine waking up every day knowing there's a vegan breakfast waiting for you, and that if you have lunch or dinner in the hotel, there will be plenty of vegan options too.
If you stayed at or if you run vegan or vegetarian resorts, I'd love to hear from you! Get in touch here.
Lastly…don't forget to pack your sunscreen and your vegan deodorant! See my vegan sunscreen guide and my vegan deodorant review post. And your vegan shoes, too, so you'll have something cute to wear at the resort restaurants! Find my vegan shoe guide.
Pin this for later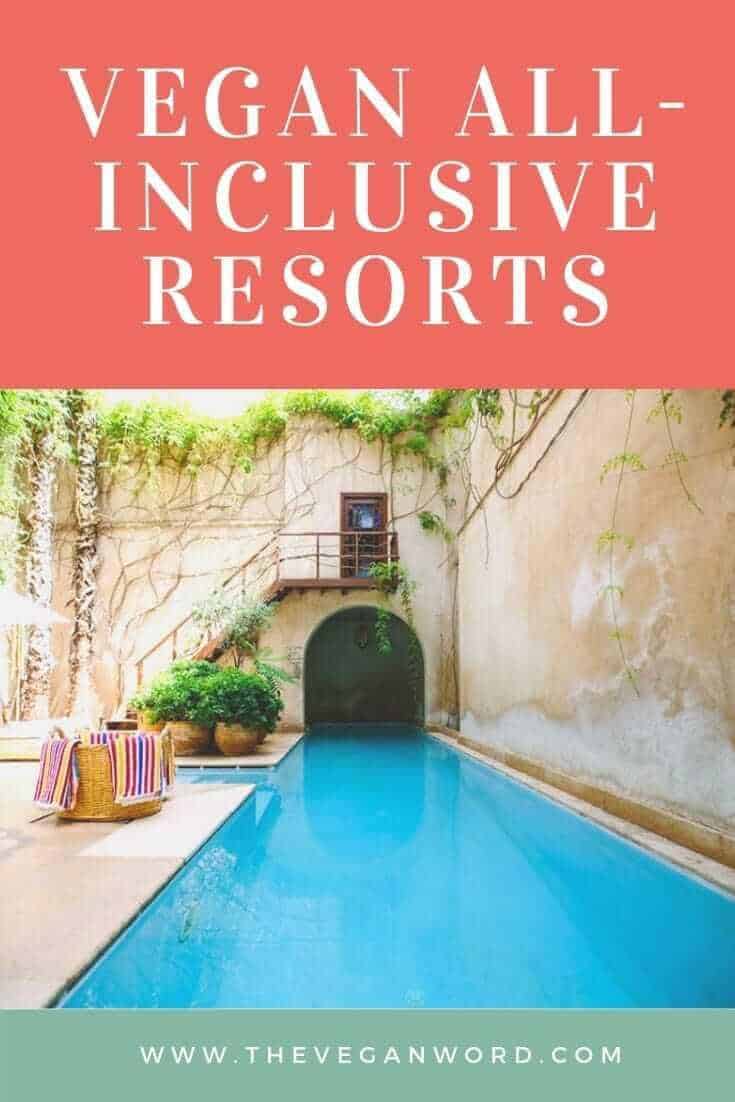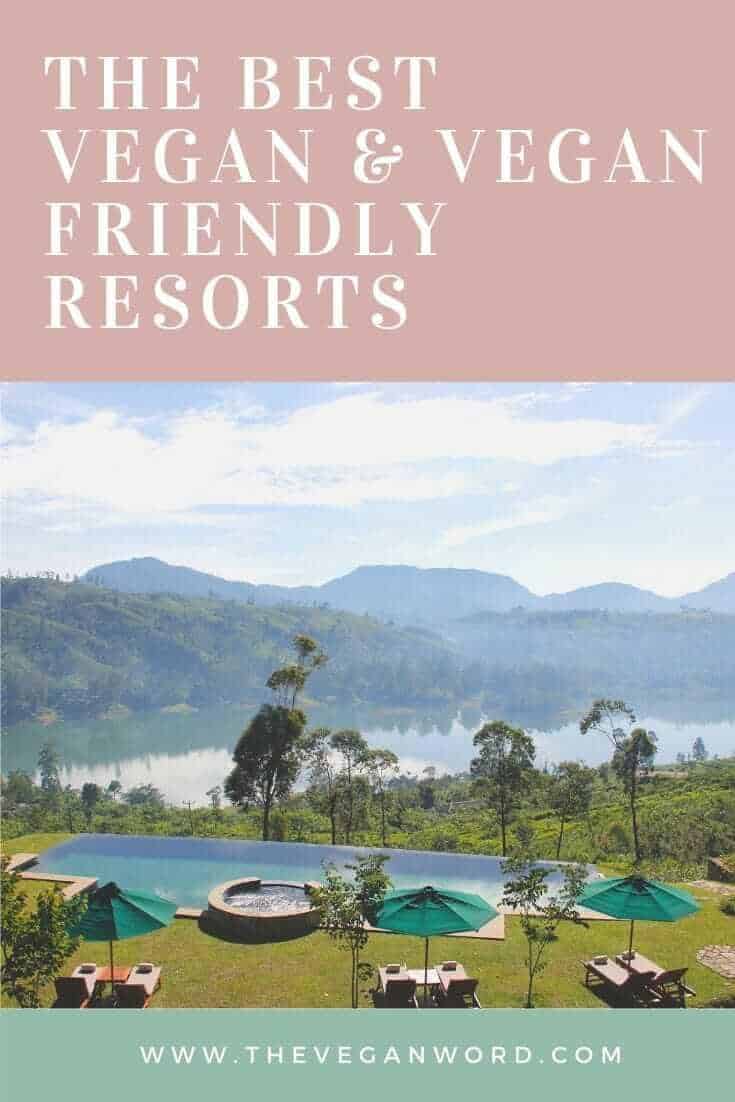 Looking for more vegan places to stay? Read my guide to the best vegan hotels! And find my guide to vegan retreats worldwide. I also have a guide to to vegan hotels in the UK.
Would you rather take a group tour? I've got a guide to the best vegan tours here.
Searching for the best destinations for vegans? Check out my list of the most vegan-friendly cities in the world or my vegan city guides:
Learn more about vegan accommodation and find all my vegan travel tips.
Love a hotel bed and want to recreate its ultimate comfort at home? Check out my guide to the best vegan mattresses.
Main photo by Paolo Nicolello on Unsplash