This post may contain affiliate links (see full disclaimer here). This means if you make a purchase after clicking, I may get a small percentage of the sale, at absolutely no extra cost to you.
Want to really kick back and relax on your next trip? Vegan resorts make it easy!
The best vegan vacations are worry-free — which means not worrying about food!
These are the best vegan all inclusive resorts and they make it easy to relax — at a vegan all inclusive, you won't have to worry about any of your meals.
Here are some of the best vegan all inclusive resorts (& vegan friendly resorts!) I'll be reviewing:
What's all-inclusive?
Usually all inclusive means all meals, snacks and beverages are included at your hotel. Sometimes flights are included too.
However, I've found not very many vegan resorts include all meals but many include breakfast and some are half-board, while others have on-site vegan restaurants at which you can order meals and snacks. I've noted in the descriptions of each resort whether they offer half- or full board or are entirely inclusive.
I've also included some vegan-friendly resorts as well as entirely vegan resorts, as there aren't that many 100% vegan resorts yet (but I expect this will change!). I've noted them.
If you're looking for vegan resorts or a vegan honeymoon destination, then an all inclusive vegan resort might be the perfect place to book your next trip.
What to do if you end up in a non-vegan resort
If you do end up on a package holiday with non vegan friends and family, then there are some steps you can take to try and ensure vegan food is available for you:
Ask the tour or package provider if they can provide vegan food
Call the hotel ahead of time (at least 2 weeks beforehand) and ask if they provide vegan meals, or if they can make vegan food for you
If they say they can't, bring food with you or, if they seem open, suggest easy vegan food they can make for you like roasted vegetables or pasta (made with dried pasta rather than egg pasta)
But, if you'd rather go to a vegan-friendly or 100% vegan all inclusive resort, your life will be much easier. Imagine waking up every day knowing there's a vegan breakfast waiting for you, and that if you have lunch or dinner in the hotel, there will be plenty of vegan options too.
Read on to find out the best vegan and vegetarian all inclusive holidays, and vegan friendly all inclusive resorts.
If you stayed at or if you run vegan or vegetarian resorts, I'd love to hear from you! Get in touch here.
Key
***Vegan = this resort is 100% vegan
**Vegetarian = this resort is 100% vegetarian, with vegan options
*Vegan friendly = this resort offers both vegan options and meat dishes
North America
Best vegan resorts USA & vegan all inclusive resorts in North America
Whether you're looking for a vegan retreat, a vegan spa or vegan resorts, all inclusive style, these are the best vegan all inclusive holidays in North America, so you don't have to travel too far for your relaxing vacation. If you need all inclusive resorts that cater to food allergies, it's best to get in touch ahead of time. Many chefs are willing to accommodate allergies with advance notice. Read on to plan your all inclusive vegan holidays in the Caribbean, the US or elsewhere in North America.
Apoyo

Apoyo Lodge is a health & wellness boutique hotel and is 100% vegan. Located in a quiet area of a nature reserve in Nicaragua (the Natural Reserve of Apoyo Lagoon), it's a perfect place to get away from it all.
Breakfast and a morning yoga class is included in the rate, and half- and full-board are also available, making it the perfect vegan and vegetarian all inclusive!
Looking for all inclusive resorts with organic food? Produce is locally sourced and organic where possible, most from the hotel's own garden and family run farm in the area. Raw vegan and gluten free options are available on request.
Additional yoga classes and massage are also available.
Click here for more information and availability.
Waterfall

Best for: all inclusive vegan resort Costa Rica (you can purchase a package that includes all meals)
Waterfall Villas is a vegan wellness retreat in Costa Rica. This Costa Rica vegan resort is perfect for a vegan or vegetarian honeymoon and they even offer a wedding venue if you want to get married in paradise.
Vegan vacations are a breeze at Waterfall Villas. All food is vegan and you can purchase a package which includes 3 meals a day. Food is also free of preservatives, sugar and is low/no sodium. You can also sign up for guided nature tours or a yoga and meditation retreat.
Click here for more information.
Finca Victoria

Best for: vegan resort Puerto Rico, vegan resorts Caribbean, yoga
Finca Victoria, in Vieques, Puerto Rico, is a vegetarian retreat. Their vegetarian kitchen always has vegan options available.
Days start at this vegetarian resort start with a complimentary yoga class outside at 7am, followed by breakfast with vegan options (with most ingredients from their garden). Every Friday, they host a vegan pop-up dinner with a different chef, and there's a 24-hour store on-site selling all vegan snacks. If you're looking for a vegan Caribbean vacation, look no further than Finca Victoria.
Massages are also available. Swim in the hotel pool or enjoy Vieques' white sand beaches or bioluminescent bay. Surrounded by lush vegetation and with a view of both sunrise and sunset, the hotel's location is idyllic. Thanks to a lack of light pollution, stargazing on the property is possible -- you can even see the Milky Way at this resort!
Click here for more information.
Palmaia

Looking for vegan hotels in Riviera Maya or vegan resorts in Riviera Maya? Palmaia isn't 100% vegan but it's definitely the most vegan friendly place around here! Playa del Carmen is now home to what is surely one of the most vegan-friendly resorts in the area!
Palmaia - House of Aia is a new resort that offers vegan suites (be sure to ask for one when you book) where all furniture is non-leather, all toiletries are cruelty-free and where the mini fridges are full of options like kombucha and coconut water.
At the hotel's restaurants, the menu is vegan with the option to add non-vegan toppings -- so it might be a good place to visit with your non-vegan family. This place is truly all-inclusive -- apart from spa treatments, everything is included. That means ALL your meals, drinks at the hotel's bars, mini-bar, room services, classes and activities (like yoga and sound healing) are included.
You won't find buffets here -- you order your (included) meals a la carte at one of the resort's four restaurants or the food truck.
Palmaia has a private beach with a beach bar. The resort also has four pools, one for each building. You have the option of booking a room on one of the top floors, with a sea view (apparently you can even hear the ocean!) or a swim-up room on the ground floor, which opens directly onto the pool.
The hotel aims to create a community (the owner is a fan of Burning Man), so there are events every night like live music, flamenco and usually a fire pit. During the day, you'll find meditation, sound healing, yoga classes and more.
There's also an on-site spa. For families, there's a holistic children's program certified by Waldorf.
Click here for more information.
Grand Vela

Best for: vegan resort Mexico, fancy restaurants, vegan beach resort (there's a beach at the hotel!)
Looking for a vegan all inclusive resort Mexico? There aren't any 100% vegan hotels in Riviera Nayarit but if you're interested in a (very!) vegan-friendly resort, look no further than the vegan-friendly Grand Velas in Riviera Nayarit. They partnered up with a popular vegan chef in Mexico, Miguel Bautista, to add vegan menus to its three AAA Four Diamond restaurants. As far as vegan resorts Mexico has, you can't get much better than this.
The Grand Velas is a 5-star resort, and an AAA Five Diamond Award winner. Luxury suites and private terraces overlook the beautiful Banderas Bay, and you can relax at the swimming pool, on the beach or with massage services. You can also choose from Pilates or kayaking. Please note beds come with goose down comforters, but you could ask the hotel to swap for a comforter made without down.
Click here for more information.
Finest

Best for: vegan friendly all inclusive resorts Mexico, vegan resort Caribbean
If you're looking for vegetarian all inclusive resorts Cancun, then Finest is the best vegetarian all inclusive resort for you. Caribbean-facing with stunning views, Finest is set close to Playa Mujeres golf club. At breakfast and lunch, they have dedicated vegetarian zones and they always have vegan and gluten free options. Best of all, guests say the chefs are very accommodating and happy to prepare you vegan meals! Vegan friendly vacations have never been easier.
Apart from vegan food availability, Finest is the perfect place to kick back and relax -- here, you'll get an all-inclusive meal plan and you'll find a range of amenities, like an outdoor pool, billiards table, tennis courts, a terrace bar, outdoor pool and Turkish steam baths.
Click here for more information.
Stanford Inn

Best for: vegan vacations USA, vegan retreat California
If you'd like a vegan vacation closer to home, pick this vegan resort. California is home to Stanford Inn, a long-running vegan hotel in Mendocino.
This 4-star hotel is pet-friendly and is also home to a wellness center. At the wellness center, you'll find a spa and meditation classes, cooking classes, nature tools, yoga and tai chi, gardening classes and creative workshops. Looking for organic all inclusive resorts? There's an on-site vegan and organic restaurant, Ravens.
Click here for more information.
Europe
Best vegan resorts in Europe
Here are some of the best all inclusive resorts for vegetarians and vegans, and the best hotels catering for vegans in Europe, so your Europe vegan travel will be easy as (vegan) pie.
Hilton London

While not entirely vegan, if you're looking for luxury vegetarian hotels UK, you can't get much better than the luxury of the vegan suite at the Hilton London Bankside. Looking for a vegan spa in the UK? You'll also find that nearby.
They've really thought of everything with the suite--from the pineapple leather headboard on the bed, to the feather-free duvet, an eco-friendly bamboo floor, organic cotton carpets, vegan bathroom products and a vegan room service menu. If you dine in the vegan-friendly hotel restaurant, you'll even be shown to the vegan table, where seats are upholstered with vegan pineapple leather rather than leather.
And if you're looking for a vegan spa, London has a few vegan-friendly spas and salons. Check out Le Fix, the nearest vegan salon, where you can get a vegan manicure, eyebrow tint, facial or more.
Click here for more information.
Casa Albets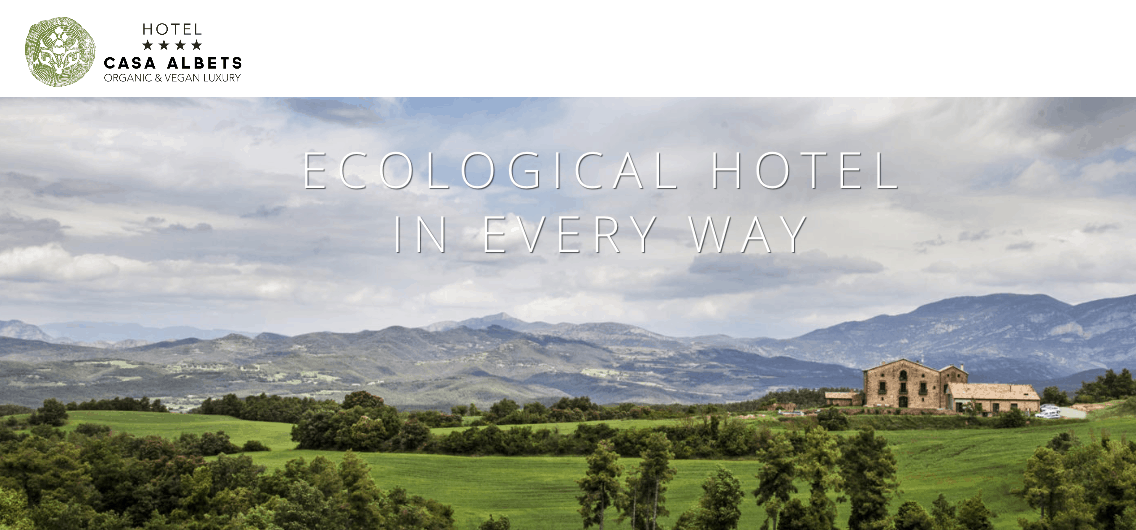 Casa Albets is a stunning converted farmhouse in the countryside between Barcelona and Andorra. Anyone trying to find vegan getaways in Europe should consider Casa Albets.
The house has been renovated in an ecologically friendly way, and all mattresses and linen are eco friendly too. Although it's not entirely inclusive of meals, if you're looking for all inclusive eco resorts, the hotel is ecologically certified. The hotel is completely vegan and has an on-site vegan restaurant. Breakfast is included in room rates but other meals are extra.
The 4-star hotel also has a garden, bar, terrace and shared lounge. The area is popular with hikers and skiiers and you can rent bikes from the property.
The hotel is also dog friendly. If you're planning on visiting Barcelona too, check out my vegan Barcelona guide.
Click here for more information.
Agrivilla i Pini

Agrivilla i Pini is a vegan hotel in Tuscany in a vineyard, nestled among olive groves. It's perfect if you're looking for vegan and vegetarian holidays in Italy, and it's one of the best resorts for vegans.
The villa has been renovated in an environmentally friendly way, and all furnishings are made of natural materials like hemp.
There's a natural saltwater pool on site, with views of olive groves, the vineyard and the beautiful landscape.
If you're looking for vegan all inclusive vacations, Agrivilla I Pini is a good option in Italy. Breakfast is provided and half-board is available. Light lunches are also available. You can also book yourself a cooking class on-site.
Click here for more information and availability.
Asia
Best all inclusive resorts for vegans in Asia
Looking for vegetarian friendly all inclusive resorts in Asia? Below you'll find some of the best all inclusive vegan friendly resorts, vegetarian vacation packages and vegan honeymoon destinations.
Kamalaya

Looking for a vegan resort in Thailand? If you're looking for a vegan spa retreat, all inclusive resorts with vegan options like Kamalaya resort & spa are perfect. It's not fully vegan, but it's very vegan-friendly.
It's easy to be vegan at all inclusive resorts like this one, which offer plenty of vegan options. The 5-star hotel has a spa and wellness centre, sauna, pool, private beach, library, golf course and currency exchange.
Click here for more information.
Puri Ganesha

Searching for a Bali vegan resort? This vegan holiday resort is vegan luxury at its finest. The 5-star hotel is home to villas by the beach, a library, a swimming pool and terrace.
The on-site restaurant is run by raw vegan chef and raw food pioneer Diana von Cranach. Taking a unique approach, she crafts authentic, raw living flavours of Southeast Asia. Expect to be introduced to lesser-known Indonesian foods. If you have an allergy, it's also possible to have food tailored to any needs.
Click here for more information.
Don't forget to pack your sunscreen and your vegan deodorant! See my vegan sunscreen guide here and my vegan deodorant review post here.
Pin this for later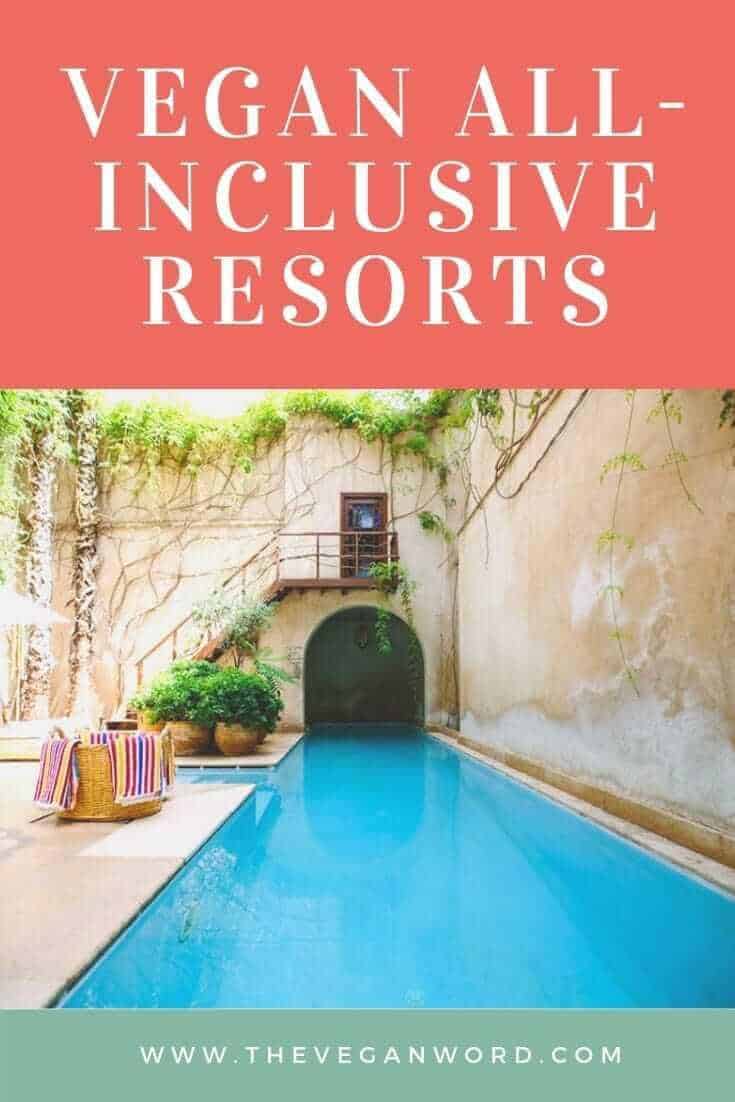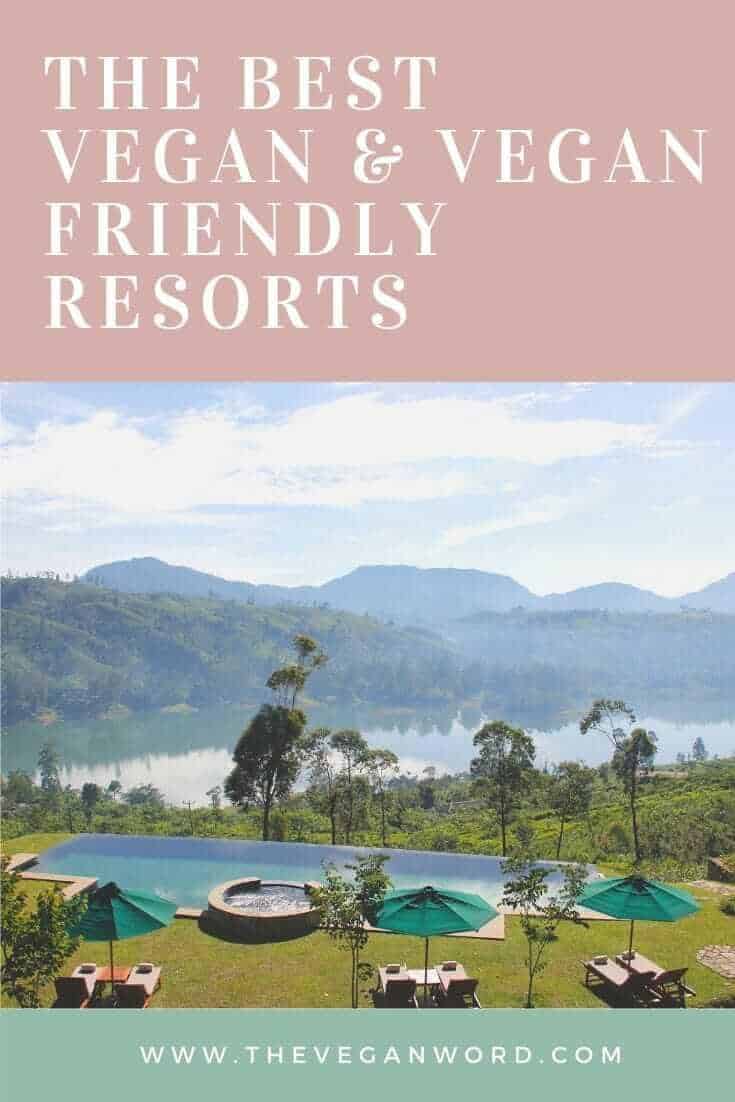 Looking for more vegan places to stay? Read my guide to the best vegan hotels here! And find my guide to vegan retreats worldwide here.
Would you rather take a group tour? I've got a guide to the best vegan tours here.
Learn more about vegan accommodation here and all about vegan travel here.
And if you end up staying at a vegan-friendly, rather than fully vegan, resort, don't forget to pack your own vegan toiletries! You can find my vegan shampoo guide here.
As an Amazon Associate I earn from qualifying purchases.