Looking for the best vegan hotel Berlin offers?
Berlin is incredibly vegan-friendly and usually ranks in the top vegan friendly cities worldwide. It has often been called the vegan capital of Europe or the world, although London now has more vegan restaurants so it's getting a run for its money. It won't surprise you, then, that Berlin is home to a few vegetarian and vegan friendly hotels and hostels.
If you're looking for the best vegan hotels Berlin has, you're in the right place! I've put together a list of the best vegan, vegetarian and vegan-friendly places to stay in Berlin.
Almodovar

Looking for a Berlin vegan hotel? Almodovar Hotel is where I stayed when I was last in Berlin and I'd highly recommend it if you're looking for the best vegan-friendly and organic hotel Berlin is home to!
The Almodovar Hotel is an all-vegetarian, organic and eco-friendly 4 star hotel in Berlin.
Double rooms have yoga mats and beanbag chairs, and there's an on-site spa offering treatments. Some rooms feature balconies.
The hotel has a breakfast buffet with vegan food options and Bistro Bardot is the hotel's vegetarian restaurant.
With bicycle facilities and free wifi, the hotel offers a comfortable stay in modern rooms in the trendy Friedrichshain area.
The neighbourhood is very vegan-friendly and so this Berlin hotel is within walking distance of many vegan and vegan-friendly restaurants.
Alexanderplatz can be reached in 10 minutes from Frankfurter Alee underground station.
Click here for the latest prices and availability.
Hotel Otto

Hotel Otto is a vegan friendly 4 star hotel in Charlottenburg.
The hotel's breakfast is served on the top floor lounge, with panoramic views of the city. The breakfast includes vegan options -- and not just boring ones like fruit and bread -- exciting dishes like vegan pancakes!
Let the hotel know in advance that you're vegan and they'll prepare food for you.
The hotel offers modern rooms and studios with flat-screen TVs and work stations.
Click here for the latest prices and availability.
Arcotel

Arcotel is a vegan-friendly small chain of hotels in Germany and Austria. Most of their branches serve vegan options at breakfast, including the Arcotel Berlin, which serves vegan breakfast options at the buffet every morning.
The Arcotel is really well-located, a quick five minute walk from Museum Island in Mitte.
Each room has free wifi and a flatscreen TV, and the hotel has a spa and gym overlooking the hotel courtyard.
Click here for more information.
Michelberger

The Michelberger Hotel, like Almodovar, is located in Freidrichshain, an area with lots of vegan restaurants. Whilst the Almodovar Hotel is 100% vegetarian, with lots of vegan options on the menu at the hotel restaurant, plus vegan toiletries the Michelberger Hotel isn't completely vegetarian. However, it's vegan-friendly.
There are vegan options at breakfast and the hotel restaurant has vegan dishes on the menu.
Click here for the latest prices and availability.
A&O

A&O is a chain of hostels (with several locations in Berlin!) that are vegan-friendly.
A&O hostels always offer vegan alternatives to most menu options, and in addition to breakfast for 7 Euros (in all locations), they offer lunch and dinner and even packed lunches at some locations.
The Mitte location is centrally located, just a 10 minute walk from the East Side Gallery. Free wifi is available in all rooms and public areas.
It also has foosball and a pool table.
Bikes can be rented from the hostel, and the Heinrich-Heine underground station is only a 5 minute walk away.
Click here for the latest prices and availability.
Pin this for later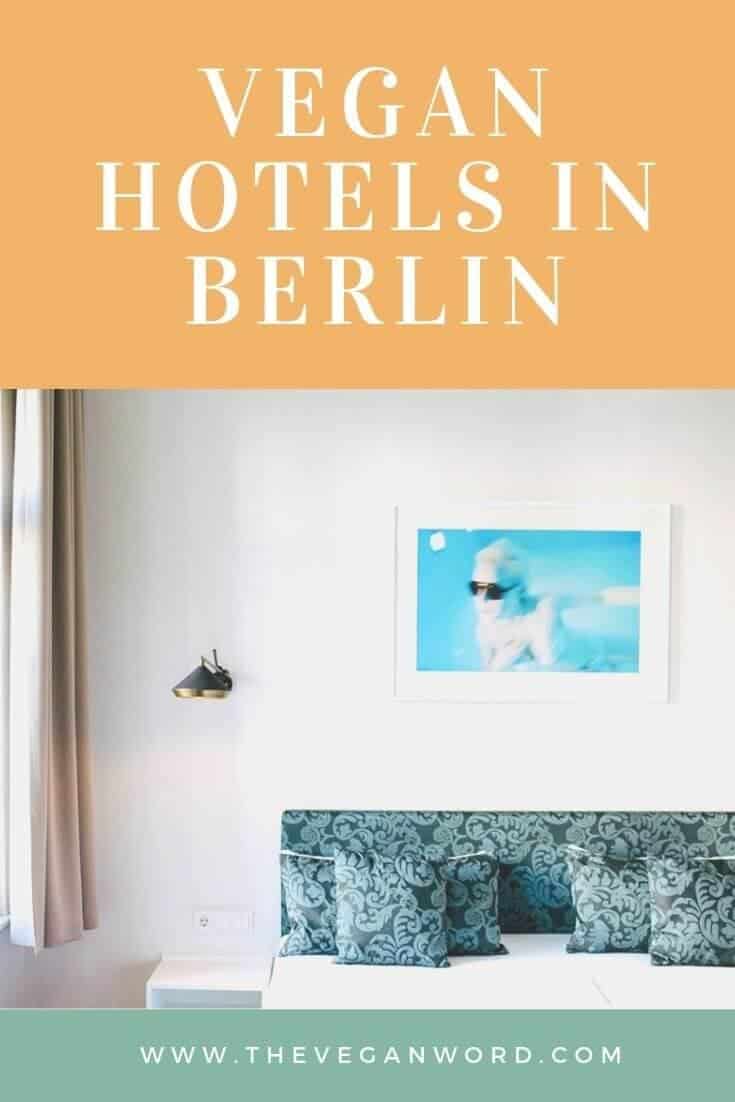 Interested in staying in vegan accommodation elsewhere? Check out my vegan guide to the best vegan hotels worldwide here. Find my guide to vegan resorts here. Find all my vegan accommodation guides here, and find out more about vegan travel here.