Looking for the best vegan hotel Berlin offers?
Special Deals:
Some of the best vegan-friendly hotels I'll be covering include:
Berlin is incredibly vegan-friendly and usually ranks in the top vegan friendly cities worldwide, but sadly since Hotel Almodovar closed down, it no longer has any 100% veggie or vegan hotels. However, it does have some vegan friendly hotel options!
It has often been called the vegan capital of Europe or the world, although London now has more vegan restaurants so it's getting a run for its money. It won't surprise you, then, that Berlin is home to a few vegetarian and vegan friendly hotels and hostels.
If you're looking for the best vegan hotels Berlin has, you're in the right place! I've put together a list of the best vegan, vegetarian and vegan-friendly places to stay in Berlin.
UPDATE may 2023: CLOSED UNTIL FURTHER NOTICE Best vegan hotel Berlin: Hotel Almodovar Berlin (100% vegetarian)
Best: veggie hotel Berlin
Note: Sadly this hotel is closed until further notice. I recommend Hotel Otto instead!
Looking for a Berlin vegan hotel? Almodovar Hotel is where I stayed when I was last in Berlin and I'd highly recommend it if you're looking for the best vegan-friendly and organic hotel Berlin is home to!
The Almodovar Hotel is an all-vegetarian, organic and eco-friendly 4 star hotel in Berlin.
Double rooms have yoga mats and beanbag chairs, and there's an on-site spa offering treatments. Some rooms feature balconies.
The hotel has a breakfast buffet with vegan food options and Bistro Bardot is the hotel's vegetarian restaurant and they also have a pasta bar, Devozione.
Vegan breakfast options might include home-baked bread with vegan currywurst sausage, vegan croissants, granola,
With free wifi, the hotel offers a comfortable stay in modern rooms in the trendy Friedrichshain area. You'll also find bicycle facilities at this hotel. Berlin vegan cyclists rejoice!
Best part of this hotel? Vegan Berlin has several hotspot vegan neighbourhoods, and one of them is where the Almodovar is located! The hotel is within walking distance of many vegan and vegan-friendly restaurants.
Alexanderplatz can be reached in 10 minutes from Frankfurter Alee underground station.
Click here for the latest prices and availability.

Hotel Otto is a vegan friendly 4 star hotel in Charlottenburg.
The hotel's breakfast is served on the top floor lounge, with panoramic views of the city. The breakfast includes vegan options — and not just boring ones like fruit and bread — exciting dishes like vegan pancakes!
Let the hotel know in advance that you're vegan and they'll prepare food for you.
The hotel offers modern rooms and studios with flat-screen TVs and work stations.
Click here for the latest prices and availability.

Arcotel is a vegan-friendly small chain of hotels in Germany and Austria. Most of their branches serve vegan options at breakfast, including the Arcotel Berlin, which serves vegan breakfast options at the buffet every morning.
The Arcotel is really well-located, a quick five minute walk from Museum Island in Mitte.
Each room has free wifi and a flatscreen TV, and the hotel has a spa and gym overlooking the hotel courtyard.
Click here for more information.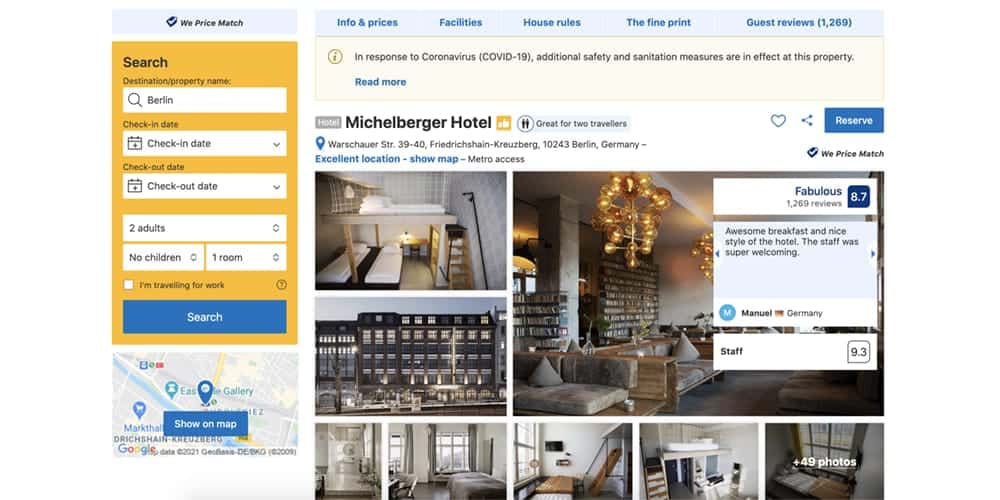 Whilst not fully vegan, you'll find vegan food on the menu at this Berlin hotel. Vegan guests will be pleased to see vegan options at breakfast, too.
The Michelberger Hotel, like Almodovar, is located in Freidrichshain, an area with lots of vegan restaurants.
Whilst the Almodóvar hotel is 100% vegetarian, with lots of vegan options on the menu at the hotel restaurant, plus vegan toiletries the Michelberger Hotel isn't completely vegetarian. However, it's vegan-friendly.
There are vegan options at breakfast and the hotel restaurant has vegan dishes on the menu.
Click here for the latest prices and availability.

A&O is a chain of hostels (with several locations in Berlin!) that are vegan-friendly.
A&O hostels always offer vegan alternatives to most menu options, and in addition to breakfast for 7 Euros (in all locations), they offer lunch and dinner and even packed lunches at some locations.
The Mitte location is centrally located, just a 10 minute walk from the East Side Gallery. Free wifi is available in all rooms and public areas.
It also has foosball and a pool table.
Bikes can be rented from the hostel, and the Heinrich-Heine underground station is only a 5 minute walk away.
Click here for the latest prices and availability.
The breakfast buffet at this hotel features vegan options, and the in-hotel restaurant has vegan options on the menu.
Why stay in a vegan hotel?
Having vegan breakfast at your fingertips means not having to forage for a plant-based meal first thing every day. Plus, a restaurant on site means if you don't feel like going out for dinner you don't have to (though in Berlin, you're probably going to want to go out!).
It also means (if the hotel is vegan, rather than vegan-friendly), having cruelty-free and vegan toiletries in the bathroom!
Vegan hotel or B&B owners also may be able to give you recommendations on the best vegan meals nearby, or even vegan supermarkets or shoe stores.
Vegan-friendly hotels vs. fully vegan hotels – it's not just the food
What's the difference between a vegan hotel and vegan-friendly hotel? Well, apart from the obvious (fully vegan food menu), there can be a number of differences, if the owner of a hotel is vegan themselves and fully commit to making the entire place vegan.
These include:
Fully vegan breakfast/restaurant/room service
Vegan mini bar
No leather furniture
Feather-free bedding
Vegan cleaning products used to clean facilities
Many 100% vegan hotels (not these ones in Berlin unfortunately, though none are 100% vegan) are animal-friendly, meaning you can bring your dog along on your trip. Some also host their own companion animals on site or even rescue animals.
Sometimes (though not always), vegan hotel owners opt to be as eco-friendly as possible as well, limiting single-use plastics, constructing the buildings in an energy-efficient manner or using reclaimed materials and reducing waste and power usage.
Choosing the most vegan-friendly non-vegan hotel
If you want to stay in a vegan place, but can't stay in a 100% vegan hotels, thenI always recommend booking near vegan restaurants, especially ones that serve breakfast if possible.
Breakfast is always the trickiest meal of the day to find vegan in my experience since many vegetarian and vegan restaurants don't open until lunchtime, and most restaurants don't seem to serve up many vegan breakfast options.
Berlin is the city of brunch (seriously, the city takes brunch seriously and is awash in spots serving up big brunch buffets every weekend), so take a look at a list of the best vegan breakfasts (like this one) and book nearby.
Or, you might want to get an apart-hotel with a kitchen so you can prepare breakfast, or at least get some muesli and a carton of oat milk to keep in the fridge.
If your hotel has a mini bar, you can also stash your non-dairy milk in the minibar fridge and have breakfast in your room in a pinch. Though as I mentioned, Berlin is the city of brunch, so better yet, find a vegan brunch spot near you!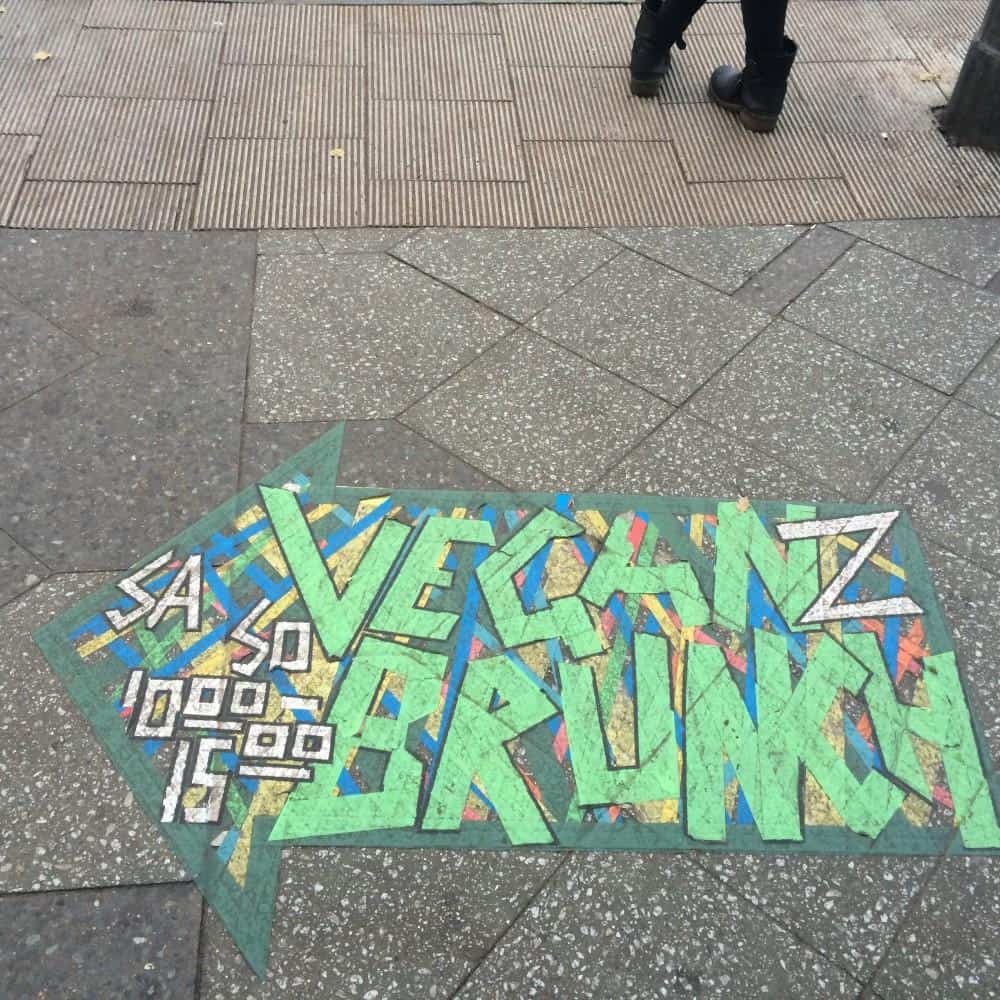 Where else to stay in vegan hotels in Germany?
Planning a trip around Germany and wondering where to stay outside Berlin? Germany has a burgeoning vegan scene and a few vegan hotels!
Hotel Nicolay, 100% vegan hotel, Zeltingen
The Hotel Nicolay 1881 is a family-run hotel that has been run in the same family for five generations, and is now fully vegan. Set on the picturesque Moselle River, it has vistas of the river and vineyards.
As well as a complimentary vegan breakfast buffet, the hotel is home to not one but three vegan restaurants and even has a vegan wine cellar! They have a wellness centre, four saunas, a pool, gym and yoga studio. They're also dog friendly.
Ahead Castle Hotel, 100% vegan, Lenzen
For a truly unique stay, why not a vegan castle hotel? That's right, this vegan hotel is in a castle! This hotel is the largest vegan hotel in Germany.
It's dog-friendly, and set on the UNESCO Elbe River reserve. If the weather is good, you can canoe, stand up paddleboard, bike and explore.
Rooms are decorated with eco friendly furniture and each room has a yoga mat. (There's also a underfloor heated tea house in the middle of the castle garden in which you can meditate and practice yoga.)
There's a complimentary vegan breakfast buffet every day which includes mueslis, salads, pastries, pancakes and more, and the on-site vegan restaurant, Place to V, is open for lunch and dinner.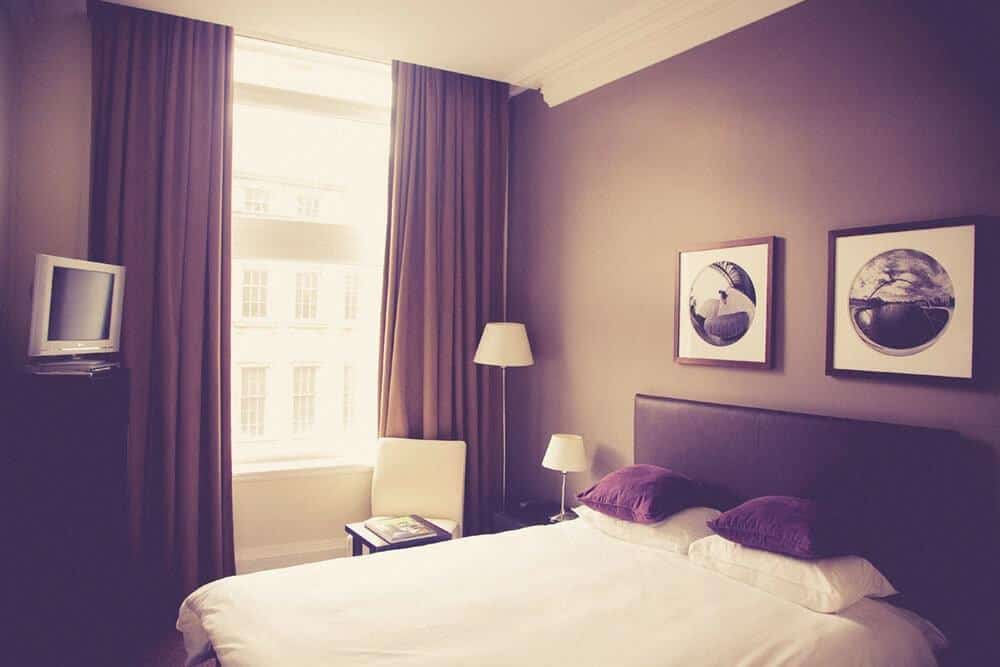 Vegan mountain pension, Schulenberg
For another unique stay, check out this family-run mountain pension that's 100% vegan. All rooms (doubles and singles) have a private bathroom with toilet and shower and a balcony or terrace.
There's also a family-friendly holiday apartment with 5 beds (though the bathroom can only be reached via a bedroom) and rudimentary cooking facilities.
In the winter, there's skiing nearby, and in summer, natural bathing ponds, climbing and more. There's plenty to explore nearby as well, such as stalactite caves, castles and medieval towns.
Vegan breakfast is available, as is dinner, which you can take in the winter garden with a drink with the family.
They've got board games available and a sauna.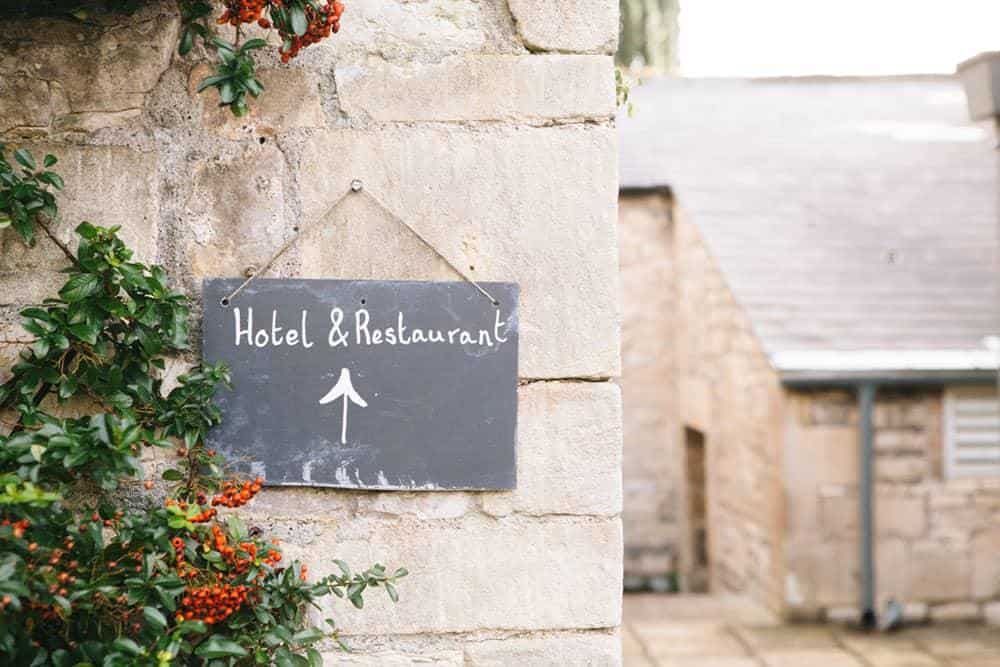 This picture-perfect 18th century hotel looks like something out of a postcard and I think it would be a charming place to stay.
Located in the medieval town of Büdingen (just 50 minutes drive from Frankfurt), it was, as the name suggests, built in 1718. The name means "Stone House."
The on-site restaurant is fully vegan and reinterprets the cuisine of the Hesse region in plant-based form, using seasonal and local ingredients.
The hotel is also home to a beer garden.
They have single or double rooms. Each room has a desk, flat-screen TV and wifi. The junior suite also has a whirlpool bath.
With an average review score of 8.8/10, guests are mostly very happy with their stay and the most frequent comments are that the rooms are comfortable and the breakfast is great.
Pin this for later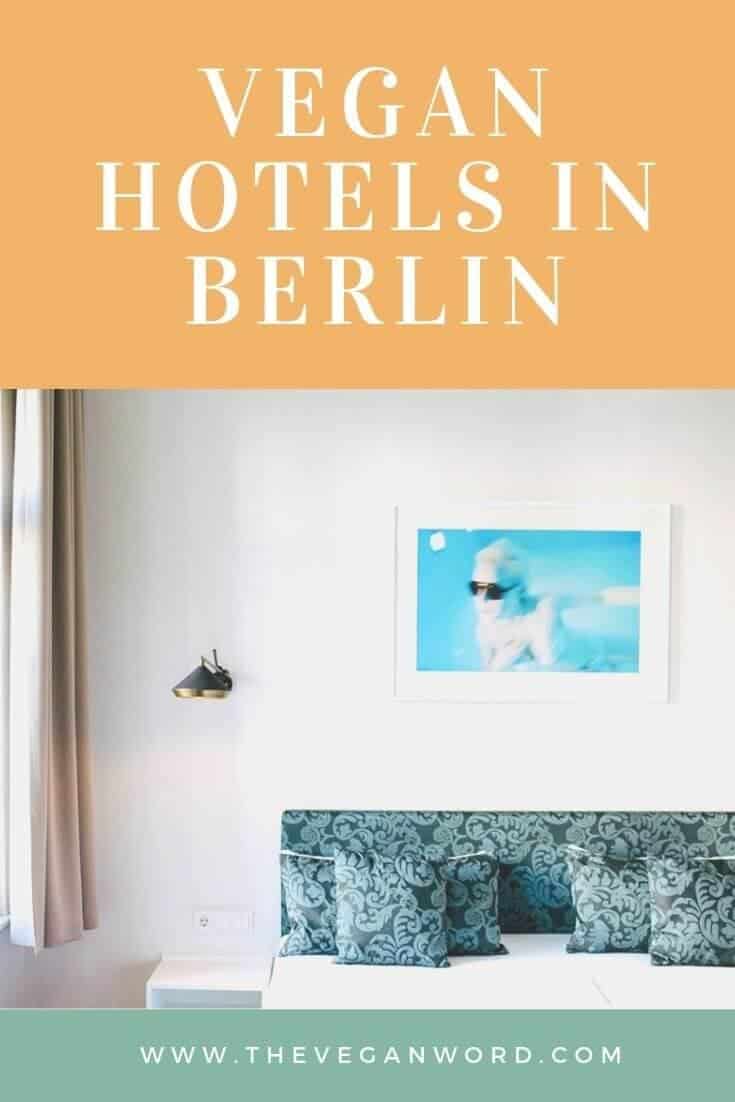 Interested in staying in vegan accommodation elsewhere? Check out my vegan guide to the best vegan hotels worldwide. I also have guides to vegan-friendly hotels in London and across the UK.
Find my guide to vegan resorts and vegan retreats.
Searching for more vegan-friendly destinations? Check out my list of the most vegan-friendly cities in the world, and my vegan city guides for Athens, Amsterdam, Barcelona, Brighton and Paris.
Find all my vegan accommodation guides, and find out more about vegan travel.