Vegan Brighton: Brighton has long been considered a paradise for vegetarians and vegans; for years it was named the most vegan-friendly city in the UK although in recent years it's been pipped by Glasgow.
Looking for vegan restaurants Brighton? Here, it's easy to find vegan food. Brighton has a strong alternative and countercultural scene and for years has been home to many a vegan restaurant and vegan café. Brighton also hosts the annual VegFest Brighton, one of the biggest vegan festivals in the UK. I've been going to Brighton for day trips and weekend from London for over a decade now and it's been vegan-friendly since I first started going in 2008, but the vegan scene has just kept growing stronger and stronger.
Whether you're visiting Brighton for VegFest, you're just down for the day or you've decided to spend a weekend by the seaside, I've found plenty of vegan options for you. Read on to find a guide to the best vegan restaurants, plus where to stay (vegan B&Bs and vegan friendly hotels), what to do and what to pack.
Note: if you're not familiar with the geography, Hove (which I refer to below) is an adjoining town immediately west of Brighton and easily walkable from most parts of Brighton. The local buses also serve it.
Where to stay: best vegan hotel Brighton
Looking for a vegan or vegetarian hotel Brighton? Or a vegan B&B Brighton? Here are my picks of the best vegan and vegan-friendly places to stay in Brighton.

The Charm is a luxury Grade II listed boutique hotel & spa in Brighton.
Located in trendy Kemptown, The Charm is just a few minutes' walk from the beach.
Some rooms have sea views and jacuzzi bath.
Massages and spa services are available at the on-site spa.
Breakfast is included and the hotel's website says they cover for vegetarian, gluten-free and dairy-free diets so it seems highly likely they can offer vegan food, too. If not, you're just a short walk away from many of Brighton's vegan restaurants.
Click here for the latest prices and availability.

Kipps is a centrally-located hostel across from the Royal Pavilion, just 500 yards from Brighton Pier and the beach.
You'll find a shared communal kitchen for guests. There's also a shared lounge with a TV, a games room with Wii and Xbox, a terrace and a bar.
Click here for the latest prices and availability.
Best vegan Brighton restaurants: the best vegan and vegan friendly restaurants in the city
If you're looking for vegan and vegetarian food Brighton, you're in luck because Brighton is one of the most vegan friendly cities in the UK! In fact, your biggest challenge here won't be finding vegan food but choosing where to go! So, I'm here to help you find the best vegan food Brighton has to offer, so you can prioritise your eating and eat in Brighton's very best vegan spots.
Read on for a list of the best vegan places to eat Brighton contains. From pizza to sushi to curry, here are the best vegan Brighton spots.

Address: 71 East St, Brighton BN1 1HQ
Website | Instagram
Prices: Mains £16.75
What to get: churros with a trio of dipping sauces
Terre a Terre is a mainstay of the city; this vegetarian Brighton restaurant opened in 1993 and has garnered praise including a Michelin mention. It's still one of the best vegetarian restaurants Brighton has.
Their menu is ever-evolving and changes seasonally but includes modern spins and experimental takes on dishes. For example, you might dine on slow baked aubergine (eggplant) with tahini, miso and sesame seed sauce and an edamame, yuzu and wasabi pesto or potato vada stuffed with ginger, turmeric, curry leaf and cumin, fried in almond and rice flakes with chaat and served with dahl and topped with carrot top, chilli, coriander and almond pesto.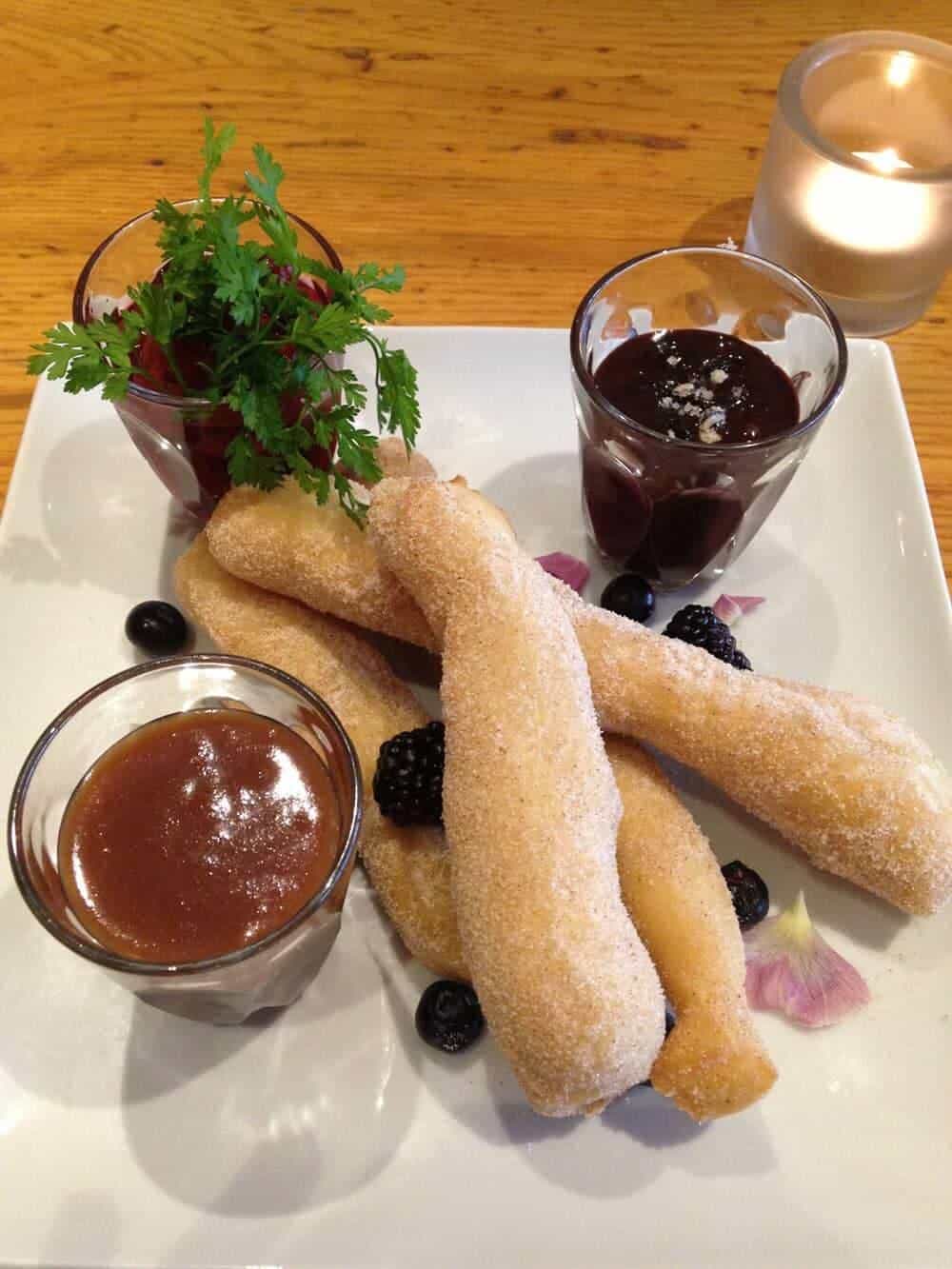 It sounds strange to recommend a Spanish donut in Brighton, but whatever you do, you have to try the churros at Terre a Terre. A longstanding favourite, I have eaten these nearly every time I've been to Brighton the last half dozen years. The cinnamon sugar-dusted doughnut straws are served with a trio of dipping sauces: sea salt caramel, chocolate and vodka soaked cherries. Together, they are heaven.
It's best to book a table in advance as it can get busy.
Click here to make reservations.

Address: 12 St James's St, Brighton BN2 1RE
Website | Instagram
Prices: Pizzas £6.45 – £13.95
Purezza Brighton was the first vegan pizzeria in the entire country, and now has a second outpost in London. It was also the first vegan Italian Brighton resaurant and in fact the Telegraph claimed it to even be the first vegan Italian restaurant in Europe (what about Italy, though?).
Full disclosure: Personally, I used to like the cheese they previously used a few years ago but they must have changed it as I'm not a big fan of the current cheese, but I know a lot of people adore it so I think it's just be a case of different tastes! I've noticed everyone's opinion on vegan cheese varies wildly.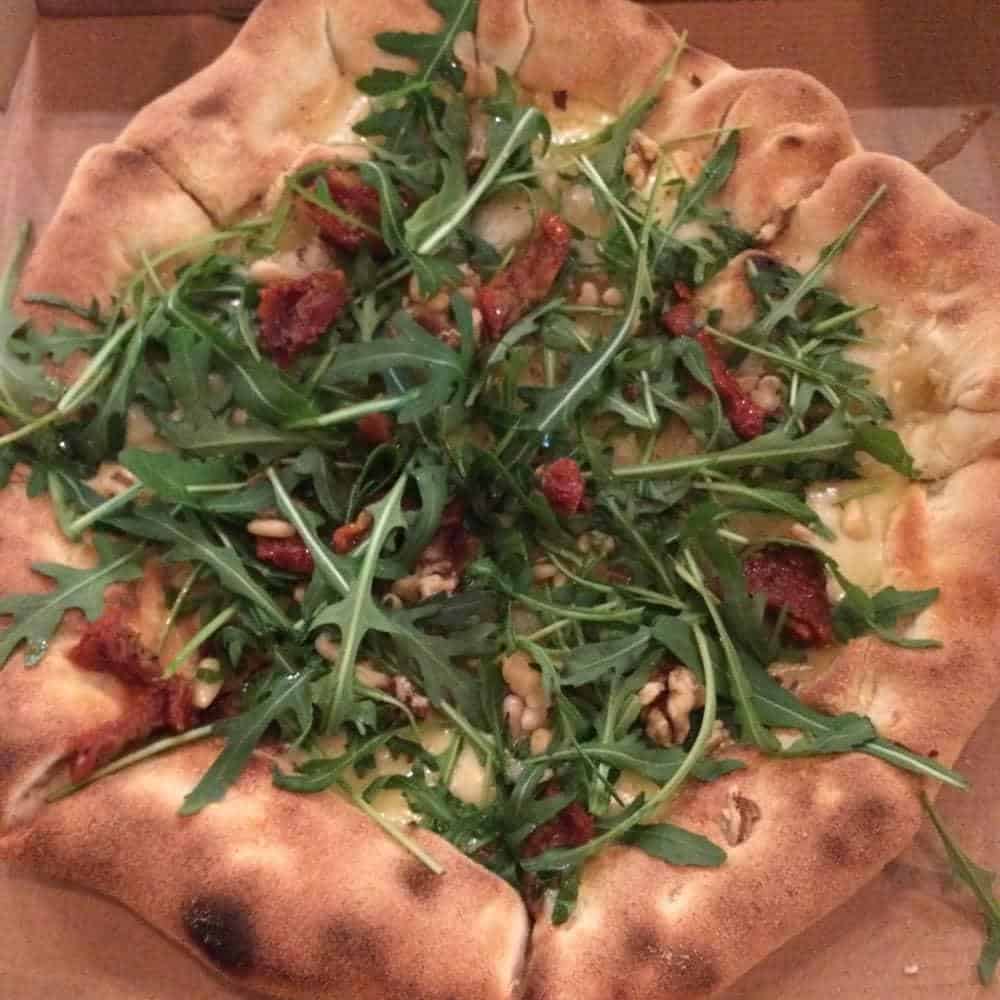 Their pizzas can be served on a variety of bases from wholegrain sourdough (fermented for 48 hours) to hemp flour or a gluten-free base. Choose from a classic vegan margherita pizza or more unique options, such as pizza with a black truffle base, wood smoked tofu and mixed wild forest mushrooms or parmigiana, smoked vegan mozzarella with aubergine (eggplant) parmigiana, crumbled plant-based sausages and topped with nutritional yeast.
The restaurant is dog friendly, too. I've taken my dog to their London branch and everyone was SO lovely to him.
Click here to make reservations.
Or, looking for vegan pizza delivery Brighton? It's available on Deliveroo.

Address: 8 Pool Valley, Brighton BN1 1PN
Website | Instagram
Prices: Sushi burritos £6 or £6.50
If you're looking for healthy places to eat in Brighton, then Happy Maki makes popular healthy food. Brighton has several vegan sushi options: Happy Maki is one (Moshimo, below, is another great choice).
Happy Maki is a sushi-focused vegan takeaway. Brighton is now Happy Maki's permanent home but before they existed as a street stall at festivals (which they still sometimes run) where they made a name for themselves making sushi burritos.
Sushi burritos are like a large sushi roll, so large you hold and eat it like a burrito. Often they have ingredients and flavours beyond what you'd find in standard sushi. No plain avocado rolls here! Happy Maki has several different menu choices including sweet potato wedges with roasted coconut, avocado, cucumber, red pepper, coriander and teriyaki sauce or crispy vegan duck with roasted sesame seeds, avocado, cucumber, red pepper, spring onions and hoisin sauce.
Looking for vegan delivery Brighton? This vegan and vegetarian takeaway also delivers! You can order here.
Address: Bartholomew Square, Brighton BN1 1JS
Website | Instagram
Prices: Mains £9.50 – 11.95, sharing platters £20 for two people
If you're after vegan friendly restaurants Brighton, Moshimo is a non-vegan but vegan-friendly Japanese restaurant in Brighton.
Moshimo goes way beyond the standard vegan menu in Japanese restaurants to offer interesting options like vegan cheese & sunblushed tomato maki, vegan duck teriyaki and yakiyasai group platters with kushi vegetable skewers, vegetable gyoza and peanut & sweet potato tofu balls.
Plus, Moshimo host vegan challenge nights, where local chefs battle it out to see who can produce the best vegan dish (based on audience voting).
Moshimo is proudly dog friendly.
Click here to make reservations.

Address: 6 Trafalgar St, Brighton BN1 4EQ
Website | Facebook
Prices: Small sharing plates, £3.5 – 7; larger plates £9.5 – 9.7 (I was recommended 2 small plates + 1 larger plate per person)
What to get: Mini dosa, pani puri
Looking for a (mostly) vegan Indian Brighton? Manju's vegetarian Indian Brighton is a completely vegetarian Indian restaurant serving up Gujarati cuisine in a small plates/tapas style.
The street food style menu focuses on small plates and cocktails. Bring a friend and try a few, such as bhel (puffed rice, sev, potato, chickpeas and chutneys), mini masala dosas stuffed with potatoe and onions curry and served with dhal and chutneys or mogo chips (cassava chips served with chutney).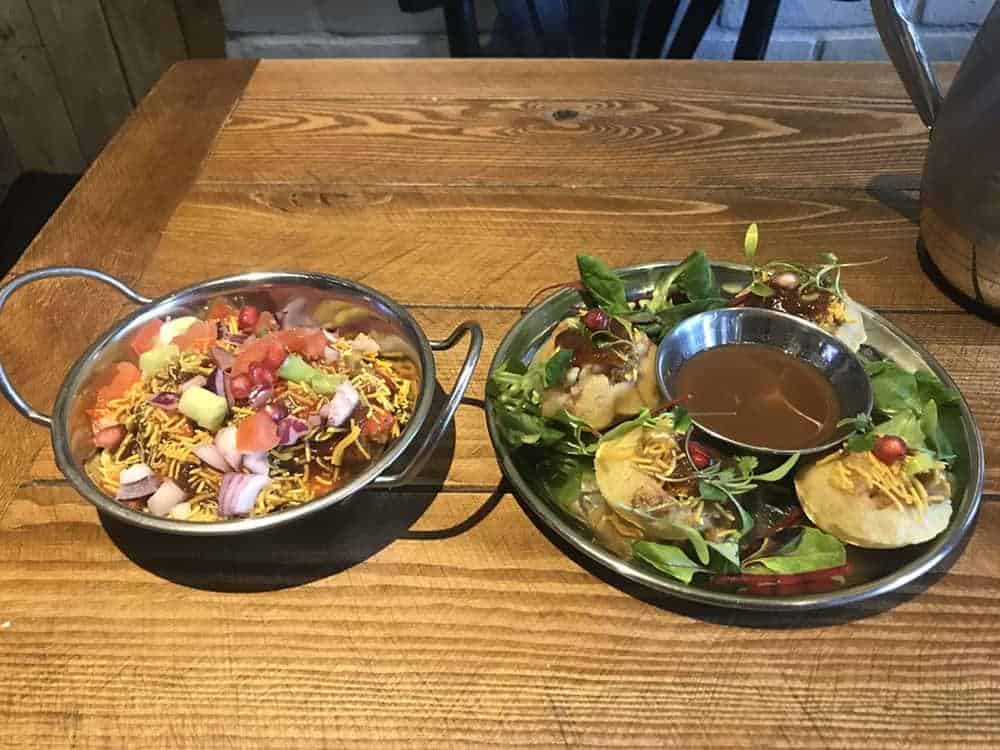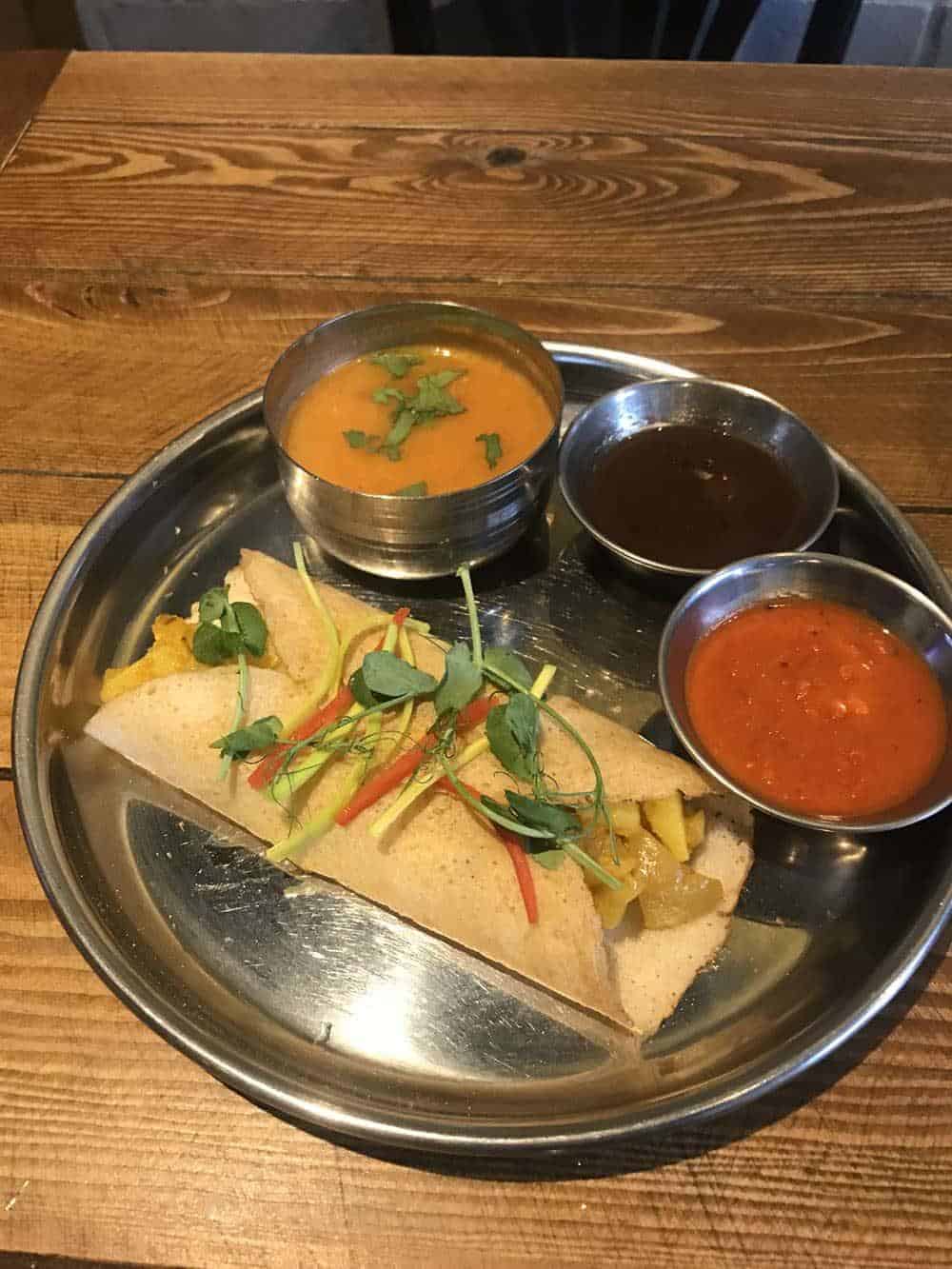 Pani puri, which is served here, is one of my favourite Indian street food dishes: the round, crispy and hollow puri shells come filled with potato, chickpeas and chutney and you pour a bit of spiced water in and try to eat it before the water leaks through the shell and makes a mess. It's delicious as well as fun to eat!
Click here to make reservations.
Other vegan restaurants Brighton, UK & Hove, UK)
I can't list every vegan restaurant Brighton, UK (and its sister city, Hove) has or this post might never end, but continuing my Brighton vegetarian restaurant guide, here some more vegetarian and vegan restaurants that are popular and worth a visit if you have more time.
Looking for healthy restaurants Brighton? Iydea Brighton is a great option for lunch if you're looking for some of the healthy eating Brighton has to offer. The menu changes every day, but always has vegan and healthy options.

Looking for vegan cafes and vegetarian places in Brighton? Whykikamoocow Brighton restaurant (that's how it's pronounced!) is an all-veggie cafe situated in the The Lanes that serves up affordable food and vegan breakfasts.
Looking for vegan cake Brighton? Or vegan roasts Brighton? A vegan burger Brighton? Or vegan roasts Brighton? Green Kitchen has it all! This all vegan cafe's menu ranges from all-day breakfast to burgers to a vegan Sunday roast and a selection of vegan cakes from their cake counter. Dog friendly.

What the Pitta is a vegan doner kebab chain which started in London and has now expanded down to Brighton. As far as veg restaurants Brighton has, this is pretty unique! Personally, I'm not really into vegan meats, but if you're missing kebabs I've heard they're very close to meat kebabs (as a lifelong vegetarian and now vegan I can't tell you). Dogs are welcome.
Looking for vegan curry Brighton? This vegetarian Indian buffet Brighton is now all-vegan. If you've been looking for a vegetarian buffet Brighton has that's good value, Bombay Aloo is an all-you-can-eat buffet and is now completely vegan. Reviews are mixed on the flavours but in agreement on the prices being reasonable.
Two Wolves Kitchen is a fully vegan kitchen at The Foundry pub. The menu changes but covers comfort food such as Southern fried Cajun seitan, burgers or fish and chips made with banana blossom vegan fish.
Raw food restaurant Brighton: Foodilic or Purezza
Looking for raw food Brighton? I recommend Purezza or Foodilic. Purezza's raw menu, which includes options like marinated carrot 'salmon' with homemade raw cream cheese on linseed crackers or raw pizza with a millet and butternut squash base, sounds incredible. Foodilic has two locations in Brighton and their menu has healthy, organic and raw options. You can find the menu, with raw options marked, here.
The oldest vegetarian Brighton, UK restaurant, Food for Friends opened in 1981. As recently as a few years ago, it had a reputation as not being very vegan-friendly with only one or two menu options, but now it's vastly expanded its vegan offerings and one of my friends tells me it's her new favourite place in Brighton. Dog friendly seating available with advance booking (you need to call ahead and reserve a table in order to be allocated the dog friendly seating).

Searching for vegan ice cream Brighton? Well, you're in luck, because Brighton is home to a fantastic vegan friendly ice cream parlour, Boho Gelato! If they have it when you're in, don't miss the peanut butter 'crack', a vegan peanut butter and sea salt caramel flavour that really is addictive.
Glazed is a vegan-friendly donut shop. All donuts are vegan and come in inventive flavours like vegan Nutella (the only non-vegan item is dairy milk for coffee; plant milks are also available). Dog friendly and you may even catch the resident dog napping in the corner.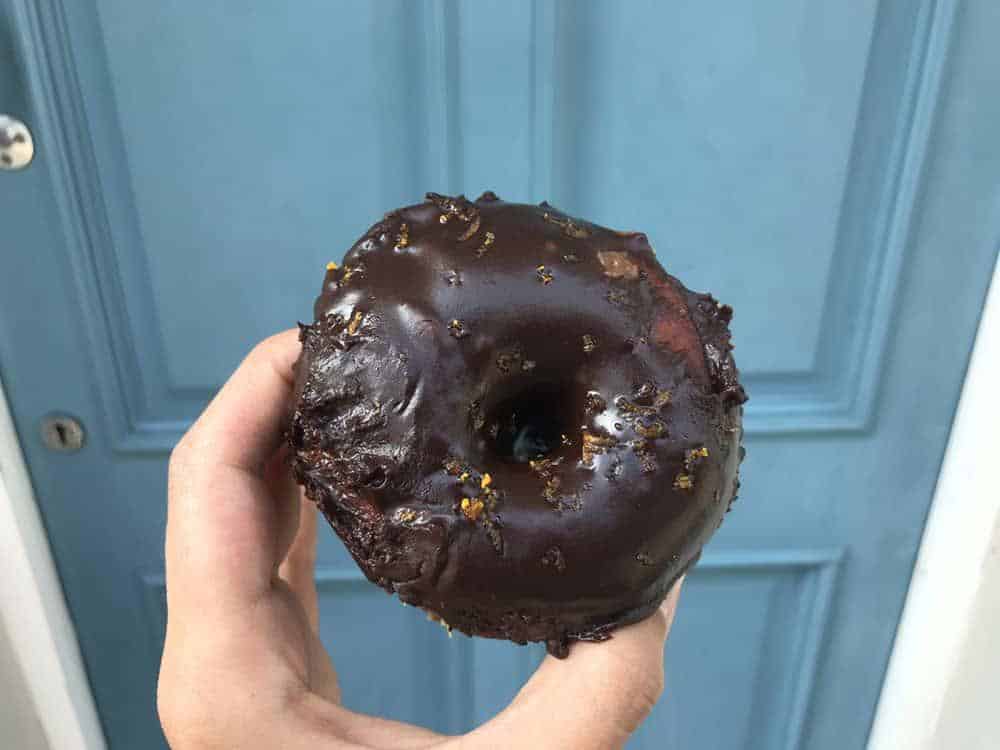 I have never in my life had so many people recommend a sandwich to me. Social Board is a sandwich shop with vegan options; the people behind it worked at Infinity Kitchen (a now closed vegan cafe) and understand vegan cooking. This place was recommended to me by so many people that I was sorely disappointed it was closed by the time I made it there last time I was in Brighton. The sandwiches sound so good! Choose from vegan sandwiches like pan-fried organic tempeh marinated in mirin and Szechuan pepper and served with daikon, wild mushrooms, pickled ginger and homemade gochujang sauce or barbecued smokey mushrooms with gherkins, pimento peppers, baby gem lettuce and homemade salsa. Very dog friendly (when I rang to ask if they were dog friendly the reply was 'yes, please bring as many dogs as possible'.)
Vegan Hove: vegan & vegetarian restaurants Hove
Most of the vegan restaurants are over in Brighton, but its sister city of Hove also has some vegan/vegan friendly options. Here's where to find vegan food Hove side. The Plant Room is a mostly vegan cafe Hove has. As far as vegan restaurants Hove go, Six is a vegan friendly restaurant, Planet India's a vegan-friendly vegetarian Indian place and Morelli Zorelli and Pizza Face are both vegan-friendly pizza options.
Vegan versions of traditional British foods

Vegan pub Brighton
Want to visit a vegan and vegetarian pub Brighton is home to? The Prince George is an all-vegetarian pub with plenty of vegan options marked on the menu. Wines are also marked vegan. The Roundhill is a new vegetarian pub where all menu options are vegan by default (and can be made vegetarian on request). They do a vegan Sunday roast.
There are also a few pubs home to vegan kitchens or pop-ups (although the whole pub may not be vegan). Beelzebab is a vegan kitchen run out of The Hope & Ruin pub. Beelzeburger is a vegan burger bar run out of East Street Tap. The Pipeline is a pub that serves vegan food. Two Wolves Kitchen is a vegan pop-up run out of The Foundry pub.

Vegan fish & chips in Brighton
Fish & chips are a classic British seaside tradition, and you don't have to miss out because you can get vegan versions in Brighton! The most typical vegan version is made with tofu wrapped in nori seaweed (for a bit of sea-like flavour) and then battered and fried, but some versions now use the latest trendy ingredient, banana blossom. Apparently banana blossom, when fried, has a similar texture to fish.
Earth & Stars: my favourite vegan fish & chips I think I've ever tried, the Earth & Stars pub serves vegan fish & chips on their vegan-friendly menu. Theirs are made with tofu wrapped in nori, battered and fried and are served with chips and perfectly minty mushy peas, plus a vegan tartar sauce that I think was homemade!
Two Wolves Kitchen: this vegan pop-up is located in The Foundry Pub and serve up a vegan fish & chips made with banana blossoms. I haven't tried it yet but it has good reviews.
Little Jack Fuller's: a fish & chips shop by the seafront with vegan options that does a 'vegan Tuesday' with an extensive vegan menu that looks soooo good! Their Tuesday vegan menu looks incredible and I can't wait to try it — it's ever-evolving but think banana blossom with sea purslane and beer batter, jackfruit scampi & panko garlic mushrooms, vegan calamari made with oyster mushrooms and aubergine (eggplant) in sea herbs with beer batter.
Vegan Sunday roast Brighton
Looking for a vegan roast Brighton? There are actually a ton of pubs offering vegan Sunday roasts but here are two places that caught my eye. I haven't been in Brighton on a Sunday in awhile so I haven't tried them but I'm seriously considering catching a train down one Sunday to try the vegan Yorkshire pudding at Green Kitchen…
Green Kitchen: This all-vegan cafe does a vegan Sunday roast that sounds incredible! It even includes vegan Yorkshire pudding! You'll get: vegan roast, served with roast potatoes, seasonable vegetables, braised red cabbage, homemade stuffing, cauliflower cheese and Yorkshire pudding with gravy (£10). Served from midday.
Roundhill Pub: This vegetarian pub has a good reputation when it comes to their Sunday roasts. With 4 different vegan roast options, such as braised seitan brisket or beetroot, shallot and walnut tart, all served with roast potatoes, parsnips, cabbage, vegan cauliflower cheese, braised red cabbage, carrot & swede mash, Yorkshire pudding & jus (£10-13).
Full English breakfast
If you're looking for a vegan full English breakfast, you're in luck because Brighton has plenty of options for you to choose from!
Green Kitchen: The vegan cafe serves up a wide range of breakfast dishes every Sunday (such as pancakes and French toast), including their full English which comes with vegan sausage, homemade bacon, scrambled tofu, grilled tomato, hash browns, mushrooms, baked beans and toast (£8.50, add black pudding or avocado for £1).
Iydea: Iydea's been serving up vegan breakfasts for many years. This vegetarian Brighton, UK cafe serve up two vegan full breakfast options, a large or small breakfast. I've enjoyed their 'small' breakfast a few times (which used to be £3.50 and was called 'mini'), which always filled me up even though it was called mini. The large, at £6.95, comes with two vegan sausages, two balsamic tomatoes, two hashbrowns, mushroom avocado stir fry, beans and toast. The small version is £4.25 and just comes with a bit less of everything — one sausage, one balsamic tomato, one hash brown, mushroom and avocado stir fry, beans and toast.
Six: This non-vegan but vegan-friendly restaurant in Hove serves breakfast/brunch daily and they have a slightly non-traditional vegan full breakfast that gets great reviews. The full breakfast comes with organic mushrooms, purple potato, cherry tomato, avocado, two hash browns, hummus, falafel, organic baked beans and toasted sourdough (£13).
Eating vegan with non-vegan friends and family (vegan options in non-veggie restaurants)
Sometimes when we travel as vegans we are on our own or with other vegans and we get the option of going to all-vegan restaurants and gobbling up vegan burgers and roasts to our heart's content. Other time, inevitably, we are travelling with non-vegans and sometimes they don't want to go into vegan restaurants at all. Depending on who you're with and their views, you might be able to persuade them to try out some vegan spots with you, or you might not be able to get them to set foot in a vegan restaurant at all.
Don't fret! I've got some tips for you here on travelling with non-vegans. Brighton has many non-vegetarian restaurants that serve up vegan options that will make you and your friends/family happy. A lot of UK chains now have vegan options (see a list here) but I try to visit and support local and independent businesses as much as possible, so here are some of my favourite vegan-friendly restaurants in Brighton.
Moshimo is a Japanese restaurant with an extensive vegan menu. Just let them know you're vegan, and you'll find they have a lot of options, and not just avocado maki. They also do vegan hoisin duck, vegan cheese & sundried tomato maki and more.

The Earth & Stars is a pub that has plenty of vegan options on their menu. They even do vegan Sunday roasts and vegan fish & chips made with beer battered smoked tofu! You won't even be left out at dessert — they have a vegan chocolate and walnut brownie.
Pizza Face is a pizzeria that has a vegan menu — they offer vegan cheeses and vegan meats and they even make a homemade beetroot pepperoni! You can also swap vegan cheese onto any of the pizzas on their menu and they also make vegan pesto. They have locations in Kemptown (Brighton) and Hove and they deliver (free over £15).
Sabai Thai is a vegan friendly Thai place in Brighton. All their vegan options are clearly marked and on separate sections on the menu and apart from tofu, they also offer the options of vegan chicken strips in most dishes.
Six is a mostly organic and vegan-friendly restaurant in Hove. The restaurant looks slightly upscale (the interior pictures I've seen are beautiful, with live trees!) and the menu includes several clearly marked vegan options.

Social Board is a sandwich shop that many are raving about (I was gutted it was closed when I was in Brighton recently!). They have one vegan sandwich on the menu and another option that can be made vegan, and as the people behind it previously worked at a vegan cafe, they know about vegan food!
Boho Gelato
Boho Gelato is an ice cream place near the seafront that offers lots of clearly-marked vegan options. Their ice cream is so good! I've also noticed recently that some of the 'huts' along the beach now sell vegan ice cream, too — and some even vegan burgers!
Looking for vegan cupcakes Brighton? Look no further than this bakery that does vegan options. If you need to order a cake or cupcakes for an event, you can order them in advance from Angel Food bakery.
Shopping: where to buy vegan shoes, food, perfume & more in Brighton
Trying to find vegan shops Brighton? If you want to do some shopping while you're in Brighton, there's plenty of choice and Brighton's home to many independent shops and antique stores. Some of the most interesting shopping, and independent boutiques, are clustered in The Lanes, a collection of narrow, pedestrian alleyways lined with shops. If you want to buy harder-to-find vegan products, such as vegan shoes, you'll be pleased to note there are all vegan shops in Brighton selling vegan shoes and vegan perfume. Read on to find out more about these, plus where to buy vegan groceries.
Vegetarian Shoes, which started back in 1990, make their own range of vegan shoes, from trainers to boots and sandals, made of vegan leather and hemp. They have a shop on Gardner Street in Brighton where you can try on and buy shoes, or you can order online here.
Vegan groceries at Infinity Foods or HISBE (vegan friendly shops)
Infinity Foods is the place to go if you need any vegan ingredients, such as vegan cheese or chocolate. This worker cooperative has a wide range of just about every product you could ever want or need!
HISBE (How it Should Be) is a supermarket and social enterprise that sources local and ethical products, aiming to show 'how it should be'. They also have a selection of loose/zero packaging foods.
Wastenot is a zero waste store where you can buy bulk ingredients and household products.
Coachwerks Whole Foods is an all vegan whole food store run by volunteers. You can buy bulk ingredients like nuts and grains, refills of washing liquids and even vegan beer brewed on site!
Vegan perfume, clothes & more
Eden Perfume is a vegan perfumerie. They make their own perfumes, blending vegan and cruelty-free scents, and also offer a service where they sell vegan alternatives to many well-known and desginer perfumes.
The Fair Shop is a fair trade clothing store which has clothes from around the world (not all are vegan).
Brighton is also home to many vintage and independent clothign stores, many of which are in The Lanes.
What to do: activities in Brighton

Brighton vegan festival
Home to more than one vegan fair, Brighton hosts Brighton Vegan Festival, VegFest, and the Vegan Summer Festival.

Beach & Brighton Pier
Of course, a trip to Brighton isn't complete without a trip to the pebble beach for the kitschy, classic British seaside experience. On a recent trip, I noticed a lot of the snack huts and the little cafes and shops lining the seafront (down on sea level) are now selling vegan ice creams and even vegan burgers! In fact, there was one cafe on seafront level by the shore just that's now all vegetarian, called BB Veggie Cafe (I don't think it has an online presence at all so can't link to it). It's just west of the Pier.
Head to Brighton Pier if you like old-fashioned arcades and fun fairs. From the beach, you can also see the remains of the West Pier, completed in 1866, which burned down in 2003.
Down at the marina end of the beach, you'll find the naturist beach. The boundaries are clearly marked with signage.

Royal Pavilion
Don't miss the Royal Pavilion on your visit to Brighton! This seemingly out of place structure looks like it was transported from India and dropped down in Brighton and surprised me the first time I saw it! It was in fact built as a royal seaside pleasure palace during the Georgian era and was designed in an Indo-Saracenic style by John Nash, which explains why it looks like it belongs in India. I've never been inside, because the outside of the building fascinates me enough, but inside there's a museum.
The Lanes
The Lanes, formerly a fishing village, are narrow, twisting pedestrian lanes lined with shops and shopping arcades. Here, you'll find tea rooms, independent boutiques and jewellers.
What to pack for Brighton
Don't forget to bring these to Brighton!
Ready to pack your vegan bag? In the market for a new bag? I've put together a guide to the best vegan suitcases and luggage here! Here's my top pick for best vegan (and eco friendly!) suitcase:
Click here to see my top pick for best vegan suitcase, the eco range from Samsonite (made of recycled plastic bottles, with cork detailing)
As often as it seems we don't need sunscreen in England, on a sunny summer's day you will definitely need sunscreen in Brighton! It can be tricky finding a sunscreen that's cruelty-free and ocean-friendly, so I put together a sunscreen buying guide here.
Click here to see my top pick for the best vegan (and ocean friendly!) sunscreen.
Vegan snacks
I always recommend packing vegan snacks when travelling, although frankly in Brighton there's so much vegan choice you won't need them. Still, it's always nice to have some vegan snacks on hand for the train or car in case you get stuck somewhere and get hungry! Click here to read my guide to the best vegan snacks for travel.
TimeOut's Brighton guide shows you the best sightseeing, shopping, entertainment and nightlife. Click here for more information.
If you're travelling from abroad, don't forget your plug adapter for UK plugs! I like a universal plug adapter, that way you don't have to switch adapters when you travel to different places.
Click here for more information.
Planning a trip to London too? Click here to read my guide to the best hidden, off the beaten path spots in London!
Pin this for later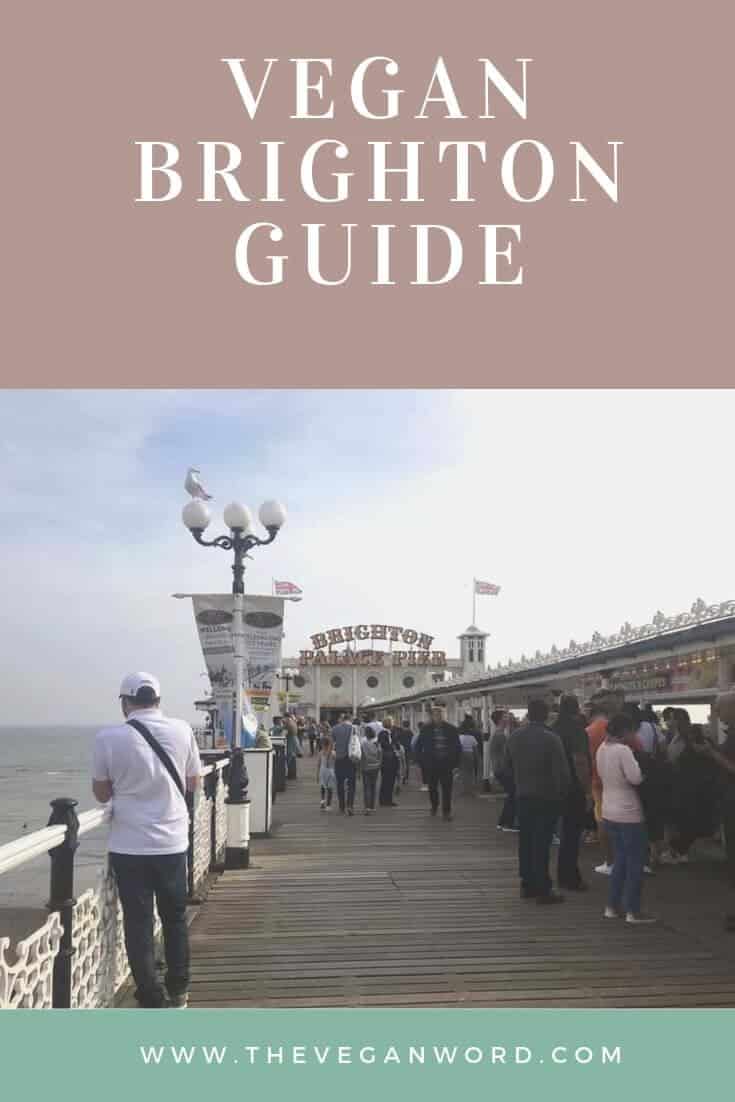 Looking for more vegan travel inspiration? See all my vegan travel guides and tips.