Make sure you're protected this summer with the best vegan sunscreen. Planning a trip somewhere hot like Athens or the Canary Islands? Or, are you planning a trip where you'll spend a lot of time poolside (find my list of the best vegan hotels worldwide here)? You'll definitely need good vegan suncream!
Some of the vegan sunscreens I'll be reviewing include:
I didn't realise how complicated sunscreen is until writing this article while researching sunscreens for a trip to the Canary Islands. Between chemical and mineral sunscreen, reef- and ocean-friendly options, deciding on an SPF, deciphering UVA and UVB and ensuring products are vegan, choosing the best vegan and best cruelty free sunscreen is complex. What's the simplest solution for vegan suncare?
Wear sun protective clothing, a hat and seek shade.
However, this isn't always practical, so if you're planning a holiday or to participate in a summer sport, here's how to protect yourself, in a cruelty-free way. Below I've reviewed the best vegan SPF.
What is vegan sunscreen? What makes sunscreen vegan or not?
Is sunscreen vegan? Like other body care products, sunscreen can contain animal products or be tested on animals. All natural sunscreen could be tested on animals (or contain non vegan ingredients), while cruelty free suncream isn't tested on animals but could contain animal products like beeswax.
Remember, just because a product says 'natural organic sunscreen' or 'paraben free sunscreen' doesn't mean it's free of animal ingredients. Vegan sun screen is both free of animal ingredients and hasn't been tested on animals.
The products in this guide are all vegan — free of animal products and cruelty-free (not tested on animals).
Another complicating factor is that some beauty brands may not engage in animal testing in the US or Europe (in fact, it's illegal to test cosmetics on animals in the EU) but if they sell products in China, they're obligated to test on animals in order to sell on the Chinese market. Because of this, most consider these products not to be vegan.
Then, there's the consideration of what parent company owns the brand in question. While the brand you're looking at may not test on animals, many smaller brands are owned by larger parent companies, who may have a poor record on animal testing or other ethical considerations.
Below, I've tried to find the best cruelty-free and vegan products (with an emphasis on smaller independent brands). Whether you're planning spring break or packing for a road trip, make sure to pack your vegan, cruelty free sunscreen.
What's eco friendly sunscreen?
Another aspect of sunscreen you may not have considered is whether it's an environmental sunscreen. A sunscreen can be a vegan but not eco sunscreen, but since it impacts the earth many vegans are also concerned about ensuring they buy non toxic sunscreen that's also vegan. This means it won't harm the environment (particularly the sea) as it comes off your body into the natural world, which is impossible to avoid especially when swimming.
If you're going to be snorkeling, scuba diving or swimming in the ocean, look for a reef- and ocean-friendly sunscreen.
Look for the best biodegradable sunscreen, meaning it will break down. And if you'll be in the water, make sure your sunscreen is water resistant.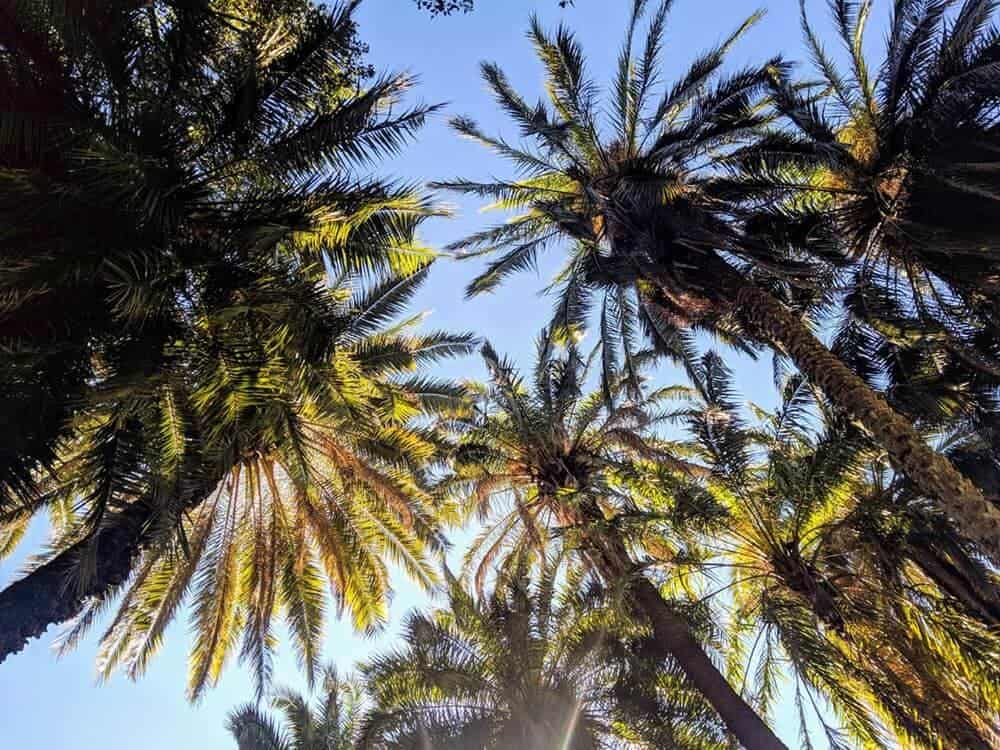 Learning the lingo: UVA, UVB, chemical vs mineral and more
UVA: The sun's rays are divided into two types: UVA and UVB. Most of the rays you're exposed to are UVA (and UVA can penetrate glass). For skin cancer protection, you need a sunscreen that protects from both. Look for 'broad spectrum SPF sunscreens' in the US, which mean they protect both UVA and UVB. In the UK, look for the star rating for UVA protection; the rating is between 0 and 5 with 5 being the highest. This actually shows the ratio of UVA to UVB protection.
UVB: UVB rays are responsible for sunburn, and sunscreens were originally developed to protect from UVB. SPF ratings rate the UVB protection.
SPF: SPF stands for sun protection factor and describes how much longer you can stay in the sun without getting a sunburn; for example, if you'd burn within 10 minutes of being in the sun, an SPF of 15 will allow you to stay in the sun 150 minutes (15 times longer).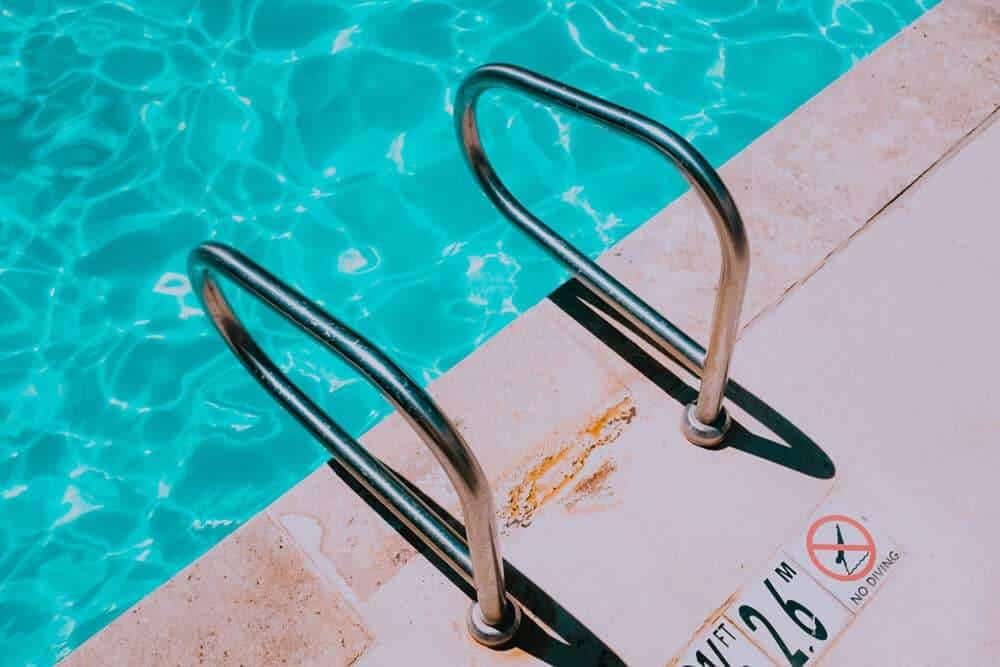 Chemical sunscreen: chemical sunscreen 'absorbs' the sun's rays like a sponge, using one its active ingredients (one of the following: oxybenzone, avobenzone, octinoxate, homosalate, octisalate or octocrylene). There has been a lot of concerns over the damage some chemical sunscreens are causing to the ocean, in particular coral reefs, leading Hawaii and other places to ban it.
Physical (mineral) sunscreen: physical aka mineral sunscreen, on the other hands, uses zinc oxide or titanium dioxide to 'reflect' the sun's rays back, like a mirror. Those with sensitive skin often report physical sunscreen is less likely to cause a skin problem.
Non nano sunscreen: these days, improvements in nanotechnology have allowed sunscreen manufacturers to make physical sunscreen with nanoparticles, which are much smaller and therefore don't leave the 'white cast' of old-school zinc oxide (have you ever seen an old photo of someone with a streak of white on their nose?). Unfortunately, there's concern that these nano particles are potentially damaging to marine life, and some think they may be bad for humans too (although there's no evidence for the latter). The best non nano sunscreen is made with zinc oxide or titanium dioxide and is not harmful to ocean life.
Vegan sun cream: vegan friendly sunscreen is made without animal products, and not tested on animals.
Cruelty free sunscreen: cruelty free sunblock isn't tested on animals, but may contain animal ingredients, so check if it's vegan.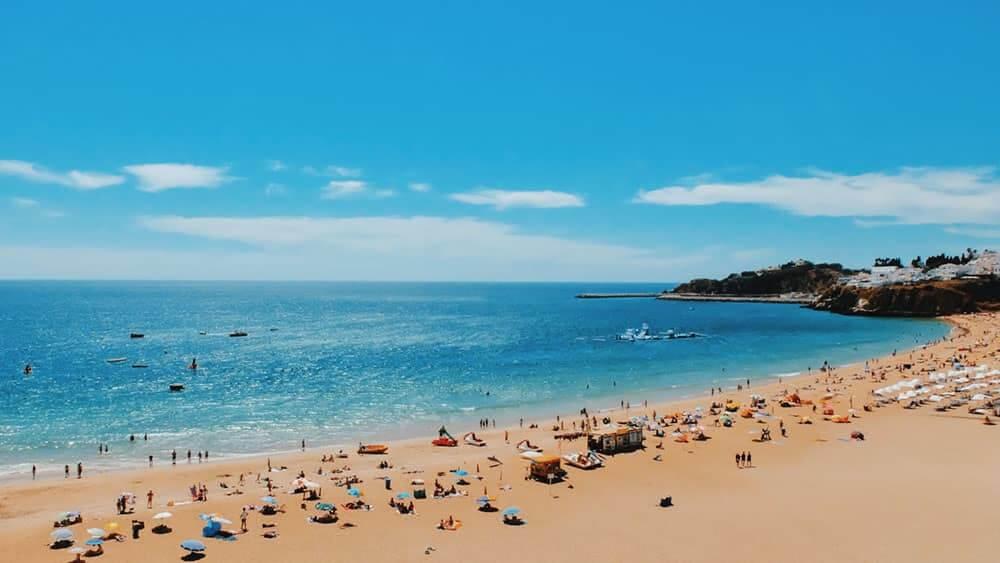 Healthy sunscreen: the term 'healthy' isn't regulated, so it's best to check ingredients and read reviews.
Natural sunscreen: again, the term isn't regulated, so 'natural' sunscreen brands can include whatever ingredients they want. Always check ingredients.
Organic sunscreen: organic is a word that gets thrown around a lot, but I'm not sure what it would mean in terms of sunscreen as I don't think you can have *organic* titanium dioxide. However, the other ingredients in sunscreen could be organically grown, which is better for biodiversity. The best organic sunscreen should still be environmentally friendly in other ways, e.g. ocean safe.
Unscented sunscreen: Some people with sensitive skin find the scents used in most sunscreens cause flare ups. The best unscented sunscreen, therefore, won't cause any breakouts or bumps.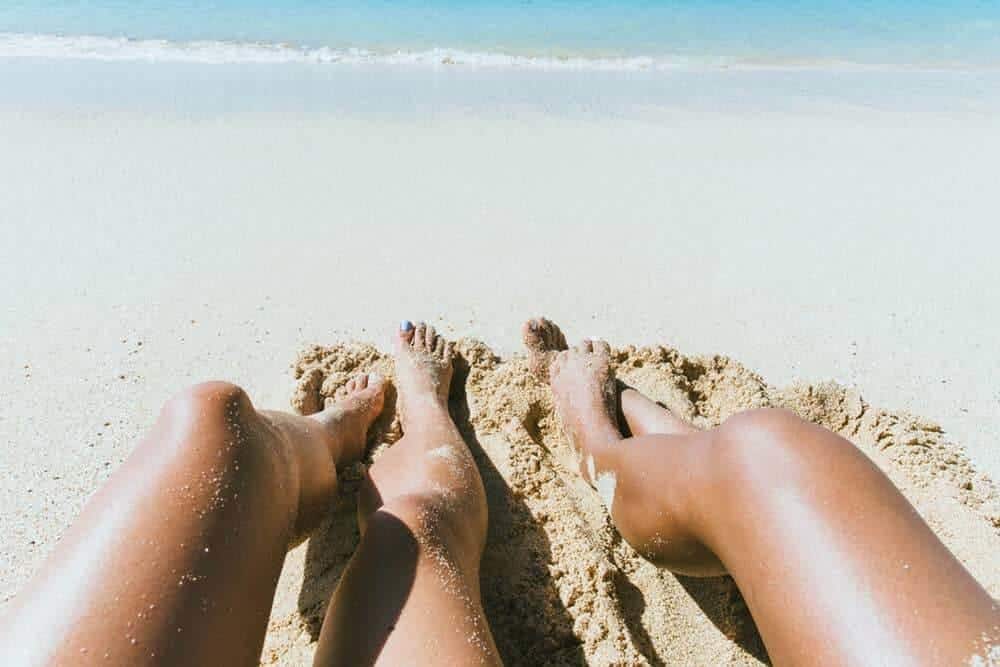 Paraben free sunscreen: parabens cause environmental concern as it's believed they're contributing to damage to coral reefs. Therefore, you should choose one without. The best paraben free sunscreen is also physical and therefore reef safe.
Eco friendly sunblock: Eco friendly sunblock should be ocean and reef safe. Choose a physical sunscreen that's parabens free.
Biodegradable sunscreen: many aquatic nature parks and tours require biodegradable sunscreen, meaning suncreen that breaks down harmlessly in the environment, but it can be hard to determine if this is true. That's why it's important to look at the ingredients in the sunscreen.
Reef safe sunereen: avoid sunscreens containing oxybenzone and octinoxate (which were recently banned in Hawaii and believed to cause coral bleaching), high concentrations of titanium dioxide, and sunscreens containing parabens or petrolatum/mineral oil.
Zero waste sunscreen: finding sunscreen that comes without plastic packaging is even trickier. I haven't found any that are vegan (please email me the link if you know of one!), although the internet is full of recipes to make your own (Google and ye shall find recipes), if you can find zinc oxide in bulk somehow…
Vegan moisturizer with SPF: what about moisturizer? Well, even the best cruelty free moisturiser with SPF doesn't necessarily work as well as sunscreen, depending on how it's applied. Very few people apply moisturiser in the quantity needed to protect skin (although the same can be said of sunscreen–apparently you need more than you think!), and tend not to reapply frequently throughout the day like you should with sunscreen. However, if you do select the best vegan moisturizer with SPF for your needs, you can use it, just be sure you apply plenty and reapply frequently.
Sources: British Association of Dermatologists, American Academy of Dermatology, National Geographic on Nanotechnology, National Geographic on Sunscreens, Sierra Club, Hawaii's Guide to Reef Safe Sunscreens
The Best Vegan Sunscreen
Now that you know all about what to look for in vegan sun protetion, here's how to find the best vegan, cruelty free sunscreen for you. Make sure you're protected with a vegan SPF this summer with these sunscreens, wherever you're looking for vegan sunscreen. Australia, the US and UK residents–clicking on any of the links below will take you to your local Amazon page. Vegan sunscreen Canada seekers, the same applies to you. I've got the best vegan sun protection for every country listed below.
One thing that disappointed me about vegan sunscreen brands in my research is that while most of them avoid the biggest offenders in terms of ingredients that have been shown to damage coral reefs, many of them still contain other ingredients that the Environmental Working Group warns may damage reefs. And many brands that are extremely reef safe and zero waste aren't vegan (often because they've added beeswax). Hopefully, this will change. I later read it's an industry wide problem, with ingredients that are banned in marine reserves being used in over 90% of sunscreens (you'll find a list of such ingredients here). You'll need to decide which is the best cruelty free vegan sunscreen for you and your needs and budget, balancing everything.
In my organic sunscreen reviews below, I've tried to outline the pros and cons of each cruelty free sun cream so you can decide which organic vegan sunscreen is for you. Each has pluses and minuses; unfortunately I didn't find one perfect vegan sunscreen for face or body just yet.
Best for: best vegan sunscreen for face, vegan ssunscreen SPF 50
Purito's Comfy Water sunblock is an unscented, reef-safe vegan sunscreen from Korean skincare brand Purito.
The great thing about this vegan Korean sunscreen is it's SPF 50 and offers broad spectrum protection.
I also find it extremely comfortable, just like the name says. To me, it's the best vegan SPF for face care.
You know that feeling sunscreen sometimes gives where it feels like your skin is trapped under a shield? Or is that just me? This one never makes me feel that. It melts into my skin and then I don't feel it at all.
However, it likely depends on your skin type as I've heard others (those with drier skin) say it didn't work for them.
After two months of using it, I've purchased two more. It's on the pricey side, but so are most face suncreams that are ocean-safe, I've found.
The Comfy Water sunblock (not some of the other sunscreens in the Purito range) is a physical sunscreen, using non-nano titanium dioxide, which is considered reef safe.
They claim that because of the high water content, it's less likely to leave a white cast, or 'ghost face'.
Now, that's not true for everyone. I read some reviews from POC saying it didn't leave a white cast on their skin and this review from Michelle who says it did (scroll down to see photos) although she does say it is the best mineral sunscreen she's tried in terms of minimal white cast.
For a sunscreen that many reviewers say works well on dark skin tones without leaving a white cast, the Dennis Gross Sheer Mineral Sun Spray comes highly recommended (see below).
The Purito Comfy Water sunblock is also a great choice if you're sensitive to fragrance as it's unscented.
Pros: reef safe, unscented
Cons: small size and on the expensive side
Click here for more information.

The Dennis Gross spray was a popular vegan SPF 50 moisturizer, but it was discontinued. This new product comes highly recommended as a good mineral sunscreen for darker skin tones that doesn't leave much of a white cast (check out Mixed Makeup's review here).
It's vegan, reef safe (it uses zinc oxide) and full spectrum. It's also oil-free as well as reef-safe.
Pros: reef safe, some reviewers say it leaves less of a white cast than other physical sunscreens
Cons: expensive
Green People's sunscreen only contains SPF 15, but it's reef safe and they're working with the Marine Conservation Society. It uses nano titanium dioxide, which is basically titanium dioxide shrunk down to smaller particles (so it's less likely to leave a white cast), but some say it's bad for reefs. However, Green People say they've coated their nano particles to make them nonreactive.
Looking for the best vegan face sunscreen? This sunscreen can be used as a cruelty free face sunscreen as well as body sunscreen, and is reportedly good for those with sensitive skin, so might be the best cruelty free face sunscreen if you need one for sensitive skin (although I'd recommend Purito unscented for sensative skin).
Plus, if you're looking for a vegan suntan lotion, rather unusually this sunscreen contains a compound extracted from carob that is supposed to speed up natural tanning. Plus, most of the ingredients are certified organic.
This is the sunscreen I ended up selecting for my trip to the Canary Islands, as I felt it offered the best balance of a reef-friendly, eco-friendly sunscreen with price and since it seemed to be the best vegan sunscreen for the face. I did reapply it very frequently since the sun's rays are so strong in the Canary Islands (I also tried to keep in the shade), and it was annoying having to reapply so frequently.
The main downside is the low SPF (although it does offer protection for both UVA and UVB) and for that reason I kept looking for alternatives which offer a higher SPF and are reef safe, which is how I came across Purito, which I currently use for my face suncream.
Unfortunately, their SPF 30 sunscreen is sadly not vegan, so I was forced to go with SPF 15, and I couldn't find higher SPF reef safe & vegan suncream in the UK at the time. I really hope in the future they'll veganise their SPF 30 range!
If you're looking for a cruelty free sunscreen UK, Green People is a UK company (though you can also order it in the US), and I think it's the best vegan sunscreen UK wide (and US wide).
Pros: reef safe; Green People is working with the Marine Conservation Society
Cons: SPF is only 15
Click here for more information.
Initially, and just from reading online, I believed Stream2Sea sunscreen was the best I've come across in terms of the balance of eco friendliness, price and SPF. With an SPF of 30, it is at the level recommended by many dermatologists (many of whom say 30+). It is also reef safe and vegan.
However, it disappointed me in terms of white cast. It left a really strong white cast on my skin no matter how much I tried to rub it in.
I'm still listing it here because it's one of the most thoroughly tested sunscreens in terms of reef safety, and maybe the white cast wouldn't bother you. When they say they're reef safe, Stream2Sea really mean it. It's one of the few sunscreen companies that have actually tested their sunscreen to make sure it doesn't impact marine life!
This mineral sunscreen is made with non nano titanium dioxide and was scientifically tested to ensure it doesn't impact coral larvae. It's broad spectrum (UVA + UVB protection), made in the US and comes in a sugarcane tube (more eco friendly than standard plastic tubes).
The sunscreen is water resistant up to 80 minutes.
Pros: tested reef safe, biodegradable, SPF 30, broad spectrum
Cons: like all non-nano physical sunscreens, can give you 'ghost face'
Click here for more information.

This Alba Organics sunscreen is biodegradable and reef friendly. It's broad spectrum sunscreen (both UVA and UVB protection) and it's also sweat and water resistant.
Unfortunately, while free of the worst reef offenders, this vegan sunblock does contain octocrylene, which the EWG identifies as an ingredient to avoid because it might be damaging reefs.
Pros: water resistant
Cons: contains octrocrylene, which may damage reefs
Click here for more information.

This Jason sunblock, is SPF 45 meaning it provides strong protection. This broad-spectrum sunblock provides both UVA and UVB protection and is also water-resistant (perfect for that day at the beach) and hypoallergenic. The formula's been made for children's skin, but can be used for the whole family, and is made for sensitive skin.
If you're looking for vegan face SPF, this formula makes a good vegan facial sunscreen since it's for sensitive skin.
The downside is that this Jason natural sunscreen does contain octocrylene, along with zinc oxide. Octocrylene, while not banned by Hawaii and considered by some to be reef safe, is listed by the Environmental Working Group as an ingredient to avoid.
Pros: high SPF (if that's what you need), suitable for the entire family
Cons: contains octrocrylene (may be bad for reefs)
Click here for more information.

Searching for a cruelty free face sunscreen? Avalon Organics sunscreen is more of a vegan face moisturiser with SPF than a sunscreen in its own right, as it only has an SPF of 10. But, if you're looking for a vegan sunscreen at Target, you're in luck as Target stocks Avalon Organic. If you're looking for a sunscreen not tested on animals, all Avalon products are cruelty free and vegan!
Since it does only have SPF 10, it's not suitable for a long, hot day at the beach, but would work for days where you're likely to have less exposure or incidental exposure.
It uses zinc oxide and titanium dioxide (a physical sunscreen), so it's reef-friendly and eco friendly!
Pros: 100% vegan company, easy to find, reef and eco friendly
Cons: Only has SPF 10
Click here for more information.

Kiss My Face vegan sunscreen is a broad spectrum suncreen that's water resistant. It's also paraben free and oxybenzone free. Unfortunately, it does contain octinoxate, which the EWG warns may damage reefs.
Pros: water resistant, paraben free
Cons: contains octinoxate, which might damage reefs
Click here for more information.

If I could find somewhere this was in stock, I'd definitely be buying this organic vegan sunscreen. As far as cruelty free sunscreens go, this is as close to perfect I found in a sunscreen. Cruelty free and completely ocean safe, this is the ONLY vegan sunscreen I could find that doesn't seem to have anything that could cause problems to the reef. The active ingredient in this vegan reef safe sunscreen is non nano zinc oxide, and that's it! This broad spectrum reef safe vegan sunscreen is organic, fair trade, free from parabens, fragrances, silicones and all the potentially dangerous ingredients. The packaging is plastic made in Europe and is recyclable! Unfortunately it seems to be available only in the UK (sorry, US folks) and is currently out of stock. Hopefully it'll be back in stock soon…
Best of: vegan sun cream UK
Pros: reef safe vegan natural sunscreen, fair trade, organic, parabens free, non nano zinc oxide (completely reef safe mineral sunscreen), recyclable packaging
Cons: only available in the UK, packaged in plastic (but it is made in Europe and recyclable)
Click here for more information.
The Bare Republic mineral lotion SPF 30 is a good sunscreen for your face. Cruelty free and vegan, it's also reef safe and compliant with the Hawaii Reef Act 104.
If you've been looking for cruelty free moisturizer with SPF that's also fragrance free and therefore suitable for more sensitive skin, this natural vegan sunscreen is a good option.
However, many reviewers noted a white cast.
Pros: reef safe, parabens free, fragrance free, mineral oil free
Cons: leaves white cast
Click here for more information.

The Josie Maran Argan Daily Moisturizer is a physical vegan sunscreen with a tint that they say is flattering for all skin tones. However, reviewers disagree and one review on Sephora stated for black people with yellow or red undertones, it leaves a purple-pink cast. Some reviewers also stated it doesn't work on very fair skin tones, and leaves an orange-yellow tint. While some marvelled at how it didn't leave a white cast, others said it did.
One benefit to this sunscreen is that it contains argan oil, which is reputedly excellent for your skin. It's also reef-safe.
Pros: parabens free, phthalate free, sulfate free
Cons: tinted shade doesn't suit all skin tones
Click here for more information.
Pin this for later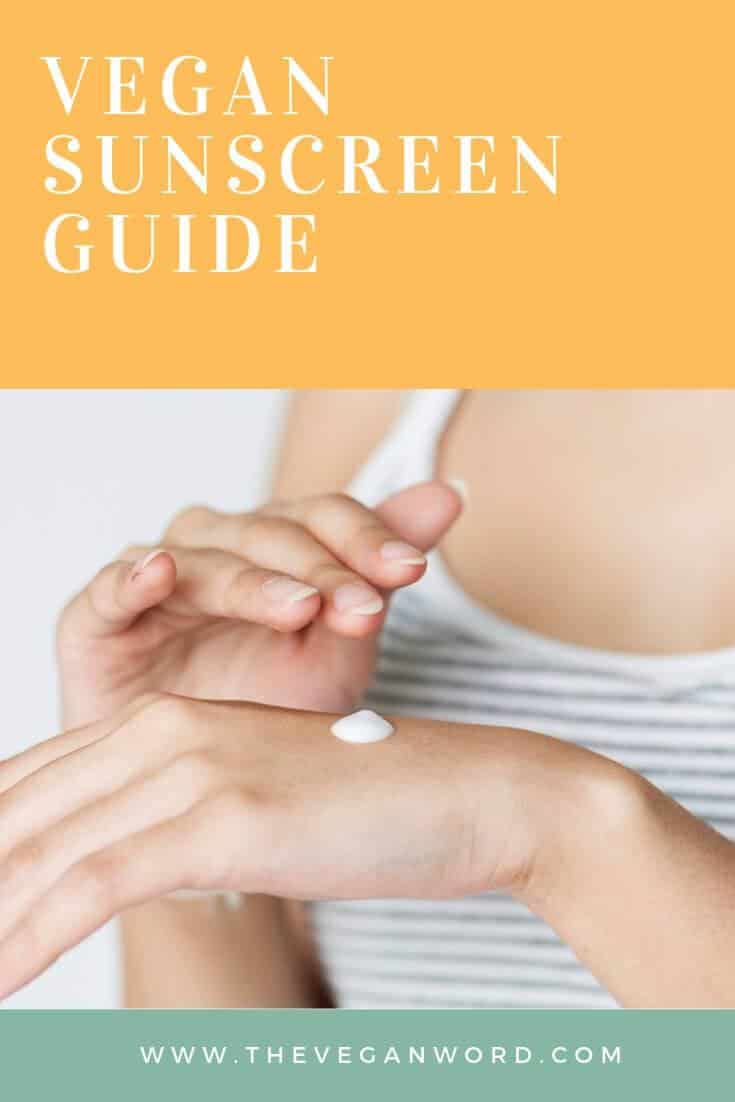 Now you know where to get cruelty-free sunscreen, pack it along with the rest of your stuff in a vegan suitcase! Click here to read my guide to the best vegan suitcases, duffel bags and backpacks for travel.
Don't forget to pack your vegan sneakers for walking and your vegan deodorant too! Find my vegan deodorant buying guide here.
Find more vegan travel product buying guides and tips here, and learn all about vegan travel here.