Vegan clothing can be a fraught subject when you first go vegan; after eliminating meat from the plate, how does one go about getting leather and wool out of their closet? Vegan clothing brands thankfully make this much easier!
While I definitely would advise against throwing out any non-vegan clothing items (either use them until they need to be replaced and replace them with a vegan alternative, or give them away), vegan clothes brands make it easy to know any new clothes you buy are vegan.
I'm a big fan of buying secondhand to be more eco-friendly, but when I buy a new item I like to support ethical and vegan-friendly businesses like these brands.
Here are some of the best vegan clothing brands I'll be covering:
Plus, some sustainable brands with lots of vegan options:
Find more vegan fashion articles from me here:
Vegan online marketplaces
Online vegan marketplaces sell the best ethical clothing brands all in one place.
They're a one-stop-shop (similar to a bricks-and-mortar department store) allowing you to find cruelty free clothing brands, vegan bag brands, vegan shoe brands and accessories all in one place.
Here are the best ones.
Petit Vour started out as a vegan makeup & beauty subscription box but is now home to a top vegan clothing online shop selling vegan fashion brands and shoes, as well as vegan makeup brands.
They have bags, shoes, dresses, tops and jeans, plus jackets and bras. Naturally, they also sell beauty products, all of which are free from SLS, toluene and parabens, as well as being vegan and cruelty-free.
Alltruest is a vegan marketplace offering free shipping on US & Canada orders over $100 and EU orders over €300.
They sell just about everything you could ever need - from womens and mens vegan clothing to belts, wallets, watches, shoes, perfumes and handbags. And it's all vegan!
Alltrueist is committed to ethical and sustainable practices and require all brands to provide fair wages to their artisans and teams, to use eco-friendly materials, to make durable goods and of course for all products to be 100% cruelty-free and contain no animal byproducts.
Brands include Solios solar powered watches, Luxtra bags and wallets (which are made with innovative eco materials like vegan mango leather) and Ecoalf, who make shoes, yoga leggings, shorts and more.

Immaculate Vegan is a UK-based vegan marketplace that sells everything you could ever need under one (virtual) roof.
They have women's vegan clothing, from tops, blouses, jeans, trousers, dresses and jumpsuits to swimwear, vegan workout clothes and nightwear.
They also have a men's clothing section with jackets, tops and nightwear. They also sell shoes, bags, belts, wallets, hats, scarves, watchets and jewellery from casual vegan brands and vegan luxury brands.
They have a beauty section and they even sell homewares like throws and candles!
Brands include Alkeme Atelier, Culthread, Gunas New York, Noah Italian Vegan Shoes and Votch watches, amongst many others.
Immaculate Vegan carefully vet all brands to ensure they are taking active steps to become as sustainable as possible and to treat workers fairly.
You can read more on Good on You (which also has a great directory of various brands rated by animal ethics, sustainability and treatment of workers).
Best vegan clothing brands - 100% vegan clothing brands
These are entirely vegan companies that sell clothes, shoes, bags and accessories.

If you're looking for vegan handbag brands, Alkeme Atelier makes vegan designer bags. Their eye-catching designs stand out, and they aim to be as sustainable as possible as well as crafting beautiful bags.
The vegan leather they use is exclusive to their brand, and made out of 70% recycled materials, like discarded clothes, coated with a high-grade oil. It is engineered to outperform animal-based leather; it's cleanable, longer-lasting, lighter weight, scratch-resistant and water-repellent.
The linings of their bags are made with recycled plastic bottles.
Alkeme Atelier is PETA-certified vegan and won best brand award at Mipel international leather and accessories event in Milan in September 2019.

Vegan shoe and vegan boot brands like Allkind have been redefining the footwear market with sustainable and cruelty-free luxury.
Allkind shoes are completely free of animal products and produced in a sweat-shop free and fair trade environment in the EU - they're made in Elda, a traditional shoe-making town in Spain.
They also aim to use sustainable materials as much as possible, such as bio-oils from non-GMO crops, recycled rubber and organic cotton. Their materials are also solvent-free.
They have a wide range of shoes, from loafers and boots to heels and trainers and even vegan slippers.
Bhumi sells 100% organic cotton bedding, bath towels, robes and sleepwear. They use fair trade and GOTS certified organic cotton. They also use low-impact and chrome- and formaldehyde-free dyes.

Brave Gentleman specialises in cruelty free clothing for men. Their ethical vegan clothing line includes made-to-order suits, plus coats, shoes, ties and belts.
Noticing a gap in the market in vegan menswear, Joshua Katcher launched Brave Gentleman in 2010 as the first vegan menswear brand in the world.
Brave Gentleman promotes a slow fashion approach, doing away with seasons and instead opting to create high-quality, sustainable innovation.

Corkor makes vegan bags, wallets, belts and accessories with a difference: they're all made out of cork. As vegan leather brands go, it's one of the most sustainable, because cork is a naturally sustainable resource.
As well as being vegan, cork is one of the most sustainable materials around because cork trees don't require much water or fertiliser, and they don't need to be cut down to be harvested.
Cork is also naturally lightweight, durable and water-resistant, making it an excellent leather alternative - not to mention Corkor makes beautiful vegan bags and accessories with it.

As well as selling ethical vegan trainers, Etiko sells sustainable vegan clothing too! Their vegan wear includes t-shirts, hoodies and organic, fair trade cotton underwear.
I love their ethical alternatives to Converse and they have slip-on sneakers too. They use organic cotton and they pay a living wage, plus most of their products are fair trade too.

GUNAS is one of the most well known vegan leather bag brands, as well as one of the oldest. Founded in 2009, GUNAS has won several awards, including Best Green Handbag Designer by Instyle in 2018.
They have tote bags, clutches, wallets, crossbody bags and backpacks, amongst other style, all vegan of course.

Hurtig Lane is an award winning, PETA approved vegan watch brand. They have 8 ranges of women's watches and 5 ranges of men watches.
All staff are paid a fair wage with fair working hours, and they use some recycled materials too.

Labante is a vegan, sustainable and sweatshop free bag brand.
The use recycled plastic bottles for the linings and a water-based polyurethane vegan leather. They also use a circular model to reduce waste and be as sustainable as possible.

Use "THEVEGANWORD" for 10% off!
One of the most eco friendly vegan wallet brands is Leafii, which makes vegan wallets out of leaves, using a traditional Thai process.
Teak leaves are picked off the ground, or a few leaves are harvested (but trees are never cut), and then coated in a non-toxic and biodegradable polymer BOPP film.
As well as wallets, Leafii make shoulder bags and belt bags.

Linenfox makes vegan sustainable clothing out of - you guessed it - linen. They are a make-to-order business in order to reduce waste through unnecessary clothing production.
Linen is an eco-friendly fabric, as the plant it comes from, flax requires little water or pesticides. It's also durable and long-lasting and gets better and softer with wear. It's breathable and naturally cooling - perfect for summer.

Matt & Nat is probably the most famous of vegan leather handbag brands.
Founded in Montreal in 1995, it's one of the oldest, too.
They sell a big array of vegan brands, wallets and accessories and have also branched out into shoes and now you can even get a Matt and Nat jacket! They have puffer jackets trench coats and even vegan leather jackets.
The Vaughn Matt and Nat vegan leather jacket is made with polyurethane leather and a 100% recycled polyester lining.

Use code "CAITLIN" for 10% off
This nightwear and loungewear company uses an innovative vegan silk (yes, you read that right - I also did a double take).
It's a fabric blend made out of plant fibres, and don't worry, completely free from animal products. It was created with skin sensitivities in mind and is breathable and helps reduce sweating at night.
If you've been dreaming of luxurious loungewear and nightwear to wrap yourself up in but couldn't find a silk-free version, this is perfect for you.
Mila.Vert is a sustainable fashion brand and you can find their sustainable & ethical vegan collection here (they helpfully created a section for it).
They sell lots of knitwear (knitted dresses, tops, cardigans and pullovers), plus coats, skirts, scarves and trousers.
Their clothes are PETA approved vegan and they use organic cotton. All are produced in Slovenia, where the brand originates, to ensure fair wages and traceability/transparency.

Did you know those little labels on the back of a pair of jeans, on the outside and next to the belt loops is usually made of leather? With vegan jeans brands like Mud Jeans, you can be sure it never is.
This jeans company is sustainable -- promoting a circular economy and reusing jeans materials -- and they're PETA certified vegan.
They also run a unique 'lease a jeans' programme, which allows you to rent jeans for a year and swap them for a different model or keep them at the end of the 12 months.

Noize is a vegan sustainable clothing line. A lot of vegan clothing companies only sell t-shirts or activewear but Noize sells all kinds of vegan apparel for both men and women.
Noize has swimwear, tops, shorts, hoodies, dresses and skirts, bags, boots, slippers, scarves and more.
They also have a range of coats including puffers, raincoats, vegan leather jackets, vegan fur jackets, parkas and vegan wool coats. They even sell vegan candles! It's a one-stop shop for all your vegan lifestyle needs.
Plant Faced Clothing is, as you may have guessed a plant based clothing brand. They make sweatshop free vegan streetwear.
Their vegan message clothing is a way of getting the vegan word across, without saying a word. They sell unisex vegan tshirts and hoodies.
Want an extra warm jacket that doesn't come at the cost of geese? That's where vegan coat brands like Save The Ducks comes in. This cruelty free vegan outerwear brand makes warm and completely vegan, down-free coats! They also sell raincoats, athleisure wear and faux fur jackets. A friend owns one of their coats and says it really is very warm.

Perhaps one of the most eco friendly vegan watch brands, Solios watches are powered by the sun. How cool is that?!
Unlike most watches, which run on batteries and create a lot of waste, Solios watches are solar-powered.
But don't worry if you live somewhere that's often overcast - they recharge in under 2 hours, and will even recharge under office lights, and the charge lasts 6 months.
All their watches are vegan and use vegan leather or metal straps.

Unreal Fur is a PETA certified vegan company that makes vegan fur coats, leather coats and other outerwear.
They kindly sent me their Seashell jacket and it is the softest coat I've ever owned (I can't stop stroking it when I wear it!).
Their coats are made to last, and they also plant a tree for each coat purchased. Their latest collection includes recycled materials as well! They've used recycled plastic bottles to create the linings for some of the coats.
This vegan clothing line sells vegan tshirts, tank tops and hoodies with vegan messages, as well as vegan jogging bottoms.
All their clothes are made ethically in a WRAP certified facility (WRAP aims to reduce waste and promote a circular model), are printed with eco-friendly ink and shipped without plastic.
Wills are a vegan shoe brand based out of the UK and were some of the first to make vegan dress shoes for men!
They've since expanded to a whole range of men's, women's and children's shoes, along with jackets, cardigans and accessories.
Vegan-Friendly/Brands with Vegan Options
These are sustainable brands that have vegan options. Since these brands are not entirely vegan, be sure to check the fabric composition and avoid leather, wool, fur, silk, down and other animal products that aren't vegan. Some brands have a vegan section in their online shop, which I've linked to where possible for ease.

Special discount code: "CAITOB" for 10% off worldwide!
Organic Basics very kindly sent me an organic cotton underwear set for review. They make carbon neutral and eco-friendly basics.
They use sustainable materials like organic cotton, Tencel Lyocell and recycled nylon. (They also use wool, so be sure to select one of the vegan options.) More importantly, they prioritise quality design and craftsmanship so items last longer.
The underwear definitely looks and feels well made, and the organic cotton is really soft to the touch. I always buy all-cotton underwear, but this feels even softer than most.
One thing I love about the bra is that as well as being incredibly comfortable (no underwire on this one!), and really soft on the skin, the cups are seam-free, making it look good under all sorts of tops.
The last sustainable bra I bought (from a different brand I found on Etsy) was beautiful but had seams from the centre of the cup to the sides, which were visible under certain tops and looked pretty weird! The Organic Basics bra is much better for that, and can be worn under a wider range of clothing.
I've only recently received this set, so I can't say how long it lasts but it certainly looks made to last and I expect it to last a long time.
As well as underwear and bras, Organic Basics have leggings, socks, activewear and tees.
See the full range here.
Use my special discount code "CAITOB" for 10% off worldwide!
Let's face it, if you're looking for sustainable and affordable vegan clothing, it can be tricky. A lot of sustainable brands are at least a little bit pricier, which is why I recommend shopping secondhand (see more below).
Or, shop the sales. Ararose has an outlet, which I like - I have bought from it before and in my experience the clothes were excellent quality.
Ararose produces their clothes in WRAP certified facilities (WRAP sets guidelines on ethical workplace practices, as well as sustainability) and uses sustainable fabrics like linen and organic cotton.

Armed Angels is a well-known sustainable fashion brand. They use wool in some products so be sure to look out for that and avoid.
There's lots of vegan choices and they use sustainable fabrics like organic cotton, organic linen, recycled cotton and Tencel Lyocell. They're GOTS certified too.
They work with Fairtrade and the Fair Wear Foundation to ensure working standards are fair.
They make men's and women's clothing including denim, tops, knitwear, dresses, sweats, trousers and shorts, blouses, underwear, leggings, jackets and coats and accessories.
Ecoalf is an eco-friendly fashion brand from Spain. They use recycled materials like recycled polyester, recycled nylon, recycled cotton and recycled tyres, amongst others. (They also use wool so be on the lookout for it.)
They aim to never over-produce, even if it means fewer sales, and to bring fashion back in line with the seasons (selling summer clothes in summer and winter clothes in winter), and not creating endless new collections. Instead, their aim is to produce timeless designs that will last a long time in your closet.

Knickey makes organic cotton underwear and bralettes.
They are GOTS and Fair Trade certified and aim to be as sustainable and transparent (about their whole supply chain) as possible.

Nanushka is a fashion brand that uses vegan leather for a number of their items, including their bags as well as clothes.
Nanushka vegan leather pants collection, for example, is perfect if you're looking for vegan leather bottoms.
They also have vegan leather jackets.
Pact makes clothes, bath towels, and bedding that are eco-friendly. They use fair trade and organic cotton.
They also aim to use minimal packaging and use a carbon offset shipping.

People Tree is a well-known British ethical and sustainable clothing brand. I've been buying their clothes for years (often I've even found them secondhand on eBay), and they're really well-made.
They do use wool, so watch out for that, but helpfully they have created a vegan collection section on their site here, making life easier.
People Tree was a pioneer in fair trade and sustainable fashion, starting in 1991. They use sustainable materials like organic cotton and Tencel Lyocell.
They also aim to use traditional artisan skills like hand weaving, hand knitting, hand block printing and hand embroidery. They were the first fashion line to receive the World Fair Trade Organisation label and they ensure fair wages and good working conditions.
I have also been able to snag some bargains in their excellent sales so watch for those if you've budget in mind (they do sell out of sizes a lot of the time, to warn you if there's a particular piece you've fallen in love with).
As a lifelong vegetarian, designer Stella McCartney's entire collection is free from fur and leather. She does occasionally use wool and silk in some pieces, so watch out for those, but you can be assured all her bags and shoes are vegan, as are most of her clothing designs.
If you're looking for vegan-friendly luxury, look no further.

Thought is a well-known sustainable clothing label.
They use sustainable materials like GOTS certified organic and fair trade cotton, zero plastic packaging, vegan glues and biodegradable garment bags. They also use wool, so watch out for that.
They have helpfully created a vegan collection section on their site here.
They have men's and women's wear including denim, dresses, jackets, loungewear, socks, leggings and much more.

How to buy secondhand vegan clothes
I've been buying secondhand clothes for years, first in charity shops around London and more recently on secondhand apps and eBay. It's easy to spot a vegan jumper (scan the label for non-vegan fabric materials such as wool or mohair). But what about bags?
It wasn't until last summer that I realised you could buy 'harder to find' vegan items secondhand thanks to the magic of secondhand apps!
If you've ever tried to trawl through a charity shop for a pair of vegan shoes or a vegan handbag, you know that often it's not clear what materials it's made out of. And while some vegans buy secondhand leather, I personally don't.
Then last year I started experimenting with the slew of secondhand clothing apps that are around, along with an old favourite, eBay.
In the process I discovered that lots of people now are labelling their secondhand bags and shoes vegan! In fact, I even found vegan brands on there secondhand, and bought a secondhand bag from a vegan brand. In terms of clothes, many share the material clothes are made out of, or you can always send them a message and ask.
Here are a few of my favourite ways to shop secondhand and vegan:
Clothing Swaps
If you want to get new clothes without spending any money while at the same time clearing out your closet, then a clothing swap is for you!
The basic principle of a clothing swap is simple -- you bring some clothes you want to give away, exchange them for other clothes.
They can be as simple as a night arranged with some friends, where you all bring some clothes and a bottle of wine, or they can be a big event in your city, with a hundred people and lots of selection (though you may need to pay a small fee to the organiser to cover rental of the event space).
Organise your own with some friends or search online for one in your city.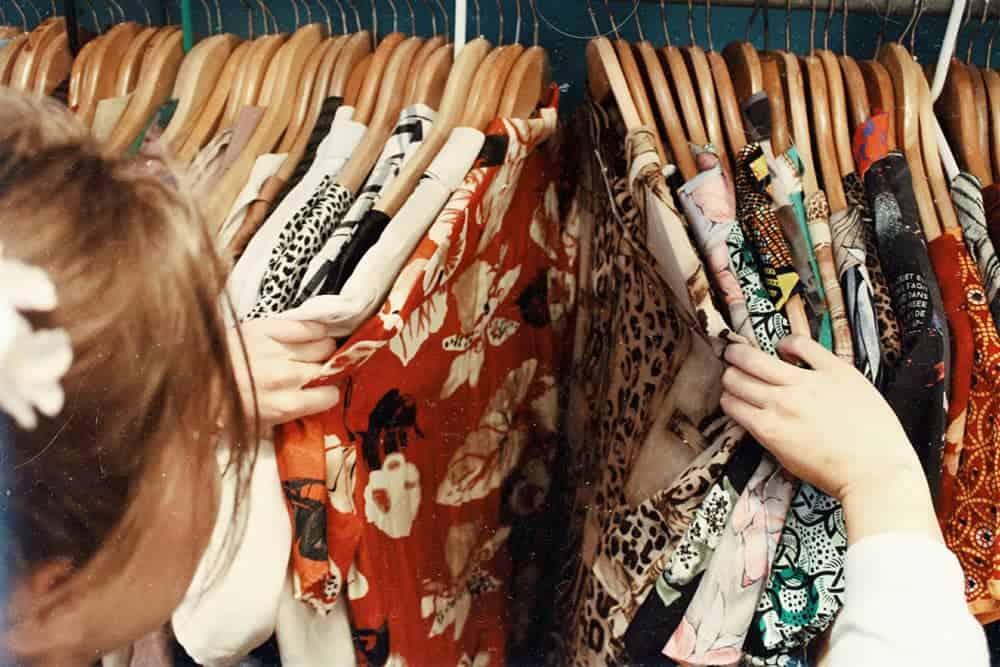 eBay has been around for a long time, in internet terms (it was founded in 1995) and it's still a great place to find secondhand clothes, including vegan bags, vegan leather jackets and more.
Be sure to tick the box for used items to only see secondhand clothes, and be specific in your search terms, e.g. 'vegan leather jacket' or 'faux leather jacket'.
Secondhand Apps: Poshmark, Vestiare, Vinted, Depop
Secondhand apps are another great way to find vegan clothing and accessories online. I got a secondhand vegan bag through Vinted last year!
Some of the most popular secondhand apps are Poshmark, Vestiare (mostly designer clothes, e.g. Stella McCartney), Vinted and Depop.
Check them out and search by vegan brand name if you have a specific brand you want to find!

Why vegan clothing?
Vegan clothing: beyond ensuring what we put IN our bodies is vegan, what about what we put ON our bodies? Our plates are free from animals; what about our shoes, our jackets and our jeans?
When I first went vegan, my primary concern was how to get more vegan cake into my life. I had been pretty convinced i could never go vegan because I loved cheese and cake too much, until I received a copy of Vegan Cupcakes Take Over the World.
But after successfully eliminating animal products from my diet, like many of us, I started to think about the rest of my life. What about my winter coat -- did it contain wool? And that pesky label on the back of my jeans -- was it leather or just paper?
Thankfully, it's easier than ever to be vegan, from food to fashion, and more and more vegan clothing brands are around. There's plenty to consider when purchasing clothes, from their sustainability to worker rights to their vegan materials. So to make your life a little easier I thought I'd introduce you to some vegan (plus ethical and sustainable) brands!
But first of all, why buy vegan?
Why vegan clothes?
While some tout leather as a 'sustainable' alternative, that's far from the truth. How can it be when raising cattle (whether for burgers or boots) is so bad for the planet and tanning leather is so terrible for worker's lungs.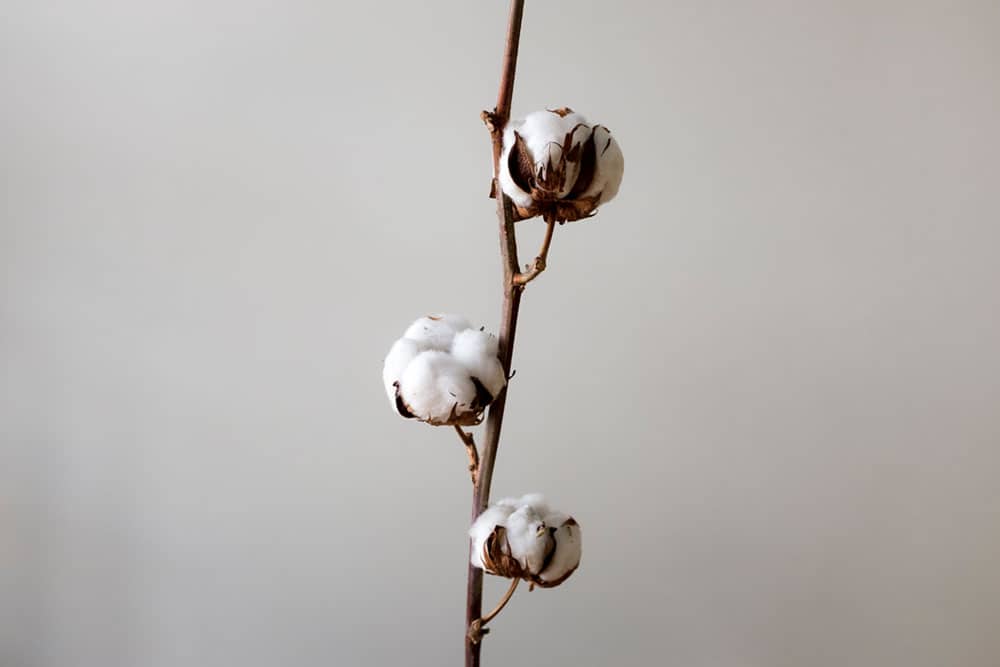 That's not to mention the cruelty inherent in the industry. From fur to wool, the fashion industry exploits animals as well as human workers.
But thankfully, there are alternatives. Vegan clothing, sustainable fabrics and fair trade clothes are all available and much more widespread than a few years ago.
Of course, not all clothes are made equal.
Even in the vegan clothing sector, there are factors to consider, such as:
Certain types of vegan leather like PVC, while perhaps more eco-friendly than animal leather, still aren't very eco-friendly.
However many vegan leathers are extremely eco-friendly! For example, Pinatex (made of pineapple skin) and mushroom leather are both made from waste products.
Other factors to consider when buying: Who made the clothes? Were workers treated fairly?
Thankfully, many of the brands on this list are fair trade and/or have a transparent supply chain and pay workers fair wages.
Pin this for later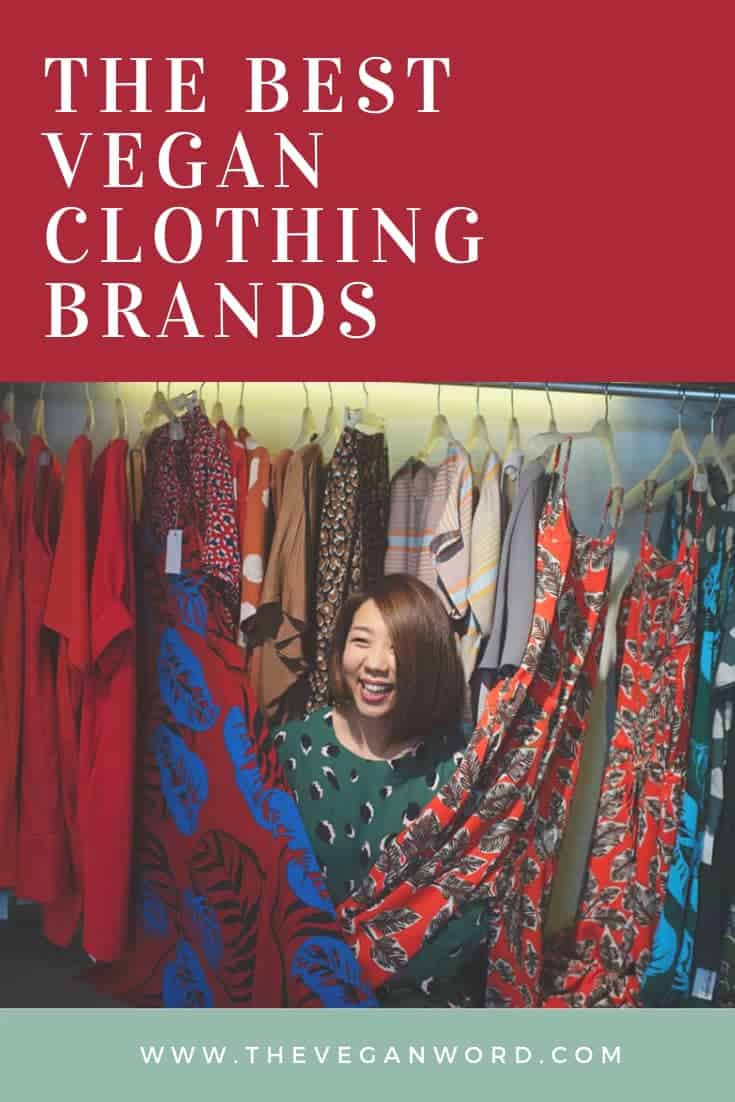 Looking for more vegan fashion? Find my guide to vegan shoes here, vegan handbags here and vegan wallets here.
I also have a guide to vegan coats and jackets here, vegan wool coats here, vegan puffer jackets here and vegan leather jackets here.
See my guide to vegan tshirts here.
Want to veganise the rest of your life outside your closet? Check out my guide to vegan leather sofas here.
Find all my vegan beauty & fashion guides here.