Finding the right vegan leather sofa for your living room can be a tricky task.
Some of the furniture brands with vegan sofas I'll cover include:
For UK/Europe:
If you go in a furniture store near you, it might not be clear which sofa is made of animal leather and which is a faux leather sofa, and employees don't always know which ones are vegan leather sofas.
However, there are plenty of options for a vegan leather couch, and it's easy to find the best vegan leather sofa online!
In this article, I'm covering the top brands for vegan leather furniture, plus vegan and sustainable sofa options.
According to this sofa maker, vegan leather is incredibly durable and resistant to scratches, making an artificial leather sofa a good option for people who have dogs or cats.
Vegan leather has even reached the realms of luxury furniture, with renowned designer Philippe Starck designing a sofa made of vegan apple leather for an Italian furniture showroom (unfortunately, it's no longer available as far as I can tell). However, if you're looking for a designer vegan leather sofa, I recommend this modern sofa from Horchow.
Read on for the best vegan leather couch brands.

Albany Park is a furniture company started by former NFL football player Darryl Sharpton and his wife Jessica. Their aim was to simplify buying a couch by creating just a few options and selling a 'couch-in-a-box' online that would be easy to assemble at home.
They have a few different style options of distressed brown faux leather sofa. If you're looking for a vegan leather sectional sofa, there are two styles: the Park vegan leather sectional couch or the Albany corner vegan sectional sofa. Both come in distressed vegan brown leather and the cushions are a resilient foam wrapped in cruelty free vegan synthetic feathers.
They also have two other (non sectional) options, the Park tan vegan leather sofa and the Albany vegan couch. See all the vegan sofa options here.

If you're looking for a designer vegan sofa, this modern vegan leather sofa fits the bill perfectly.
This stylish sofa has been designed to last through the ages and be passed down from one generation to the next.
Inspired by furniture in boutique hotels and a contemporary and artful approach, this handcrafted sofa is made with an acacia wood frame, brass finish metal edging and a polyurethane faux leather seat.

Major retailer Ashley Furniture has helpful section on their website of faux leather sofas & couches, which you can find here.
From this classic look black faux leather sofa to this vegan leather recliner sofa, there's an Ashley faux leather sofa for any style you're looking for. There's even a vegan leather sleeper sofa.

If you're looking for vegan leather couches on Overstock, they also helpfully have a section dedicated to faux leather sofas here.
Whether you're looking for a vegan leather sectional, futon or a vegan Chesterfield sofa, Overstock has a wide ranges of options.
This Castalia vegan leather Chesterfield sofa captures the classic Chesterfield look in faux leather form. It's also available in a range of shades, from dark brown and cognac brown to black, beige or charcoal.
More options
Looking for a cheap faux leather sofa? It might not stand the test of time, but you can find vegan leather sofas on Amazon here.
IKEA also have some vegan leather sofas here.
Eco friendly vegan couch options
If you're looking for a vegan sofa that will stand the test of time, and aren't set on vegan leather, then there are plenty of vegan sustainable sofa options! These companies use FSC certified wood, recyclable materials for legs, linen or other eco friendly fabrics or are known for their durable, high-quality and long-lasting designs.
While many people choose leather sofas in the hopes of them lasting longer, or being more durable for kid and companion animals, vegan leather sofas do have some disadvantages, namely that they can get hot and sweaty (and gross!) in the summer. So, maybe a fabric sofa will suit you better! You can find very durable fabric sofas that will stand up to kids and pets, and a quality one will last you many years to come.
Plus, you have more options for eco friendly sofas when it comes to fabric sofas (I couldn't find any vegan leather sofa manufacturers who specialise in sustainable sofas). Here are a few.

Sabai makes eco friendly home products and I love The Essential sofa in recycled velvet.
The legs are made of FSC certified wood and the fabrics are made with recycled/upcycled materials. Choose from recycled velvet fabric made with 100% recycled plastic bottles or upcycled polyester, made with 100% olefin, an extremely durable, stain- and scratch-resistant fabric. The fill is certified CERTIPUR high-resiliency vegan foam and the pillows are recycled fiber fill.
They don't use any formaldehydes or toxic flame retardants.
Sabai's aim is to reduce waste and so their sofas are built to last for years, and they also run their Repair Don't Replace program (so you can replace or upgrade parts), which is so cool and in my view is what all furniture companies should be doing! You can also resell your used sofa when you're ready to move on through their Sabai Revive program. You can also shop their secondhand sofas here.
Plus, this sofa is a beauty. Sabai also has a sectional style sofa, loveseat and ottoman.

VivaTerra's story began in California in 2004 out of a vision about providing eco-friendly decor. In 2014, they relocated to the East Coast and encompass design styles from both coasts, staying true to their mission to provide sustainable style.
The Eco Linen Slipcovered sofa is handmade in the US in a classic slipcover style and comes in 10 different colors. The bottom cushion is 80% regenerated fiber fill and a renewable, soy-based core, while the back cushion is made of 100% regenerated fiber fill made out of recycled plastic bottles. The sofa is flame retardant free, and the wood used is responsibly sourced.
VivaTerra has a few other sofa styles available, including a sectional and the contemporary style Studio sofa.

Medley's handcrafted eco sofa range includes sleeper sofas! Be sure to select the Certi-PUR option when choosing your sofa because the other two options aren't vegan ("down around Certi-PUR" isn't vegan as it contains down, while the "organic natural latex" option isn't vegan since it contains wool).

Burrow's modular, buildable couches are unique take. They use upcycled materials for fabrics, giving a low carbon footprint, and they use wood sourced from responsibly managed forests. They're free of formaldehydes and other chemicals or additives. Another unusual feature is the built-in USB charger. They do have leather sofa options, but no vegan leather options, so you'll have to go for fabric.

Vegan leather sofa - UK options + EU options
Wayfair UK has a selection of faux leather sofas, which they've collected together here. Wayfair also has an online shop in Germany, which you can find here (since I don't speak German, I haven't been able to check if they have a vegan sofa section).
This Chesterfield manufacturer will make any of their sofas with vegan leather - you just need to get in touch with them. All info here.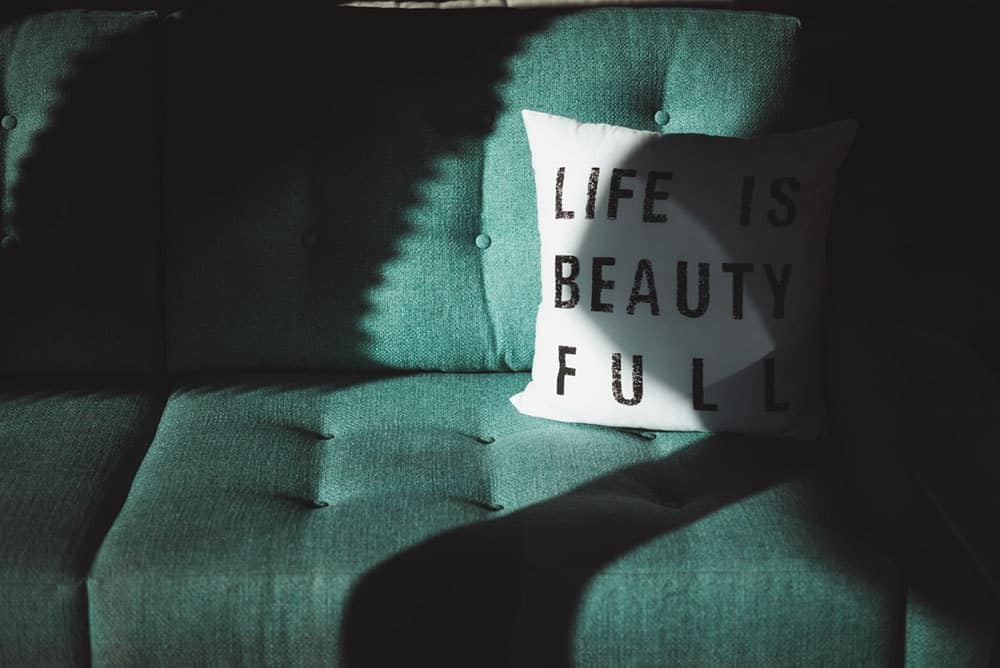 Maisons du Monde is a French furniture manufacturer with locations in France, Spain, Italy, Belgium, Germany, Luxembourg and Switzerland. On their UK site they have vegan suede sofas, vegan Chesterfield sofas here. Check local sites for vegan sofas in other countries (I can confirm the Spanish Maisons du Monde site has faux leather sofas (here)).
Pin this for later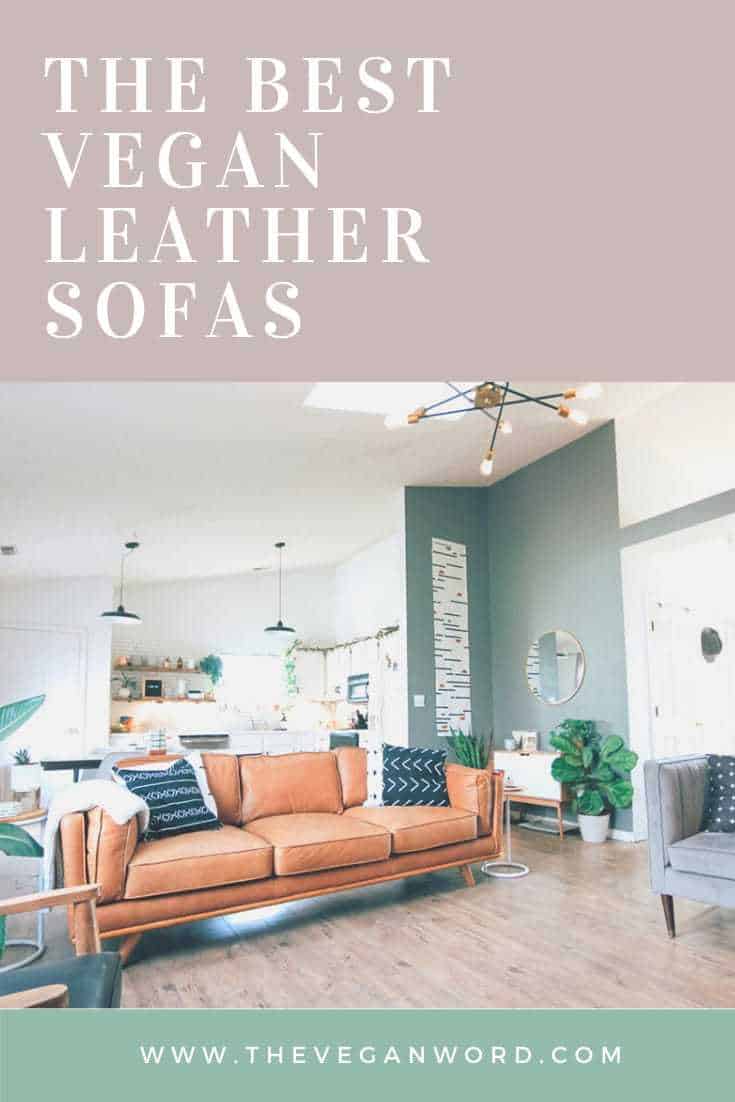 Searching for more vegan furniture? Check out my guide to vegan leather chairs here. Find my guide to vegan mattresses here.
Want to veganise the rest of your house? Start with your closet with my vegan clothing guide here, my vegan handbag guide here and vegan shoe guide here.
See all my vegan lifestyle guides here.