As the vegan movement grows, so has awareness of vegan products beyond food, like vegan furniture and vegan interior design (so much so that a couple of years ago, the Hilton in London unveiled a 100% vegan suite, including pineapple leather furniture, feather-free bedding and vegan complimentary shower products).
If you're furnishing your home and looking for vegan furniture brands, there's never been a better time.
Still, it can be tricky finding vegan furnishings, since many brands don't proclaim their products as vegan, or list all the components in each item. So, here's my pick of some of the best vegan furniture.
Special Deals:
I'll focus on soft furnishings like sofas, armchairs and mattresses.
The trickiest pieces to buy vegan are soft furnishings, as opposed to, say, wooden furniture like dining tables, because down or wool are often hidden inside sofas or mattresses, and covers may be wool or leather.
Other non-vegan materials found in furniture include sheepskin, silk and horsehair.
Of course, non-vegan glue may be used in any item and this is nearly impossible to ascertain, and wood may be polished with beeswax.
Personally, I prefer to buy all of my wooden furniture secondhand; I save money, it's more eco-friendly, tends to be very good quality and I love furniture with a story.
Secondhand, I managed to find original 70s era rattan chairs (€30), an antique carved hardwood and marble table (€50), as well as number of other bargains.
In the course of writing this post, I discovered, 14 years into being vegan, that not all toilet paper is vegan (!), which goes to show that animal products sneak into the strangest places. Just a reminder that the definition of veganism means seeking to exclude animal products as far as practical and possible.
Where you draw the line is down to you, but it's impossible to be 100% vegan (and please don't stop using toilet paper when you're out and about!).
So please take this post only as a starting point to wherever you are on your vegan journey, and don't feel you need to have a big bonfire of all your non-vegan furniture (much better to use it until it needs replacing).
And FYI — after discovering this fact about toilet paper, I haven't changed my toilet paper because I can't tell which brands in Spain are or aren't vegan, and I'm totally fine with that being my line.
Vegan Furniture Brands for the Living Room
The living room is possibly the room that is most difficult to find vegan pieces for. From leather sofas to sheepskin rugs, there are many non-vegan furnishings that make their way to living rooms.
If you're looking for furnish your living room in a vegan way, I'd recommend picking out a vegan sofa and armchairs, then focusing on finding vegan (wool- and feather-free) cushions, plus vegan throws/blankets and rugs (which often contain wool).
Items like bookshelves, coffee tables and side tables are usually made of wood and/or metal and thus easier to find.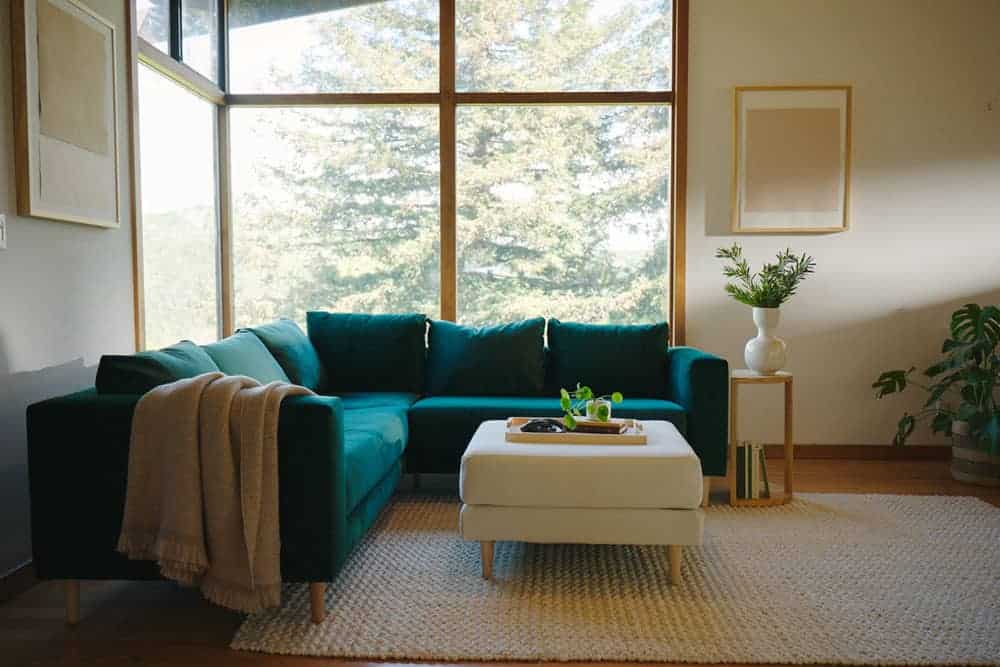 Now shipping to Canada as well as the US!
As far as cruelty free furniture goes, Sabai is one of my favourites for vegan friendly sofas, ottomans and chairs, because they're not only vegan but also sustainable, plus they're practical (stain-resistant and easy to clean).
They have two types of covers for the vegan couches, recycled velvet made from recycled plastic bottles, or upcycled polyester (100% olefin), which is scratch- and stain-resistant.
You can also choose from 3 styles of sofa legs, made with FSC certified wood. They're also free from formaldehydes.
Sabai has a "Repair Don't Replace" program to make it easy to replace any parts (such as covers, seats or legs) that get damaged, so you don't have to purchase an entirely new vegan couch if you have any accidents (such as your puppy chewing on the sofa leg).
At the end of the sofa's life, you can sell it back to Sabai, and you can also purchase a pre-owned cruelty free sofa through the program.
As well as sofas, you can find a matching vegan chair and vegan ottoman.
Recently, Sabai announced they're extending shipping to Canada as well as the US, so this is the brand if you're looking for a sustainable sofa in Canada!
---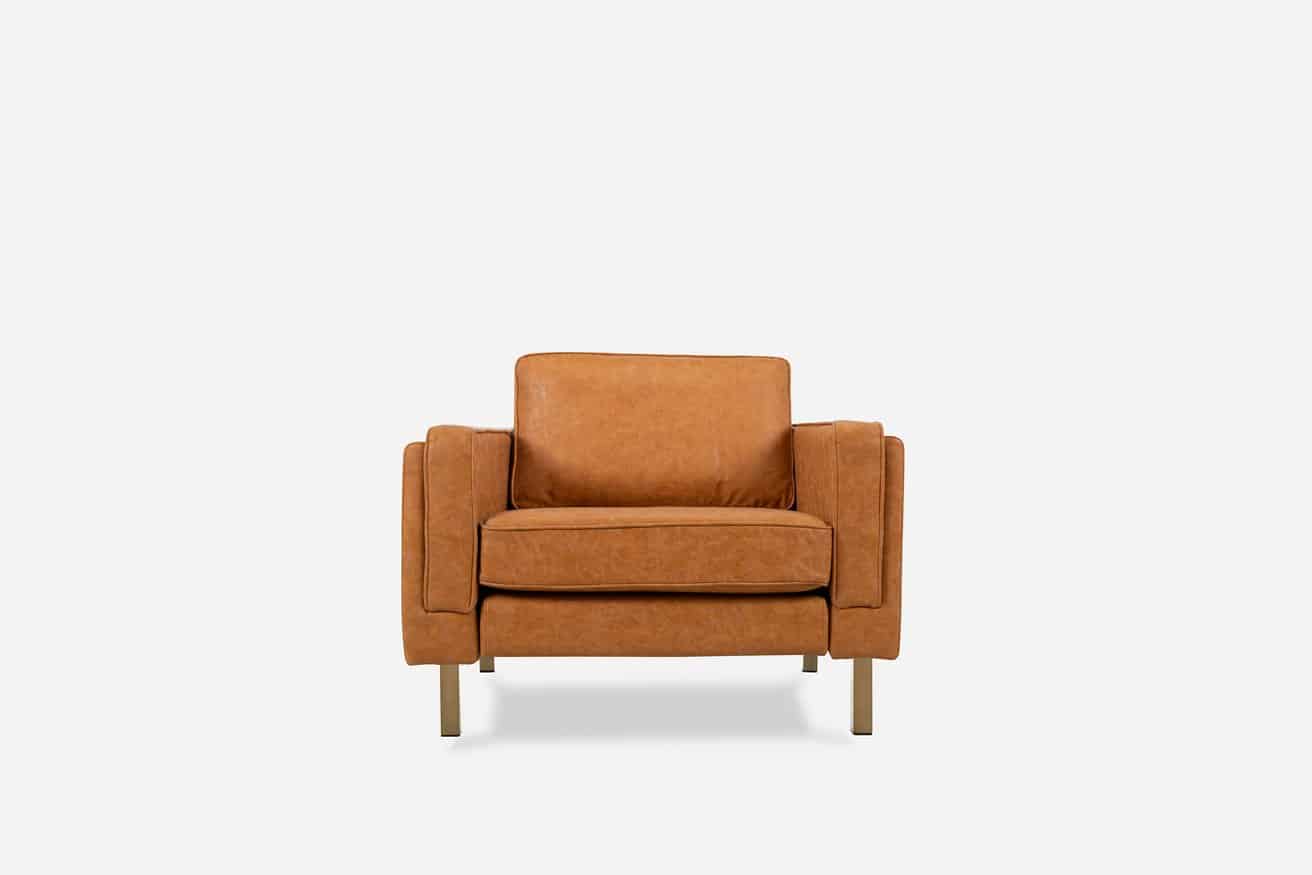 If you're looking for a vegan leather sofa or vegan leather lounge chair, then Albany Park's Albany range is my top pick. (Be careful to only select from the Albany collection, which I've linked to, as the other ranges contain feather cushions!)
The standard Albany sofa is a modern vegan leather sofa in distressed brown vegan leather. There's also a corner sectional sofa in the same distressed brown faux leather.
The vegan friendly couches' cushions are medium-firm, made with mattress-quality memory foam, and come with mesh backing for breathability. You can choose between two different styles of sofa legs.
One of the selling features of Albany Park is that they've designed their vegan leather sofas to come in boxes that are easy to move through tight spaces. Of course, that means you'll have to assemble it yourself and that's the main downside – it can take awhile to put together.
With 4.5/5 stars and over 300 reviews, most customers love their vegan leather couches.
You can also choose a matching vegan armchair or ottoman.
More vegan sofa options
See my full guide to vegan sofas.
Vegan Bedroom Furniture & Accessories
Along with sofas, mattresses are the other furnishing that's long been trickiest to find in vegan form. In fact, apparently you used to need a prescription from a doctor to buy a wool-free mattress!
Thankfully that is no longer the case and plenty of companies are now advertising their vegan mattress ranges.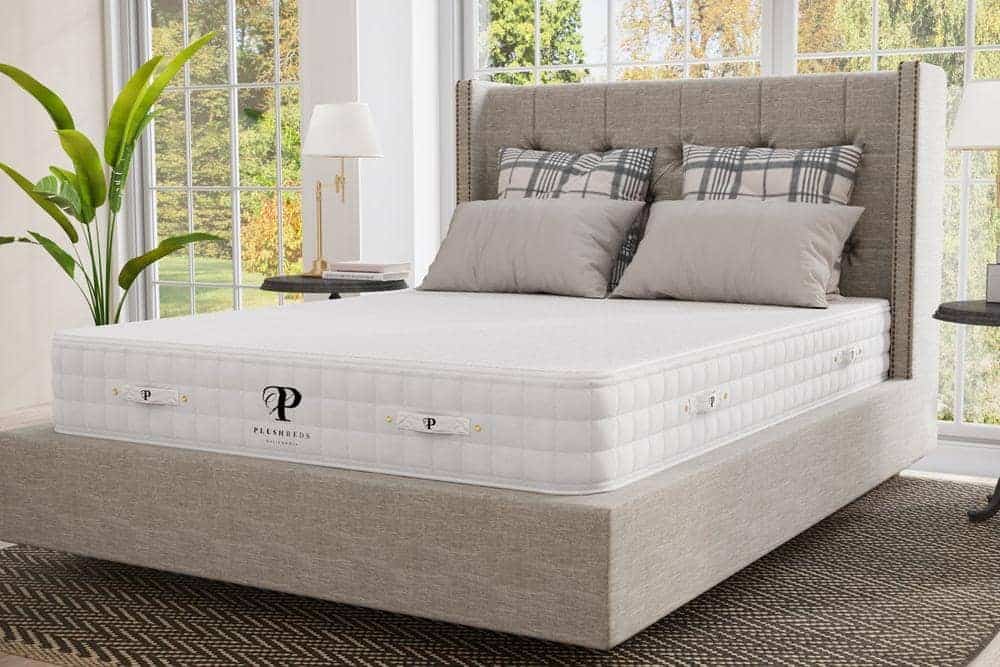 The vegan natural latex mattress from PlushBeds is my top pick of vegan, eco friendly mattress.
It is made of 100% natural GOLS certified organic Talalay latex with a 100% organic cotton cover. It's GreenGuard Gold certified, so it won't emit any harmful chemicals, and it's free of cyanide, mercury, lead, PBDE flame retardants and heavy metals.
Instead, it uses their patented fibreglass-free Eco Fire Barrier, made of plant-based fibers.
Latex is a naturally cool sleeping surface, so it's perfect if you run hot at night.
On the other hand, latex isn't the best at motion isolation, so if you or your partner move a lot at night you might prefer a memory foam mattress instead, like this one.
You can choose between different thicknesses (6″, 8″ or 10″) and medium or medium-firm density, as well as a full range of bed sizes.
They are handcrafted in California and have a 25 year warranty.
With 4.9/5 stars and over 200 reviews, customers love their mattresses.
---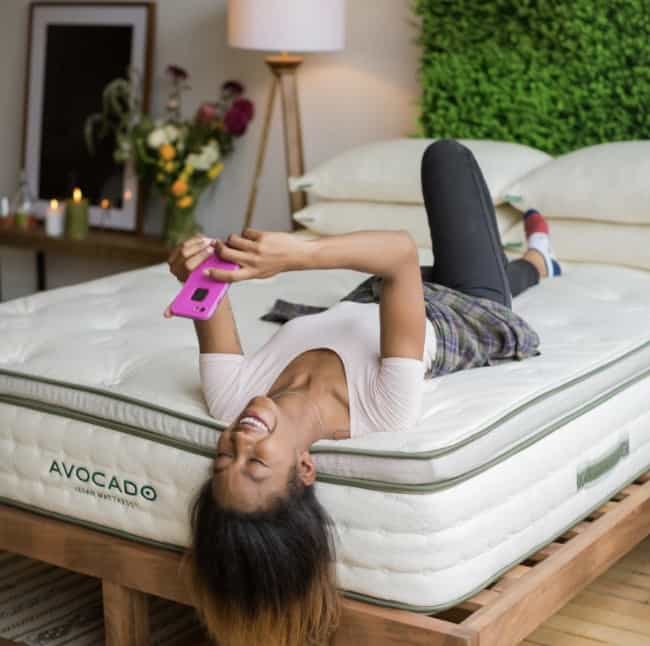 Avocado has one organic vegan mattresses: the hybrid vegan mattress.
The hybrid mattress is medium-firm or medium-gentle.
It's PETA approved vegan and use GOTS certified organic cotton covers, plus GOLS certified organic Dunlop latex.
It's GreenGuard Gold certified, handmade in LA and offer a 25-year warranty.
Choose between the standard mattress, which is best for back and stomach sleepers as it's medium-firm, or add on a gentle-firm pillow-top, ideal for side sleepers.
More vegan mattress options
See my full guide to vegan mattresses.
Vegan bedding
While some duvets and pillows contain down/feathers or wool, and are therefore not vegan, usually it's easy to find alternatives filled with polyester, or my personal favourite, recycled fiber fill. Be sure to read the labels to check what's inside.
Vegan Dining Room Furniture
The dining room is one room where most furniture is vegan, as dining tables and chairs are usually wood.
However, if you want a different decor scheme, these vegan leather dining chairs (which are designer and therefore more expensive) will do the trick: Horchow Interlude faux leather dining chairs.
One thing to note is velvet is not always vegan – traditionally it was made from silk, though given the expense, that's not so common now.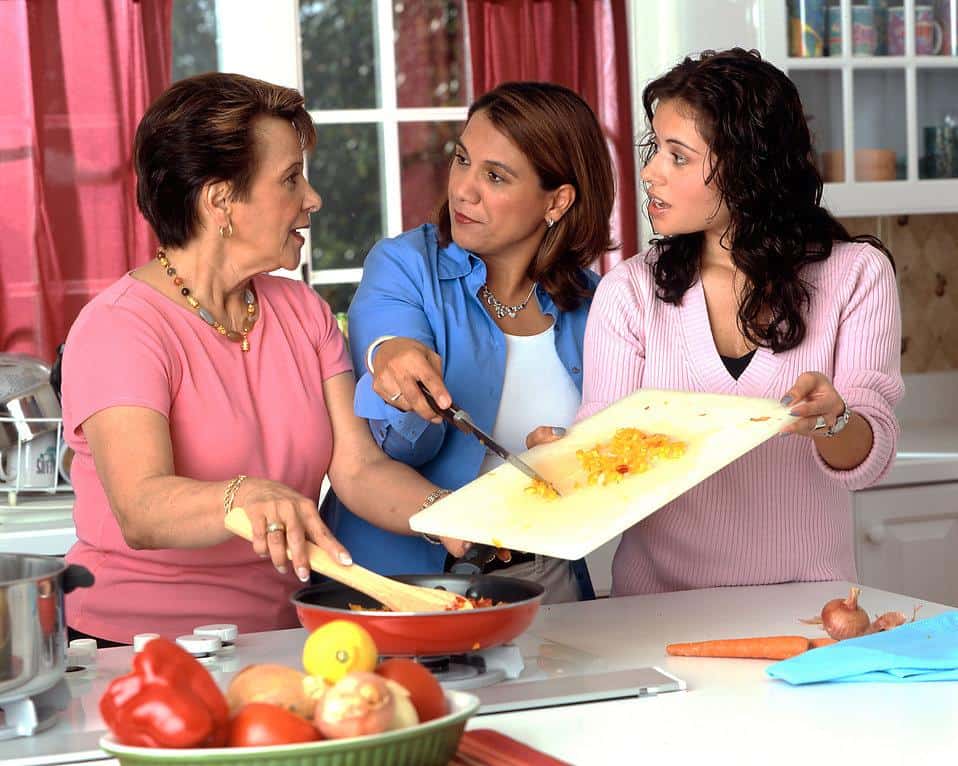 Vegan Kitchen & Bathroom
Usually the non-vegan items in the kitchen and the bathroom are food, toiletries containing animal products or tested on animals and cleaning products, rather than furniture (though strangely and shockingly, in the course of writing this article, I discovered not all toilet paper is vegan, which is something I'd somehow never heard in 14 years of being vegan).
I have a guide to the best equipment for your vegan kitchen here, and if you need help stocking your cupboards with vegan food, find a handy list here.
In terms of toiletries and cleaning products, I like the lists of vegan & cruelty-free companies here.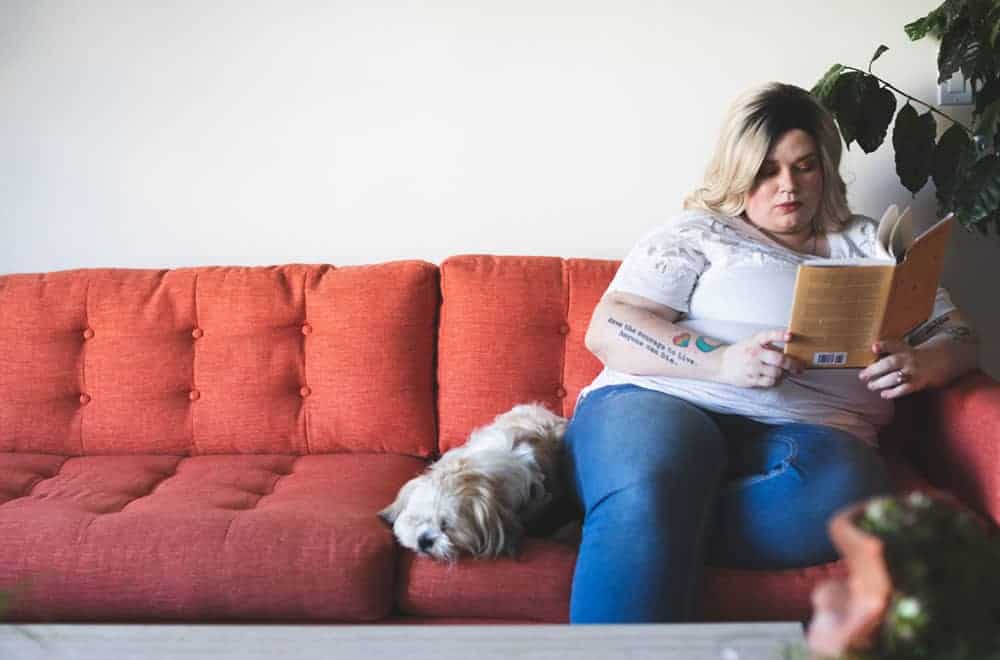 More Vegan Interior Decor
If you're redecorating, or just adding some touches to your decor, here are a few other areas to think about:
Paint: paint may contain milk, beeswax, non-vegan colouring like carmine, or be tested on animals, but some brands like Lakeland are vegan. Here's a list of more brands. By the way, for painting furniture, I love Annie Sloan paints – all of which are vegan & cruelty-free (but the wax contains beeswax so don't get that one and use the lacquer to seal instead) – which don't need a primer.
Flooring: many carpets are made of wool, but there are lots of other flooring options such as reclaimed wood or cork, which is a very eco-friendly material
Area rugs: again, many rugs are made with wool, but you can find other options, like cotton woven rugs or even rugs made of recycled plastic bottles
Candles: rather than beeswax, choose soy wax candles that aren't tested on animals (Etsy is my favourite place to shop candles). Find my guide to vegan candles here.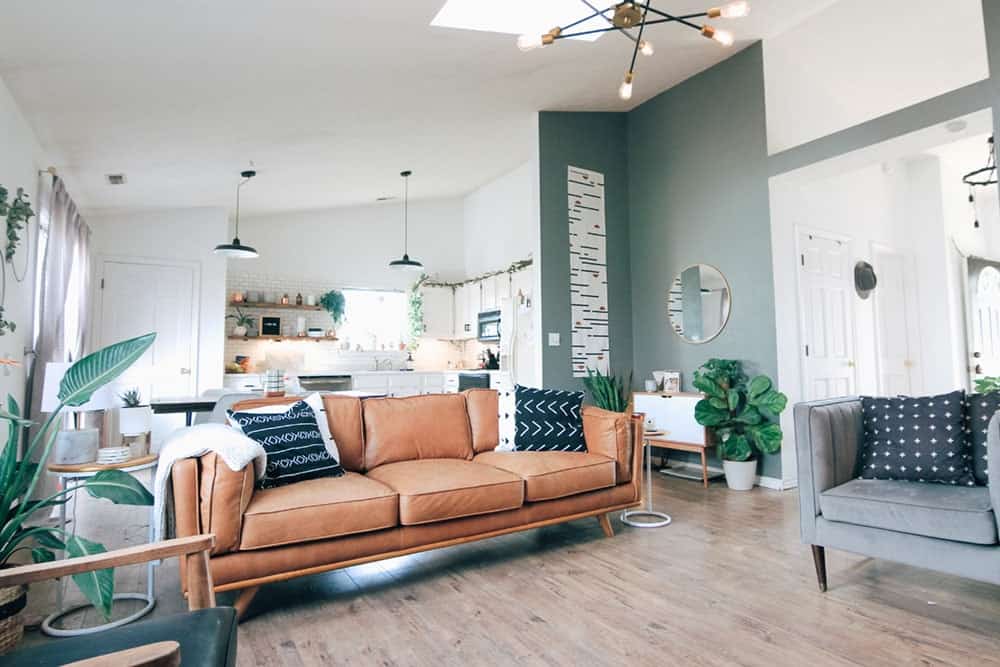 FAQ
Is furniture vegan?
Not all furniture is vegan, as some contains leather, wool, sheepskin, silk, down or even non-vegan glue.
However, there are vegan furniture options, such as this vegan leather sofa and this vegan mattress.
How does vegan leather furniture hold up? Is vegan leather furniture durable?
Vegan leather can be very durable. In fact, this sofa maker recommends vegan leather couches as a durable option for people with pets.
Of course, durability varies with quality, just as it would with, say, vegan leather shoes.
What is vegan furniture?
Vegan furniture is simply furniture made without the use of any animal products, be that wool, leather, down, or other animal-based products.
What is vegan leather furniture?
Vegan leather furniture is made with vegan leather, rather than animal leather.
Vegan leather can be made of a variety of materials such as polyurethane (like this sofa) or even apple leather, made from food industry waste (like this apple leather vegan sofa).
There are lots of other vegan leathers, such as grape leather, cactus leather and pineapple leather, though thus far I haven't seen sofas made of those materials.
Should you get rid of the leather furniture household items that you already had if you're vegan?
That's down to you — many people use their leather items (whether that's shoes or a sofa) until they're no longer usable and then replace them with vegan alternatives.
This is a good option that won't cost you anything and allows you time to research vegan options.
Occasionally, some people find themselves bothered by the presence of non-vegan items in their lives and want to replace them sooner.
If that's your case, be sure you find a new home for those items by selling them or gifting them to someone you know, as that's the best way to prevent someone else from buying a new, leather item and it's eco-friendly.
Is IKEA furniture vegan?
Some of it is (but not all). They generally list components fairly extensively, so be sure to check through the list of materials/components to make sure all fabrics, materials and fillings are vegan and it's free of leather, sheepskin, wool, down, silk, and any other non-vegan materials (check out this handy list of vegan + non vegan materials).
Where to buy vegan furniture?
As far as I'm aware, there isn't a vegan furniture store anywhere just yet, and there aren't any 100% vegan furniture companies.
But, vegan friendly furniture is getting easier to find, which is why I put together this guide.
I love buying secondhand wooden furniture. That's not strictly a vegan thing per se, but it's eco- and budget-friendly so I recommend having a look at antique shops, flea markets and online apps/Facebook marketplace near you.
eBay is always an option, or in the US, Craigstlist. In the UK, I recommend having a look on Gumtree. In Spain, I love the app Wallapop.
Also, check if your city has designated days when people can leave items outside for free. I found my full-length mirror that way, along with a full tea china set, and some paintings I have hanging in my flat.
I've seen people leave furniture outside too, though if it's wood you should check for woodworms and if it's upholstered check for bedbugs before bringing into your home.
Also you should obviously have a look over it and make sure it's not broken as that may be the reason someone got rid of it (though of course, if you do bring it home and discover it's broken, you can simply take it back outside).
Often, "found" furniture only needs a little love like a coat of paint, or changing the decorative handles to the drawers, to make a piece you'll love for years to come.
Pin this for later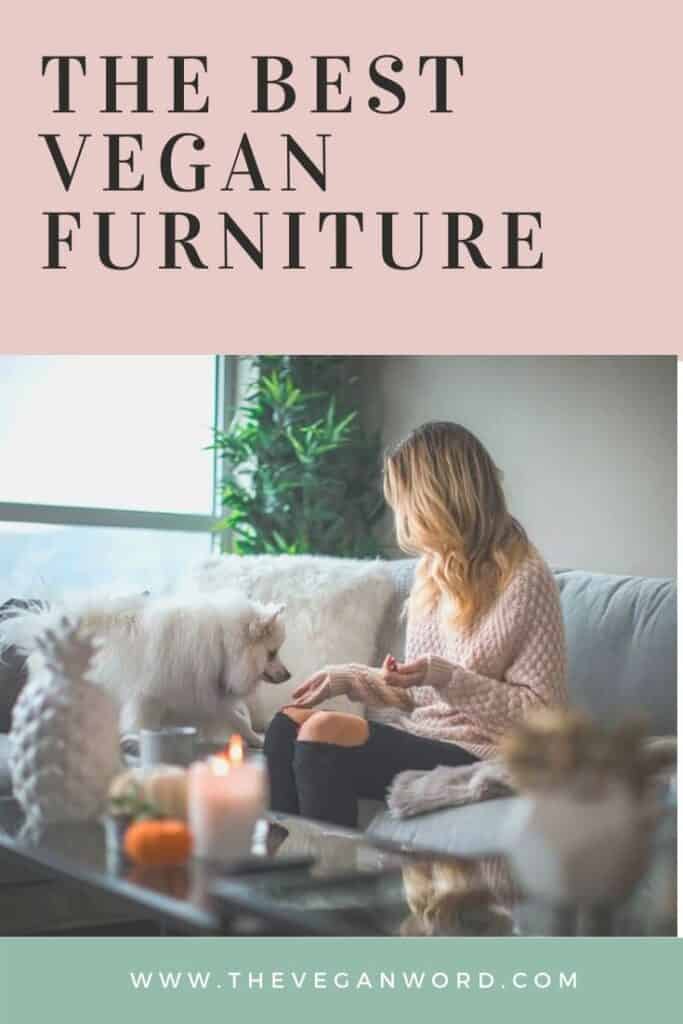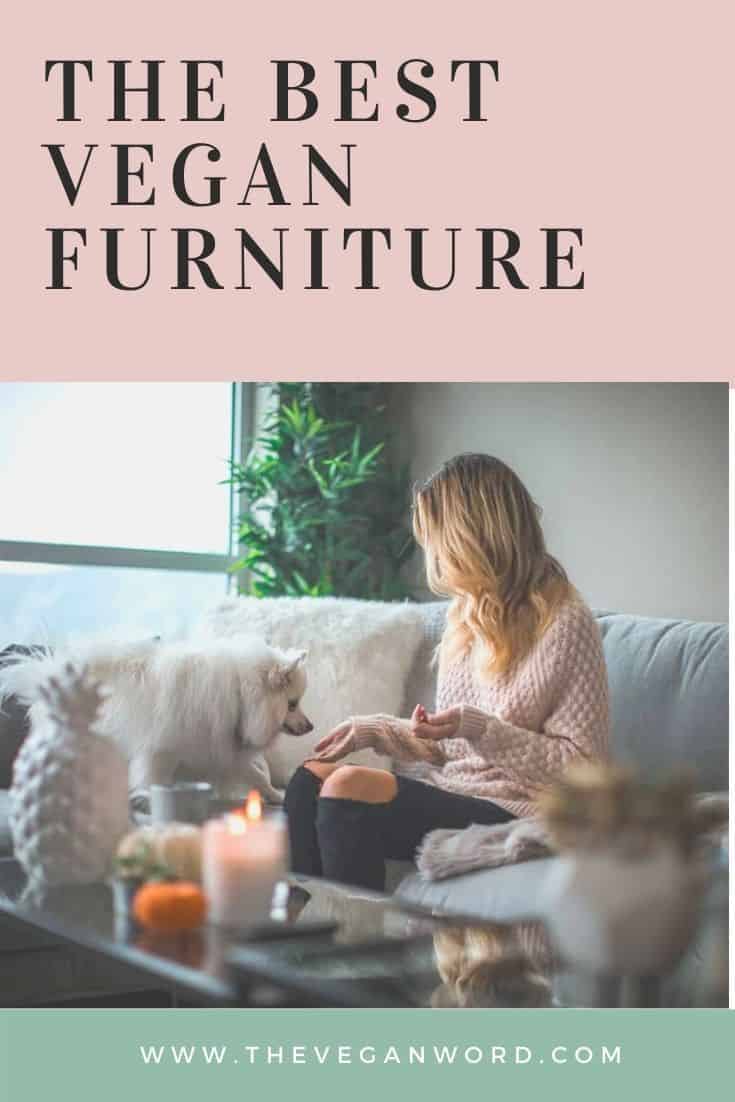 Looking for more furniture? Check out my guide to vegan sofas, plus my list of vegan leather sofas.
I also have a guide to vegan mattresses and a guide to vegan leather chairs.
Find all my vegan lifestyle posts.