Making the best vegan dishes often comes down to having the essential vegan kitchen tools, as well as the best ingredients. While you don't need a lot of fancy equipment to make the most basic dishes, like soup, pasta or salads, a kitchen stocked with the vegan kitchen essentials helps.
And you'll need the right vegan kitchen gadgets to make more complex dishes such as vegan cashew ricotta or chocolate kahlua brownie chunk ice cream.
Here are some of the best vegan kitchen tools:
So, if you're wondering how to stock a vegan kitchen, I've put together this guide to the best tools and every gadget. Vegan or not, these are useful tools and appliances. If you're looking for vegan kitchen gifts for a friend's housewarming or birthday, these would also make good presents!
How to Choose the Right Vegan Kitchen Tools
But how do you decide which vegan cooking tools you really need? I've boiled it down to the vegan kitchen appliances and the essential vegan cookware, vegan tools and vegan cooking utensils I use at least weekly, if not daily. These are the things every vegan should have. Then, I've added some additional optional vegan kitchen items you can add to your kitchen if you want, or if you cook a lot of a particular dish (for example, a tofu press if you eat a lot of tofu) or the latest must have vegan kitchen gadgets like an air fryer. Choose from the menu below to see the vegan kitchen essential tools and 'nice to have' items.
Vegan Kitchen Essentials: Appliances
Having the best vegan kitchen appliances will often determine if a recipe works or not, especially when it comes to vegan cheese (which often requires a high speed blender). Make sure your kitchen is well stocked with vegan appliances, and to save yourself time and space, prioritise buying the ones you'll use most.
Blender
Blenders are one of the most useful healthy cooking appliances out there. Whether you like starting the day with a smoothie bowl, or you just want to be able to make smooth, creamy soups, gazpacho, cashew cream or your own non-dairy milk, a high-quality blender is one of those vegan kitchen must haves. I've put together a whole vegan blender buying guide. Click here to read it.
I use my blender (a Magimix) pretty much every day. I even took it to Croatia on a month-long trip with me. I know I'm a bit crazy in packing a huge, heavy, glass blender (and yes I did have to sacrifice a lot of clothing space in my bag for it) but I was thankful for it every day. I find blenders to be kitchen essentials for vegan cooking. While it's possible to make great vegan food without, it's much easier with a blender.
Click here to read my guide to the best vegan blenders.
Best mid-range option:
Magimix (Europe only) — for its strong motor and heat-resistant glass jug (you can blend hot soups in it)
Ninja — perfect for smoothies and crushed ice
Best professional option:
Vitamix— these will last a lifetime (my parents have had theirs for 25+ years) and the newest models are low-profile, meaning they fit easily under your counter. Click here to see the latest prices.

Click here to read my entire vegan blender buying guide.
Food processor
In terms of vegan kitchen appliance essentials, afood processor is right up there with a blender. Both are some of the best kitchen gadgets for vegans. I find them indispensable. I use my food processor several times a week, to whip up batches of hummus, vegan pesto, cashew cheese and other sauces. Food processors are another of the best kitchen appliances for vegans .
Full-size food processors can also save you a lot of chopping, slicing and grating time with their various attachments to chop/slice/grate your veggies.
Cuisinart's my brand of choice…my parents have had their Cuisinart food processor for more than two decades, and I believe they make the best food processor for vegans! I put together an entire guide to buying a food processor, which you can find here.
Click here to read my food processor buying guide.
Best mid-range to pro option: Cuisinart 14-cup food processor. Check the latest prices here.
Budget option:
A mini food processor, with a capacity of 3 cups, is perfect for making small to medium sized batches of hummus, pesto and sauces. It doesn't come with attachments so you can't chop vegetables in it, though.

Click here to read my guide to buying a food processor.
You might think of coffee grinders when it comes to beverages rather than cooking, but I class them as vegan cooking essentials, too. Coffee grinders are vegan kitchen gadgets you won't want to miss. Inexpensive and easy to use, a coffee grinder will allow you to save many hours of your time making vegan cheese. They're also great for grinding up spices, if you like making your own spice mixes. They make one of the best cooking gadgets for vegans.
And if you love making curries, then nothing beats freshly ground spices.
It's also an essential for coffee lovers (you can get two if you're planning on using it for coffee and spices, or you can just clean it between uses by grinding rice in it – the rice will absorb any flavours from the spices so you don't get those tastes in your coffee!).
Click here to check the latest prices.

Immersion blender
If you want to make vegan mayo, tartare sauce or aioli, or you want to puree creamy soups (and don't have a blender that will blend up hot liquids), then an immersion blender (aka a hand blender or stick blender) are some of the best cooking gadgets for vegetarians and vegans.
Immersion blenders are inexpensive and easy to use–and this Braun model even comes with a whisk attachment.
Click here to check the latest prices.

Vegan cookware and bakeware
Here's the best cookware for vegans! This includes the best pans for vegan cooking, plus the best vegan baking equipment.
Vegan pots and pans
Worried about nonstick coating? I highly recommend stainless steel pots because that way you don't have to try and work out which, if any, nonstick coatings are safe.
I once lived with very disgusting housemates who would constantly use my nonstick pots and pans, scrape them with metal spatulas (big no-no) and completely ruined the coating.
I discovered it one day when I made a big pot of rice and served the rice only to discover it was covered in pepper…except I hadn't used pepper…and the pepper was bits of non-stick coating (so gross, and potentially bad for you).
Ever since then, I've used stainless steel pots and cast iron frying pans.
Rather than mess around trying to work out if you can find a green/safe/long-lasting nonstick coating, just buy stainless steel. I find them to be the best cookware for vegan cooking (especially since in a vegan kitchen you don't need to worry about eggs sticking to a frying pan).
This stainless steel pots and pans set is made by Cuisinart (a good kitchenware brand) and also works with induction cooking, and you can use metal spatulas and spoons with stainless steel without damaging it.
Cleanup is easy; they're dishwasher safe or if you've burnt food onto it, scrape away with steel wool without fear of scratching the stainless steel.
Budget to Mid-range:
I suggest buying just a couple of stainless steel pots in different sizes. You don't need a ton of pots and pans, just the essential vegan cookware. I own a pasta pot, a 3-quart saucepan and a small milk pan and that's all I've needed for years (along with a wok and cast iron frying pan).
Pro:
If you do a lot of cooking, and have plenty of storage space in your kitchen, then go for this 12-piece stainless steel cookware set

Did you know you can use woks to make pancakes, perfect-every-time crepes and to shallow fry? They're way more than just a stir-fry utensil; I find them essential vegan kitchenware. For this reason I consider a wok an essential piece of vegan kitchen equipment.
Carbon steel is the traditional wok material of choices–and it's lightweight, naturally nonstick and inexpensive.
I love my wok – when I moved into my first place with a kitchen, all I had was a saucepan, a wok, a set of knives and a wooden spoon, and I used the wok for everything I would have done in a frying pan.
You will need to season your wok and keep it seasoned but it's easy, I promise! Read about it here.
I recommend a flat-bottomed wok like this non coated flat-bottomed 14-inch carbon steel wok, because it is better suited to most stoves (rather than the rounded bottom woks) and it's a perfect surface for making the most perfect pancakes you've ever cooked!
Click here to check the latest prices.

Cast iron frying pans offer the best of every world: naturally nonstick and oven-safe, they work on all surfaces (including induction and campfires) and they even add iron to your food! For this reason, I find them to be essential plant-based kitchen tools. Plus, they're relatively inexpensive and will last for generations.
Although some people think they're just for meat, I've found mine is perfect for vegan cooking. I use it to make pancakes, crispy kale, fried Chinese dumplings and just generally anything you'd normally make in a non-stick frying pan. Even better, it's oven-safe so I'll often start a meal on the stove in my cast iron frying pan and transfer it to the oven (like this vegan zucchini/courgette gratin).
Be sure to season and maintain yours properly.
Lodge makes the best cast iron pans and I recommend their 10 1/4 inch cast iron skillet.
Click here to check the latest prices.
Enameled cast iron Dutch ovens are perfect for casseroles or any dish that you need to start on the stove/hob and transfer to the oven. Plus, this Lodge Dutch oven even works on induction ranges.
Lodge cast iron products are incredibly durable and last generations.
Click here to check the latest prices.

Depending on what and how frequently you bake, you'll want an assortment of vegan baking essentials, from cookie sheets and roasting tins to cake tins and muffin trays. I roast a lot of veggies so I love my baking sheets.
However, when it comes time to replace my (nonstick) baking sheets I'm planning to reply them with ceramic/enamelled bakeware like this Le Creuset set, which features no nonstick coating, so you don't have to worry about nonstick coating safety.
Click here to check the latest prices in the Le Creuset range.
Vegan kitchen accessories & vegan kitchen essentials
The best kitchen tools for vegans are often some of the simplest: a good knife, a chopping board and wooden spoons. Below, I show you some of my favourites.
In the vegan kitchen, we don't need to worry about knives as much as a kitchen where someone is preparing meat. You really only need two to three knives: a chef's knife, a serrated bread knife and, if you want it, a paring knife.
You may want a couple of chef's knives in different sizes, or just one for a minimalist kitchen. Consider materials, handles (knives with plastic handles may be more prone to break), whether you'll be able to sharpen it and what feels comfortable in your hand. Cooking with a sharp knife is less dangerous than a blunt knife, so make sure you buy a sharp knife and maintain it.
A few good quality knives are must haves for healthy eating, as having knives that work well will encourage you to chop up more veggies.
Vegan kitchens are easier to outfit than non-vegan kitchens; for example, you only need one chopping board. I recommend a wooden or bamboo chopping board like this (bamboo for its strength, durability and (relative) sustainability).
Click here to check the latest prices.

Wooden spoons are the most versatile and used of all the needed vegan utensils in my kitchen. Wooden spoons are the perfect utensil for every dish, are very long-lasting and are a must in any kitchen. Make sure you have at least one wooden spoon. They are hands down the most essential and best vegan kitchen utensils.
Click here to check the latest prices.

I recommend metal spatulas, rather than plastic, as long as you don't have nonstick cookware that it could scratch (see vegan cookware section above), because plastic ones can be hard to clean, can melt and you have the concern of plastic and hot food/BPAs. Metal spatulas like this stainless steel spatula are easier to clean and last longer.
Click here to check the latest prices.
Vegetable scrubber & peeler
In terms of vegan cooking supplies, you can't get much more basic for a vegetable-centric diet than a vegetable scrubber and/or peeler. Of course, you can use a paring knife rather than a vegetable peeler if preferred…or you can leave your vegetables unpeeled in most cases (skin-on potatoes are the best!). I recommend a stainless steel vegetable peeler like this because they are sturdier and longer-lasting than plastic ones.
A vegetable scrubber is optional but is very useful if you buy potatoes or other root veggies from the farmer's market that are covered in dirt and could use a good scrub. This vegetable scrubber looks durable and is from the well-known brand OXO.
Vegetable peeler: click here to check the latest prices.
Vegetable scrubber: click here to check the latest prices.
Measuring cups & spoons, measuring scales
Measuring cups and spoons and/or measuring scales are must-have kitchen tools vegan kitchens need for anyone that plans to follow a recipe, ever, or to bake. Back in my student days, I used a mug and a teaspoon and tablespoon ('borrowed' from the campus dining hall) to measure everything, included cake recipes, but life is a little easier now I have measuring cups and measuring spoons. I recommend a Pyrex measuring cup because then you can measure out hot liquid (for soups or risottos) without worries of the glass cracking. I recommend metal measuring spoons (not plastic) for durability and ease of cleaning. If you do a lot of baking, or you're based in Europe/UK, then you'll likely want a measuring scale so you can measure ingredients by weight.
Measuring cup: click here to check the latest prices.
Measuring spoons: click here to check the latest prices.
Measuring scale: click here to check the latest prices.
I recommend a Pyrex mixing bowl, which will won't crack if you add hot ingredients. It also doubles up as a nice salad bowl!
Click here to check the latest prices.

A colander or sieve is a great addition to your vegan kitchen. I have one fine mesh sieve which works for many uses, like draining pasta, washing salad leaves and draining quinoa.
Click here to check the latest prices.

Can openers are almost falling out of use these days with so many cans coming with a tab opener on top, but if you do buy canned ingredients without openers, this can opener opens cans and blunts the edge so you can't cut yourself on the lid edge.
Click here to check the latest prices.

Nice to have vegan cooking supplies: garlic press, kitchen tongs, potato masher
There are some additional vegan kitchen supplies that come in handy but aren't needed, like a garlic press (I do use mine almost every day), kitchen tongs and a potato masher. If you steam a lot of veggies you might want a steamer insert, but I recommend instead getting a pasta pot with two parts (a pot and an inside steamer pot) which you can use for pasta and steaming vegetables. There are plenty of other single-use vegan cooking accessories (like cherry pitters) but I'm not a fan of single-use kitchen implements. Only buy these if you cook that particular ingredient or dish a lot.
Optional vegan gadgets for the kitchen
Looking for the best vegan kitchen gadgets? These gadgets are optional but do make excellent additions to a well-stocked vegan kitchen and can prove useful depending on the kind of cooking you do.
A crockpot/slow cooker can make your life much easier, particularly if you work long hours and would like to come home to a hot meal. Stick the ingredients in before you leave for work, and come home to a hot stew vegan curry. I love using mine overnight while I sleep to make caramelised onions or cooked beans. You'll want to choose a size suitable for your household; this 8-quart Crockpot is a good size for most and the glass lid and stoneware insert are dishwasher-safe. You can even buy a vegan slow cooker cookbook.
Click here to check the latest prices.

Instant pots can make your cooking much easier. If you listen to the love for them all over the internet (where they have quite a cult following), you know they can cook dried beans in minutes (but safer than a traditional stovetop pressure cooker), they can make yoghurt, sterilise bottles, saute, act as a slow cooker and cook rice. If you want a machine that will simplify your cooking in many ways (and you have the space for it), the instant pot might be your new kitchen best friend. My dad loves his, particularly for cooking dried beans quickly (no more forgetting to soak them overnight). There are also many vegan instant pot cookbooks.
Click here to check the latest prices.

An ice cream maker certainly isn't a kitchen essential, but it's a fun accessory if you love homemade ice cream. I love being able to create my own vegan ice cream flavours and to decide exactly what I want in my ice cream. I think the Cuisinart ICE range (which I have) offers the perfect balance of value and performance and after many hours of research, is what I opted for.
Click here to check the latest prices.

Air fryers are useful if you like a lot of fried foods, but want to make them in a healthier way. They became immensely popular a few years ago, and while I don't own one, I know many vegans who adore theirs and making crispy, 'fried' style treats with much less oil. (It's also less dangerous than deep frying in a pot of oil!). There are also vegan air fryer cookbooks you can get too.
Click here to check the latest prices.
As far as raw vegan kitchen essentials go, many would list a dehydrator as one (though you can certainly prepare raw meals without!). A dehydrator is indeed a very useful piece of kitchen equipment in a raw vegan kitchen. You can use it to dehydrate fruits and vegetables. It can also be used to make cashew cheese. While it is a good addition to a collection of raw vegan kitchen tools, you don't need it to make cashew cheese, you can make it without.
Click here to check the latest prices.

Pin for later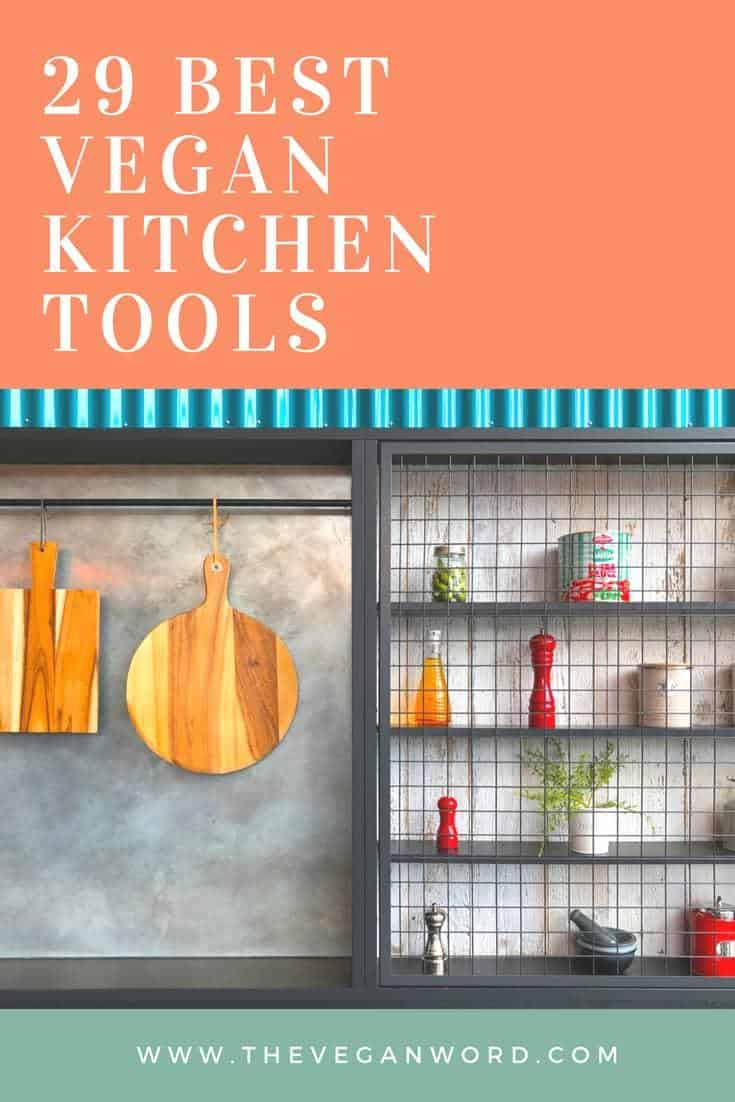 Want to veganise the rest of your life? Find more vegan product reviews here.