This post may contain affiliate links (see full disclaimer here). This means if you make a purchase after clicking, I may get a small percentage of the sale, at absolutely no extra cost to you.
Want vegan food delivery to your door to make your life a little easier? Now you can find vegan meal delivery, UK wide.
Whether you want a recipe box that still allows you to do some cooking (but makes it faster) or you prefer vegan delivery of pre-made meals to your door so you don't have to lift a finger in order to prepare dinner, there's a plant based meal delivery UK based service for you!
In this article, I'll be reviewing:
These companies are now selling vegan ready meals or their vegan recipe box, delivered to your door. This article is specifically about the best vegan meal delivery UK (if you're looking for the US version, click here to see the best vegan pre-made food delivery and click here to see the best vegan meal kits in the US).
table
Vegan Meal Delivery UK: Comparison Table
Looking for vegan delivery UK? The best vegan meal box UK wide? I've put together the comparison table below, or read on for vegan meal delivery reviews.
what
What is vegan food delivery?
A vegan meal box delivery can save you a lot of time–you can cut out meal planning, food shopping, food prep and, depending on what you order, even cooking.
delivery vs recipe boxes
Vegan delivery vs vegan recipe boxes
A vegan delivery service comes in one of two forms: a vegan delivery box/recipe box containing a recipe card and enough pre-portioned ingredients to cook the recipe(s), or a vegan meal delivery service that ships pre-made vegan meals delivered to your home, cutting out cooking entirely. I've rounded up the best of both below. Don't forget, if you get a vegan recipe box, you'll still need the right kitchen tools in your kitchen.
If you're looking for vegan meals delivered UK wide I've noted which services cover the whole country and which are city specific.
delivery vs recipe boxes
Are 'vegan' delivery boxes actually vegan (use of wool in insulation)?
In the course of researching this article, I discovered that some delivery box companies are selling 'vegan' food box delivery full of vegan food products, but which are insulated with a wool insulation product. Apart from those who eat plant-based for health reasons, this wouldn't be acceptable to most vegans who are vegan for health or environmental reasons, and alternatives are readily available (including eco-friendly recycled denim offcuts). I was really disappointed to learn this.
Luckily, alternatives are available, in the form of hemp insulation and recycled denim offcuts, and many suppliers already use one of these.
I've been in touch with all the companies listed below to check their insulation materials and have only listed those who confirmed they are vegan. At the bottom of the article, I've also listed some boxes which, at the time of writing, use wool insulation.
why
Why and when to get vegan meal delivery?
You can save a lot of time with vegan and vegetarian ready meals delivered to your door, or with a vegan food delivery box (that you still need to cook), but which cut out time spent shopping and prepping. With vegan meal prep delivery UK wide, you'll still need to do some cooking but it will save you time preparing.
Vegan meal plan delivery is ideal if you're going through a busy time in your life, like if you just moved house, had a baby or are going through another really busy time.
But what about the environmental impact? Initially, like most of us, I assumed that these services were really bad for the environment because of the packaging waste. However, recent news articles have shed a different light on the situation. A study showed that meal prep kits are actually better for the environment than a trip to the store. This shocked me!
Of course, it depends on how much food waste you normally generate, since the main reduction in impact was down to the meal kits reducing food waste. Still, it made me think differently about the eco-friendliness of the vegan meal box.
best
Best vegan food delivery services
If you've decided you want to get vegan home delivery, you may be wondering which vegan meal prep delivery to choose, since there are so many now. While one of the biggest meal kit providers, Hello Fresh, still fail to offer vegan boxes, don't fear, because many vegan alternatives exist, from all-vegan companies like AllPlants and The Vegan Apron from vegan options from major players like Riverford. So, below, I've outlined the best services, and details about each, like cost, their packaging (and whether it's recyclable or compostable) and any special features.
all plants

Type: frozen premade meal delivery
Cost: from £4.99 per serving
Packaging: Recyclable. Return packaging free of charge for recycling.
Insulation: dry ice
Special Features: All plant-based company. Gluten free options.
Best for: vegan home delivery meals, vegan ready meals delivered UK wide
Exclusive discount: use "VEGANWORD" to get £10 off your first order!
AllPlants is a plant based food delivery service. They deliver frozen vegan meals, made by their chefs and delivered to your door. All you need to do is heat and eat them.
AllPlants are my top pick for prepared vegan food delivery service. If you're looking for vegan frozen meals delivered you don't need to cook, then AllPlants are a good vegan and vegetarian meal delivery service for you.
I really like that all the packaging on their vegan ready meals delivery is recyclable but they make it extremely easy for you by providing free return postage — you just ship all packaging back to them and they'll make sure it's recycled in the most efficient way!
AllPlants have a range of chef-prepared plant-based meals, from cauliflower tikka masala to fiery jerk jackfruit with black rice. And their star meal (which I've heard a lot of good things about!), the cashew mac with kale, mushrooms and cherry tomatoes.
If you're looking for vegan meals delivered to your door, it's my top pick. They ship their plant based ready meals UK wide.
You can choose from single portion sizes or servings for two (the latter being a more cost-effective option).
USE "VEGANWORD" TO GET £10 OFF FIRST ORDER!
Click here for more information.
mindful chef

Type: recipe box and food delivery with vegan options
Cost: from £4 per meal
Packaging: Free returns on insulation and ice packs (they will reuse). 90% of the rest of the packaging is recyclable and they aim to be plastic free by 2020
Insulation: recycled denim offcuts
Special Features: All gluten-free
Best for: one person or more (one of the only companies to offer boxes for 1 person, as well or 2 or 4), plant based meal delivered UK and vegan recipe boxes UK
Mindful Chef offer the only service I know of that offers both plant-based recipe boxes (that you cook yourself) and vegan meal delivery services (where you get sent pre-prepared dishes that you don't have to cook). Many rave about their meals and they're possibly the best vegan meal subscription box in the UK for their range of offers, quality of food and flexibility of serving sizes.
Mindful Chef have been selling vegan recipe boxes for awhile now, and have amassed a following, who say their plant-based meals are innovative and offer good variety. They also donate a school meal to a child living in poverty for every meal ordered.
Not all of their packaging in recyclable yet but at present 90% is, and they aim to be plastic-free in 2020. They also offer free returns on their insulation and ice packs for reuse. Their insulation is made of recycled denim offcuts, so eco-friendly and vegan!
One thing I love about Mindful Chef is that unlike most recipe boxes, which serve 2-4 people, they have an option for 1 person. Anyone who's cooked for one knows it can be difficult to get serving sizes correct and not end up with the same meal for five days in a row -- or wasting food!
Many of their meals can be made in 15 minutes or less, and they're all gluten-free.
Vegan meals might include nasi goreng with tempeh and red rice or sesame tofu with mango and a spicy ginger dressing, served over brown rice.
Click here for more information.
balance

Type: plant-based meal delivery UK (of pre-made fresh vegan meals)
Cost: £120 per week (5 days of breakfast, lunch, dinner and snacks)
Packaging: 100% recyclable
Insulation: ice pack insulation, made with water, not gel
Special Features: When you select a 'Foodinate' meal, they donate a meal to someone in need
Best for: someone who wants all their meals taken care of, Monday to Friday
BALANCE MEALS is the perfect vegan delivery service if you want all your meals taken care of, but you'd rather not order frozen food. All of the meals in their vegan food deliveries are freshly prepared and delivered to you ready to eat.
Their vegan selection is called the 'Power and Plants' meal plan and I like that it's less expensive than the non-vegan meal plans and they haven't added a 'vegan tax'.
The BALANCE MEALS week meal plan includes 5 days of breakfast, lunch and dinner, plus snacks. I like that they've looked into their packaging and selected the most eco-friendly options based on research. They told me they'd looked into offering returnable boxes, but discovered collection would actually generate more carbon emissions, so instead they opted to provide all recyclable materials.
Their insulation is made of water-based ice packs, not gel, so that you can water your plants with it. They also work with a food collection service to collect any food they don't use to avoid food waste.
The meals look really tasty, too. You can select your meals and options might include tofu katsu curry, beetroot falafel and sweet potato mash or vegan waffles for breakfast.
Click here for more information.
vegan apron

Type: vegan recipe box delivery
Cost: from £4.95 per portion
Packaging: The box is recyclable, ingredient packaging is compostable and biodegradable and denim as an insulator.
Insulation: denim
Special Features: Gluten free options available.
Best for: those who want to cook but would like to save time, vegan meal kits UK
The Vegan Apron is an all vegan meal prep service. They send boxes of ingredients to make seasonal recipes, perfect if you're looking for a vegan recipe box UK wide. They work with chefs and organic farmers to create seasonal vegan recipes, and then pack and ship the vegan meal prep box within 24 hours so you get the freshest ingredients to you.
Your box will arrive with enough ingredients for each recipe, and either 3 or 5 recipes for 4 people.
You can choose between organic vegan recipe boxes with enough ingredients for 3 recipes for 4 people or 5 recipes for 4 people, or you can order a box of organic fruit and veg.
Recipes from the Vegan Apron vegan meal prep service might include tofu pho, fresh spring rolls or mushroom pasta.
They also offer special 2-week introductory rates, so you can order a box at a discounted rate to try out the service.
Click here for more information.
riverford

Type: recipe box with vegan options
Cost: from £5.60 per portion
Packaging: Mostly recyclable and/or compostable. Boxes, ice packs and chill bags to be left outside before the next delivery for reuse.
Insulation: ice packs
Special Features: Organic
Best for: organic vegan meal delivery
Riverford, in addition to selling organic veg boxes, now sell organic recipe boxes, with the option to order vegan boxes.
I spoke to someone on their customer services team who told me they never use wool insulation for vegan boxes; they use ice packs for their vegan boxes.
I like that they reuse boxes, chill bags and ice packs. They instruct you to leave them out before your next delivery so the driver can collect them for reuse. They state other packaging is recyclable or compostable, apart from vacuum-packed items like tofu, which must be disposed of in the bin.
Since Riverford is an organic food company, these vegan meal boxes make the perfect choice if you're looking for organic vegan food delivery.
You can order their vegan food box delivery UK wide.
Riverford have a selection of vegan recipes available each week and you can order as many as you want (each serve two). You can easily filter for vegan on their site.
Vegan dishes might include asparagus, peanut and beetroot salad or Greek pasticcio with roasted vegetables.
Click here for more information.
feastbox

Type: recipe box vegan options
Cost: from £5.50 per person
Packaging: Not much information
Insulation: recycled denim
Best for: exploring different Asian and Middle Eastern recipes, vegan meal prep UK wide
Feastbox sell a vegan meal subscription box, from the owners of Red Rickshaw, the largest online Asian market. Their vegan meal delivery boxes contain Asian and Middle Eastern recipes.
Each week they have 12 different recipes, and you can select between 2 and 4 for your box. They always have vegan options, and they're clearly marked as vegan. In terms of their plant based food delivery, all UK postcodes on the mainland are covered, but harder to reach areas of the Scottish Highlands or Northern Ireland may take a day longer.
Recipes might include Turkish filo pie stuffed with chickpeas, squash and spinach or baby aubergines in a coconut curry sauce.
Click here for more information.
fresh fitness food

Type: best vegan fitness meals UK (fresh, nutritionally-designed food delivered each day)
Cost: from £23 per day
Packaging: Fully biodegradable containers
Insulation: synthetic foam
Best for: athletes
Exclusive discount: Use "CAIGAL10" to get 10% off your order
Fresh Fitness Food offer vegan prepared meals delivery that are the best vegan meal delivery service for athletes. They offer one the most complete vegan meal planner service I've come across in the UK, with all meals provided each day.
You'll select your fitness goal and days you want delivered, and they'll design nutritionally sound meal plans, in conjunction with a Michelin star menu consultant and your meals will be freshly prepared, and delivered to your door in a cooler bag each day.
You can select a vegan meal plan easily.
At the moment, Fresh Fitness Food deliver within the M25 in London, and select postcodes in Manchester, Leeds, Birmingham and Nottingham.
Discount: Use "CAIGAL10" to get 10% off your order
Click here for more information.
other

Other boxes
Other companies that sell plant-based delivery boxes:
Gousto (recently switched to the recyclable Eco Chill box)
Companies that market vegan or plant-based food delivery box option that is packed in wool insulation*:
Abel & Cole (currently testing a hemp-based alternative, but this hasn't been rolled out yet -- I'll update the post when it has)
*These boxes contain vegan food ingredients, and the companies have marked these boxes as vegan or plant-based, but due to the wool insulation, they would not be acceptable to most vegans. I've been in touch with these companies about alternatives.
A previous version of this article mentioned Pasta Evangelists, which has now been removed. I received a box labelled vegan for review from them, which contained a tub of parmesan cheese, but after I spoke to them about it they said they won't include cheese in any future vegan boxes (if anyone order from them, can you please confirm with me).
Other companies selling vegan meal delivery or recipe boxes; insulation materials unknown so please contact them individually:
Companies with NO vegan boxes:
Pin this for later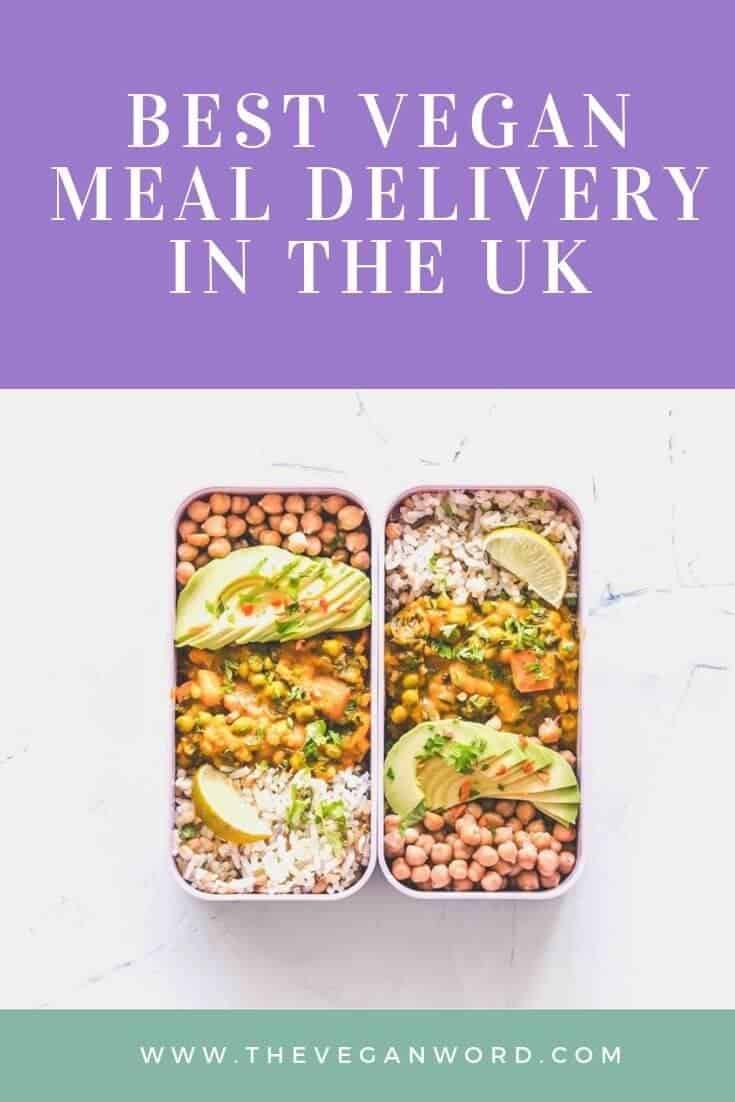 Just looking for try new vegan foods and snacks? Check out my guide to the best vegan subscription boxes here!
Find more vegan product reviews here.
As an Amazon Associate I earn from qualifying purchases.