Looking for vegan meal delivery to make your life a little easier? If you're ill and unable to cook, recently had a baby or just moved, vegan food delivery might make your life a little easier. Most plant based meal delivery services will send vegan frozen meals to your door, so all you have to do is reheat and eat.
Some of the best meal delivery companies include:
Note: this article compares US & Canadian companies. For the UK guide to vegan meal delivery in the UK, click here.
The best vegan meal delivery services
What are the best vegan meal plan services?
If you're looking for a vegan meal service, here are the best ones. Plus, how to select vegan home meal delivery services that use less packaging. (Depending on your area, you might even be able to get your food delivered in reusable packaging!)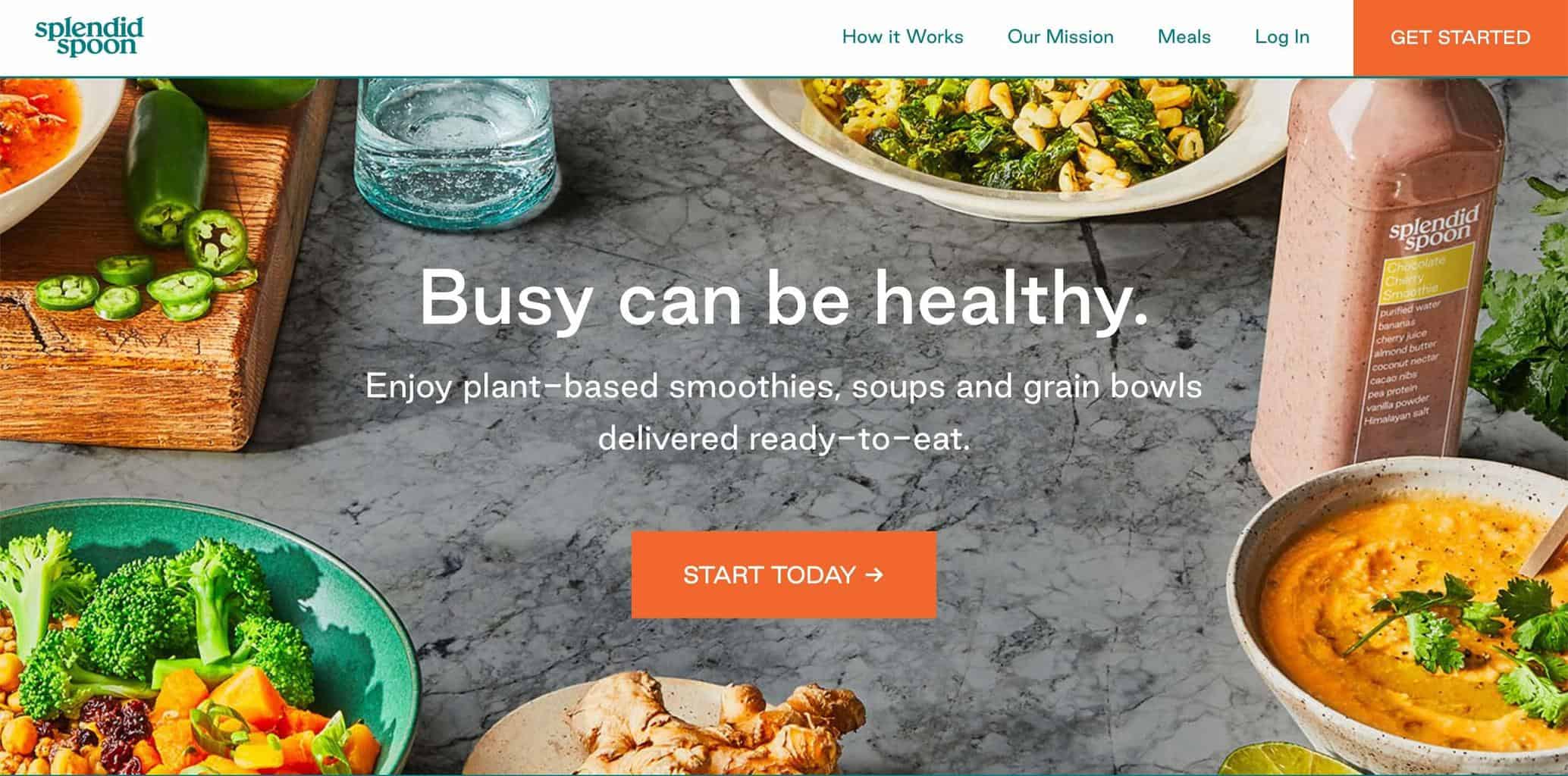 Cost: from $9.00 per meal

Packaging: Recyclable

Special Features: GMO-free. Gluten-free.

Best for: those looking for healthy options, anyone who want to order smoothies and soups
Splendid Spoon is a plant-based meal delivery service that specializes in soups, smoothies and bowls.
If you're looking for healthy, ready-to-eat options, Splendid Spoon is perfect for you.
All the soups and bowls keep for up to a week in the fridge or a month in the freezer, while the smoothies come with a use-by date.
I love how fresh and vibrant all the food looks and sounds, and I'm tempted by some of the options, like the orange hibiscus smoothie, Moroccan spiced buckwheat bowl and the coconut curry rice bowl. It does look like some of the best vegan delivery meals.
All of Splendid Spoon's packaging is recyclable.
Every dish is GMO-free and gluten-free.
Click here for more information.

Cost: from $148 for one week (approx $7.05 per meal)

Packaging: Not very much information on their site but they do state they package using recycled foam and dry ice

Special Features: Gluten free
The Vegan Garden's vegan food delivery box makes life easier by sending vegan premade meals to your door, so you don't need to do any meal prep at all.
If you prefer to customise your order, the U Pick Em Plan allows you to customise your order with the meals you want. Otherwise, they have a few plans you can pick from, including a plan for newbie vegans.
The Pioneer Deal is perfect for new vegans: you'll receive 7 breakfasts, 7 lunches and 7 dinners, making your first week eating vegan a breeze.
Unfortunately, their website doesn't have a lot of information on packaging. They state they pack with recycled foam and dry ice, but I couldn't find info on the food containers and whether those are recyclable or not.
Click here for more information.

Cost: from $121.50 for one week of 9-10 meals (approx $12.15 per meal)

Packaging: Not very much information available on their website except that they're delivered in an insulated cooler bag with ice packs

Special Features: Mostly organic. Gluten free, nut free, soy free and other food allergies available on request.
Vegin' Out started out as a vegan and vegetarian meal service in LA and SoCal but now offers vegan meal delivery nationwide (except Alaska and Hawaii).
Their vegan ready made meals are made with organic ingredients where possible (approximately 75% of ingredients) and are freshly prepared and delivered right to your home.
Every week they put out a new menu, and menus repeat every 8 weeks, so you'll never get tired of having the same meals on repeat every week.
Plus, you can order just one week's worth of food rather than having to commit to a weekly contract like some other companies.
Each order contains 9-10 meals' worth of food (one entree plus one or two sides in each) — all lunch and dinner food.
Unfortunately their website doesn't have a lot of information about the recyclability of their food packaging — I'd like to know more about this.
Click here for more information.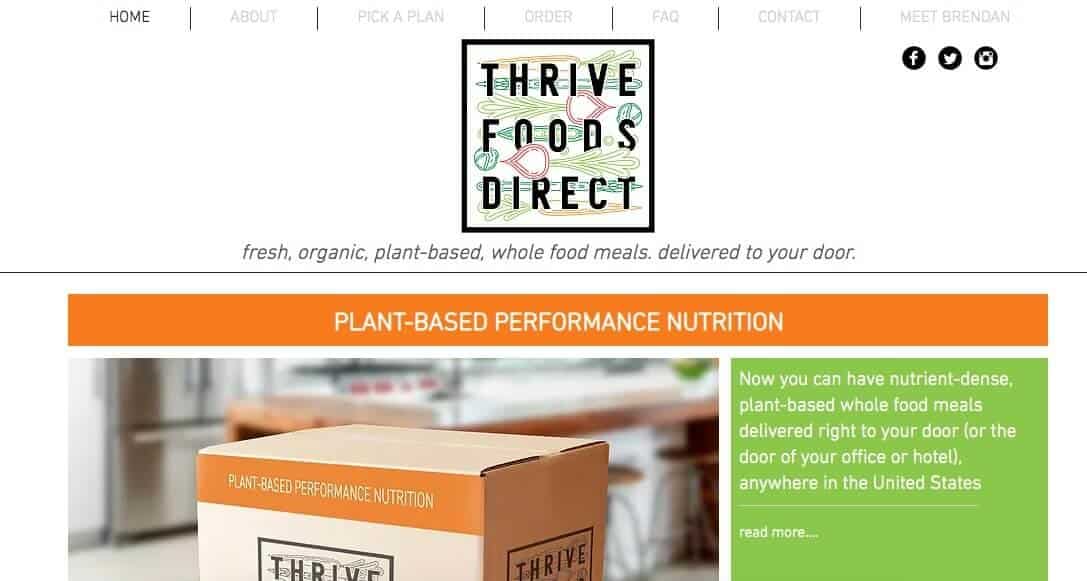 Cost: from $29.99 a day for 3 meals (approx $10 per meal)

Packaging: They say packaging is 100% recyclable

Special Features: Organic, whole food plant based, non GMO

Best for: athletes
The vegetarian home delivery meals from Thrive Food Direct are whole food plant based, organic meals. The prepackaged vegan meals are developed by Brendan Brazier, and based on his bestselling Thrive book series.
They offer the best vegetarian meal delivery services for athletes. Brazier, who's behind the Vega line of supplements, is a former Ironman triathlete and writes about fitness and nutrition for optimum performance.
If you're an athlete, consider getting these fresh vegan meals delivered. They also state on their website food is always fresh, not frozen, and it's delivered refrigerated and ready-to-eat.
They don't have a lot of information on packaging on their site but they do state all packaging is recyclable curbside.
Click here for more information.

Cost: from $49.80 for case of 8 meals (approx $6.23 per meal)

Packaging: They openly admit their packaging is not as eco-friendly as it could be, but their aim is to get people replacing meat meals with vegan meals and thereby reducing their carbon footprint

Special Features: Shelf stable/no refrigeration required, GMO-free, gluten-free

Best for: new vegans, anyone without access to a fridge or microwave/oven (e.g. you could store them at work easily!)
VegReady has some of the most innovative vegan mail order meals I've come across. Their ready to eat vegan meals require absolutely no refrigeration at all and don't need to be heated, either.
They're completely shelf stable and designed to be stored and eaten at room temperature.
They use a process called 'retort', similar to that used with spaghetti sauce or cans of food, rather than chemical preservatives to preserve the food.
This is such a cool idea and it could be incredibly useful to anyone without access to refrigeration or food preparation facilities. For example, the VegReady meals would be great to keep in an office, or if you were visiting somewhere remote without a fridge or place to prepare food.
I also really love how honest they are about packaging on their site. They freely admit they've used plastic and it's not as eco-friendly as it could be.
They state that they've tried to create the most convenient food possible and therefore the packaging is plastic, but they've aimed their items at people replacing meat-based meals with vegan meals, and therefore they'll be reducing their environmental impact by switching to plant-based food.
Click here for more information.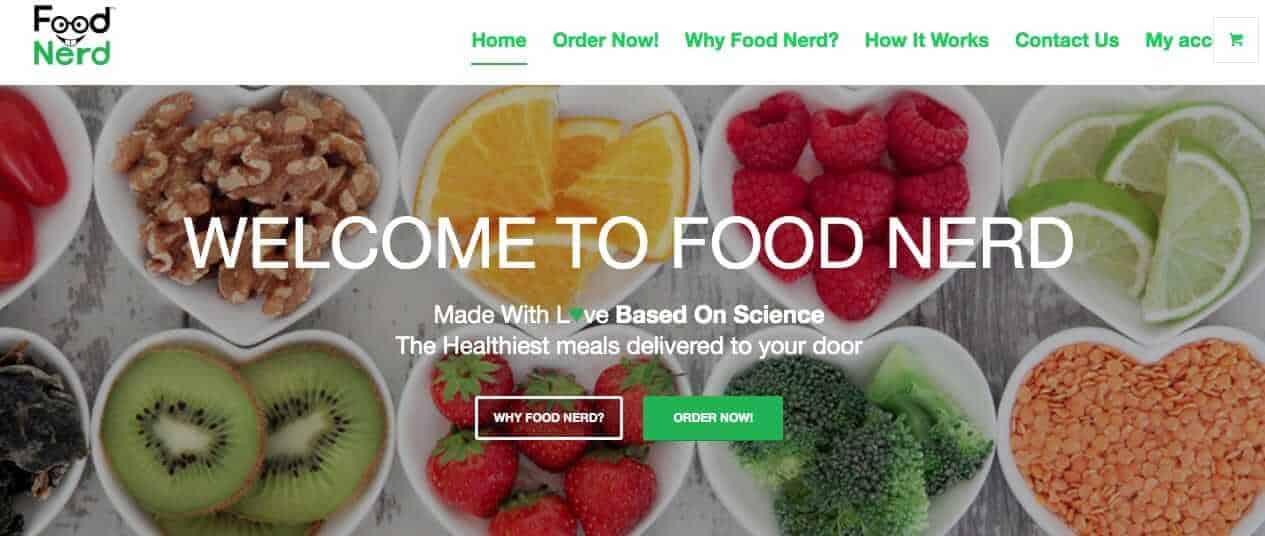 Cost: from $9.52 per meal (for weekly package including all meals)

Packaging: No information

Special Features: Organic, gluten free, oil free, preservative free, GMO free, more than half raw ingredients

Best for: raw vegan food delivery
If you're looking for a raw vegan meal delivery service nationwide, then Food Nerd's your best bet! The only national plant based diet delivery service I came across that offers raw options, Food Nerd promises 51 – 100% raw ingredients (you can also order a la carte if you prefer).
All meals are made using organic ingredients and food is also gluten- and oil-free. Anywhere from 51-100% raw ingredients are used in their vegetarian mail order meals.
Food is prepared to be eaten fresh, so most dishes just require you to add sauces and/or toppings, shake and eat.
Unfortunately, I couldn't find any information about their packaging apart from that if you are in the Buffalo area you can pick up your meals and they use reusable pick up/drop off bags.
Click here for more information.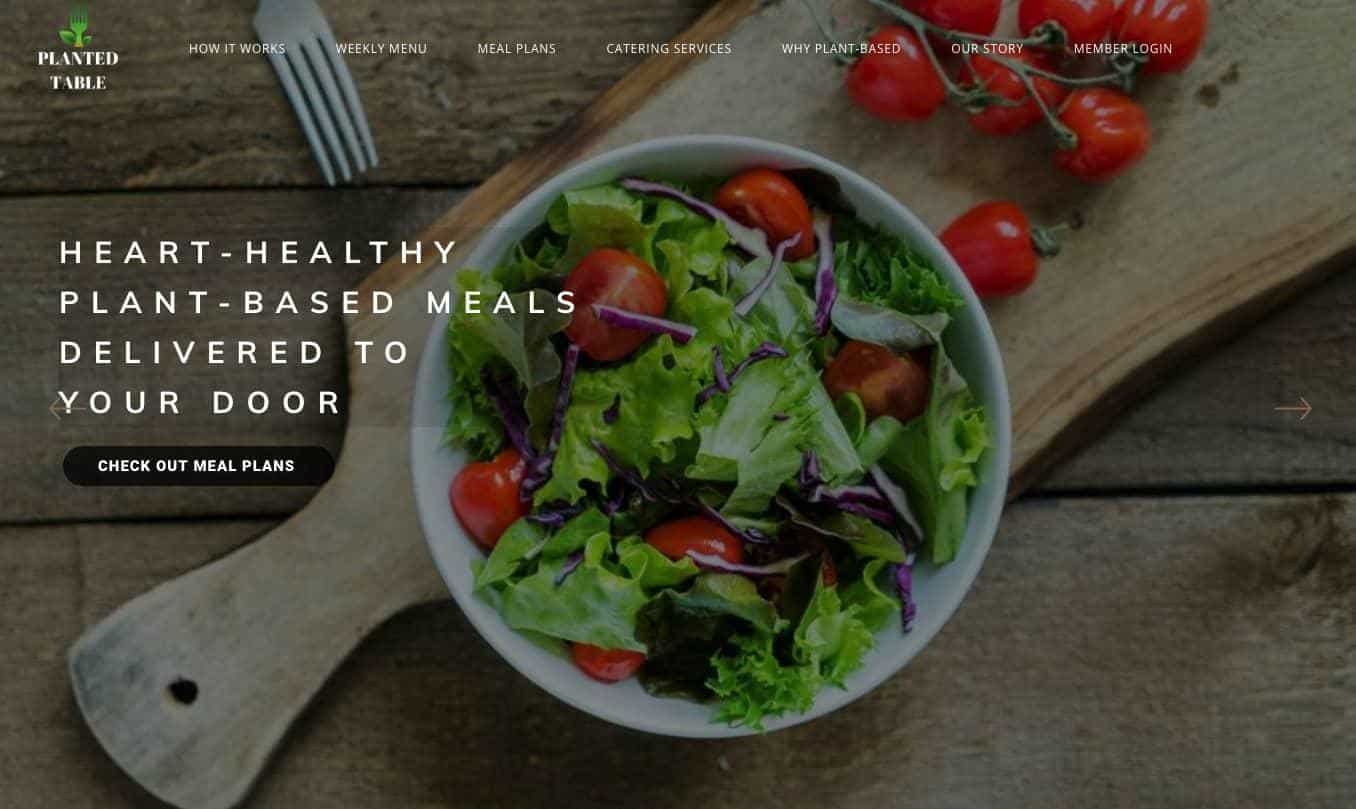 Cost: from $10 per meal

Packaging: Zero waste! Meals are packed in glass containers which you then clean, return, they sterilise and reuse. Containers are packed in reusable insulated bags.

Special Features: Zero waste, organic. Children's menu available. They can accommodate up to 3 food allergens (just select your allergens and they'll provide you meals free from them).

Best for: Bay Area/San Francisco customers
Exclusive discount: Use the code "THEVEGANWORD" for $10 off your first order!
Planted Table is my top pick for anyone in the San Francisco/Bay Area, because they offer the most eco-friendly plant based diet meal delivery. Their vegan meal subscription service is completely zero waste!
Your organic, vegan meals are packed in individual serving sized glass containers inside insulated bags and delivered to you (or you can pick them up from their Oakland kitchen).
After you finish your meal, just rinse and dry the glass containers and repack them in the bags and they'll both be collected from you. They reuse the insulated bags and they clean and sterilise the glass containers for reuse.
Their vegan food meal delivery is unique in that it's food waste free, and free of plastic packaging and and disposable packaging.
Another unique aspect to their offering is they offer a children's menu! How cool is that?
If I were ordering in the Bay Area, I'd definitely opt for Planted Table. I hope eventually every city will have something similar!
Exclusive discount: Use "THEVEGANWORD" for $10 off your first order!
Click here for more information.

Cost: from $11 per meal

Packaging: Reusable cooler bags, disposable ice packs and recyclable food containers

Special Features: Organic, GMO free and gluten free food. They will make substitutions for allergens where possible (just get in touch with them).

Best for: Vegan meals delivered to home in California, and parts of Arizona & Nevada
Food Flo is the brainchild of Chef Flo, who for years prepared meals heavy in meat and dairy as she was taught in her native France. This changed when she switched to preparing plant-based foods.
Food Flo provides vegan meals delivered to your home that are organic and gluten free. At the moment, Food Flo delivers in all of California, and parts of Arizona and Nevada.
On their site, they state that the cooler bags used to send food are collected each week and reused. They instruct you to dispose of ice packs on arrival, and they provide recyclable food containers, which they encourage customers to reuse.
Click here for more information.
Cost: $8.99 per meal

Packaging: Recyclable (except plastic film in most places). Dry ice used as insulation.

Special Features: Ready in 5 minutes, recyclable packaging. They also donate to City Harvest for every box sold.

Best for: New vegans
Mosaic's delivered vegan meals are all plant-based and they sell options for breakfast, lunch and dinner. I love their stance on sustainability.
They've made all their packaging recyclable (except the plastic film which is recyclable in some places but not most). Plus, they use dry ice as insulation so there's no insulation waste at all.
They also work with City Harvest, which distributes fresh food to those in need in New York. For every Mosaic box sold, 2 pounds of fresh food is saved and distributed to New Yorkers who need it.
All their meals are ready in 5 minutes and you can choose from veggie bowls, oat bowls and soups. Menu choices might include North African veggies and couscous, a peanut tofu bowl, curried lentil soup or a breakfast bowl of cranberry cinnamon oats.
Click here for more information.
Best meal delivery services with vegan options
In the rush for the best meal delivery service for vegetarians and vegans, some of the major meal delivery players have introduced vegan menus.
Read on to find out which services now offer vegan frozen meals delivered and fresh vegan ready meals delivered.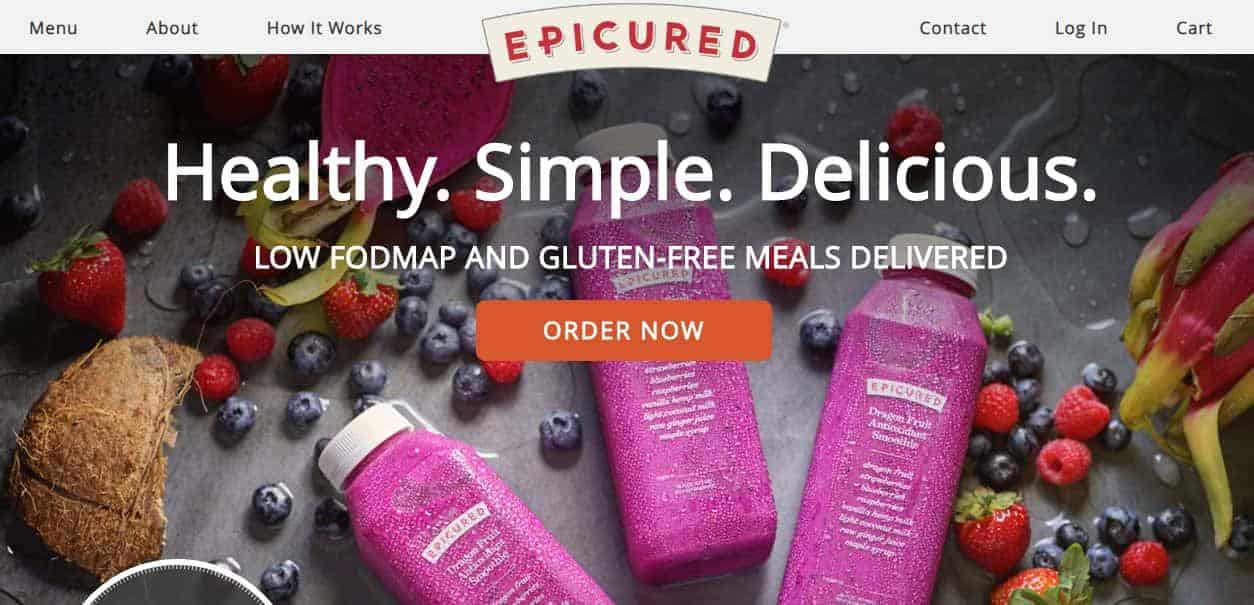 Cost: from $12.99 for vegan entrees

Packaging: A mix of compostable and recyclable materials

Special Features: Low FODMAP, gluten free, GMO free, preservative free

Best for: low FODMAP and gluten free vegan meals delivered to your door
Epicured specializes in low FODMAP and gluten free meals delivered to your door, and they now let you order vegan meals online so they're the perfect choice for a vegan, low FODMAP meal plan. They currently deliver only in the Northeast, from Boston to DC.
All meals are cooked fresh and refrigerated, not frozen, and the food is prepared by Michelin star chefs and seasonal.
You can filter for vegan meals on the site, and you can select which meals you want to receive. You can choose from entrees, sides, a soup, bowls, breakfasts or snacks.
If you're looking for a low FODMAP vegan meal plan, Epicured is the top choice.
In their FAQ section, they state their food packaging is a mix of compostable and reusable/recyclable plastics. The boxes are recyclable and lined with a plastic that's recyclable (however, it sounds like only certain recycling centers accept it). The ice packs are reusable or you should dispose of the pack or the gel inside in the trash (you can recycle the exterior).
Click here for more information.
Cost: from $10.79 per meal

Packaging: All packaging is recyclable and they aim to make everything biodegradable

Special Features: Organic, GMO free, soy free, gluten free

Best for: athletes
Trifecta is the best vegan meal delivery for athletes. Their service is specifically aimed at athletes, and it offers a vegan plan.
You can select how many meals you want and how many days' worth of meals. They are organic, GMO free, gluten free and soy free and say they are macro nutrient balanced.
Their plans are aimed at athletes so a good option if you're training.
They also include some specialty items like Beyond burgers–which is good as it will keep your meals more interesting.
I like that they state all their packaging is recyclable and they aim to have completely biodegradable in the next 24 months.
Click here for more information.

Cost: from $11 per meal

Packaging: Food packaging is compostable or recyclable, and ice packs and bags can be returned to the driver for reuse/recycling

Special Features: Gluten free meals. They say they work with local farmers and create seasonal menus. Soy free and nut free options.
Vegetable and Butcher is a meal delivery service based in Washington, DC that offers a vegan meal option (the Vegetable Basket).
They are based in DC and deliver free to your home or office in the surrounding area, or offer pickup (enter your zip code on the site to see if they deliver to you).
They state their menus are created by a fine dining chef and a registered dietitian, and they work with seasonal ingredients and try to form partnerships with local farmers/food producers.
They state on their site all food packaging is either compostable or recyclable, and the ask you to return ice packs and bags to the delivery driver so they can reuse them.
Click here for more information.
What are vegan food delivery services?
There are essentially two different kinds of vegan delivery services:
Meal kits
Frozen meal delivery
More on each below.
Vegan meal delivery kits
These are packages of pre-portioned ingredients, which you quickly and easily assemble into a meal.
There's still an element of cooking, but in theory it will take you less time than traditional cooking because everything has been measured out and chopped for you.
I have a separate article just reviewing vegan meal kits here.
Vegan frozen meal delivery
This service provides entire meals, already made and ready for you to eat, delivered straight to your door. All you have to do is heat up the food and it's ready to eat. I'll be focusing mainly on these companies in this post.
Why and when to get vegan meal delivery
I wouldn't recommend getting vegan delivery food in the long term in many cases, because it's not the most eco-friendly option (although in some areas you can choose a zero-waste company that uses reusable glass containers — see more below).*
However, in certain circumstances, it can be a lifesaver.
When might it be useful to get vegan and vegetarian meal delivery?
After the birth of a baby
You have a long-term illness, or are recovering from surgery, and are unable to cook
You just moved and your belongings haven't arrived yet, meaning you have no knives to chop and no pots and pans to cook in
I'm sure there are many other reasons you might need vegan and vegetarian food delivery service.
*Or maybe it is more eco-friendly than it appears at first glance? Recent studies and articles have offered conflicting views on the eco-friendliness of meal kit services.
One study showed meal kits were more sustainable than a meal prepared from ingredients purchased at the grocery store because of reduced food waste. However, other studies pointed to packaging waste as a culprit in making meal kits less eco-friendly than supermarket shopping.
An important note on supplements
If you are eating a wholly plant-based diet (for example one of these meal services), be sure to include a B12 supplement in your diet! Several of the meal delivery service companies mention that on their websites, but I thought I'd mention it too. :)
If you follow a vegan diet and cook your own meals and use ingredients like fortified plant milks you may not need to include supplements (check the fortification levels in your foods), but if you're exclusively eating from one of these services you should buy a good quality vitamin.
A note on diet culture and terminology
One major complaint I have about many of the vegan and vegetarian home delivery services is just how many of them promote vegan weight loss meal delivery services, terms like 'clean eating', 'bridal meal plans', detoxes and other harmful messaging.
I'm sure all the negative and harmful messaging shows just how steeped in damaging diet culture we are as a vegan movement and as a society in general.
At first I planned to only highlight companies that didn't include any of this harmful messaging but there were so few I wouldn't have even had an article to write.
Very few services promoted just great vegan food alone, which makes me sad. I'm hoping this will change. So for now, I decided to include all the vegan meal services I found, but maybe one day there will be enough that promote great vegan food alone, without negative messaging, that I will be able to have a post about those companies.
In the meantime, I'd like to direct you to the wonderful resources put together by Taylor Wolfram, a registered dietitian who works as an intuitive eating dietian promoting an anti diet culture message. You can find her on Instagram here or her website here.
Purple Carrot to Green Chef or Sun Basket. To see my full reviews of vegan meal kits, click here.
Click here to see my top choice for best vegan meal kit.
Find my reviews of the best vegan meal delivery kits here.
Note: This post previously contained a listing for Sakara meal delivery. A reader alerted me to the fact that this company is NOT vegan (they use honey!) in spite of everything on their website and social media misleadingly saying plant-based. I have deleted them from the list in this article.
Please alert me to anything else like this — unfortunately, a lot of companies are cashing in on the vegan trend…
Pin this for later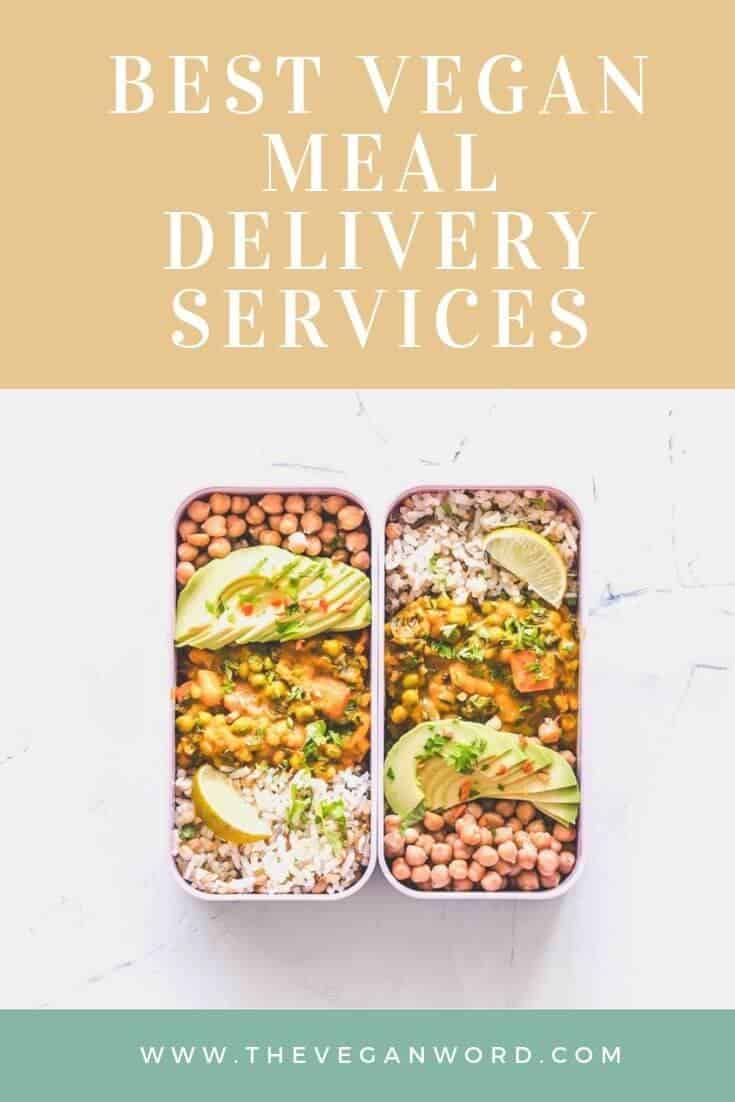 Looking for a way to try more new vegan foods? Vegan subscription boxes allow you to try a bunch of new foods at once! They ship you a box of vegan snacks and other goodies once a month. Find my review of the best vegan boxes.
Find more vegan product reviews.