If you're trying to choose a culinary school and you're vegan yourself, you might be wondering if there is a fully vegan culinary school out there.
As a vegan, culinary school can be tough, as most require students to cook meat-based food. Some don't mind this, but for others it can be a problem. As a vegan since 2008 and lifelong vegetarian, I wouldn't feel comfortable with a class requiring me to cook meat, so I get it! But what's a vegan who wants to work in the food industry to do?
This article covers vegan culinary school at the pro level, for those working in the food industry, and who are looking for pro-level training at the best plant-based culinary schools. For vegan online cooking classes for home chefs, see my article here.
Best vegan culinary schools
Best for diploma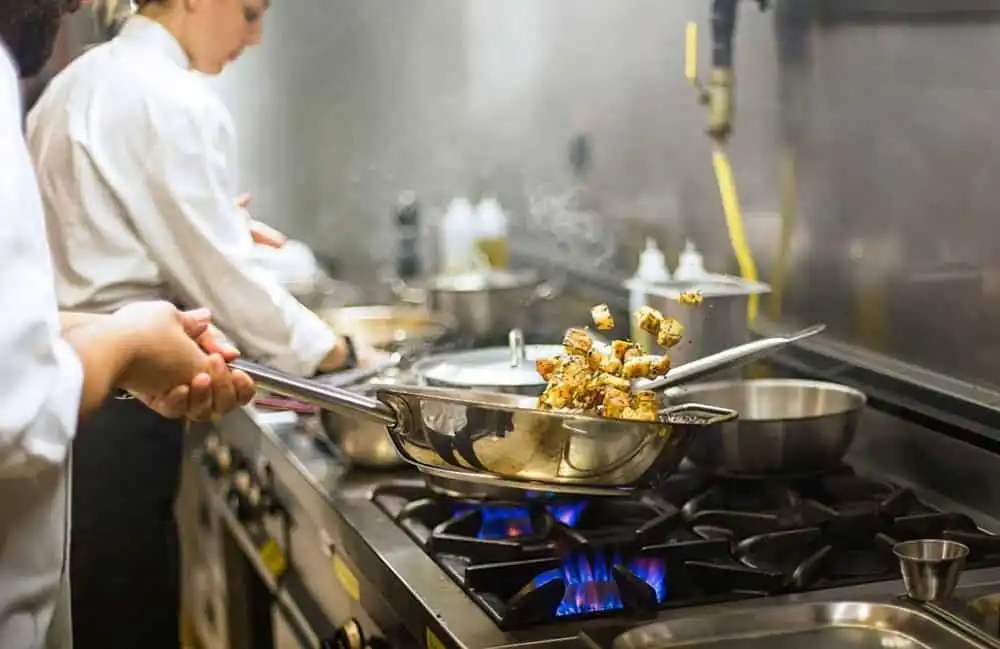 The School of Natural Cookery Chef Diploma (online)
Want to become a professional chef? This fully online course from The School of Natural Cookery is approved by the State of Colorado department of higher education as a private vocational school. You'll receive a diploma, and learn about business concepts as well as cooking techniques. This training includes live weekly meetings with mentors and up to 6 classmates, live virtual workshops, exams, food photography, 500 graded assignments and is 654 hours over 9 months.
See more
Best for raw chefs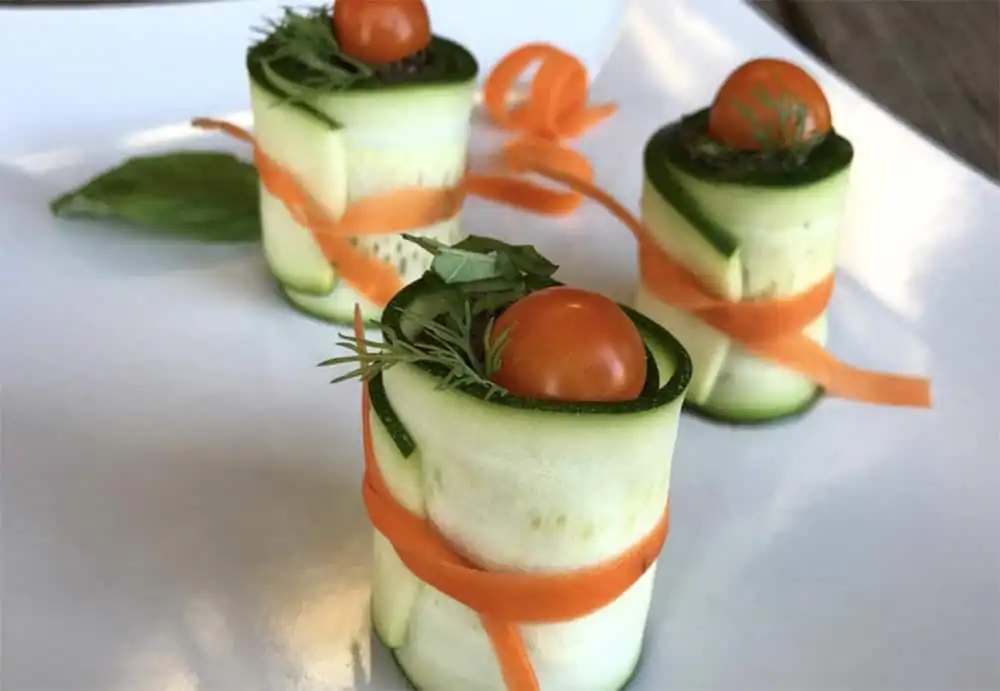 Best for in-person training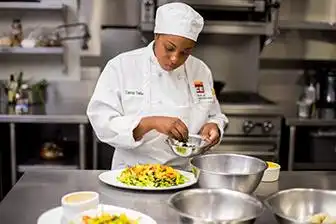 Plant-based Culinary Arts at ICE (NYC)
Be prepared for a big financial commitment for this year-long culinary training program. This full-time course in NYC will teach you how to create health-supportive, vegetable-focused dishes. 432 classroom hours and 200 hours in a commercial kitchen through the externship program.
Enroll now
</div?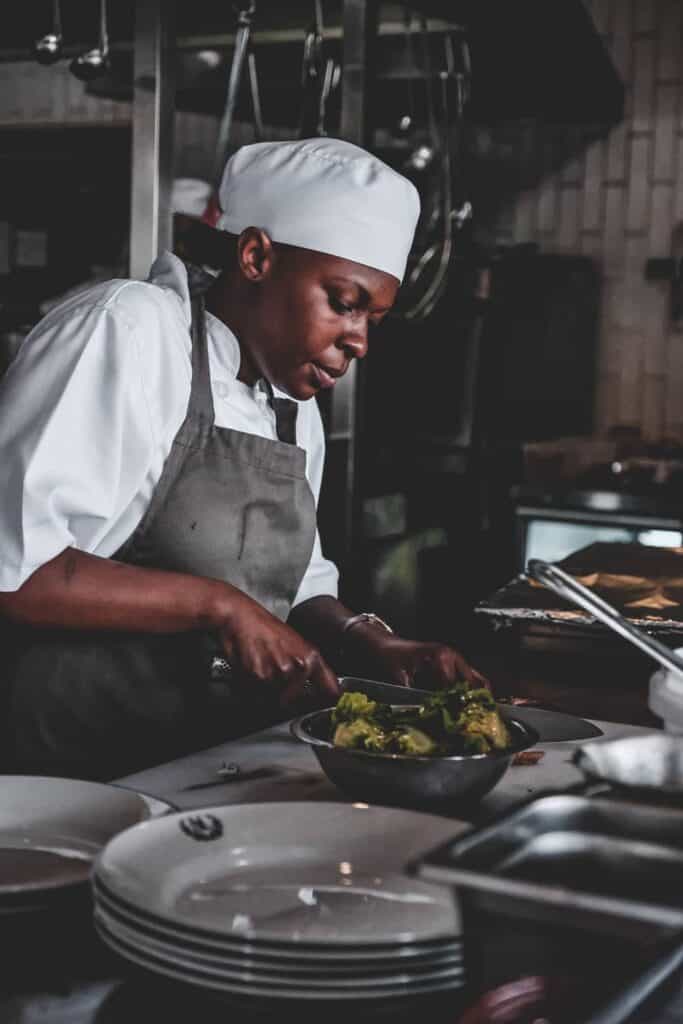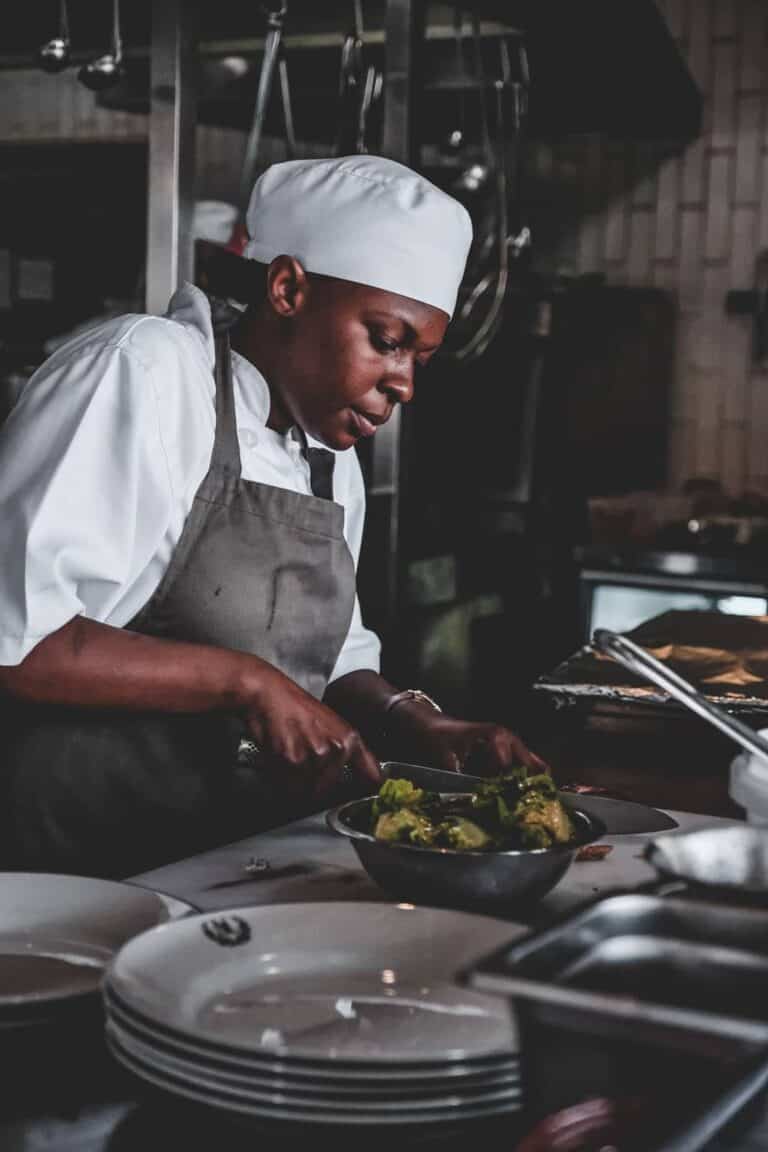 The best vegan culinary school courses
A vegan chef course can be hard to find given that most culinary schools are not vegan and many require students to cook meat-based food. However, thankfully, there's now more than one vegan cooking school. And many vegetarian chef courses are now offered online, meaning you can complete them from anywhere in the world.
Looking for a vegan cooking class near you? There are in-person courses too!
Vegan chef jobs are one of the most in-demand industries at the moment thanks to rising numbers of vegans. In fact, vegan chef was listed as one of the most in-demand jobs in the UK in 2019.
If you're interested in becoming a vegan chef, whether you're interested in becoming a vegan personal chef or working in a vegan restaurant, then completing vegan training at a culinary school can help, though it's not a prerequisite for working in the food industry.
Some vegan nutritionists also choose to take vegan chef classes so they can be better prepared to help their clients by creating recipes for them.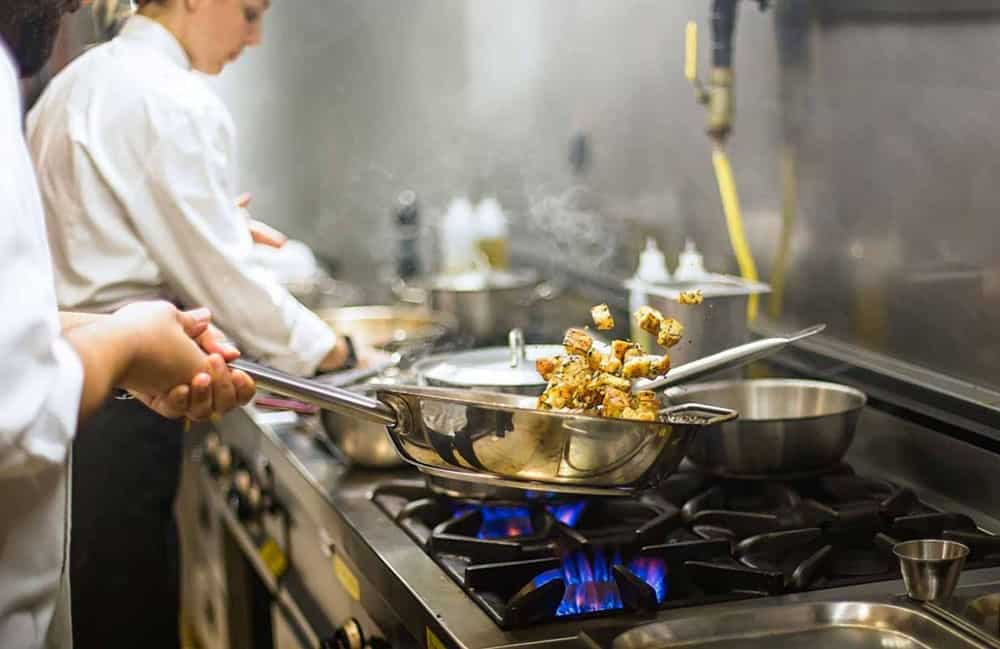 Best for: plant-based culinary school online
The Natural Chef training program is The School of Natural Cookery's vegan chef training. This vegan chef school is based in Boulder, Colorado but at the moment all of their whole foods plant based cooking classes take place online.
Prior to the pandemic, part of their natural vegan chef classes took place in person; during the pandemic they became one of the first and only culinary schools to be approved for entirely online teaching. If you're based elsewhere in the US or the world this is great news.
They use a unique camera setup so that instructors can watch you cooking and you will receive coaching online where you can ask questions 1-on-1. This focus provides you with lots of individual attention, so if you're looking for vegan chef certification online which replicates individual instruction it's a great addition.
One aspect that sets this plant based chef school apart from other culinary schools is its 'intuitive cooking' approach which teaches the building blocks of cooking, but not recipes. You'll learn to create recipes out of whatever you have available.
As a vegan culinary school, the fact School of Natural Cookery is an approved State of Colorado private vocational school sets it apart from other online cooking schools.
This vegetarian culinary school requires its students to turn in 500 assignments and meet weekly online with mentors over nine months, ensuring you're learning.
If you're looking for a small group environment, vegan culinary school online, The School of Natural Cookery is your best fit for web-based vegan culinary training. Founded in 1983, this vegan culinary academy has a long track record of success in training vegan chefs.
The Natural Chef training program runs online a few times a year and you must apply for this whole foods, plant-based, vegan chef certification course by the application date specified on the website. The online vegan chef training lasts 9 months and you should expect to commit around 25 hours per week to it.
The Natural Chef training tuition is $10,520.
Alumni from the vegan culinary arts school have worked in restaurants, as food developers and also as nutritionists (many nutritionists like to hone their cooking skills so they can create recipes for clients tailored to their needs).
Students love the vegan natural chef course, and you can read their glowing reviews here. The only downside of the course is it doesn't cover food safety, so you'll need to do additional training in that if you need to.
Click here to find out more about the Foundation Course at the School of Natural Cookery.
---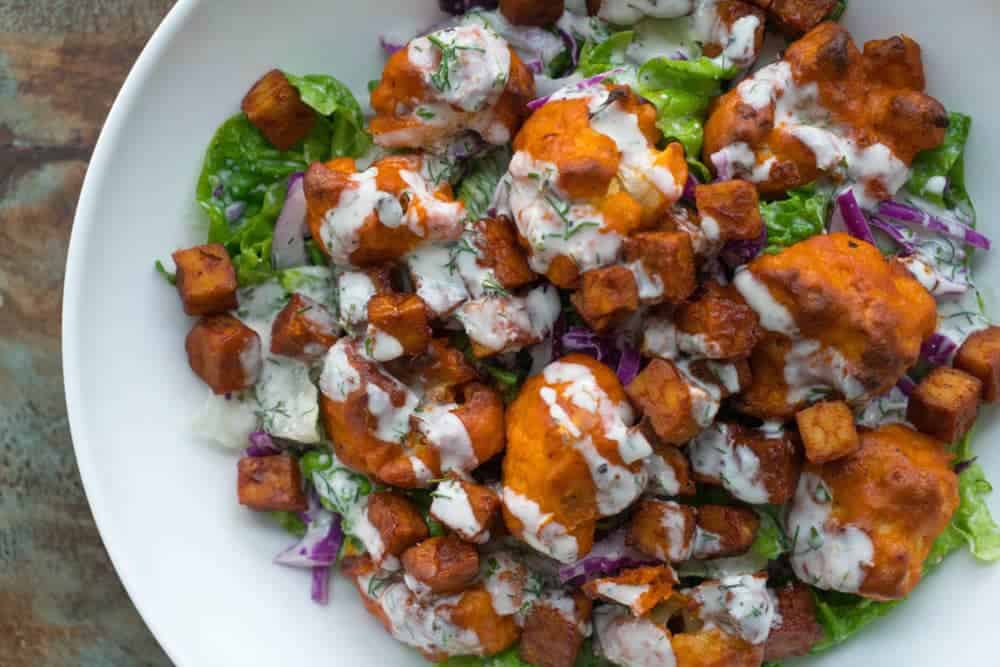 If you want to dip your toe in the world of plant-based cooking, this is a good introductory course and basic vegan cooking certification but you'll need further study if you want a diploma or to train to professional level.
Rouxbe online culinary school is based completely online and has been running classes online since 2005, meaning whilst it's not as old as some other schools on this list, it's old in internet terms.
After running classes online for a decade and a half, you can be sure they've got the technical kinks worked out and are a reliable place to take their plant-based professional course.
They have number of different cooking courses, including a plant based cooking certification.
One thing to note is that Rouxbe is not an accredited institution; however, it is recognised by the American Culinary Federation Education Foundation as quality education.
With the Plant-Based Pro Certification everything is based online, meaning you can complete this course no matter where you're located.
You'll have 24/7 access to the online vegan culinary classes, and you can start whenever you want (you'll have access as soon as you sign up) so you don't have to wait for the term to start.
There are 220 hours of course materials online, divided into 18 units and 85 lessons (and over 200 videos) and you'll have personalised instruction and grading.
While you have lifetime access to course materials, to receive the Certification of Completion you'll need to finish the course in 6 months.
The course is priced at $1,799.99.
The downside of this course is it's not a diploma, and is really therefore best suited to those who are already food industry professionals and just want to learn cooking from a vegan perspective (though you'll find the basics boring), for home cooks who want to hone skills, or for anyone who wants an introduction to vegan cooking before deciding whether to attend a longer course at a culinary school.
Click here to find out more about the Rouxbe Plant-Based Professional Certification.
---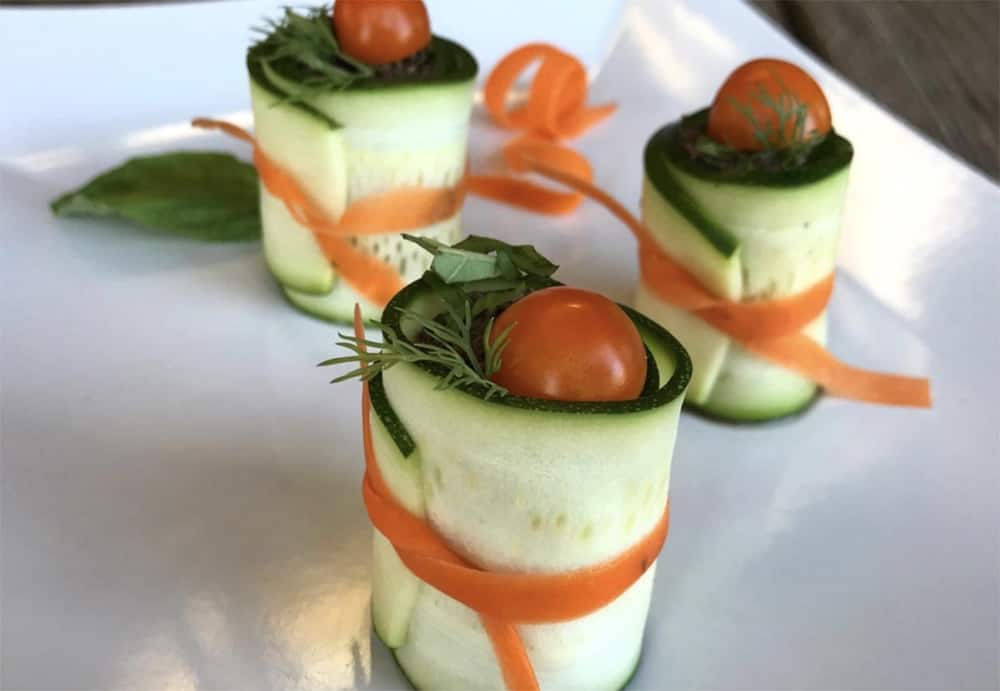 Based in Mendocino, California, the Living Light Institute is perhaps the top raw vegan culinary school in the US. This vegan school has been teaching chefs at their raw vegan chef school since 1998.
This raw vegan cooking school offers some courses on the essentials of raw vegan cooking online, but their other classes and vegan cooking workshops are based at the raw food culinary institute in California.
At the raw culinary school you'll learn:
the fundamentals of raw food
cutting-edge knifing skills
raw vegan desserts
raw food presentation skills
and more
The Mastery of Raw Cuisine certificate course costs $6,605.
The Living Light Institute also offers standalone classes such as entry-level class Fundamentals of Living Foods ($325), Raw Vegan Artisan Desserts ($1,475) and more.
This vegan gastronomy culinary academy specializes in raw food, so the main downside is this is the primary focus (ideal if this is your focus, less so if you wish to prepare cooked foods as well) though they do offer a cooked/raw fusion class for $1675.
Click here to find out more about raw vegan chef training with the Living Light Institute.
---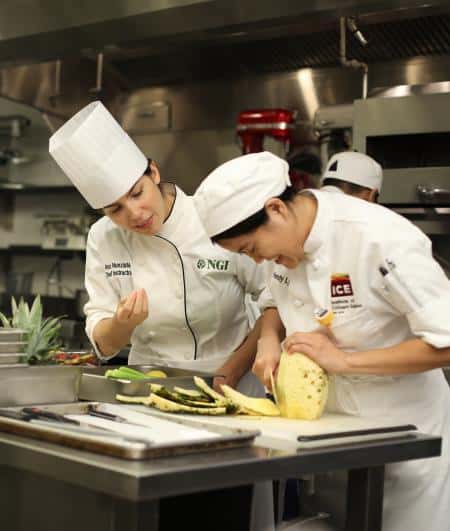 Formerly the Natural Gourmet Institute, this vegetarian chef school was founded in 1977 and recently became part of New York's Institute of Culinary Education.
If you're looking for a plant based culinary school in New York City that will prepare you for the demands of working in a commercial kitchen, this is it. Looking for vegan cooking classes NYC for fun? You'll want to skip this school, because these plant based cooking classes in NYC are more aimed at pros.
This vegetarian cooking school is a full-time course, so taking vegetarian cooking courses here is a big time commitment (as well as a big financial commitment, with tuition of $47,950 for the 14-month Associates Degree program).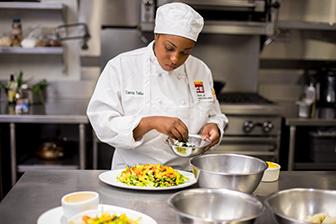 For this plant based chef course, you can choose between a 8 month program (Part-time course of 7am-11am or 11am-3pm, Monday-Friday, or an Evening/Weekend course from 7pm-11pm Mondays and 9am-5pm Sundays). Or, there's the vegan diploma course, the 14-month Associates Degree.
At this vegan culinary institute, you also have the chance to do the Double Diploma. This Natural Gourmet Center school diploma covers both cooking plus the business side of things, which you can then double up with the vegan cooking diploma course – a good combination if, say, you want to run a vegan restaurant.
Looking for a raw food culinary school in NYC? This school isn't raw, so you might want to look at the Living Light Institute in California. However, if you want to know how to become a vegan chef, a plant based chef certification from here will help.
The downside of this course is the big financial investment. Some professional chefs say that culinary school, vegan or otherwise, is overpriced and not actually necessary, while others recommend culinary education.
Click here to find out more about the Natural Gourmet Center at the Institute of Culinary Education.
---
More vegan culinary schools
Here are more vegan cooking schools, in London, India and online.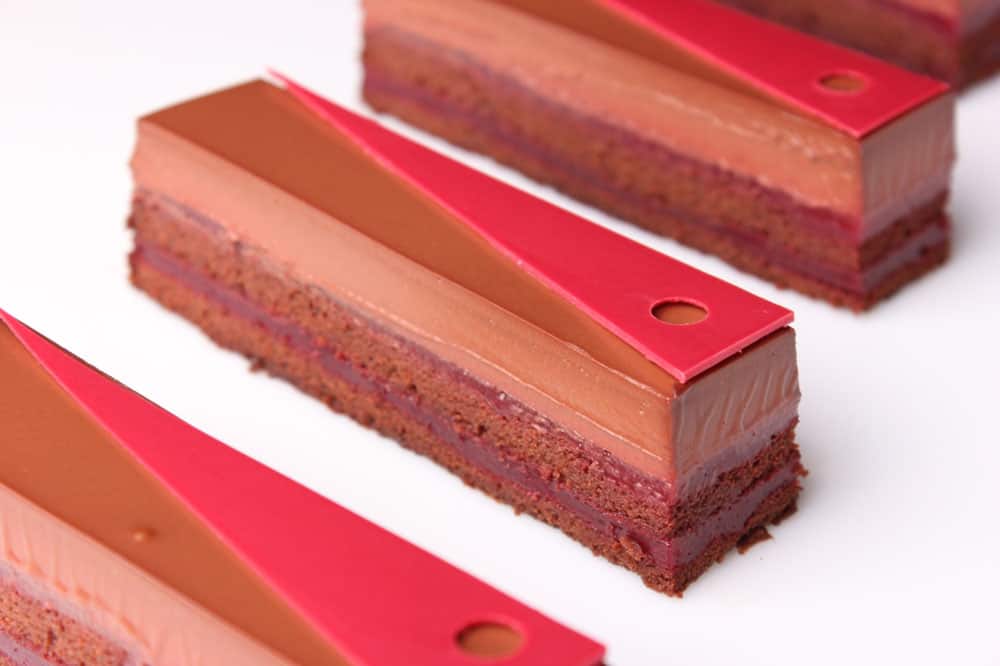 This vegan pastry chef school is run by vega pastry chef Toni Rodriguez and based in Barcelona, with options of in-person classes or online.
They aim their vegan pastry chef course options at professional pastry chefs who want to learn how to create vegan pastries, as well as home cooks who want to improve their skills making desserts.
Having tried Toni Rodriguez's desserts both when he was selling them in Barcelona and London, I can confirm they were absolutely delicious, so if you're looking for a vegan pastry school taught by a pro he's definitely an expert.
Choose from classes at the pastry chef school like fine pastries, gluten free vegan pastries, essentials in vegan pastry or specialty classes in vegan croissants or vegan doughnuts.
Note that while the online vegan baking school classes are available in Spanish with English subtitles, in-person courses are in Spanish only.
Best for: vegan culinary school Europe
This vegan cooking diploma course runs for 3 months in London, costs £8,640 and is eligible for a UK student visa.
Unfortunately Day Radley's Vegan Chef School isn't accepting students at the moment so Le Cordon Bleu is the sole pro vegan cookery school in the UK (though there are plenty of options for home cooks).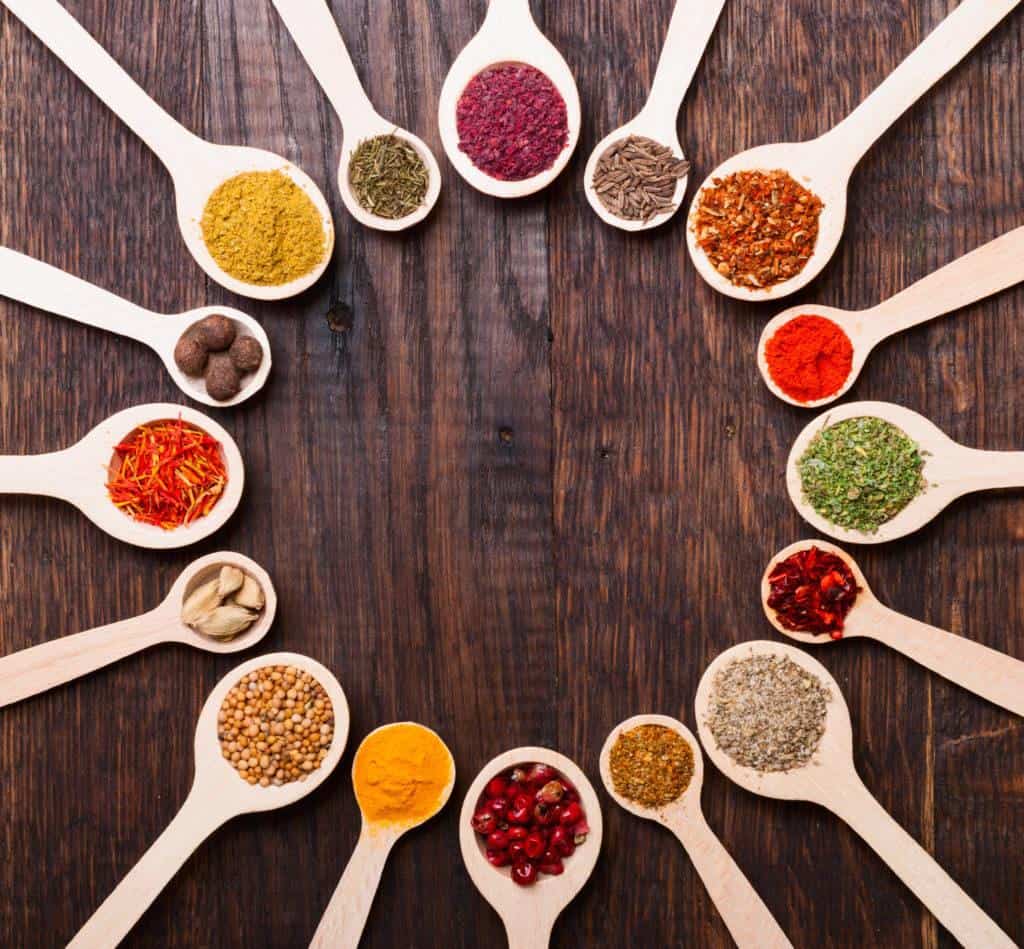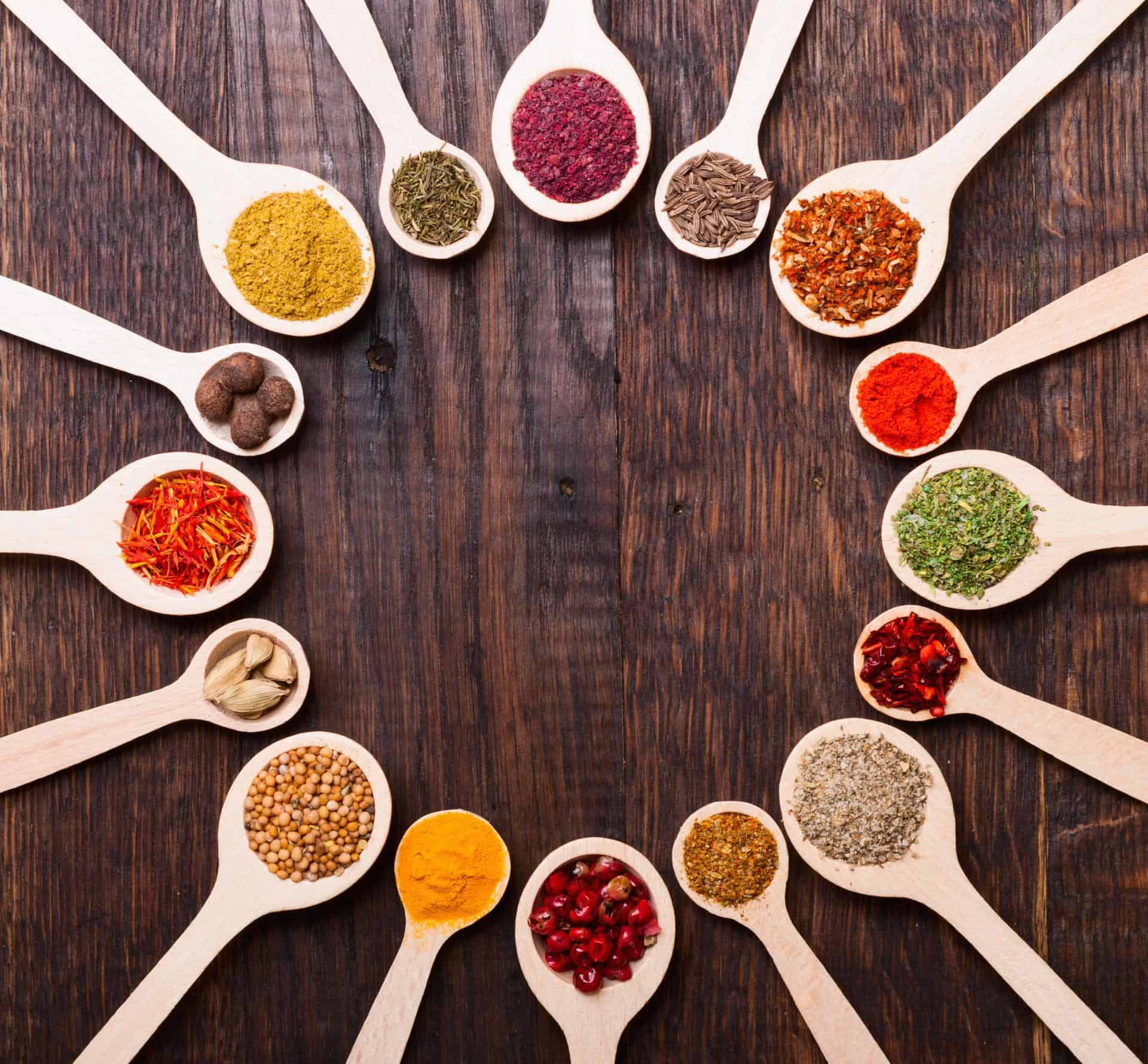 With online options and in-person options at their Boulder campus, Escoffier now offers plant based chef training (as well as non-vegan courses) at their culinary school.
They have three plant-based culinary programs: the online Associate Degree in Plant-Based Culinary Arts, the Plant-Based Cuisine Diploma in Boulder, Colorado, and the online Plant-Based Culinary Arts Diploma.
The Associate Degree in Plant Based Culinary Arts is entirely online and includes two externships. Tuition is $20,498. It also covers Business Operations and managerial accounting.
They have campuses in both Austin and Boulder, but at present only the Boulder campus offers a plant-based course, the Plant-Based Cuisine Diploma, which also offers the option to enroll in the Associate Degree at the online plant based culinary school after graduation with credit transfer.
A newcomer, I recently came across The Vegan School in Goa online. Focusing in whole foods, it also covers gluten-free cooking, oil-free cooking and raw food.
The vegan culinary course runs over 11 weeks, with a 1-week break. There's also the possibility to take on an internship after the course ends.
Unlike some of the other courses here, you won't receive a diploma at the end so you will be better off selecting a different option if you want or need a diploma.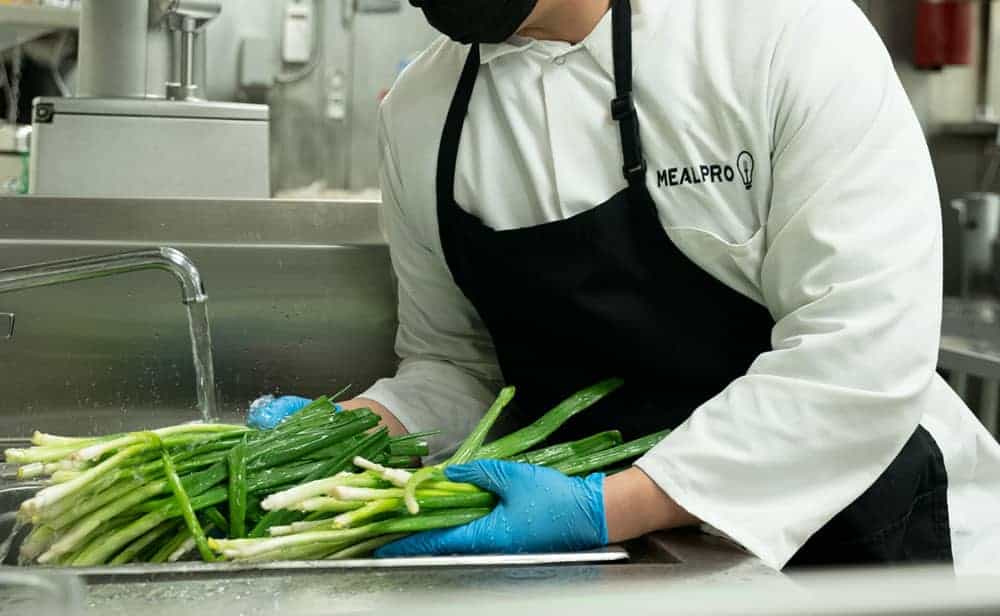 Plant based nutrition course
While not strictly a nutrition course (it's actually a course on how to go vegan), I highly recommend Brownble's The Roadmap to learn the basics of vegan nutrition from an evidence-based perspective. Run by Kim, a certified plant-based cook and her husband, Carlos, a doctor, everything in The Roadmap is based on a scientific perspective.
If you are looking to take a vegan nutrition course with the aim of giving nutrition advice, rather than just learning the basics for yourself or to develop more nutritionally balanced recipes, then I highly recommend you seek out an accredited program at a local college to become a registered dietician. Having an RD will open up career opportunities.
For those interested in careers in plant based nutrition, The Vegan RD has an article on how to become a vegan RD here.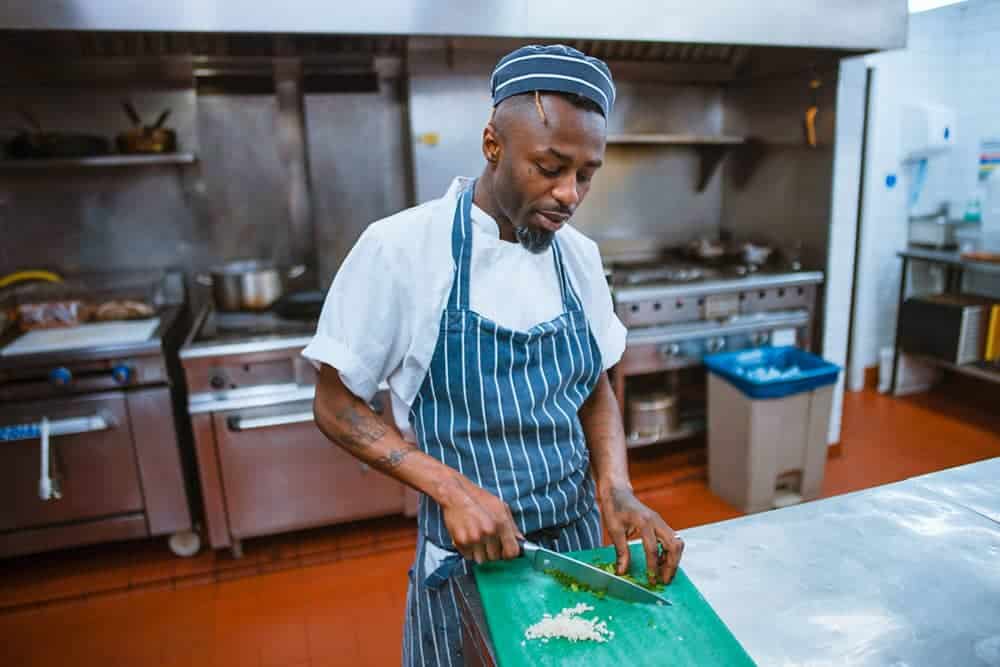 FAQ
As a vegetarian/vegan could I get through culinary school?
Most traditional culinary schools require students to cook (and taste) meat.
However, more schools are opening up avenues for vegan chef training online, while there are also vegan culinary schools in-person, such as the Living Light Institute in Mendocino, California and the Plant-Based Culinary Arts Diploma at ICE in NYC.
Is there a vegan culinary school?
There are a number of fully vegan culinary schools offering a vegan chef course online, such as this one, which I recommend, as well as the Vegan Chef Institute in the UK and Toni Rodriguez Academy, which offers vegan patisserie courses.
In-person, ICE in NYC offers a vegan course option, the Natural Gourmet Institute, and Living Light Institute is a fully vegan raw school in California.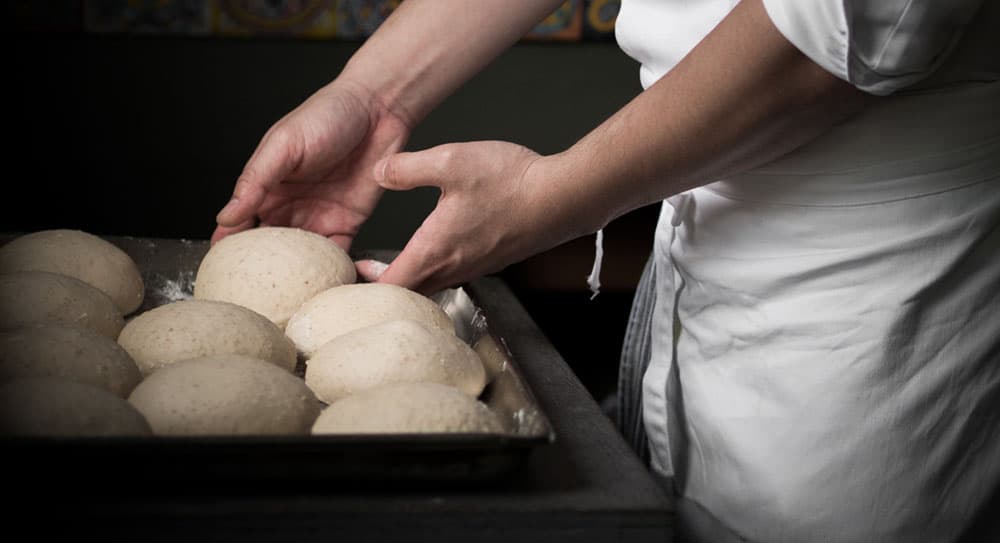 How do you become a vegan chef considering most reputable culinary schools require you to cook animals?
A vegan chef education isn't strictly necessary; many in the food industry don't have a qualification at all and have learned through experience. However, for those who want to study vegan cooking, there are fully vegan culinary schools (like this one that I recommend) as well as cooking schools that offer vegan courses, like the Natural Gourmet Center at ICE in NYC, or Le Cordon Bleu, which offers a plant-based diploma in London.
What are the best vegan culinary schools in the world?
There aren't that many fully vegan culinary schools, but the number is growing all the time. Some, like the School of Natural Cookery and the Living Light Institute, have decades of experience. Others have been launched in the last few years, such as the Vegan Chef School in London.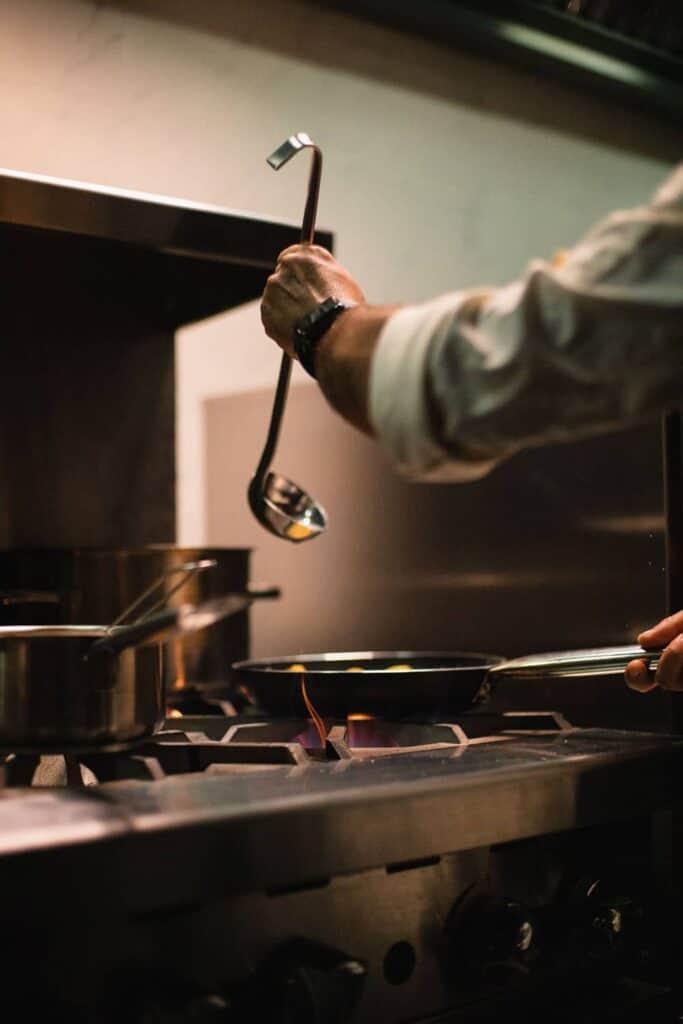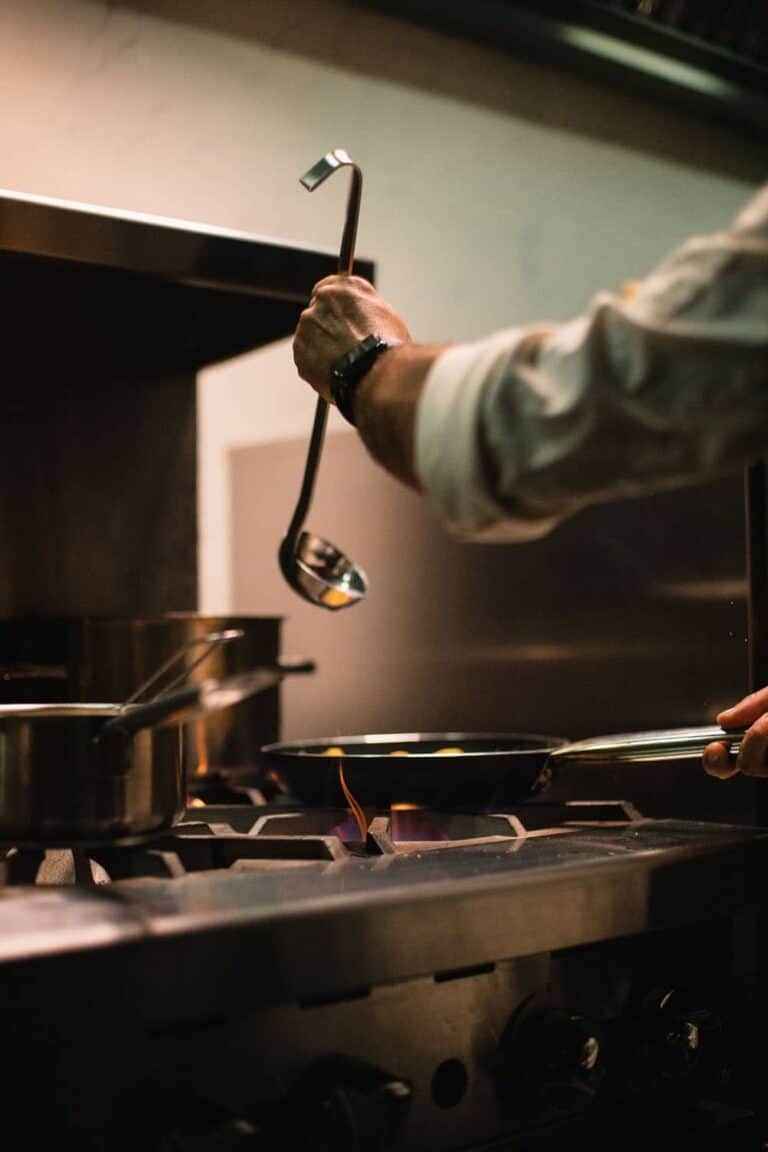 How does one become a vegan private chef?
Thanks to growing interest in veganism, vegan chefs are in demand. If you want to become a private chef, Food and Wine has a guide here.
You may also want to complete a vegan chef online course like this one, which teaches you how to cook intuitively, using the ingredients you have to hand.
Pin this for later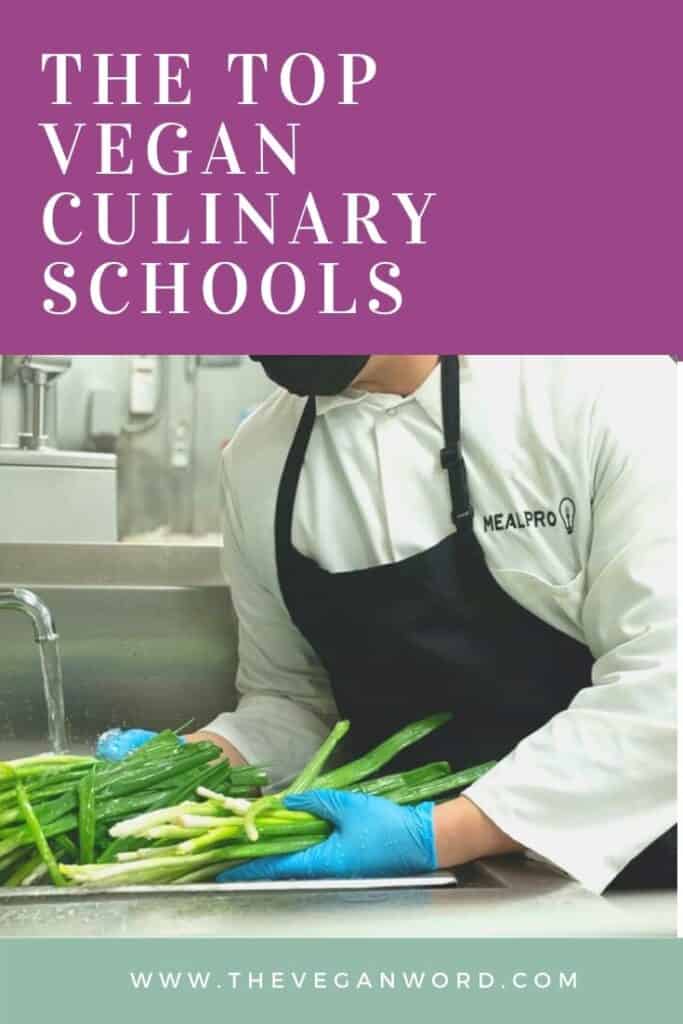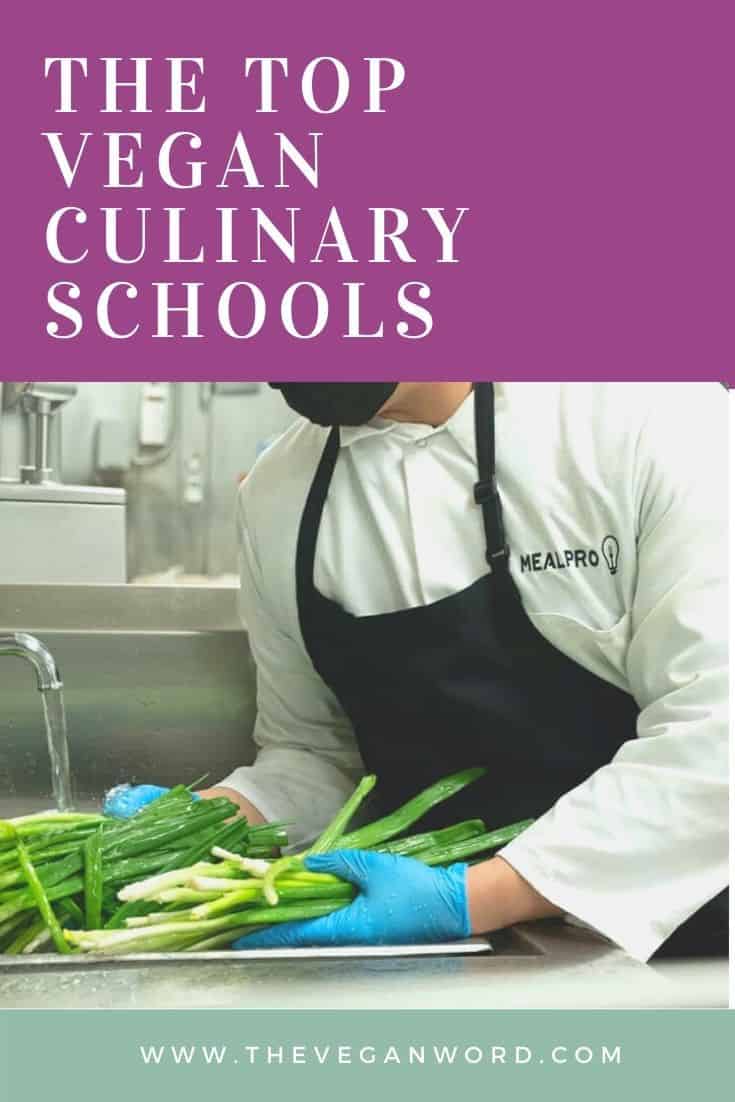 If you're interested in learning to cook as a home chef, rather than at a professional level, check out my guide to vegan online cooking classes.
I also have a guide to the most essential vegan kitchen tools to get set up for cooking vegan in your home kitchen.
I also have guides to the best blenders for vegans and the best food processors for vegans.
Find all my vegan product guides.
Main photo: Photo by Caroline Attwood on Unsplash