Vegan Amsterdam: Dutch cuisine may not have the reputation of traditionally being very vegan-friendly but these days it's a vegan capital of Europe, alongside cities like Lisbon and Barcelona (in fact, it was number 9 on my list of the 25 most vegan-friendly cities in the World!).
These days, a vegan in Amsterdam in spoilt for choice when it comes to vegan Amsterdam restaurants. The Amsterdam vegan scene is strong; not only is there a vegetarian capsule hotel and a wide variety of vegan places to eat in Amsterdam, but the quality of vegan food is one of the highest I've experienced in recent years.
A quick note on sustainability: Amsterdam is currently experiencing overtourism. The Amsterdam tourist board has taken a creative approach to this. While some cities experiencing overtourism are capping tourists, Amsterdam's tourist board is instead encouraging visitors to visit and stay in areas outside the traditionally touristed areas of the centre, using innovative features like an app that will tell visitors which attractions have the fewest crowds.
What can you do? If you're reading this article, you're may have booked your trip already, but if not consider the following options:
Travel in the off season (I always recommend avoiding travel during peak travel season in most major cities anyway–it's far more enjoyable!). I went in December and there were few crowds; the weather may be a little colder but it was still warm enough to explore wrapped up in a coat and I got to see the light festival, which only happens in winter, and I didn't need to bother packing sunscreen
Stay in/explore areas outside the city centre (I have some suggestions below–a lot of veggie restaurants are outside the centre anyway). There's more to Amsterdam than the Red Light District
Avoid unregulated holiday apartments, which city officials say deplete available housing for city residents and cause safety and noise concerns
Lastly, educate yourself on the issue and decide for yourself what you can do. I enjoyed this post by a former Amsterdam resident on the issue.
Okay, let's carry on with vegan restaurants Amsterdam! Read on to find out where to find the best vegan food Amsterdam has to offer.
where
Where to stay
If you're looking for a vegan hotel in Amsterdam, you may be disappointed to learn there aren't any 100% vegan hotels. Amsterdam does, however, have several vegan friendly accommodation options. Here are my favourite places for vegans to stay in Amsterdam.
w hotel

If you're looking for a luxury stay, then I highly recommend the W Amsterdam. Its central location, with the ability to walk everywhere, combined with the fact that it's quiet even though it's centrally located (it's just that little bit outside the buzziest, noisiest areas), make it the perfect choice. The rooms are very modern, with intriguing and unsual decor and each bed features a touchpad controlling the curtains (including a blackout blind) and lights. The waterfall showers are located in the room itself, so beware that this might not be a suitable place to share a room with a friend or colleague. The shower glass is frosted and my friend and I happily shared, but it could be awkward if you don't know the person well. Best suited to couples!
The W hotel has all the amenities you would expect, including multiple onsite restaurants and a rooftop pool. The roof itself has stunning views of the city but the pool is very thin, making it unsuitable for laps but perfect for summertime drinks. There's an indoor pool, located in a spa area, alongside a sauna, steam room, hot and cold plunge pools and hot tub, which guests can use free (but you do need to enquire in advance). I loved it. There's a bar adjacent to the pool, which serves coffee in the morning, and a restaurant next to it. Avoid the restaurant as it's a bbq joint and displays meat in the windows. The bar has soya milk for coffee and we had our coffee with a view of the pool and beautiful views of the city through floor-to-ceiling windows.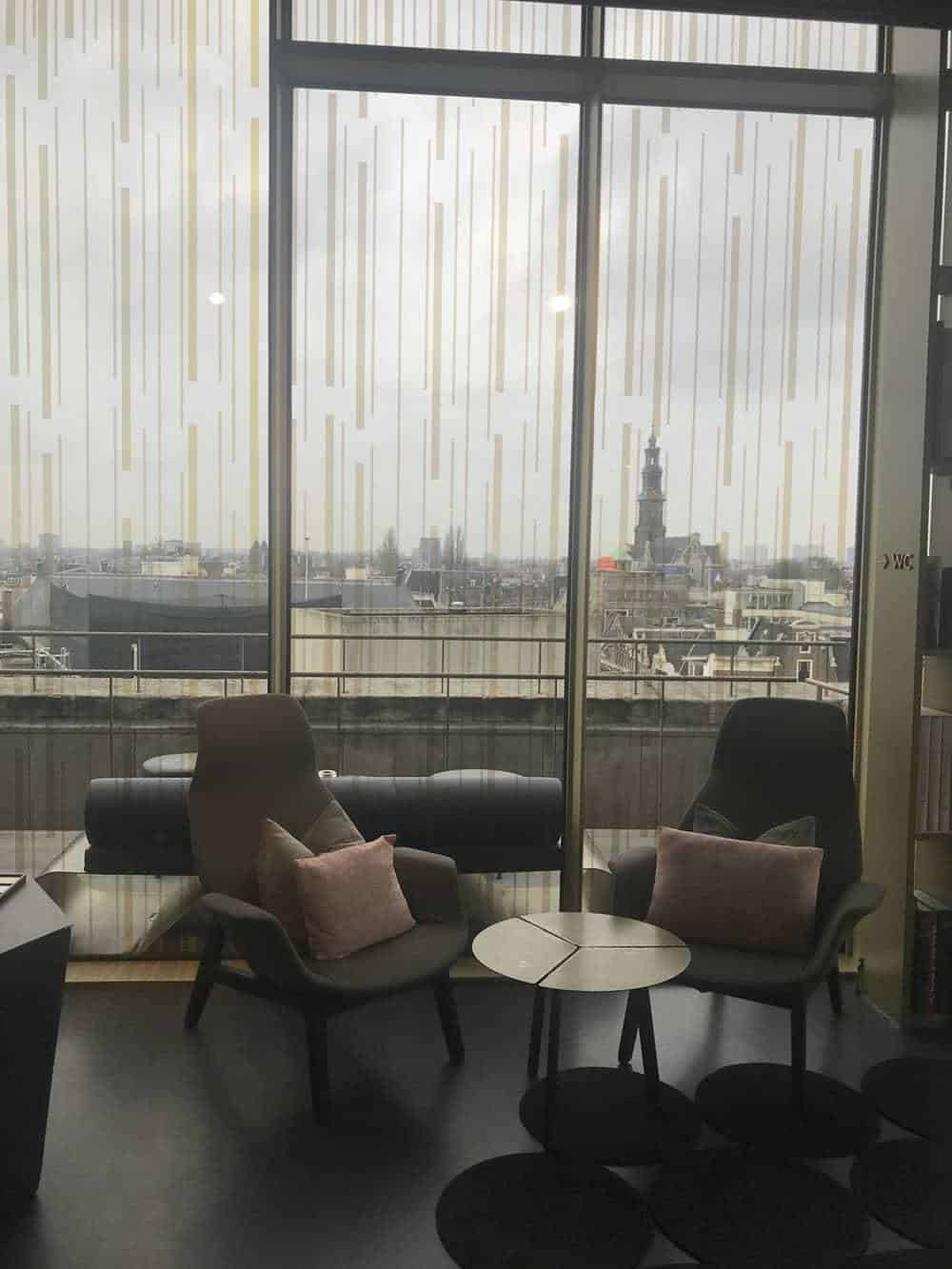 While I didn't order anything from room service, I looked through the menus (including a menu for dogs!) and they had a fair number of dishes that looked vegan or easy to veganise. At most 5 star hotels, they are happy to make you a vegan dish if you ask.
Plus, because it's so centrally located, it's easy to get from the W to the best vegan restaurants Amsterdam has.
Click here for the latest prices and availability.
boat hotel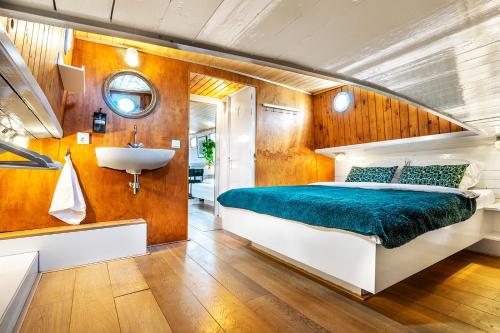 You can't get more Amsterdam than staying on a boat. Asile Flottant is a collection of 6 boats docked on a canal that have been retrofitted into hotel rooms. They're located at de Ceuvel, which is a really cool area worth exploring in its own right (read more about it here). I attended a gig there, and learned about this eco-friendly area, where they've taken a selection of old houseboats and docked some on land in a 'secret garden', fitted them out in an eco-friendly manner to be workspaces for social enterprises and created an experiment in sustainability.
If you've ever been curious what it would be like to stay on a floating B&B, here's your chance!
Each hotel-boat comes with a terrace and has its own unique features, such as a bathtub overlooking the machinery or a bed in the wheelhouse. On-site you'll find Cafe de Ceuvel, which is vegan friendly. This cafe is built out of reused materials and they use vegetables grown themselves. They have plenty of vegan options, marked with a leaf on the menu, and seating on their terrace or hammocks so when you're hungry, climb off your houseboat and head over to the cafe!
Located in North Amsterdam, you can take a bus or ferry to cross the water, or catch the metro, to get into the city centre.
Click here for the latest prices and availability.
traditional hotel
De Bedstee capsule hotel is a boutique capsule hotel using traditional vintage Dutch 'box beds'. If you've never seen one of these beds, check out the Wikipedia page here. Perhaps not for the claustrophobic! But, if you're looking for an Amsterdam vegan hotel, de Bedstee is the closest you'll get, as it's 100% vegetarian and the only vegetarian and vegan hotel in the city.
Click here for the latest prices and availability.
budget option
Eco Mama is an eco-friendly hostel located right in the heart of Amsterdam. My friend stayed here and she loved it. They offer lots of fun upgrades at really affordable prices; for example, they paid just 3 Euros more for a canal view! The hostel even sends out guides to guests based on their interest areas, including a vegan guide to the city! The hostel has a green roof, uses eco friendly and fairtrade products and much of the furniture is made from recycled objects. Plus, there's an on-site cafe (the Fix) with vegan options.
Click here for the latest prices and availability.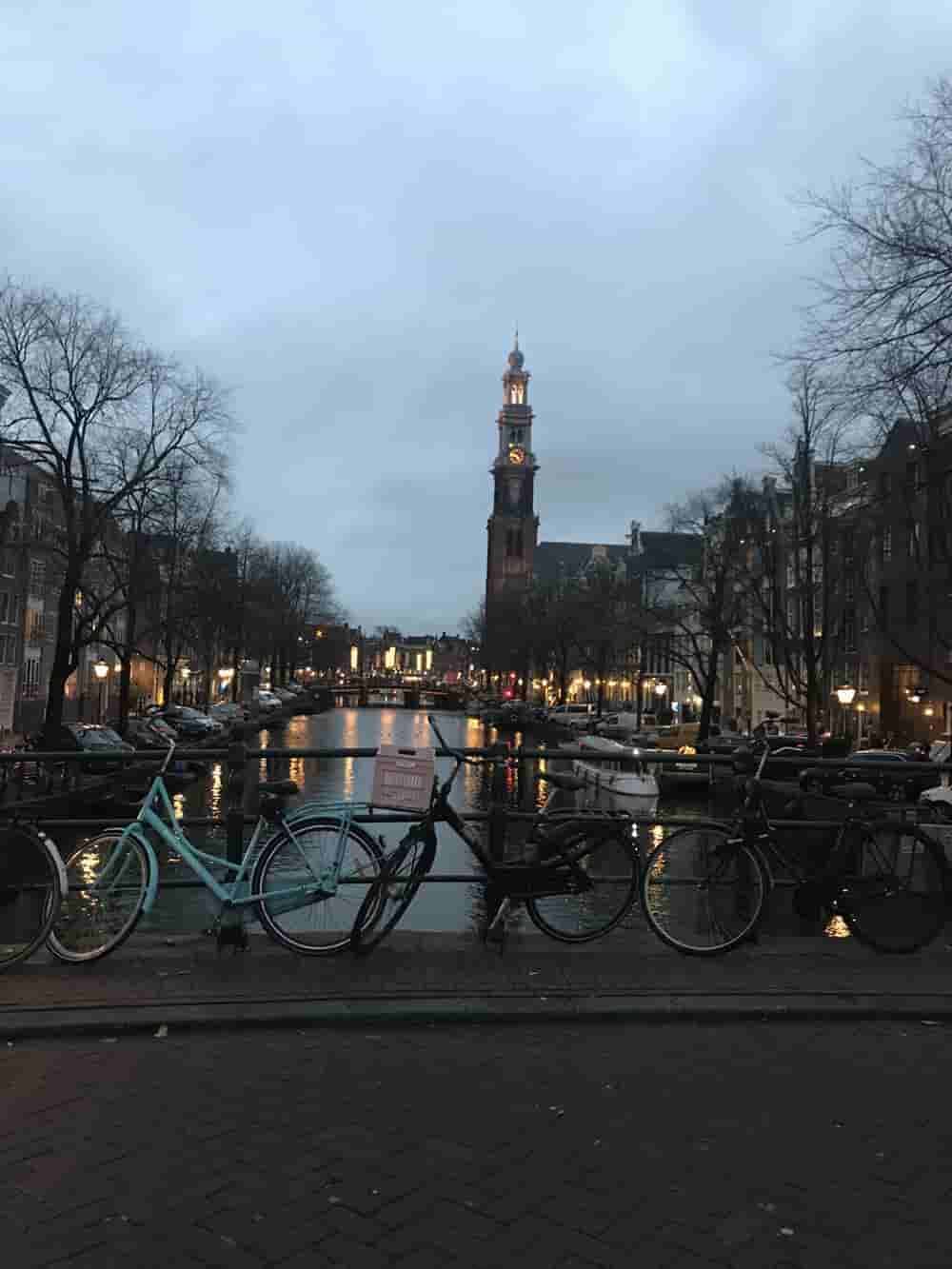 best vegan restaurants
Vegan Amsterdam: the best vegan restaurants in Amsterdam
So, you're going to Amsterdam and searching for the top vegan restaurant Amsterdam has to offer. While Amsterdam might not traditionally be thought of as a vegan capital, that's changing. I went to Amsterdam recently for a Dutch friend's wedding and decided to stay a week to explore Dutch vegan cuisine more fully. I didn't know what to expect of their vegan food. Amsterdam blew me away, frankly! The overall quality of the vegan meals I had there (including at my friend's wedding at the Grand Sofitel) was some of the best in past few years of vegan travels.
The Amsterdam vegan restaurant scene is strong. So, how to choose? I did extensive research before my trip (and thankfully got really helpful tips from a local vegan friend!) and tested Amsterdam vegan restaurants thoroughly to bring you this list. Below, you'll find what are in my opinion the best vegan restaurants in Amsterdam. Below the list, you'll find a few additional places that I either didn't get a chance to visit, or heard mixed reviews about and opted not to visit (I've noted these).
Whether you're looking for the very best vegan restaurants in Amsterdam, healthy restaurants in Amsterdam, raw Amsterdam spots or just vegan cupcakes in Amsterdam, you'll find it with this Amsterdam vegetarian restaurant guide. These are the very best vegan Amsterdam spots!
terrazen

Sint Jacobsstraat 19HS, 1012 NC Amsterdam
Facebook
Mains: €10-15
What to get: fried tempeh sushi (a crunchy, flavourful masterpiece)
TerraZen Amsterdam is a Caribbean-Japanese fusion restaurant located in the central part of the city. This vegan Amsterdam restaurant is one of the few located right in the heart of the city, and if you're looking for vegan Amsterdam Centraal food, it's only a 5 minute walk from the station. Caribbean and Japanese might sound like an unusual combination -- it's because the couple who own it are a husband and wife team and the wife is Japanese while the husband is Caribbean.
Ready for a taste adventure? Get the sushi with the fried tempeh. If you're looking for vegan sushi in Amsterdam, THIS is the place to go. They have two types of sushi on the menu currently so be sure to ask for the one made with fried tempeh. Hands down the most exciting and tastiest sushi I've had in the last few years. While you can get an avocado maki anywhere, it gets a little boring and samey. This, on the other hand, is a texture explosion.
The fried tempeh sushi is crunchy and comes with fried tempeh, avocado, lettuce and an amazing, flavourful sauce. I've heard mixed things about some of the other dishes but my local vegan friend recommended the fried tempeh sushi and it didn't disappoint! I'm not even a big fan of tempeh normally but I loved this sushi. Highly recommended if you're looking for a vegan lunch in Amsterdam's centre.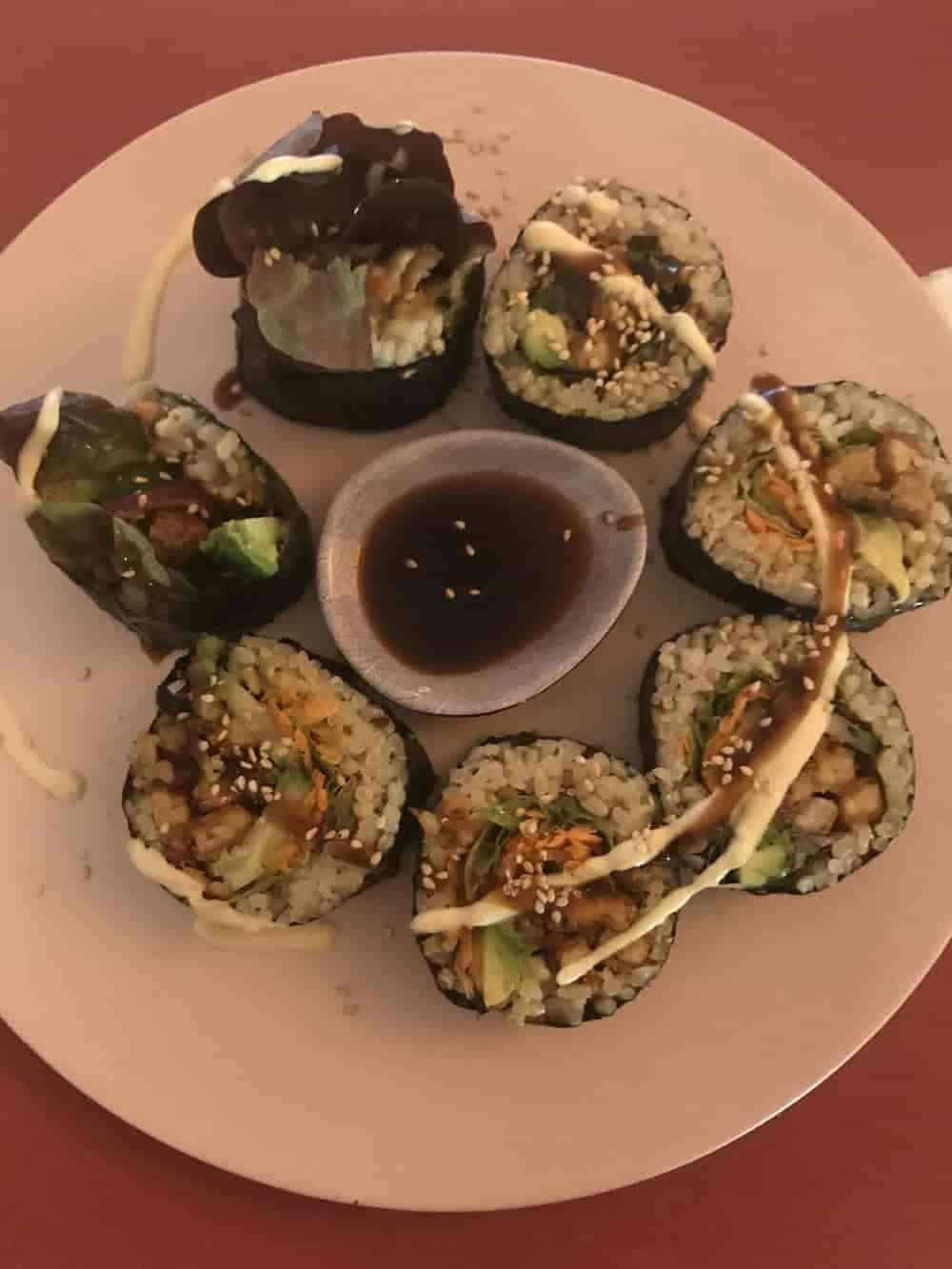 The TerraZen vegan Amsterdam menu is unusual. When you walk into this colourful vegan Amsterdam centrum restaurant, the first thing you'll notice are the bright murals on the walls and the chalkboard menu on one wall of the restaurant. This is the only menu (I also couldn't find a full menu online). Embrace the uniqueness of the restaurant. And don't forget to try the fried tempeh sushi!
Click here to reserve a table at TerraZen.
men impossible

Hazenstraat 19H, 1016 SM Amsterdam
Website | Facebook
Mains: €25 (includes starters and a non-alcoholic drink)

What to get: the hand-pulled vegan ramen and a selection of starters
Men Impossible is Amsterdam's only vegan ramen restaurant. It's one of the most special vegan places in Amsterdam. I've never been to a restaurant like this anywhere else.
YOU MUST HAVE RESERVATIONS (they don't take any walk-in customers at all!) but it's so unusual, it's absolutely worth booking your spot as far in advance as possible! Men Impossible is a tiny little hole in the wall ramen place, which has only one big table in the restaurant, seating around 18 people.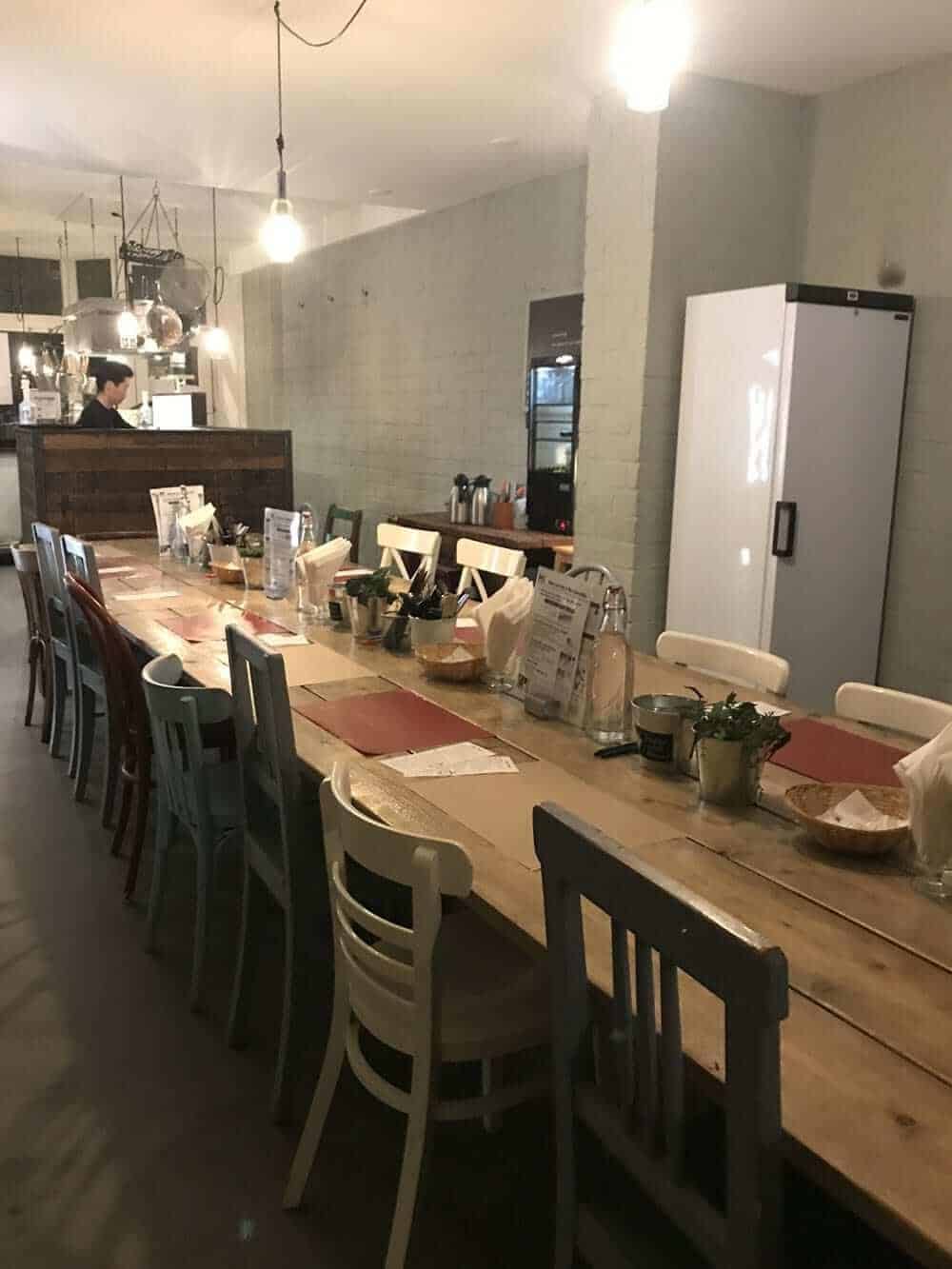 The chef is also the server and host and he's the only person in the restaurant; he does absolutely everything himself!
There are also no options on the menu. Basically, you can choose from the types of ramen (two on the night I went but he said he was planning on changing the menu this year) and then you can choose which array of starters you want (he'll recommend what to get). I got a small selection of every starter (6 when I was there). It costs 25 Euros no matter what, and a non-alcoholic drink is included in your meal. It's extra if you want an alcoholic beverage.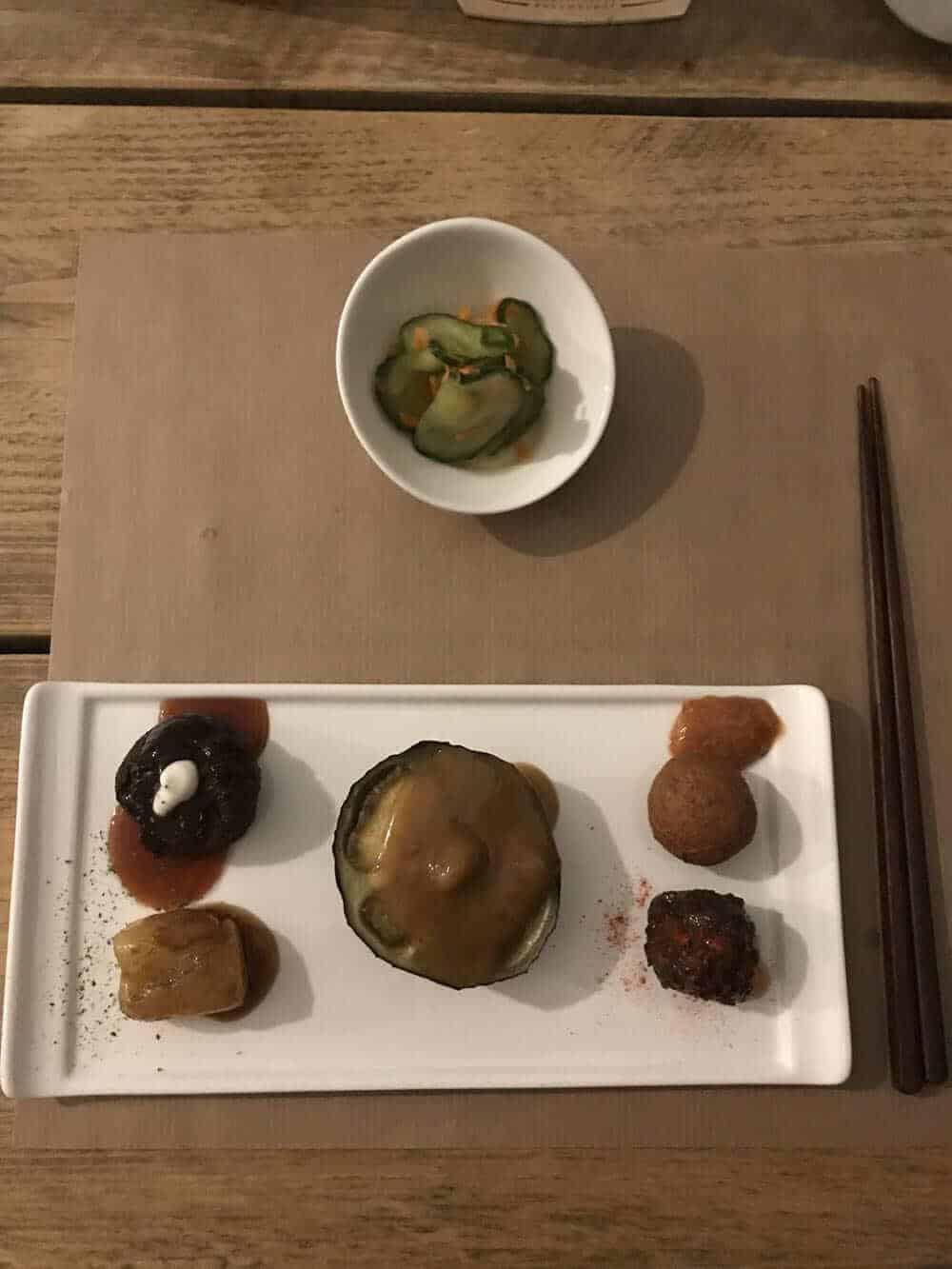 He cooks everything fresh, and makes hand pulled ramen noodles based on how many customers are coming that night (that's why reservations are required). BE SURE TO BOOK THIS ONE BEFORE YOUR TRIP!
Click here to make a reservation (reservations are required!).
mr&mrs watson

Linnaeuskade 3h, 1098 BC Amsterdam
Website | Instagram
Mains: €17 - 19 (Dinner), €7.50 - 14

What to get: the vegan fondue, or a cheese board
Mr & Mrs Watson have the best vegan cheese in Amsterdam and is also the spot I'd pick for a romantic vegan dinner in Amsterdam. This is the best vegan restaurant in Amsterdam for homemade artisan cheeses (made with cashews, I believe) and their vegan fondue was amazing. It came with bread, steamed potatoes and crunchy raw veggies, which I thought odd at first but the contrasting crunch they offered was perfect with the smooth, creamy fondue cheese.
As far as Amsterdam vegan food goes, this is some of the best, and the restaurant is very pretty. The ambiance in this beautiful, modern restaurant is also perfect for a date or special occasion, and the bar is both beautiful and well-stocked. Here, I tried jeniver (a traditional Dutch juniper-based drink that pre-dates gin). It was way too strong for me but if you also want to try it, you can get it at Mr & Mrs Watson.
If you're looking for a vegan Amsterdam Oost restaurant, this is the spot! In the up-and-coming neighbourhood of Amsterdam Oost, there aren't that many vegan places, so be sure to check out Mr & Mrs Watson.
If you're planning on going for dinner, reservations are recommended.
Click here to make reservations.
food hallen


Bellamyplein 51, 1053 AT Amsterdam
Website
Mains: prices vary by stall
Food Hallen is an indoor food market that's really trendy in Amsterdam right now. It's housed in an indoor area that has a cinema and shops, and houses a collection of food stalls from around the world. There are a few stalls that have vegan options, but not all very clearly marked. Fento is one stall that has marked vegan options on the menu. If you're looking for healthy food in Amsterdam, Fento's a go-to. Their specialty is healthy, Mexican-inspired food (in reality, it's not that close to Mexican food but it's still tasty). I had the burrito bowl with mixed greens, spiced black beans, sweet potato, pickled cabbage and cashew cream (€10).
deer mama

Ceintuurbaan 71, 1072 EW Amsterdam
Website | Instagram
Mains: €8.95 - 11.95
What to get: the funky rice noodle salad bowl (or, of course, a burger!)
Deer Mama is a new vegan burger bar in Amsterdam. It was opened by the owners of DopHert, one of the vegan hotspots Amsterdam has. In spite of it being a burger bar, I opted for a noodle bowl (weird, I know). The restaurant was only a few weeks old when I visited, and I'd heard mixed things about the vegan burgers. Amsterdam had also, by this point, worn me down slightly with its rich food offerings, so I was craving something healthier. Since then, I've heard good things about the burgers, so go for them, too!
If you, like me, you feel like a noodle bowl, I highly recommend the funky rice noodle salad bowl (I couldn't resist the vegan sesame mayo and yuzu sauce that comes on it!). Rice noodle salad is topped with pickled cabbage, carrot, radishes, marinated mushrooms, grilled avocado, yuzu sauce, vegan sesame mayonnaise and satisfyingly crispy onions.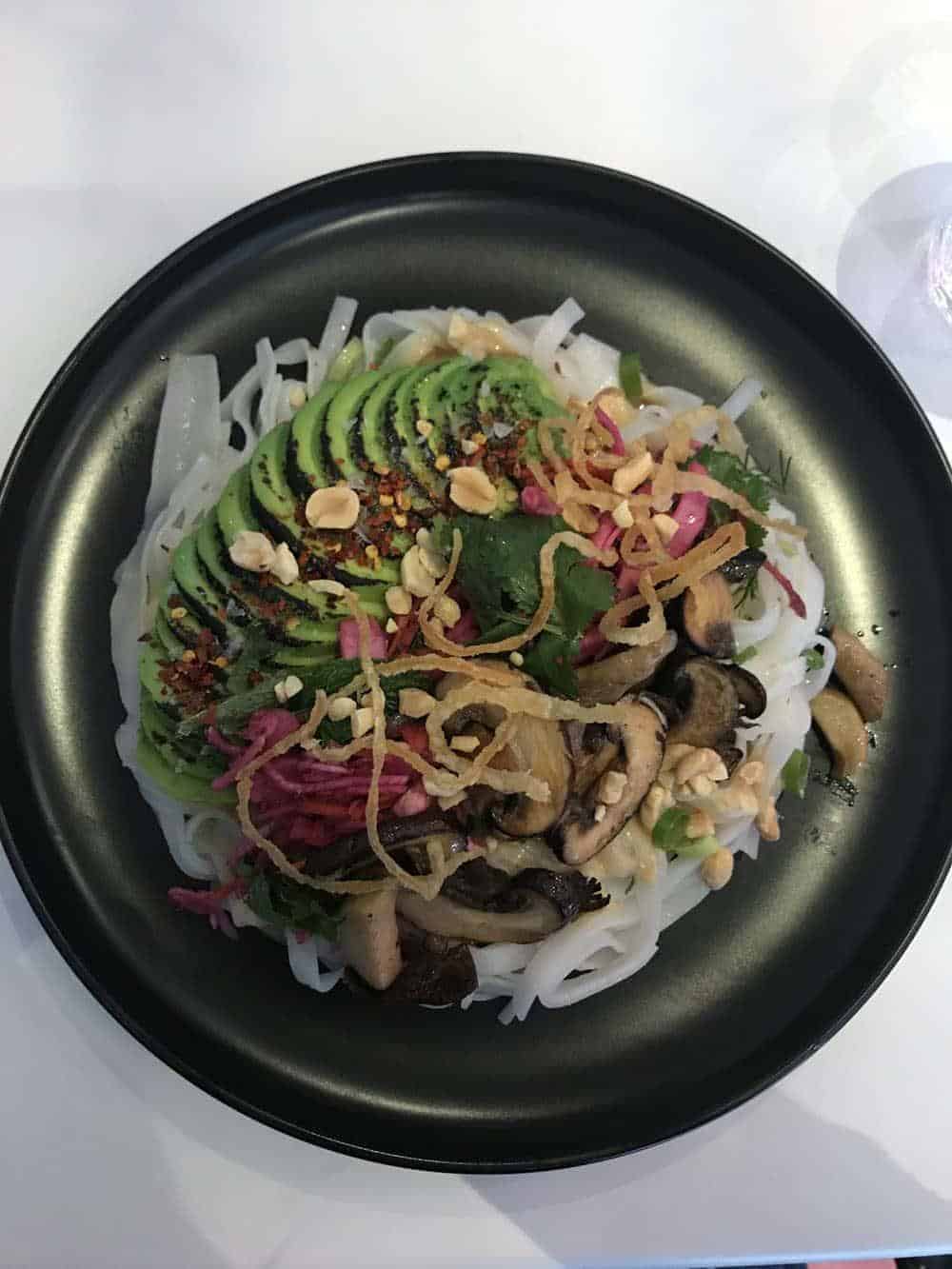 If you're looking for vegan fast food in Amsterdam, grab one of the burgers and a dessert at this vegan restaurant! Vegan Amsterdam has it all now - vegan burger bars, junk food bars, pizza places and more.
The restaurant is quite large so reservations probably aren't needed unless you visit on a particularly busy day (e.g. dinner on a Friday or Saturday night).
Click here to make reservations.
beter & leuk

Eerste Oosterparkstraat 91, 1091 GW Amsterdam
Website | Instagram
Mains: Mains: €4.95 - 12 (breakfast or lunch)
What to get: the hagelslag (toast with chocolate sprinkles) or vegan brunch
Beter & Leuk is the best vegan brunch spot Amsterdam has if you want to try a traditional Dutch breakfast. It's a little out of the way (but easy to get to on metro), and absolutely worth going if you want to try hagelslag! This is toast topped with hagelslag (sprinkles) and believe it or not is one of the most popular breakfasts in the Netherlands with children and adults alike!
Beter & Leuk is a 100% vegetarian cafe. Amsterdam Oost, where it's located (well, on the edge of the district), is a trendy neighbourhood The cafe is probably 90% vegan, so highly worth a visit, followed by exploring the area.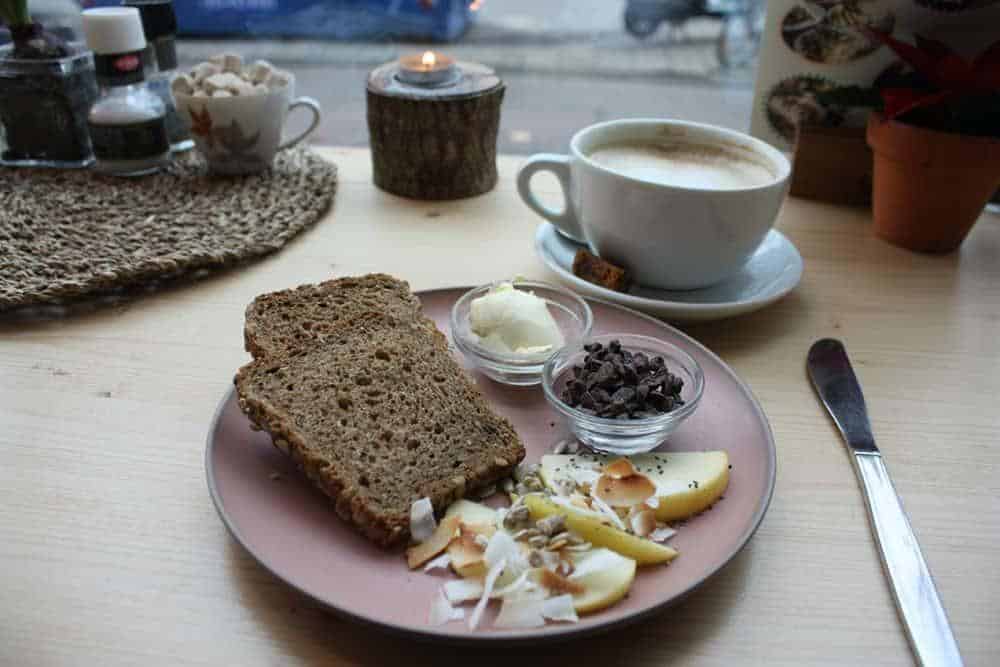 The Dutch are the biggest consumers of sprinkles worldwide and eat 14 million kg per year (!). If you go into a supermarket you'll see a whole section devoted to sprinkles! At Beter & Leuk they use really great bread (baked fresh at a bakery around the corner where they even mill their own grains!! How cool is that?). Then they toast it, top with vegan butter and dark chocolate nibs, which sort of melt into the toast after a few minutes. So, so good and one of my favourite Dutch finds! Plus, this is the cutest (mostly) vegan cafe in Amsterdam. They have a small concept store in the back, selling eco and secondhand clothes and other goods.
If you're looking for a more traditional vegan brunch in Amsterdam, Beter & Leuk also serve vegan buckwheat pancakes, smoothie bowls and croissants.
Don't miss the vegan roze koek (pink cake), a traditional Dutch baked good, here. Plus, this is the only place for vegan high tea in Amsterdam I know of!
No reservations needed. Also a great place to catch up with emails or work on your laptop.
juice brothers

Multiple locations
Website | Instagram
Ice cream: from €3.50

What to get: any flavour of the Van Leeuwen ice cream
If you've never tried Van Leeuwen ice cream, you MUST go here. This is the best vegan dessert Amsterdam can offer. I was so thrilled when I found out Juice Brothers Amsterdam stocks this ice cream. From Brooklyn, Van Leeuwen vegan ice cream is only available in New York City and Amsterdam! I've been wanting to try it for years, and it didn't disappoint.
This super creamy, cashew based ice cream is one of the creamiest vegan ice creams I've EVER had. I was told the Raamsteg location has a wider range of flavours.
willem pie

Johan Huizingalaan 761065 JD Amsterdam
Website | Instagram
What to get: any of the vegan cakes!
Willem Pie is an all vegan bakery in Amsterdam that I first visited when it was a pop-up -- but it now has a permanent space. I came here because I heard a rumour (on Instagram) that they make vegan cannoli (which I don't think I've seen anywhere else before!) but they were out the day I went, and out the day a friend went a month later, so I 'm beginning to wonder if the vegan cannoli are fake news. However, don't fear even if they don't have vegan canooli - it's still worth a visit for the vegan cake!
This vegan bakery in Amsterdam makes some seriously tasty vegan cake. Amsterdam benefits from as much vegan cake going around as possible, so I hope they expand beyond a pop-up! It's a cosy space, perfect for refuelling with a bite of coffee and cake before exploring some of the nearby museums (it's in the Museum Quarter).
hearth
Albert Cuypstraat 208 H, 1073 BM Amsterdam
Facebook
Sandwiches €6.50 - 7; mains €10 - 18
What to get: handmade vegan pasta
H/eart.h is a vegetarian concept store and healthy restaurant in Amsterdam that I heard was really good. Around 95% of the menu and it looks really tasty, with options such as handmade tagliatelle and vegan tiramisu. I was planning to go to, but it was closed when I tried to go. This is one place that has limited open days, so pay attention (and preferably book a table in advance) top opening hours and days!
koffie
Haarlemmerweg 175, 1051 LA Amsterdam
Website | Facebook
This completely vegan cake place (the name means coffee and cake) was recommended to me multiple times, and everyone said the vegan cake was phenomenal. They also serve light lunches, e.g. sandwiches. Unfortunately, I never made it -- it's a little out of the way and I didn't end up going west. However, if rumours are true this is the place to go if you want exceptional vegan cake in Amsterdam.
other vegan

Other vegan places Amsterdam
The vegan spots outlined above are all places I'd recommend highly based on both my experience and my extensive research before my trip. I spent countless hours reading restaurant reviews and speaking to local friends to curate a list of what I believe to be the best vegan places in Amsterdam. That list didn't disappoint!
There are far more vegan places, including some that were recommended, but that I didn't manage to visit, plus a few options that are very popular but which received such mixed reviews I decided not to visit (after all, I had a limited number of meals and wanted them all to be amazing!). But, your mileage may vary.
Oh, how I wanted to visit this vegan restaurant on the waterfront. It opened while I was in Amsterdam, so I hadn't seen any reviews, but the harbour views looked spectacular, and the menu looked so good, too. Unfortunately I didn't get a chance to try it, but you should if you want dinner with a view.
A classic vegan spot in Amsterdam, Vegan Junk Food Bar serves - you guessed it - vegan junk food. And they now have multiple locations! Since vegan meats aren't my favourite I didn't visit but go here if you want to try vegan bitterballen, a Dutch specialty (meat-based croquettes). If you're looking for Amsterdam healthy food, this isn't the place (check out one of the healthy cafes Amsterdam boasts, like H.eart.h) but if you're after one of the vegan hotspots Amsterdam has, then the Amsterdan vegan food (junk food) you'll find here is very popular.
Another popular restaurant in the vegan scene in Amsterdam is Meatless District (I've heard mixed reviews so please report back on your experience!). It has two locations in the city, so they must be doing something right! Click here to book.
I was so intrigued by the idea of this place, a once-a-week vegan dinner run in a squat. There aren't many (any other?) places in Amsterdam where you can get a 3-course meal for 4 Euros. Amsterdam restaurants tend to be expensive, so head here for a budget vegan meal in what's presumably a very interesting venue.
Maoz Vegetarian
Falafel on the mind? Unfortunately one of the best spots for hummus in Amsterdam closed (Hummus House), but you won't go falafel-less as there are several branches of Maoz falafel in Amsterdam. If you're looking for cheap vegan Amsterdam food, it's affordable too. This vegetarian falafel chain serves up falafel wraps and is open late.
This is the first restaurant dedicated to 100% vegan pizza Amsterdam has had! It's also completely gluten-free. While I found it has generally good reviews, I didn't go because I can find plenty of great vegan pizza in London. But if you're having a pizza craving, indulge it at Mastino.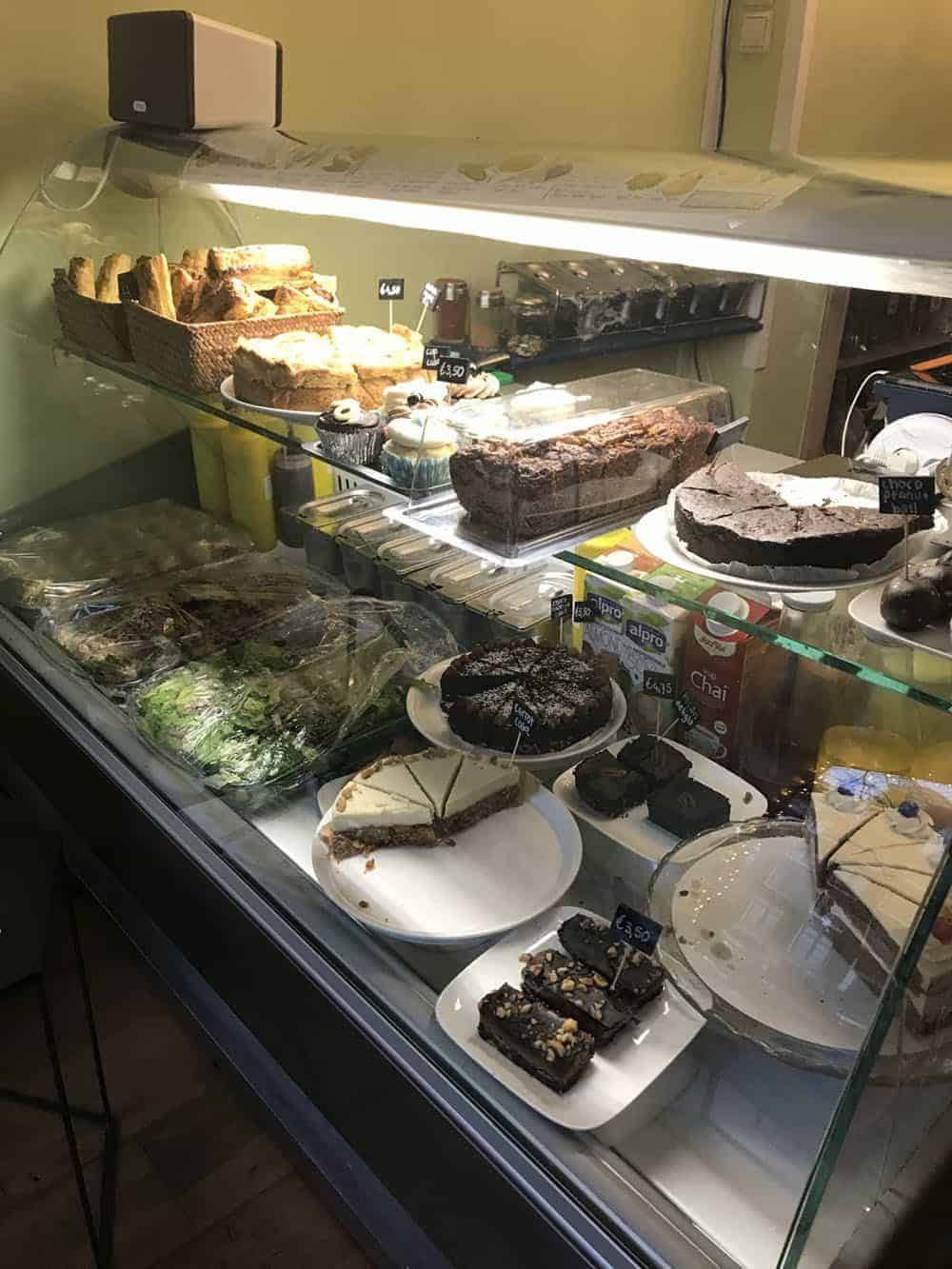 Vegabond is a small deli and vegan shop. Amsterdam has quite a few vegan shops, in fact, but this is the only one dedicated just to food. I came here before I got the train leaving Amsterdam. It was the perfect place to pick up some snacks for the train. I also got some vegan quiche and a sausage roll for the train. I found the deli food a little disappointing but I know others love it so maybe I just ordered poorly. I'd also heard rumours they sometimes have vegan tompouce (a Dutch cream pastry cake) but they didn't the day I was in. They do, however, stock vegan donuts! Amsterdam doesn't have a wealth of vegan donuts and this is the only place I saw them. I do recommend coming here to stock up on snacks for your train/plane/bus/car journey before leaving Amsterdam.
Raw vegan Amsterdam restaurants are a little thin on the ground, but Zest for Life is a completely raw food restaurant in Amsterdam. Choose from raw tacos, wraps or smoothie bowls. Raw Amsterdam cafes might be trickier to find but Zest for Life more than makes up for it with its delicious raw food. Amsterdam seems to have great quality veggies so I'm sure it's good!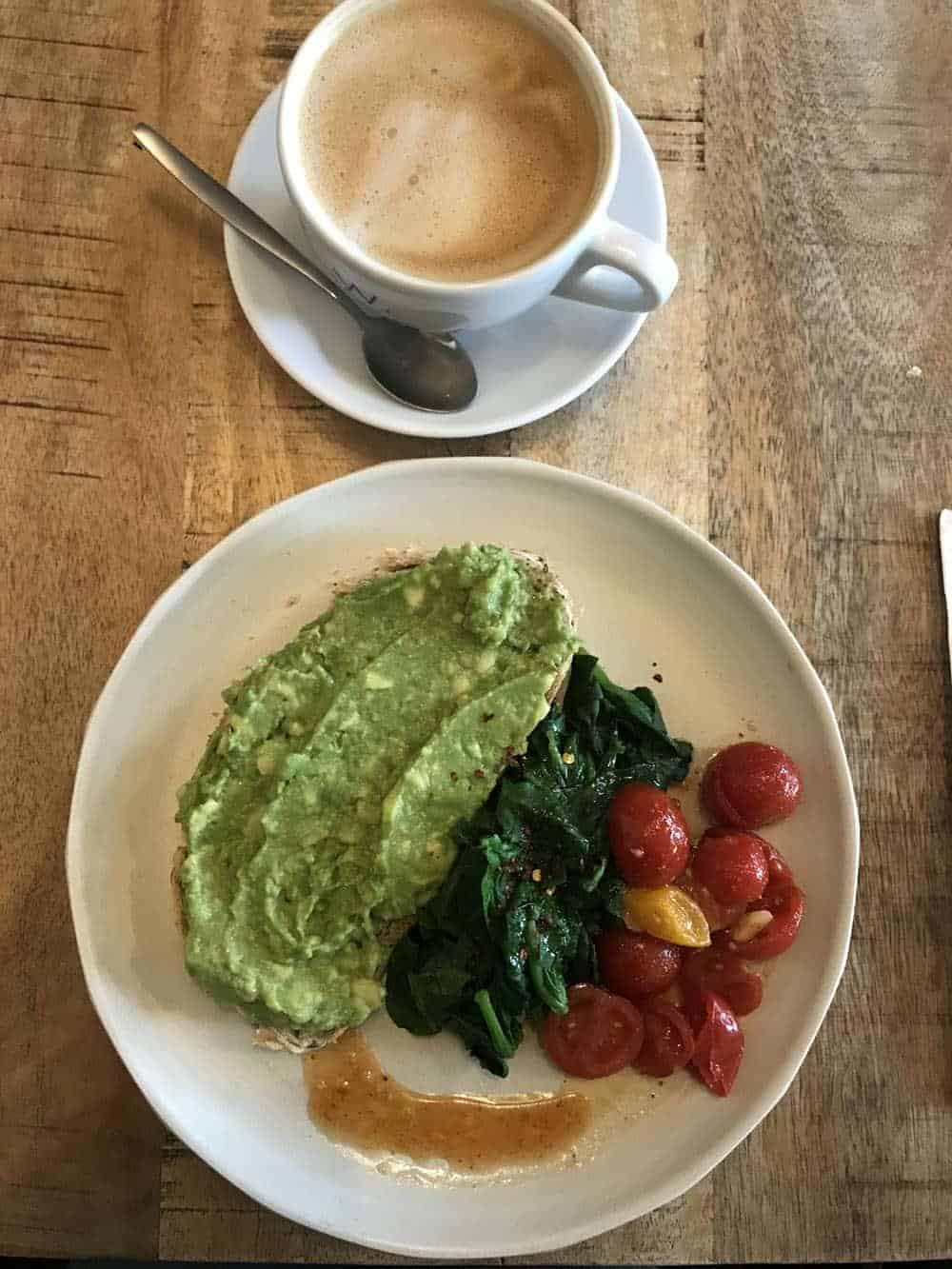 This place isn't completely vegan and their vegan menu is a little limited, but I really enjoyed the vegan brunch I had here. If you're looking for a trendy Amsterdam vegan breakfast in the hipster De Pijp area, then I recommend The Meets. At this point, avocado toast is so widely available it might seem boring, but theirs had a twist -- it was served on very high quality sourdough and came with a side of roasted tomatoes and garlicky spinach that went so well with the avocado toast I began to wonder why everyone doesn't serve them together. Like much of the food I had in Amsterdam, it seemed as though they'd put lots of thought into sourcing top quality for every vegetable, which makes a huge difference to flavour. If you're looking for vegan friendly restaurants Amsterdam has to offer, like if you're visiting with non-veggie friends, then check out The Meets for brunch.
traditional
Where to find vegan versions of traditional Dutch foods
hagelslag

Hagelslag: Dutch breakfast of toast with sprinkles (hagelslag)
Beter & Leuk serves the best vegan breakfast Amsterdam has to offer, toast with hagelslag, or chocolate sprinkles. I know what you're thinking -- this sounds like the breakfast of a schoolchild who loves Coco Pops. But believe it or not, it's a traditional Dutch breakfast for adults and children alike.
The Dutch are the world's biggest consumer of sprinkles, a fact which is obvious as soon as you enter any supermarket in Amsterdam. The selection of sprinkls for toast, and various other toast accoutrements, is tremendous. There is usually an entire aisle devoted to toast toppings, including Nutella and similar spreads, jams, sprinkles in every variety and flavour imaginable and some sort of pressed coconut topping. However, toast with sprinkles is a breakfast usually consumed at home and not found in restaurants.
Even among vegan places in Amsterdam, Beter & Leuk is the only place that serves vegan sprinkels and toast. As far as vegan places to eat in Amsterdam go, Beter & Leuk was one of my favourites. This mostly vegan and 100% vegetarian, vegan friendly Amsterdam restaurant was the only place I found two traditional Dutch specialties in their vegan form, sprinkles and toast and roze koek (pink cake).
The sprinkles and toast at Beter & Leuk really step it up a notch. Served on a hearty, seeded bread baked locally and with vegan butter, the sprinkles are of the shaved dark chocolate variety and you can tell they're made with good quality chocolate. My favourite part of this breakfast is that if you put the butter and sprinkles on the still-hot toast, some of the sprinkles melt and some stay crunchy. Beter & Leuk also serve theirs with fruit on the side, so you feel you're having a balanced, grown-up breakfast, even as you consume sprinkles on toast!
roze koek

Vegan roze koek (pink cake)
As mentioned before, Beter & Leuk is the only vegetarian Amsterdam restaurant that sells vegan roze koek. As far as the vegan friendly restaurants Amsterdam has, Beter & Leuk was a favourite of mine, not least because I wanted to try some traditional Dutch foods. If you're keen on eating vegan in Amsterdam and trying some traditional dishes, don't miss the roze koek or sprinkles on toast here. Roze koek is a small, round and flat covered in pink fondant icing. Every supermarket seems to carry them (although the supermarket versions were not vegan and did not look very nice). The one at Beter & Leuk uses natural dyes (beetroot, I believe) to achieve the pink colour. So pretty!
bitterballen
Vegan bitterballen (croquettes) at Vegan Junk Food Bar
Bitterballen are another Dutch specialty, usually a meat-based fried ball (it was described to me as sort of similar to a croquette) but in Amsterdam vegan cafes Vegan JunkFood Bar Amsterdam you can find not one but three vegan versions. There's the traditional Dutch version (but in vegan form), served with mustard, a Mexican black bean bitterballen or Pakistani-style balls. Now with multiple locations around the city, you can choose the Vegan Junk Food Bar closest to you.
stroopwafel
Vegan stroopwafel
So, you want vegan stroopwafel. Amsterdam's famous for it, so I don't blame you! If you go into the supermarket you'll see shelves upon shelves of the crispy little waffles, with layers of caramel sandwiched between. While vegan versions can certainly be found, you're best off heading to one of the vegan shops Amsterdam has. Vegabond, a 100% vegan store and lunchroom in central Amsterdam, has vegan stroopwafel for sale, if you want to bring some home as a gift--or to eat on the plane.
pancakes

Vegan pancakes in Amsterdam
If you're looking for vegan desserts Amsterdam has to offer, one of the vegan friendly restaurants Amsterdam has is Happy Pig pancake shop. They're not vegan or vegetarian but offer vegan pancake options (and some reviewers on Happycow have complained about the bacon smell in the shop, although it didn't smell when I was in). These are thin pancakes (akin to crepes), not like the fluffy American kind, and you can choose from various fillings.
waffles
Vegan waffles
Want to get vegan brunch in Amsterdam? If you're looking for vegan waffles, Amsterdam waffle house Wicked Waffles has them. This place is not completely vegetarian or vegan, but they have a vegan waffle option!
tompouce
Vegan tompouce
A friend on Instagram alerted me to tompouce, a traditional Dutch pastry layered with cream and most definitely not vegan in its standard form. However, I heard rumours that vegan versions exist at Vegabond and the Dutch Weed Burger Joint (which unfortunately has now closed). I went to Vegabond specifically for it, but they didn't have any (no word on whether they were out, or don't sell it anymore). Let me know if you've managed to find and try vegan tompouce, and where!
coffee shop
Vegan coffeeshop in Amsterdam
I hate to be the bearer of bad news if you're looking for THAT kind of Amsterdam vegan coffee shop, but there aren't any but you might find a vegan option at at least one spot.
shopping

Vegan shopping
If you're looking for vegan shops, Amsterdam has several. Whether you're looking for shoes, food or fashion, here they are.
vegabond

If you're looking for a vegan store, Amsterdam has Vegabond, an all vegan store and lunchroom. Like a mini supermarket, here you'll find vegan versions of all kinds of products, from chocolate bars to crisps and vegan stroopwafels. If you're looking for a bigger store for a more traditional supermarket experience, Ekoplaza is a chain of organic stores (akin to Whole Foods), or you can find vegan products in big supermarket chains, such as Albert Heijn.
Little Plant Pantry opened after my visit to Amsterdam, and is a zero waste whole foods store selling the essentials for a plant based diet, plus local artisanmade products including soaps and cosmetics plus a selection of prepared foods.
vegan shoes

Vegan shoes Amsterdam
There are several options for vegan shoes in Amsterdam.
VegaLife: an all vegan store selling a selection of shoes, but also t-shirts, belts, books and a small snack and bodycare section (including vegan dog treats!).
Dogo sells vegan and fairtrade colourful shoes and bags.
other
Vegan clothes
Geitenwollenwinkel is a vegan and organic clothing store in Amsterdam that sells clothes and shoes.
Beter & Leuk is a vegetarian cafe with a small concept store at the back, including a small clothing section (mostly or all vegan from what I saw).
what to do
What to do in Amsterdam: the best activities
gig

Gig on a boat
If you're not already on Airbnb, I highly recommend you sign up if only just to do this Airbnb experience (click here to get £9 off your first experience if you sign up to Airbnb).
This secret gig on a boat (Airbnb experiences) was one of my favourite parts of my trip. It was my first time using Airbnb experiences and it was amazing! First, it's slightly misleading saying it's on a boat...it's actually on a stationary boat (they've formed an eco park with a bunch of old, disused canal boats at a place called de Ceuvel, which are on dry land but overlooking the water, so you do get a sense of the water). However, in spite of that, I had an amazing time!
There are different musicians every time and you don't know who will be perfoming (probably all local groups) but the night I went was so good! It's only £15 and you get drinks (beer, wine or tea) on the boat too. It *is* a little tricky to reach from the centre though, but very doable and well worth the journey.
the eye

Coffee at The Eye
Get the free ferry across the water from Centraal station to The Eye film institute for a coffee or drink. The journey on the ferry only lasts around 5 minutes but it's worth it for the views. Then, go to the Film Institute (2 mins walk from the ferry terminal) and go to the cafe isnide. Bonus points if you do it at sunset! It has amazing 180 degree views of the water and the city! My friend recommended I go there so I waited until there was a day without (or with fewer!) clouds and watched the sunset there. It was so beautiful!
light festival

Amsterdam Light Festival
A reason to visit Amsterdam during winter (apart from being more sustainable in terms of overtourism) the Amsterdam Light Festival. Wander the canals at night to see the (free!) light displays. So pretty! The light sculptures reflected in the water are stunning, and the festival is completely free. You can follow the trail and learn more about the artists and the works on their website.
Pin this for later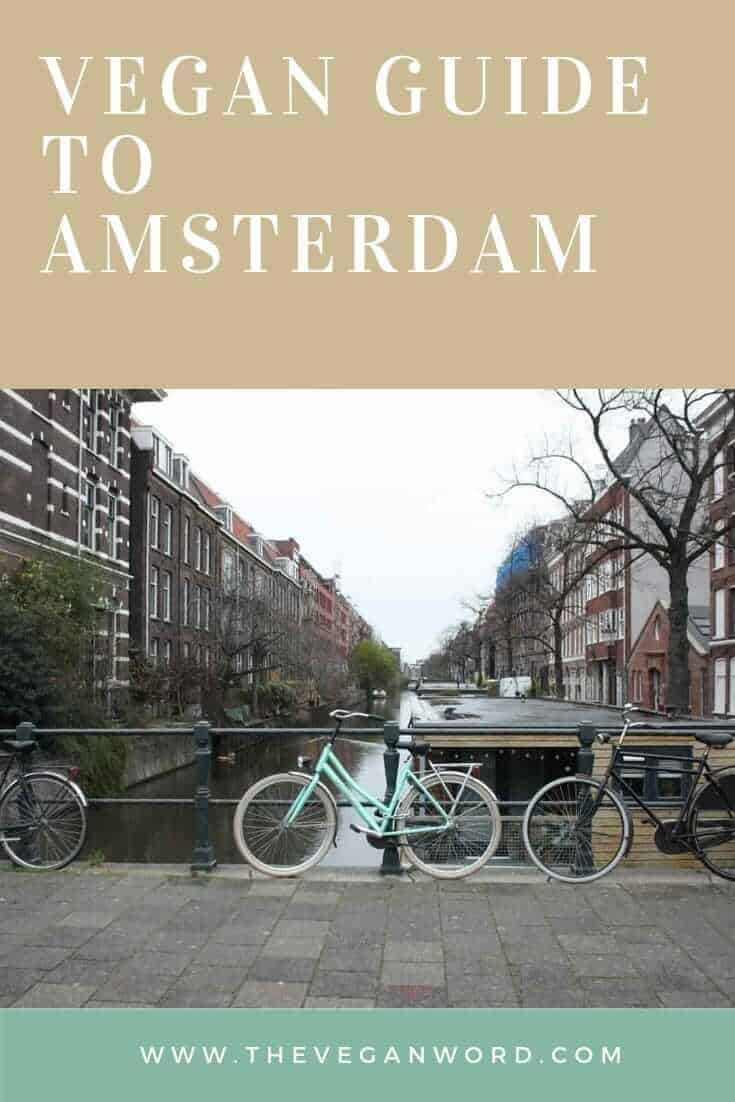 Planning your vegan travels? Check out all my vegan travel guides and vegan travel planning tips here!
As an Amazon Associate I earn from qualifying purchases.