Vegan hotels UK: whether you're looking for a vegan B&B to stay in in Scotland, a vegetarian guest house in the Lake District or the luxury of a vegan suite at a London hotel, you've got plenty of choices in terms of a vegan hotel.
UK wide, more and more vegan hotels are opening all the time, and I plan to update this list as more places open to list the best vegan hotels in the UK.
Special Deals:
A few of the best vegan hotels UK I'll be covering include:
*The entire hotel isn't vegan, but they have a vegan suite which has all-vegan decor and bedding and is cleaned using vegan products, has a vegan minibar and vegan room service menu
Some of the options below are vegan-friendly, simply because there's no fully vegan equivalent (yet!) but I've noted which these are. If you know of another vegan hotel, or run one, please get in touch.
Are you looking for more vegan hotels, Europe wide? Find my list of the best vegan hotels in Europe and world here.
Vegan accommodation London
London's become a bit of a plant-based paradise — the UK capital is now home to over 100 entirely vegan restaurants, the highest number of any city in the world!
You can also find vegan alternatives at pretty much every restaurant in the city now. Increasingly, you can also find vegetarian B&Bs and even a vegan hotel suite!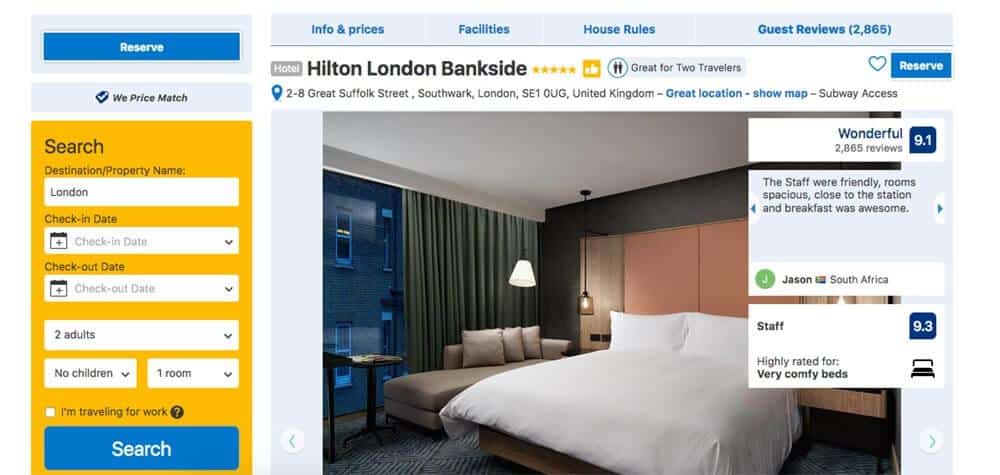 Type: vegan-friendly
Best for: luxury vegan hotel UK
Billed as the world's first vegan hotel suite, the Hilton Bankside thought of everything when they built their new vegan suite. If you're looking for a vegan luxury hotel in the UK, this is one of the best vegan-friendly luxury hotels.
The vegan experience goes beyond vegan options on the restaurant menu.
From eco-friendly and vegan bedding to pineapple leather furniture, vegan toiletries in the bathroom and a vegan room service menu to the vegan cleaning products (!) the cleaning team use to clean the room, Hilton has pulled out all the stops.
I love the attention to detail. They've also got a vegan hotel menu for room service.
Of course, it does come at a price — staying here isn't cheap. But if you want a bit of vegan luxury, the Hilton Bankside is the place. It's simply one of the best vegan friendly hotels in the UK.
Be sure to ask for the vegan suite when you book.
Click here for more information.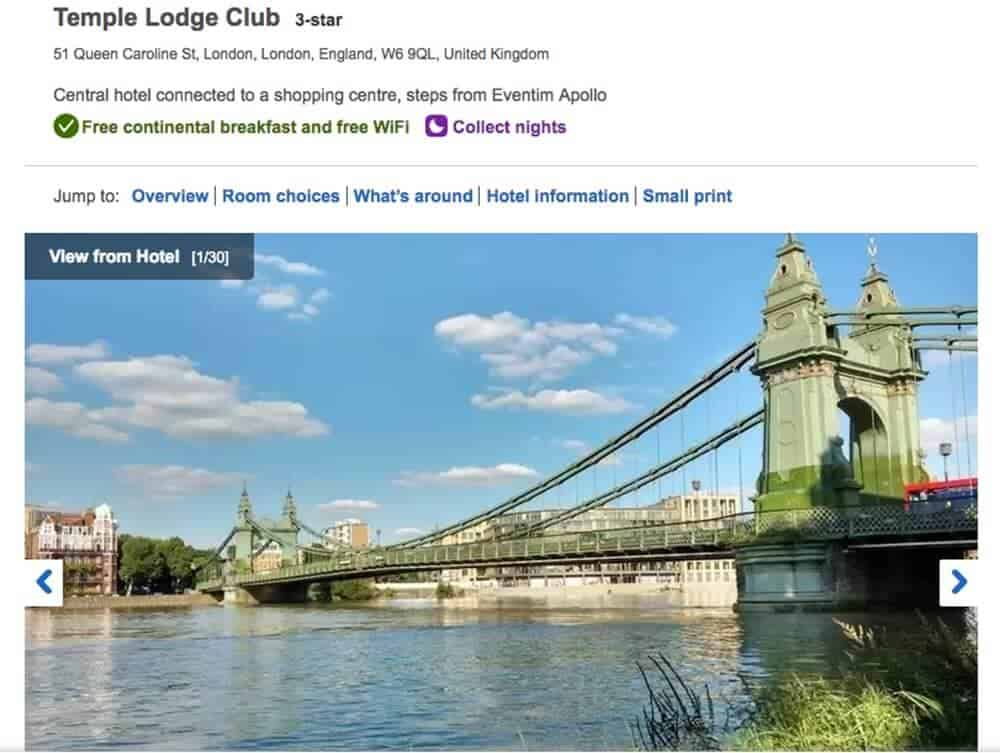 Type: 100% vegetarian with vegan options
Temple Lodge Club is a vegetarian B&B in London. Located in Hammersmith, near the river, its location is a peaceful oasis away from the hustle and bustle of Central London.
It's within easy reach of Heathrow, and it's also easy to get into the centre of London by tube from here.
If you don't mind staying a bit outside the centre of town, this is a great option. It's also next to a branch of The Gate, one of London's most popular vegetarian restaurants.
Temple Lodge Club is all vegetarian, and you can request a vegan breakfast. They strive to use eco-friendly cleaning products. They do have down duvets so you may wish to ask them for an alternative.
Click here for more information.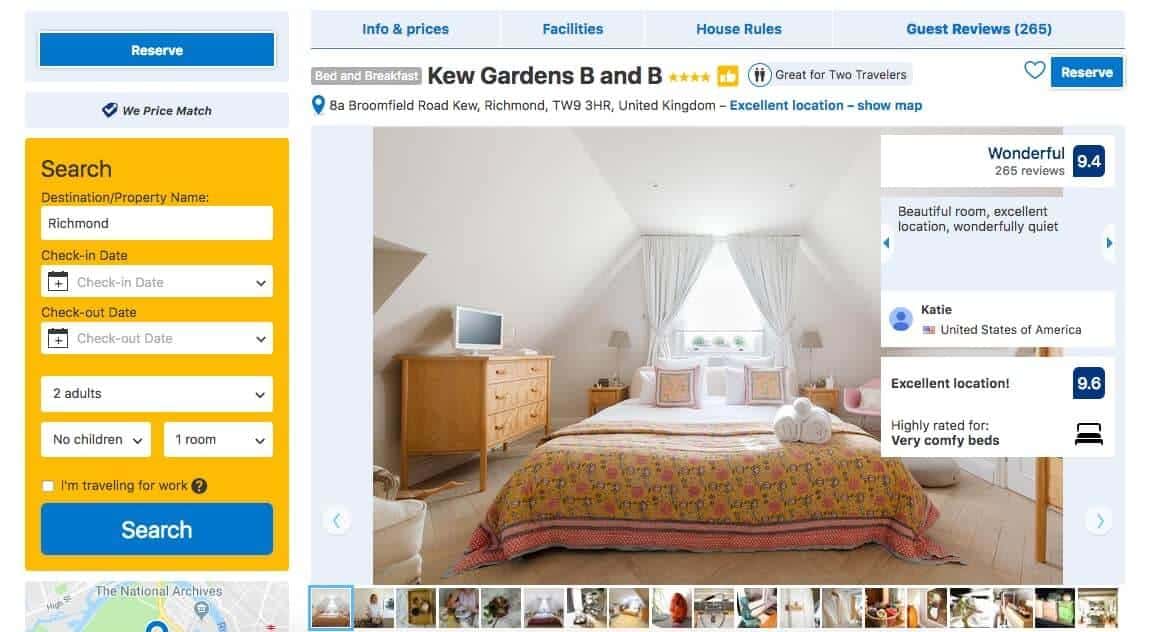 Kew Gardens B&B
Type: 100% vegetarian with vegan options
Kew Gardens B&B is a vegetarian B&B in Kew, a suburb of London. It's pretty far outside the centre of London, but very quiet, so it's a good option if you love the peace and quiet and don't mind travelling into London.
Vegan breakfasts are available.
Each room has a private bathroom and free wifi. The B&B is a short walk from the charming Kew Village, where you can get the train or tube.
Click here for more information.
See more vegan hotels in London here.
Best for: vegan spas UK
Note: products used in spa are not vegan, but all food in the hotel is vegan
Looking for a vegan spa break near London? Glass House is located in Essex.
Whether you're looking for short or longer vegan breaks, they have a number of packages, from a spa day to an overnight or a multi-day retreat. All their food is vegan. However, one important thing to note is that they use Elemis products (for facials), a company that used to be cruelty-free, but recently since being acquired by a new parent company now tests on animals.
Therefore, if you're planning to use the spa, you'll want to skip Elemis treatments (or better yet, request an alternative – even if they don't have one, it's good to put the request in so they might in future) and instead stick to enjoying the spa facilities, such as the pool, sauna, steam room, natural outdoor swimming pond and the classes on offer (yoga, meditation, etc).
They offer vegan and raw meals, wellness classes and events and full use of the spa facilities. They also have vegan cooking classes and vegan afternoon tea.
Click here for more information.
Lake District vegetarian accommodation
If you're planning at trip to the Lake District, you might want to look for vegetarian hotels in the Lake District to make your life a little easier — that way you won't have to worry about finding vegan breakfast, even if your hotel is a bit remote.
Instead, you can focus on the amazing walks and scenery.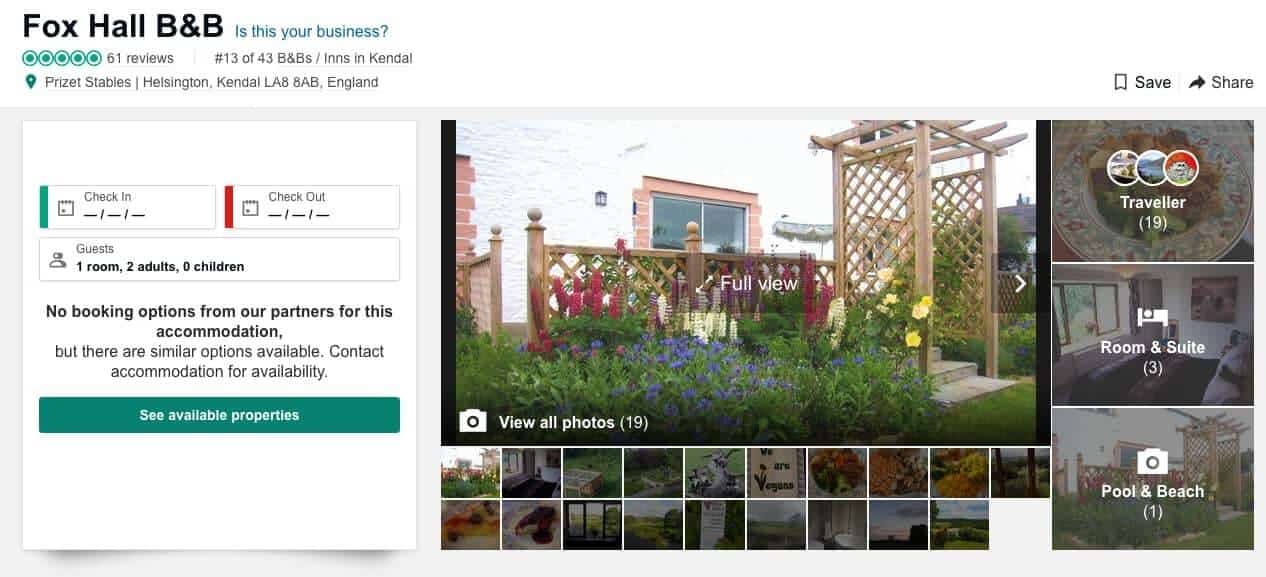 Type: 100% vegan
Best for: vegan Lake District stays
Looking for a vegan B&B UK? Fox Hall is a 100% vegan B&B In Kendal, Cumbria.
They offer both a home-cooked vegan breakfast and dinner, and the option of a takeaway vegan lunch box, perfect for when you're rambling. This is the perfect place to stay if you don't want to have to worry about food at all!
They also offer classes at their vegan cookery school. The B&B has a shared guest lounge which opens onto a shared lawned garden, with views across the River Kent valley.
Children are always welcome at Fox Hall.
Click here for more information.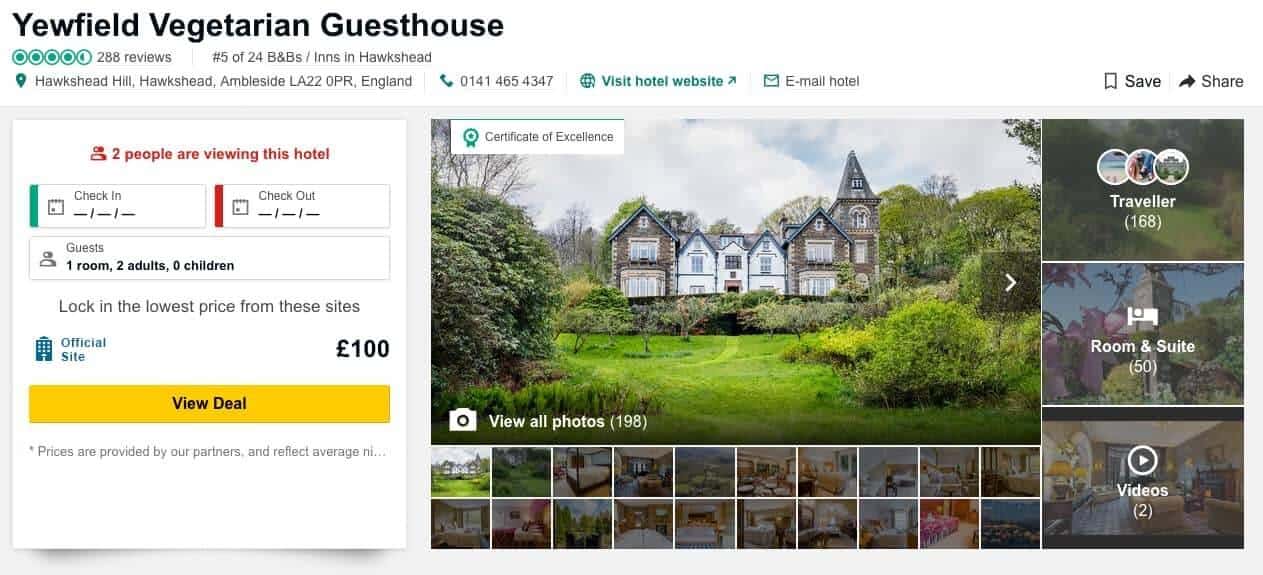 Type: 100% vegetarian with vegan options
Yewfield is a 100% vegetarian guesthouse set in 80 acres of peaceful private grounds in the Lake District. They offer vegan breakfast options.
The B&B has 18 private rooms, and 3 self-catering holiday flats. Yewfield offer yoga sessions, and also hosts classical music concerts.
Many rooms have stunning views across the countryside, and the guesthouse won a 5 star award from the Lake District tourist board.
Click here for more information.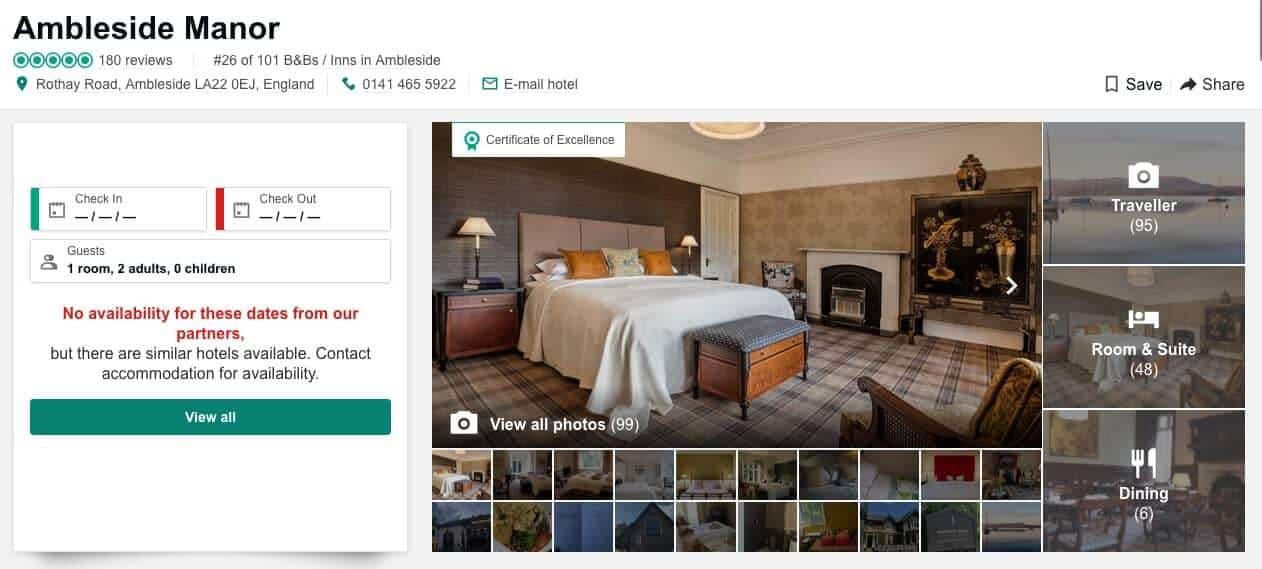 Type: 100% vegetarian with vegan options
The sister guesthouse to Yewfield, Ambleside is a vegetarian guesthouse in Ambleside. They offer vegan options. Children and dogs are welcome.
Set in 2 acres of private grounds and with parking available, 15 comfortable en-suite rooms are available.
All rooms have a shower over bath or walk-in shower, TV/DVD, free wifi and tea and coffee making facilities. Many rooms have stunning views.
Click here for more information.
Vegan hotels UK: rest of England
If you're looking for vegan or vegetarian hotels in the UK outside London, here are more vegan places to stay in England, from a vegan retreat to a vegan B&B in Cornwall.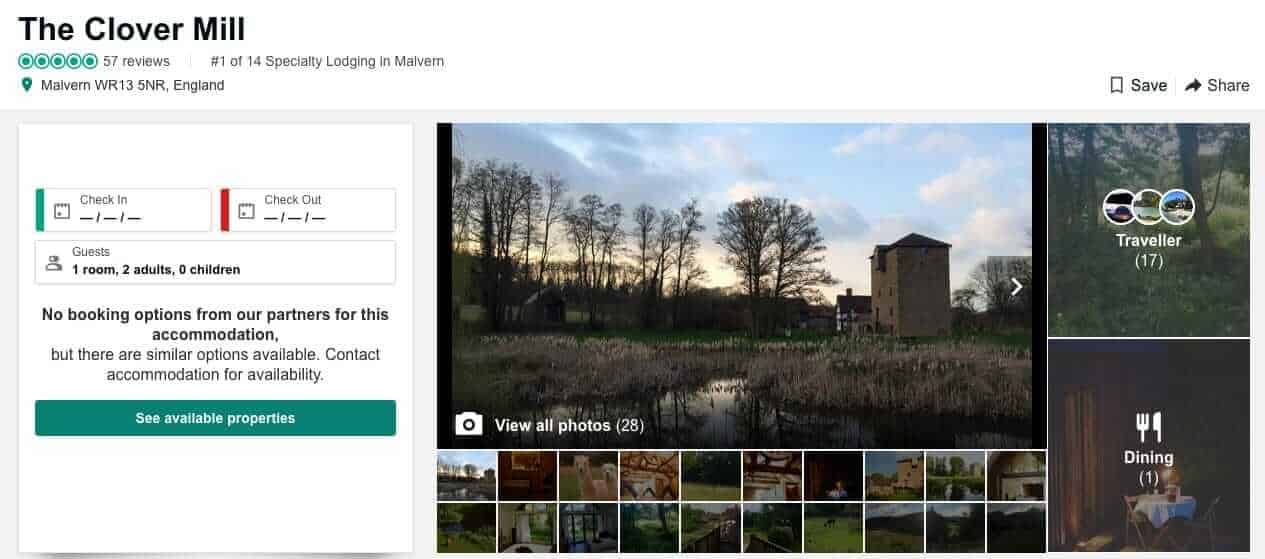 Type: 100% vegetarian with vegan options
Best for: vegan spa hotel UK/vegan spa break UK, vegan weekend breaks UK
The Clover Mill is an Ayurvedic retreat and spa in Malvern, Worcestershire. If you're looking for a vegan-friendly spa hotel in the UK, The Clover Mill is the perfect place.
All meals are vegetarian and vegan and gluten free meals are catered for (be sure to request vegan food in advance in just case).
They use vegetables from their garden and orchard. Refined sugars are avoided and wholemeal/whole grains are used.
All meals are made following Ayurvedic principles, using ingredients from their garden and orchards, and vegan and gluten free options are available.
The Clover Mill offers Ayurveda and yoga retreats, and also has a day spa, which you can take advantage of. Retreats usually run over the weekend. If you're looking for a vegan spa break in the UK, be sure to check out The Clover Mill.
Accommodation is in eco-lodges, with feature windows that open onto a private deck with lake views.
You can also book a spa day, which includes an Ayurvedic assessment, massage with body oil, use of the grounds and relaxation space, use of a steam room and Ayurvedic lunch.
Click here for more information.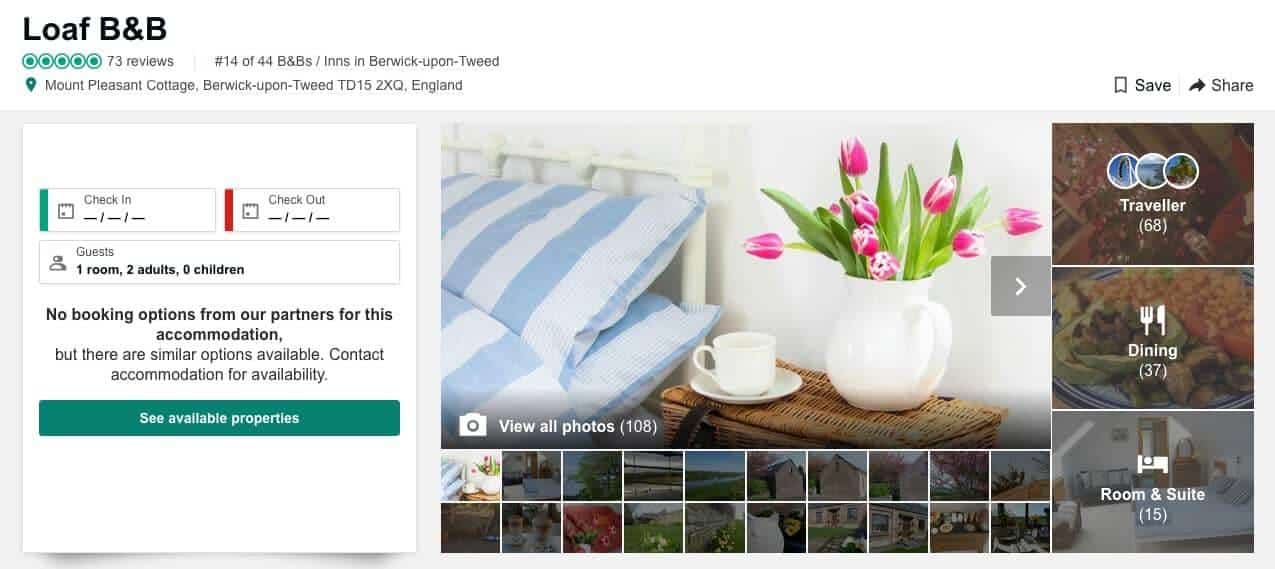 Type: 100% vegan
Loaf is a 100% vegan B&B in Berwick-upon-Tweed, Northumberland. Set in the countryside, you can enjoy miles of sandy beaches, riverside walks or a walk to the local pub.
Nearby, you can also engage in whale-watching, walking, cycling, diving, surfing and birdwatching.
As well as vegan breakfasts at the B&B, there's also the possibility of vegan dinner, afternoon tea and picnic hampers.
All rooms have vegan toiletries, TVs, a hairdryer, tea/coffee making facilities, wifi and vegan room treats available on arrival.
Click here for more information.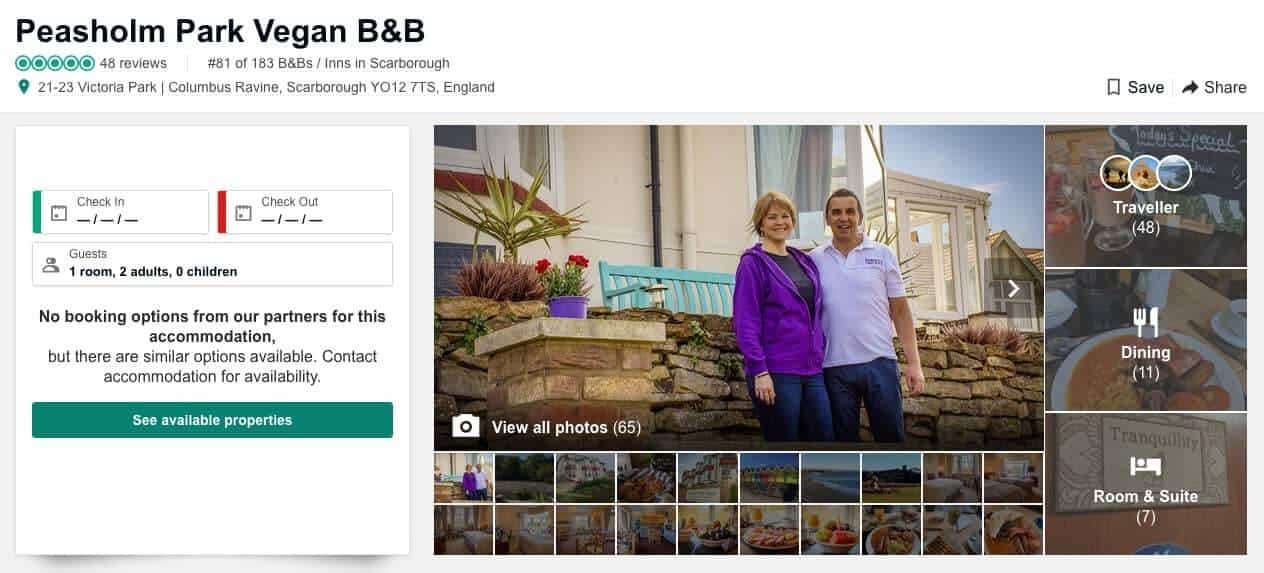 Type: 100% vegan
Peasholm is a 100% vegan B&B in Scarborough, Northumberland. Vegan breakfast is included, with the option of a buffet or a vegan full English breakfast.
The B&B is located just across from a Japanese garden and only 5 minutes' walk from North Bay Beach! Nearby you'll find Scarborough castle, South Bay, a miniature steam railway, arcades, shops and more.
All rooms are en-suite and some have views of the park. There are also a few shared areas — a bar-lounge, library, conservatory and garden.
Click here for more information.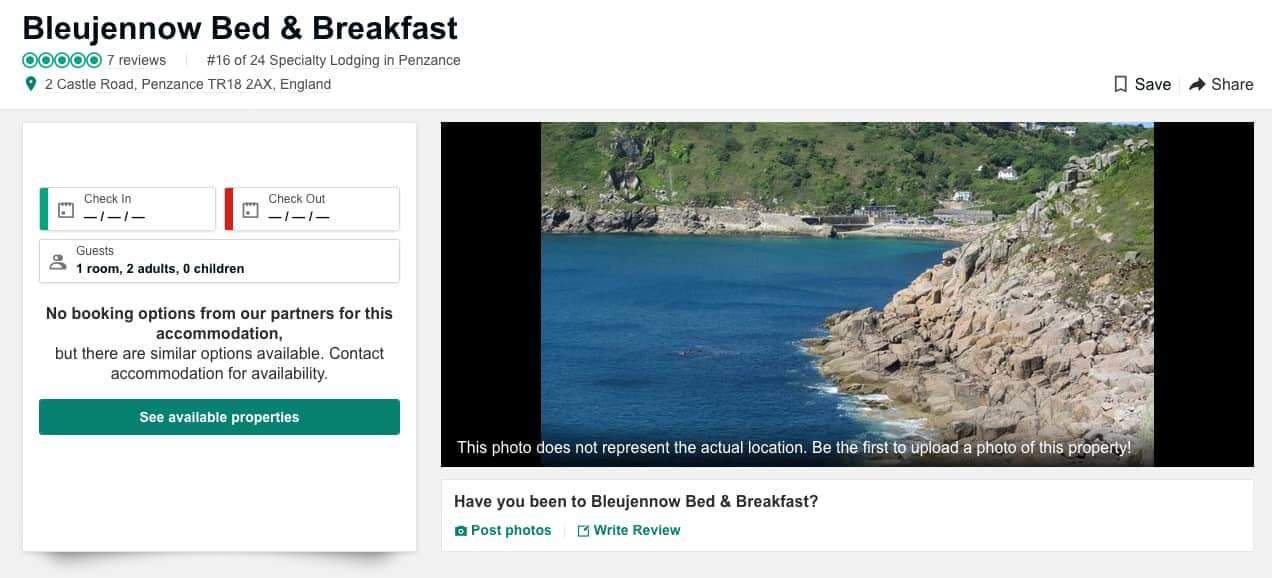 Type: 100% vegan
Bleujennow is a 100% vegan B&B in Penzance, Cornwall. To encourage you to come via public transort, they offer free pick-up and drop-off at the bus and train stations (which I think is a brilliant idea!).
In addition, to help guests travel light, they have a number of items available to borrow, including a baby cot, highchair, changing mat, beach chairs, beach towels, buckets and spades, wetsuits and bodyboards.
The B&B is fully vegan and offers vegan breakfasts, and they have vegan Faith in Nature toiletries available. They wash everything in vegan products and clean using vegan and eco-friendy products.
The B&B has two rooms. One room has sea views. They share a bathroom, and each room has toiletries, a TV, free wifi kettle and hairdryer.
Click here for more information.
Type: 100% vegan
Located in Bexhill-on-Sea, Nab is a dog-friendly vegan B&B.
Vegan breakfast (using mostly organic ingredients) is served every morning in the guest breakfast room, which also doubles as the sitting room that guests and their dogs can use throughout the stay.
This is one place I'd love to visit with my dog, given how dog-friendly it is! They have their own friendly dog who greets visitors, and a fenced garden for the dogs to run around in.
They also give you a list of walks and dog-friendly places to eat in the area.
As well as the included breakfast, there's the option to book a 3-course vegan dinner as well.
Click here for more information.
Type: 100% vegan
The Base is a vegan retreat and small animal sanctuary in Hanham, 30 minutes' drive from Bristol.
It's not only vegan, but they state upfront that guests cannot bring any animal products on site, so you'll be assured during your visit you won't be confronted with any meat!
As a small animal sanctuary, they are home to turkeys, chickens, ducks, guinea pigs and rabbits rescued from farms and other dangerous situations. It's the perfect spot to visit if you want to stay at a sanctuary.
There's the option to stay in an en-suite in the house or in a luxury log cabin on the grounds. The cabin has a kingsize bed, en-suite and full kitchen including a dishwasher.
All rooms have underfloor heating, a coffee machine and smart TV, and there's an outdoor hot tub for use. Vegan breakfasts and dinners are available (not included).
Click here for more information.
Vegan hotels Scotland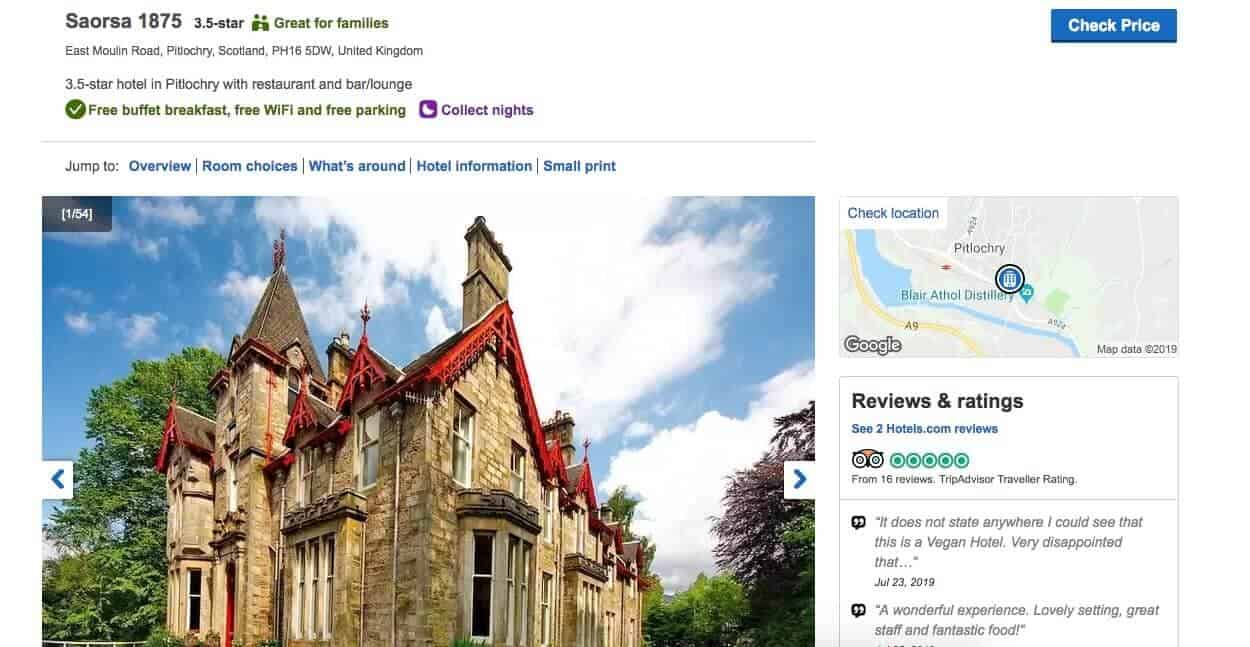 Type: 100% vegan
Saorsa 1875 is a 100% vegan boutique hotel in Pitlochry, Perthshire. It proved so popular that within a few months of opening, they decided to open a second branch!
Set in a beautiful country house in 2 acres of woodlands and gardens, Saorsa 1875 is a very special place to stay. It's located in a restored 19th century farmhouse.
Each of the 11 bedrooms is individually styled with luxurious linens and antique furniture, and have vegan toiletries available.
The hotel has a common area lounge with fireplace and an on-site restaurant and bar serving all vegan food, and showcasing local, seasonal and foraged food plus craft beers and cocktails.
Every review I've read says how wonderful the gourmet food is.
The hotel is also dog friendly!
Click here for more information.
Type: 100% vegan
Jojo, who used to run the blogs Ethical Vegan Life and Vegan in Brighton, runs The Field Shelter, a 100% vegan guesthouse in Kirkmichael, Perthshire.
As well as being all vegan (a vegan cooked Scottish breakfast is included), the guesthouse is eco-friendly too.
They are powered by renewable energy, tea is loose leaf and there are vegan toiletries and reading materials available in the guesthouse.
The guesthouse has a small kitchenette (fridge, kettle, microwave) and is stocked with loose leaf tea, coffee, vegan cereal and oat milk.
With an aim to make everything as ethical and eco-friendly as possible, they purchased art from local independent artists and designers, some secondhand furniture and organic fairtrade cotton sheets and towels.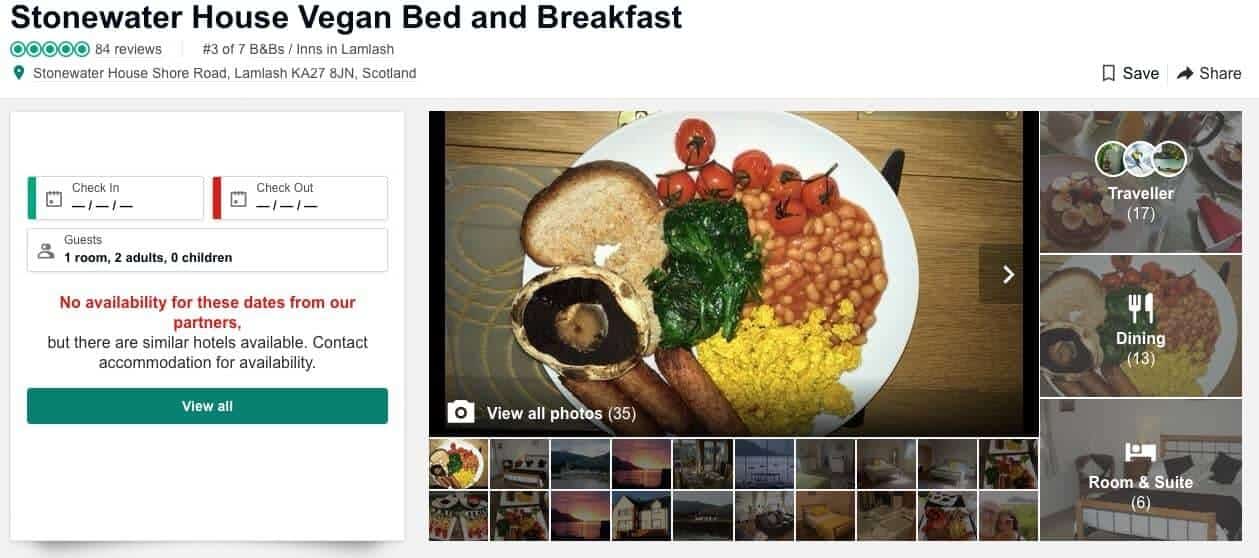 Type: 100% vegan
Stonewater is a 100% vegan B&B in Lamlash, on the Isle of Arran, Scotland.
Stonewater House overlooks Lamlash pier, with views from the breakfast room over the pier and bay. There's a shared guest lounge with a log fireplace and TV (all rooms also have TVs).
All rooms are en-suite and have TVs, free wifi, a hairdryer and coffee and tea making facilities. Vegan breakfast is included, and packed vegan lunches are available.
Click here for more information.
Type: 100% vegan
Looking for a holiday with a difference? You might want to consider these camping pods, which allow you to stay on an animal sanctuary on the beautiful Isle of Skye!
Having visited the Isle of Skye (though not Lotus Heart sanctuary) myself, I can confirm how beautiful the island is. It has an otherworldly beauty and is well worth a visit, especially if you're planning a trip to the Highlands.
These camping pods are located on an animal sanctuary and come with vegan toiletries. Each pod has a bed, sofa, en-suite shower room and small kitchen. Two of the pods are dog-friendly.
The nearby village of Dunvegan has a fully vegan shop and a cafe with vegan options.
Best of all, by booking into a camping pod, you're helping the sanctuary financially.
Pin this for later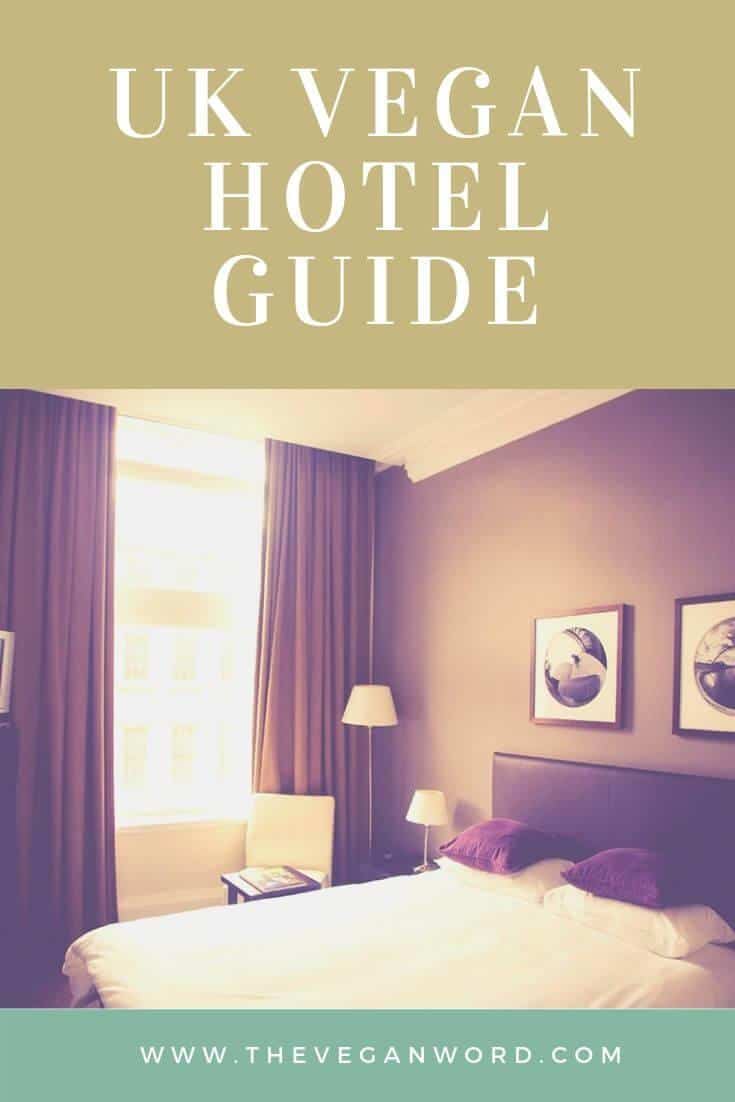 Looking for more inspiration? Find vegan friendly holidays with my list of vegan all inclusive resorts, and the best vegan hotels. I also have a guide to vegan friendly hotels in Berlin.
See more vegan accommodation guides and all my vegan travel.
If you're looking vegan-friendly cities to visit, check out my vegan guides to Barcelona, Amsterdam, Athens, Paris and Brighton, and my list of the most vegan-friendly cities worldwide.
I also have guides to vegan tours and vegan retreats.
And if you decide to stay in a vegan-friendly but non fully vegan hotel, don't forget to pack your own vegan shampoo and other toiletries! See my list of the best vegan shampoo
Find all my vegan travel guides.