This post may contain affiliate links (see full disclaimer here). This means if you make a purchase after clicking, I may get a small percentage of the sale, at absolutely no extra cost to you.
So, you're looking for the best vegan hotel London has to offer? As far as a 100% vegan hotel, you won't find any entirely vegan hotels in London (yet!). But don't worry that your search for a London vegan hotel has come up empty, because there are plenty of vegan-friendly hotels in London. In terms of the vegan accommodation London has, you'll find vegan-friendly B&Bs, hotels and even an all-vegan hotel suite if you want to plump for something fancy.
Hilton Bankside

If you're looking for a luxurious stay, then the vegan suite at the Hilton's Bankside location is your best bet. Hilton really went above and beyond in their attention to detail. Everything in the suite is vegan, from the pineapple leather furniture to the eco-friendly cotton carpet and the vegan mini-bar.
In the room, which is cleaned with eco-friendly and vegan cleaning products, you'll find a vegan room service menu and vegan toiletries.
The hotel's restaurant serves a vegan menu, and guests of the vegan suite are seated at a separate 'vegan table', whose chairs are upholstered with pineapple leather (rather than the leather used on the chairs at the rest of the hotel).
Of course, with London's massive vegan scene (it now has more vegan restaurants than any other city in the world), you'll probably want to explore some of London's vegan offerings.
Be sure to ask for the vegan suite when you book.
Click here for more information.
La Suite West

La Suite West is a vegan-friendly hotel near Hyde Park. The on-site restaurant, Cafe Forty One, is plant-based, serves a vegan breakfast every morning, and offers a vegan afternoon tea.
The hotel restaurant has gone back and forth between being vegan and not vegan. When I first went some years ago, it was all vegan; then, the last time I was there around two years ago they had some non-vegan dishes on the menu. Now it's reportedly vegan again!
The afternoon tea was a bit of a disappointment both times I had it (so I'd skip that) but the fact that you can get vegan breakfast right in the hotel is a big plus! I love staying places where vegan breakfast is available.
All rooms have free wifi, a 32-inch flatscreen TV, blackout curtains and en-suite marble bathrooms.
Click here for more information.
Temple Lodge

Looking for an all vegan B&B? London doesn't have one -- but it does have a vegetarian B&B! Temple Lodge is a vegetarian bed and breakfast located in a Georgian property in Hammersmith, near the river. Tucked away in a quiet spot away from the hustle and bustle of Central London, Temple Lodge is best if you like a quiet place to stay and don't mind taking the tube into Central London.
Room rates include an organic breakfast, and next door to the B&B you'll find a branch of The Gate, one of London's most popular vegetarian restaurants (and most of their menu is now vegan!). Don't miss the miso aubergine -- it's one of my favourites.
The hotel uses eco-friendly materials such as natural cotton and linen bedding but their duvets are down so you should request a different duvet if you want (please let me know if they accommodate you -- I haven't stayed here and I'd like to know if they will!).
Click here for more information.
Kew

This vegetarian hotel in London is another option if you don't mind travelling into the city centre. Kew Gardens B&B is another vegetarian B&B that's away from London's busy centre. Located further away than Temple Lodge in Richmond, you'll need to be up for a pretty long tube journey if you're going to stay here. However, you'll be rewarded with a peaceful riverside suburb.
Vegetarian breakfast is included with the room rates with vegan options. Rooms include a TV and private bathroom, and you can use a kitchenette.
Click here for more information.
Clink

On the budget end of the spectrum, Clink78 hostel is a good option for vegans (they've even put together a vegan guide on their site) because it has a kitchen you can use to prepare food, and it's only a 2-minute walk from London's only entirely vegan Japanese restaurant, Itadaki Zen.
There are plenty of other options in the area (I should know since I've lived nearby for 7 years!) like Mildred's Kings Cross branch.
You can choose between shared and female-only dormitories or a private room, and shared or ensuite bathrooms. Small lockers are available for a fee. Note, towels are provided free with private rooms but are only available with a charge for dorms. As mentioned above, the hostel has a shared kitchen you can use to prepare meals.
Click here for more information.
Eco Soul

Looking for a vegan hostel in London? This hostel will be vegetarian when it opens! Eco Soul isn't open yet -- in fact, as of writing, they are still looking for a space -- but it's worth checking to see if they've posted plans to open. When it opens, Eco Soul will be a non-profit social enterprise and community space. It will also be entirely vegetarian and vegan, with organic breakfast available and a vegetarian and vegan dinner cooked by volunteer hosts available every night at 7pm. As a community space, the hostel will also be home to yoga, meditation, workshops and film viewings.
Click here for more information.
Pin this for later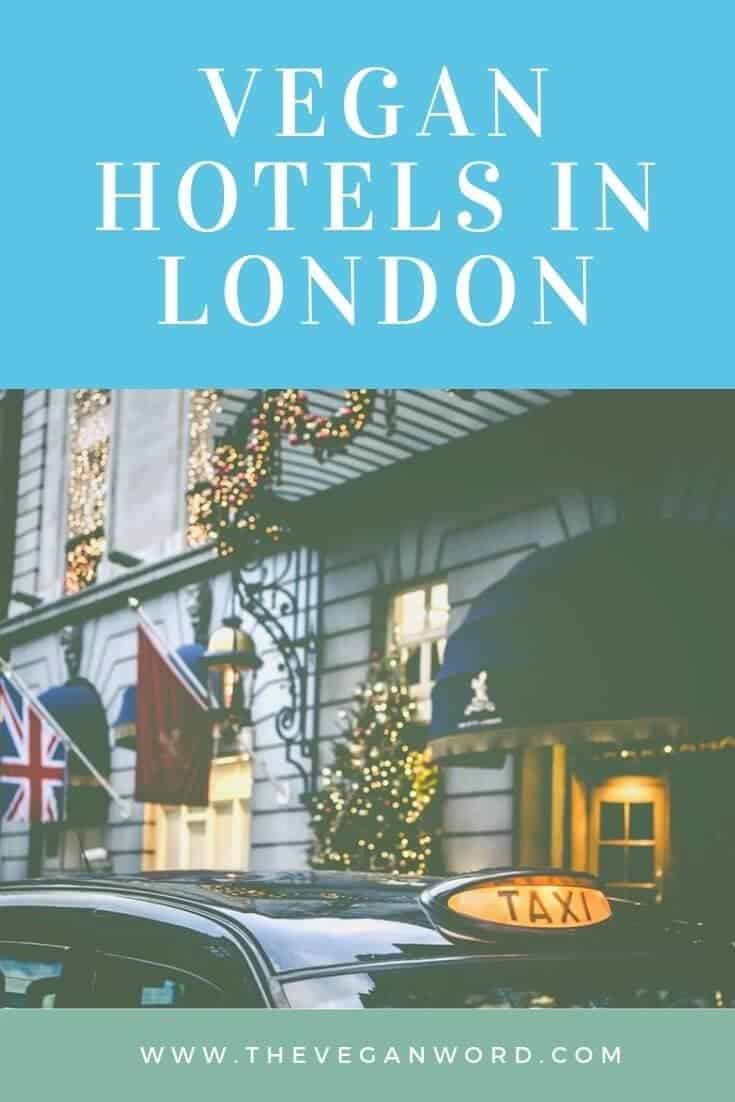 Looking for more vegan places to stay? Check out my list of the best vegan hotels worldwide here and the best vegan resorts here!
I've put together a guide to vegan hotels in the UK here.
Find out more about vegan accommodation here, and all about vegan travel here.
As an Amazon Associate I earn from qualifying purchases.