In terms of the vegan accommodation London has, you'll find vegan-friendly B&Bs, hotels and even an all-vegan hotel suite if you want to plump for something fancy.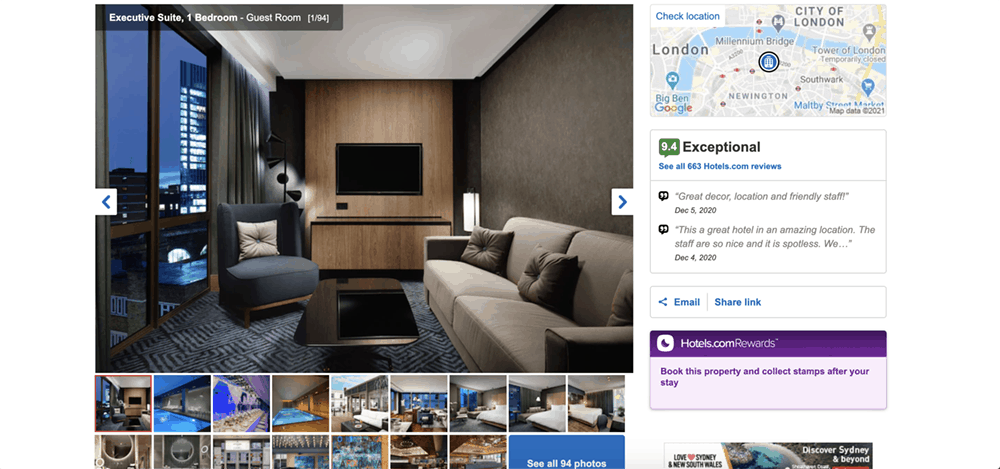 London unfortunately doesn't have any 100% vegan hotels just yet, but if you're looking for a luxurious stay, then the vegan hotel suite at the Hilton's Bankside location is your best bet.
Hilton really went above and beyond in their attention to detail and received the seal of approval from the Vegan Society.
Everything in the suite is vegan, from the pineapple leather furniture to the eco-friendly cotton carpet and the vegan mini-bar.
In the room, which is cleaned with eco-friendly and vegan cleaning products, you'll find a vegan room service menu and vegan toiletries.
The hotel's restaurant serves a vegan menu, and guests of the vegan suite are seated at a separate 'vegan table', whose chairs are upholstered with pineapple leather (rather than the leather used on the chairs at the rest of the hotel).
Of course, with London's massive vegan scene (it now has more vegan restaurants than any other city in the world), you'll probably want to explore some of London's vegan offerings.
Be sure to select the vegan suite when you book.
Click here for more information.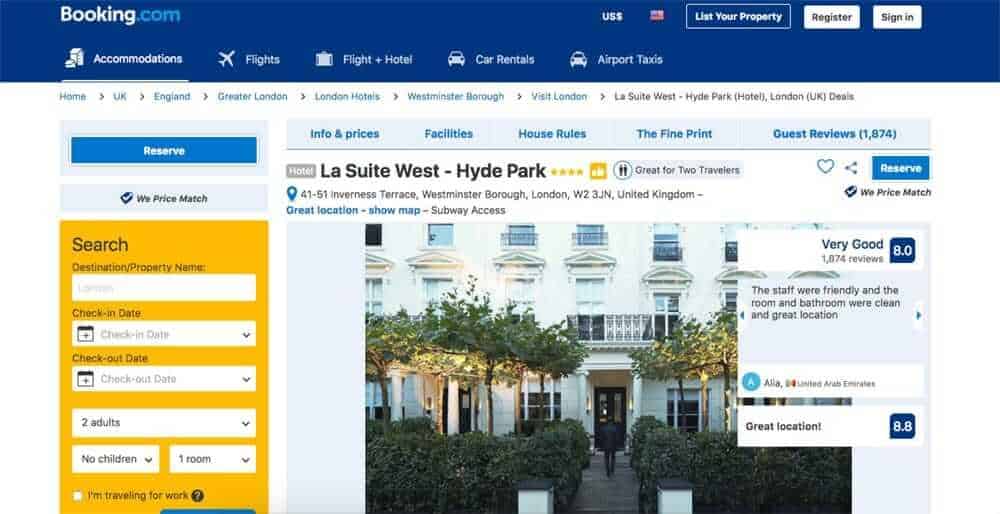 La Suite West hotel is a vegan-friendly hotel near Hyde Park. The on-site restaurant, Cafe Forty One, is plant based, serves a vegan breakfast every morning, and offers a vegan afternoon tea.
The hotel restaurant has gone back and forth between being vegan and not vegan.
When I first went some years ago, it was all vegan; then, the last time I was there around two years ago they had some non-vegan dishes on the menu. Now it's reportedly vegan again!
The afternoon tea was a bit of a disappointment both times I had it (so I'd skip that) but the fact that you can get vegan breakfast right in the hotel is a big plus! I love staying places where vegan breakfast is available.
All rooms at La Suite hotel have free wifi, a 32-inch flatscreen TV, blackout curtains and en-suite marble bathrooms.
Click here for more information.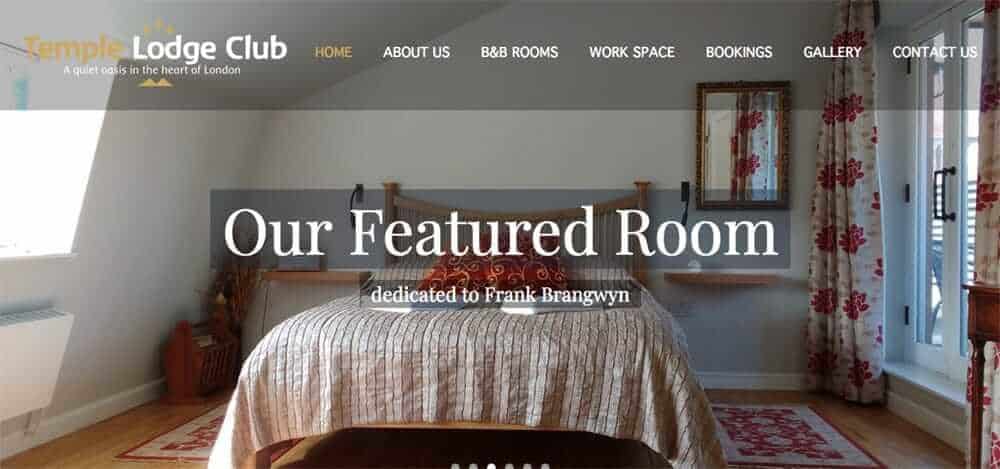 Looking for an all vegan B&B? London doesn't have one -- but it does have a vegetarian B&B! Temple Lodge is a vegetarian bed and breakfast located in a Georgian property in Hammersmith, near the river.
Tucked away in a quiet spot away from the hustle and bustle of Central London, Temple Lodge is best if you like a quiet place to stay and don't mind taking the tube into Central London.
Room rates include an organic breakfast, and next door to the B&B you'll find a branch of The Gate, one of London's most popular vegetarian restaurants (and most of their menu is now vegan!). Don't miss the miso aubergine -- it's one of my favourites.
The hotel uses eco-friendly materials such as natural cotton and linen bedding but their duvets are down so you should request a different duvet if you want (please let me know if they accommodate you -- I haven't stayed here and I'd like to know if they will!).
Click here for more information.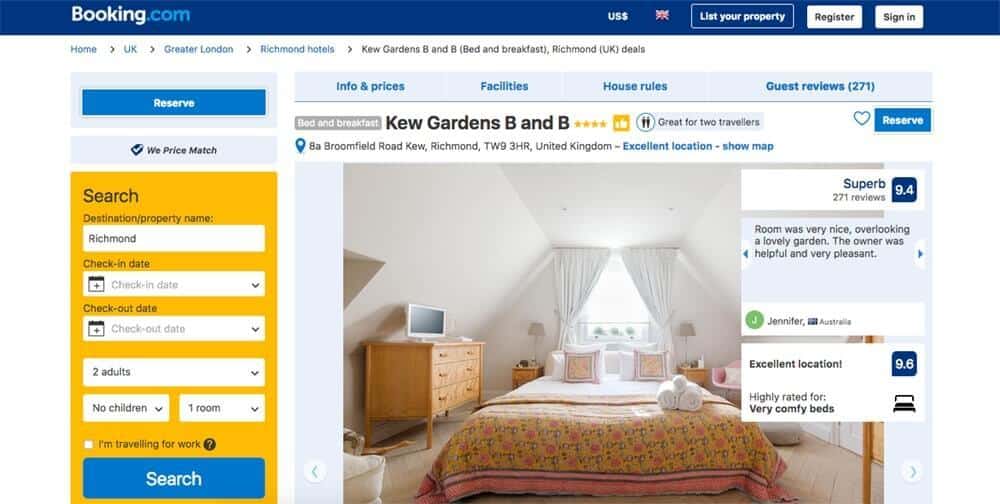 This vegetarian hotel in London is another option if you don't mind travelling into the city centre. Set in a Victorian house, Kew Gardens B&B is another vegetarian B&B that's away from London's busy centre.
Located further away than Temple Lodge in Richmond, you'll need to be up for a pretty long tube journey if you're going to stay here. However, you'll be rewarded with a peaceful riverside suburb.
Vegetarian breakfast is included with the room rates with vegan options. Rooms include a TV and private bathroom, and you can use a kitchenette.
Click here for more information.
On the budget end of the spectrum, Clink261 hostel is a good option. Formerly, they had a hostel nearby called Clink78, which was in a converted jail, but it seems to have closed temporarily (or possibly permanently) and they've opened this hostel, Clink261, just down the road.
Clink261 is in a former students union.
It's a good location for vegans (they've even put together a vegan guide on their site) because there are lots of options in the area (I should know, I lived there on and off for a decade!), such as my favourite Japanese restaurant in London, Itadaki Zen and Mildred's Kings Cross branch.
Click here for more information.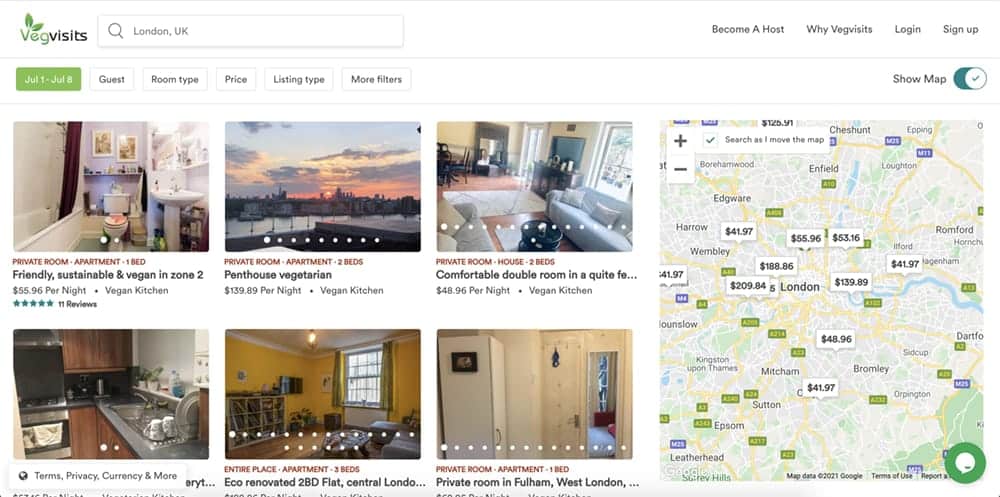 Vegan Airbnbs in London
Whether you want to save money or just have a more homey experience, there are a number of vegan Airbnbs in London now, as well as accommodation to be found on Vegvisits, a site which calls itself the Airbnb for vegans and vegetarians.
From accommodation in a room in a shared flat to entire flats, there are a number of options.
Airbnb doesn't make it easy to search for vegan accommodation as it's not provided as a filter and you can't search by keyword.
That's why I prefer Vegvisits, since it's set up specifically for vegans. However, there are a few vegetarian and vegan rooms on Airbnb I came across like this one near Brick Lane.
On Vegvisits, on the other hand, there are currently a dozen listings in London, from a double room in a vegan house in Crystal Palace to a vegan room in Wembley.
You can also rent a whole 2-bed flat with river views in Hammersmith, as well as others. On Vegvisits, you can also filter by options such as whether the accommodation has a juicer or dehydrator, and whether vegan breakfast or vegan snacks are provided.
Located near London, Glass House is a new retreat centre serving all-vegan food. The nearest tube station is Upminster and you can get a cab from the station to the retreat.
If you've been looking for a vegan-friendly or vegan spa hotel in London, this is the first! Unfortunately, while they serve vegan food, the spa treatments aren't vegan.
At present they use Elemis products which aren't vegan (it used to be cruelty-free but no longer is).
So forego a facial and opt instead to enjoy the all-vegan food and the facilities, which include a natural outdoor swimming pond, indoor pool, sauna and steam room.
They also have a range of classes including yoga and meditation. You can indulge in vegan afternoon tea or a cooking class, and they have vegan and raw food menus.
Click here for more information.
Pin this for later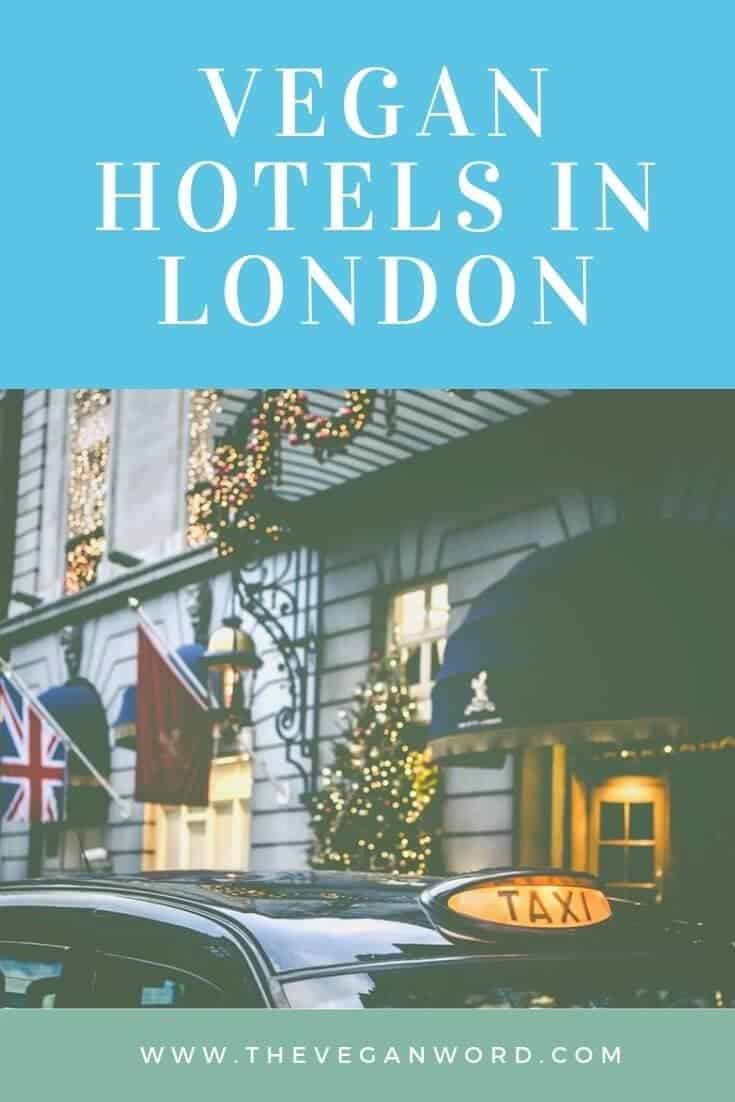 Looking for more vegan places to stay? Check out my list of the best vegan hotels worldwide here and the best vegan resorts here!
If you're travelling around the UK, I've put together a guide to vegan-friendly hotels in the UK, including all-vegan hotels like Saorsa 1875 as well as vegan-friendly accommodation, here.
If you're headed to Berlin too, check out my guide to vegan-friendly hotels in Berlin here.
Want inspiration for more vegan hotspots to visit? Check out my list of the most vegan-friendly cities in the world, plus my vegan city guides to Barcelona, Brighton, Athens, Amsterdam, Paris and Las Palmas, Gran Canaria.
I also have a list of vegan tours and vegan retreats.
Find out more about vegan accommodation here, and all about vegan travel here.