Vegan Gran Canaria: the island is the perfect winter sun destination, so if you're looking to escape the cold I recommend a visit, but what about vegan Canary Islands food? Can you find vegan food here? (Hint: the answer is a big, fat yes!)
You'll find Las Palmas' vegan offering is expanding all the time! I recommend sticking to the biggest city on the island because the resorts on the southern side of the island are home to fewer vegan/vegan-friendly restaurants (though there are a few). But if you do stay in a resort on the southern side of the island, select a self-catering option if you can — that way even if you can't find a lot of vegan options in local restaurants, you can still prepare some meals.
While Las Palmas may not have the breadth of vegan offerings of London or Berlin, you're not going to starve, and you can eat well if you know where. But where exactly can you find Gran Canaria vegan food and where's the best food to be had? Read on to find out!
Where to stay
Looking for a Gran Canaria vegan hotel? There aren't any vegan hotels in Las Palmas (yet!), but here are a few hotels in the city that I recommend.

This charming, 4-star adult only hotel is located 2 minutes from Las Palmas' cathedral in the historic neighbourhood of Vegueta. Vegueta is home to several vegan restaurants, including my favourite spot in the city, La Hierba Luisa.
If you want to be near a beach, it might not be the best option, because to get to Las Canteras (Las Palmas' best-known beach) you'll need to take a taxi or the bus. However, it does have a pool.
The pool has an outdoor terrace with swimming pool and cathedral views.
Click here to see the latest prices and availability.

Maresia Canteras is a 3-star hotel in Las Palmas' city centre, near the main beach, Las Canteras.
The hotel is located just a few metres from the beach. You can enjoy a drink on the terrace outside.
If you want to be near the beach, then I highly recommend this hotel. Las Canteras is the city's most famous beach and stretches 2.6 km along the length of the city.
Click here for the latest prices and availability.

This hostel just off Canteras beach in Las Palmas is not just for surfers! Located on the beachfront itself, the hostel has a waterfront terrace with BBQ facilities.
Some rooms have sea views, and guests can use the fully-equipped shared kitchen facilities.
Click here for the latest prices and availability.

This eco hostel is the perfect place to stay if you're looking for eco-friendly accommodation in Las Palmas. The furniture is recycled and you'll find an interior climbing garden. Water for the shared bathrooms is heated by solar power.
The hostel is located near the central bus station, so it's convenient for getting to/from the airport, or taking the bus to the sand dunes. However, the bus station isn't near the beach so if that's important to you you might want to consider La Ventana hostel (above).
Click here for the latest prices and availability.
Where to eat: best vegan restaurants in Las Palmas
Wondering what to do as a vegan in Gran Canaria? Find the best vegan restaurants Gran Canaria has to offer (I ate in most of them!). Plus, I've added the average price of a main dish, and my recommendation for the best dish to eat in each!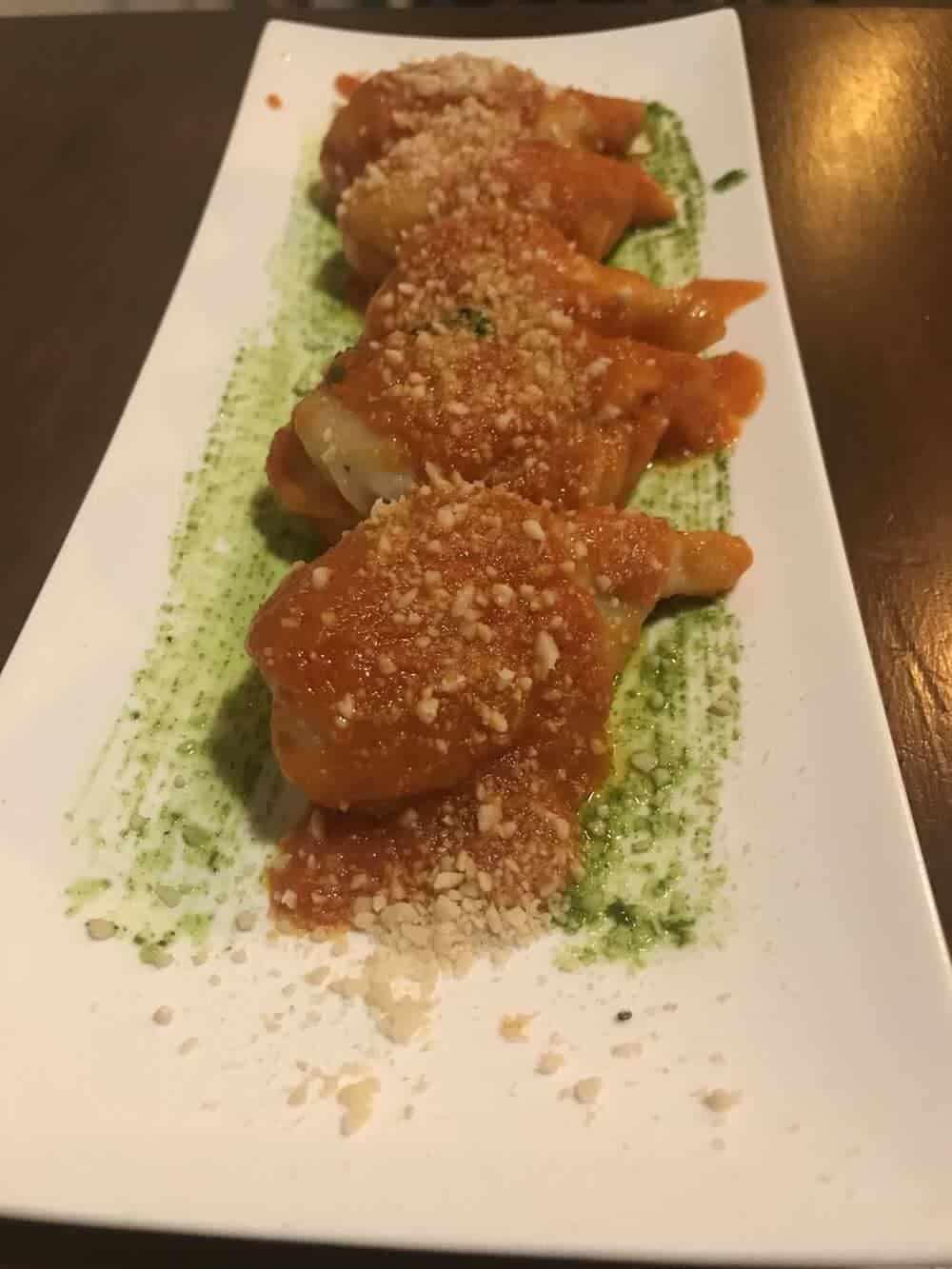 La Hierba Luisa
39, Calle Mendizábal, 35001 Las Palmas de Gran Canaria
Facebook | Instagram
Mains: €7.50 – 13

What to get: the Sardinian stuffed potato pasta
La Hierba Luisa was my favourite vegan restaurant Las Palmas had to offer. This vegan Italian restaurant makes some of the best vegan filled pasta I've ever had!
Their Sardininan specialty pasta was my favourite: a pasta stuffed with potatoes and nutritional yeast and topped with a tomato and mint sauce.
Their vegan Russian salad was also delicious (so much so I ordered it twice!). If you're into creamier sauces, try the butternut squash ravioli with coconut cream sauce. Or, for something more unusual, one of the changing daily specials, like calamari made with mushrooms.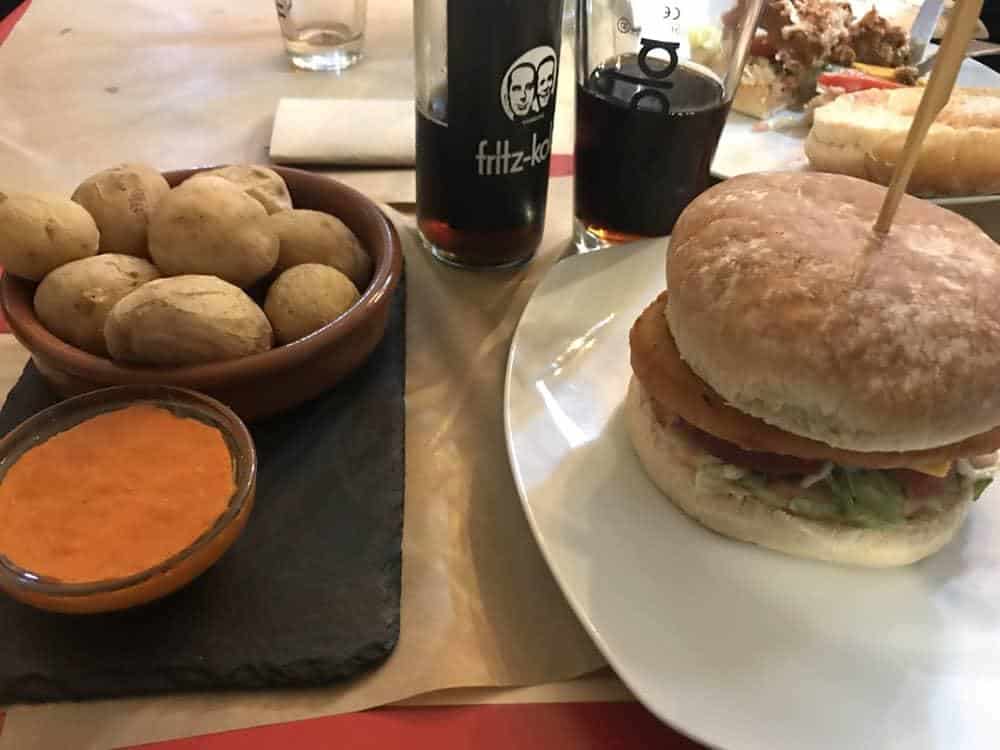 Calle Alfredo L Jones, 33, 35008 Las Palmas de Gran Canaria
Website | Facebook
Price for a burger (no sides): €5.10 – 6.90
What to get: a burger and potatoes with mojo sauce
Bioloco is an affordable vegan burger bar not far from the beach. As far as Gran Canaria vegan restaurants, it's one of the most popular.
If you get hungry while on the beach, just wander a few blocks to Bioloco. Everything here is vegan and they have a wide variety of burgers to choose from (from seitan burgers to bean burgers).
Don't miss the papas arrugadas con mojo, the most famous dish in the Canary Islands! Papas arrugadas means 'wrinkly potatoes' and the name comes from the way these small Canarian potatoes are cooked in salted water until the water evaporates and they become wrinkly. Served with mojo, a slightly spicy red sauce, and the most famous condiment on the island.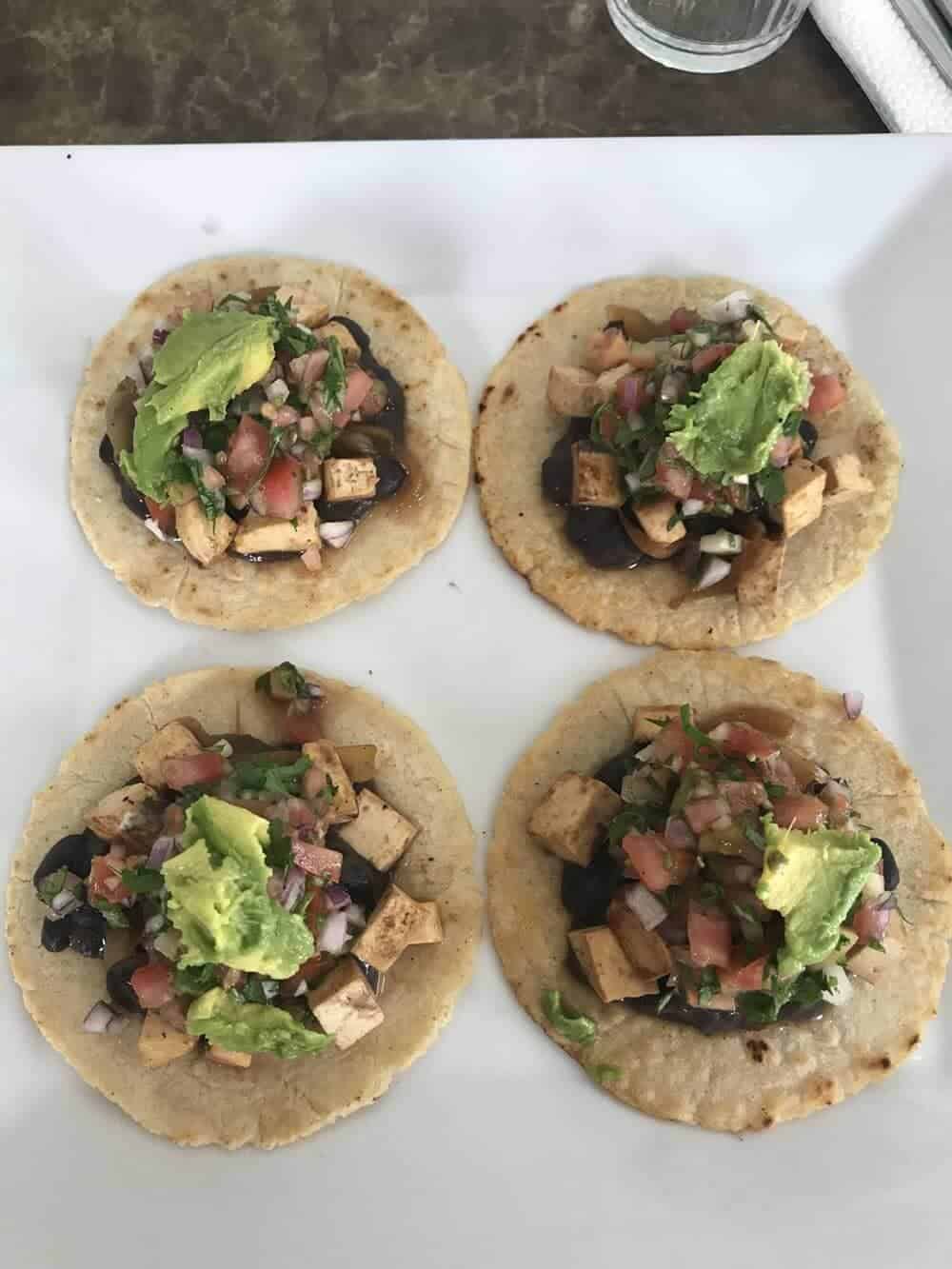 Calle Domingo J Navarro, 35, 35002 Las Palmas de Gran Canaria
Facebook
Price of breakfast/brunch main: €4.50
What to get: handmade tacos with tofu and beans
This healthy food restaurant is the place to go if you're in Las Palmas' old town. It has a beautiful, light-filled interior.
Zoe Food is completely vegetarian with vegan options. Try their tacos! The corn tortillas are handmade, a rarity and one worth trying.

Pliza 21 gelato
If you need to cool down after a day at the beach, Pliza 21, a gelateria on Las Canteras beach, is perfect for an ice cream. They've got several clearly marked vegan flavours. Try the nut-based gelato or the chocolate!

La Lola Vegan market for cake
La Lola is a small vegan market and bakery. It's the perfect spot to grab a slice of cake and coffee, or a few vegan items if you're nearby.
Other vegan & vegetarian restaurants: La Dulce Boutique, La Cuchara Sana, Racimo16
There are a few more vegetarian and vegan restaurants to be found in Las Palmas, but those I've listed above were my favourites. There were a few I didn't try because local vegans told me they weren't that great, and others I tried but wasn't that impressed with myself, but here are a few more options, just beware they might not impress as much as those above.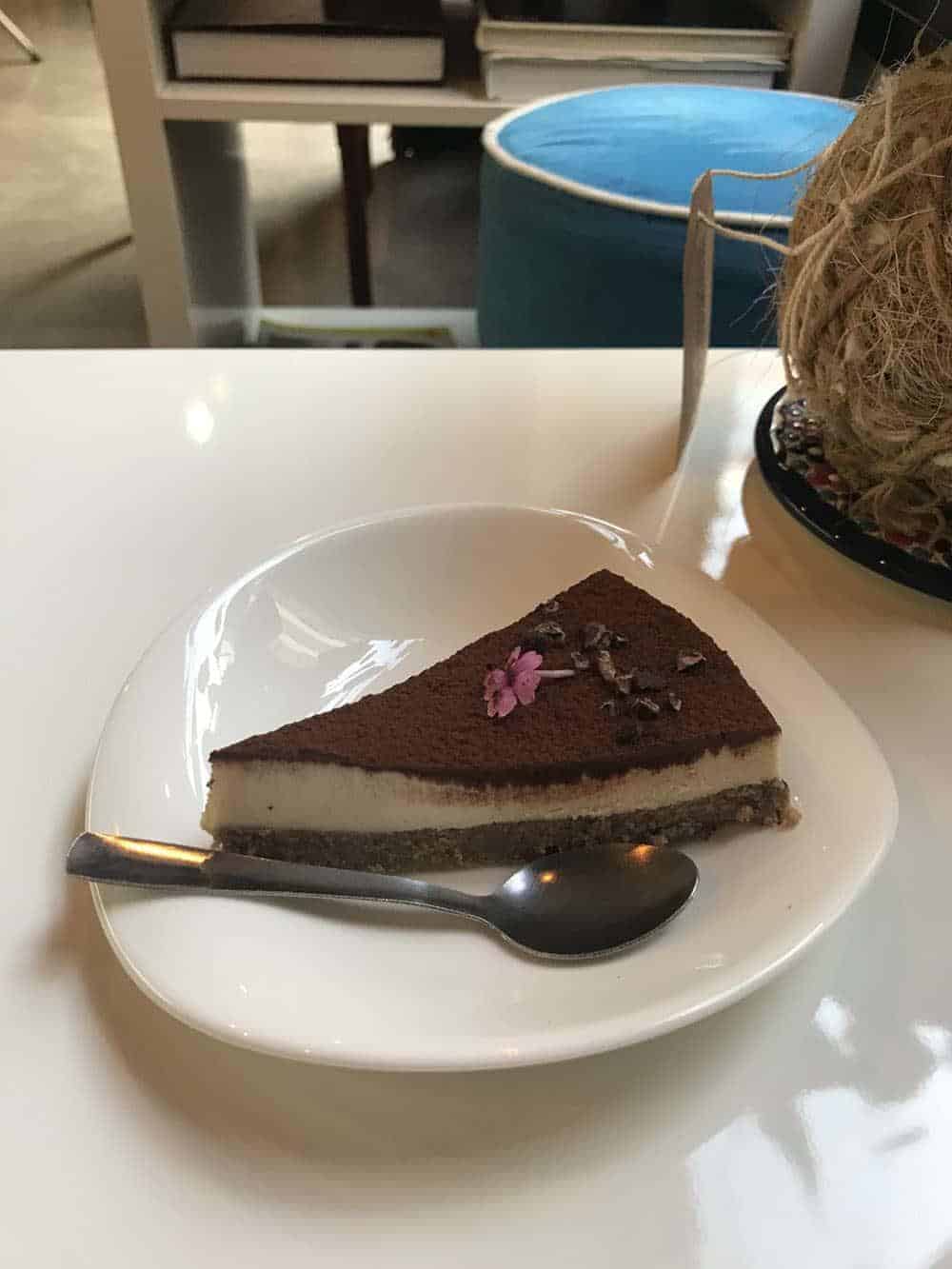 La Dulce Boutique: a mostly raw vegan bakery
La Cuchara Sana: a vegan deli outside the city centre (I didn't actually go here because it's pretty far but if you're in the area, I've heard the lasagne is good)
Racimo16: vegetarian cafe with vegan options, serving breakfast and a menu del dia (set menu) at lunch
Where to find vegan versions of traditional Canarian foods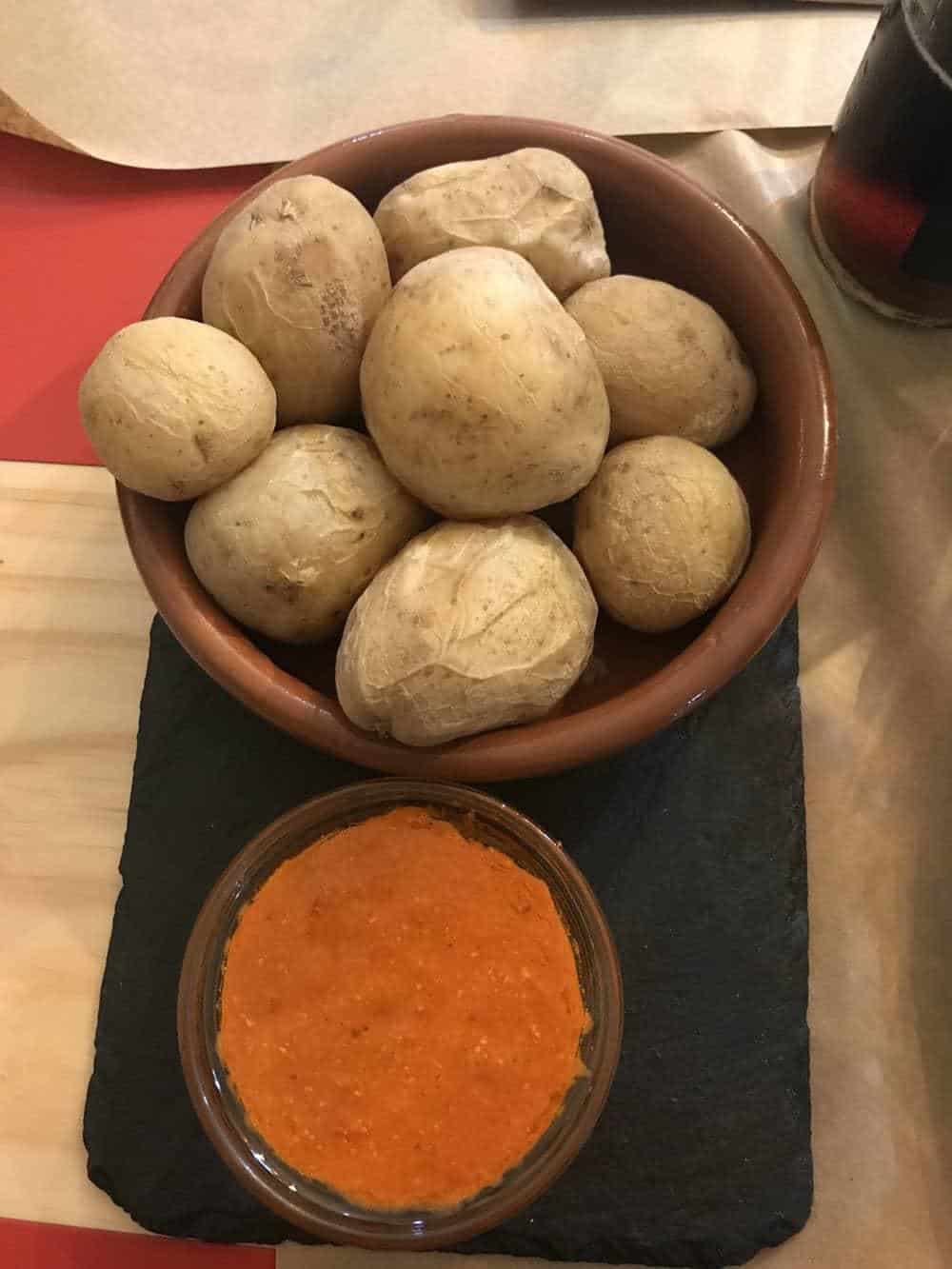 Mojo potatoes at Bioloco
Potatoes with mojo sauce (papas arrugadas con mojo) are the most typical and famous Canarian dish. Typically, local Canarian potatoes are used. These are small in size and are cooked in salted water until the water boils off and the potatoes become wrinkly. Hence the name papas arrugadas, which means wrinkled potatoes.
Red mojo sauce, which is served with the potatoes, is made with pepper, garlic, paprika and olive oil, and sometimes other spices. It can be varying in level of spiciness. There's also a green mojo sauce, usually made with green pepper, coriander (cilantro) or parsley. However, the red sauce is usually served with potatoes.
They're almost always vegan anyway, but if you want to try a version in a vegan restaurant, head to Bioloco burger bar and order a plate of mojo potatoes with your burger.
(And if you're stuck at a non-vegan restaurant with family and friends, go for the mojo potatoes!)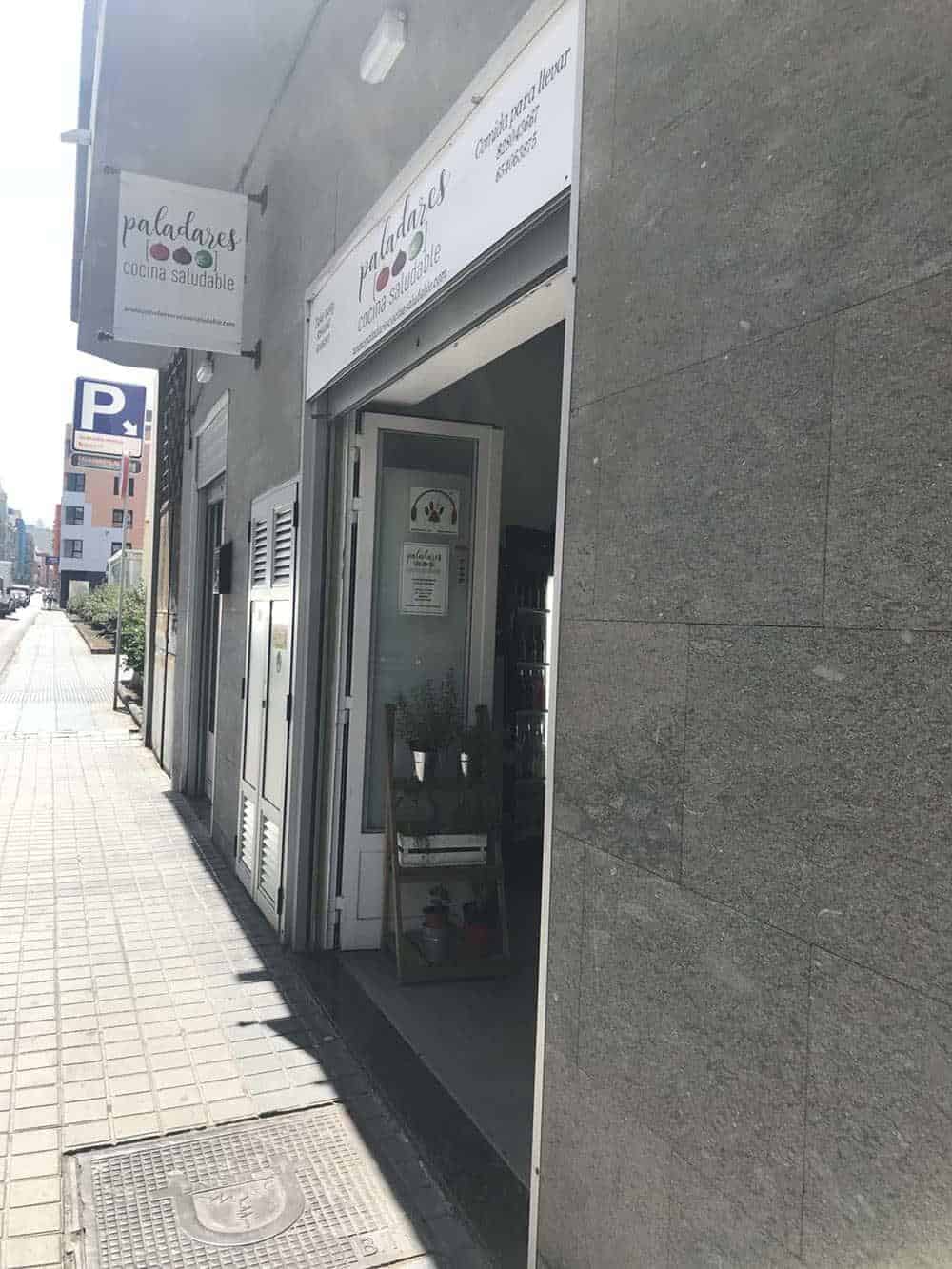 Ropa vieja
Ropa vieja is one of the most typical Canarian dishes, a stew made with potatoes, vegetables and shredded beef.
You used to be able to get a vegan version made with seitan at vegan deli Paladares which is now closed. You could make your own if you have a kitchen where you're staying. Let me know if you find it anywhere else!
Gofio
Gofio is a typical Canarian ingredient, made of toasted flour (usually wheat or maize). It became popular during wartime, with some sources saying it sustained the local population. Apparently it's quite high in vitamins, and it can be eaten uncooked (since it's already roasted).
There are a few typical ways to eat it, many of which sound disgusting (I was told by some vegans who live in Las Palmas it's the sort of thing you either love or hate, and perhaps have to grow up eating):
mixed with milk and drunk as a sort of paste
sprinkled on top of cereal for breakfast
mixed with fish stock to make a sort of soup paste
sprinkled on soup
You can easily pick some up for very little at any supermarket. I ended up buying the smallest bag I could find to take home with me, and sprinkling it on stew at home. And despite the less-than-appealing descriptions, I actually really liked it! (Though I doubt I would have liked it mixed into liquid to form a paste.) It's got a lovely nutty, toasted flavour.
Where to eat vegan with non-vegan family and friends (non-veg restaurants with vegan options)

List of restaurants with vegan options
Meraki: Meraki is a vegan-friendly restaurant that also serves fish. It's best for breakfast or brunch, as they have an extensive menu of toasts and juices and offer good breakfast deals.
Llevame al Huerto: a healthy food restaurant with vegan options marked on the menu.
Raffocacia: Raffocacia is a pizza restaurant on Las Canteras beach that has a cashew cheese option!
Ocean Burger: a burger bar directly on Las Canteras beach, with clearly marked vegan burger options
Pizzadillo: a pizza place in the old fisherman's quarter that's happy to veganise dishes (just ask). They specialise in filled wholemeal bread.
Where to shop vegan in Las Palmas
If you're looking for vegan bags, shoes and accessories, look no further than the Cork Shop in Las Palmas. Here you'll find products made of sustainable cork leather, produced in Portugal.

I stumbled on this sustainable clothing shop by accident walking around the shopping distract of Las Palmas. They sell organic and sustainable clothing.
Vegan food shopping
If you're staying somewhere with a kitchen, or just want to pick up some ingredients, here are the best places to shop for vegan food.
Spar Natural: This was the biggest vegan-friendly health food shop I saw in Las Palmas. It's the size of most grocery stores in the city centre, except everything is organic, health food-y or vegan. They've got a big selection of vegan products! It might help if you read Spanish or bring a list of Spanish ingredients with you, though.
Godhwani: This small mini market sells a variety of Indian foods and also one of the best selection of vegan frozen foods on the island, including vegan ice cream and vegan burgers, mince etc.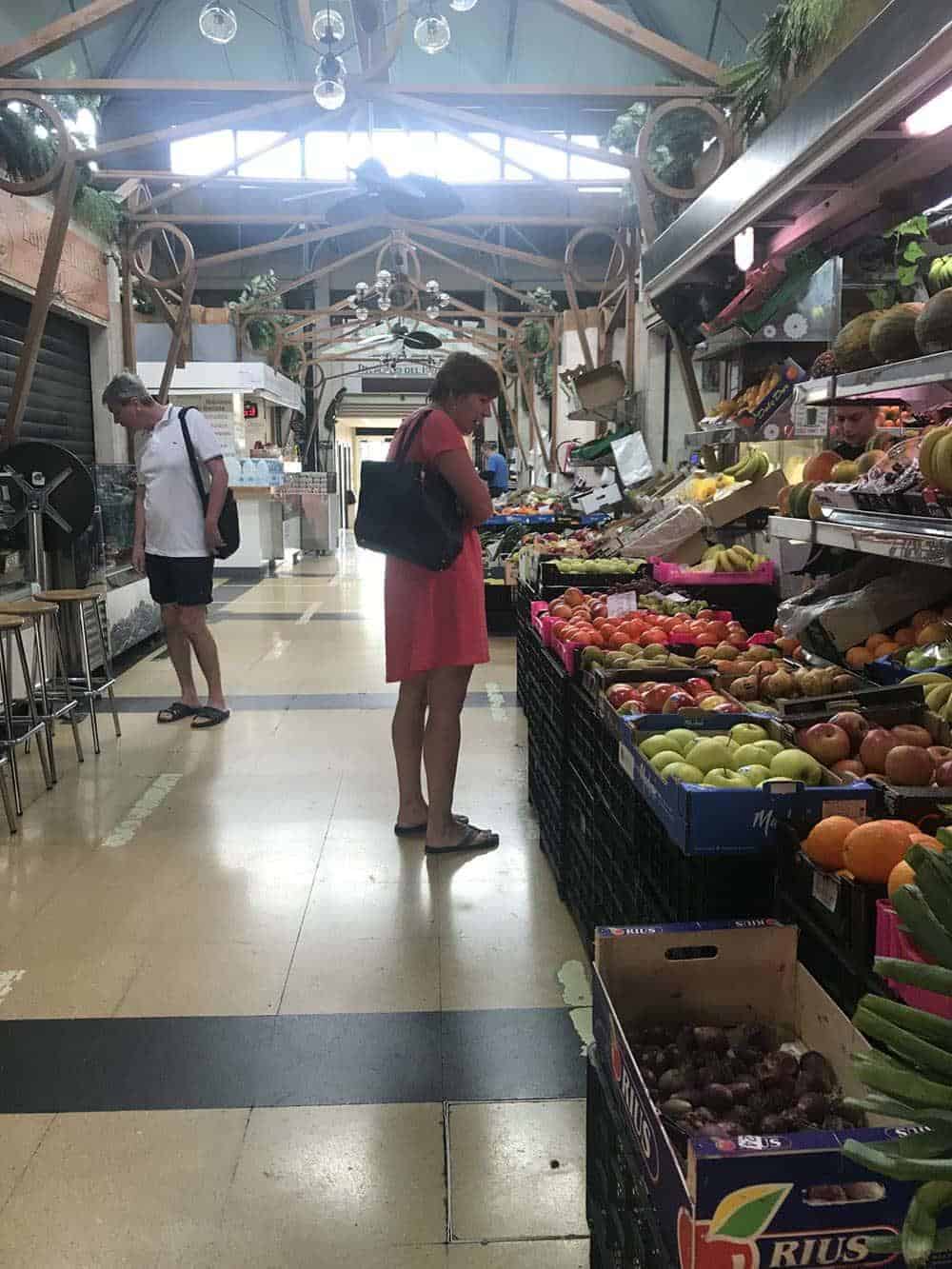 Markets: The best way to get fruit and veg is to shop at one of the local, daily markets (usually closed Sundays), like Mercado Central, Mercado Puerto de la Luz and Mercado Vegueta. I was staying near the Puerto de la Luz market and bought absolutely perfect (not a single spot!) and ripe avocados there several times, as well as the best fresh mangos and papayas. You're on a tropical island, so you might as well enjoy the tropical fruits here, right?
What to do in Gran Canaria: the best activities

Swimming, snorkelling & water sports
Gran Canaria is hugely popular for water sports. Las Canteras beach, which I've heard is the longest urban beach in the world at 2.6km, is popular for swimming and snorkelling. It's ideal as the waters are very calm and fairly shallow (it's protected by a natural reef). Because fishing is prohibited, there are populations of tropical fish to see. You can rent snorkelling gear from Buceo 7 Mares by Las Canteras beach (but beware they're closed Sundays, as I found out to my own detriment!).
I met quite a few people who live in Las Palmas who are also into surfing and kite surfing — apparently the waters are perfect for this too. You can even take surf lessons on Las Canteras beach!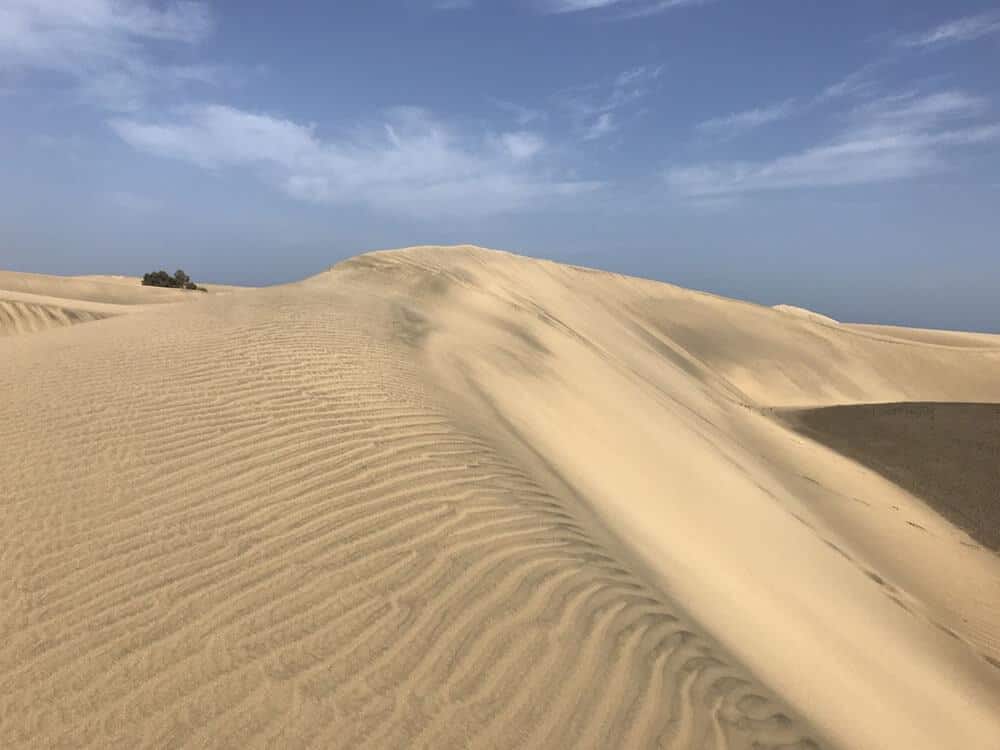 Sand dunes at Maspalomas
It's well worth getting the bus to Maspalomas to see the sand dunes there. They're a protected natural reserve located at Playa del Ingles. It's easy and costs just a few euros to get a bus from Las Palmas (buses depart every hour or so; get off at Playa del Ingles).
They say they're a bit like a mini Sahara (I've also heard people say Gran Canaria is like a mini-continent itself, with lots of different climatic conditions on the same relatively small island). They're located along the beach, so you can easily explore the dunes, then nip back to the beach for a drink at one of the beach bars or a dip in the sea if you get thirsty or hot. There's also a palm grove and lagoon, which is an important habitat for local wildlife and very beautiful (much of the lagoon is fenced off so you can't access it but you can see it).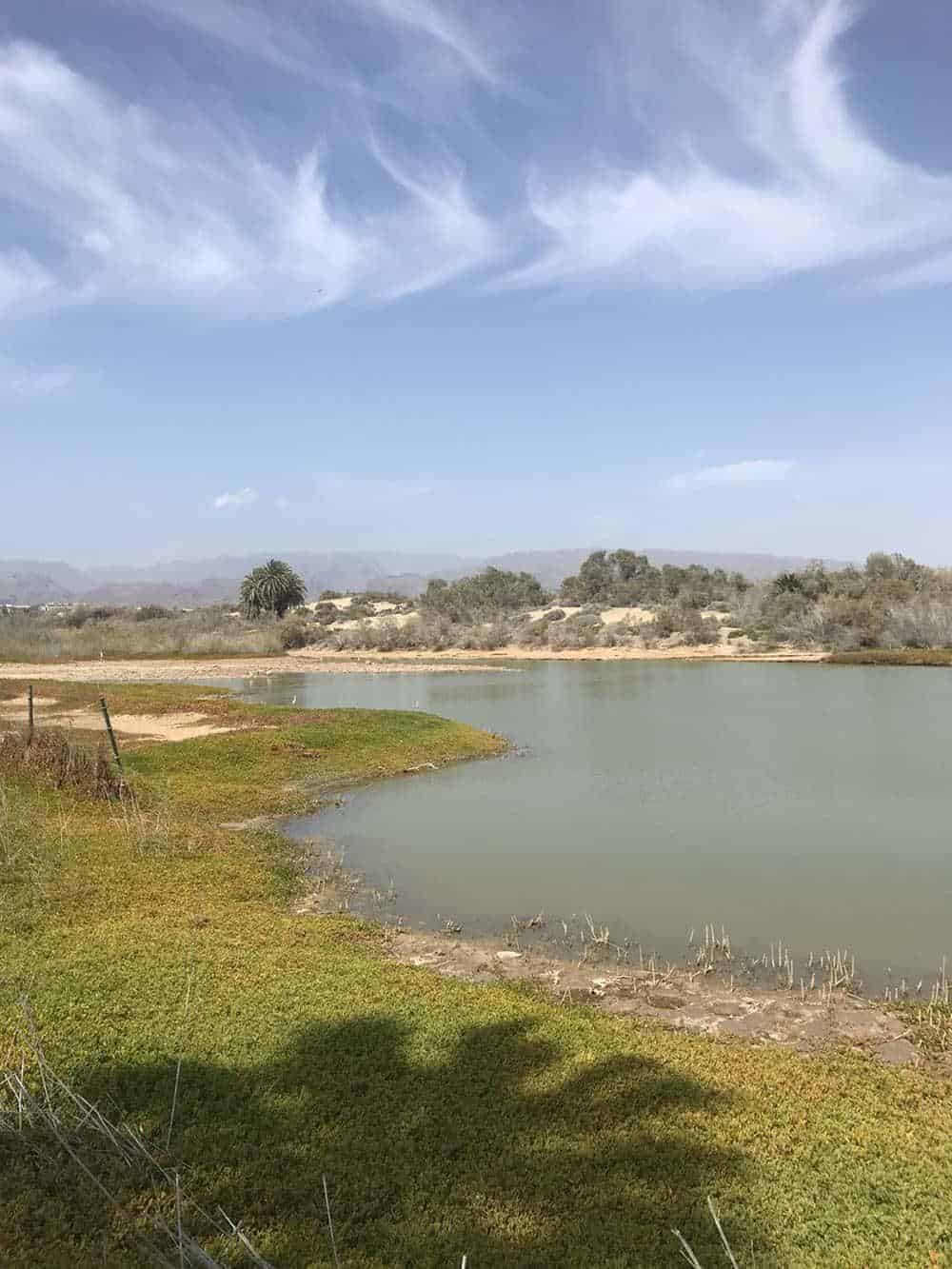 If you go to the sand dunes in Maspalomas, I recommend taking a picnic lunch as it's easiest.
If you want to go to a restaurant in Maspalomas, there are a few options–no fully veggie/vegan places, but a couple vegan-friendly spots. Try Restaurante Beirut, a Lebanese spot with some vegan options by the Dunas Maspalomas Hotel, or Rustico Pizza e Vino, a pizzeria with vegan cheese. However they're not *that* close to the dunes, which is why I recommend a picnic.
Go inland and see the mountains
As mentioned above, people say Gran Canaria is like a mini continent. Head inland to the mountains and it might be 5-10 degrees C cooler than the surrounding seaside areas. This is best suited if you've rented a car.
I've heard the mountains are stunning, and if you go at night the stargazing is great too (there's an observatory on Gran Canaria). I really wanted to visit Artenara, the highest village on the island (and also home to a vegetarian restaurant that's reputedly very good, Biocreperie Risco Caido), but the bus timetable isn't good, unless you don't mind your visit only lasting an hour or two.
Explore Las Palmas' historic centre, Vegueta
Vegueta is Las Palmas historic centre, and was the colonial settlement that gave rise to Las Palmas in the 15th century. Historically, much of Central and South America was populated by Canarians. All Spanish boats sailing to the Americas were required by law to stop in the Canary Islands. If you've been to South America, you'll see an uncanny architectural similarity between Vegueta and colonial buildings in South America.
The buildings are beautiful, and it's worth wandering around Vegueta. It's surprisingly quiet, with lots of peaceful side streets, even at the weekend.
In Vegueta, you'll also find Santa Ana Cathedral and the Casa de Colon mansion (reportedly wjere Christopher Columbus stayed while his ship was being repaired). The Casa de Colon is a stunningly beautiful building, so definitely look for it. It's now home to a museum, but I didn't visit it so I can't say if it touched on the dark side of his history and colonialism more broadly.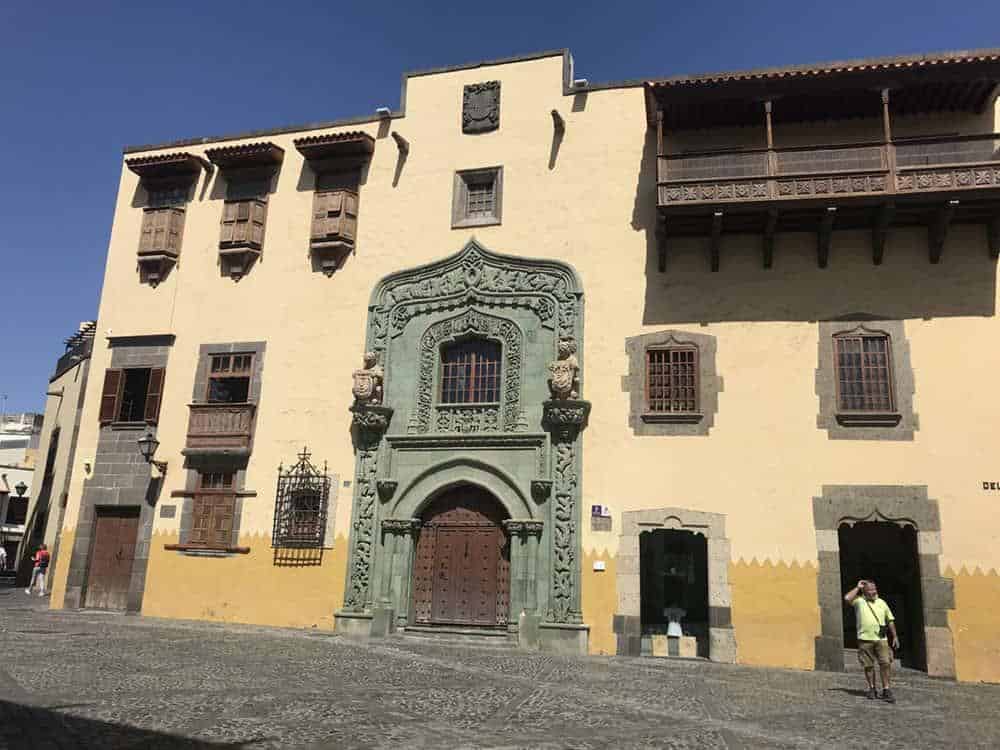 The Museo Canario is also located in Vegueta. It's an archaeological museum dedicated to pre-colonial history in Gran Canaria. I didn't see inside this one either, but it might be a good option for one of the rare rainy days here.
If you're staying near Las Canteras beach, like I did, the easiest way to get to Vegueta is to get a guagua (local bus). They're inexpensive and it takes an hour to walk from Las Canteras to Vegueta. Or, you could rent a city bike and cycle down along the waterfront. However, the path is uncovered so be sure to use sunscreen!
What to pack for Las Palmas
Don't forget to bring these to Las Palmas!
Start off your packing with a vegan bag! If you need a new suitcase, see my vegan luggage buying guide here. Or, grab my favourite choice:
Click here to see my top choice of vegan luggage, the Samsonite eco range (made of recycled plastic bottles)
The UV index is incredibly high in the Canary Islands, as close as they are to the equator. Don't be fooled by the relatively mild temperatures. You need sunscreen! I saw someone burn in under an hour in 22 degree Celsius heat. Apply it regularly, particularly if you go swimming.
Make sure your sunscreen is ocean-friendly and cruelty-free. See my sunscreen buying guide here.
Click here to see favourite vegan and ocean-safe sunscreen.
Vegan snacks
I always recommend bringing at least a few vegan snacks on the plane, in case there's no vegan meal for you or your plane is delayed. By the way, if you're flying from Europe to the Canary Islands, it doesn't matter how long the flight is (mine was 4.5 hours from London); most airlines still won't get you a meal because the flight is within Europe. Click here to see my vegan travel snack guide.
This pocket-sized guidebook is full of top 10 lists, tips and maps.
Gran Canaria uses European plugs, like the rest of Spain. If you're travelling from outside the EU, don't forget your plug adapter! I recommend getting a universal plug adapter so you can take the same adapter on every trip.
Click here for more information.
And don't forget your sandals! Find my guide to vegan sandals here.
Planning a trip elsewhere in Spain? Maybe a layover? Don't miss my vegan Barcelona guide!
Pin this for later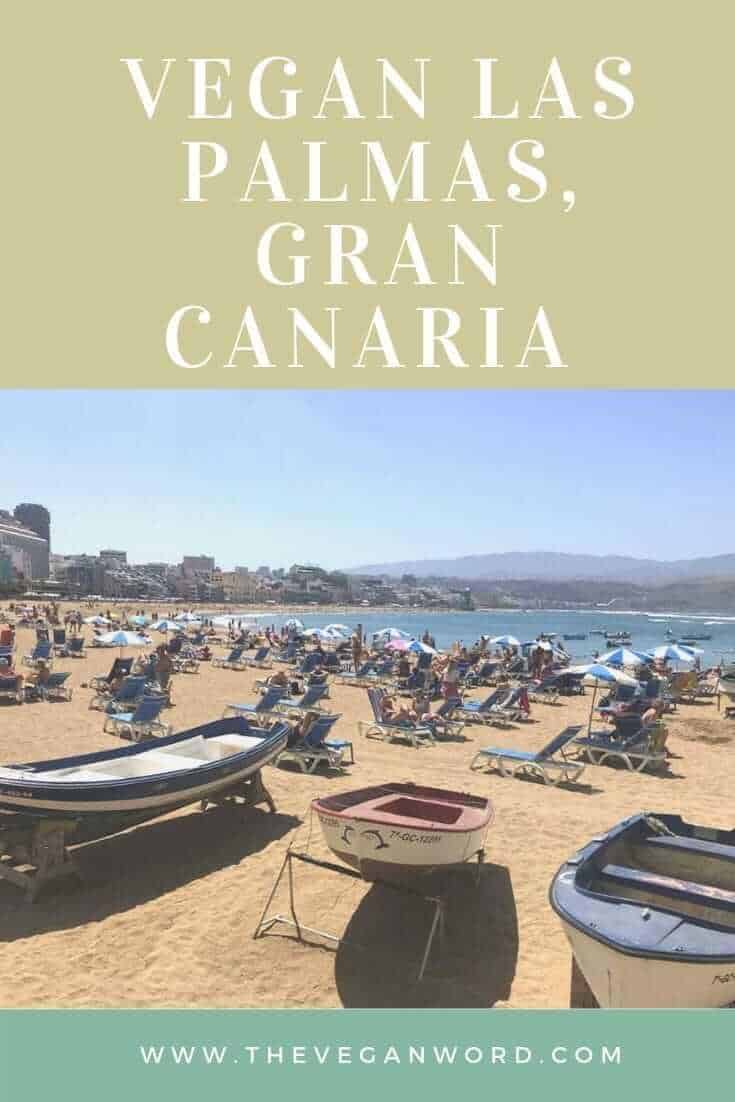 Looking for more guides to vegan cities? Check out my guides to:
I also have a list of the most vegan friendly cities in the world.
Searching for vegan accommodation? I have a list of the best vegan resorts, the top vegan hotels worldwide, vegan hotels in London, vegan hotels in the UK and vegan friendly hotels in Berlin. Plus, I have guides to vegan tours and vegan retreats.