Vegan Paris: if you're headed to Paris, you might be wondering what you can eat. This city historically has been known for its meat, cheese and cream-infused dishes, but don't worry, you won't starve. In fact, these days, the vegan in Paris is well catered for.
Just a few years ago, vegetarians, let alone vegans, struggled to find food in Paris. I remember in my pre-vegan days asking for a vegetarian dish in a brasserie and being met with a blank stare; some time later, a plate of salad and a side of French fries appeared on the table. These days, though, Paris is quick becoming a vegan destination, and in the time I've been visiting my friend who lives there (I've visited her regularly over the past 8 years), I've seen the vegan scene explode.
Below, you'll find some of the best vegan restaurants Paris boasts. You should know that a lot of non-vegan restaurants now offer vegan options, but the typical French brasserie still won't offer a lot of vegan options. Your best bet is to stick to world cuisine (see vegan dishes in 25+ cuisines here), a trendy restaurant (like everywhere, veganism has become a trend in Paris too) or a fully vegan restaurant. Paris, here we come.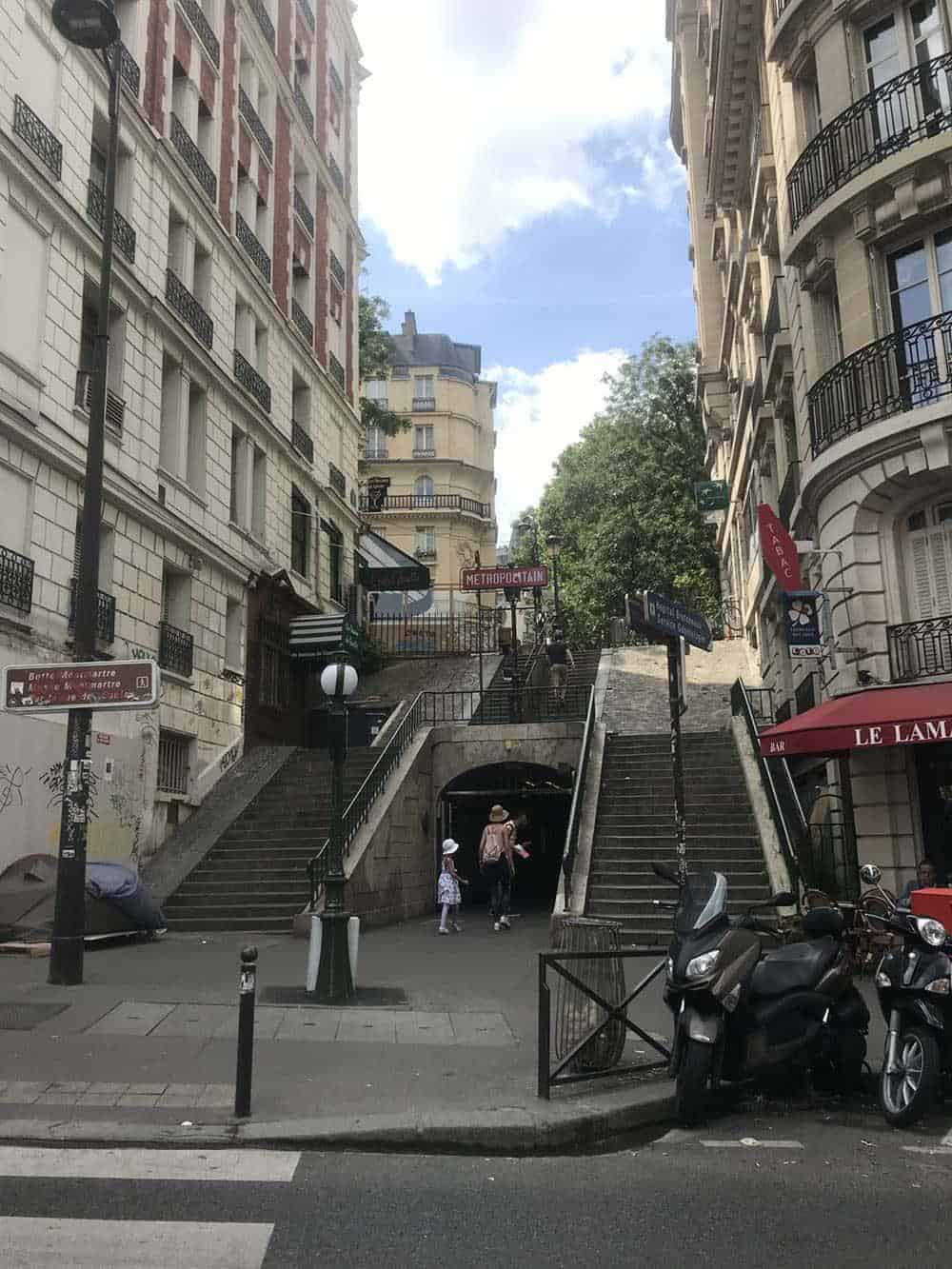 Where to stay
If you're looking for a vegan hotel in Paris, you'll be sorely disappointed to hear that Paris doesn't have any fully vegan hotels (although you can find vegan hotels elsewhere in the world). However, I recommend a stay in one of these eco-friendly hotels, or the vegetarian B&B listed below.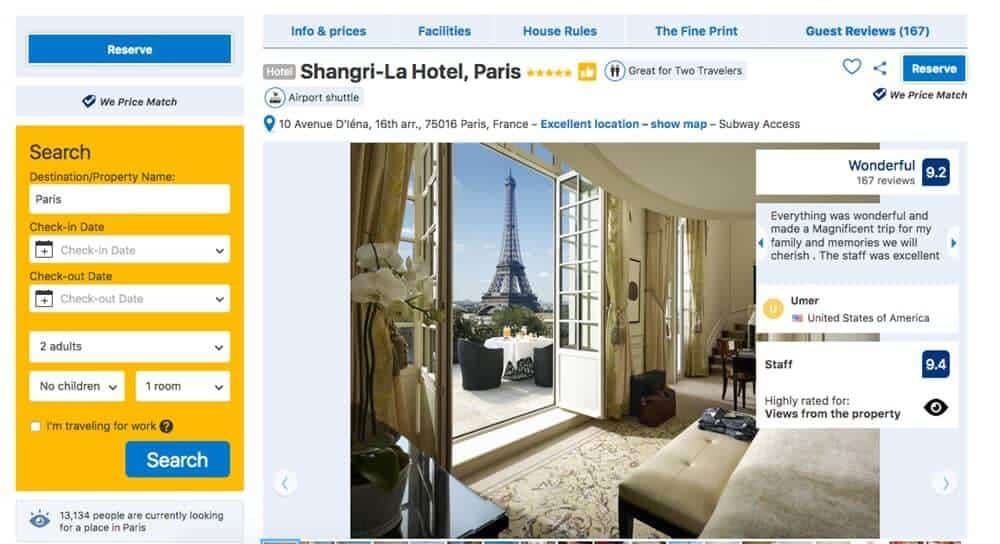 The Shangri-La Paris is a luxury 5-star hotel that serves a vegan afternoon tea! If you're looking for luxury and a vegan-friendly spot, then this is the perfect pick.
Located in a palace, formerly the residence of Prince Roland Bonaparte (the grandson of Napoleon's brother), both the building and location are beautiful.
Some of the rooms offer stunning views of the Eiffel Tower, and all rooms have a separate living room with desk and marble bathroom. The hotel also has an indoor pool and spa.
The Shangri La offer a vegan afternoon tea (be sure to pre-book and tell them you're vegan), if you'd like to treat yourself to an array of vegan sandwiches and pastries created by Chef Michaël Bartocetti.
Click here for more information.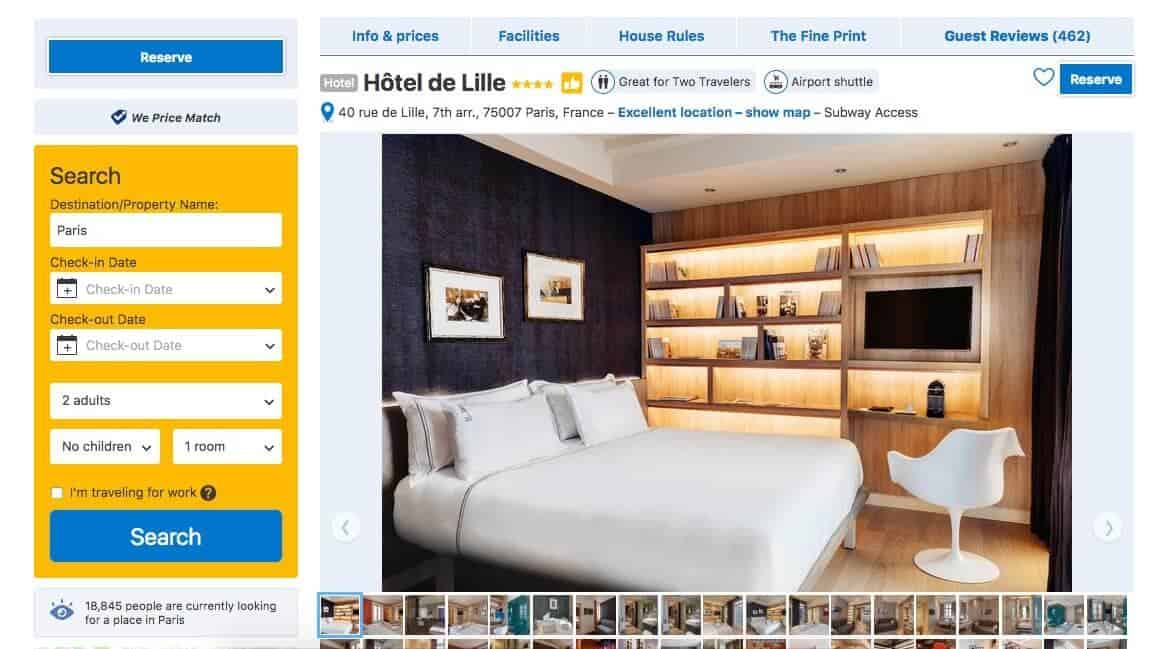 Hotel de Lille is an eco-friendly 4-star boutique hotel in Paris. Rooms are designed with eco-friendly materials and feature flat-screen TVs, free wifi and air conditioning.
The hotel's location is ideal, a block from the Seine and near the Jardins du Luxembourg and the Louvre.
Click here for more information.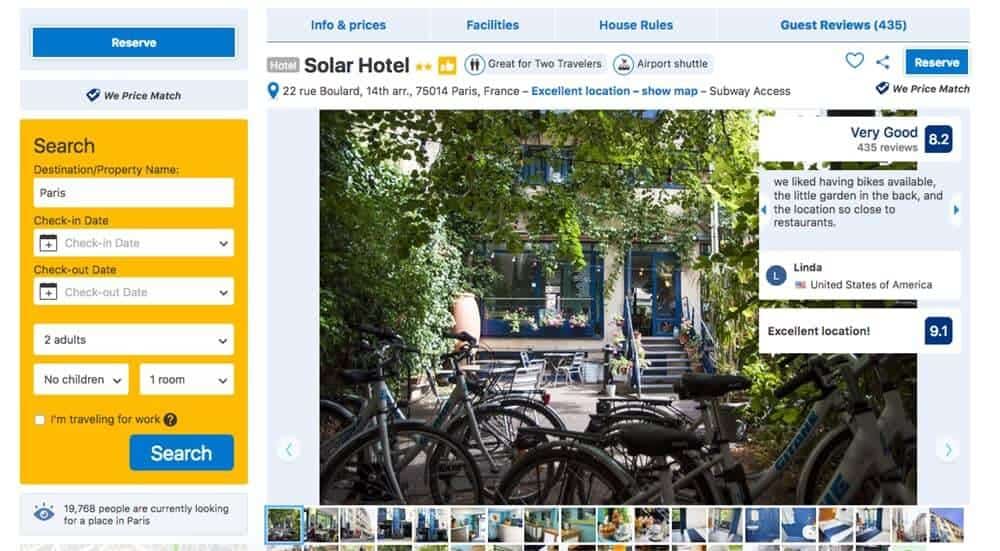 The Solar Hotel is an eco-friendly budget hotel in Paris. As you might imagine, the hotel features solar panels, among other eco-friendly features.
They also clean with eco-friendly products, utilise rainwater collection for plants) use recycled materials and have a bike rental scheme.
WiFi is not available in rooms, but you can use wifi in the salon/common area. The hotel is also pet friendly.
The best Paris vegan restaurants
In terms of vegan food, Paris has plenty of it these days. So how do you choose the very best vegetarian restaurants Paris has to offer?
Well, if you're me, you make a spreadsheet and enter in ratings for each restaurant from various review sites, then create an average across all the ratings. You head to Paris to visit a friend, drag her from restaurant to restaurant and spend your time stuffing yourself with food while evaluating if the restaurants live up to the ratings' standards. Or is that just me?
I've done all the work for you, so you don't need to make a spreadsheet yourself! ;) Read on to see the best vegan restaurants in Paris.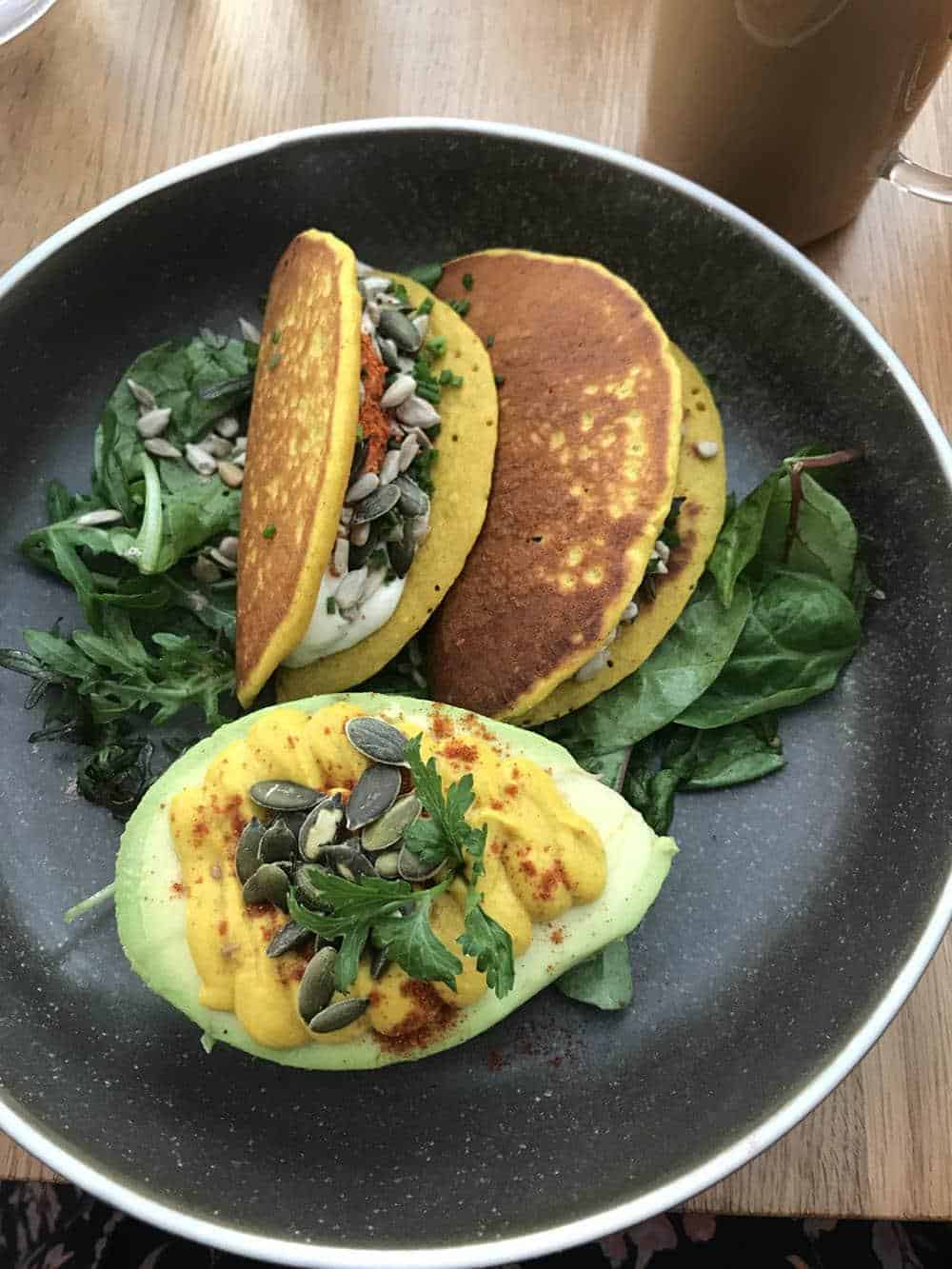 Potager de Charlotte was ranked very highly based on ratings, and its brunch didn't disappoint.
Vegan brunch, Paris-style, is quite a long and involved affair. Make sure to go on an empty stomach. Brunch usually includes multiple courses ranging from savoury to sweet, a hot drink (coffee or tea) and possibly a juice.
Potager de Charlotte's brunch consists of two chickpea pancakes stuffed with cashew cream, a 'hard boiled egg style' avocado, cubed watermelon with a sweet vanilla cashew cream and a buckwheat and rice pancake with homemade chocolate hazelnut spread. It also comes with juice and coffee or tea.
The chickpea pancakes were nice and fluffy, and came on a plate with the 'hard boiled egg style' avocado, which is stuffed with turmeric and chickpea hummus. I was slightly confused by the description, expecting an avocado that had been somehow made to taste like eggs. Instead, the 'hard boiled egg style' refers to the appearance, which doesn't really look like a hard boiled egg (unless eggs are green these days — I mean, I haven't had an egg in many years but I don't think that's happened). It was good though.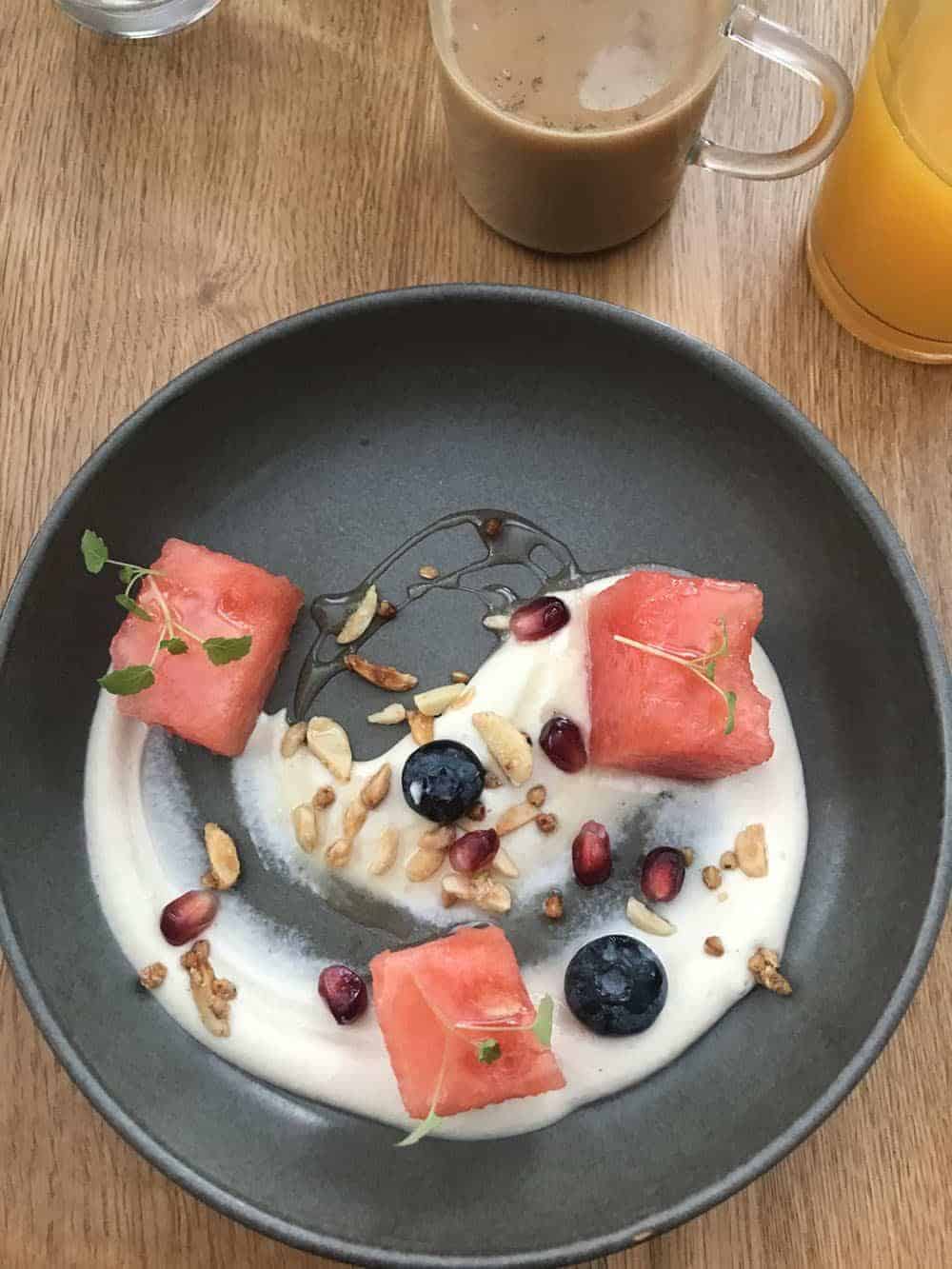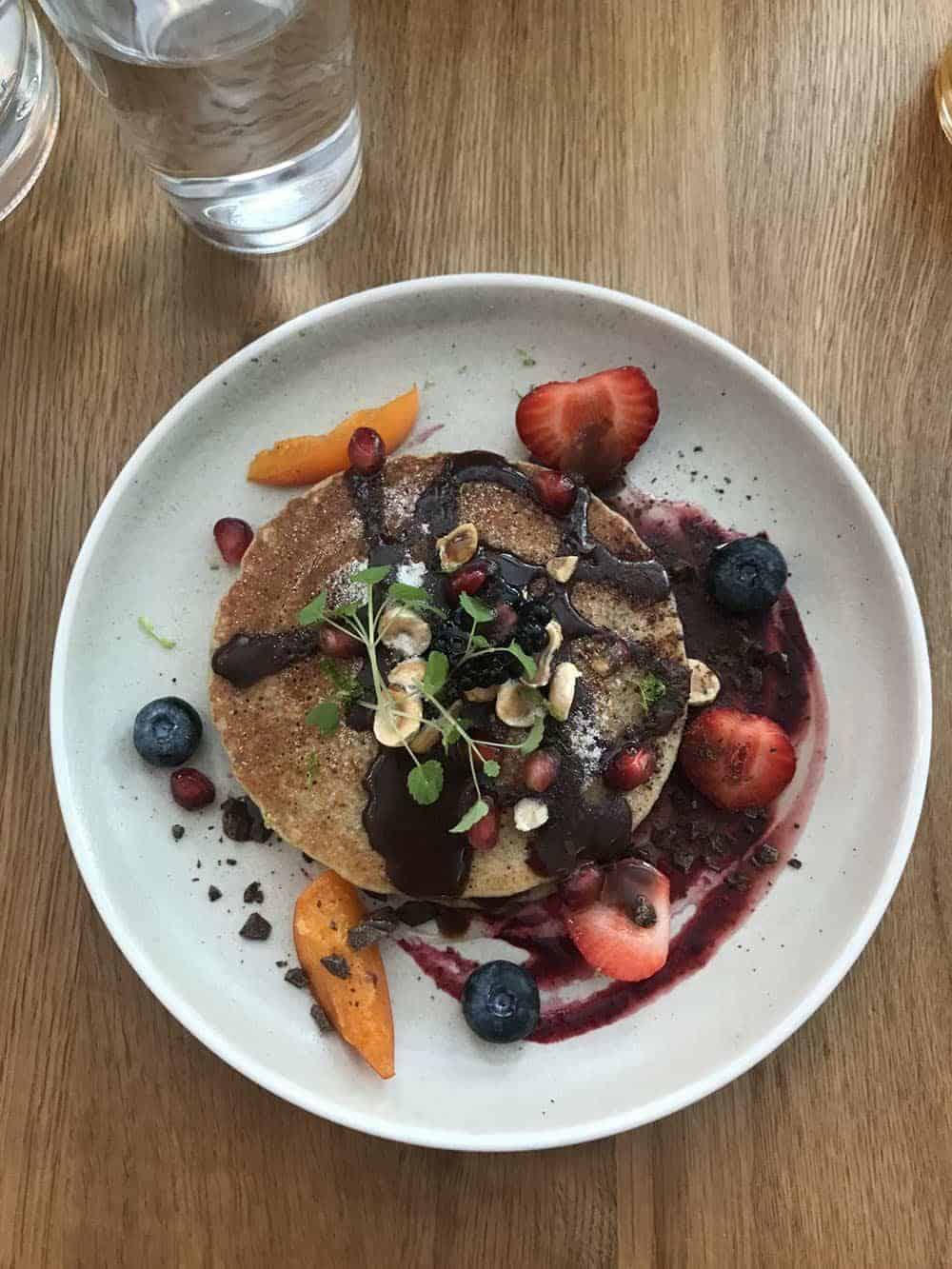 The cubed watermelon seemed to be a sort of palate cleanser, and was nice and light considering I still needed to make room in my stomach for pancakes with homemade nutella — mmm. Make room I did, and I left pleasantly stuffed.
I didn't try dinner at the restaurant but the menu looked interesting. Among other options, it had the hard boiled egg avocado and chickpea pancakes as starters, and an aubergine main (roasted aubergine/eggplant with hummus, sesame cream, roasted pistachio, sumac and pomegranate seeds) that my friend had for her brunch and enjoyed.
This is definitely a place you should make reservations for — it gets busy!
Click here to see the menu and make a reservation.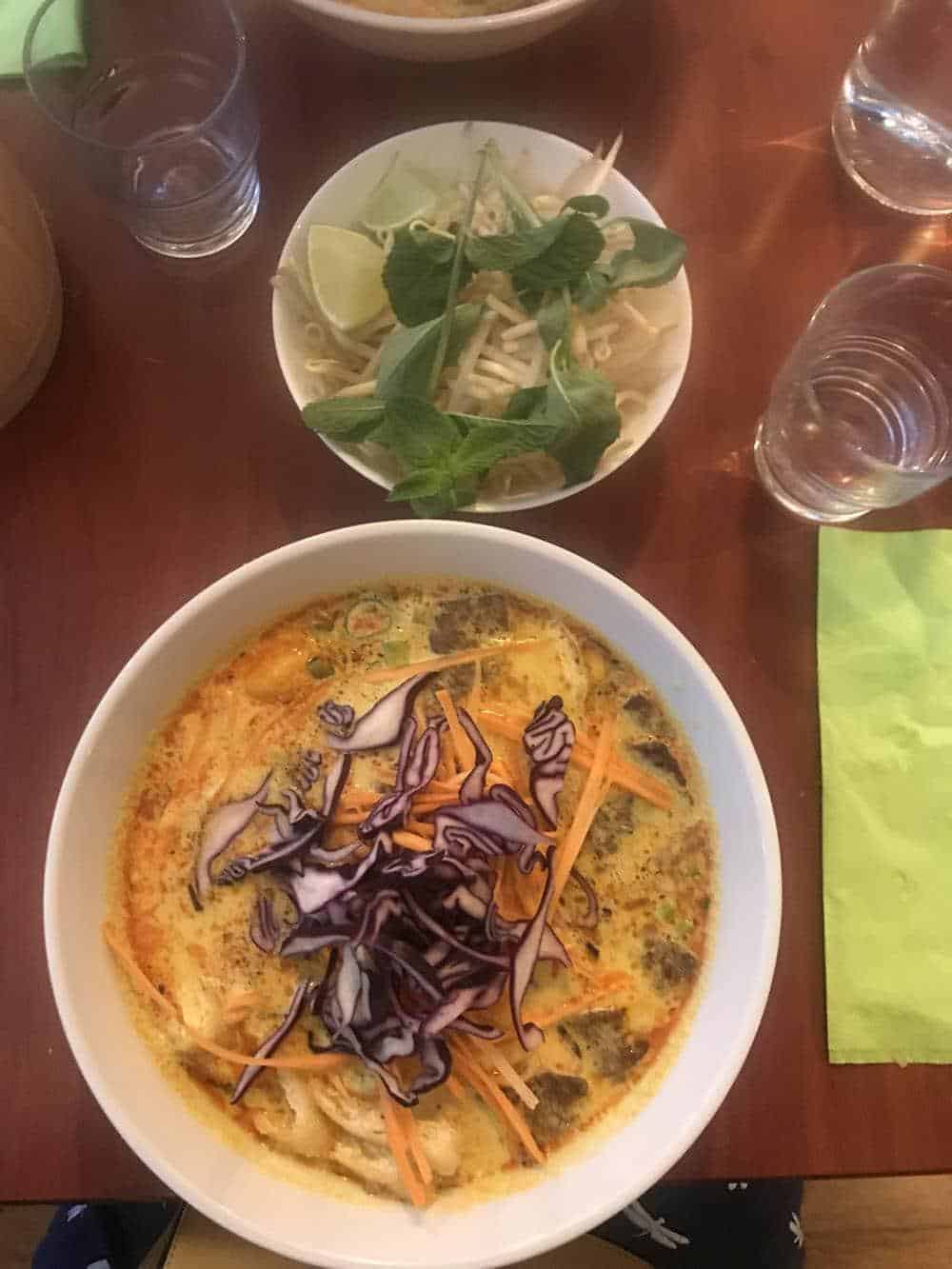 La Palanche d'Aulac is a vegan Vietnamese restaurant and came out ranked the highest of any fully vegan restaurant in Paris.
You might not think of Vietnamese food when you think of Paris, but there are many Vietnamese restaurants in Paris because of the colonial history (Vietnam was part of a colony of France, French Indochina, from the mid 19th century until it declared independence in 1945 and won a war against France in 1954).
La Palanche d'Aulac calls itself a vegan Vietnamese-inspired restaurant. The food is very reasonably priced and so flavourful. If you're looking for good vegan food in Paris that won't break the bank, head here.
On the menu, you'll find pho with vegan meat, bun cha with veggie meat and more.
I opted for a soup with a coconut, turmeric, galangal and lemon leaf broth, rice noodles and tofu–it was really packed with flavour. We also had the spring rolls, which were fresh and featured plenty of herbs.
You may not need a reservation. We went on a Friday night and arrived half an hour late for our reservation but had no problem getting a table, and saw some seats available.
Click here for more information.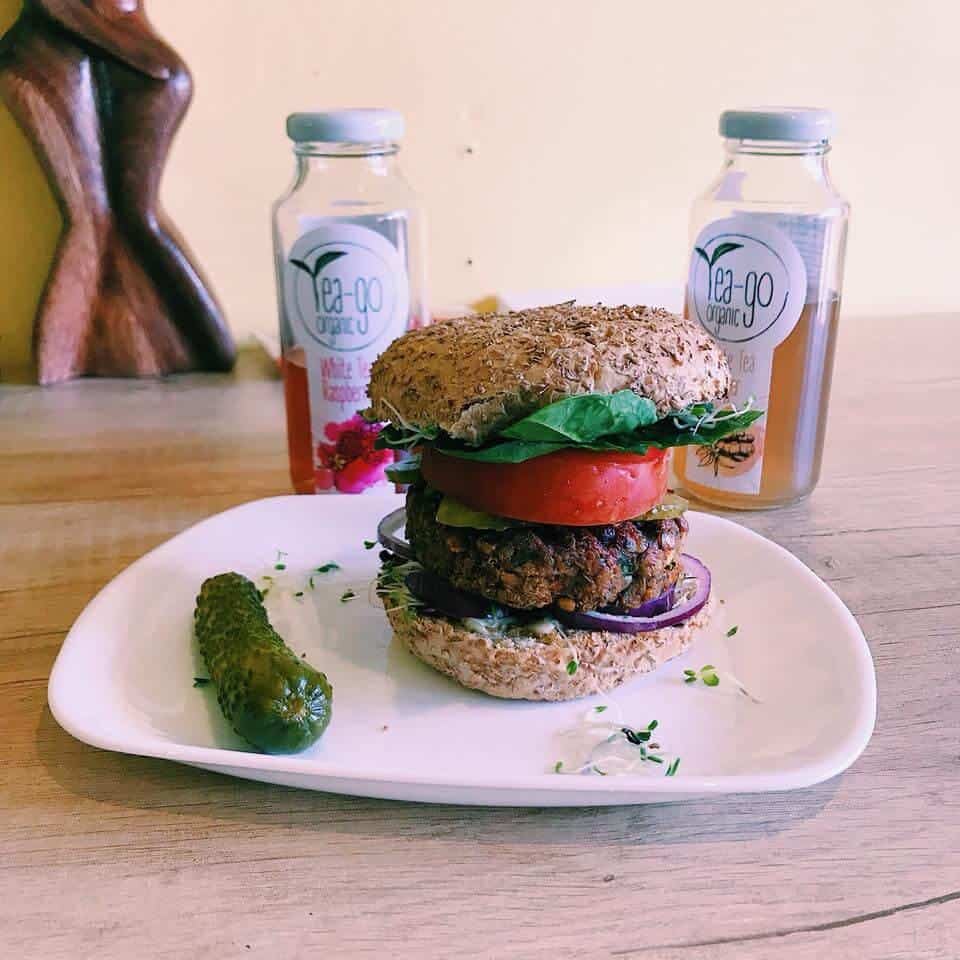 Hank Vegan Burger opened its doors back in 2013, and has been satisfying vegan burger cravings in Paris since. As well as Hanks Burgers Paris (which consists of two locations in Paris), they now have a branch in Lyon
Hank Vegan Burger ranked in the top 10 when I compared ratings.
The burgers all come on a base of tofu, mushrooms, rice and spices, with melted vegan cheese and different toppings and condiments like pepper sauce and pickled red onions, smoked BBQ sauce and red and yellow pepper or sauce with fresh figs and rocket.
You can get your burger on a gluten-free bun (though it may contain traces of gluten) and they also do a brunch on Sundays — you'll get scrambled vegan eggs, salad, a quinoa croissant, vegan yoghurt and cake of the day.
Click here for more information.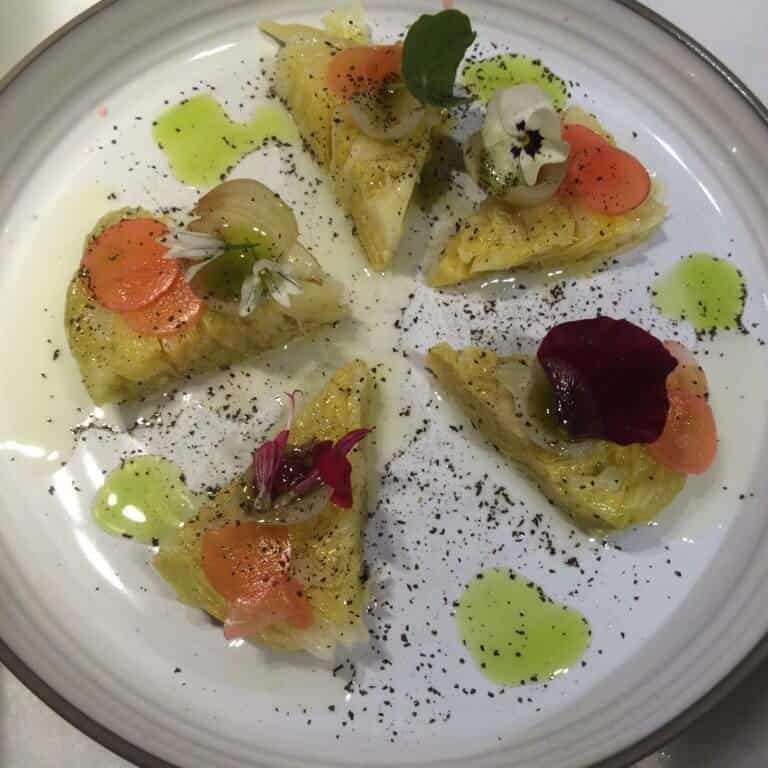 Michelin-starred restaurants with vegan menus: L'Arpege and Etude
Not surprisingly, two of the highest ranked restaurants on my spreadsheet were Michelin starred. L'Arpege and Etude are two Michelin-starred restaurants in Paris that offer vegan menus.
L'Arpege is a three-Michelin star restaurant. Chef Alain Passard caused a small tremor in the fine-dining world in 2001 when he removed meat from the menu (he since has re-introduced it, but continues to offer vegetarian and vegan menus).
The influence in his decision lives on, however, in complex, vegetable-forward cooking that has become popular since. A true vegetable lover, Passard has a farm where he grows his own, and even conducts tests on the effects of different soil types on vegetable flavour. As this Bon Appetit article explains, he grew tired of cooking meat: '"There is a creativity with vegetables that you don't have with animal tissue," he explains.'
Click here for more information.
Etude is a one-Michelin star restaurant that offers a vegan tasting menu.
It's more affordable than L'Arpege (though still pricey, as it's a fine-dining restaurant).
The tasting menu comes with five courses prepared by chef Keisuke Yamagishi, who runs the restaurant with his wife, who is sommelier.
Click here for more information.
Along the lines of L'Arpege, chef Alain Ducasse made headlines a few years ago when he reportedly removed meat from the menu at Plaza Athenee (although the menu still includes fish).
This three-Michelin star restaurant celebrates seasonal vegetables, and I've heard a vegan tasting menu is available, though I haven't confirmed it (please let me know if you have had it).
Click here for more information.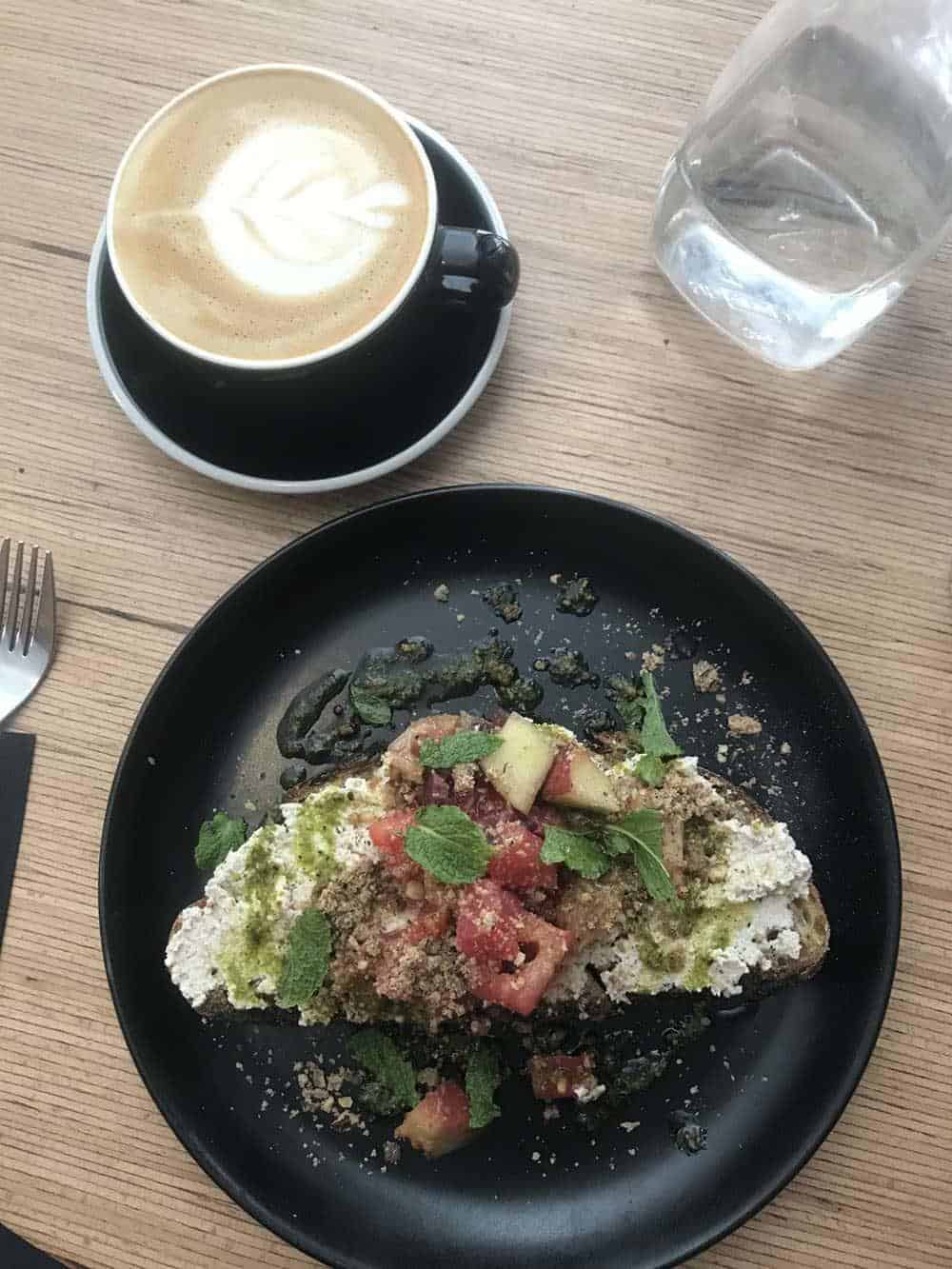 If you're looking for casual vegan cafes in Paris, Grounded is an all-vegan coffee shop in an increasingly vegan area. It's located just around the corner from Jay&Joy fromagerie, VG patisserie and Manifeste011 vegan store, which sells shoes, bags and clothes.
I grabbed a quick lunch at Grounded in between visiting Jay&Joy and Manifeste011, a vegan clothing and shoe store. Grounded serves coffee, cakes and sandwiches.
Rather than opting for something I could get anywhere like avocado toast (delicious though it may be), I went for the more French-sounding open toast topped with homemade ricotta, peaches and herb infused oil. It was parfait for a quick lunch.
Click here for more information.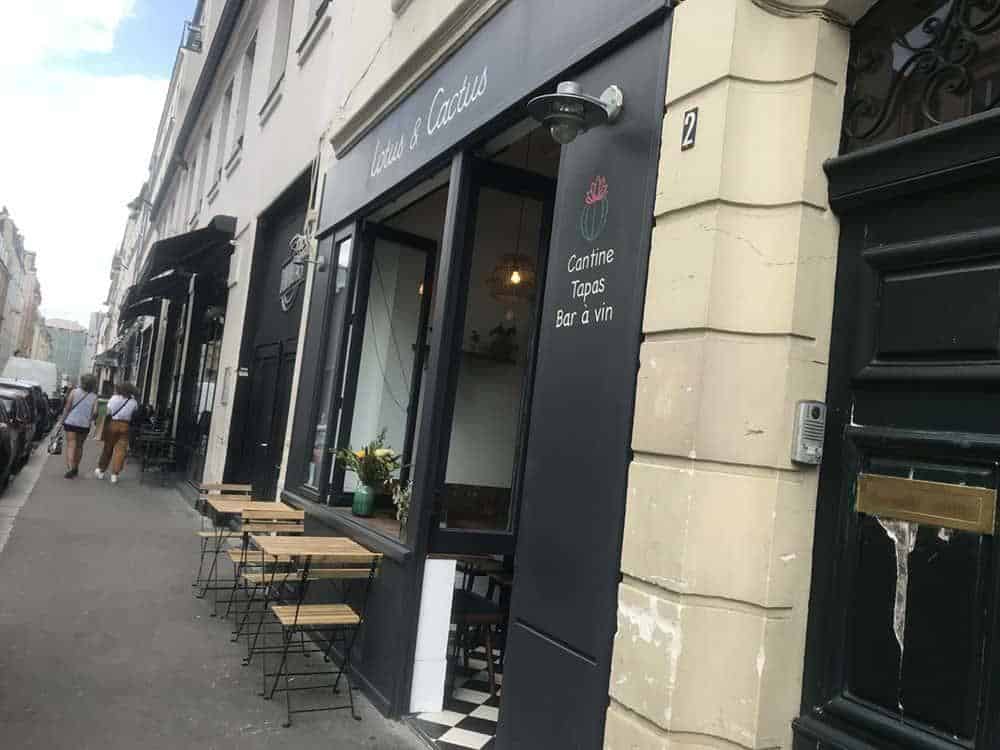 Other vegan spots: Lotus & Cactus, Apulia, Jah Jah, Le Tricycle, Wild & the Moon
Vegan and vegetarian Paris has much more to offer. Here are a few more of the best vegan restaurants Paris is home to, according to my aggregate ratings calculation.
This vegan tapas restaurant is rumoured to be one of the best vegan places to eat in Paris. Unfortunately I didn't get to try it as the day I went, around 2:05pm, they informed me they'd already stopped serving lunch. So be sure to get in early!
Click here for more information and reservations.
Apulia is a very unique vegetarian restaurant in Paris. This one-man operation serves home-style Italian food made by a chef from Puglia, who creates a menu of the day each day. He can adapt all dishes to be vegan on request.
You'll definitely need a reservation (lunch is by reservation only and dinner reservations are strongly recommended) — it's a small restaurant and the chef does everything.
Click here for more information and reservations.
Jah Jah is a vegan restaurant run by the same people as Le Tricycle, a popular vegan place in Paris. It's a casual vegan restaurant.
Le Tricycle might sound like a slightly unusual concept in Paris but it's proven popular. This vegan Paris restaurant specialises in vegan hot dogs! Good for a quick bite.
WIld & the Moon is a popular healthy vegan spot — so popular it has multiple locations across Paris. You'll find cold-pressed juices, smoothies, healthy bowls and salads.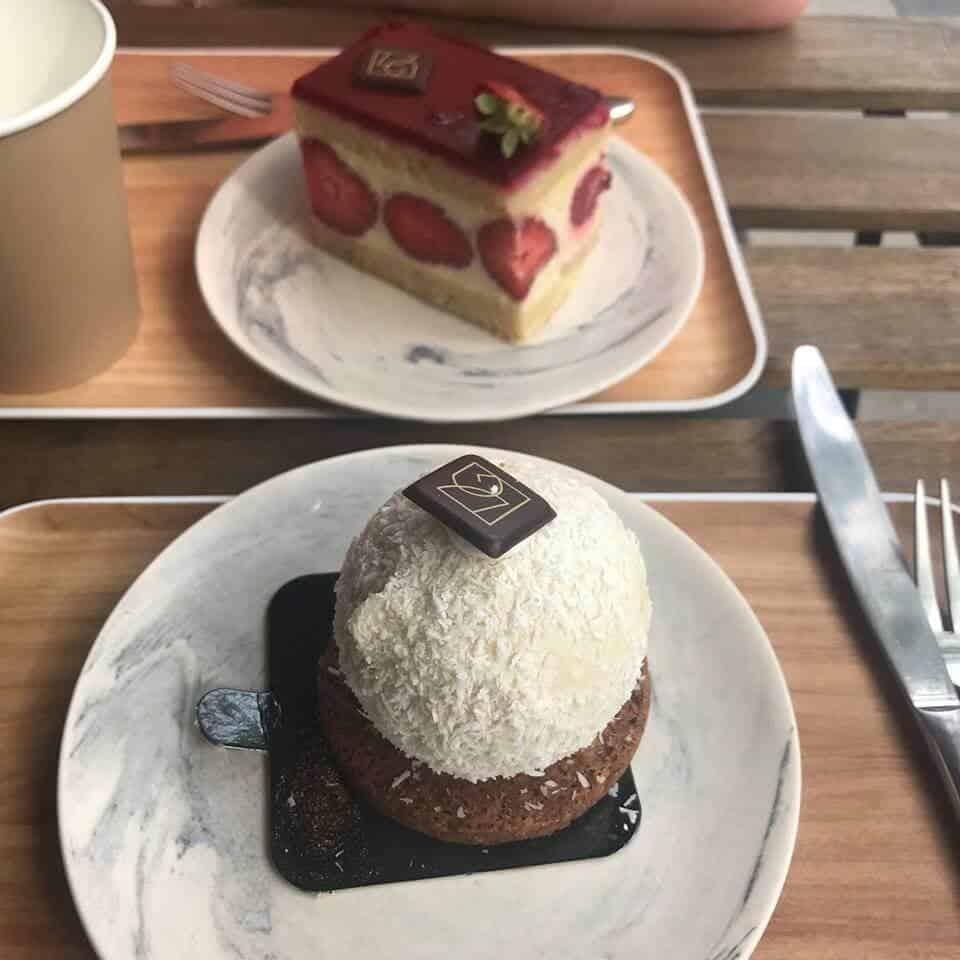 Where to find vegan versions of traditional French foods
No trip to Paris is complete without trying cheese, croissants or patisserie. Vegan Paris doesn't disappoint on this front. Paris is now home to an entirely vegan patisserie and a 100% vegan fromagerie!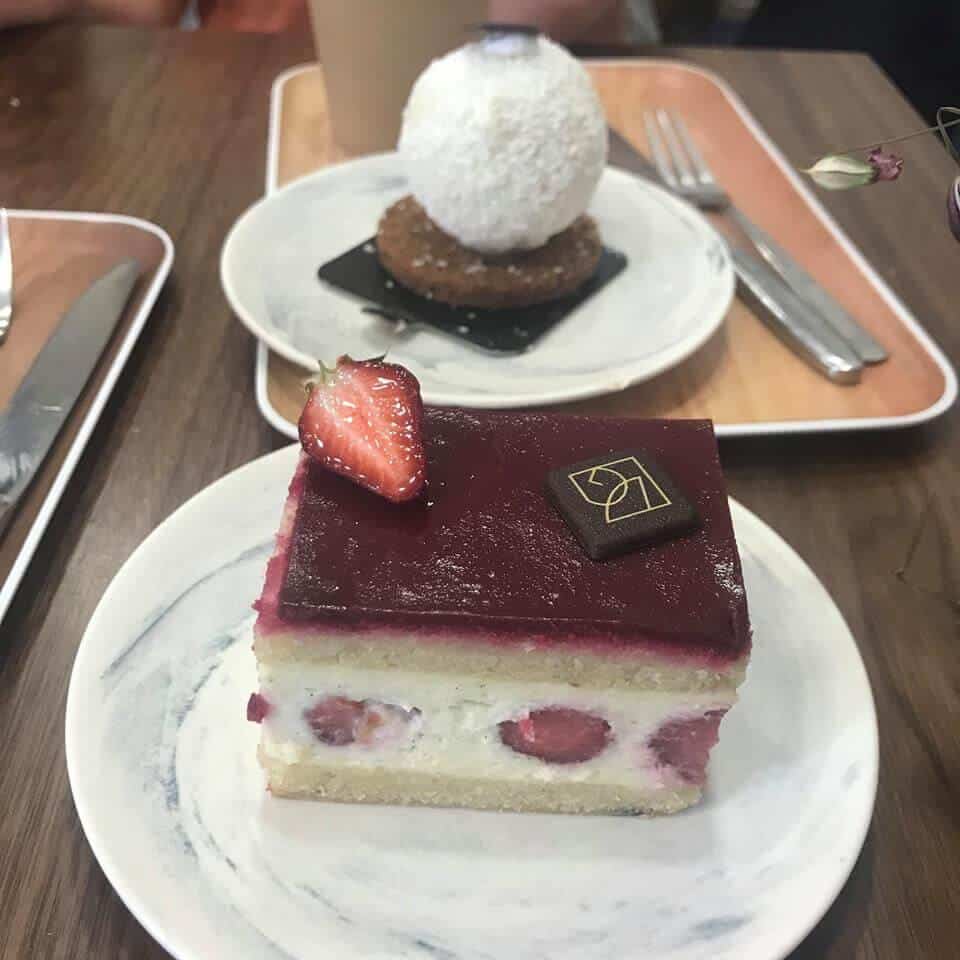 If you're a fan of French pastry, you can't miss VG Patisserie on your trip to Paris. This little slice of vegan heaven is in one of the most vegan-friendly neighbourhoods, so you can combine your visit with a trip to Jay&Joy for vegan cheese and to browse the shoes at Manifeste011.
VG Patisserie has the most beautiful display of cakes, and lots of gluten-free options. Thought you'd never eat a perfect French tart or a layered cake with strawberries and cream in vegan form? VG takes the fine art of French patisserie and veganises it. You can have your cake and eat it too.
Click here for more information.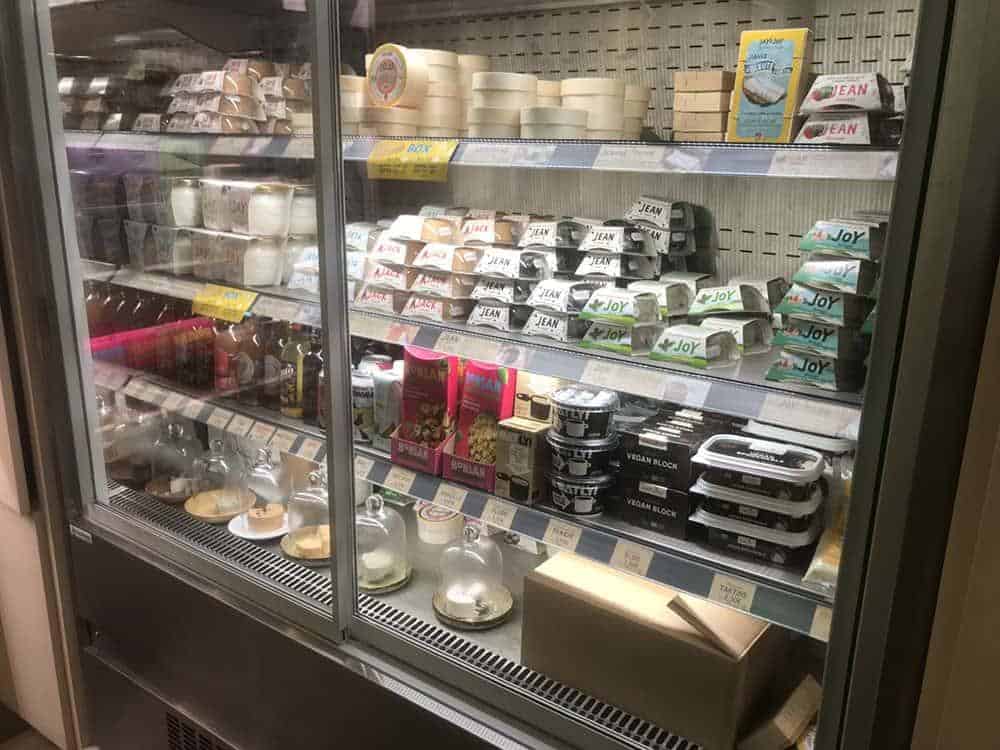 Jay&Joy is a vegan fromagerie in Paris, and it's well worth a trip. Not only is the shop stocked full of their cheeses, but the cheese production line is visible through glass windows, so you can watch the cheese being made.
They'll also let you sample the range of cheese before purchase, so you know what you like best. I recommend La Prairie, a cashew cheese flecked with basil, thyme and oregano!
Click here for more information.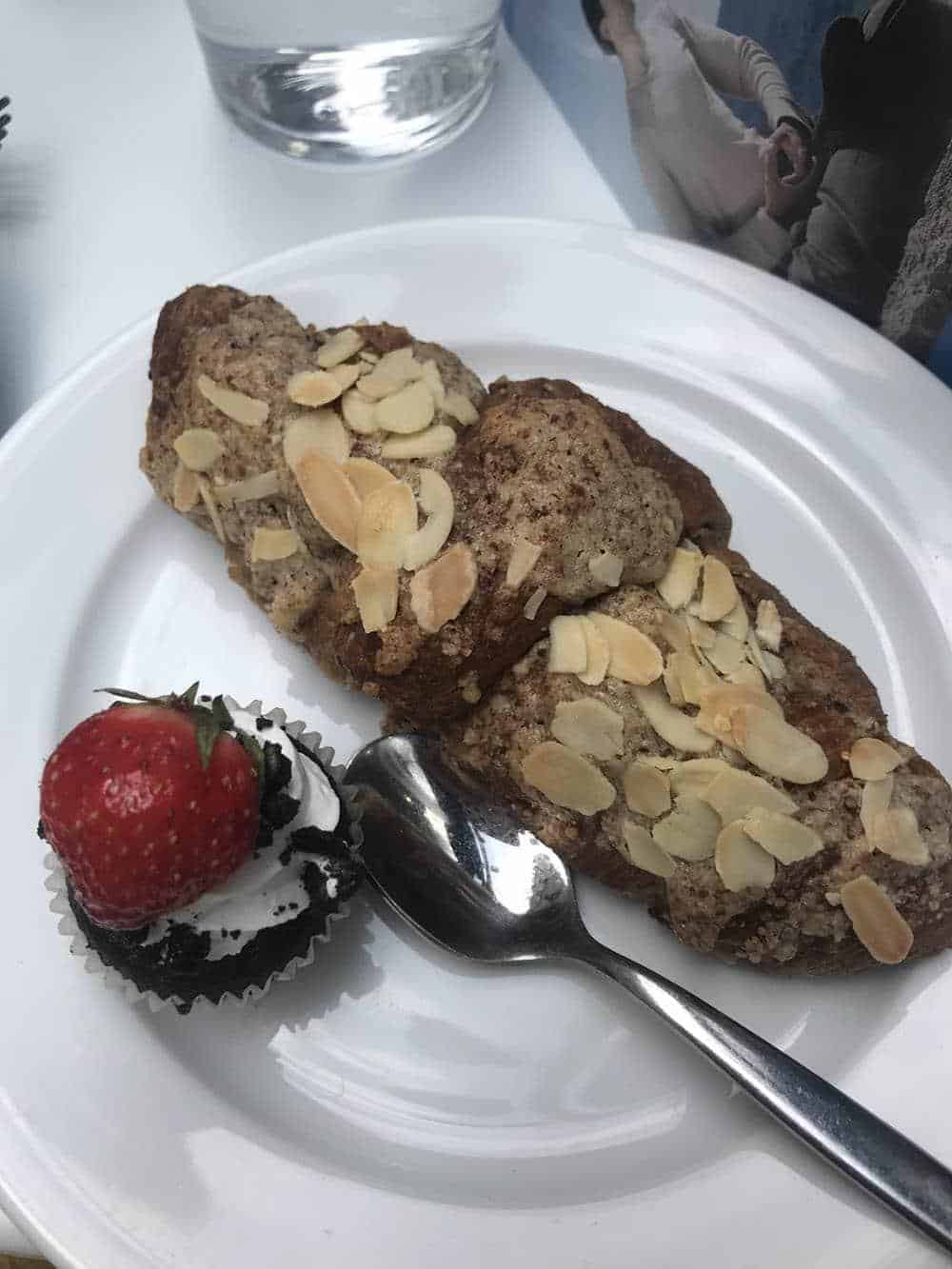 Vegan croissants
Where can you find a vegan croissant in Paris? VG Patisserie and Cloud Cakes are vegan spots that sell croissants (Cloud Cakes also sell a marzipan stuffed version). Although my Paris-born friend insists that quite a few croissants around town are likely 'secretly' vegan: apparently there are two kinds of croissants, unbeknownst to many tourists. There's the croissant au beurre, made with butter, and the croissant ordinaire, made with margarine, which might be vegan (depending on whether the margarine is vegan — or other non-vegan ingredients are added — so best to ask if the croissants are vegan!).
Vegan crepes Paris
You might want to have crepes while you're in Paris…but where to find vegan crepes? Mad'eo Crepes is a popular option. It's a non-vegan place but the owners are apparently very happy to adapt their dishes to be vegan. Only the savoury crepe better is vegan, not the sweet, but they are willing to put sweet toppings on the savoury crepe batter if you want.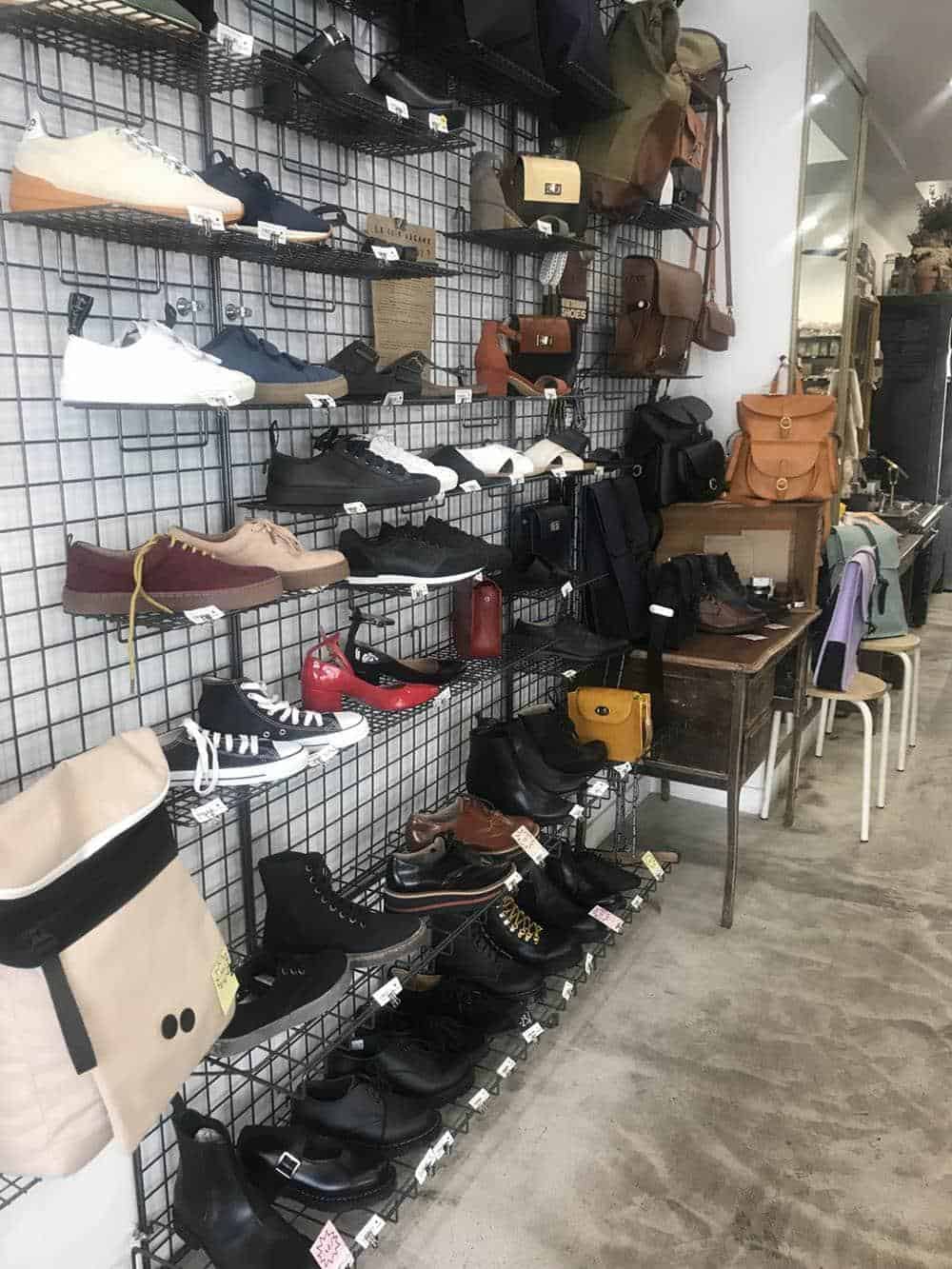 Vegan shopping in Paris
The best vegan shopping in Paris spans food, shoes, clothes and more.
Un Monde Vegan is a vegan supermarket selling everything you'd expect, from vegan cheeses to meats, snacks, and even bodycare products and food for animals.
Today Tomorrow is a concept store in Paris that sells pretty much everything! I was impressed with the huge range — from food (like a huge display of vegan cheeses, and bulk nuts and cereals) to clothes, shoes, bags, personalcare products, makeup and even food at a small cafe.
Vegan shoes
You can find vegan shoes at Today Tomorrow, or Manifeste011, a vegan clothing store (the clothes are on the more expensive side here, but appear to be really good quality).
Vegan cheese
As mentioned above, Jay&Joy is a vegan cheese shop well worth a visit. Their cheese, along with other brands, is stocked at Today Tomorrow. You can find vegan cheeses at Un Monde Vegan and health food shops, too.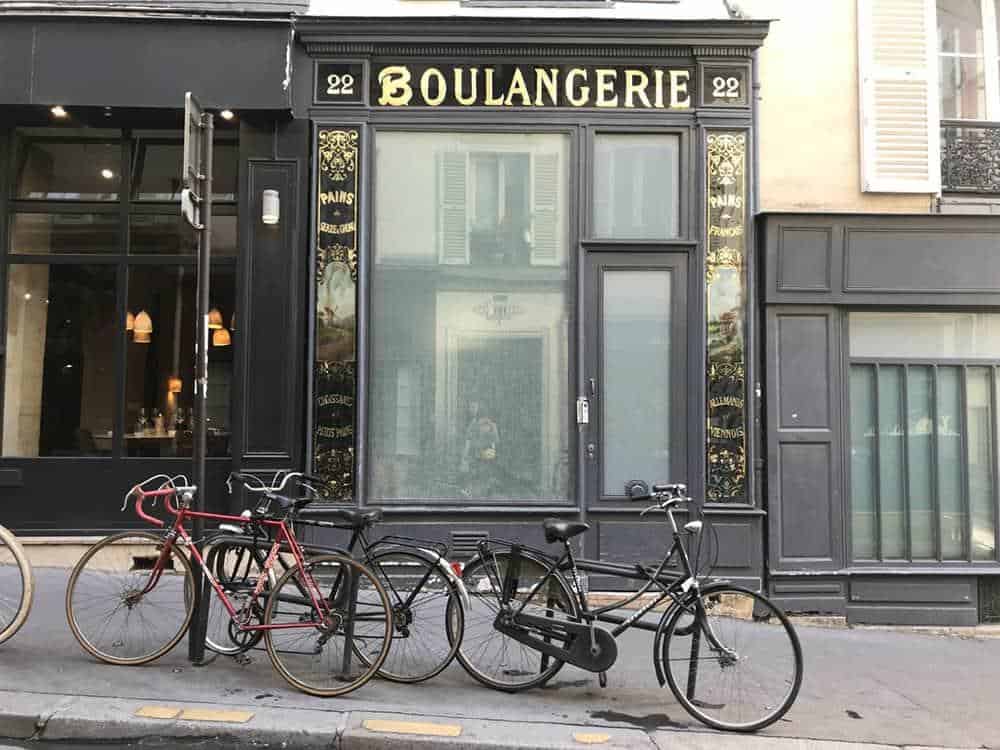 Vegan festivals in Paris
Perhaps your visit coincides with a vegan fair. Paris is home to several — Paris Vegan Festival and also Veggie World Paris. Like most vegan fairs, you'll find stalls selling food, vegan-themed clothing, badges and more.
Pin this for later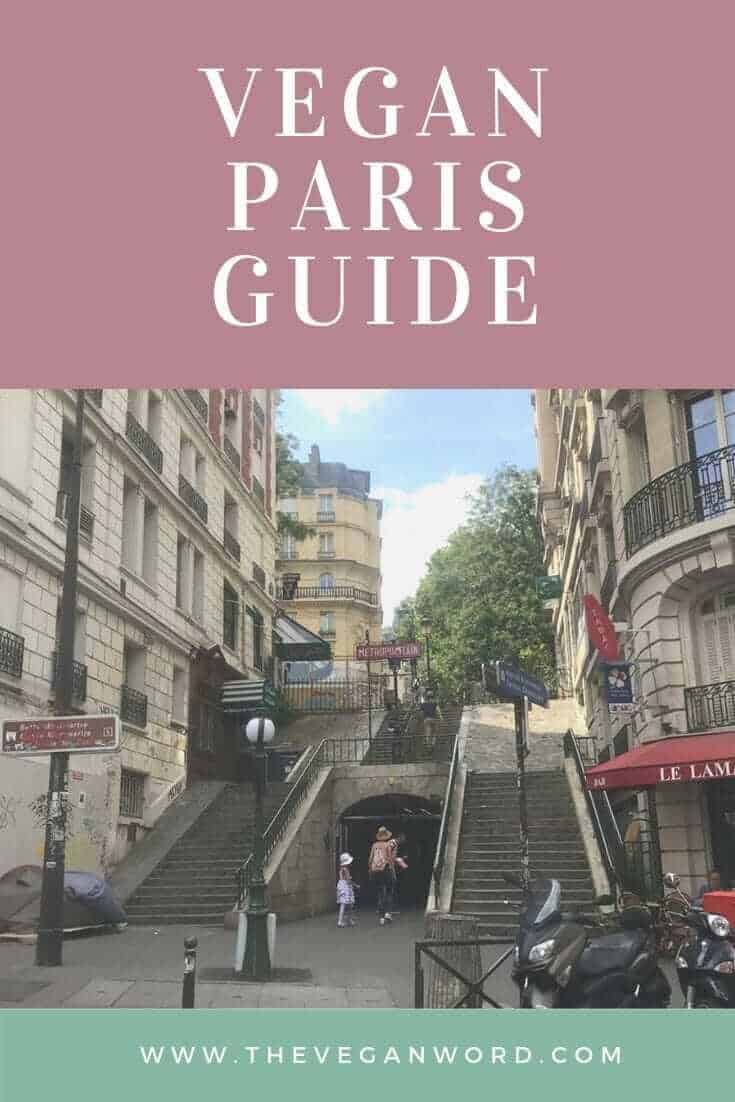 Find all my vegan travel guides and tips.