Lisbon is a city on seven hills. They tell you this in the guidebooks but it's hard to visualise it until you're actually experiencing it – and by experiencing it, I mean huffing and puffing up all the hills! But don't fret, if you don't feel like hiking up and down cobbled streets set on hilltops, there are plenty of streetcars, which the city is famous for. And if you do end up doing lots of hiking, you can always reward yourself with food from one of the veggie buffets around the city (buffets seem to be the preferred form of vegetarian restaurant here).
I went to Lisbon in March, when it was 8 degrees (46 Fahrenheit) in London and 18 (64 F) in Lisbon – a perfect escape from the cold! In addition to wandering around the old part of the city admiring the beautiful old buildings, I managed to eat at one vegetarian buffet four times, and to visit a beach town and a mountain town. I stayed in Alfama, which still bears traces of the Moorish times, with its incredibly narrow alleyways. I'm so glad I stayed there, because it was my favourite part of town and I had an amazing view of the river from my (fairly cheap!) private hostel room, and the famous 28 tram (which stops at most of the city's best sights) stopped just outside.
I woke up to this view from my room every morning: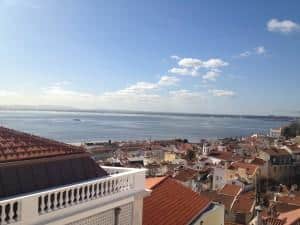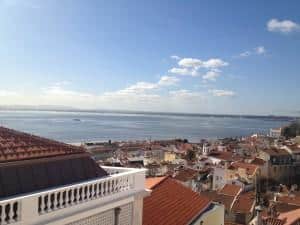 Bright building in Alfama: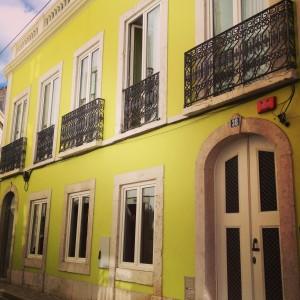 I took the tram out to Belem, where the famous Jeronimos monastery is located. The famous pastries pasteis de Belem (also called pasteis de nata) were supposedly invented there, and you can get the best ones there. Sadly, they are full of cream and eggs, and I couldn't find a vegan version. However, I'm working on a vegan version, which I'll post soon!
Jeronimos monastery: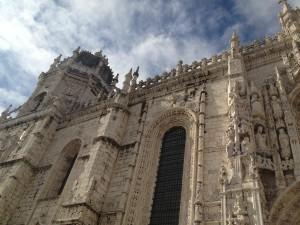 While I was in Lisbon, I became very familiar with Jardim das Cerejas, a mostly vegan buffet restaurant in the city centre. I ate there almost every day, because it was easy to find, offered a wide variety of dishes, and was in a safe area. The lunch buffet was 8,40 and dinner buffet around 10 Euros. I also went to Terra, vegetarian buffet (buffets seem popular in Lisbon!) in Bairro Alto. I'd heard great things about the Food Temple, a vegan tapas place, and I tried but failed to go there for dinner one night. As soon as I got off the train, I got a very sinister feeling and ended up going back to my old standby, Jardim das Cerejas, instead, because the neighbourhood around the Food Temple seemed so unsafe. I discovered later it's a popular area for prostitution, which may go to explain the looks I was getting from the men wandering the streets. I wouldn't recommend walking around there on your own – it would probably be fine if you were in a group but on my own I didn't feel safe.
I also took two day trips from Lisbon, one to Sintra, a hill town famous for its mountaintop castle, and one to Cascais, a beach town just outside the city.
Cascais had a beautiful beach front, and I was lucky that it was over 20 degrees (68 F) the day I was there and sunny, so I got to enjoy a few hours reading on the beach. For lunch, I had a couscous (10 Euros) at Oba restaurant, which had a lovely rooftop balcony.
Cascais beach: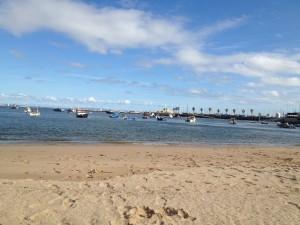 I also took a day trip to Sintra. I was slightly disappointed with Sintra, a hilltop with a castle set high on on a bluff overlooking the town — it seemed too touristy for my tastes — but I think it was worth the trip just for the restaurant! Soul Food vegan restaurant is one of the weirdest restaurants I've ever been to. I imagine that's what an acid trip must feel like. It was in a small house. When I entered, there was a woman dancing by herself to 60s music in a room full of cushions off to the left. She directed me to the kitchen, where a woman sat reading — upon seeing me, she jumped up and asked me if I'd like a table. She seated me in the then-empty dining room (I was joined by a large group of people from Spain about ten minutes later), which was lined with potted plants hanging upside down from the ceiling. The entire building was painted in bright blue, pink and purple. But the bathroom was by far the weirdest experience: the walls were painted Jackson Pollack style, with splashes of different coloured paints thrown at the wall, and the bathtub (an old-fashioned, claw foot one) was filled with wood chips and potted plants.
Soul Food entryway: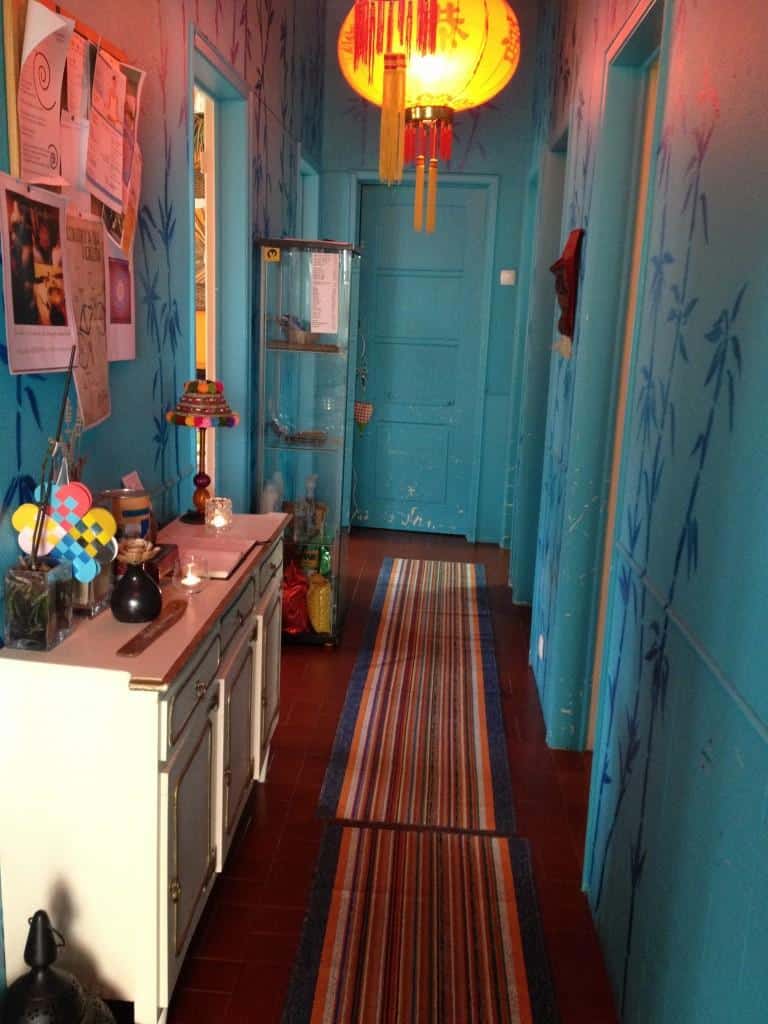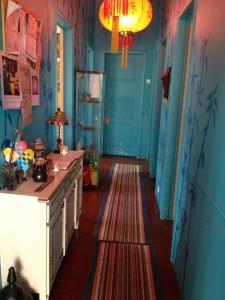 Soul Food dining room: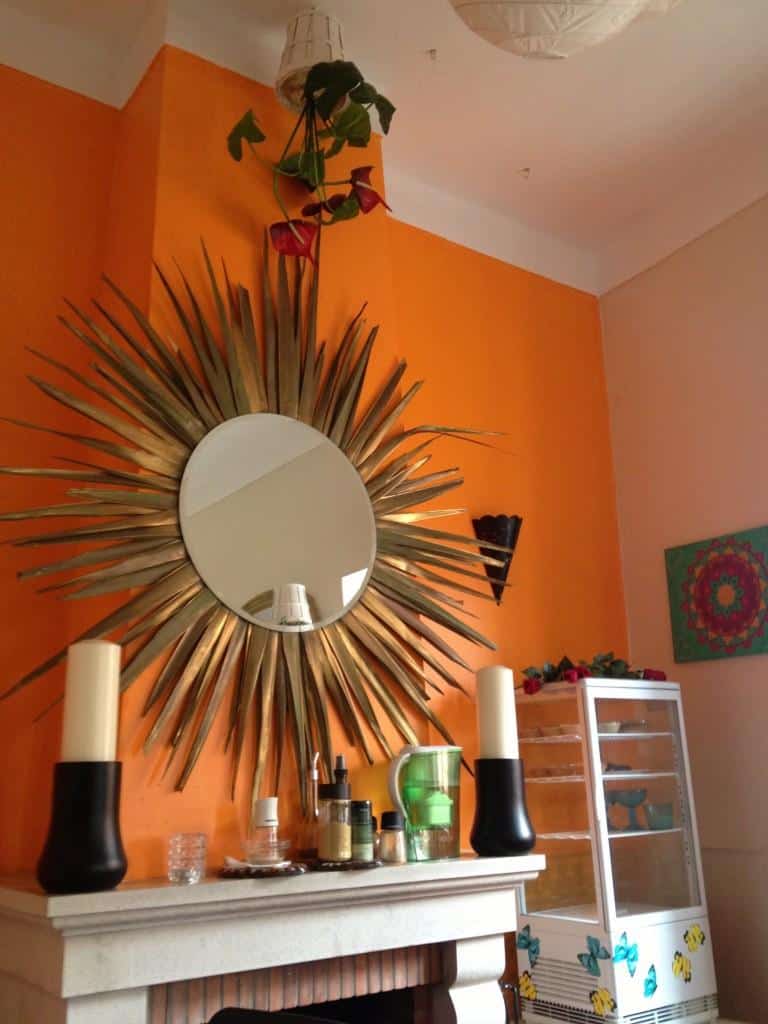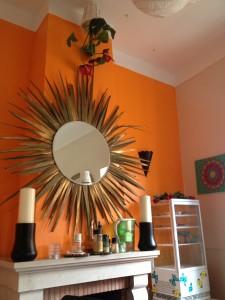 Soul Food bathroom: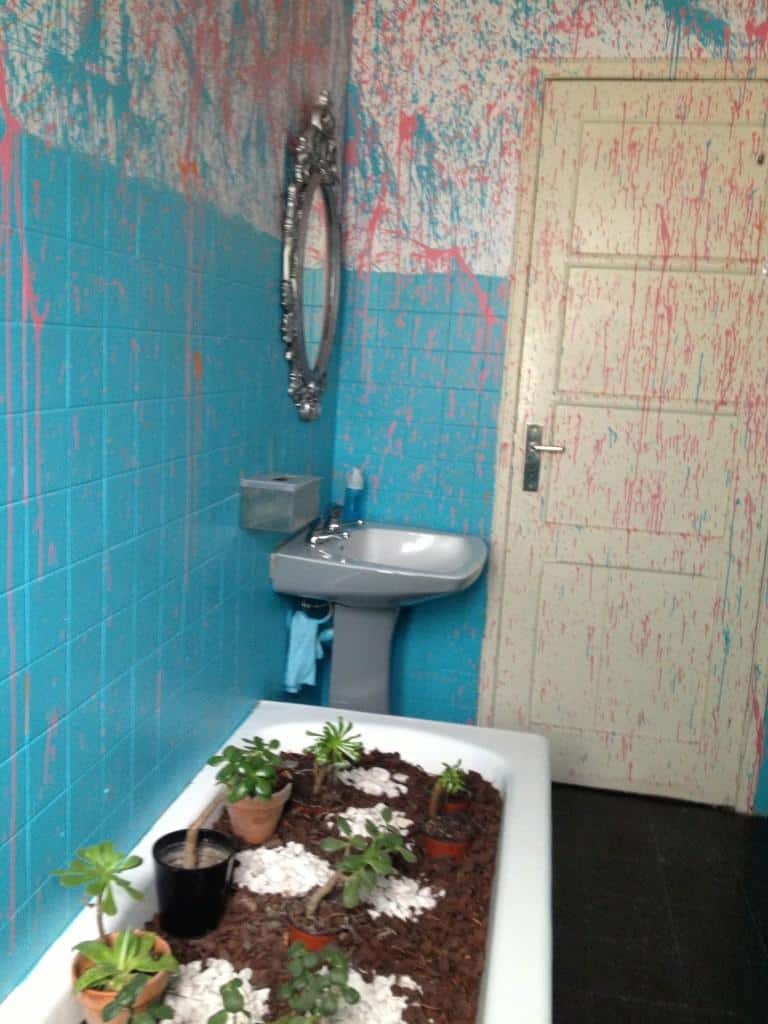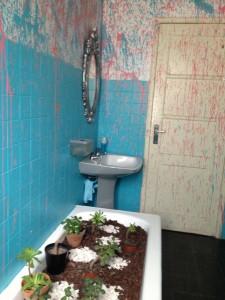 I've heard from several people that they wanted to go to Portugal, but were scared to because they thought they couldn't find any vegan food. My experience in Lisbon, Sintra and Cascais disproved that — the food I had wasn't the most inspiring dishes I've ever eaten, but I was able to find decent vegan food everywhere I went, and Lisbon is so beautiful it's definitely worth a trip, just to wander the winding old streets of Alfama and enjoy the sunshine.