It was Friday night.  Overcast, a bit chilly and after a long week, all I wanted to do was make a big pizza with lots of toppings and curl up on the sofa with a big bowl of ice cream and watch a film…  Not just any ice cream, though.  No, I'd been dreaming about this ice cream for some time, imagining how it would taste.  Combining my favourite alcohol (sweet and almondy amaretto) with cherries (almond and cherry flavours work so well together) and chocolate (which always goes well with anything, in my opinion) seemed like such a good way to end the week.  In fact, it was better than I could have imagined, which is why I couldn't wait to share it with you!
This is the second ice cream I made since I got my new ice cream maker, and I think I really hit the jackpot here.  I've spent the last few years wishing that I had an ice cream maker (my freezer, and my flat, were too small) and wishing that I could find more interesting ice cream flavours in the UK (in fact, I took to adding flavourings in to plain vanilla ice cream to make things more interesting).  Now, I can finally make my own ice cream and I love it!
I am experimenting with different ice cream bases at the moment.  I tried making this one with soya milk and soya cream base, but it didn't turn out very well, which is why I've gone back to the trusty coconut milk base.  But feel free to use a different base (just note that alcohol changes the freezing properties meaning it won't freeze as hard as ice cream without alcohol).   By the way, if you find coconut milk to be prohibitively costly, try a Chinese or Indian supermarket – I got two 400ml tins for £1!
Amaretto, Cherry & Chocolate Chunk Ice Cream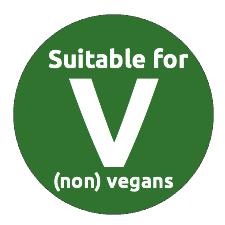 Serves 2
Ingredients
2 15 oz cans coconut milk (2 400ml tins of coconut milk)
1/2 cup (100 g) sugar
2 tbsp corn starch
1 tsp vanilla extract, or scrapings of a vanilla pod (optional)
1/4 cup (60ml) amaretto
4 tbsp cherry jam
2-3 tbsp vegan chocolate chips or chocolate chunks
Instructions
Freeze your ice cream maker according to its instructions (I need to freeze mine for at least 12 hours, so I usually freeze it overnight, covered to prevent ice crystals forming in it).
Blend coconut milk, sugar and corn starch.  Pour into a saucepan, and scrape in the seeds of a vanilla pod or mix in vanilla extract, if using.
Heat over medium heat in a saucepan until it begins to bubble.  Remove from heat and cool in the fridge for at least 4 hours.  After it's cooled down, add the amaretto and mix.
Make ice cream according to your ice cream maker's instructions.  About 5 minutes before the ice cream is done, add the cherry jam and chocolate chips.
When done, the ice cream straight out of the ice cream maker will be a texture similar to soft serve.  If you want, add another spoonful of cherry jam and swirl in to create a ripple effect in the ice cream.  You can eat it as soft serve now if you prefer, or freeze it in a container for a few hours before serving for a harder ice cream.  Note that because of the alcohol, it will be fairly soft still and not as hard as other ice cream.
While I love the coconut milk base, I want to try out some others.  Anyone have any good ice cream base suggestions?  I want to try some other variations – but only with ingredients easily obtained in the supermarket, and not too expensive!
Stay tuned for more ice cream recipes coming up this summer by liking The Vegan Word on Facebook.