"The nísperos are here! Don't you want one?" my frutero (fruit seller) asked me the other morning at the market in Barcelona.
"I don't know what they are," I told him sadly.
He immediately cut one open and handed it to me. It was juicy and ripe with a flavour somewhere between a peach, an apricot and a mango. Google tells me they are known in English as loquats or Japanese plums.
And I knew just where my loquats would be at home: on a fattoush salad.
This salad is so good that if you ever order it at a Lebanese restaurant, you'll likely go back just for it (disregarding the hummus or even falafel). Crunchy, crispy and tart, its secret lies in sumac, a tart dried berry that is ground up and used as a spice popular in the Middle East. The dressing contains plenty of sumac and also a bit of pomegranate molasses, for a sweet-sharp punch.
I love this salad because it also has a lot of flavour from the herbs (chopped mint and parsley) as well as the dressing.
Plus it's got some added crunch with the crispy topping, traditionally made with fried pita bread – but I tested it alongside a baked version and couldn't tell the difference!  So, baked it is, though if you don't have access to an oven you can easily make it by frying the bread pieces.
Loquats, on the other hand, are not a traditional ingredient in fattoush, but they are apparently popular in Egypt and some other countries in the Middle East.  So while they aren't usually on fattoush at all, I thought they'd match the flavour profile – and they do. They add a nice burst of sweetness in the tart, citrusy salad.  I had my fattoush as part of my Vegan Greek Feast.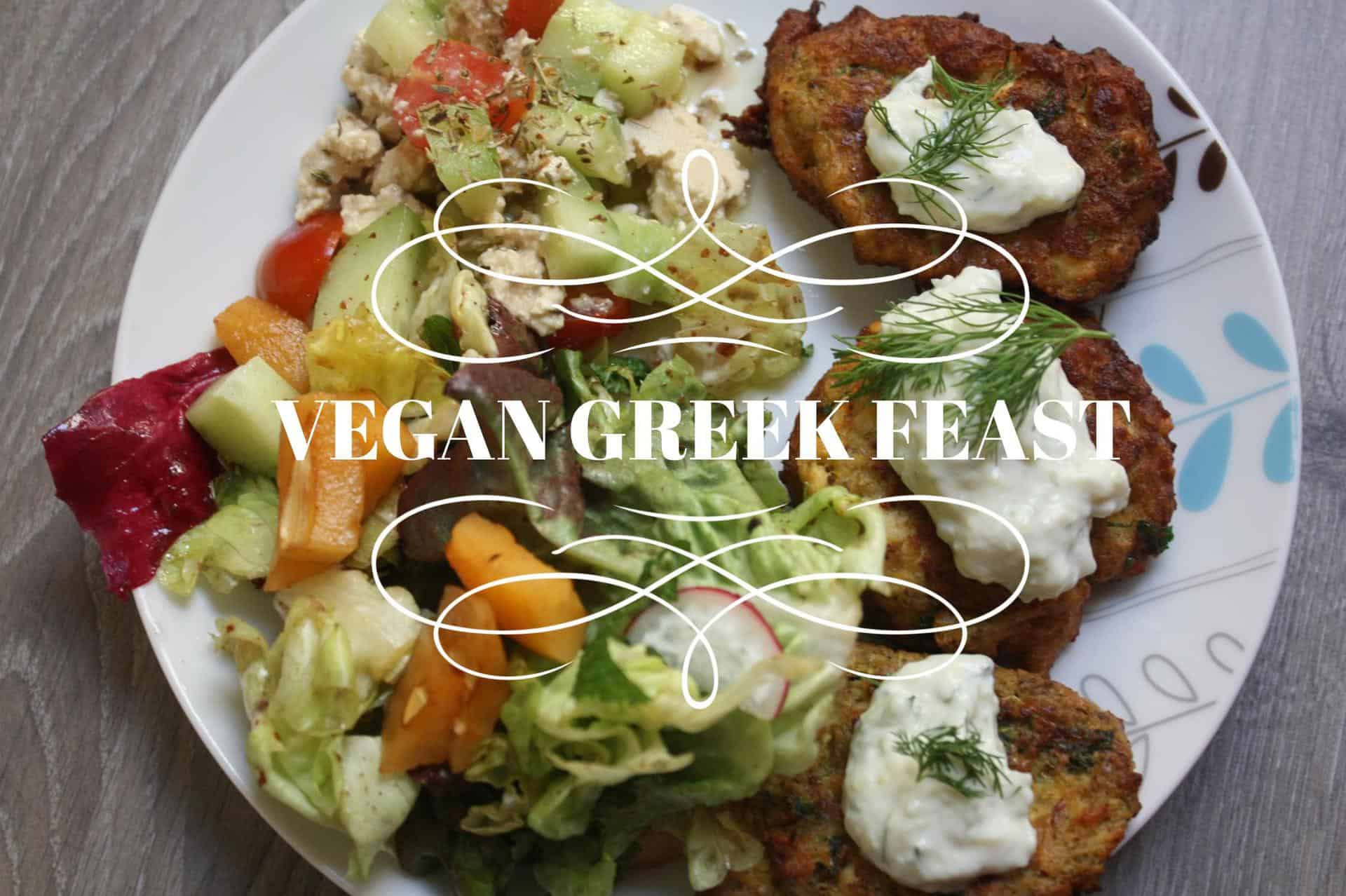 I served my fattoush alongside a Greek feast of kolokithokeftedes (courgette fritters), homemade tzatziki and Greek salad. While fattoush is not Greek, due to the geographical proximity of Greece and the Middle East, the flavours really matched and the dishes even used a lot of same herbs, saving me a lot of time chopping!
Stay tuned for my Vegan Greek Feast series. I'll be posting a new recipe each Saturday.  Why Saturday?  So you have the whole weekend to buy the ingredients and make the recipes!
And if you want to get the WHOLE Greek Feast series now as a mini cookbook sign up below and I'll send you the PDF.
Want to get your hands on an advance copy of the Vegan Greek Feast recipes before anyone else? Click here to get your FREE mini cookbook, Vegan Greek Feast!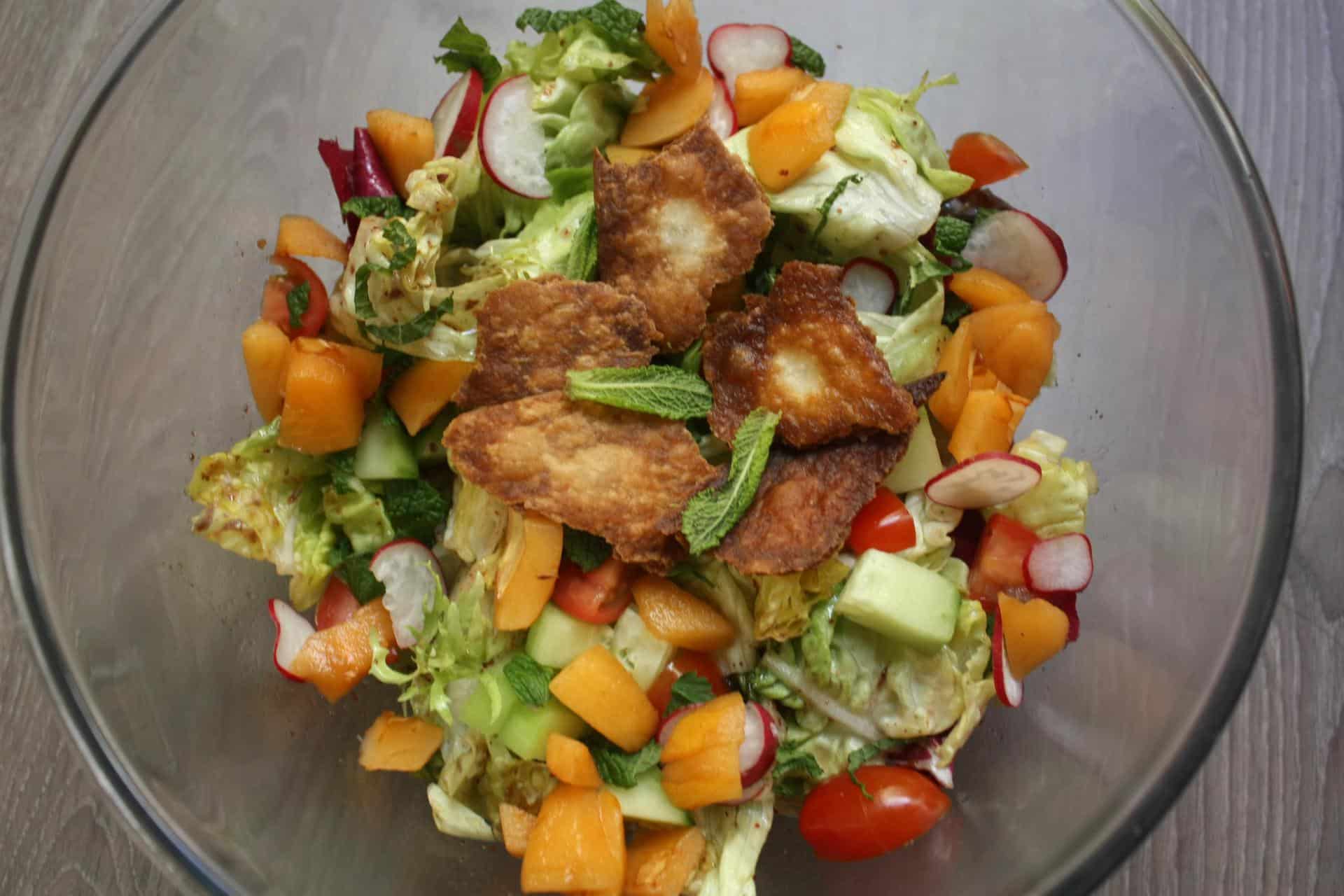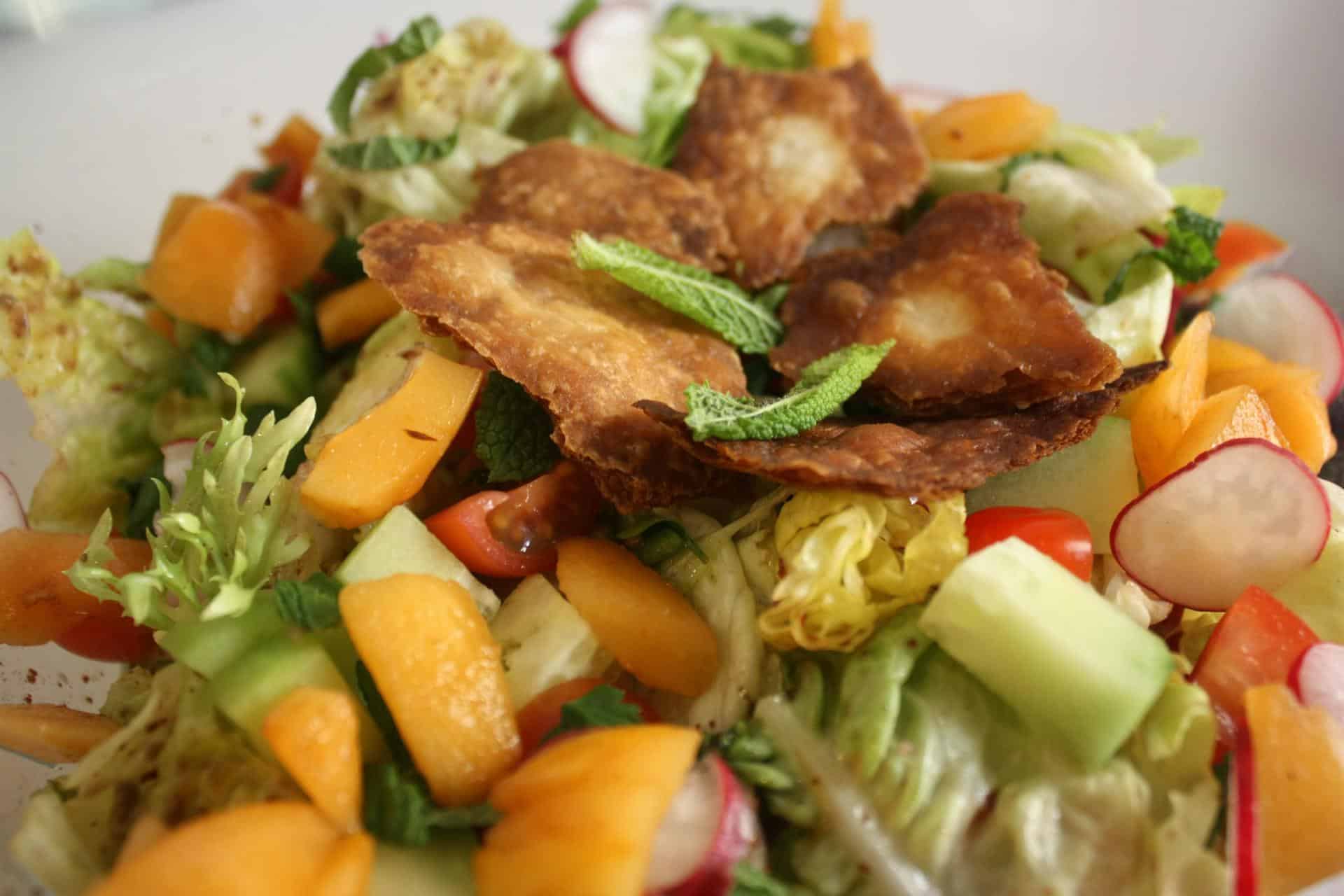 Fattoush Salad with Tangy Citrus Dressing and Loquats
Ingredients
Can't get loquats where you are? Don't worry, it's just as good without!
Salad:

1 durum tortilla or pita bread, torn (for crispy topping)
Handful cherry tomatoes, halved
½ cucumber, peeled and chopped
A few handfuls (approx 150g) your favourite salad leaves or mix
3 tbsp chopped parsley
3 tbsp chopped mint
3 radishes, sliced thin
3-4 loquats, peeled and diced (optional)

Dressing:

1 teaspoon ground sumac, soaked in 2 teaspoons warm water for 15 minutes
1 tablespoon fresh lemon juice
1/2 tablespoon pomegranate molasses
1/2 teaspoon white wine vinegar
2 tablespoon extra-virgin olive oil
Pinch garlic powder
Pinch of salt
Instructions
Mix all the dressing ingredients together.
To make crispy topping, tear one durum tortilla into small pieces and bake on a parchment-lined baking tray at 200 C (390 F) for around 3-4 minutes until browned and crispy.
Mix salad ingredients together (except bread and loquats) with dressing, then garnish with bread bits and loquats.
Want to get your hands on an advance copy of the Vegan Greek Feast recipes before anyone else? Click here to get your FREE mini cookbook, Vegan Greek Feast, now before the rest of the recipes even go live!