Potatoes? On a taco? Well, I'm not averse to a bit of carb on carb action (see case in point: BBQ mac & cheese pizza), so when I read that tacos de papa, or potato tacos, were a thing (and apparently a common breakfast food at that – what?), I wanted needed to try them.
For these, I'd definitely recommend getting fresh, locally-made corn tortillas if you can. I miss having a Mexican supermarket near me, but luckily I discovered Cool Chile in London, who are at Borough market as well as shipping from their online store, and they do the only fresh corn tortillas in London that I know of! They are really good, and they do fantastic blue corn tortillas too. I love heating them over the gas flame – they come out a little charred and a lot amazing!
These tacos wouldn't be complete without some cashew crema and vegan cotija cheese. I don't know how authentic it is, never having had cotija, but I read it's a crumbly, slightly salty cheese yet mild traditionally used in tacos…so I just had to recreate it using another mild, crumbly vegan ingredient…tofu of course! Last, the roasted tomatillo sauce really takes this up a level. It's even better than regular old tomatillo salsa – the roasting brings out all the flavours!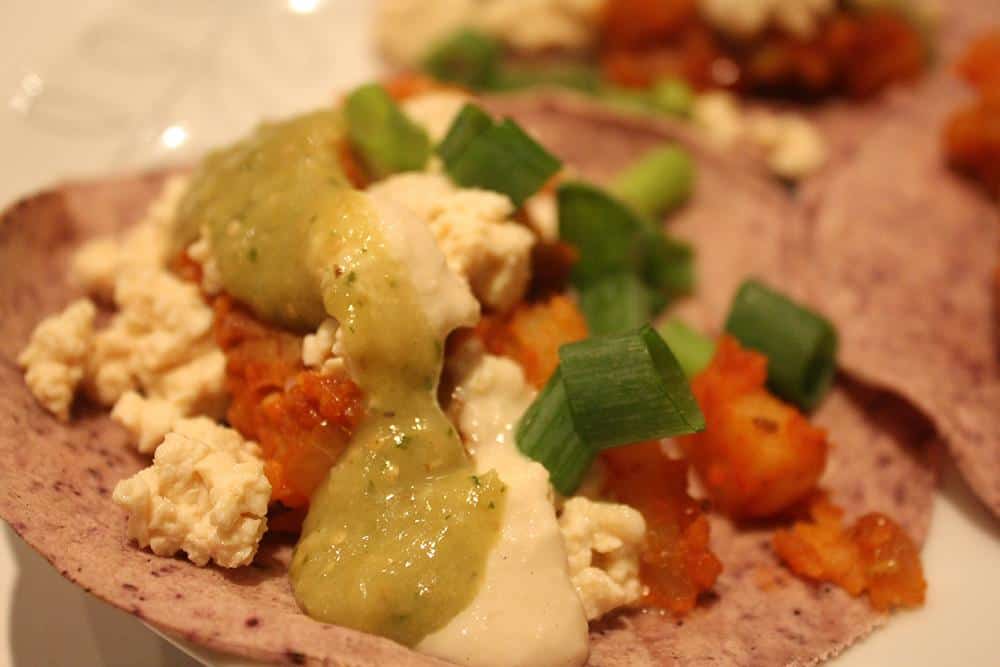 Chipotle-Potato Tacos with Roasted Tomatillo Salsa (Tacos de papa) (Gluten-free)

Ingredients

6-8 gluten-free corn tortillas, heated up (if you have a gas hob/stove, definitely heat them directly over the flame - they taste slightly charred and so good! Just be careful with the flame!)
1 kg potatoes
1 tbsp vegetable oil
1 onion, chopped
2 cloves garlic, chopped
90g/3.2 oz chipotle in adobo paste (this is the one I used)
2-3 tbsp tomato paste
3 green onions, chopped

For the vegan cotija cheese

400 g/14 oz firm tofu, drained and pressed and then crumbled
2 tbsp lemon juice
2 tbsp nutritional yeast
1/2 tbsp salt
1 tsp miso paste (make sure to get a gluten-free variety if you're making this GF)
1 tsp tahini

For the cashew crema

1 cup cashews, soaked in water overnight or ground in spice grinder
3/4 cup water
2 tbsp lemon juice
1/2 tsp agave, to taste
1/2 tbsp salt, to taste

For the roasted tomatillo salsa

500g/1 lb tomatillos, husks removed and sap rinsed off in warm water (trust me, these guys are super sticky, you will need to rinse them really well!)
2 jalapenos
2 cloves of garlic
1/2 onion, peeled
Vegetable oil
1/4 cup fresh coriander/cilantro
1 tsp lime juice
Pinch salt

Instructions

First, make the potatoes. Chop and boil 1 kg of potatoes. When they are cooked through and tender, drain the water and remove.
While the potatoes are boiling, saute onion in vegetable oil. When it starts to go translucent, add garlic and cook until brown. Add the chipotle in adobo paste and the tomato paste. Cook, stirring constantly, for 1 to 2 minutes until the sauce begins to fry. Remove from the heat.
Add the drained potatoes to the chipotle sauce and mix thoroughly to cover.
To serve, heat up your tortillas. Then top with the chipotle potatoes, drizzle crema on top, crumble some vegan cotija cheese, add some tomatillo salsa and finally finish them off with some chopped green onions.

For the vegan cotija cheese

Mix the lemon juice, nutritional yeast, salt, miso paste and tahini into a sauce. Mix with the crumbled tofu.

For the cashew crema

Combine everything in blender.

For the roasted tomatillo salsa

Preheat oven to 200 C/400 F/gas mark 6. Line a baking tray with aluminum foil.
Place the tomatillos, jalapenos, garlic (with skins on) and onion (peeled). Peel onion but leave everything else intact. Coat all of them in a bit of vegetable oil.
Roast in preheated oven for 30-40 minutes or until onion begins to brown. Remove skins of the garlic cloves and the stems from the jalapeno. Combine everything in blender.

https://theveganword.com/tacos-de-papa/