After many years of lusting after ice cream makers and wishing that I could upgrade from the small built-in freezer in my fridge (the sort just big enough to hold a couple of ice cube trays and a bag of frozen corn) to a freezer big enough to fit an ice cream maker, I have finally achieved it.  After moving into our new house in March, one of the first purchases I made was a small chest freezer, followed by an ice cream maker!  For my first ice cream, I wanted to make something that I couldn't buy in shops here.  I have found the range of flavours of vegan ice cream available in the UK a bit disappointing; there just aren't as many flavours to choose from as in the US.  That's why I took to adding flavourings in to plain vanilla ice cream to make things more interesting!
Peanut butter and chocolate is a very American flavour combo and not something that's very common here, so definitely not something I could get amongst the limited ice cream flavours…  So I decided to go with peanut butter and chocolate chunk ice cream, using a coconut milk base because from my research it sounded like the fat in the coconut milk would help the texture.  I used a real vanilla pod to add vanilla flavour, and it not only added those sought-after black specks in the ice cream, it filled my kitchen with THE most amazing smell ever.  The end result was so delicious, a great first ice cream – and the non-vegan boyfriend loved it too!  It was fantastic served up with strawberries and chocolate sauce (peanut butter and chocolate go so well together and strawberries make a great addition, I think!).  Now that the weather's warming up, this is the perfect recipe for spring or summer, so enjoy on a hot day soon.
Peanut Butter and Chocolate Chunk Coconut Milk Ice Cream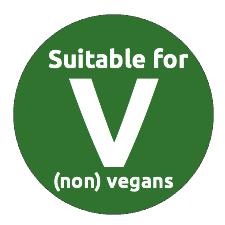 Serves 2
Ingredients
2 15 oz cans coconut milk (2 400ml tins of coconut milk)
1/2 cup (100 g) sugar
2 tbsp corn starch
Vanilla pod
4 tbsp peanut butter, preferably chunky
4 tbsp vegan chocolate chips or chopped chocolate bar
Instructions
Freeze your ice cream maker according to its instructions (I need to freeze mine for at least 12 hours, so I usually freeze it overnight, covered to prevent ice crystals forming in it).
The night before making, spread peanut butter on a bit of parchment paper and freeze.  Once the peanut butter has frozen, break into chunks.  You don't have to do this, but if you don't, you will end up with peanut butter flavour ice cream rather than peanut butter chunks in your ice cream.
Blend coconut milk, sugar and corn starch.  Pour into a saucepan, and scrape in the seeds of a vanilla pod (if you don't have a vanilla pod, you can add a teaspoon of vanilla extract and mix, but you won't get as good of a smell and flavour, or the lovely black specks in your ice cream that signify real vanilla).
Heat over medium heat in a saucepan until it begins to bubble.  Remove from heat and cool in the fridge for at least 4 hours.
Make ice cream according to your ice cream maker's instructions.  About 5 minutes before the ice cream is done, add the frozen peanut butter chunks and the chocolate chips.
When done, the ice cream straight out of the ice cream maker will be a texture similar to soft serve.  You can eat it like this if you prefer, or freeze it in a container for a few hours before serving for a harder ice cream.