My boyfriend hates pretzels – a fact he neglected to mention until I said I was planning to make caramel and chocolate-covered pretzel ice cream.  He said that pretzels aren't your average snack food in England, so it had never come up previously.  Still, I was upset to discover it.  This ice cream was no small undertaking – first I had to make the coconut caramel sauce, then make the caramel and chocolate-covered pretzels, and finally make the ice cream – so I was pretty disappointed when he dropped the pretzel bomb.  Luckily this ice cream managed to change his mind!  He still hates pretzels, but he's discovered a newfound appreciate for chocolate and caramel-covered pretzels. Which are obviously a completely different thing to plain pretzels.
This ice cream is a lot of effort.  If you can easily obtain vegan caramel sauce near you, or somewhere you can get vegan chocolate-covered pretzels, please substitute and make life easier for yourself.  And if you know where I can get vegan caramel sauce or chocolate-covered pretzels in the UK, I'd love to know where!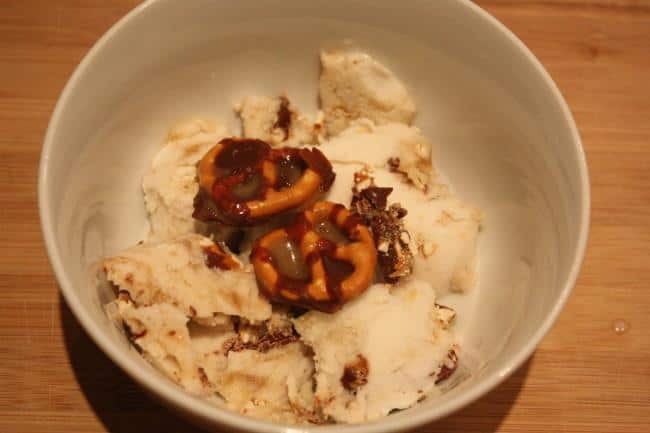 Caramel and Chocolate-Covered Pretzel Ice Cream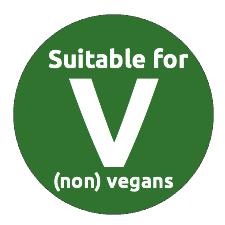 Ingredients
2 15 oz cans coconut milk (2 400ml tins of coconut milk)
1/2 cup (100 g) sugar
2 tbsp corn starch
1 tsp vanilla extract, or scrapings of a vanilla pod (optional)
Caramel and chocolate-covered pretzels, recipe below
Instructions
Freeze your ice cream maker according to its instructions (I need to freeze mine for at least 12 hours, so I usually freeze it overnight, covered to prevent ice crystals forming in it).
Blend coconut milk, sugar and corn starch.  Pour into a saucepan, and scrape in the seeds of a vanilla pod or mix in vanilla extract, if using.
Heat over medium heat in a saucepan until it begins to bubble.  Remove from heat and cool in the fridge for at least 4 hours.  After it's cooled down, add the amaretto and mix.
Make ice cream according to your ice cream maker's instructions.  Feel free to use your own favourite ice cream base instead of this coconut milk base.
When done, the ice cream straight out of the ice cream maker will be a texture similar to soft serve.  Break up the caramel and chocolate-covered pretzels into pieces and add in the pretzels to the ice cream base and stir to mix.  If you have any extra caramel sauce, you can drizzle some on top of the ice cream now and stir in to create a caramel ripple effect.
You can eat it as soft serve now if you prefer, or freeze it in a container for a few hours before serving for a harder ice cream.  Ice cream from an ice cream maker is often harder than storebought, so you may need to leave it out for a few minutes to soften.
Caramel and Chocolate-Covered Pretzels
Ingredients
A bag of vegan pretzels
Your favourite vegan chocolate bar
400ml tin of coconut milk
1 cup (200 g) brown sugar
1/2 tbsp margarine
pinch salt, optional
1/2 tsp vanilla extract
Instructions
To make the coconut milk caramel, heat coconut milk, brown sugar, margarine and salt together in a saucepan over medium heat, being careful not to boil over the coconut milk.  Simmer over medium heat until the milk has reduced to a thick, syrupy consistency.
In the meantime, cover a baking sheet in parchment paper and spread out the pretzels on the tray in a single layer.
In a double boiler or the microwave, melt the chocolate bar.  Pour the melted chocolate and the caramel syrup over the pretzels.
Place the coated pretzels in the freezer for 1-2 hours to allow the chocolate to set, before using in the ice cream.
I'm planning on making a lot of ice cream now I've got the ice cream maker!  Stay tuned for more ice cream recipes coming up this summer by liking The Vegan Word on Facebook.