This post may contain affiliate links (see full disclaimer here). This means if you make a purchase after clicking, I may get a small percentage of the sale, at absolutely no extra cost to you.
If you're time-poor, impatient, lazy or don't have a fancy-pants blender then this little trick is for you. All you'll need is one of these.
Cashew cheese, cashew milk, cashew cream…they all start with the same dreaded directions: "soak for 24 hours, then place with the other ingredients in a blender and blend until smooth."
Soak for 24 hours?! What if I've got a cashew cheese craving and I need cashew cheese NOW?
That's where this comes in…

I'm impatient. I also had a crap, bottom of the line £10 deal blender from Argos for many years (until it died and I got my one true love amazing current blender
, which I not only use nearly every day, but which has even travelled to Croatia and France with me). The cashews, no matter how long I soaked them, never seemed to fully blend. Now, maybe it would be a different story if I'd invested $600 in a super-strength blender that's so powerful it can blend a smartphone but no.
I'm also forgetful, and would quite often not remember I had cashews soaking, until many days had passed and the kitchen had acquired a weird smell.
Skip 24 Hours of Soaking — Go Straight to Blending
Then one day I thought: what if instead of soaking and waiting and forgetting I had soaked and starting over again and soaking some more and then finally blending, I ground up the cashews really fine so that they became almost like a cashew powder, and used them straightaway in whatever recipe I wanted?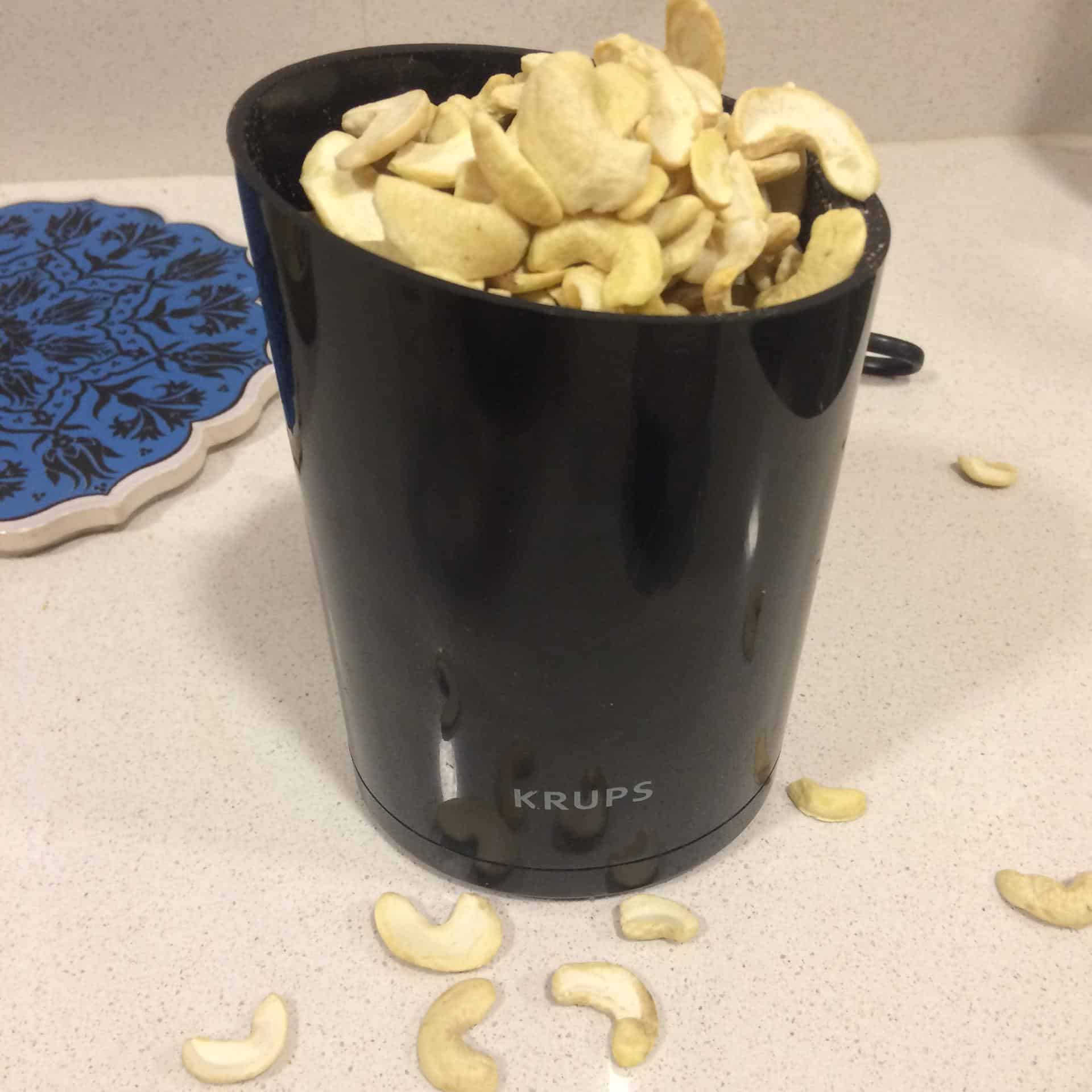 Enter: the coffee grinder. You can pick up a coffee grinder for a very reasonable price (here's the one I have). You can also pay a lot more but trust me, whilst your coffee might benefit from a coffee grinder with a higher price tag, you don't need an expensive one for cashews.
It's also multipurpose! You can use it to grind coffee, spices and cashews. Just make sure you clean it between uses – coffee has a strong flavour, and some people suggest having two coffee grinders, one for coffee and one for spices. However I've never had the shelf space or money for that, so I just clean my coffee grinder between uses by grinding some rice in it.
I love my Krups coffee grinder and use it at least a few times a week to grind up cashews or spices (freshly ground spices are so flavourful and smell amazing!).
The Cashew Hack: From 24 Hours of Soaking to Under 60 Seconds
To replace soaked cashews in any recipe that calls for it, just throw the cashews into a coffee grinder and grind for 30 to 60 seconds. Stop and shake, moving the cashews around and grind for another 15 seconds until the cashews have been ground to a powder (the shaking makes sure that any lingering cashews that haven't been ground up make contact with the blades). After this, proceed with your cashew-based recipe in the blender or food processor.
There you go, 24 hours of soaking reduced to less than 1 minute in the coffee grinder! I use a Krups coffee grinder which I've had for 5+ years and it's still going strong. I like it because it was one of the cheapest ones on the market but it also lasts a long time!
What to do/make with your ground-up cashews and newfound time?
Creamy, herby, cheesy spread (loved by vegans and non-vegans alike!)
Chicago deep dish pizza with a beer batter crust and stuffed with spinach and cashew cheese
Twice-baked butternut squash with cashew cheese, walnuts and cranberries
Pumpkin-cashew cheese ravioli
As an Amazon Associate I earn from qualifying purchases.