You can make vegan tomato fish in just a couple of steps and with only three ingredients (tomatoes, oil and kelp powder – the last item is the most difficult to find but you can get it in a well-stocked health food shop).
Have you heard of tomato tuna? It's sweeping New York by storm…
Tomato Tuna in New York
Last autumn I read about a company in NYC that was making tuna out of tomatoes. I was intrigued so started searching for recipes and found…nothing!
Of course, they're not about to give away their trade secrets.
I found a few vague references to a marinade involving soy sauce, followed by cooking sous vide.
Not being in possession of hundreds of dollars of sous vide cooking equipment, I opted for a far simpler method and marinade.
Vegan Fish: The Easy Way
As I contemplated how to make a simple vegan fish without sous vide equipment, I remembered the raw kelp powder which Bon Pom had kindly sent me to review. Surely this would be a good starting point for vegan tomato fish.
What followed was a ridiculous conversation between myself (a lifelong vegetarian turned vegan, who has never eaten fish) and a friend:
"What does tuna taste like?"
"Um…the sea?"
"Ok…I'll use kelp powder. Is is salty?"
"No. Why would it be salty?"
"I don't know…just seems like it would be?!"
"It's not. But it is kind of…oily. Fatty."
So, that settled it. Kelp for the sea-like flavour, and an oil marinade to get the oily feeling. No salt or soy sauce needed.
Commercial vegan meats can have ingredients lists as long as your arm. This tomato fish, on the other hand, has just 3 ingredients!
It's so easy to make – peel your tomatoes, chop them and marinate in a mixture of oil and kelp powder, then put them in the oven at a really low temperature (this helps soak the flavour marinade in and improves the texture).
And voila, it looks just like fish sushi!
But what does it taste like?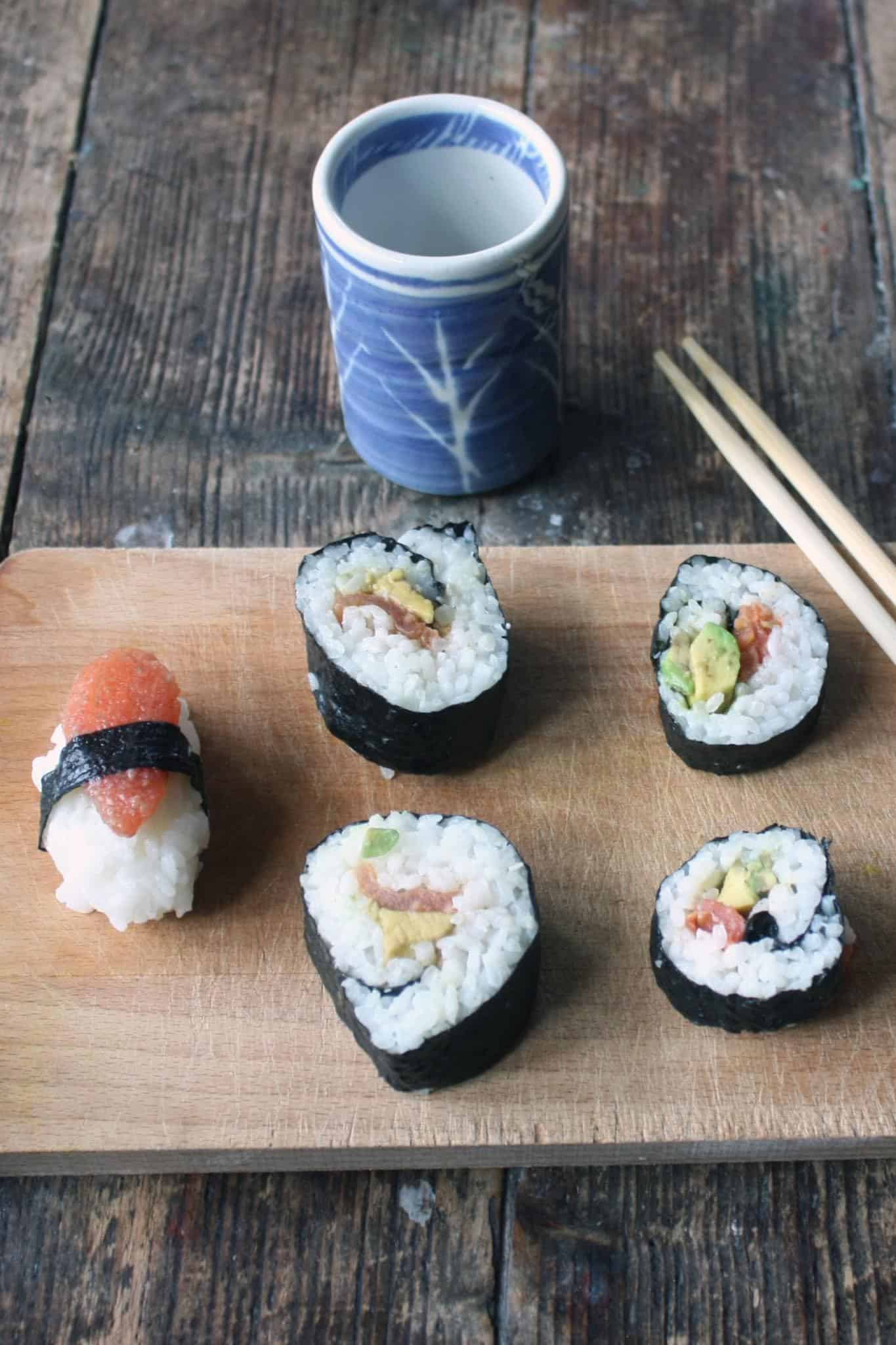 Vegan Tomato Fish Taste Test
According to some fish-eating friends I recruited (having never had sushi with fish, I didn't think I'd be the best taste tester), it tasted like fish.
What kind of fish?
A new fish.
"Does it taste like tuna?" I asked. "No," they told me. "It tastes like…a new fish. If someone put this sushi in front of me and hadn't told me it was tomato, I would have just assumed it was some kind of Japanese fish I'd never had."
So there you go, a brand new, cruelty-free and plant-based fish is born: the tomato fish.
Note: For this recipe, you need to buy the worst, most orangey tomatoes. You know those horrible supermarket tomatoes that have no flavour? While I usually recommend avoiding those like the plague and sticking to homegrown or farmer's market tomatoes, in this case we want those tasteless tomatoes. That way, the kelp flavour will sing and we won't taste tomato.
Vegan Tomato Fish
Ingredients
4 tomatoes (the cheapest ones you can find in the supermarket – preferably ones that are slightly orange and lack much taste)

2 tablespoons of oil (use an oil with little flavour, e.g. rapeseed/canola, sunflower or safflower oil)

2 teaspoons kelp powder
Instructions
Cut an X on the bottom of each tomato.

Heat water to the boil, drop the tomatoes in and remove after 1-2 minutes, or after tomatoes float the surface.

Run tomatoes under cold water, then carefully peel the skin off each.

Cut the tomatoes into eighths and remove the seeds.

Place the tomato strips into a bowl.

Mix the oil and kelp powder together in a separate bowl, then drizzle over the tomato strips. Make sure the tomato strips are thoroughly coated and leave to marinate overnight or for at least an hour.

Heat the oven to 80 C (180 F) or the lowest setting.

Place the marinated tomato strips on a baking tray covered in parchment paper and place in the oven for 20 minutes.

Remove the tomato strips from the oven and allow to cool.

Now, the tomato fish is ready to be used in sushi, poke bowls or anything else!
Notes
For a raw version, don't boil the tomatoes, peel the skin by hand. Marinate in a mix of kelp powder and water (instead of oil). Skip the oven step. Now your raw tomato fish is ready for sushi! (For raw sushi, you can use blitzed up cauliflower instead of rice.)

You can get kelp powder from your local health food shop.
What to do with your tomato fish? Well, you could make sushi (it goes really well with avocado) or a poke bowl.
If you make this recipe, please post your picture and tag me (@theveganword on Instagram/Facebook/Twitter). I'd love to see your creations!! :)
Have you ever made your own vegan fish? What did you use? I've also seen some pretty looking recipes using watermelon (though I can't imagine how it would taste in sushi!).