When you think of comfort food probably what comes to mind is something along the lines of creamy pasta or mashed potatoes. And if someone asked you to recreate a meal from childhood, like today's Vegan Mofo challenge, salad probably wouldn't spring to mind. But every time I think of dishes from my childhood, I think of my own comfort food – which is, yes, a salad.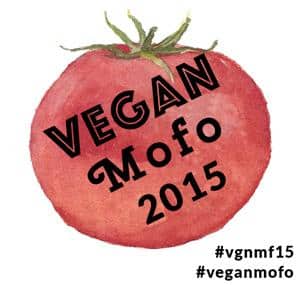 If you're an 80s child like me, childhood foods you grew up with might include Hamburger Helper, McDonald's happy meals, Capri Sun, or whatever it is that people were eating in the 80s. But while my childhood included its share of mac & cheese and some other classics, as the child of two 70s convert vegetarians, meals were more likely scrambled tofu with tamari and alfalfa sprouts, Polish stuffed cabbage rolls, potatoes pizzaiola and my absolute favourite – Taos salad. As a weekend treat, we would sometimes go to the health food shop and buy currant scones and carob soya milk (Edensoy brand – I'm pretty sure it was the only soya milk available at the time!). Taos was always my absolute favourite, which I requested for pretty much every birthday dinner, and I still make it, as my very own version of comfort food. Carob soya milk would probably be another of my comfort foods – if I could still obtain some!
Taos salad, so the story goes, is from a recipe my grandmother got from a cookbook, named after the town of Taos in New Mexico. It's a salad with an avocado-based dressing, and is one of those recipes that has undergone so many changes over the years, the form I present you now likely bears incredibly little resemblance to the original recipe. I seem to remember the original version had jalapenos (taken off because my little palate couldn't handle them as a child), crushed tortilla chips (removed out of sheer laziness) and cheese. The recipe seems to have gained a few things as well, like the addition of sunflower seeds (an addition I've made only in the last two years, might I add). The dressing has changed from being a mix of avocado and sour cream (which eventually was replaced with yoghurt in the interests of being healthier, and which I've now replaced with a vegan version).
In spite of the changes, the concept of salad with a creamy avocado dressing is just as good now as it was in the 80s!
Taos Salad
Serves 2 as a main
500g salad leaves
1 tin/can of kidney bins, drained and rinsed
1 tin/can of black olives (no pits or pits removed)
Handful of cherry tomatoes
1-2 tbsp sunflower seeds
For dressing:
Avocado
300g plain nondairy yoghurt
Olive Oil
Red wine vinegar
Salt and pepper
1. To make the dressing, peel and mashed the avocado. Mix in the nondairy yoghurt, a drizzle of olive oil and red wine vinegar, and salt and pepper to taste.
2. In a large bow, toss the salad leaves with the dressing. Top with kidney beans, black olives, cherry tomatoes and sunflower seeds.
P.S. Salad is always better if you make sure your leaves-to-topping ratio is around 1:1 ;)
Like I said – this recipe has been adapted so many times it barely resembles the original. So put your own spin on it and add your favourite vegetables, beans or seeds. Maybe you'll make a new comfort food!
What are your childhood comfort foods?