This post may contain affiliate links (see full disclaimer here). This means if you make a purchase after clicking, I may get a small percentage of the sale, at absolutely no extra cost to you.
My Mofo theme was featured in a round-up of Jojo's favourite themes over at Vegan Mofo HQ yesterday – woo! If you're new here and you've come across my blog from Mofo, welcome! And if you like the theme, please like my page on Facebook to get all my Suitable for Non Vegan recipes!
Vegan cheese. A word that incites fear into the hearts of many a non-vegan (and many a vegan as well!). I've tried many brands of vegan cheese, some better than others, but none that I would give to a non-vegan as an introductory dish. In keeping with my Mofo theme, today I'll be sharing a dish that's Suitable for Non Vegans (i.e. something that you can share with the non vegans in your life, even if they are tofu-phobic). And today's dish is, believe it or not, vegan cheese! While I haven't yet found a brand of cheese I'd feed a non-vegan, I've created some cashew-based cheeses that I would (and have!) shared with non-vegans. Artisan Vegan Cheese includes some amazing cheeses – if you are patient in the kitchen!
I also created a delicious creamy spread (that's somewhat cheesy, although I wouldn't call it cheese, especially if you have a picky non-vegan on your hands!) that you can whip up in a few minutes. It tastes better after sitting overnight. I'm sort of cheating because I shared this recipe previously, but I think it's worth sharing again. :) Especially since it's gotten rave reviews from everyone I've given it to — from friends at New Year's Eve, to people at work, to a group at the opera (most of whom I didn't know)! Everyone was surprised at how creamy and rich it is, without any dairy.
Equipment you'll need: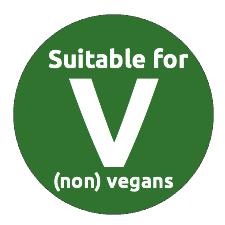 Creamy Herby Cheesy Spread
Ingredients
1.5 cups cashews, soaked overnight
200 g firm tofu
2 tbsp soya milk
2 tsp lemon juice
pinch of salt
1/2 tsp garlic powder, or 1-2 cloves
5 tbsp nutritional yeast, optional
1 tsp white miso
1 tsp tahini
1/2 tsp vegetable oil
1/2 tsp dried Italian herb mix
Handful of fresh herbs (use whatever you fancy; I usually use chives and basil)
Instructions
The night before you plan to make this, put cashews and enough water to cover them in a bowl and leave overnight to soak.
The next day, drain cashews and blend them in a food processor or blender. Or, if you have a coffee grinder, skip the soaking step and grind them in the coffee grinder, then add the resulting powder to a food processor. I find this gives better results (with fewer chunks) than just a blender, if you have a cheap model of blender like me. Add the tofu, soya milk, lemon juice, salt, garlic/garlic powder, nutritional yeast, miso, tahini, vegetable oil and dried herbs and blend until it forms a smooth paste.
Add the fresh herbs and pulse a few times until roughly chopped and mixed.
Refrigerate. Best left overnight so that flavours marry. Serve the following day. It will keep for several days in the refrigerator.
Like my Facebook page to stay updated with more Suitable for non Vegan recipes as I post them!
As an Amazon Associate I earn from qualifying purchases.