My Vegan Mofo theme is Suitable for Non-Vegans: delicious, non-scary food you can feed your non-vegan friends and family — food that will show them that you're not crazy (well, not crazy for being vegan!). Like my page on Facebook to get the latest Mofo/Suitable for Non Vegans posts.


I'm kind of sad that today is the last day of my mini ravioli week! If you missed it, here's a round-up of the recipes I've been posting this week after my epic ravioli-making night Sunday (when I made three different types of ravioli in three different sauces in one night): first, I posted a spinach ricotta ravioli recipe. Then I posted a recipe for walnut ravioli with a vodka cream sauce. Tonight is pumpkin cashew cheese ravioli in a sage butter sauce!
This one is definitely Suitable for Non Vegans. It went down really well with the Taste Tester (my non vegan boyfriend who's serving as my guinea pig this month). It was his favourite ravioli of the lot.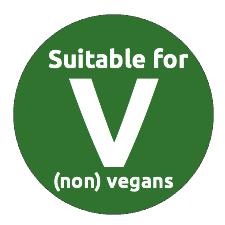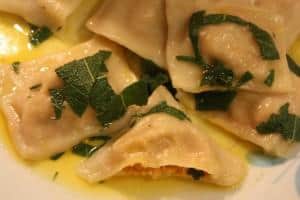 Pumpkin-Cashew Cheese Ravioli
Makes approx 3 dozen ravioli

Ingredients
2.5 cups flour or preferably '00' grade pasta flour
1 cup water
1 tbsp olive oil
1-2 tbsp margarine
1-2 tbsp chopped fresh sage leaves
1 recipe pumpkin-cashew cheese filling, recipe follows
Instructions
To make the ravioli dough, form a mound of flour on a clean counterspace.
Form a well in the flour and fill with the oil and some of the water.
Mix the water into the flour, and repeat step 2 (forming a well, filling with water, and mixing the flour and water together) until all the water is incorporated into the dough.
Knead the dough for a minute or two and form into a ball. Cover in cling film (Saran wrap) and leave to rest 30 minutes. In the meantime, you can prepare the filling.
To roll out the ravioli dough, divide the dough into 3 sections.
Sprinkle some flour on a clean counterspace. Put the first third of the dough on the counter, sprinkle some more flour on top, and roll out the dough with a rolling pin, as thin as you can roll it. If you have a pasta machine, follow the instructions on your machine to roll out the dough.
Place 12 spoonfuls of the pumpkin cheese filling on the dough, stopping half along the length of the piece of dough, and keeping it as evenly spaced as possible. You'll probably want two rows of 6. Now, fold the piece of dough in half, so the half without fillings on is resting on top of the piece with the fillings.
Press down and around each dollop of filling, pressing the air out and sealing the two pieces of dough together, creating pieces of ravioli.
Now, with a knife or ravioli cutter, cut out squares of ravioli along each piece of filling.
Repeat steps 7-9 each each other piece of dough. Cook the ravioli in boiling water as soon as possible after cutting them. If you're not going to cook them immediately, you can freeze them.
To cook ravioli, place in a pot of boiling water. The ravioli is ready when it floats to the surface (which should happen in 2-3 minutes). Serve with sage butter sauce. To make, heat 1-2 tbsp margarine in a small saucepan until it melts, then add 1-2 tbsp chopped fresh sage and fry until crispy.
Pumpkin Cheese Filling

1 recipe cashew cheese, follows
1/2 cup canned pumpkin (I bought Libby's brand in Waitrose)
1 tbsp nutritional yeast
1 tbsp breadcrumbs
1 tsp chopped fresh sage
pinch garlic powder
pinch salt
pinch nutmeg, or freshly grated nutmeg
Instructions
Mix all the ingredients together in a large bowl until everything is incorporated together.
Cashew Cheese
1 package (approx 1 lb) firm tofu, drained and pressed
1/2 cup cashews
2 teaspoons lemon juice
2 teaspoons olive oil
1 garlic clove, chopped
1/4 teaspoon salt
1/4 cup nutritional yeast flakes
1 tsp tahini, optional
1 tsp white miso, optional
Instructions
In a spice grinder, grind cashews until fine.
In a food processor, blend cashews, tofu, lemon juice, olive oil, garlic, salt, nutritional yeast, tahini, and miso until it forms a thick paste.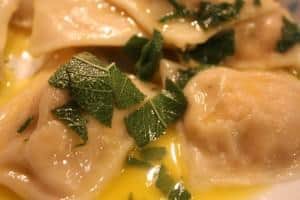 Sadly, this is the last day of ravioli recipes…for now! But all these ravioli posts are leaving me wishing I had more ravioli. I'd definitely suggest doubling the recipes and freezing some for later, you'll want it!
The Ravioli Round-Up