My Vegan Mofo theme is Suitable for Non-Vegans: delicious, non-scary food you can feed your non-vegan friends and family — food that will show them that you're not crazy (well, not crazy for being vegan!). Like my page on Facebook to get the latest Mofo/Suitable for Non Vegans posts.


I don't know why I've lived so long without okonomiyaki. These savoury Japanese pancakes-cum-omelettes literally translate to 'grilled' (yaki) 'as you like it' (okonomi), and you can fill them with just about anything you like! What makes them even more amazing is topping them with tonkatsu sauce and mayo (spicy mayo in my case).
Unfortunately I didn't have any okonomiyaki when I was in Japan, but after returning to London, I did try and make them — and failed at my first attempt. I read several recipes that used seaweed to give them a fishy flavour, so I added seaweed, forgetting that I hate fishy tastes and smells. Sadly, most of that pancake went in the bin.
I wasn't brave enough to try my hand at okonomiyaki again until last night. This time I left out the fishy seaweed, and made my own tonkatsu sauce, more or less based on a
Serious Eats recipe
I found. I figured the Vegg would make a good egg substitute, so I planned to look online to see if I could find a recipe. But then my Vegg cookbook came in the post and I discovered that there was a recipe in there for Vegg okonomiyaki! Oh yeah, and did I mention…I'VE GOT A RECIPE IN THE VEGG COOKBOOK! Page 40, check it out. :)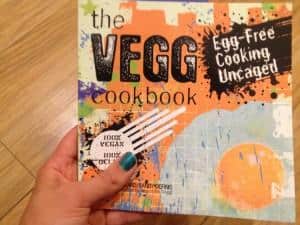 I of course got my official Taste Tester/non vegan boyfriend to try it, and he approved. Of course, it helps that he absolutely loves vegan mayo (I use Plamil brand), and in fact prefers it to regular mayo now. I highly recommend you slather on the mayo on your okonomiyaki, and don't forget to use plenty of tonkatsu and a sprinkling of togarashi seasoning (a Japanese spice blend) if you like it. I also like to add a teaspoon of togarashi to my batter as a little bonus boost of flavour to the pancake itself!
As for the vegetables in your pancake, well, it's okonomi/up to you! I added grated carrots, chopped courgette/zucchini, green onions, and bok choy to mine! But you can add whatever vegetables or mock meats you like — broccoli, onion, squash, vegan bacon, vegan prawn, anything else you fancy! However I recommend limiting your additions to around 1 cup of chopped ingredients.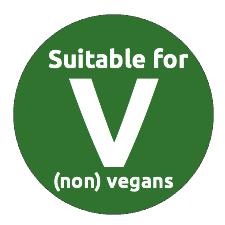 Okonomiyaki
Makes 2 servings

Ingredients
3/4 cup + 2 tbsp flour
2 tbsp corn flour/cornstarch
1/2 tsp baking powder
3/4 cup water
1 tsp Vegg + 1/4 cup water, blended
1/4 cup grated carrot
1/4 cup chopped courgette/zucchini
1/4 cup chopped bok choy
1/4 cup chopped green onion
1 tsp togarashi seasoning
1 recipe tonkatsu sauce, recipe follows
1 recipe spicy vegan mayonnaise
Instructions
Mix the flour, corn flour/cornstarch, and baking powder together.
In a blender, blend 1 tsp of Vegg and 1/4 cup of water together.
Make a well in the dry ingredients and pour in 3/4 cup water and the Vegg mixture you just blended together. Mix the wet ingredients with the dry ingredients.
Add the green onions, courgette, carrot, and bok choy, and togarashi seasoning if using, and stir to combine.
Heat a non-stick skillet on medium heat (if you don't have non-stick, add a small coating of oil to the skillet) very hot. You can test by dropping a small amount of batter into the skillet; if it sizzles, its hot enough.
Once the skillet is hot, pour half the batter in and spread out to form a large pancake. Cover with a lid and cook 3 minutes, then flip over and cook for another 2-3 minutes. Remove the pancake and put it on a plate. Keep warm in an oven on very low heat if you need to warm it while you make the second one. If you're not sure of your flipping technique, there are some good videos on Youtube.
Repeat step 6 with the second half of the batter.
Top the pancake with tonkatsu sauce, spicy vegan mayo, and togarashi seasoning if desired
Tonkatsu Sauce

1/3 cup ketchup
2 tbsp vegan Worcestershire sauce
1 tbsp soy sauce
1 tbsp mirin
1/4 tsp garlic powder
Instructions
Mix all the ingredients together in a bowl until everything is incorporated together.
Spicy Vegan Mayonnaise

1/2 cup vegan mayonnaise
2 tbsp hot sauce
Instructions
Mix mayonnaise and hot sauce together in a small bowl.