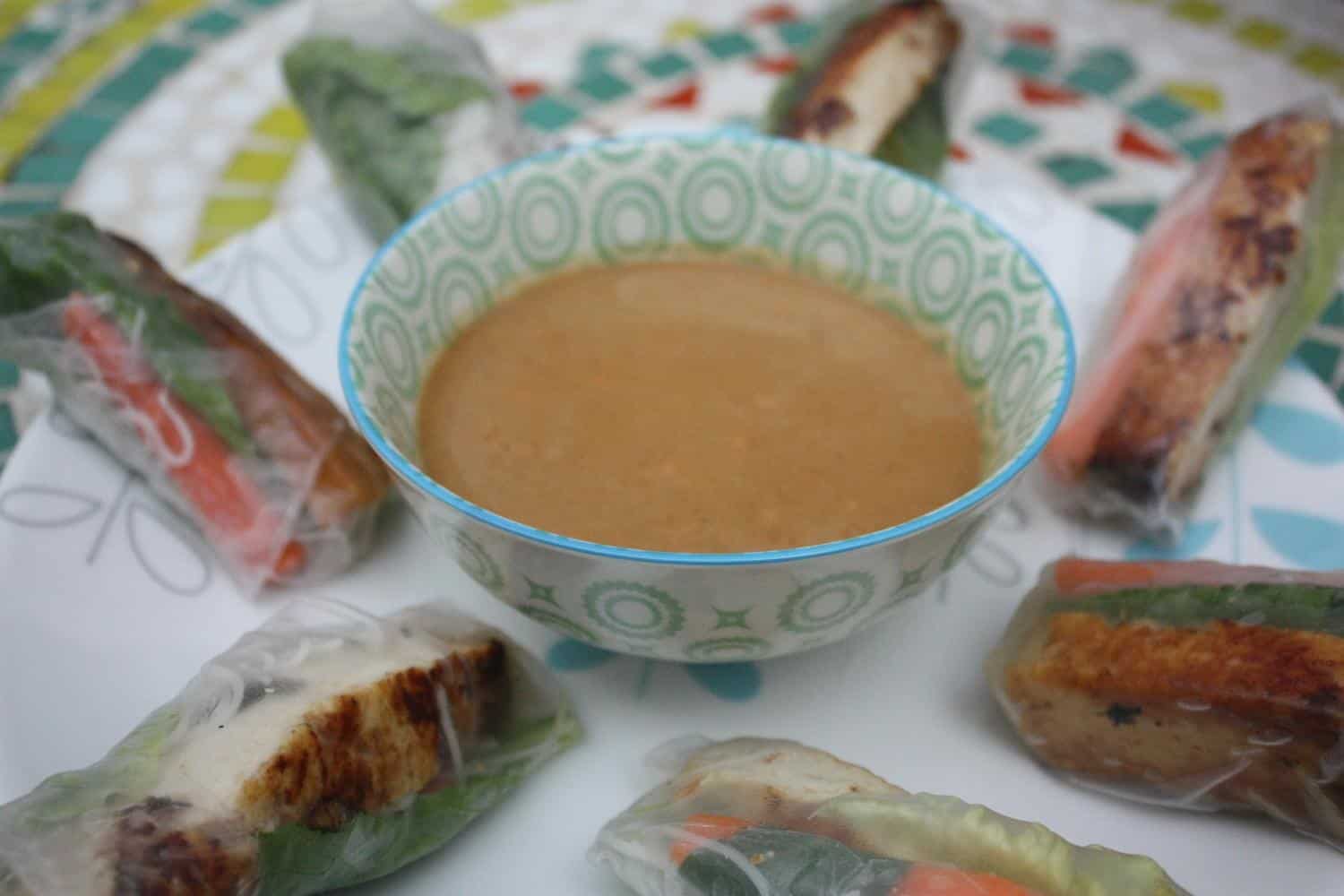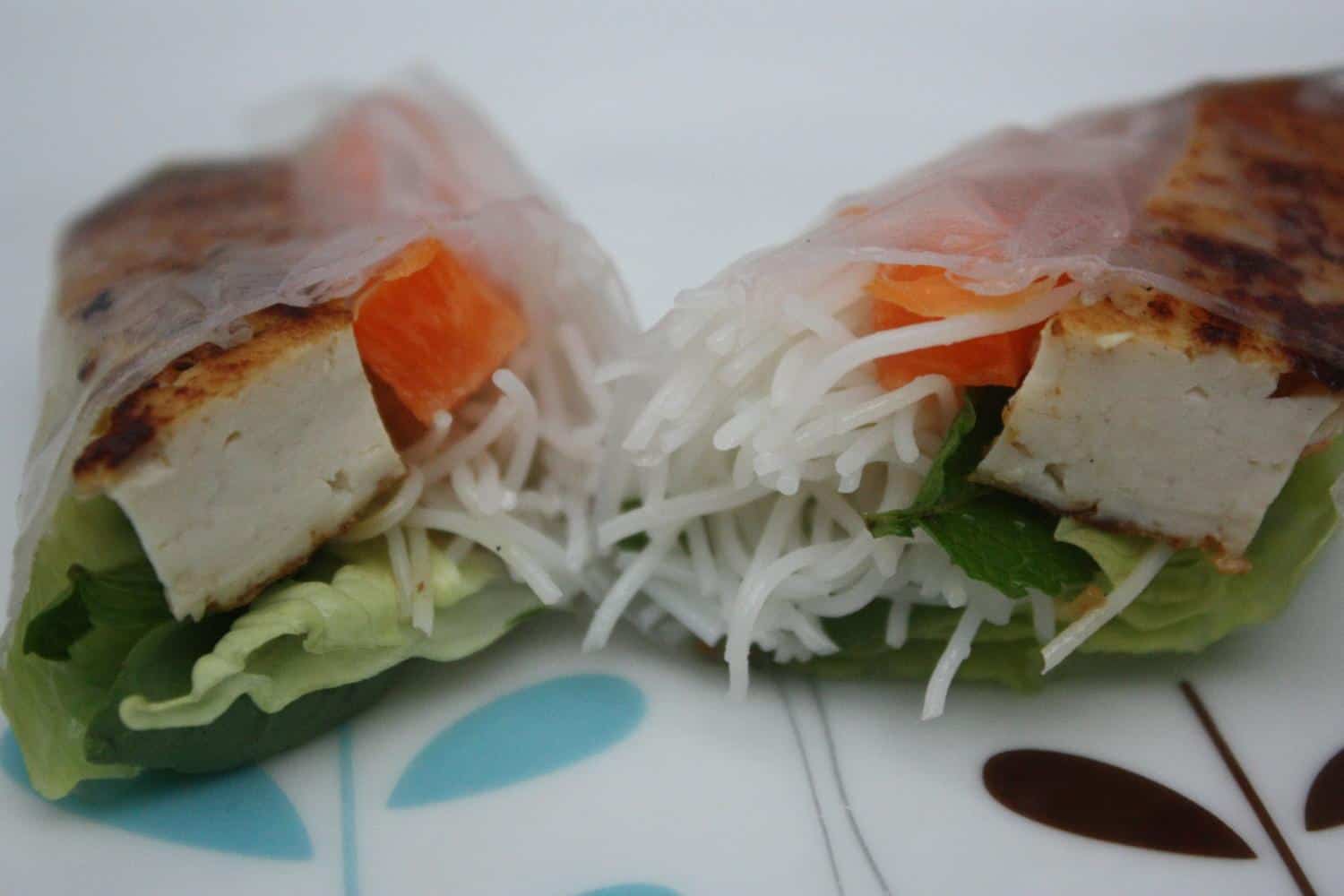 So it's summer, and you've probably been eating a lot of salads.  But you know what would be a more exciting, and a more efficient, way to eat your salad and have your drink?  To wrap it in rice paper to make a convenient parcel to transport it to your mouth and combine it with your mojito!  And anyway, the salad part totally balances out the mojito, right?  Right?
Make Your Marinade
Ok, now that you definitely want this alcoholic salad wrap, let's get started.  Hopefully it's morning or early afternoon, so you can leave the tofu to marinate for a few hours at least, or all day.  If it's 10 minutes before you want to eat, save this recipe for another day and go cook (or drink) something faster.  Assuming it's morning, let's go ahead.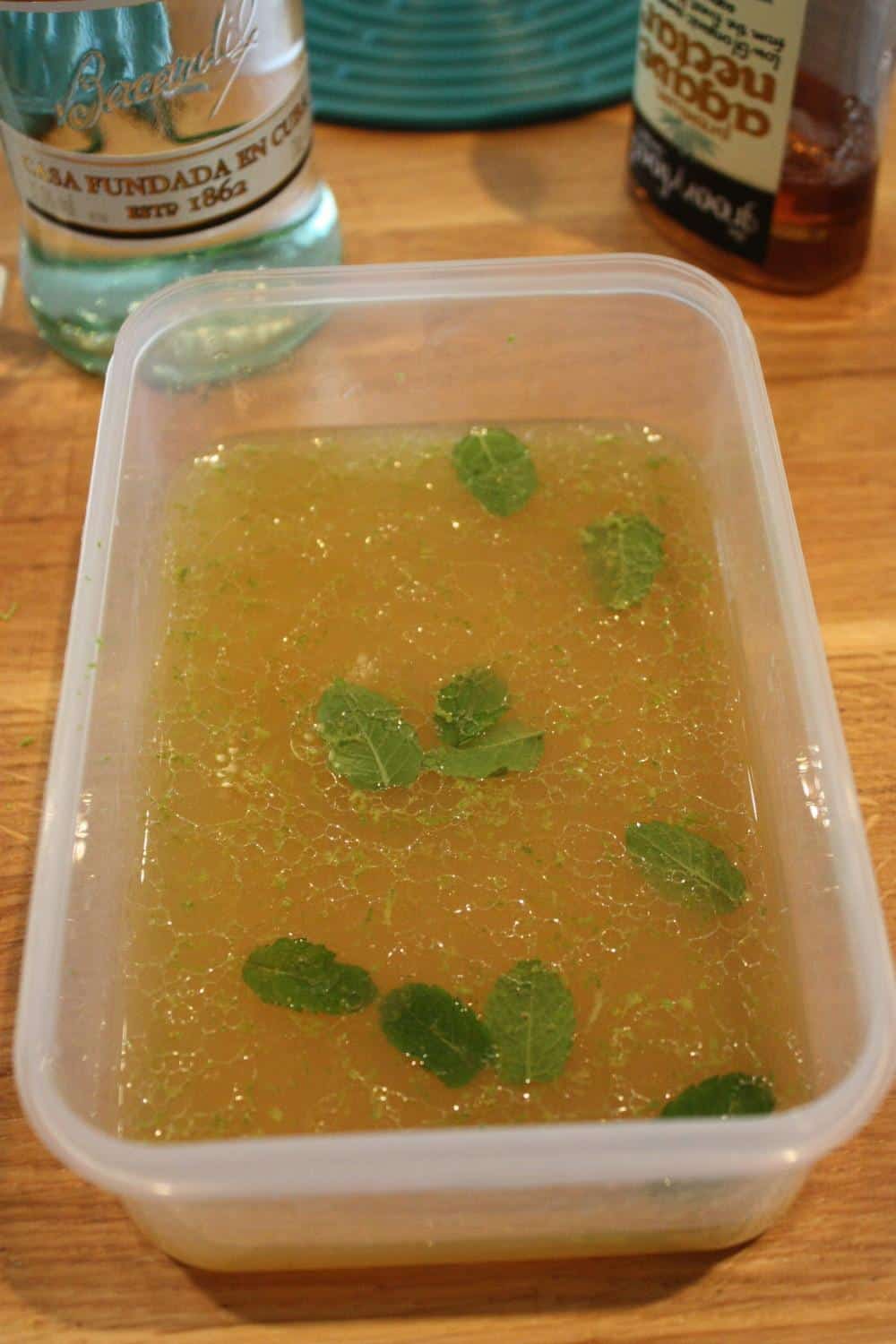 First, we're going to make a mojito mix (I used this recipe, but I veganised it by swapping agave for the honey, and I also used only half a tablespoon of salt and left out the shallots).  Careful not to drink too much – you need some of it to marinate your tofu, and you don't want to get drunk, either.  Also it's morning, and didn't anyone ever tell you not to drink before noon?
Press Your Tofu (And Don't Get Drunk)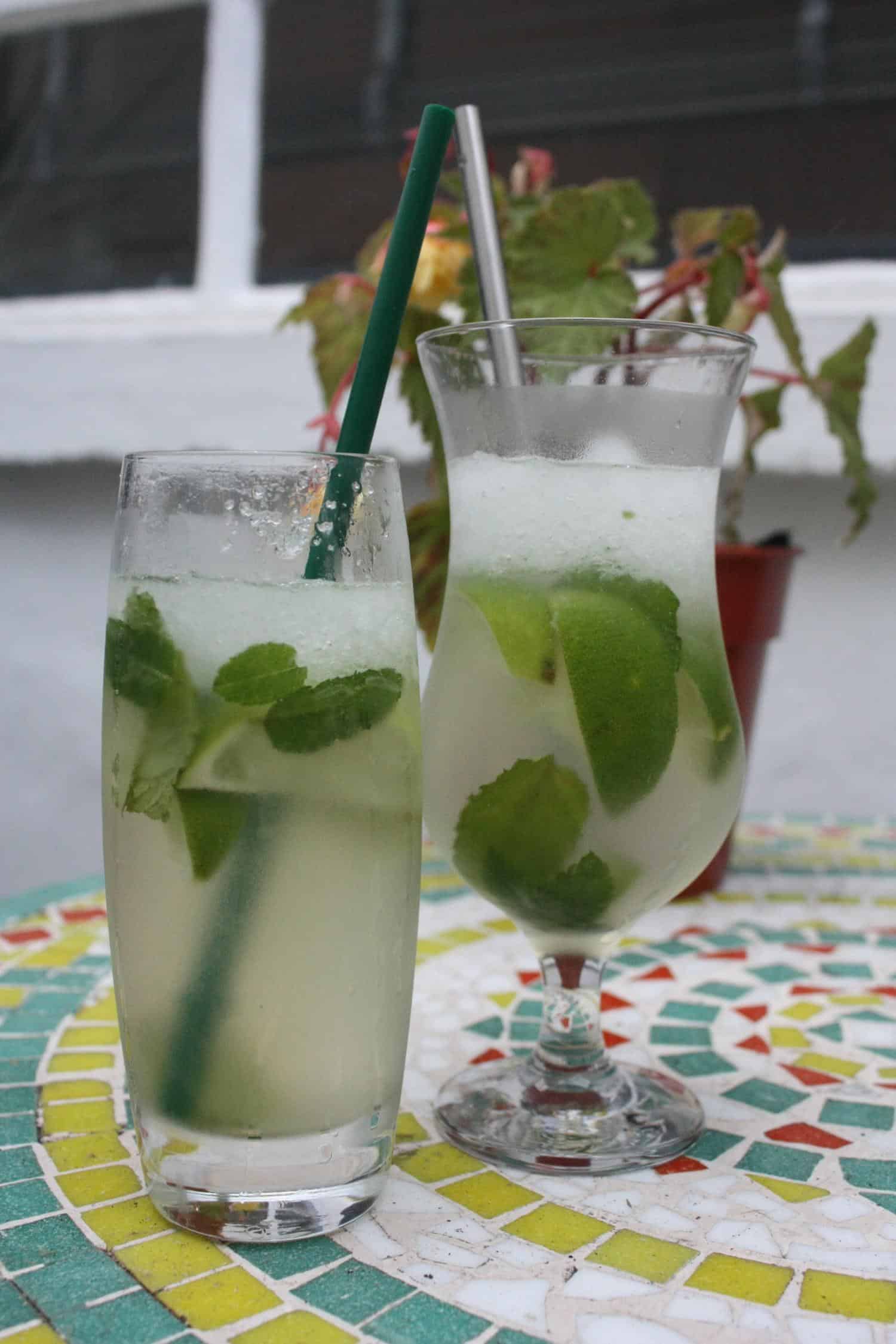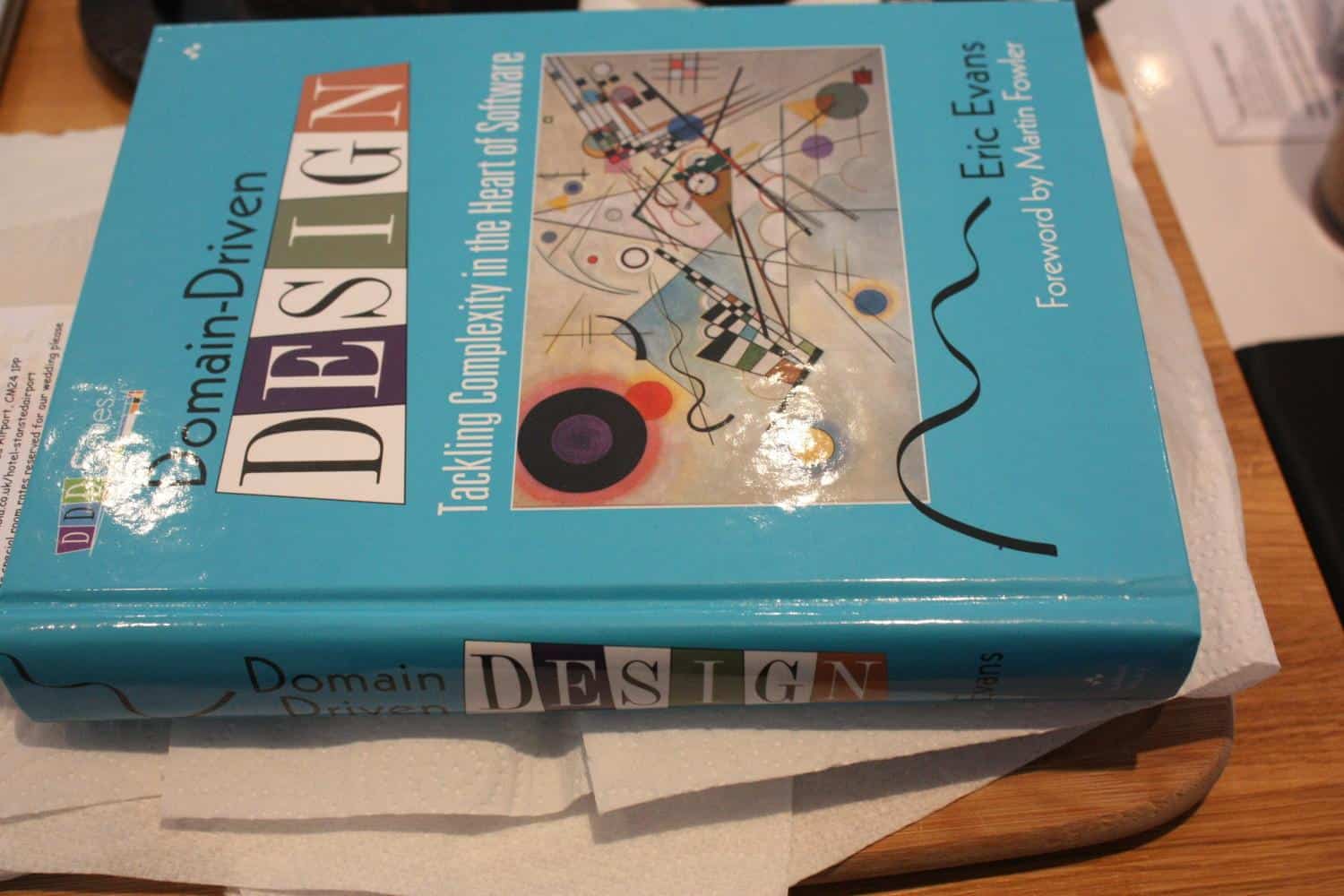 Set your marinade aside, and go about pressing your tofu.  You want to get the water out, so it can soak up the goodness of rum instead.  No need for a fancypants tofu press (although if you have one, go for it).  Cut the tofu into triangles and place the tofu on some paper towels on a chopping board, with some paper towels on top and now go find a heavy book.  You know, one from the top shelf, that you'll likely need to dust off.  A dictionary.  Or perhaps just "borrow" your boyfriend's coding book.  That also works.  Just be careful not to cover it in tofu-juice.
Marinade The Tofu
Leave the tofu alone for 20 or 30 minutes.  Go do something else.  Why don't you make yourself a mojito and drink it outside?  Oh wait, it's morning.  Maybe not quite yet.  Save it for later.  After half an hour or so, the tofu should be well pressed.  Cut it half widthwise, and then turn it and cut it in half heightwise, then put the tofu in the marinade in a plastic Ziplock bag of a plastic airtight container and leave it to marinate all day.
Char Your Tofu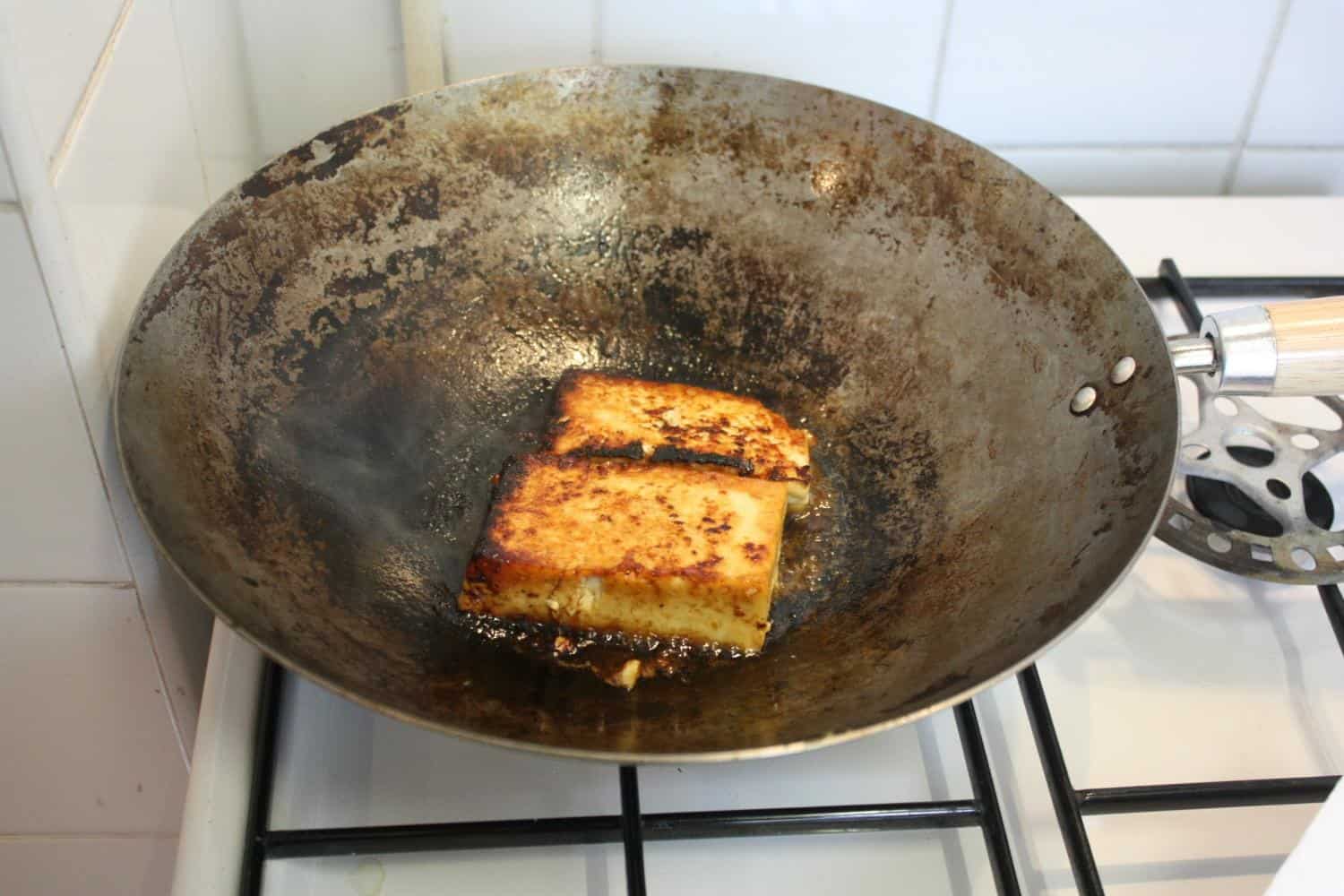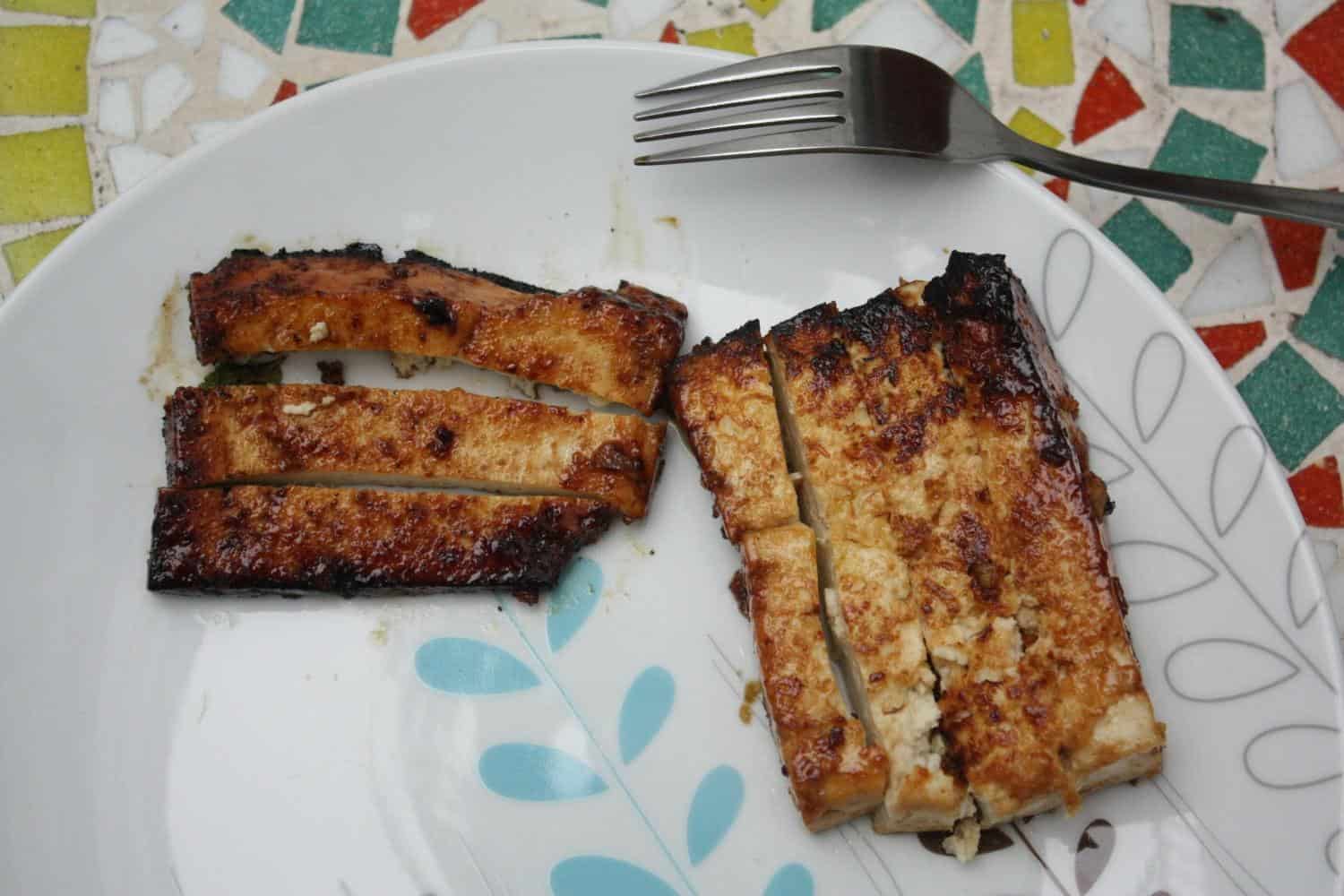 Go off an drink mojitos the rest of the day.  ;)  Or, you know, run errands and stuff.  By the end of the day, the tofu should be well marinated.  Now is time to char the tofu.  Heat a nonstick skillet and a little bit of oil over medium-high heat.  You want it hot enough the tofu will char and the marinade will bubble but not so hot the oil starts smoking or burning.  Once it's hot (you can test it by carefully flicking a few small droplets of water on it and seeing if it sizzles – if it does, it's ready and you're in), place a few matchsticks of tofu in the skillet (careful not to put too many in at a time – they need some space) and then spoon a little bit of the marinade over it.  There should be plenty of excess marinade and we're going to cook all of it into the tofu for extra punch – sorry if you thought you were going to be able to have it for yourself!  After a couple of minutes, flip the tofu over (check the underside occasionally, and when it's started to brown, flip it over) and pour a few drops of marinade on top of the topside of each piece of tofu again.  Repeat another time or two, flipping and adding more marinade, until the tofu has charred on both sides and looks blackened.  Remove from the skillet and place on a paper towel-lined plate, and repeat with all the batches of tofu.  Cut each quarter into 4 long matchstick-shaped pieces. Set aside.
Dipping Sauce & Prep Your Veg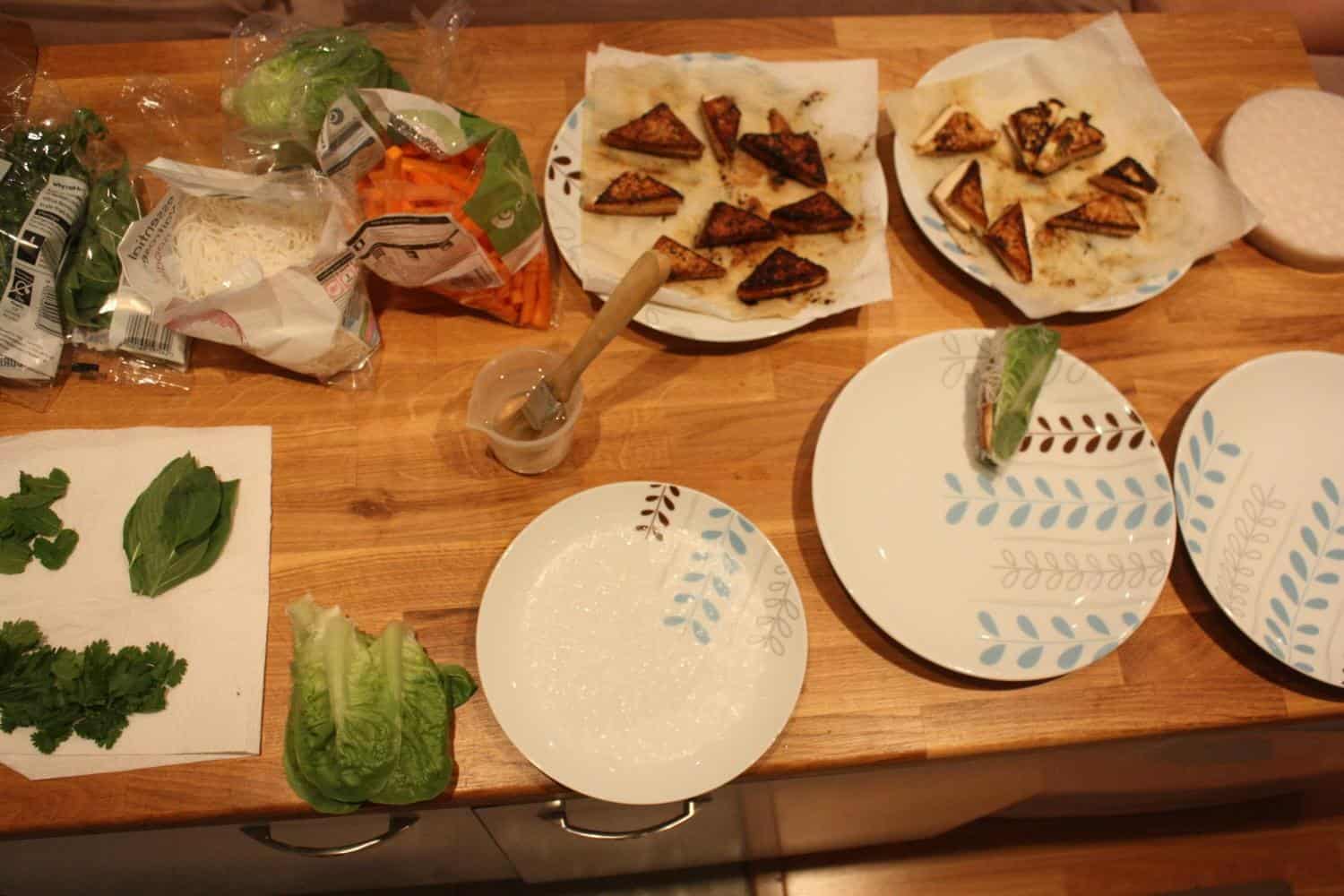 Ok, so your tofu is done now and you're ready to start rolling your summer rolls.  First, you should mix up your dipping sauce.  I've provided two options here: a peanut dipping sauce (my personal favourite) and a sauce made with homemade vegan fish sauce and soy sauce.  Mix up whichever one you prefer while the tofu cools down a bit and then get ready to roll!  You'll need some carrots (either buy carrot sticks, or better yet, cut your carrots into really thin strips or julienne them).  You'll also need some washed and torn up lettuce leaves, some cooked rice noodles (follow packet instructions to cook them and then rinse under cold water), and some herbs – I like to add Thai basil (if you can't find it, just leave it out, regular basil will taste a bit weird in these), mint and cilantro/coriander.  It's best to spread everything out on the counter within easy reach.
Roll Your Rolls + The Secret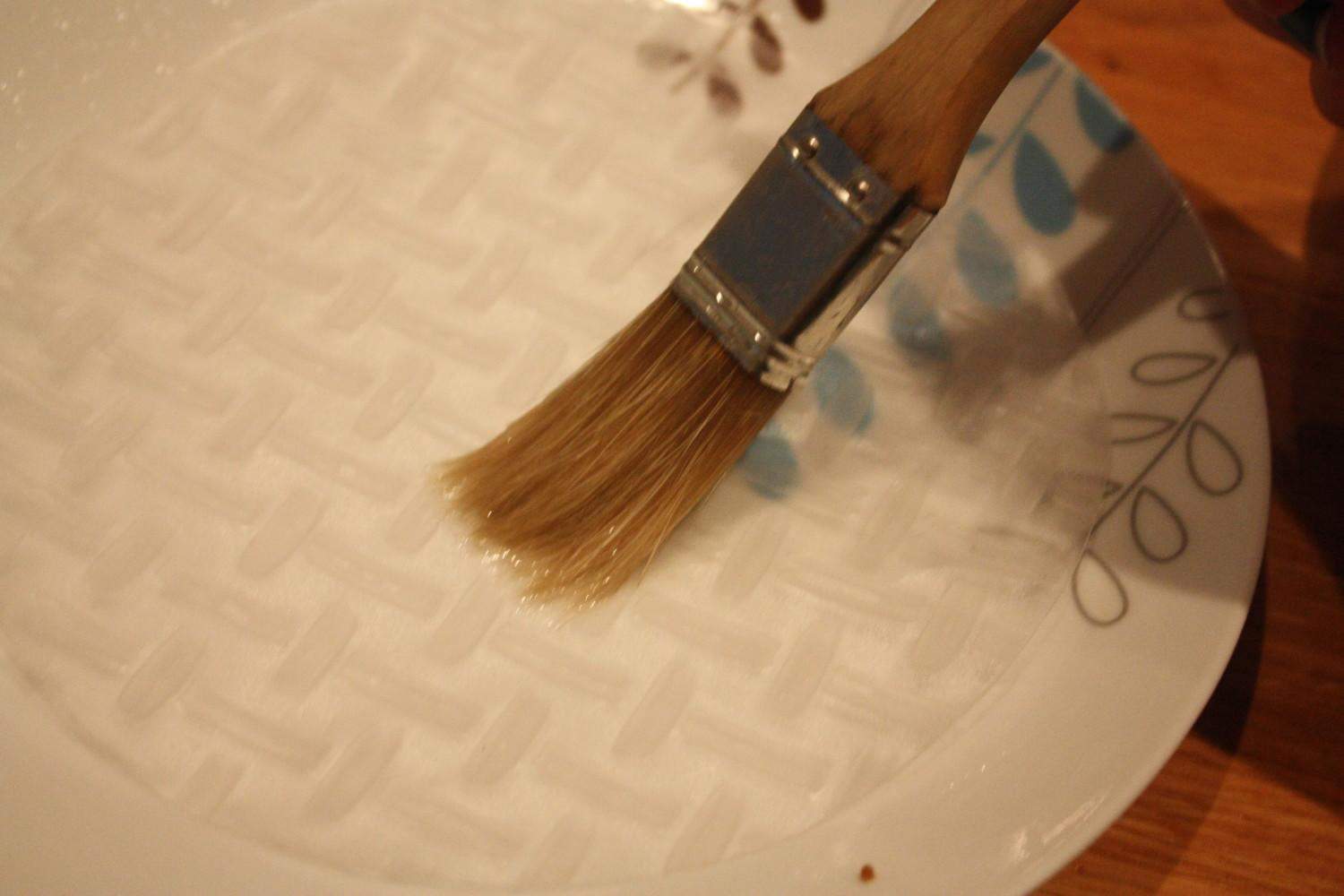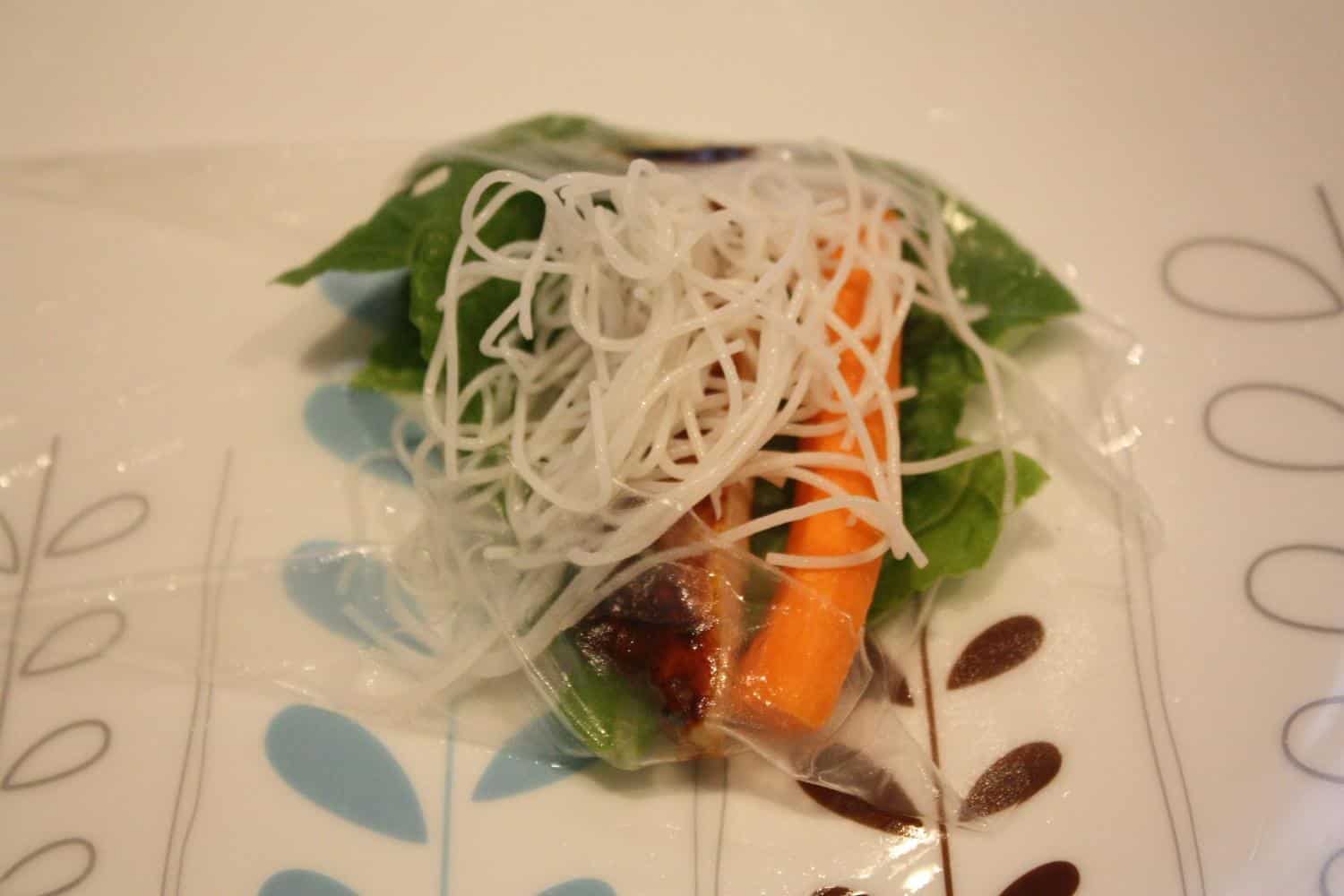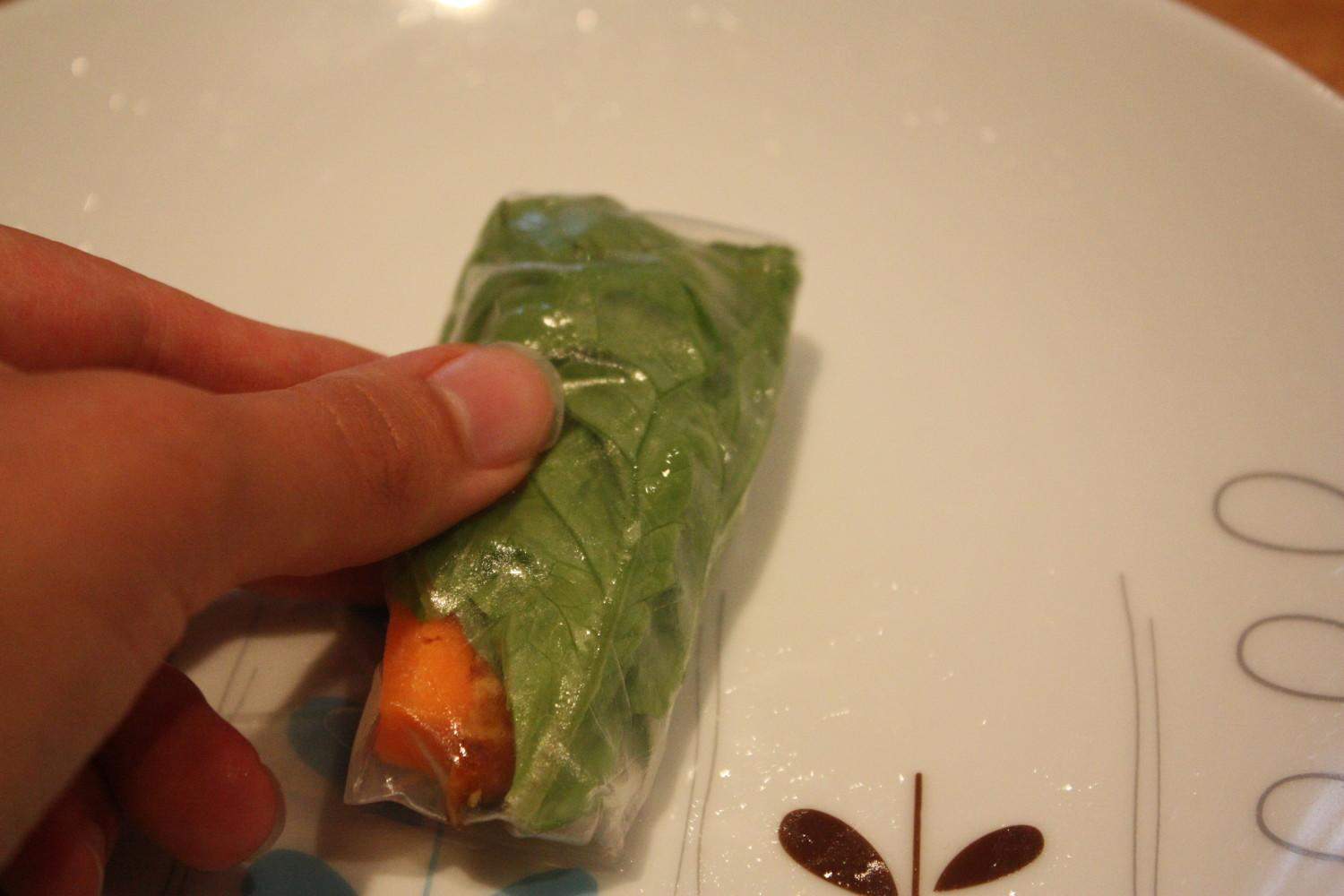 Next up is what can be the hardest bit (but don't worry, I've got the solution for you): wetting the rice paper wrapper rounds, filling them with a bit of each filling, and rolling up.  Have you ever tried making these before?  Most recipes tell you to dip them in warm water until they become pliable (although some say cold water, and others hot), but have you actually tried this?  It's super messy for the inexperienced, and often they fold over on themselves and won't unfold, and then you've got to throw out wrapper after wrapper…it's a nightmare.  What I'm about to tell you will change your life.  At least in the world of rice paper wrappers.  My friend, whose family owns a Vietnamese restaurant, told me this and it changed mine.  Stop messing around with bowls of hot water and dipping the wrappers.  Instead, put the dry rice paper wrapper on a large plate, smooth side facing down to the plate.  Grab a good old pastry brush, dip it in some water, and brush the rice paper wrapper.  Don't add too much water, just enough to wet it.  Flip and repeat on the other side.  Now flip back and add a bit more water if needed.  Make sure the smooth side's still down.  Fill with the fillings, roll up and voila!  This technique will save you a LOT of headache, and now you can spend more time enjoying your summer rolls and your mojitos.  Enjoy, and don't get too drunk on alcoholic salad wraps!
What secret tips and tricks do you have for making summer rolls, or other tricky things to cook?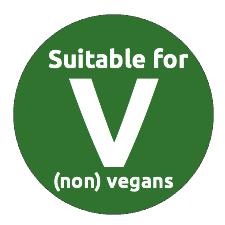 Vietnamese Summer Rolls with Mojito-Marinated Charred Tofu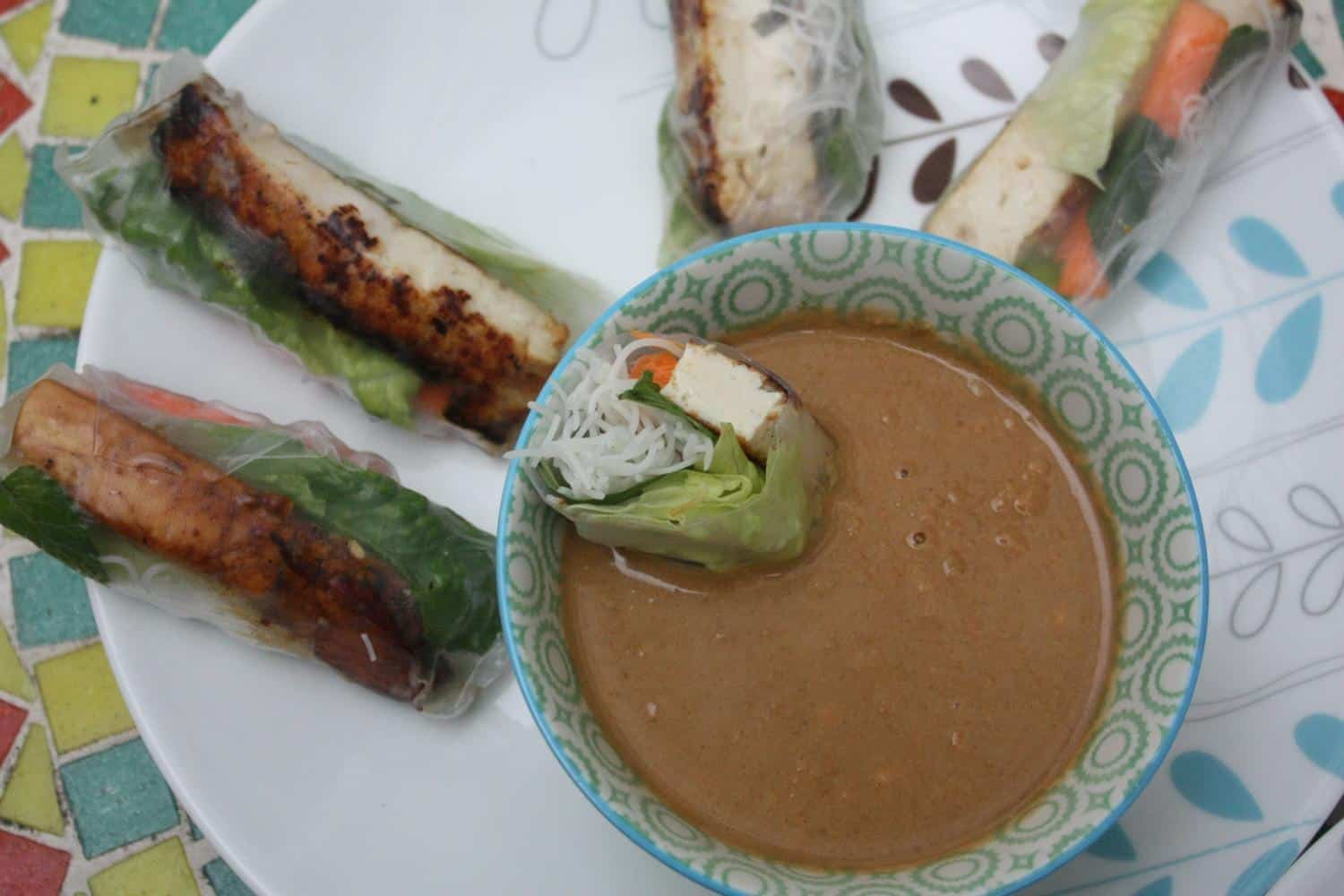 Makes about 16 summer rolls
Ingredients
400g (about a 1 lb block) mojito-marinated charred tofu (recipe below)
2-3 carrots, peeled and cut into sticks
1 small head of lettuce, chopped
200g rice noodles, cooked and rinsed under cold water according to package instructions
Fresh herbs (such as Thai basil, mint and cilantro/coriander)
Rice paper wrappers (buy in an Asian supermarket or online, such as these)
Peanut or vegan fish sauce dipping sauce (recipes below)
Other vegetables or herbs if desired (optional)
Instructions
Put the rice paper wrapper on a large plate (make sure the smooth side's facing down on the rolling surface) and brush with a wet pastry brush on both sides.
Fill with a little of each ingredient, then roll up (see a video on how to roll them here – skip to around 1:30 to see the rolling technique and ignore the complicated soaking method!).
Serve with a bowl of dipping sauce (choose your favourite one) and dip and enjoy!
Mojito-Marinated Charred Tofu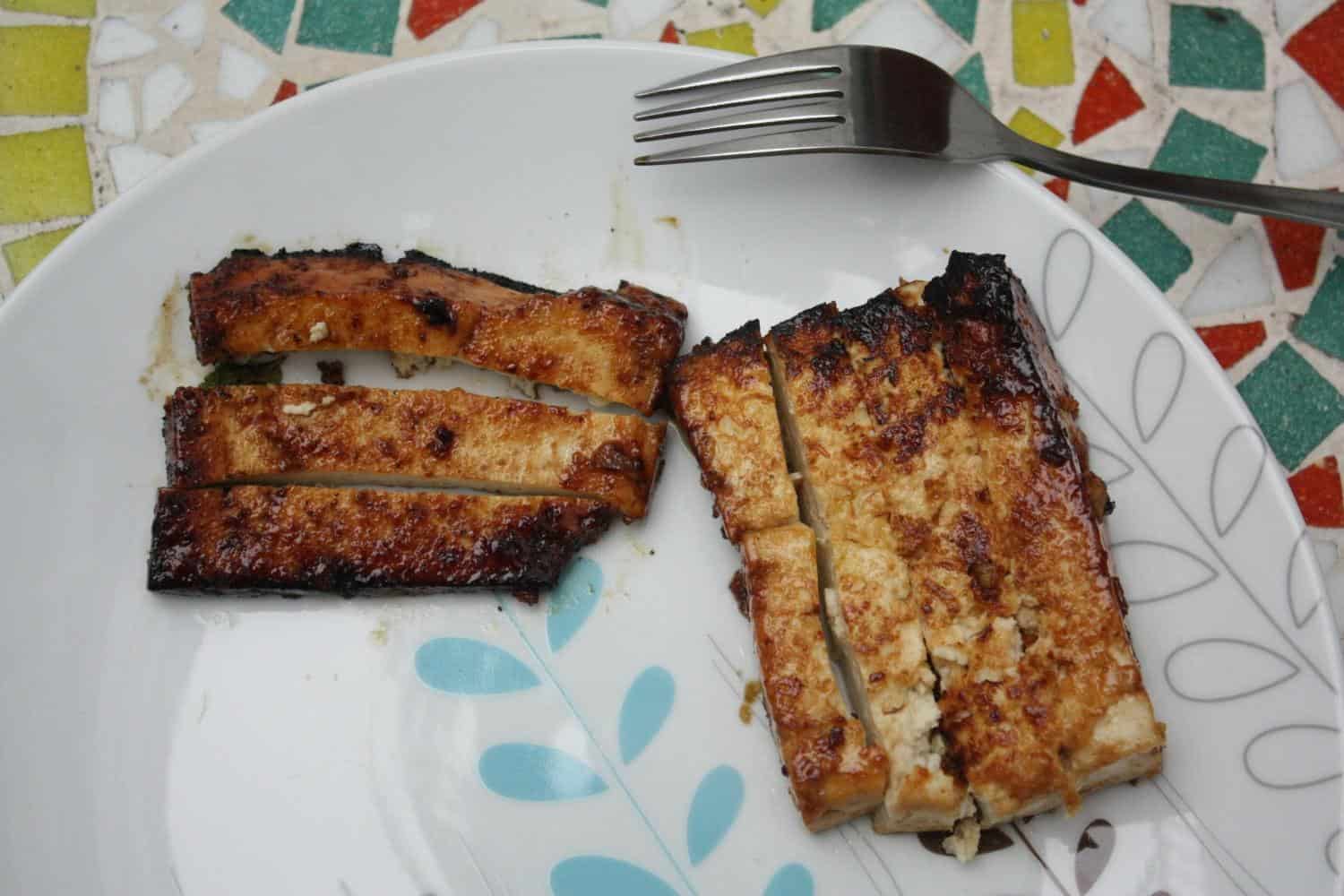 Ingredients
400g (about a 1 lb block) firm tofu, pressed to remove liquid
1/4 cup rum
3-4 tbsp chopped fresh mint leaves
1 tbsp freshly grated lime zest
1/2 cup lime juice
3 tbsp agave nectar
2 tbsp canola/rapeseed or vegetable oil of choice
1/2 tbsp salt
Instructions
Press the tofu to remove liquid, then cut in half widthwise, then each half in half again heightwise to make four pieces.
Mix all other ingredients to form the marinade, then pour the marinade over tofu pieces in a leak-proof tupperware container.
Leave it in the fridge to marinate for at least 4 hours.
Heat a nonstick skillet with a little oil over medium-high heat.  Once the oil is hot, place some marinated tofu matchsticks in it (they should sizzle).  Don't overcrowd the pan!  Make sure they're not too close together.  Spoon a little of the excess marinade over the top of each piece of tofu, taking care if you have a gas stove (remember, there's alcohol in it!).  Cook for a few minutes, until brown spots start to appear on the bottom, then flip over, coat with a bit of marinade, and repeat the process until both sides have enough blackened/charred spots for your liking (see the pictures).
Once charred, remove from heat and place on a plate to cool down.  Cut each quarter into four more matchstick-shaped (long) pieces.
Peanut Dipping Sauce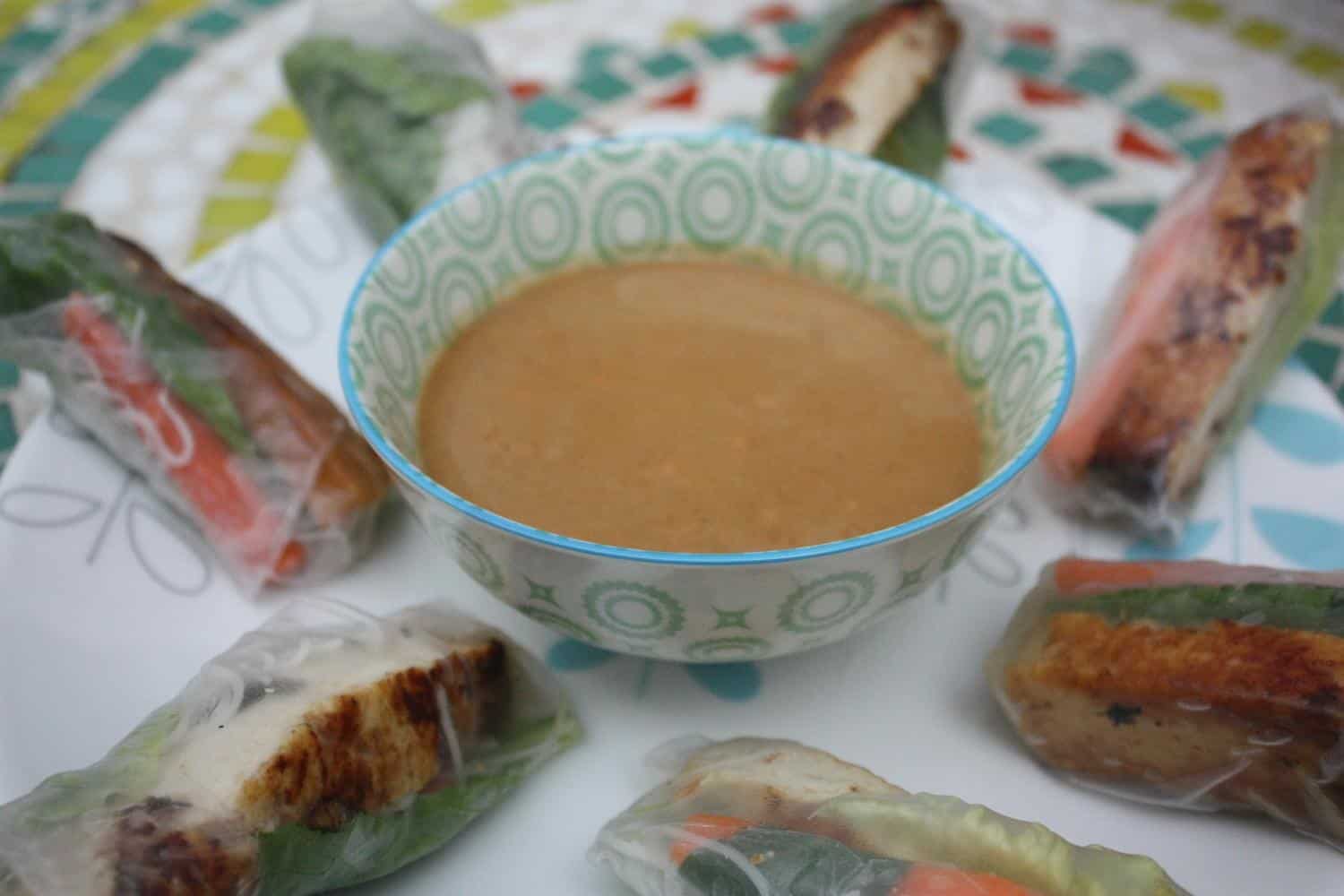 Ingredients
1/4 cup peanut butter
2.5 tbsp rice wine vinegar
2.5 tbsp soy sauce
3-4 tbsp water
Dash of dried ginger powder
1 tbsp lemon juice (optional)
Dash of garlic powder (optional)
Dash of hot sauce (optional)
Instructions
Mix all ingredients together until the peanut butter has dissolved and it's a creamy but thin texture.
Vegan Fish Sauce Dipping Sauce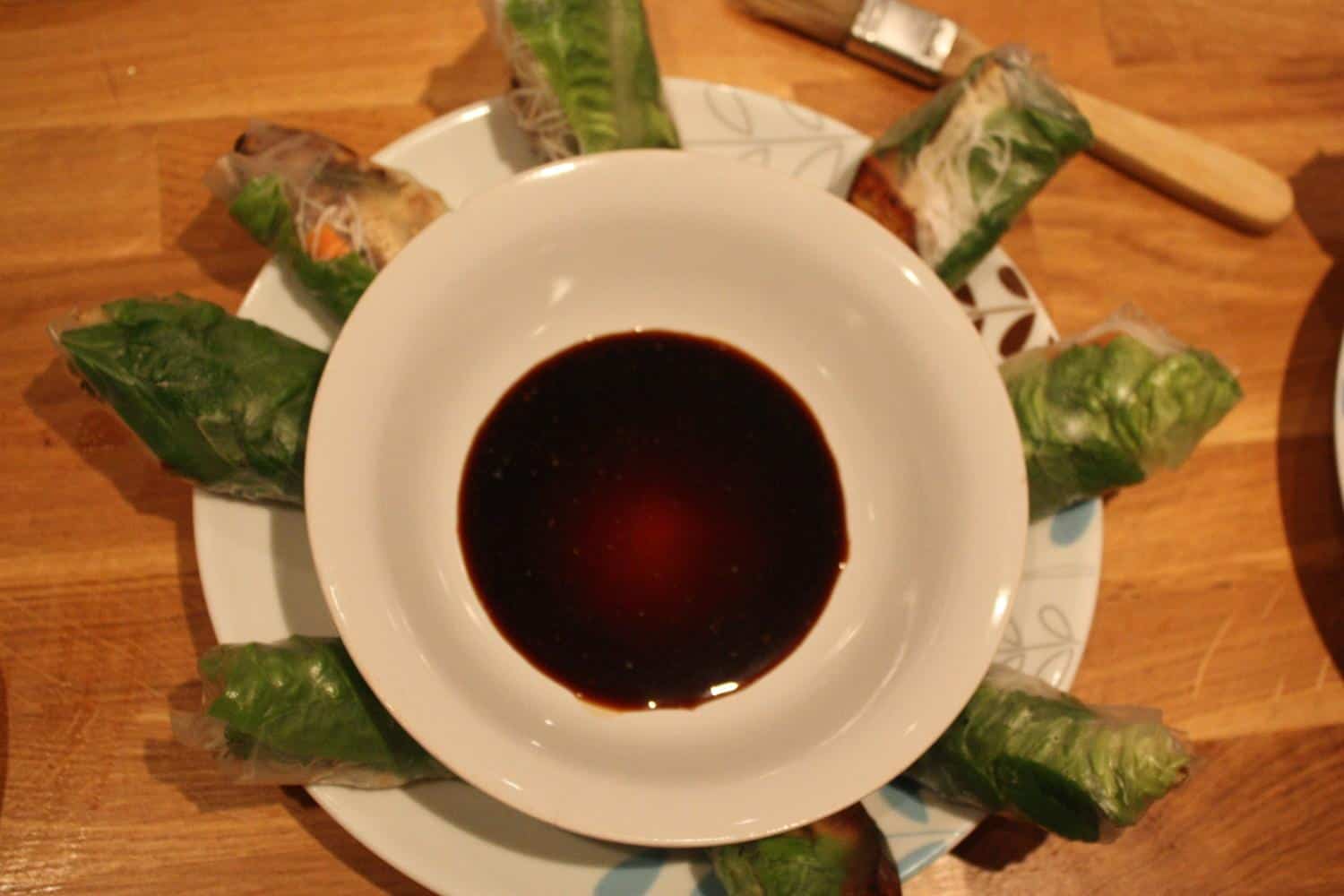 Ingredients
2 tbsp lime juice
1 tbsp sugar
1 tbsp vegan fish sauce (recipe here)
Dash of hot sauce/chilli sauce
Dash of garlic powder (optional)
Instructions
Mix all ingredients together.